As digitalization continues to permeate various industries and the use of enterprise applications becomes more prevalent, businesses are increasingly turning to software development outsourcing as a strategic solution. Embracing outsourcing not only addresses the scarcity of IT experts and resources but also empowers you to channel your focus on core business functions and save valuable internal resources and costs along the way.
If you're striving to keep pace in a rapidly evolving industry, understanding the power of software development outsourcing becomes an indispensable edge. By delving into the latest statistics and trends, you gain invaluable insights into the potential benefits this approach can bring to your business.
In this article, we'll navigate through the realm of software development outsourcing to explore its rising popularity and its relevance in optimizing business efficiency, fostering innovation, and achieving sustainable growth.
---
The Latest Statistics on Software Development Outsourcing Every Business Must Know:
---
What Is Software Development Outsourcing?
Software development outsourcing is the practice of hiring external vendors or dedicated third-party teams to handle specific aspects of the software development process. It can include coding, testing, maintenance, support, and other tasks in the development lifecycle. By entrusting these tasks to competent outsourcing partners, businesses can focus on their core business operations.
---
How Does Software Development Outsourcing Benefit Businesses?
Software development outsourcing helps with the strategic reallocation of responsibilities and resources. This not only ensures streamlined operations but also enables businesses to stay ahead in a fiercely competitive market.
In addition, software development outsourcing presents a solution to the challenges related to IT talent scarcity and limited resources. It grants businesses access to a diverse talent pool of specialized professionals with domain-specific knowledge and expertise and advanced ecommerce platforms or tools that augment their capabilities. It also allows businesses to accelerate time to market, reduce development costs, and maintain a flexible workforce that keeps up with project demands. For small businesses, in particular, this offers a more cost-effective approach to handling software development.
As digital transformation becomes a fundamental necessity across industries, understanding the true potential of software development outsourcing proves vital for staying agile, innovative, and resilient in a dynamic business landscape.
---
The Latest Statistics on Software Development Outsourcing
Let's delve into the latest and most eye-opening statistics in the world of software development outsourcing.
Current State of IT and Software Development Outsourcing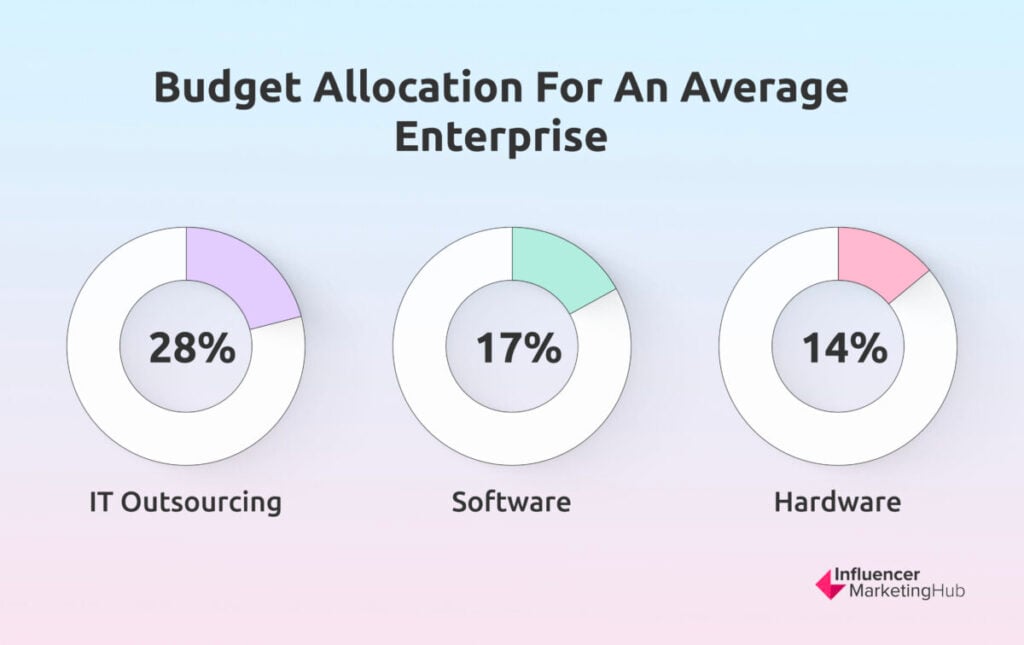 ---
Market Share by Segment or Region
---
Reasons for Outsourcing
---
Challenges and Concerns in Outsourcing
---
Future Outlook
---
Best Practices in Software Development Outsourcing
To maximize the potential benefits of software development outsourcing, adopting best practices is paramount. These 10 practices ensure successful and fruitful collaboration with outsourcing partners and enable you to achieve remarkable outcomes in your projects.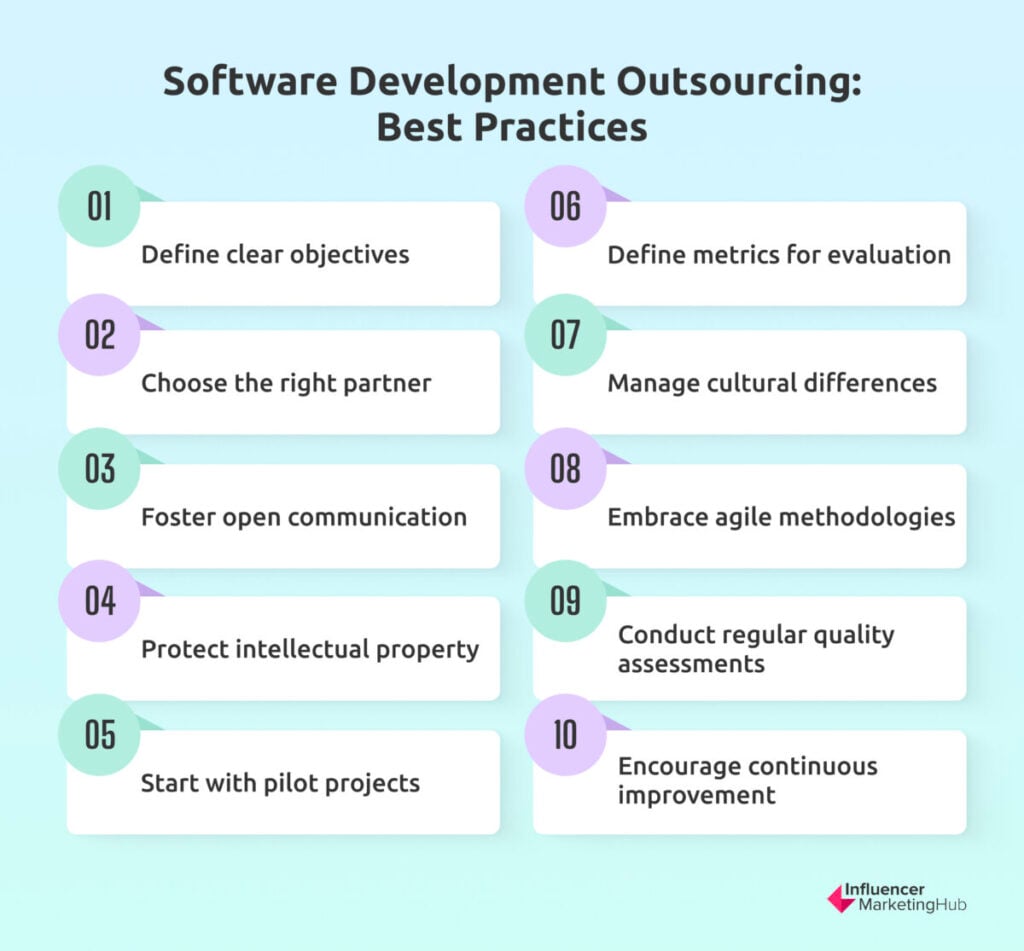 Define clear objectives.

Begin with a well-defined vision and objectives for the project. Clear and precise project goals set the foundation for a successful collaboration. They also align both parties toward a common vision, paving the way for better outcomes.

Choose the right partner.

Thoroughly research potential outsourcing partners. Look beyond cost considerations and delve into their expertise, experience, and cultural compatibility. A well-matched partner can be a catalyst for success.

Foster open communication.

Effective communication lies at the heart of a successful outsourcing partnership. Establish open channels for regular and transparent communication to make sure that both sides are informed, engaged, and aligned throughout the project's lifecycle.

Protect intellectual property.

Prioritize data security and intellectual property protection. Implement robust agreements and security measures to safeguard sensitive information. This will mitigate potential risks associated with data breaches.

Start with pilot projects.

Embark on the collaboration with smaller pilot projects before committing to more extensive engagements. This allows you to gauge the outsourcing agency's capabilities, work style, and suitability for long-term collaboration.

Define metrics for evaluation.

Set measurable performance metrics and

key performance indicators

(KPIs) to track progress and ensure project milestones are met. These metrics facilitate objective evaluations and timely adjustments, if necessary.

Manage cultural differences.

Understand and respect cultural nuances to foster a harmonious and collaborative working relationship. Embrace diversity and appreciate the strengths that diverse perspectives bring to the development process.

Embrace agile methodologies.

Agile methodologies are widely adopted for software development outsourcing due to their emphasis on collaboration, adaptability, and iterative development. Agile practices promote efficient problem-solving and quick response to changing project requirements.

Conduct regular quality assessments.

Consistently evaluate the quality of work delivered by the outsourcing team. Conduct feedback sessions and audits to ensure that the project adheres to predefined standards and meets expectations.

Encourage continuous improvement.

Cultivate a culture of

continuous learning and improvement

. Encourage the outsourcing team to stay updated with emerging technologies and industry best practices. This can foster a dynamic and innovative partnership.
By embracing these best practices, you can optimize your software development outsourcing efforts and unlock the full potential of collaborating with your external partners. Transparent communication, cultural sensitivity, and a shared commitment to excellence form the pillars of a successful outsourcing journey. They lead to enhanced efficiency, cost savings, and accelerated project success.
---
Leverage the Power of Software Development Outsourcing
Software development outsourcing has become an indispensable aspect of modern business strategies. The latest statistics highlight the growing significance of outsourcing in driving business growth and success. By understanding the main drivers, harnessing best practices, and leveraging the expertise of global talent, you can unlock the full potential of software development outsourcing and gain a competitive edge in a dynamic market. Embrace outsourcing thoughtfully and align it with your business goals to thrive in the ever-evolving technological landscape.
Frequently Asked Questions
What factors should we consider when selecting an outsourcing partner?
Selecting the right outsourcing partner is critical for project success. You should thoroughly evaluate potential partners based on their expertise, experience, and reputation in the industry. Cultural compatibility is equally important to foster effective collaboration. Most importantly, assess the outsourcing partner's communication protocols and data security measures to ensure a seamless and secure working relationship.
How can software development outsourcing help startups and small businesses?
Startups and small businesses often face resource constraints, hindering their ability to tackle complex software development projects. Software development outsourcing offers an ideal solution by granting access to a vast talent pool of skilled developers at cost-effective rates. By outsourcing non-core tasks, these businesses can focus on innovation, growth, and scaling their ventures without the overhead costs of maintaining an in-house development team.
What are the potential challenges of software development outsourcing?
While software development outsourcing offers numerous advantages, challenges may arise due to language barriers, time zone differences, and potential security risks. Miscommunication and cultural differences can impact project outcomes if not effectively managed. To address these challenges, careful planning, proactive communication, and selecting a reliable and experienced outsourcing partner are essential.
How do outsourcing partners ensure data security and confidentiality?
Reputable outsourcing partners implement stringent data security measures, including encryption, access controls, and secure communication channels. Non-disclosure agreements (NDAs) are also common to safeguard sensitive information and protect intellectual property.
Can software development outsourcing support Agile methodologies?
Yes, software development outsourcing is highly compatible with Agile methodologies. Agile practices emphasize iterative development, frequent communication, and adaptability, making them well-suited for collaborative efforts between in-house teams and outsourcing partners. Agile project management allows for greater flexibility, faster response to changing requirements, and continuous improvement, all of which are beneficial in a dynamic outsourcing environment.