We at Lytehouse, an influencer marketing agency, encourage brands to rethink their approach to influencer marketing. As influencer marketing has grown, brands have honed in on their strategies for campaigns, but a popular approach to influencer marketing is limiting the success of these campaigns. We encourage brands to rethink their approach to influencer marketing. Here's how:
---
Taking A Talent-First Approach To Influencer Campaigns:
---
How Brands Typically Approach Influencer Campaigns
Most influencer marketing campaigns start with a simple goal: have popular, well-polished people promote a brand in order for the brand to gain popularity. From there, brand marketers hone in on the objectives and key performance indicators, or KPIs, that they will track over the course of the campaign to measure its success. These brand objectives can range from building brand awareness and introducing new audiences to the brand to achieving a certain sales goal. Objective-setting is a natural first step in planning a campaign strategy, as it helps establish the "why" behind your campaign and makes clear the reason for its existence in the first place.
The next step of the strategy-building process is where many marketers get caught up. With campaign objectives in mind, marketers will select the social media platforms on which they wish to activate, determining the content mediums they aim to utilize within the campaign. From there, marketers set benchmarks of expected data results that will serve as the means to measure their KPIs, and only then will they build out a list of influencers they wish to work with, often considering the following sizes and engagement rates of the influencers as well as the categories they speak to within their content in order to secure the ideal influencer partners for the campaign.
---
The Limitations of a Data-Forward Strategy
Setting benchmarks and selecting platforms and content types prior to selecting influencers greatly limits the efficacy of an influencer marketing campaign. Marketers can often undervalue the "influencer" part of influencer marketing, prioritizing numbers while undervaluing the importance of individual influencers when strategizing campaigns. As the industry has grown and marketers need to scale up their campaigns to meet demand, it is easy to reduce influencers to their quantitative features—their following size, engagement rates, and their fees. This allows marketers to quickly select a large group of influencers who, on paper, appear to be good—and cost-effective—matches for the campaign.
Numerical data is important to look at when selecting influencers, but looking at quantitative data alone will only provide a surface-level look at an influencer, ignoring the qualitative aspects that are equally important, such as brand affinity, content quality, comment sentiment or relationship to their followers, storytelling ability, and expertise.
A campaign that sets benchmarks and establishes the creative strategy, including what platforms to activate on and what content types the brand is expecting, ahead of influencer selection is like trying to fit a square peg through a round hole; the unique qualities of each influencer are flattened to fit the mold of the campaign, rather than marketers utilizing the individual strengths of each influencer to their full potential. This leads to campaigns where creative concepts and talking points feel inauthentic to the influencer's content, and the partnership feels transactional rather than collaborative. Audiences these days are savvy to brand partnerships and quick to notice when a brand campaign appears forced, which can lead to decreased engagement and result in branded influencer content not achieving the benchmarks the brand set out to earn in the first place.
---
Adopting an Influencer-First Approach
Embracing an influencer-first approach instead of one that begins with benchmark metrics will allow your brand to further hone in on the "why" behind your campaign, identifying and working with the key influencer partners who are selected for their creative content as well as their ability to speak to your brand's target customers in an authentic tone. This approach is also platform agnostic, with the campaign solidifying where to market based on the individual profiles of influencers. For example, instead of limiting oneself to Instagram content, a campaign might expand to include TikTok and YouTube content based on securing an influencer with a bigger following on those platforms. Planning out a campaign in this way allows your brand the opportunity to expand the reach of your campaign in a natural way and market on different social media platforms, capturing varying audiences while measuring multiple KPIs across the various social channels.
---
Casting the Right Influencers
With an influencer-first approach, aligning influencer and brand values is essential. This means identifying and partnering with influencers who create content in the same category as your brand, whose audience demographics match up with that of the brand's target customers, and whose personality and values on their social media channels match up with the voice of the brand.
Metrics like following size and engagement rates should still be taken into consideration when considering influencers, but evaluate these numbers in tandem with the qualitative aspects of the influencers, as a large following and strong engagement rate mean little if the actual content that the influencer provides for your brand does not match up with the brand's identity or reach the brand's target consumers. Additionally, a large following or even a high engagement rate does not always equate to actual influence or purchase power. Audiences may follow an influencer they view as aspirational and engage with the influencer's content but may not buy the products that the influencer promotes, for example. That is why it is important to look at the data but also dive deeper into what the numbers mean since they do not tell the whole story.
---
Building Out Your Strategy
The main benefit of adopting an influencer-first approach to your marketing strategy is that the individual strengths of your selected influencers will guide the campaign strategy. As a brand, you will have your campaign goals in mind and plan out key talking points based on the product or initiative you are promoting. Still, your creative brief should leave room for customization and personalization on behalf of the influencers.
Avoid inundating influencers with overly-prescriptive talking points and requirements that leave no room for creativity. Rote scripts and a laundry list of post requirements result in robotic content, and consumers are savvy of such branded content, viewing them as inauthentic and typically ignoring them as they scroll their feeds. These micro-managed partnerships leave a bad taste in everyone's mouth; the influencer feels the partnership is transactional rather than a true partnership, and the brand is often disappointed with the lack of engagement with and overall poor performance of such content. The influencer knows their audience best, and brands should trust that.
Instead, allow for breathing room in the talking points for influencers to take campaign concepts and make them their own. Establish an approval process that will allow the brand to provide some feedback and cut out any content that is truly not aligned with the brand's vision for the campaign, but keep an open mind when reviewing submitted content and remember that one of the biggest values of working with influencers is that they know their audiences inside and out and therefore know what types of content they will and will not engage with. After all, you are booking an influencer because of their expertise in content creation, so know when to let go and embrace creative content, even if it veers outside the expected. In a world where out-of-the-box ideas are needed to break through an oversaturated ad space, the top-performing branded content can often come from unexpected places.
Collaboration is key. Work with your influencer partners to map out what types of content they think will resonate best with their audience to achieve your brand's desired results, as well as the platforms on which they will activate. This will result in an individualized creative strategy that allows for authentic-feeling content that fits naturally within the influencer's individual channels, rather than trying to mold all your casted influencers into a one-size-fits-all cookie-cutter approach.
---
Finding Success with an Influencer-First Approach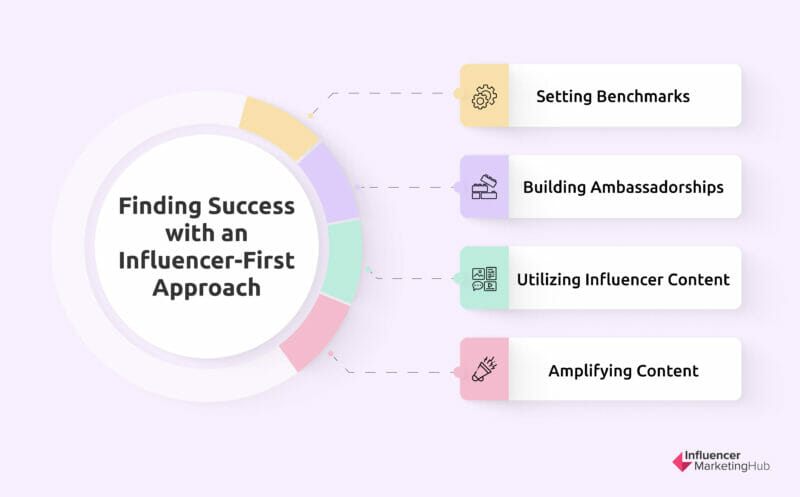 Setting Benchmarks
Once you have cast your influencers and worked with them to finalize the creative strategy, with a breakdown of what types of content they are creating and where they are activating, that is the time to set benchmark expectations for your campaigns. Why do we recommend doing this so late in the game? Setting benchmarks once you have solidified your cast and strategy allows your brand to set benchmarks that are realistic and backed by real historical numbers, with past influencer data guiding your expectations. When brands set benchmarks at the outset of planning a campaign, those numeric goals tend to be vague and based on industry-wide expectations rather than realistic and specific data, which results in the brand being disappointed with a campaign's actual performance even though their benchmarks were not based on realistic data to begin with.
While campaign analytics are important to understand how content performs, marketers can overemphasize their value in determining the success or failure of a campaign or an individual influencer's performance. The ultimate goal of influencer marketing is to transform social media audiences into brand customers, but that is the end goal of the marketing funnel, not the beginning. Brands can get trapped into the idea that influencer marketing is a shortcut for the sales consideration process, with easily-accessible links to purchase equating to an easier path to purchase on the part of the consumer.
The truth is that influencer marketing, like all forms of marketing, is about playing the long game and establishing a strong relationship between consumer and brand with the influencer as the facilitator of that relationship. Consumers rarely make purchases the first time they come across a brand or product, but establishing brand familiarity with the influencer as the spokesperson will over time make audiences more likely to purchase themselves. Speaking of utilizing influencers as spokespeople…
---
Building Ambassadorships
As mentioned earlier, working with influencers on the creative and building individualized strategies with them will make the campaign a true partnership, with influencer and brand marketers working in tandem to develop the strongest possible branded content and establishing a collaborative partnership. This sets the stage for long-term campaigns with multiple posting components or pulse points, where an influencer ambassador can speak about your brand and its features over months, or even years. Securing influencers as ambassadors further increases your likelihood of transforming their audience into your customers, as the repetition builds brand familiarity while the collaboration establishes the brand as an important part of the influencer's life rather than just an income opportunity.
---
Utilizing Influencer Content
Another benefit of the influencer-first approach to campaign strategy is that when your brand is contracting influencers whose content aligns with that of your brand, you can then utilize the influencer-created content on brand-owned channels. In order to do so, you must include usage rights and terms, including where content will be used and for how long, within the influencer's campaign contract. The influencer will typically command an extra fee for usage, but we encourage you to factor usage into your overall campaign budget in order to make the most of influencer-generated content and feature it on brand-owned channels in addition to the influencer channels.
Some brands even contract influencers to develop content that will only be posted on brand-owned channels as a way to supplement social media content created in-house. Brands know that audiences engage better with influencer-created content than with brand-created content.
---
Amplifying Content
Another aspect of maximizing the value of influencer-created content is utilizing paid amplification in your influencer campaigns. Like other usage rights, influencers will often request an additional fee if their content is being run as an ad, but the benefits of amplifying influencer content are plentiful.
For one, this allows brands to merge the creativity and appeal of influencer-created content with more traditional KPIs, as amplification gives brands the ability to target specific audiences and tailor calls-to-action to achieve specific marketing objectives.
Amplification also lets content reach even more viewers, beyond the followers of a specific influencer or brand. If the content is strong and resonates with these viewers, they can become new brand fans while also being introduced to a new influencer to follow, benefiting all parties involved.
---
Final Thoughts
Influencer marketing has become a staple of digital marketing, and with brands emphasizing the partnership aspect of influencer campaigns, all parties will benefit, and the resulting campaigns will be more powerful, results-driven, and collaborative. It is why working with an agency like Lytehouse that can foster the relationship between brand and influencer is so vital to this next stage of marketing on social media.