Facebook Live isn't just for streaming live music or sporting events anymore. Businesses big and small are discovering this video-sharing platform's overall value. It's nothing short of an effective communication tool that allows brands to converse with their customers and target audiences in real time. And this isn't merely effective in the B2C realm—tech marketers and those working in the B2B realm are finding that it is just as useful of a tool for their marketing efforts as well.
Here we lay out why B2B marketers should implement Facebook Live and how they can use it increase their visibility and engagement.
---
The Facebook Live Marketing Playbook
---
Why You Should Live Stream
Live streaming builds trust
And in particular, streaming over Facebook Live builds trust. That's because, as a platform, Facebook is more personal than LinkedIn and Twitter. It fosters a sense of familiarity, which in turn leads to trust. This is true in the B2C world, and it's true in the B2B world as well.
Say you want to reassure a potential client about the potential ROI they stand to enjoy by adopting your product. All that market research, SEO, email initiatives, etc., is certainly going to play its part. But to speak to reassure them directly, you'll need to appeal to them on a human level, and that brings us to our next point.
---
Facebook Live is highly interactive
Over 90 minutes of livestreaming on Facebook you can humanize your brand and interact directly with your target audience. This is possible via Q&A sessions with executives and experts from your company that will educate your target audience about what they stand to benefit by investing in your product. Then viewers can submit their questions in real time and you can answer right back no different than if you were having a face-to-face conversation. It's a fluid and efficient way to guide potential buyers down the funnel, eliminating pain points along the way as you interact with your targets and build trust.
---
Live Video is highly shareable
Consider this: not only will livestreaming allow you to educate your target audience, but it can spread your brand like wildfire. If you have a dynamic Facebook Live presentation then that boosts the shareability factor. If your viewers are hooked to the screen and are engaged with the content you're presenting, then an instant they can share your livestream with colleagues and industry partners. Depending on how many people tune in, and if you capture their attention the right way, you can maximize your audience reach in almost no time at all. That will do wonders for your lead generation, and make no mistake: Facebook Live for B2B brands is all about lead generation.
So what type of content will maximize your potential to get more shares? It depends on your operation. That said, product demos are always a good idea, as these presentations educate your audience and show them the functionality of what you're offering. And when you effectively demonstrate how your product can help solve their problems, you've hooked them.
Also, don't be scared to show the personality behind your brand. Make sure your presenter is dynamic. Maybe incorporate behind-the-scenes content into your livestream. Anything to create that aforementioned human connection.
---
Ideas For Your Next Live Stream
Live streaming industry events
There's a palpable energy to tech conferences and industry events that you can only feel by being there. Sure, you can publish a blog post after the fact with all those slick photos you took during your time at Tech Radar or INDTECH or OpenStack or any other cool event, but it will never quite put your audience in your shoes. The closest you can come to achieving this is live streaming these events as they occur. Showing your audience what's going on in the moment is a great way to get them engaged and then direct them to a landing page where they can take action and, hopefully, convert into customers.
Even better, live streaming will make it easier for you to direct the foot traffic of current event attendees to your particular booth. Maybe you have a great booth set up but you're being overshadowed by the glitzier, bigger brands. That's the perfect time to breakout Facebook Live and disseminate your video to all those who might be interested in your new product or service but just haven't got the word yet.
---
Product launches
This goes to the "shareability" point above. The reality is that B2B companies are finding that they can get hundreds of thousands of more video views by utilizing platforms like Facebook Live to launch their products. And many are getting highly creative with their strategy.
Take processor giant Intel, for example. They've been on their social media game ever since they threw their hat in with the popular #ILookLikeAnEngineer campaign a few years ago. In 2017 they took advantage of the Aug. 21st solar eclipse to launch their 8th-generation Core processors on Facebook Live.
In the lead-up to this launch, they hyped the upcoming live video hard, sharing their "eight reasons to tune in." These included teasing new processor features, announcing executive-level speakers, offering sneak peeks of system design, and more. And by tying the launch into a notable upcoming date that was already in the general public's consciousness, they maximized their potential for viewers.
---
Interviews
Playing off the above point, you can incorporate interviews with C-suite employees, company founders, CEOs (basically anyone you want to be the face of your operation) into your live stream. Incorporating interviews doesn't necessarily need to be tied with industry-event videos either. You can live stream interviews solely for the purpose of giving your audience a deeper look at your operation.
One idea is to stream interviews with entry-level employees discussing the positive work environment. That will not only go a long way towards branding your operation as a progressive company, but it will also help your recruiting initiatives so that you can draw the best talent of young and hungry workers in this complex digital age.
Another idea is to stream a questionnaire with the CEO. Usually when you incorporate the content strategy, the audience tends to pay attention. This will give the people the opportunity for people to ask any questions they may have for the president and also humanizes your brand as well.
---
Webinars
In the often esoteric world of tech, marketers need to utilize every tool at their disposal in order to present, in a clear and concise way, the benefits of their app, software solution, or data service. Video marketing is one great B2B strategy that can help achieve this, as it allows marketers to deliver their branded message in easily digestible, short video clips.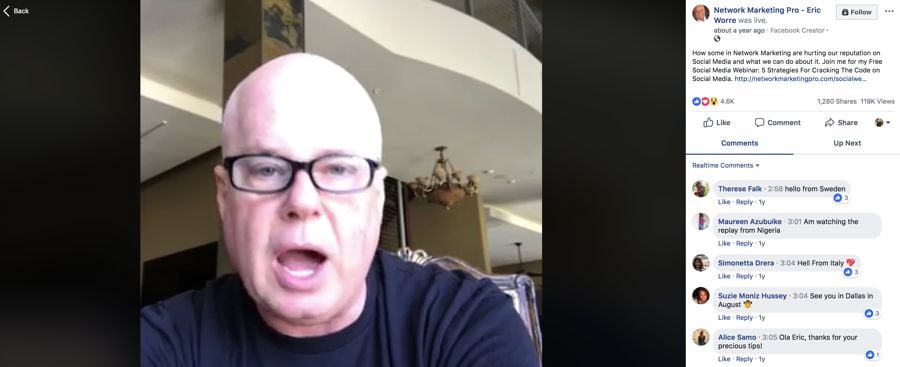 But as effective as these explainer videos can be, sometimes it requires more to engage and educate your audience about your product or service. Enter webinars. With Facebook Live you can stream any kind of webinar you choose, helping to educate your audience and boost engagement. Of course, there are best practices to launching a great live webinar, and these include focusing on pacing, letting your followers drive the action, breaking the fourth wall (speaking directly to the audience), and more.
---
FAQs
It's time to take the FAQs section off the website and present it to your audience live via dynamic video across social media. By going from hum-drum text to streaming on Facebook Live you'll be building trust with your audience while engaging them with images rather than words. Moreover, the comments feature will allow you to communicate directly and in real time with those audience members who still may have questions about your product or service.
---
Email
Yes, Facebook Live can even help grow your email list. The key is in using the platform for content upgrades. These are the incentives that marketers offer potential email subscribers, often in the form of free content like white papers and e-books. And there's no better way to spread the word that you're offering this desirable free content than through live video.
The key is to ensure that the content you're offering is relevant to the topic of the video you're streaming. Create a simple landing page with a link to download said content and announce it at various points throughout the video stream. Also, make sure you add the landing page info as a pinned comment on your feed. In this manner, you'll be able to drive all those engaged viewers right from the video to the free content you've primed them for, and who in turn will sign up for your mailing list.
This is exactly how marketing author and guru Amy Porterfield considerably grew her email list: by adding freebies that are related to the topics of her Facebook Live videos.
---
Conclusion
We're entering a brave new world where the video is eclipsing text at a rapid pace—so much so that Facebook itself is predicting the end of the written word in just a few years' time. By implementing the strategies listed above, you stand a greater shot at reaching a broader audience and ensuring your brand engages with your target audience in the manner in which this new generation prefers to communicate.
---