You should never underestimate the value networking can give you. It provides an opportunity for you to meet like-minded people whom you can work with or learn from in some way. Influencer marketing events can provide you with valuable networking opportunities, and well as gems of knowledge which can make an enormous difference to your business success.
Last year the Influencer Marketing Hub was proud to host Under the Influence - the influencer marketing conference of 2017. This year we are holding a series of 2-day influencer marketing crash courses, in both the US and the UK.
Here are 15 events that should be of use to companies wanting to learn more about influencer marketing or influencers wishing to hone their skills. Most of these will provide excellent networking opportunities.
---
Top 15 Influencer Marketing Events in 2018 You Have to Attend:
---
London, UK – October 22 & 23, 2019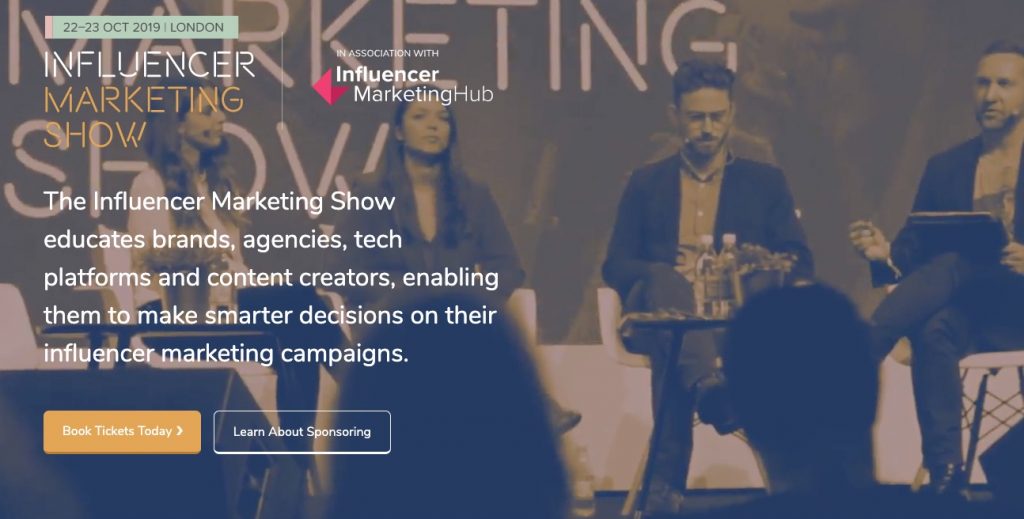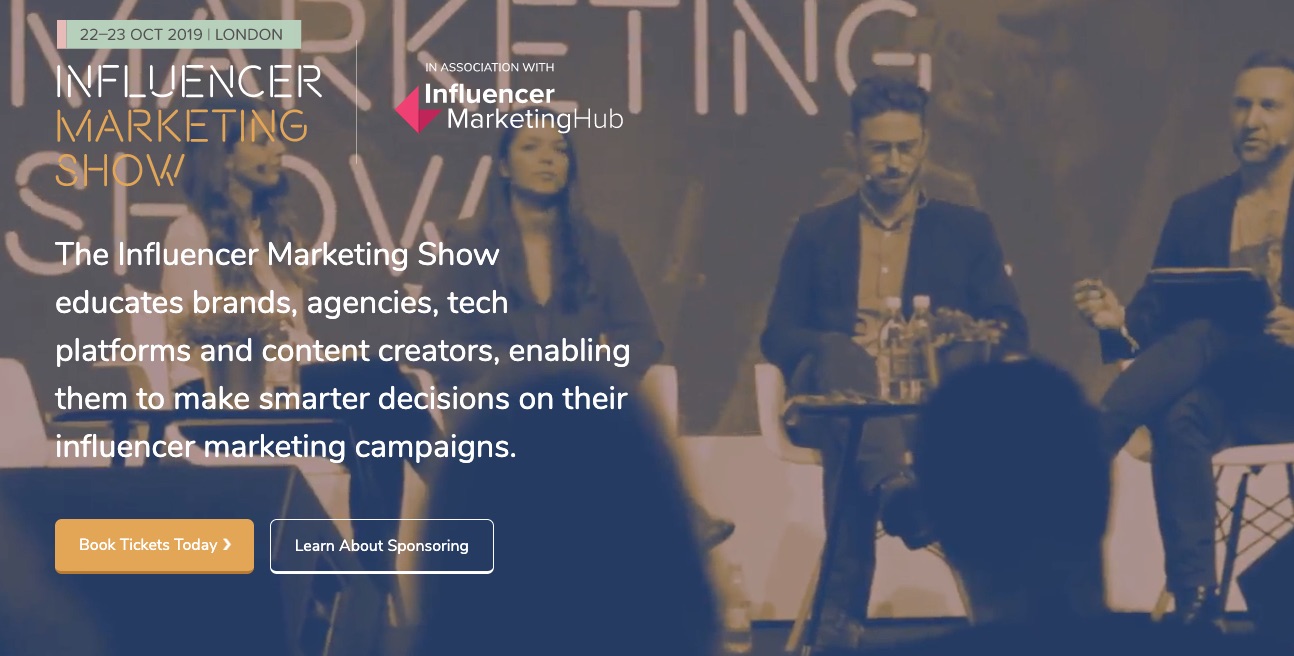 Back for its third year, The Influencer Marketing Show is dedicated to brands and agencies that want to make smarter decisions with their influencer marketing strategy. Unlike similar events, the show is focussed not on creators but the science and strategies needed to create and execute successful campaigns.
You'll walk away with proven strategies to creatively embrace creators to build value-add, integrated and profitable influencer marketing campaigns. Avoid costly mistakes and discover the latest technologies and agencies that will enable you to power-up, help measure the success of your activity and get better campaign performance for your budget.
The two-day event provides unrivalled networking opportunities with brands who are either starting out on their journey or already spending significant portions of their digital budget on the channel.
Items on the agenda include:
Measurement Matters: Confronting the Industry's Biggest Challenge

A Question of Ethics: Why Producing Ethical Content is the Right Thing to do

The Science of Influencer Marketing

Tackling Diversity and Representation in Influencer Marketing

How to Assess an Influencer's True Value and Work Out What to Pay Them
Speakers include representatives from Publicis Media, MediaCom, Mumsnet, Whalar, Clarins, and Tagger Media.
The show includes a host of networking opportunities from speed networking to 'The Social' networking event where delegates can mingle over a glass of champagne, hang out in the beer garden or under the outdoor yurt overlooking London's famous Tower Bridge.
Exclusive Discount
The community at Influencer Marketing Hub receive £100 discount on their passes with the exclusive discount code 'IMH100'.
Get £100 OFF using discount code: IMH100 or visit the link direct HERE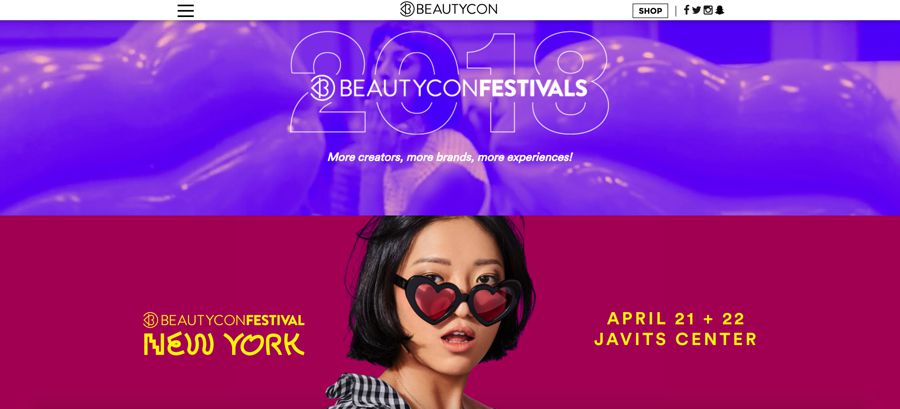 New York, USA – April 21-22 (Sold Out)
Los Angeles, USA – July 14-15
London, UK – Nov 17
If you have any connection with the beauty sector, the BeautyCon Festivals are an ideal place to meet the real Influencers of the industry. They are the premier beauty networking events of the year.
The New York event is already sold out, but they will undoubtedly be back in town next year.
If you are a brand wanting to make Influencer connections, we advise you to buy either the Social or All Access Package. These will give you access to a special Social Lounge, where you will be able to meet many of the top beauty Influencers and celebrities.
You will find most of the major beauty brands represented at these festivals, along with the major social networks.
---
UK – 13 March, 2019
USA – 21 March, 2019
The Influencer Marketing Hub is proud to offer a regular two-day training course to teach the skills of Influencer marketing. We pair up with thought leaders to bring this Crash Course at various times during 2019, on both sides of the Atlantic.
Our workshops teach brands and marketers the necessary tools, knowledge, and compliance procedures to run successful influencer marketing campaigns at scale. The material our expert presenters cover includes:
Fundamentals of influencers relations

Do's and don'ts in dealing with influencers

Requirements and characteristics of influencer communications

Topic-finding and planning of influencer campaigns

Finding suitable influencers and fakefluence

Compliance and best practices
We limit each class to 20 spots, to enhance the attendee experience.
---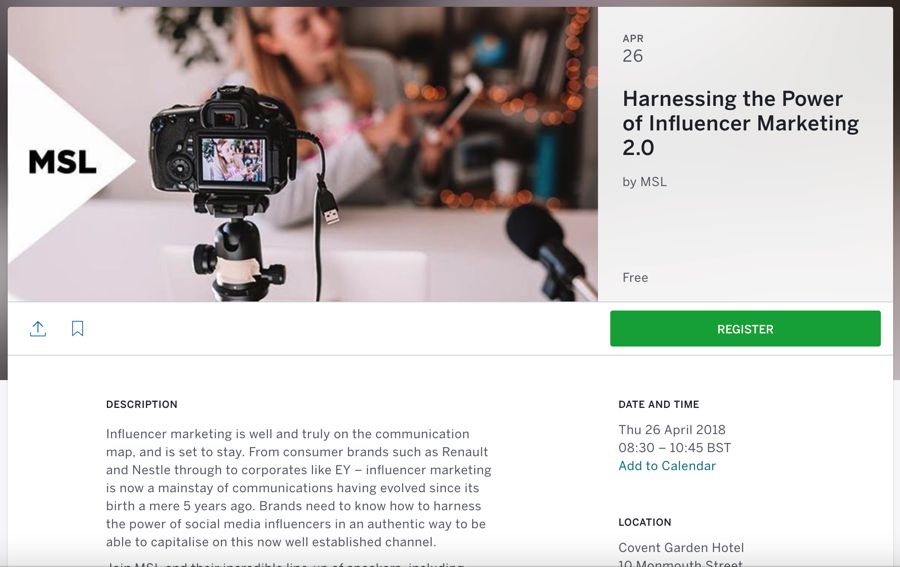 London, UK – Apr 26
Harnessing the Power of Influencer Marketing is delivered by MSL and will run from 8.30am to 10.45am on April 26th at London's Covent Garden Hotel. It aims to introduce attendees to:
The current influencer marketing landscape and how your brand can own it in your sector

How you can use science to select a spot-on influencer for your brand campaign and when it's time to step away from a relationship

What reach really means, how to decode the numbers and the reality of working with micro vs. mega influencers

How to engage with influencers and co-create thumb stopping branded content

What influencer marketing is going to cost! Understand the need to pay to play to get eyes on and engagement with your content
MSL targets the training at brand, communications and marketing professionals at client organizations. They recommend that you already have an understanding of influencer marketing and an appetite to launch a campaign within the next six months.
---

Orlando, FL, USA – Apr 27-29
Washington DC, USA – to be confirmed
Playlist Live is a relatively established event – the upcoming Orlando event is the 8th Annual Playlist Live there. It allows online creators and their biggest supporters to come together in one place.
Friday is Business Day, with all attendees able to visit on the Saturday and Sunday.
The Business Day contains a full day of programming dedicated to the industry of online video. You need to purchase a separate Business pass to attend this. The Business Day includes panels and discussions by both famous creators and industry professionals.
There is an Insight Pass available for those who want to learn about the creator side of digital video.
One of the most popular parts of Playlist is the Meetups section. It gives an opportunity for attendees to interact with their favorite creators without a computer screen. You do need to reserve a spot for a meetup in advance, however.
---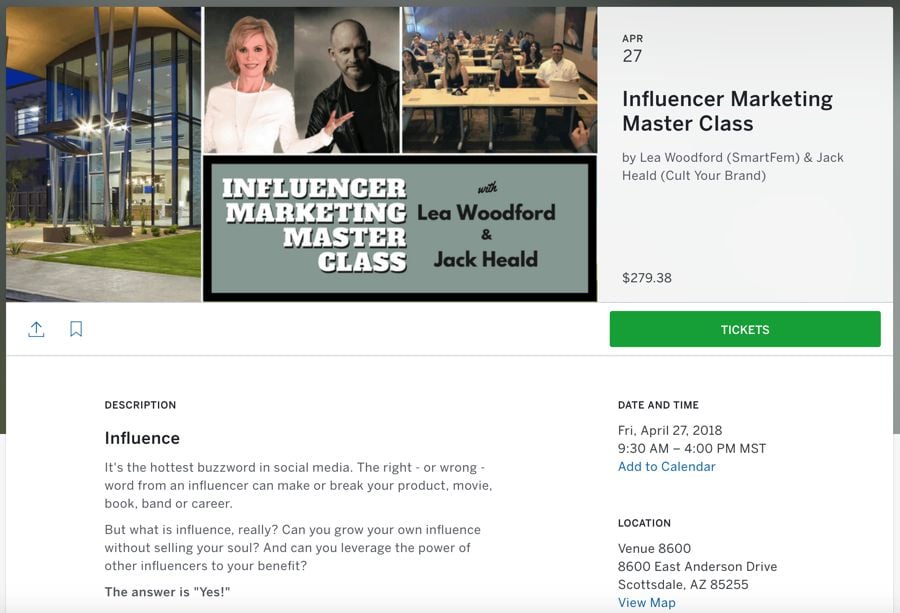 Scottsdale, AZ, USA – Apr 27
The Influencer Marketing Master Class is a day-long session targeting solopreneurs, small business owners, authors, speakers, and anyone wanting to build and leverage influence.
It aims to teach you techniques proven to expand your social media influence.
It includes training on:
specific strategies and tactics for creating and leveraging social media marketing

identifying where the "holes" are in your social media profiles

creating a detailed plan for plugging those holes

creating a detailed social media marketing plan using the strategies and tactics outlined

creating a social media "persona" scientifically proven to attract people, hold their attention and induce their loyalty

creating leads through Facebook and LinkedIn groups.
---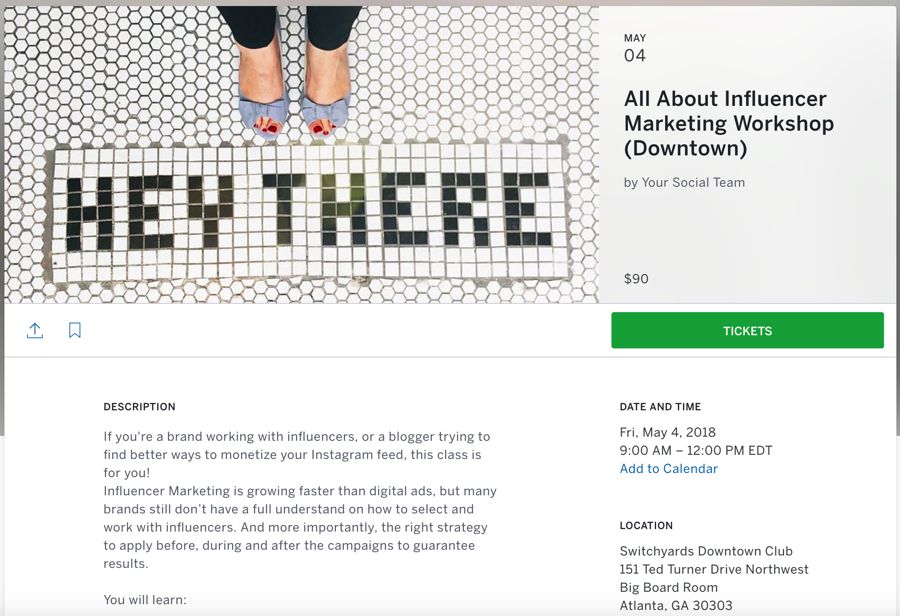 Atlanta, GA, USA – May 4
All About Influencer Marketing describes its purpose well. It is a morning workshop for brands working with influencers, and bloggers trying to find better ways to monetize their Instagram feeds.
It will cover:
what is influencer marketing

rules and regulations

how to pick the right influencers for your brand

what to look for in an influencer

types of collaborations and sponsored posts

influencer average rates

preparing your own feed for the campaign

follow up actions
---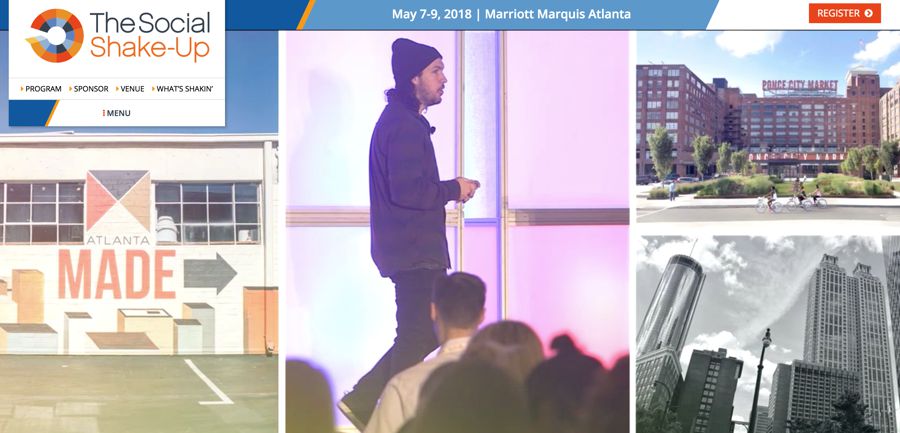 Atlanta, GA, USA – May 7-9
The Social Shake-up sees itself as the intersection of marketing, public relations and social. It aims to provide businesses with ideas to move themselves and their brand forward.
It will include interactive sessions, case studies, panel discussions, fireside chats, clinics and more. They will focus on Social Strategy, Integrated comms, customer experience, video, monitoring, data, Facebook, Snapchat, Instagram, Twitter, LinkedIn, content marketing, mobile, crisis management, podcasting, blogging, social good, visual storytelling, paid social, organic social, SEO, online communities, customer mapping, talent retention, measurement and social commerce.
While this long list does not specify Influencer marketing, it is clear from the agenda that they have not forgotten about Influencer marketing. Two items, in particular, stand out:
Under the Influence: Activating Macro and Micro Influencers for Maximum Effect, and

Influencer Roundtable: How to Win Fans & Become an Impact Brand
The Keynote Speaker is Brian Fanzo, CEI, iSocialFanz. He has helped launch digital and influencer strategies for brands such as IBM, Applebee's, Adobe, Dell EMC, UFC, and SAP. His address will be on how to win brand ambassadors and supercharge your brand's storytelling through live video.
---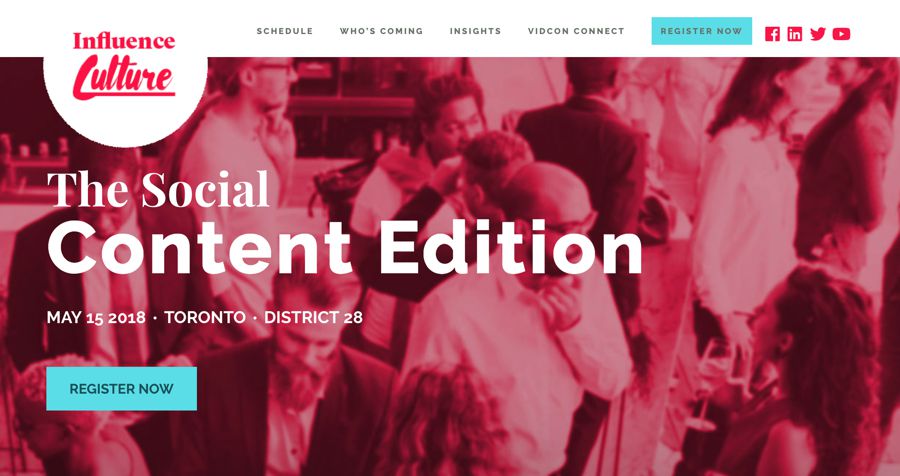 Toronto, Canada – May 15
Influence This aims to be Canada's premier Influencer marketing conference. It targets marketers, agencies, publishers, media & advertising technologies, and creators.
It offers a mix of presentations, interviews and networking opportunities. The topics covered include:
Why Hasbro Has All The Marketing Fun

Creating Global Digital Partnerships

The State of the Creator Economy

The Science of Creating a Hit With Canada's Top Stars

Mapping Content Experiences Within The Customer Journey

Influence is an Outcome; it's Not a Profession

Marketing to Gen Z and Millenials Through Influencer Marketing

Using A Data-Driven Research Process To Discover Influencers

A Comprehensive View Of The Video And Cross-Platform Consumer

Pumping Up Your Content

How The Briefing Process Can Lead To More Effective Creative Campaigns

Funding Sources For Digital Content In Canada
---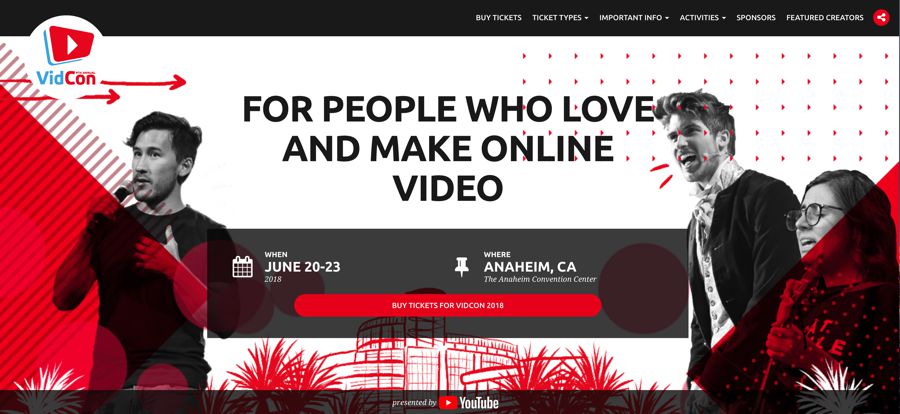 Anaheim, CA, USA – June 20-23
VidCon describes itself as being for people who love and make online videos. It covers all social channels that feature video, including YouTube, Instagram, Facebook, Snapchat, LinkedIn, Twitch, and Musical.ly.
It is built around three tracks, depending on your area of interest:
The Community Track – for fans who come to VidCon to meet their favorite creators and have a good time

The Creator Track – for video-makers wanting to learn how to make better content, break into the industry or meet fellow creators

The Industry Track – for companies, brands, and technology companies who wish to build the strategies, insights, and alliances
If you are a marketer, business owner, creator, or Influencer wanting to be involved in video Influencer marketing, then the Industry Track will be ideal for you. The Industry Track includes Lounges, Seminars, Keynotes, Panels, and Fireside Chats.
---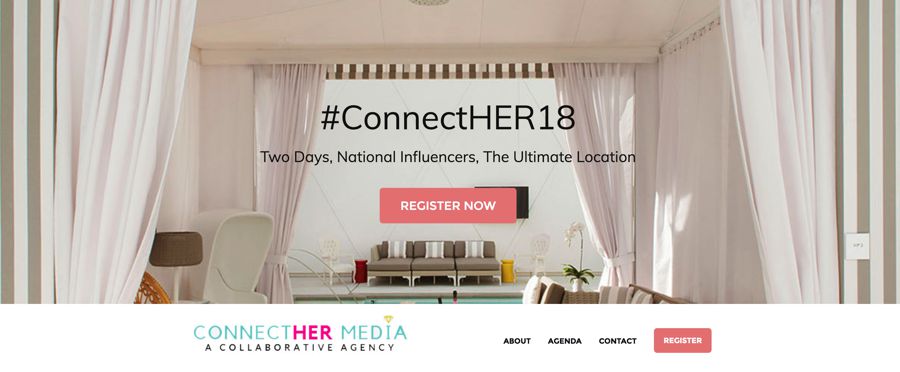 Las Vegas, NV, USA – August 3-5
ConnectHER Media will host this year's ConnectHER Media Social Influencer Conference at the SLS Las Vegas this upcoming August. It is primarily an invitation-only event for writers, influencers, bloggers, moms, PR, marketing, entrepreneurs, and brands.
It will include focused expert-lead roundtable, break-out sessions. Attendees will have more than 50 sessions from which to choose. ConnectHER Media aims to bridge the gap between influencers, brands, PR, marketing, and entrepreneurs.
Also, there will be speed networking between brands and influencers, swag suite, and master hands-on working sessions.
---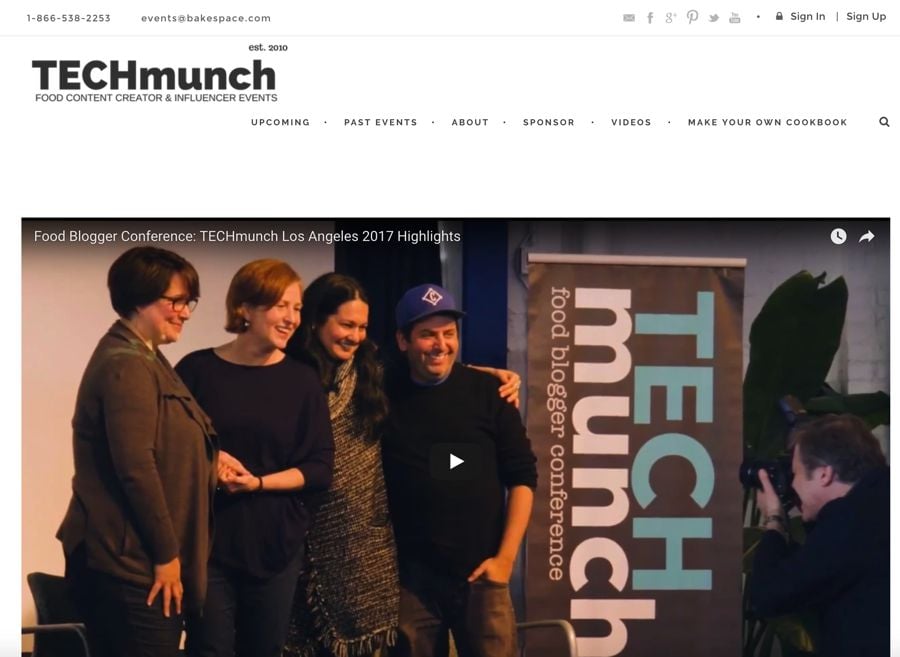 San Francisco, CA, USA – August 24
New York, NY, USA – September 28
Los Angeles, CA, USA – November 9
The TECHmunch Conference travels across the United States, coming to San Francisco, New York, and Los Angeles over the remainder of 2018.
It aims to bring content creators (food bloggers, culinary influencers, and culinary brands) up-to-speed on the latest techniques for photo and video storytelling.
It demonstrates to food Influencers how they can improve their content. It teaches how to plan, shoot and syndicate content for Facebook Live, Instagram, Snapchat, and Pinterest.
Launched by BakeSpace.com, the day-long event is for anyone serious about culinary content, including food bloggers, recipe writers, traditional content developers, cookbook authors, PR/marketing reps, as well as brands that want to work with culinary content creators.
---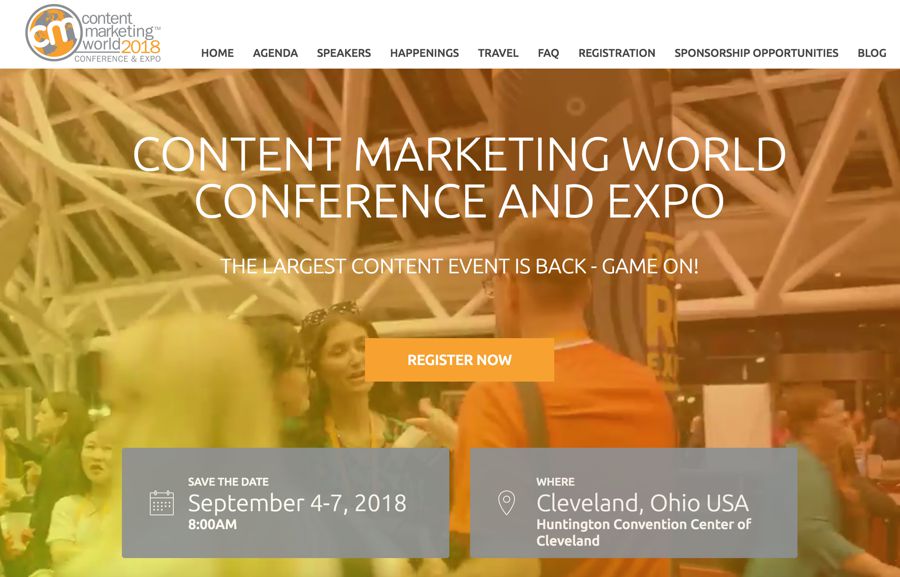 Cleveland, OH, USA – September 4-7
Content Marketing World 2018 will provide the opportunity for you to learn and network with the best and the brightest in the content marketing industry. There will be over 120 sessions and workshops presented by leading brand marketers and experts.
Although this covers all sectors of content marketing, there are some Influencer marketing items on the agenda. These include:
Influencer Marketing (3-hour session on Tuesday, September 4)

How to Think Like an Analyst (and Generate Influence Like One Too)

How to: 0 to 1 million LinkedIn video Views in 6 Months

Why Now is the Right Time to Get Your Influencer Marketing Strategy Right

Influencer Marketing Is Only For B2C Brands (& Other Lies Your Parents Told You)

How To Optimize, Socialize And Publicize B2B Content
---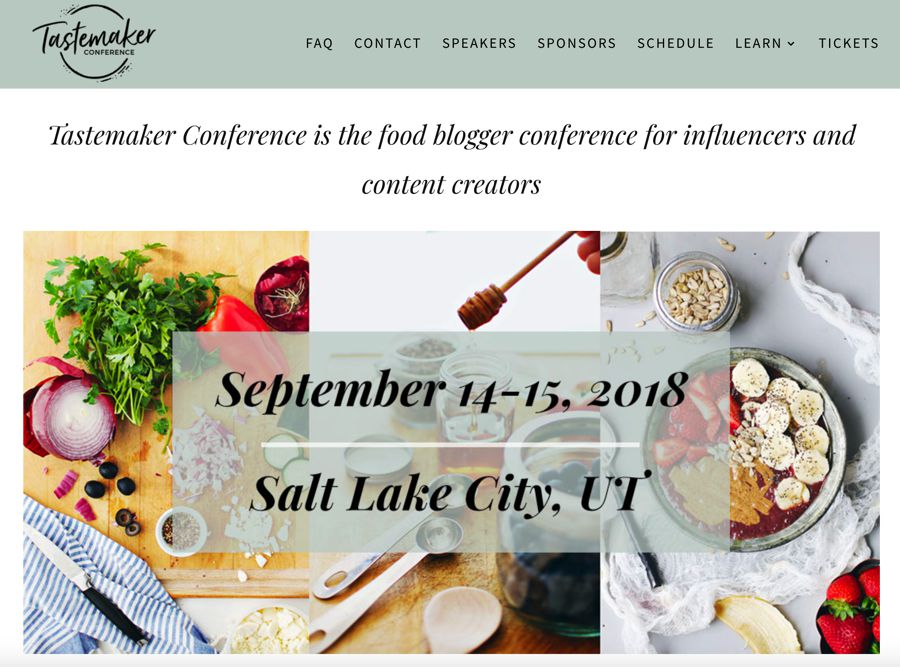 Salt Lake City, UT, USA – September 14-15
Tastemaker Conference is a food blogger conference for foodie influencers and content creators. It aims to teach you the essential skills for running your own thriving food blog.
There will be 25 inspirational speakers and instructors to teach relevant skills to foodie Influencers. It will also provide numerous networking opportunities.
---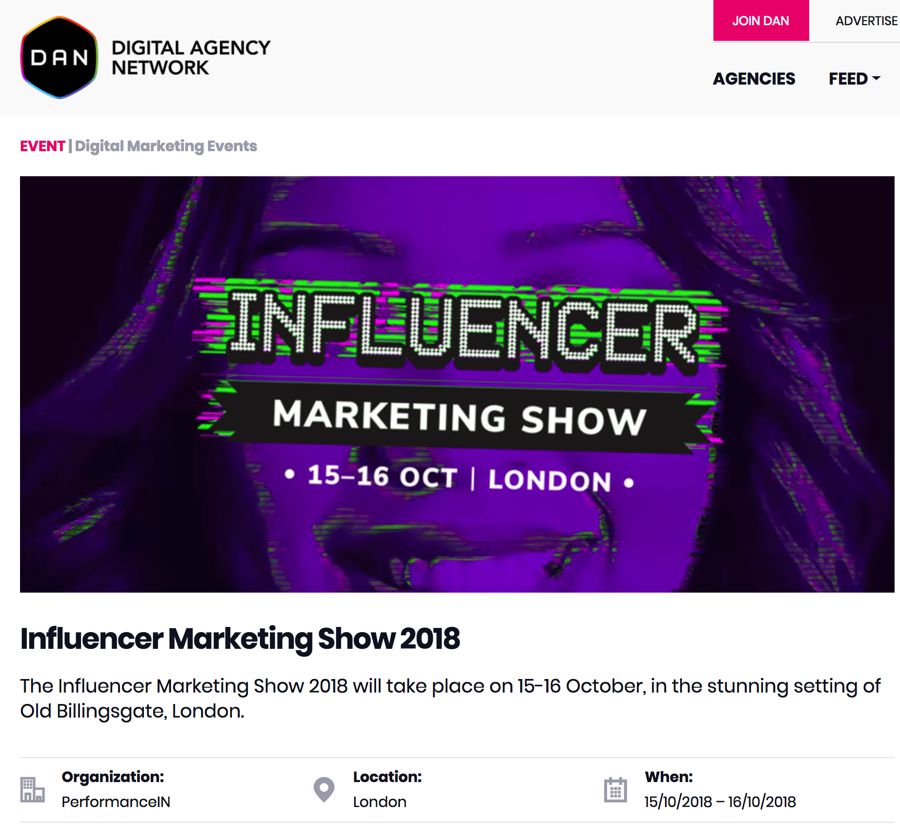 London, UK – October 15-16
London gets the opportunity to experience another influencer marketing show this October at Old Billingsgate.
It will cover how brands, agencies, and influencers can work together to maximize their marketing campaign.
During the two days, speakers will uncover the tools, methods, and strategies used by leading brands to evaluate community, celebrity, micro and macro influencers reach and create meaningful relationships. Attendees will receive a list of mistakes to avoid, an understanding of how metrics and data must be used to spend their budget wisely, and an action plan they can put into action as soon as they are back in the office.
Visitors will also get to meet influencers in person and have numerous networking opportunities. They will have the chance to meet a range of agencies and brands operating within the influencer space.
---

Winter Park, FL, USA – December 5-7
Social Fresh aims to provide the most up-to-date and actionable training for the modern social and digital marketer.
The agenda is not yet available, but it promises to include sessions on a range of social topics. These include Instagram/Snapchat Stories, influencer marketing, increasing engagement, video ads, live video, chatbots, UGC, audience growth, social media automation, LinkedIn, Twitter, Instagram, Facebook, Messenger, content marketing, social advertising, community building and more.
Every day includes networking opportunities. There is also a special speed networking session on the Wednesday (for a maximum of 15 people who can buy VIP Passes).
If you are in finance, higher education, hospitality, or the non-profit sector, there will also be a pre-conference industry training add-on available.