Influencer marketing has only been a common term for a few years now. However, it is rapidly becoming mainstream, and in many ways is an obvious extension of content marketing. It is undoubtedly a legitimate content distribution model for businesses participating in digital marketing.
It is no longer the "new boy" of marketing techniques. One effect of influencer marketing's widespread acceptance is that there appear to be fewer specialist influencer marketing events targeted at beginners now than when it was still nascent. Marketers no longer feel the need to hold introductory courses for business people who don't understand the core concepts of influencer marketing. Most businesspeople already have a reasonable idea of what influencer marketing can do for them, and anybody who doesn't can easily learn the basics from a website like the Influencer Marketing Hub.
That doesn't mean that there are no influencer marketing events anymore, however. There are still plenty of conferences and other events where you can upskill on influencer marketing. It does mean, however, there are more general content or digital marketing events that include influencer marketing as a natural component, rather than making a big cry about the "brand new thing."
After the success of 2017's Influencer Marketing Hub conference – Under the Influence, we chose to put together a series of short courses on influencer marketing. We will continue to offer updated training on both sides of the Atlantic in 2019.
Here are 15 events that should help you to learn more about the latest trends in influencer marketing and how the industry is changing to meet the demands of marketers and brands.
---
Top 15 Influencer Marketing Events in 2019 You Have to Attend:
---
London, UK – October 22 & 23, 2019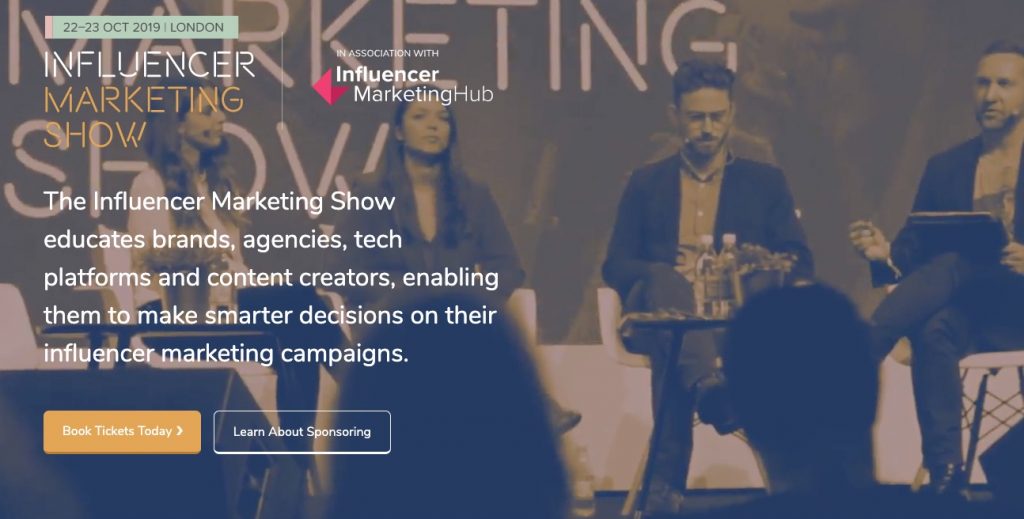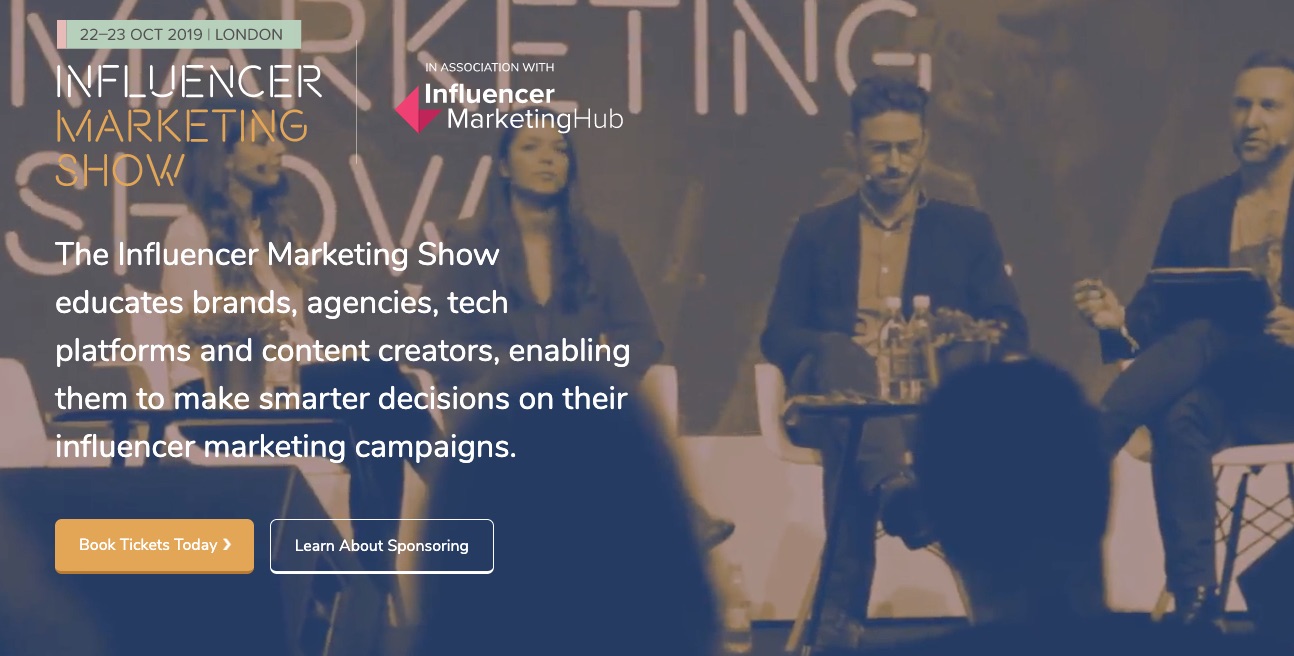 Back for its third year, The Influencer Marketing Show is dedicated to brands and agencies that want to make smarter decisions with their influencer marketing strategy. Unlike similar events, the show is focussed not on creators but the science and strategies needed to create and execute successful campaigns.
You'll walk away with proven strategies to creatively embrace creators to build value-add, integrated and profitable influencer marketing campaigns. Avoid costly mistakes and discover the latest technologies and agencies that will enable you to power-up, help measure the success of your activity and get better campaign performance for your budget.
The two-day event provides unrivalled networking opportunities with brands who are either starting out on their journey or already spending significant portions of their digital budget on the channel.
Items on the agenda include:
Measurement Matters: Confronting the Industry's Biggest Challenge

A Question of Ethics: Why Producing Ethical Content is the Right Thing to do

The Science of Influencer Marketing

Tackling Diversity and Representation in Influencer Marketing

How to Assess an Influencer's True Value and Work Out What to Pay Them
Speakers include representatives from Publicis Media, MediaCom, Mumsnet, Whalar, Clarins, and Tagger Media.
The show includes a host of networking opportunities from speed networking to 'The Social' networking event where delegates can mingle over a glass of champagne, hang out in the beer garden or under the outdoor yurt overlooking London's famous Tower Bridge.
Exclusive Discount
The community at Influencer Marketing Hub receive £100 discount on their passes with the exclusive discount code 'IMH100'.
Get £100 OFF using discount code: IMH100 or visit the link direct HERE
---
San Francisco, CA USA – 21 March 2019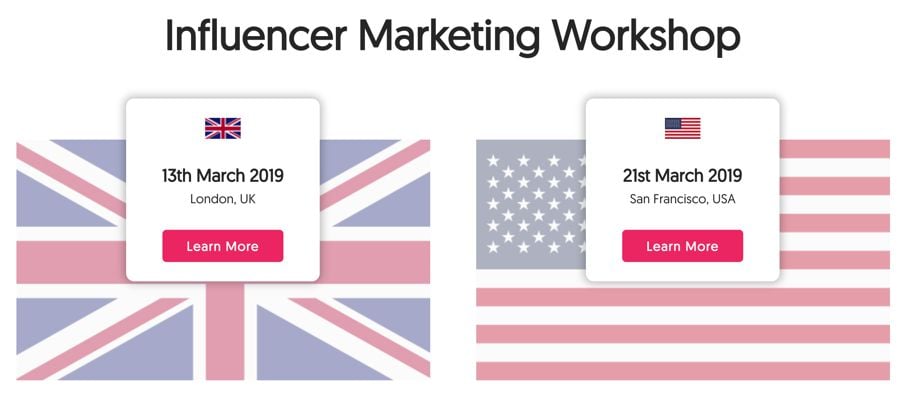 The Influencer Marketing Hub continues to offer its successful training courses, teaching all of the essential skills of Influencer marketing. This year we have cut the flab and adapted our training to include everything necessary in a one-day course. We pair up with thought leaders to bring this Crash Course in March 2019.
This training is ideal for:
PR and Communication Professionals

Marketing Managers

Brand Managers

Influencer Marketing Professionals

Professionals in the Digital Industry
Although influencer marketing can be a marketer's sole focus, anyone in the industry, especially those who work with content, social media, or communications, could benefit from a deeper understanding of the field.
Our workshops teach brands and marketers the necessary tools, knowledge, and compliance procedures to run successful influencer marketing campaigns at scale. The material our expert presenters cover includes:
How to Approach an Influencer Strategy

Influencer Discovery

FTC Compliance

Track and Analyze your Campaign

Influencer Relationship Management

Agencies vs. In-house
---
Anaheim, CA USA – 19 – 21 March 2019
Chicago, IL USA – 30 April – 2 May 2019
New York City, NY USA – 15 – 17 October 2019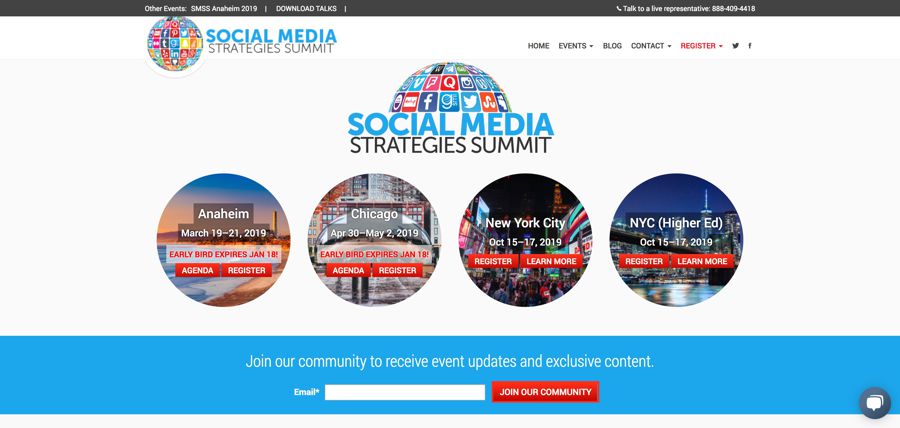 Social Media Strategies Summits will be held in various US cities during 2019. As the name indicates, the Social Media Strategies Summits cover the full gamut of ways businesses can use social media to their benefit – including, of course, influencer marketing.
Each summit provides three days of social media marketing courses. This is the eighth year of the summit, so it had many opportunities to build a winning formula.
Some of the speakers at the forthcoming Anaheim Summit include:
Vanessa Fiske, Director of Marketing, DVD Netflix

Mark Pontrelli, Director of Digital, Coty

Ted Bramble, Director Global Brand Creative, Hot Wheels

Aaron Kaufman, Senior Social Media & Studio Marketing Lead, PlayStation

Jennifer Cacace, Director of Social Media, Pandora

Alex McNab-Lundbäck, Head of Corporate Social Media, A.P. Moller Maersk

Gabriela Head, Social Media and Blog Ecosystem Director, Microsoft

Lisa Fong, SMB Marketing Lead, Pinterest
No Social Media Strategies Summit is the same, however. Each agenda is always a fresh mix of case studies, how-to sessions, and best practices.
---
San Diego, CA USA – 20 – 22 March 2019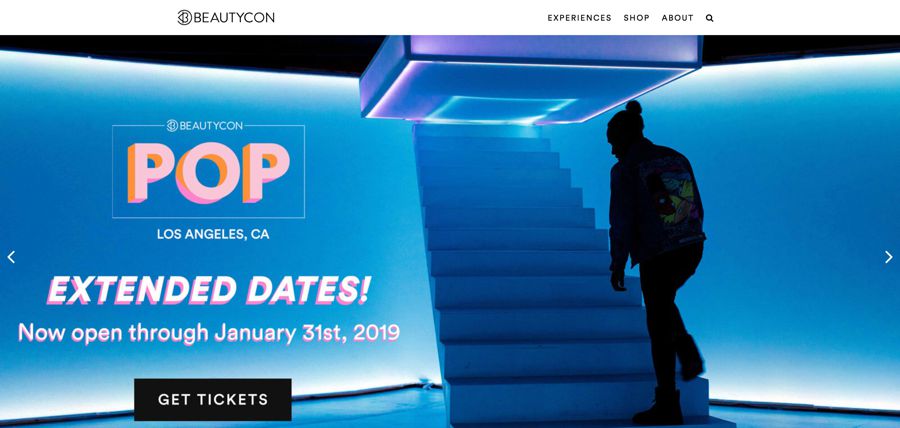 California is clearly the place to be in late March for anyone interested in influencer and social media marketing, with two conferences during the same weekend.
Social Media Marketing World is designed for the marketing professional. It aims to showcase important trends and how to implement the latest techniques successfully.
Most attendees either own or work for businesses with fewer than 100 employees - social media marketers, consultants, solopreneurs, agency owners, network marketers, and corporate marketers.
Social Media World splits its session into the following tracks:
Facebook ads

Facebook organic

Instagram marketing

Messenger bots

live video

social strategy

content marketing

analytics

video creation

YouTube for business

corporate marketing

local business marketing

LinkedIn marketing

Twitter marketing

Pinterest marketing

Snapchat marketing

Blogging
While it doesn't specifically mention influencer marketing per se, many of the session tracks will still be highly relevant to firms wishing to engage in influencer marketing.
---
Scottsdale, AZ USA – 28 March 2019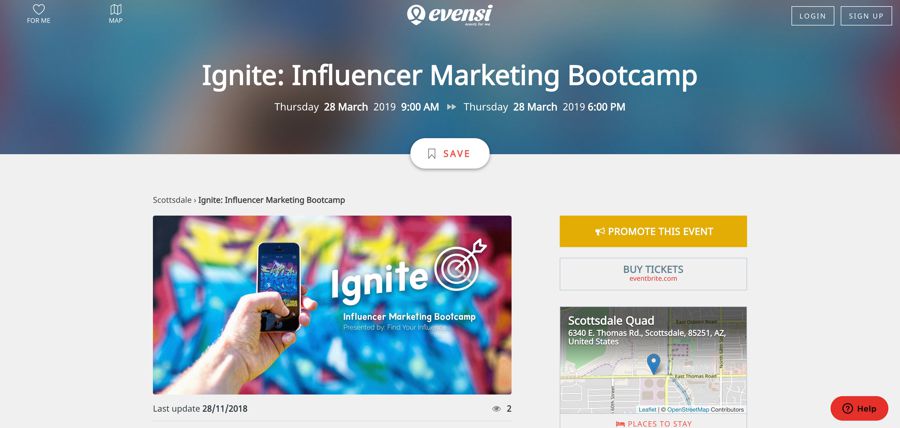 Ignite: Influencer Marketing Bootcamp is a one-day conference, aimed at relative newcomers to influencer marketing. It brings together brands and agencies for a series of conversations around influencer marketing.
The day includes the following sessions:
Guaranteed Results Drive Metrics that Matter

Get Creative with Your Influencer Program

Best Approach to Communicating with Influencers

How Much Branding Is Too Much?

Amplify Your Influence with AR/VR

When You Save the Lawyer for the End
---
New York, NY USA – 6 – 7 April 2019
Los Angeles, CA USA – 10 – 11 August 2019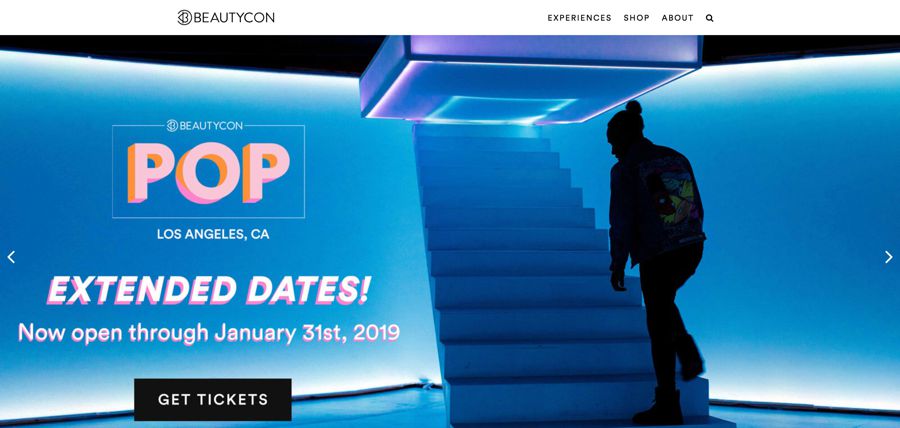 The Beauty Con Festivals make it easy for those with interest in beauty to meet up with the real influencers in the industry.
Most of the big names in beauty make an appearance at the Beauty Con Festivals, and many of the top beauty-related influencers make a point of coming to the festivals to meet up with their fans in person.
The Beauty Con organizers have yet to announce precise details about the 2019 events. However, they will most likely follow a similar pattern to the highly successful 2018 Beauty Cons. If you want to make Influencer connections, you should buy either the Social or All Access Package, which will give you access to a unique Social Lounge, where you can meet many top beauty Influencers and celebrities.
---
San Diego, CA USA – 8 – 10 April 2019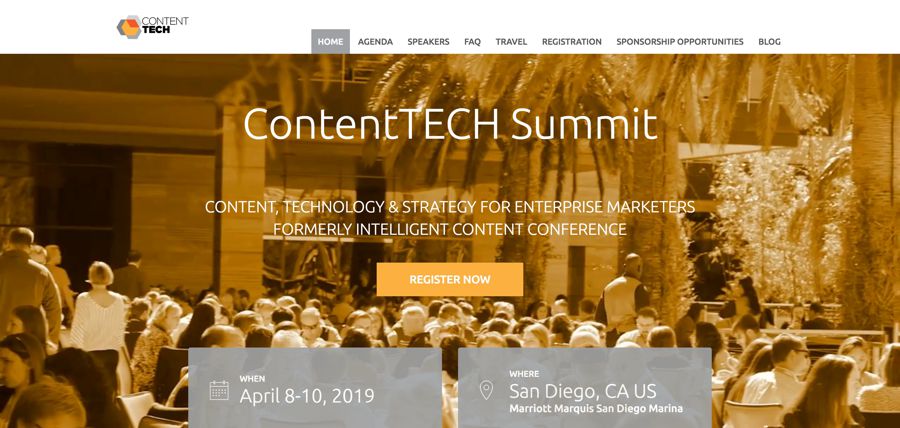 The Content Tech Summit has a clear mission – "to show how the effective use of technology and better processes can help your strategic efforts to create, manage, deliver, and scale your enterprise content and provide your customers with better digital experiences."
The summit will try to answer how your business should be using or preparing for the right content and marketing technology innovations. How do you use content and technology to help in the ever-changing market landscape?
---
London, UK – 16 – 17 April 2019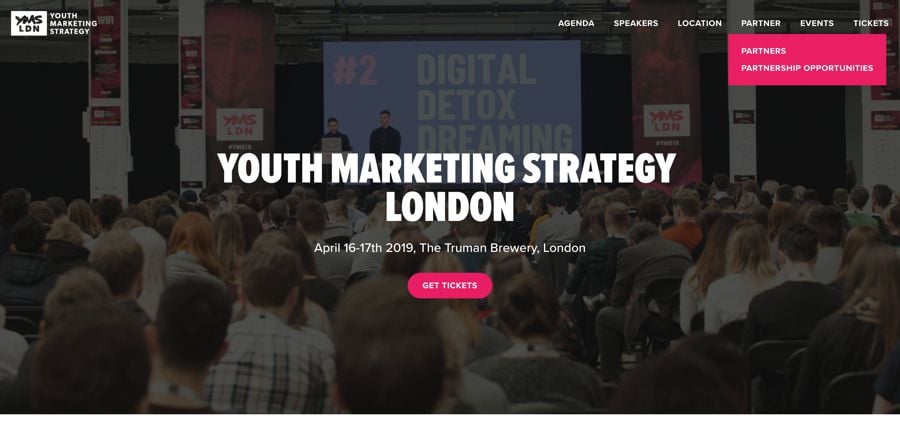 Marketing to the younger generations can be a daunting experience if that is not your own demographic. For a start, Generation Z can't stand banner ads, and most install some form of ad blocking software. They trust their influencers far more than they do brands or even traditional celebrities.
Youth Marketing Strategy, London, is a two-day youth marketing festival on the latest trends, youth perspectives, and brand case studies.
Items on the agenda include:
10 Unexpected Ways Gen Z Will Change the World

Doing Diversity - Inspiring Action Not Words

Peak Choice and the Power of Content Discovery

The Tempest Two - Creating Meaningful Content that Inspires an Audience

Influencers Killed the Role Model Star – Who Inspires Today's Gen Z?

Where Does Talent Come From?
---
Atlanta, GA USA – 6 – 8 May 2019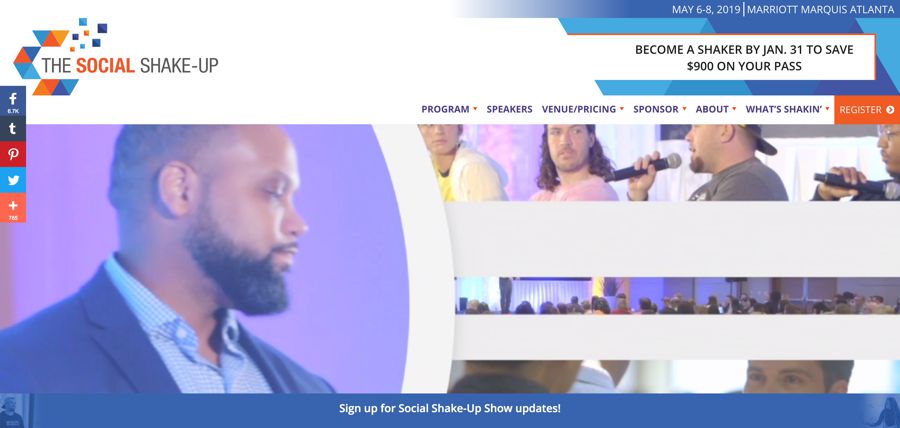 The Social Shake-Up is another recurring conference that grows in popularity each year. The Social Shake-Up allows you to hear from the movers and shakers in social. They will give you ideas to move you and your brand forward.
Many of the speakers are C-suite execs who understand the place of social in business. You will participate in provocative discussions about what's next and how you need to prepare.
The conference includes interactive sessions, case studies, panel discussions, fireside chats, clinics and more focused on Social Strategy, Integrated Comms, Customer Experience, Video, Monitoring, Data, Facebook, Snapchat, Instagram, Twitter, LinkedIn, Content Marketing, Mobile, Crisis Management, Podcasting, Blogging, Social Good, Visual Storytelling, Paid Social, Organic Social, SEO, Online Communities, Customer Mapping, Talent Retention, Measurement and Social Commerce.
The Social Shake-Up provides numerous networking opportunities, which could be a useful time for brands to build relationships with influencers.
The Shake-Up continues its tradition of closing out the show with a roundtable of top influencers shaking up social. They have gathered a diverse set of sought-after influencers who will share their secret sauce for engagement, innovation, and online commerce. Brands will get a final unvarnished look at what makes a successful partnership from an influencer's point of view.
---
Toronto, Canada – 15 May 2019
Once again, Canada's premier Influencer marketing conference, Influence This, targets marketers, agencies, publishers, media, and advertising technologies, and creators.
It offers a mix of presentations, interviews, and networking opportunities. They have yet to announce the agenda for the 2019 conference. However, they have named some of the presenters, who come from some of Canada's top brands, agencies, and publishers.
---
Amsterdam, The Netherlands – 12 – 13 June 2019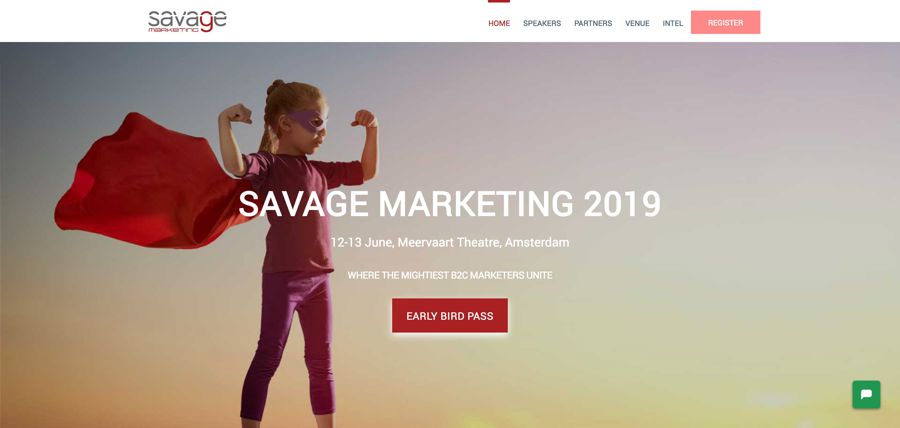 Savage Marketing 2019 will feature 50 speakers holding 40 sessions for 500 marketers on topics affecting B2C marketing. Is will be a place to learn, share, and network. It is one of Europe's premier marketing conferences.
Although it covers all spheres of marketing, there will be much of value for those interested in Digital marketing, content marketing, and influencer marketing.
They have yet to announce the 2019 agenda, however, if they are similar to what was covered in 2018, they should be relevant and informative.
Topics in 2018 included
How the World Has Changed. The New Era Where Data Beats Muscle

Capturing The Hearts Of The New Generation

Preparing for the Technology Shift: Practical Applications of AI and ML in Digital Marketing
---
Las Vegas, NV USA – 17 – 19 June 2019
London, UK – 16 – 17 October 2019
Berlin, Germany – 18 – 19 November 2019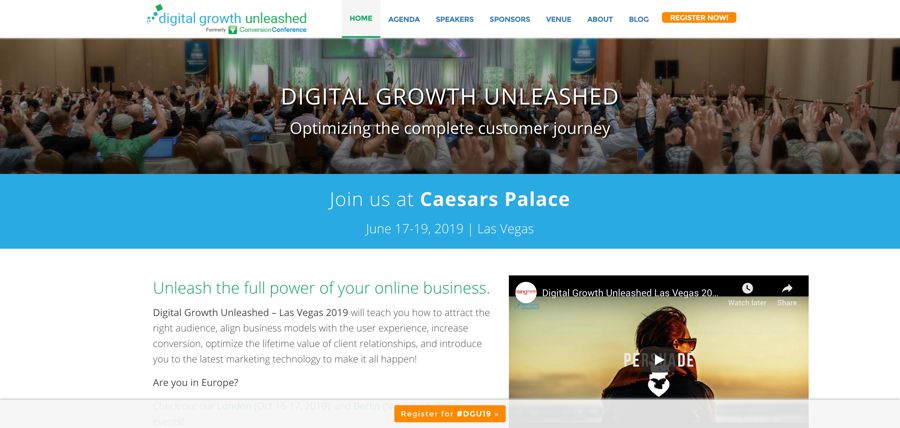 Digital Growth Unleashed is an updated version of what was previously known as Conversion Conference, which was held more than two dozen times at various locations around the world since 2010.
The focus of the event will be on how to create the most compelling customer experiences by meeting the needs of your clients and prospects more fully.
It is a live-only event with no video recordings. Attendees will gain actionable content from industry-leading speakers and insightful perspective from top keynotes. You will be able to make connections and talk in-depth with your favorite speakers.
Your team will have plenty of choices, as there are four content streams, and four concurrent sessions throughout the conference.
---
Anaheim, CA USA – 10 – 13 July 2019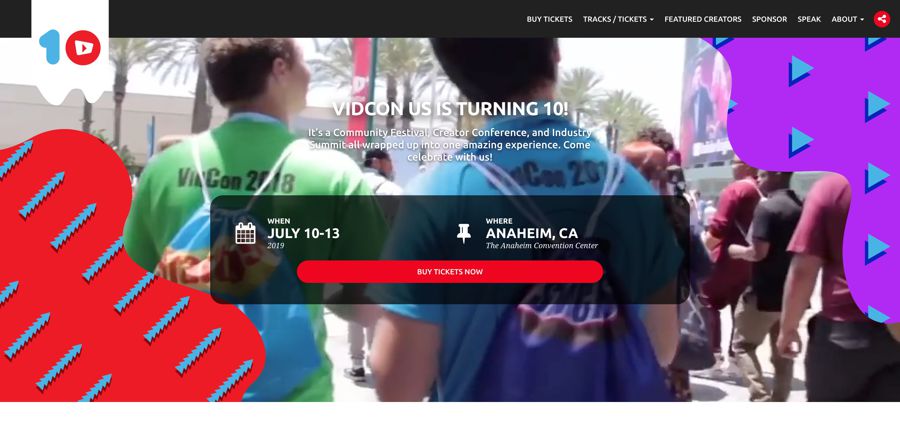 VidCon turns 10 in 2019. It describes itself as being for people who love and make online videos. It covers all social channels that feature video, including YouTube, Instagram, Facebook, Snapchat, LinkedIn, Twitch, and TikTok (formerly Musical.ly.)
It offers three tracks, depending on your area of interest:
The Community Track – for fans who come to VidCon to meet their favorite creators and have a good time

The Creator Track – for video-makers wanting to learn how to make better content, break into the industry or meet fellow creators

The Industry Track – for companies, brands, and technology companies who wish to build the strategies, insights, and alliances
The industry track will be particularly beneficial for marketers, business owners, creators, or Influencers wanting to be involved in video Influencer marketing. The Industry Track has its own lounge, and its own seminars, keynotes, panels, and fireside chats.
---
Cleveland, OH USA – 3 – 6 September 2019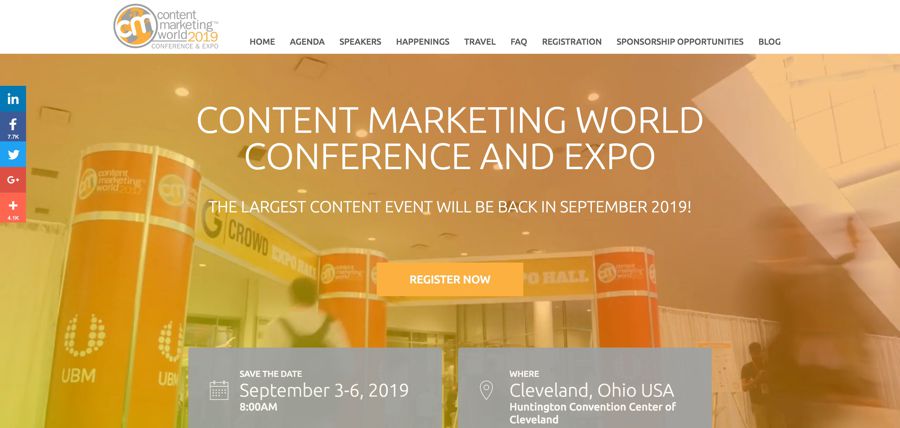 The CM World (Content Marketing World) Conference and Expo will return in 2019. It provides an opportunity for you to learn and network with the best and the brightest in the content marketing industry. Leading brand marketers and experts from around the world will present over 120 sessions and workshops. These will cover strategy, storytelling, ROI, demand generation, AI, and other new ideas.
In 2018, 3,700+ marketers from over 50 countries attended the conference. They expect even more in 2019. They expect more than 4,000 attendees from more than 550 companies, listening to 225 speakers.
Although the 2019 agenda is not yet available, the 2018 conference included many sessions relevant to those engaging in influencer marketing.
---
Portland, OR USA – 19 – 21 September 2019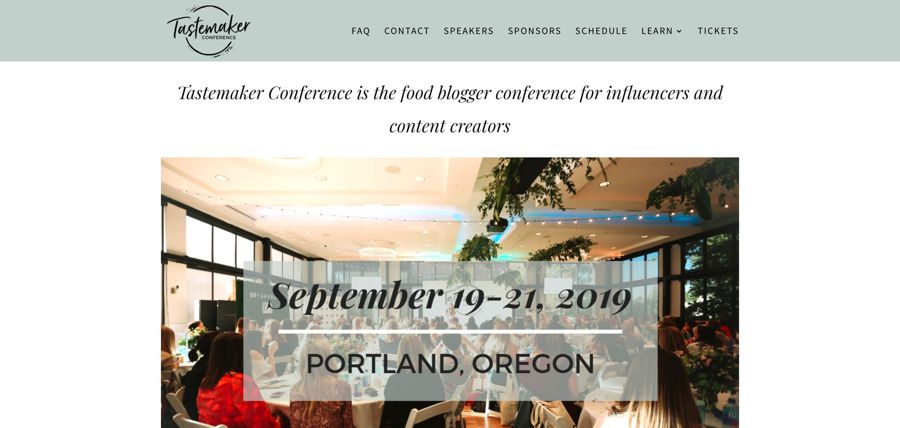 The Tastemaker Conference describes itself as the food blogger conference for influencers and content creators. It is a place where food bloggers make contact with incredible vendors and foodies.
The bulk of Tastemaker Conference 2019 will operate on Thursday, September 19 and Friday, September 20, 2019, with an additional option for an exclusive excursion on Saturday, September 21. When you buy a general admission ticket, you will get the choice of attending up to eight different workshops and classes, access to panels led by food influencer experts, a swag bag worth over $200, and access to the sponsor exhibitor hall, where you will make connections with brands who want to work with you.
Inevitably, for a conference centered on food, breakfast, lunch, and snacks will be served on both Thursday and Friday.