Mixer is Microsoft's answer to Twitch – a videogame live streaming platform. It doesn't yet have the same high profile as Twitch or YouTube Gaming, but that is sure to change now that they have enticed champion gaming streamer, Ninja, to the platform.
Like most of its competitors, Mixer makes it easy to add themes, templates, and other overlays to your screen, to give you a personalized streaming experience. Luckily it uses many of the same filetypes as Twitch and the others so you can use many of the same themes and templates across all of your streaming platforms.
We've taken a look at firms that provide various types of overlays (some free, some paid), as well as a range of tools that you can use to create or modify your own themes and templates.
---
Top 10 Mixer Themes and Templates:
---
Like most themes and templates for livestreaming, Own3D.tv's graphics are generally interchangeable between streaming platforms. They refer to their products as "Twitch overlays and stream designs," but make it clear that they are entirely usable on Twitch, YouTube Gaming, Facebook Live, and Mixer, as well as some of the All-in-One Platforms that enhance your streaming, like Player.me and ORB.
Own3D.tv offers a wide range of themes and templates. These include complete packages, webcam overlays, talking overlays, offline banners, profile banners, alerts, alert sounds, panels, stinger transitions, sub emotes, sub badges, and avatar makers.
If you are a relatively new streamer, then the Animated Starter Bundle may be a good place to personalize your stream. The Animated Starter Bundle comes with multiple components and options. Again, although Own3D.tv uses the word "Twitch" in their descriptions, many items should be just as usable for Mixer streaming. Each set comes with:
Everything in the same design style

Clean Version 4x different Color Sets

All .PSDs,webms, .PNGs and JPGs included

Animated & non-Animated (static)

1x Universal Stream Overlay for Games & IRL (for each color set)

1x Offline Banner (for each color set)

12x Twitch Panels (for each color set)

5x Twitch Alerts (for each color set)

1x Twitch Profile Pic & 1x Twitch Profile Banner (for each color set)
Own3D.tv
All of our products are created for all streaming platforms The world's largest Graphics Shop for Twitch & YouTube streamers. Our graphics make your hobby even more beautiful and individual.
---
NerdorDie offers a range of graphical assets to help you customize your channels on all the major streaming networks.
They advertise the Predator Stream Package. The designs in this pack exhibit inspiration from the worlds of Apex Legends and Destiny. The pack includes exciting animated alerts as well as overlays, widgets and more.
It fully supports OBS Studio, Streamlabs OBS, and XSplit and works for all main gaming streaming networks, including Mixer. It is thoroughly tested with the Streamlabs and StreamELements alert and widget platform.
You can select from several versions, depending on your precise requirements. These include:
Predator Alert Pack – the animated alerts package allows you to choose the shapes, colors, and fonts of almost every aspect of the alerts. They are stylistically reminiscent of the worlds seen in Apex Legends and Destiny

Predator Overlay Pack – this includes animated video files, custom goal widgets, and a custom chat widget, all designed to work around Apex Legends' in-game interface as well as other games. It has several default color options (orange, pink, and red). It also includes icons, profile panels, stingers, event list, multiple scenes (Starting, ending, brb, chatting) and webcam frames.
Nerd or Die
You can also combine everything as a Full Pack, or a Full Pack with Source Files, if you want the editable After Effects project files.
---
Lightstream Studio is a free tool you can use to personalize your Mixer stream. You can edit right in your browser, with no downloads needed. Once you have everything set up how you like, you can add your media to your stream automatically every time you go live.
You can use it to easily add text, images, and overlays, slideshows, webcams, and stream alerts. You can create an engaging, professional-looking stream without buying an expensive streaming PC or capture card. Lightstream Studio automatically layers on your stream graphics every time you go live to your Mixer channel.
Lightstream Studio supports all desktop broadcast software that uses Mixer's FTL protocol, as well as the Mixer app on Xbox, Windows 10, iOS, and Android.
You enable Lightstream Studio integration in the Manage Channel section on Mixer.com. You can then use Lightstream Studio to personalize your stream. Lightstream layers on your media automatically whenever you go live.
---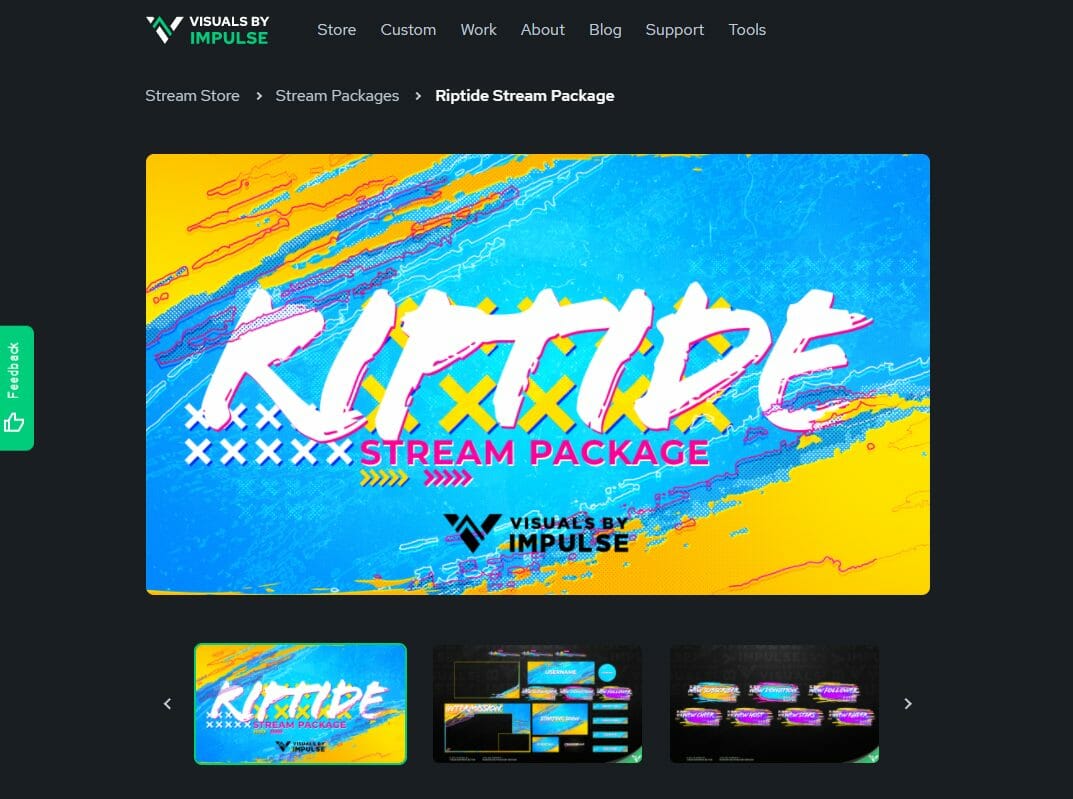 Visuals by Impulse is another designer of themes and templates for Mixer, Twitch, and other gaming streaming networks. Also, most of their products work with Streamlabs OBS and StreamElements.
You can opt for individual graphics elements, or go for an entire stream package. The Riptide Animated Stream Package has a distinct look, reminding you of Summer and surf. It includes animated overlays and stream templates, designed for beach bums and energetic, upbeat broadcasters. The package features sunny colors, waves, and graffiti patterns that combine for a SoCal-inspired look.
The pack includes 7 x animated alerts, custom alert soundtrack, event panel + overlays, 4 x stream screens, animated transition, profile art, and panels. It features one-click setups for Streamlabs and StreamElements.
You can customize this package by adding or removing any social media icons of your choosing. Visuals by Impulse also provide complimentary editing services. There are both animated and non-animated versions of the package.
---
StreamJar is a tool you can use to improve your streaming experience. Amongst its features are:
Tip tracker

Overlay builder

Alerts

Integrations
Streamjar includes a drag-and-drop overlay editor you can use to design your overlays. You drag different elements onto your broadcasting scene.
It supports many customization options, so you can upload custom images and sounds to design your unique stream.
It is a flexible editor which shows changes in your stream as soon as you make them. You can pull alerts and other data from Mixer (as well as many other places), meaning that you can use more than one platform simultaneously.
You can ask for tips through PayPal, using your overlay and chatbot to fire alerts. You can use the drag-and-drop tip page editor to configure cool extra perks for your donations.
---
Maelstrom is a custom overlay editor for streamers. It allows the creation of multiple overlay profiles, custom animated GIF, dynamic backgrounds, and labels.
It currently works with Mixer, Twitch, StreamLabs, Just Giving, and Streamtip. Maelstrom expects to be available for YouTube Gaming and Facebook Live soon.
Maelstrom is still a work in progress, so you will find many new features added over the next few months and years. Currently, it features a real-time dashboard with events, stats, and chat. You can show followers, subscribers, donations, and cheer alerts. It also includes fully customizable overlays and widgets, themes, dynamic backgrounds, and dynamic labels. Maelstrom helps you manage multiple images and sounds, as well as connecting multiple services.
You can customize your overlays by dragging and dropping your widgets. You can configure the fonts, colors, and animations. You can even drop your own custom CSS.
---
Plyer.me allows you to livestream and record for your favorite platform: Mixer, Twitch, Facebook Live, or YouTube Gaming. It includes hundreds of professionally designed overlay templates. You can customize them with their overlay editor. They come with widgets, alerts, stream cups, trains, a donation system, and more.
You can also use Player.me to edit and upload your videos with their Video Editor. You can track your gameplay across all your games. Player.me can even help you to create your gaming profile by directly connecting to your gaming, social, and content accounts.
---
Pixel Chat describes itself as a cutting edge overlay service for Mixer.com.
They provide (or signpost they are about to offer) 11 services for gamers:
Pixel-Chat - a fully customizable chat overlay for Mixer.com. It fully supports emotes, skills, and everything in-between

Pixel-Shout – Mixer's go-to overlay for shoutouts. Every aspect is customizable, so you can make it fit your stream perfectly

Pixel-Give - a fully animated and interactive giveaway system for Mixer. You can spice up your giveaways with amazing visuals and music

Pixel-Bot - the last bot you will ever need. It has yet to be released, but apparently can "do anything and everything that you could imagine" using its robust plugin system. Pixel describes it as being fast and hosted in the cloud

Pixel-CC - provides instant closed captioning to your stream. It adds subtitles to your stream to help out any hearing-impaired viewers, or those without headphones nearby

Pixel-Emote - provides particle effects when viewers use emotes or skills in your chat. The particles come in the form of that emote or skill

Pixel-Follow - a super clean fast, and minimalist follow alert for Mixer

Pixel-Host - a super clean fast, and minimalist host alert for Mixer

Pixel-Sub - a super clean fast, and minimalist sub alert for Mixer

Pixel-Ember - a fast, and beautiful alert for all things Embers

Pixel-Events - a clean and minimal animated events list for your Mixer streams, supporting subs, hosts, follows, and Embers.
---
Team Crowbar offers a range of tools for Mixer – created for the community by the community. One such tool is Mixer Chatter, a quick and easy solution to get a chat overlay on your stream.
It does not require any special permissions, and it supports sub icons and all Mixer emotes.
You can select the number of seconds you want to show each message, with the default being eight seconds.
You can also select from six themes:
Default

Rockstar

Air – Regular

Air – Mega

Obsidian – Regular

Obsidian - Mega
---
Unlike the other products here, Stream Deck is a physical piece of hardware you can use to help your streaming on Mixer and the other leading streaming platforms. It has 15 LCD keys you can use to launch unlimited actions, eliminating the need to map and memorize keyboard shortcuts. It features one-touch, tactile operation lets you switch scenes, launch media, adjust audio, and more, while visual feedback confirms your every command.
You can use it to streamline your setup, integrate your tools, and automatically detect your scenes, media, and audio sources, enabling you to control them with a quick tap of a key.
You can employ Stream Deck to level up your onscreen antics with GIFs, images, videos, and audio clips. You can even bookend your content with signature intro and outro graphics.
Stream Deck is easy to customize. You can drag and drop actions onto keys, and make them your own with custom icons. Consider turning keys into folders to amass and access as many actions as you want. Indeed, you can even save unique key configurations as dedicated profiles for different games and apps, switching between them on the fly, and sharing them with your fellow creators.