Research Methodology
The data presented in this report was collected using our weekly compilations of sponsored YouTube videos. The creator data showcased in this report was captured using the NeoReach Social Intelligence API. In order to qualify, and be included in our dataset, each video had to comply with FTC disclosure regulations. Our dataset consisted of sponsored YouTube videos posted from January to December 2022, from creators based in the United States and Canada.
We analyzed the over 29,000 videos in our dataset to find the highest-spending brands for 2022, looking at statistics to find more insight. This included looking at what industries were spending the most on YouTube sponsorships and what types of ads they were using. Using all of this data, we can see trends that began to take form in 2022 and will continue into the future.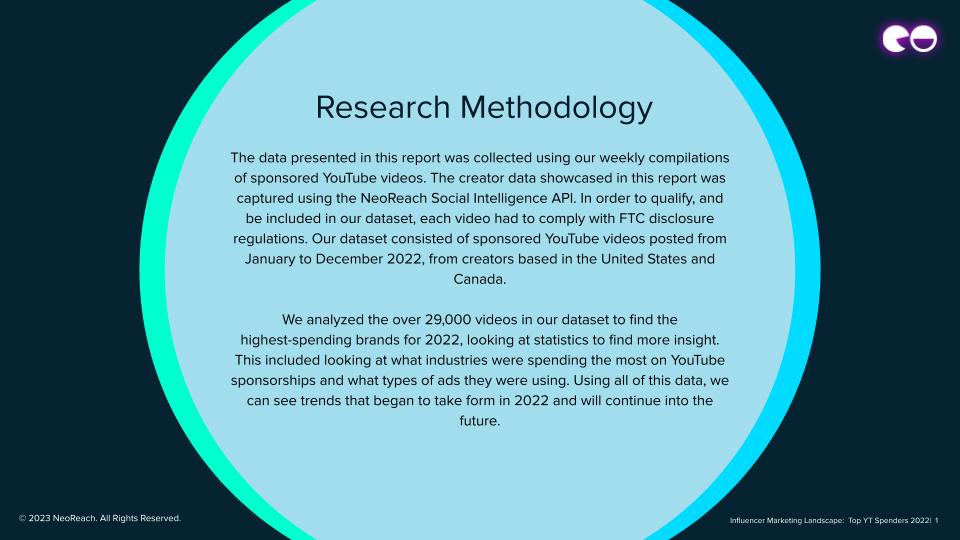 ---
2022 Top Spenders Report:
---
Key Insights
The goal of this report is to give insight into the current state of Influencer Marketing.
Here are 5 key report insights: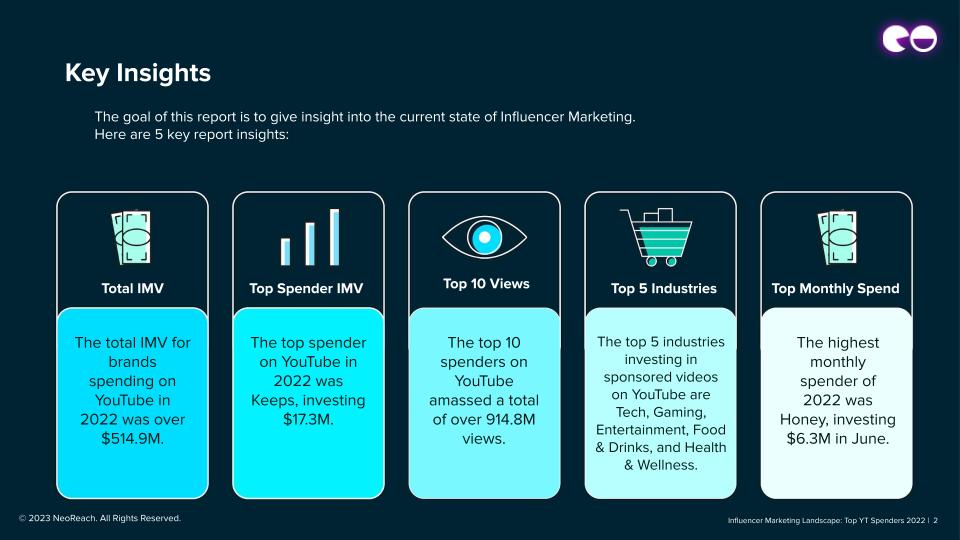 ---
Overall Stats
In 2022, the 4,018 qualifying brands spent a combined over $514.9 million on sponsored YouTube videos. The 29,222 videos analyzed amassed over 3.7 million views and 196.5 million likes.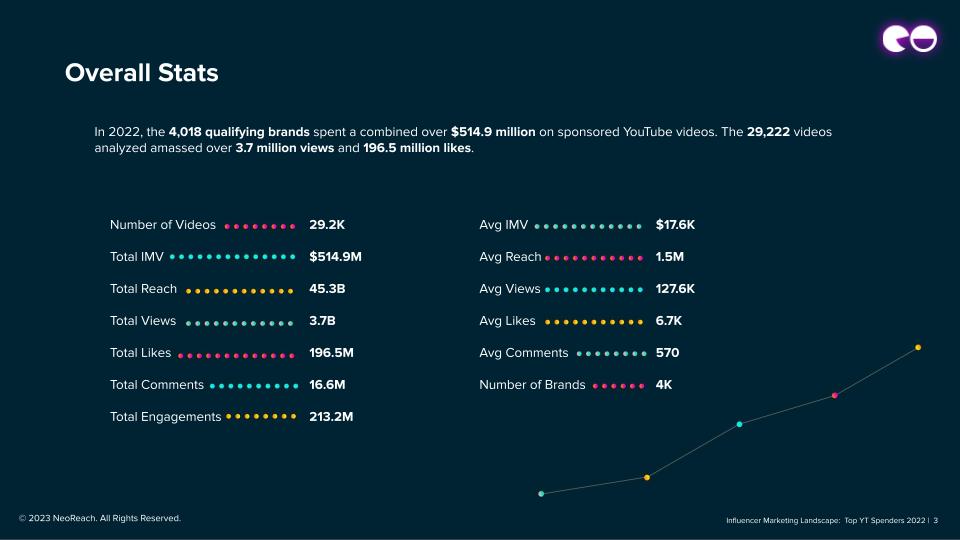 ---
Industry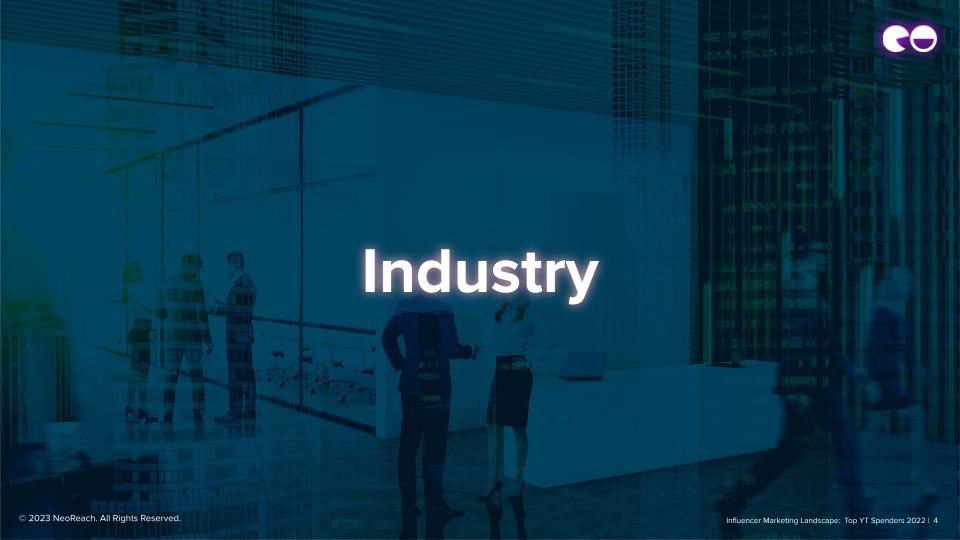 Industry Frequency
Each of the 4,018 brands sponsoring videos in 2022 falls into one of 23 industries. This chart shows how many sponsored videos were posted in each industry. Tech brands sponsored the most at 4,045 videos.
---
Top 5 Industries
The top 5 industries – Tech, Gaming, Entertainment, Food & Drinks, and Health/Wellness – make up 56% of the total videos posted this year, 57% of the total spend, and garnered over 2 billion views.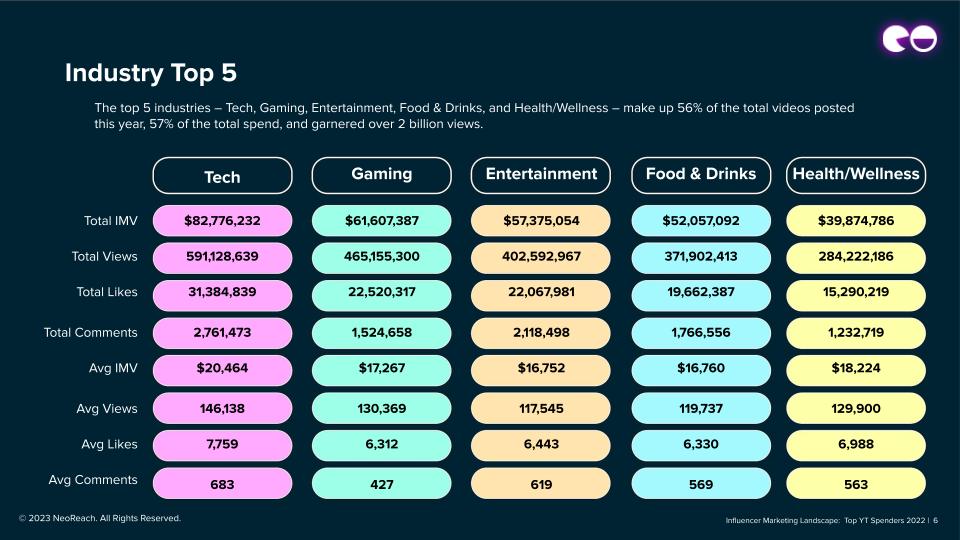 ---
Campaign Details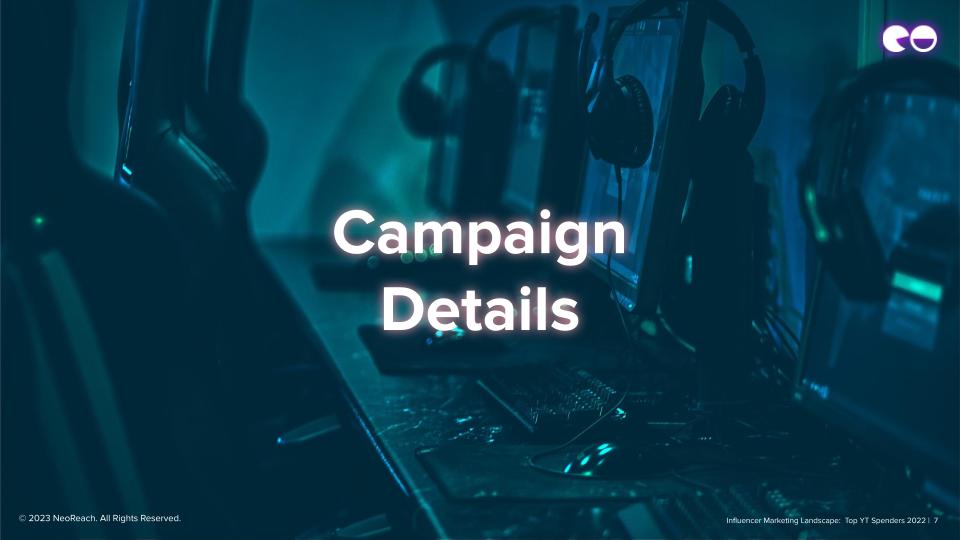 Campaign Types
To assist with the analysis of YouTube influencer marketing, we have sorted sponsored videos into one of four campaign types: Promo Code, Branding and Awareness Only, Download or Install, or Contest/Giveaway. The majority of videos were Promo Codes, while only 0.29% were promoting a contest or giveaway.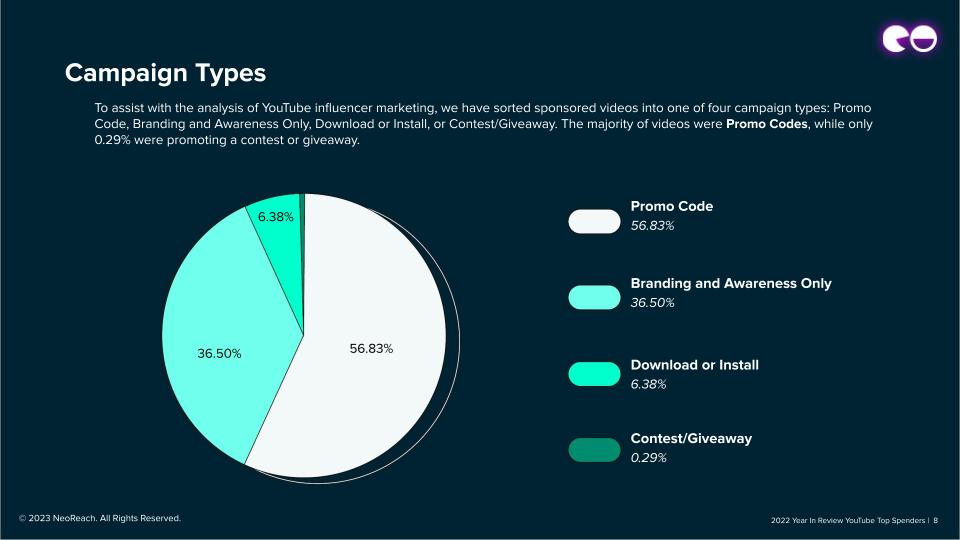 ---
Campaign Types: Industries
Here we can see how the top 5 industries made use of each campaign type. Download and Install campaigns were significantly more popular with Gaming brands.
Meanwhile, Promo Code campaigns were consistently popular with almost all industries. Branding and Awareness campaigns were most popular in the Gaming and Tech industries.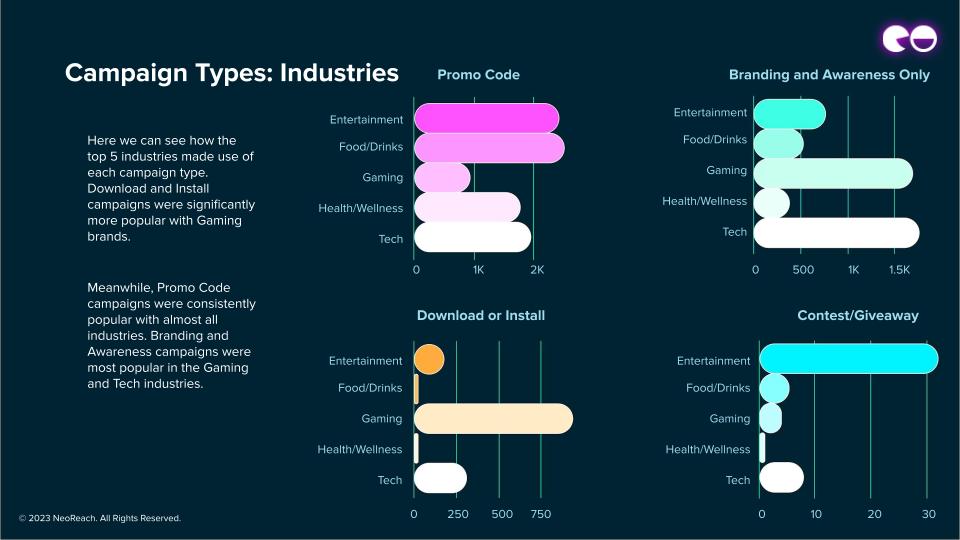 ---
Calls to Action
Along with campaign types, we also analyzed the calls to action of the sponsored videos. We can see that the majority of videos made use of a Direct Purchase Page and Click Link in Bio calls to action. Only 3% of videos had no call to action, meaning there was no link or code in the description.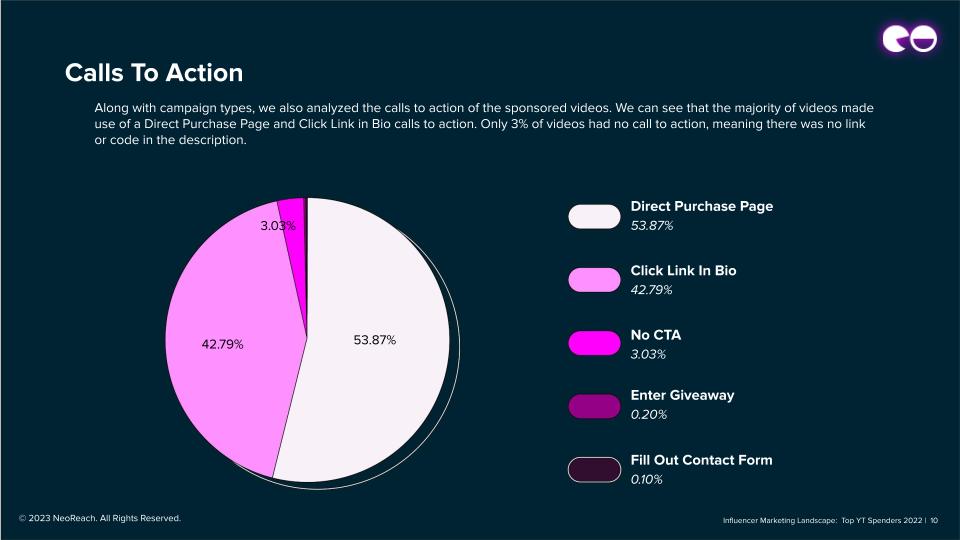 ---
Calls to Action: Industries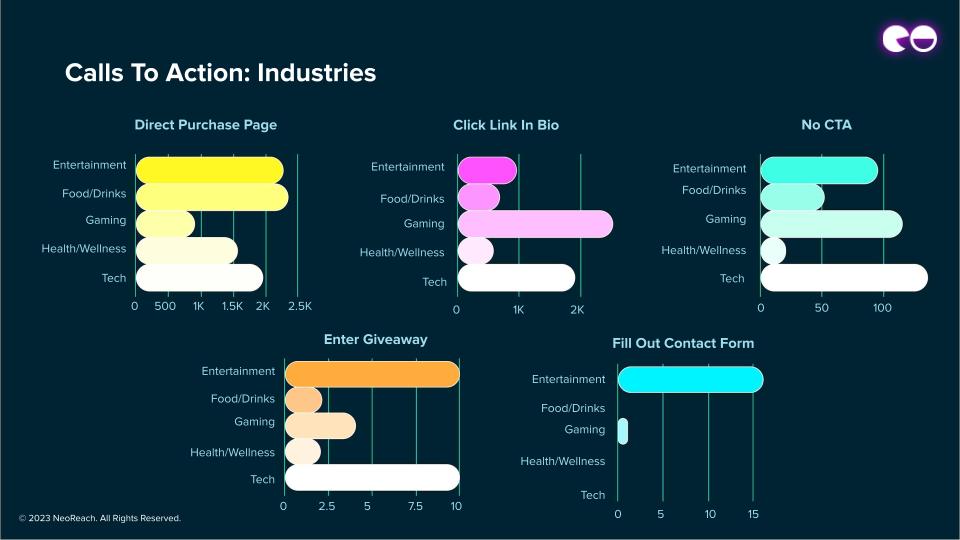 Content Types
Along with campaign details, we also analyze the content types and how the video works in sponsored content The most popular content type is Integrated, in which the ad is put somewhere in the middle of the video. The second most popular content type is Description Only, where the sponsor is not mentioned within the video.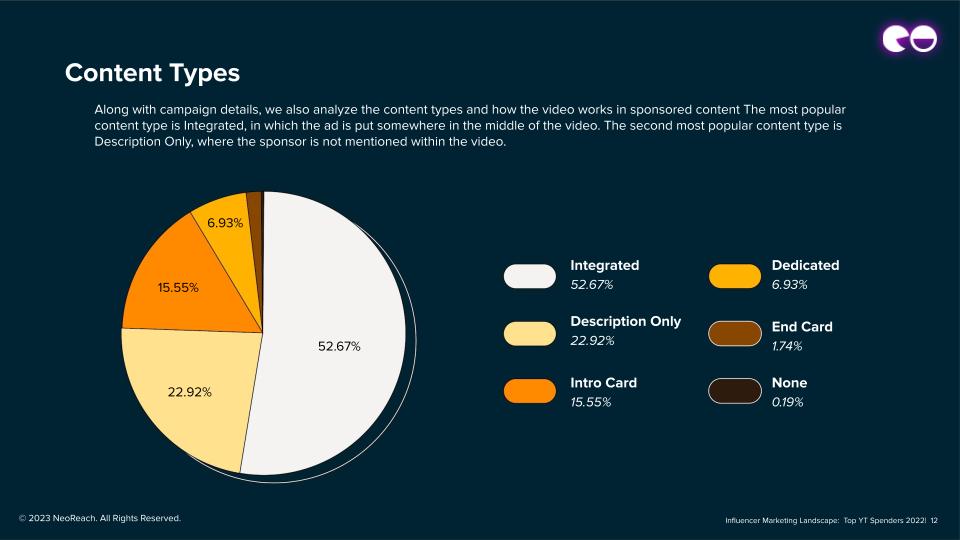 ---
Content Types: Industries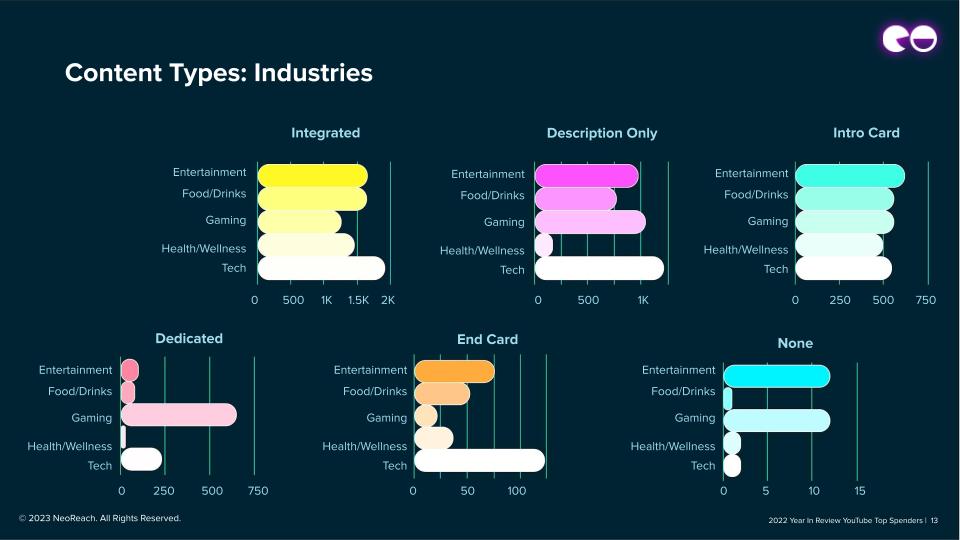 ---
Brand Classification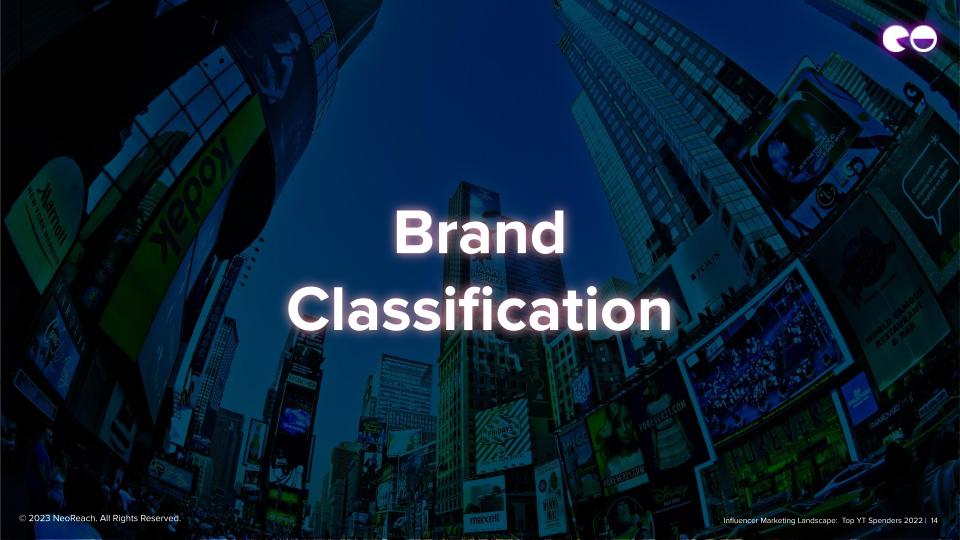 Over the course of 2022, 583 brands spent over $100K. In the highest spending category - Supernova - are 8 brands that spent over $112 million together. The Supernova brands include Keeps, ExpressVPN, Honey, Established Titles, NordVPN, Manscaped, and Betterhelp. These top brands span 5 industries and averaged an IMV of $14M.
73 brands fall into the Macro category, spending a total of over $196M and averaging $2.7M each. 88 brands are in the Mid Tier with a total spend of $62M and an average IMV of $706K.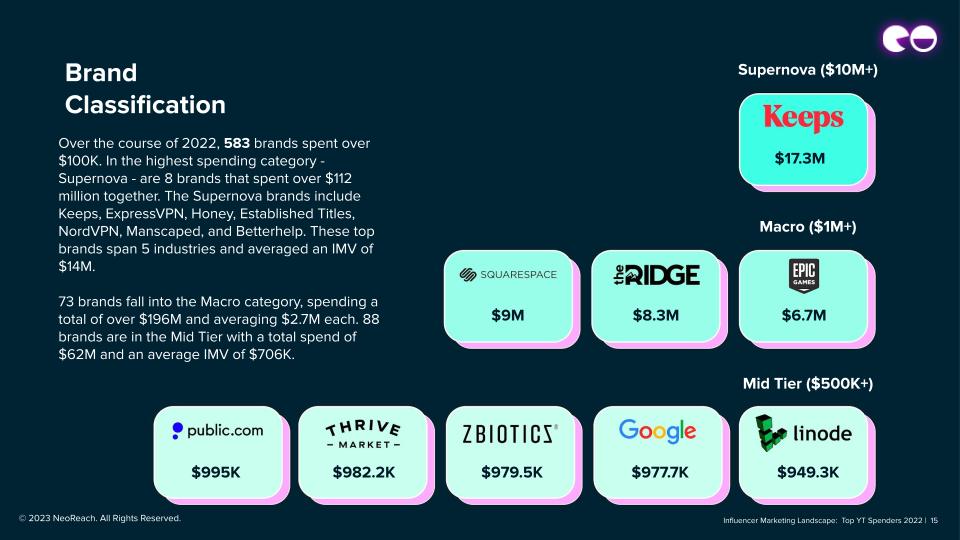 The Micro category contains 121 brands with a total and average IMV of $42.5M and $351K, respectively. In our final tier are the 293 Nano brands that spent a total of $46.2M and had an average IMV of $158K.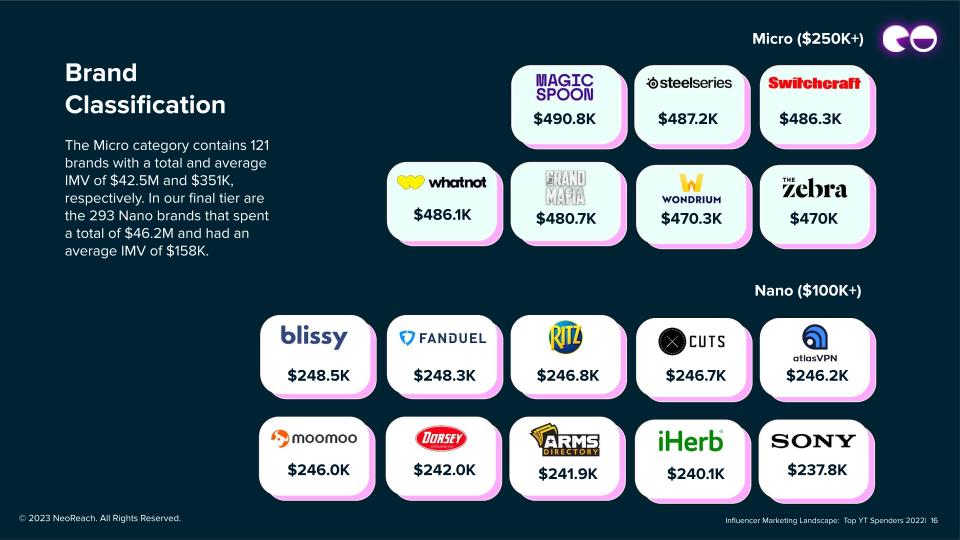 ---
Top Spenders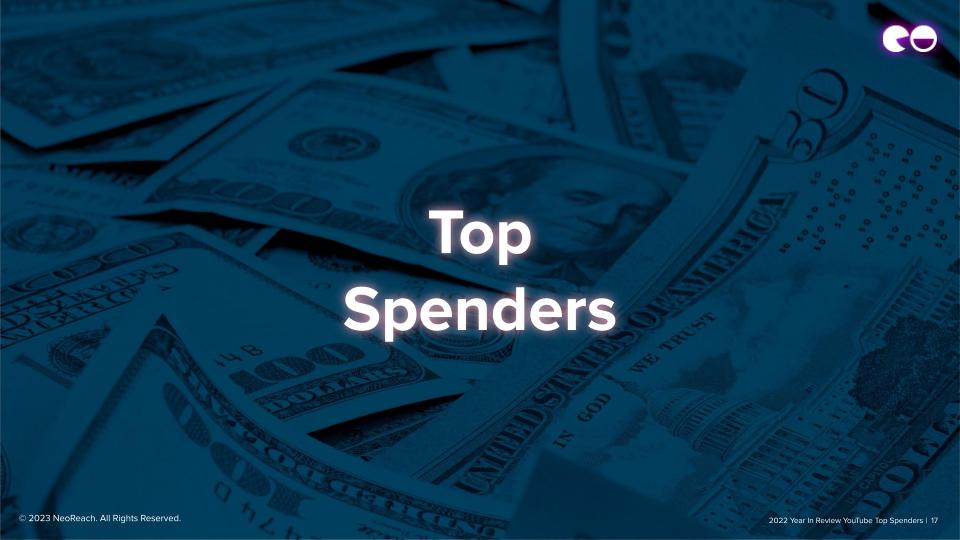 Top Spenders Sum of IMV
Our top ten spenders spent almost $130M together in 2022. The top 2 spenders – Keeps and HelloFresh – each spent more than double the amount of the tenth top spender – Ridge Wallet. Within our top spenders are two VPN brands: ExpressVPN and NordVPN, spending $15.6M and $12.2M, respectively.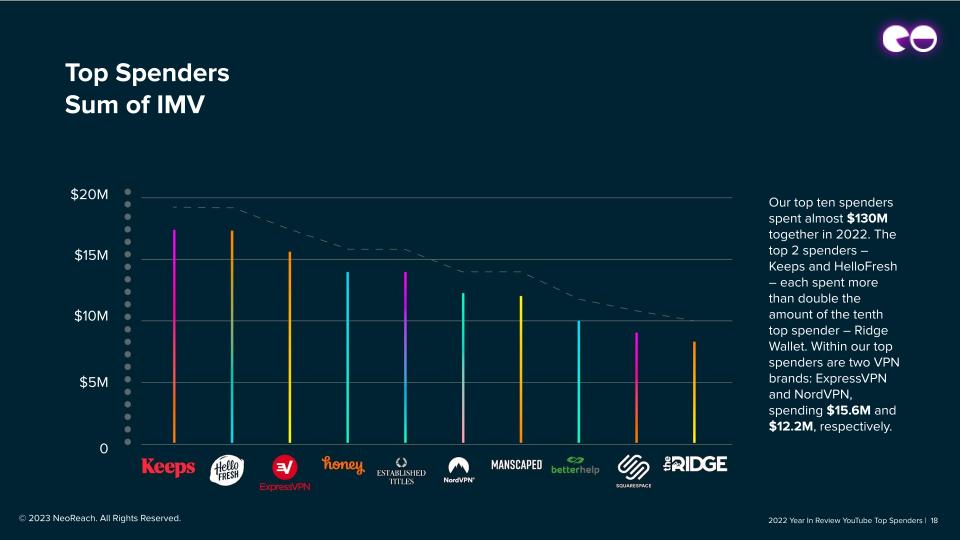 ---
Top Spenders Number of Videos
The 10 highest-spending brands posted a total of 5132 videos in 2022. Despite being the fourth-highest spender, Honey posted the least videos this year, with only 129 videos. Of these brands, Manscaped had the most videos at 825.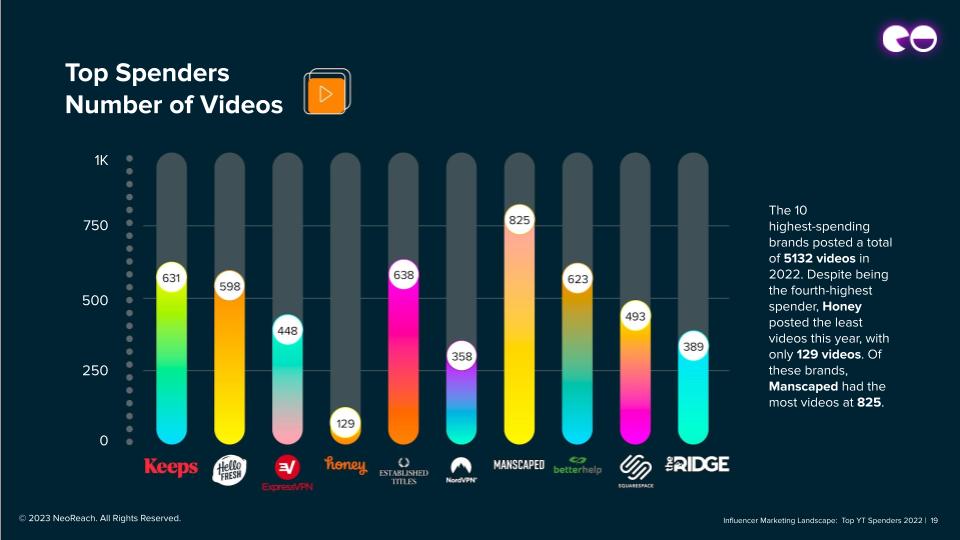 ---
Top Spenders Number of Creators
Some brands choose to work with many creators to reach a varied audience, while others stick to fewer creators to build a more dedicated audience. ExpressVPN, Honey, and Betterhelp all used less than 80 creators in 2022 while still being among the top 10 spenders. With 303 creators, Hellofresh sponsored the most.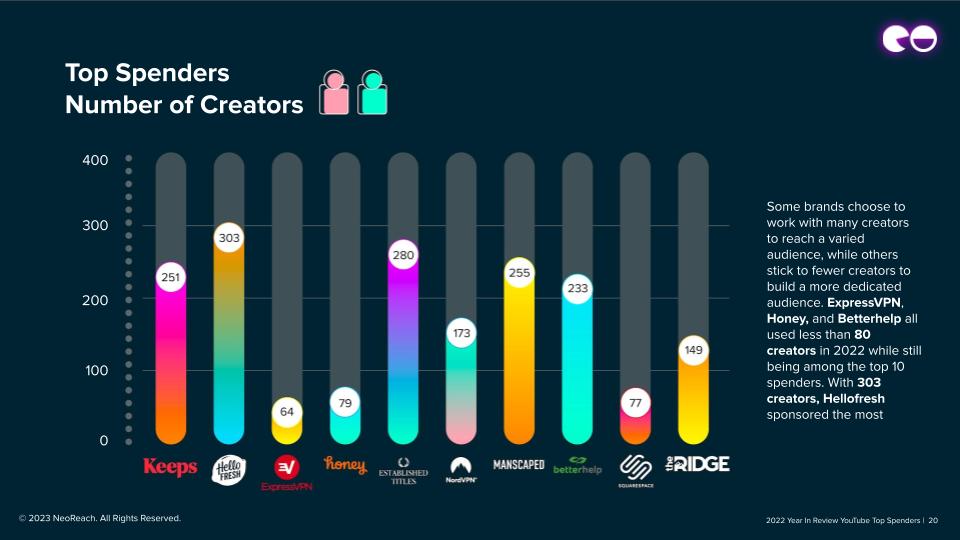 ---
Top Spenders Total Views
The top 10 brands garnered in 914M views over 2022. Despite having the least sponsored videos, Honey still amassed 94M views. Hellofresh had the most views, at 128M across almost 600 videos.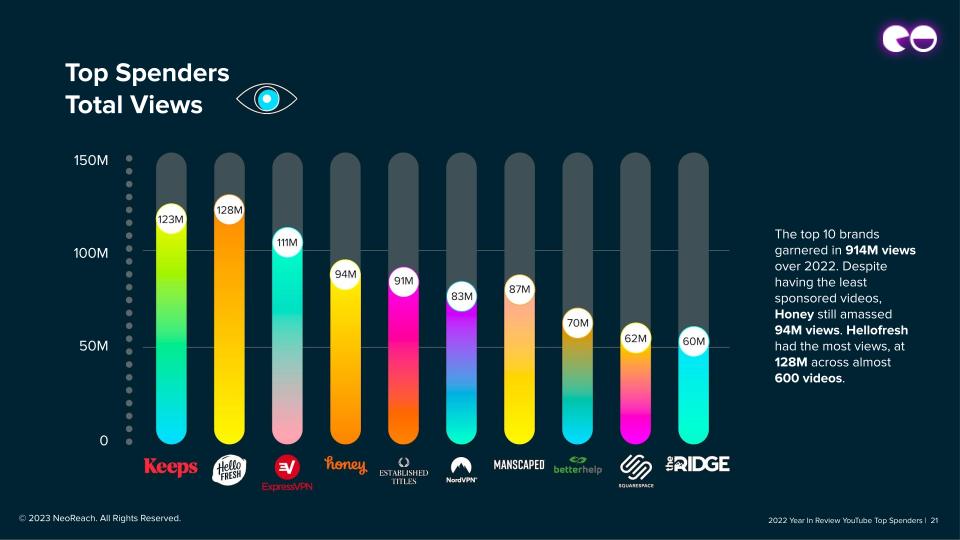 ---
Top Spenders Ad Length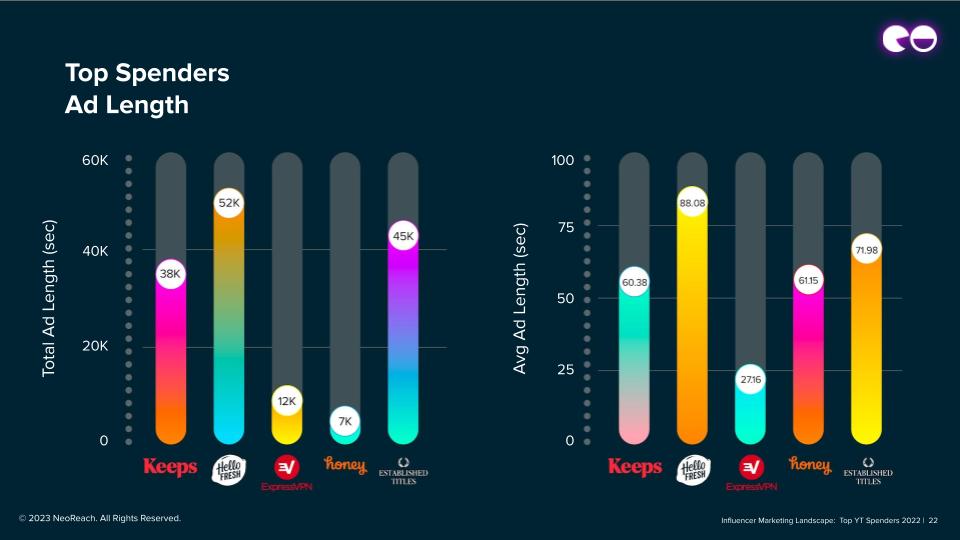 ---
Top Videos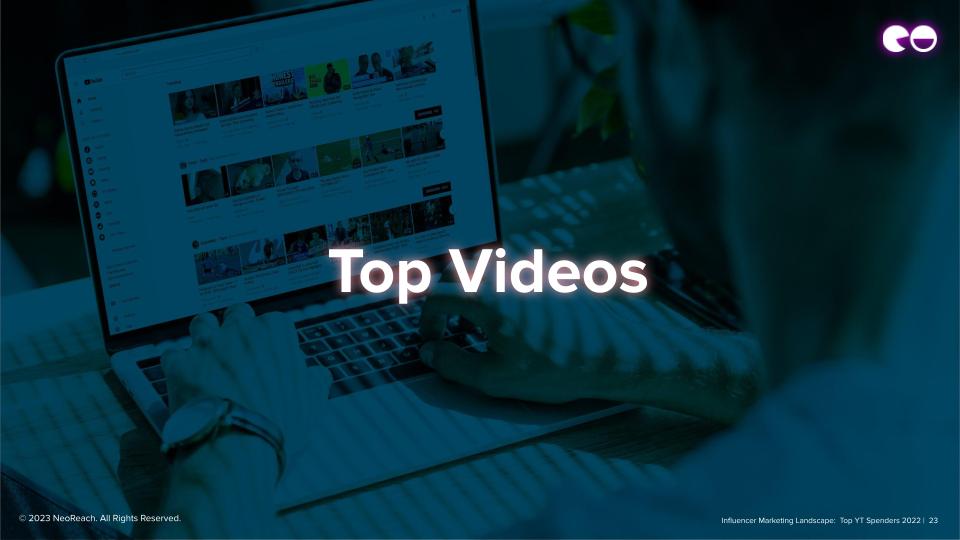 MrBeast, I Built Willy Wonka's Chocolate Factory!
The top sponsored video posted in 2022 was a video posted by MrBeast, sponsored by Honey. The video amassed over 152M views and had an IMV of $4.8M, more than 3 times any other video. This video made use of the Download and Install campaign type and had an integrated ad.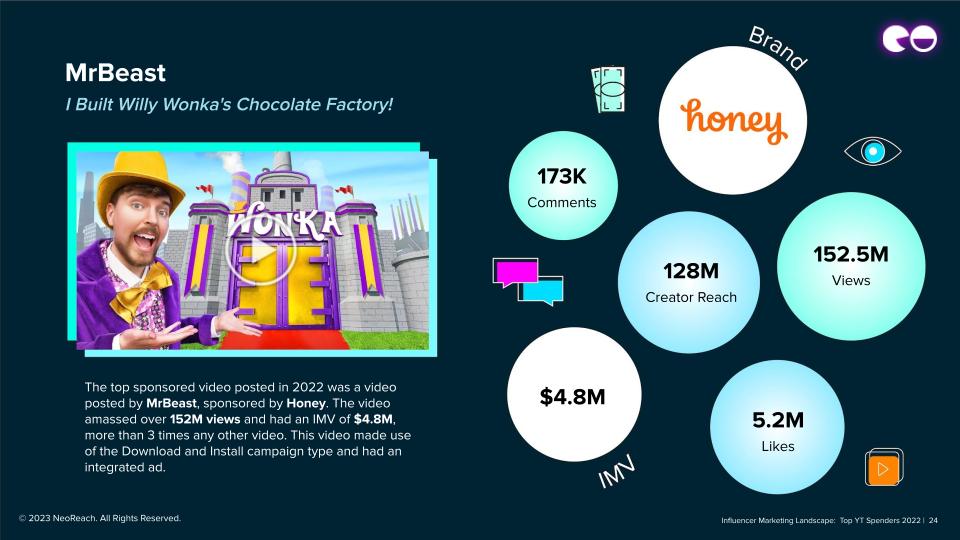 ---
Mark Rober, Egg Drop From Space
The second most expensive video from 2022 was made by Mark Rober and had an integrated sponsorship by Crunch Labs. This video garnered over 31M views and had an IMV of $1.4M. Crunch Labs used a Branding and Awareness campaign type.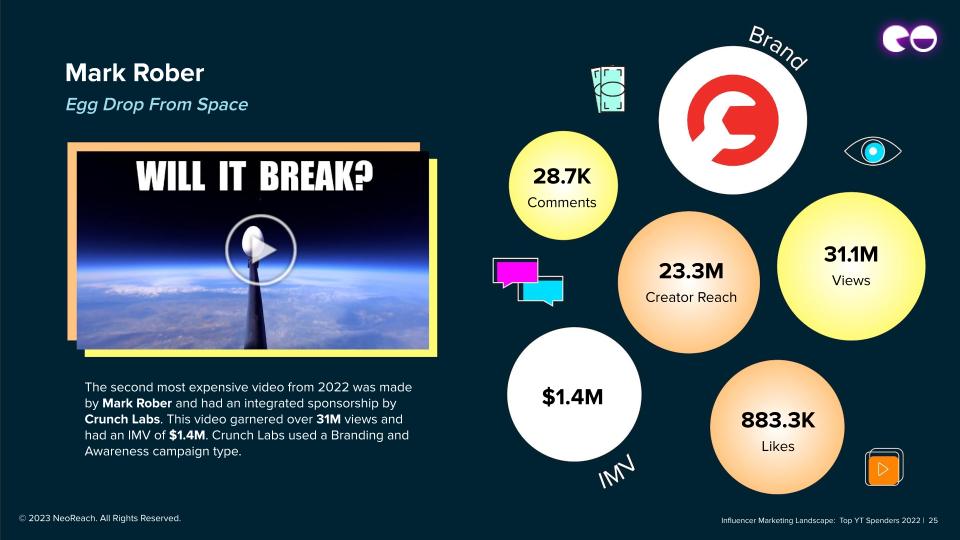 ---
Ben Azelart, Facing 100 Fears in 24 Hours!!
This video, sponsored by Epic Games, has 27.6M views and an IMV of over $1M. The sponsored content for this video, made by Ben Azelart, was an intro card.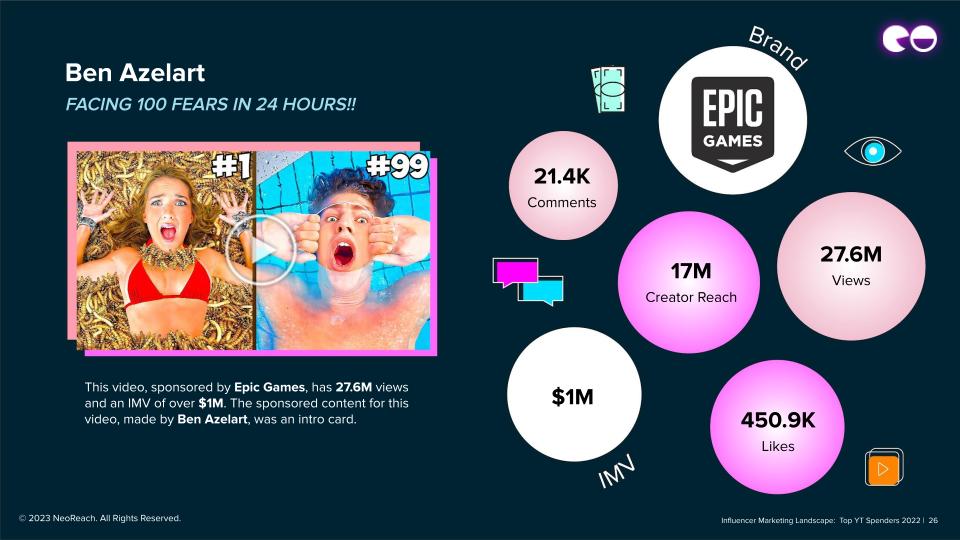 ---
CoryxKenshin, Ragnarok is Here - Part 1 (God of War Difficulty)
This video by CoryxKenshin was dedicated to the sponsor Playstation and used the Download or Install campaign type. The video amassed 7.9M views and had an IMV of more than $1M.
---
Beast Reacts, iPhone Vs 8000 Feet Drop!
This video, posted on the Beast Reacts channel, has over 22M views and an IMV of $963.9K. The video was sponsored by Honey and again used a Branding and Awareness campaign type.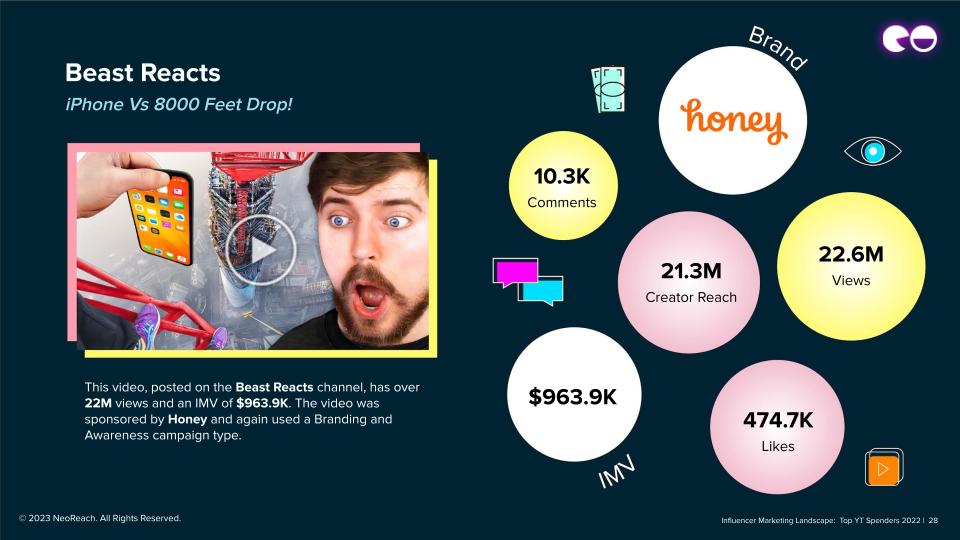 ---
Top Brand Showcase: Keeps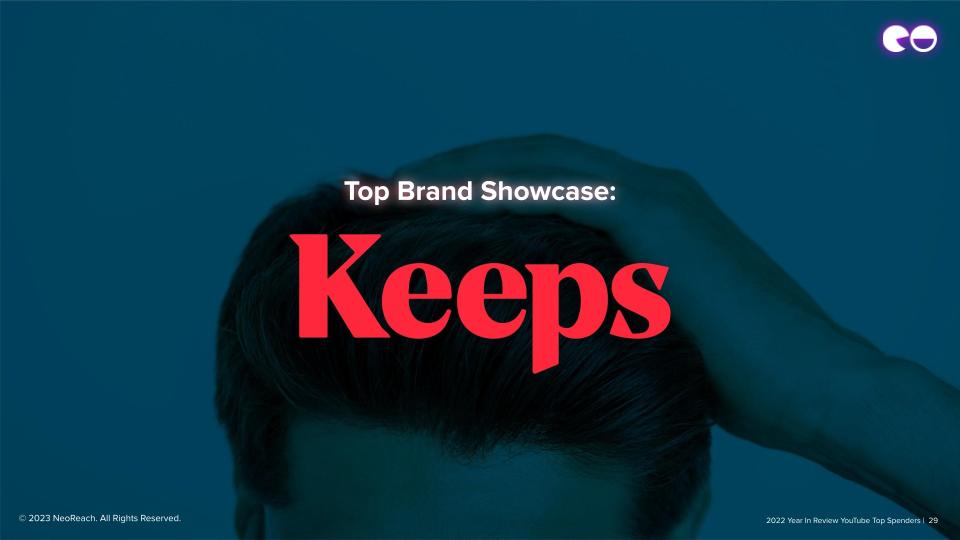 Keeps Stats
The highest-spending brand in 2022 was Keeps. They spent over $17M and amassed 124M views and 6.7M likes over 2022. During their campaign, Keeps made use of a Promo Code campaign type and Direct Purchase Page call to action in all of their sponsored content. The majority of these videos integrated their sponsored content.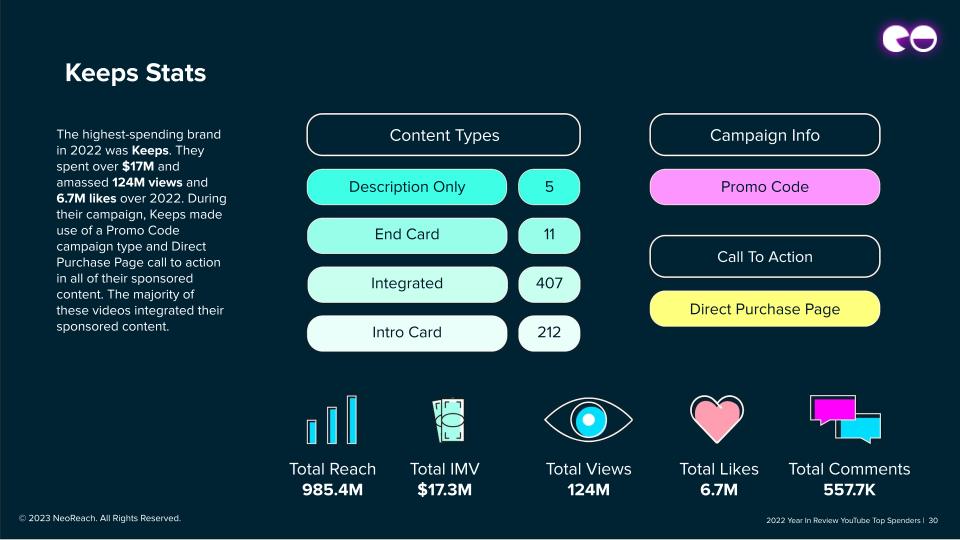 There is a clear downward trend in the number of videos posted, sponsored by Keeps, over 2022. They sponsored the most amount of videos within the first five months of 2022. In March, Keeps sponsored 78 videos, while in December they sponsored 23 videos.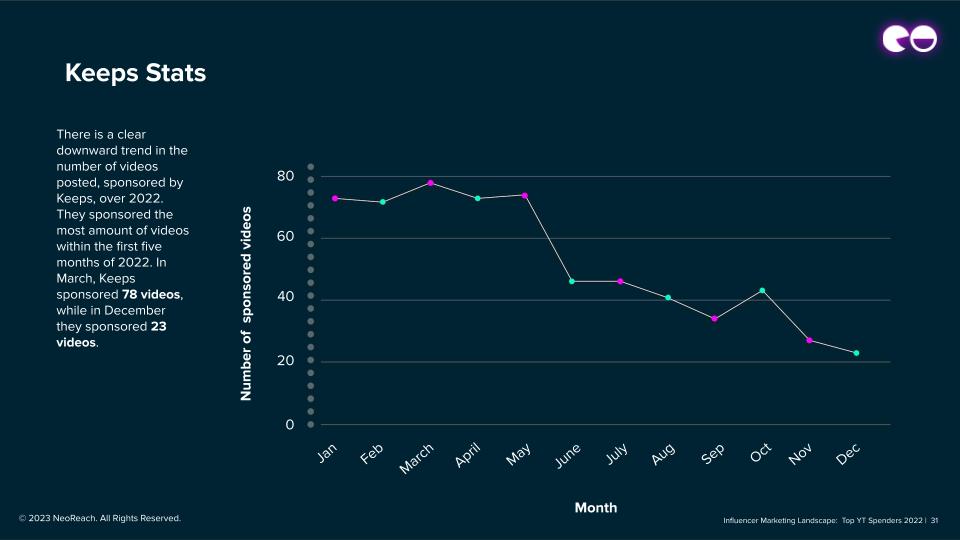 ---
Top Brands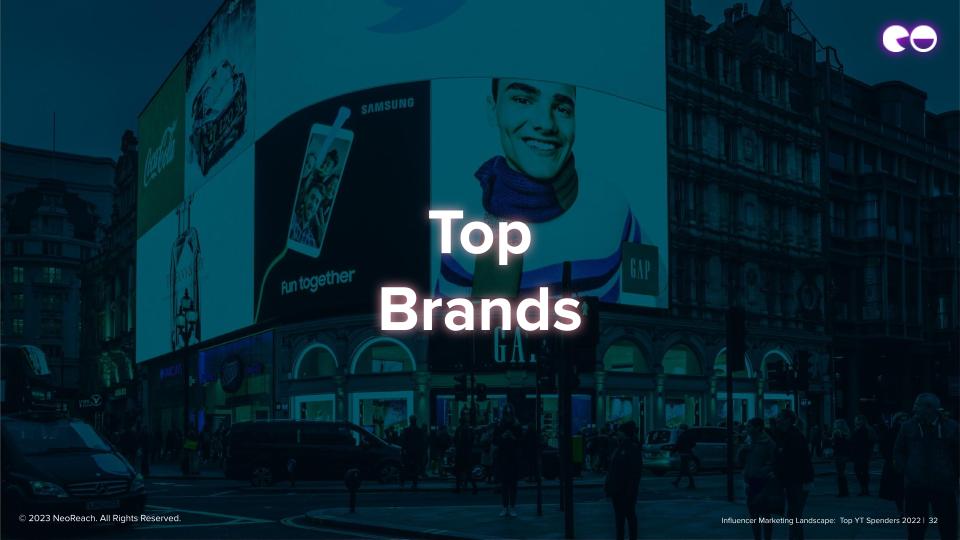 Top Creators by Brands
These creators worked with the most brands in 2022. Together they amassed over 251M views over 624 videos. Unbox Therapy collaborated with the highest number of brands, almost 70% of those being Tech/Consumer Electronics brands. JeromeASF was sponsored by 38 brands, 61% of which were Gaming brands.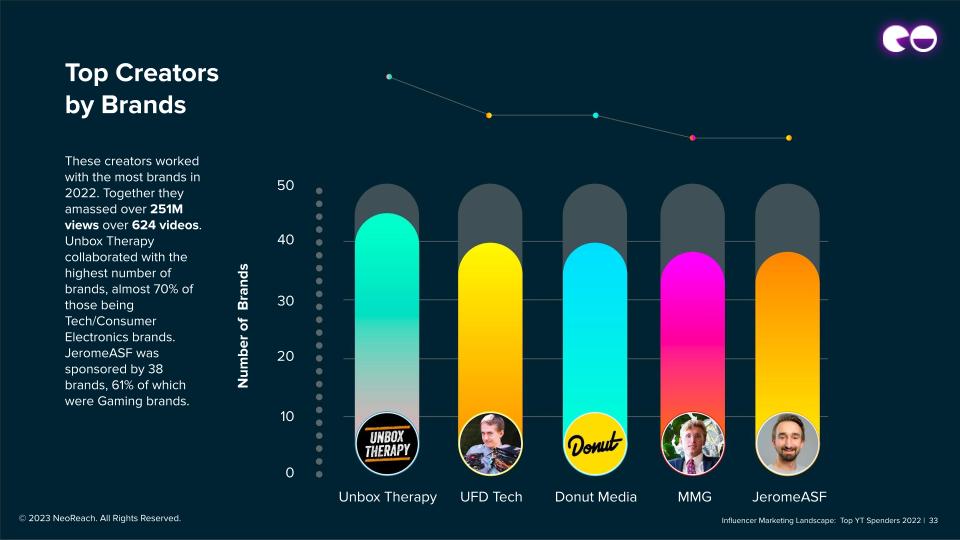 ---
Brand Growth
We identified the 5 brands with the highest relative growth in IMV and views from Q1 to Q4 2022. OperaGX experienced significantly higher IMV growth than any other brand at a 421,836% increase. Hulu had the highest growth in views over 2022 with a 19,178% increase. These brands had a significant push in influencer marketing on YouTube from Q1 to Q4.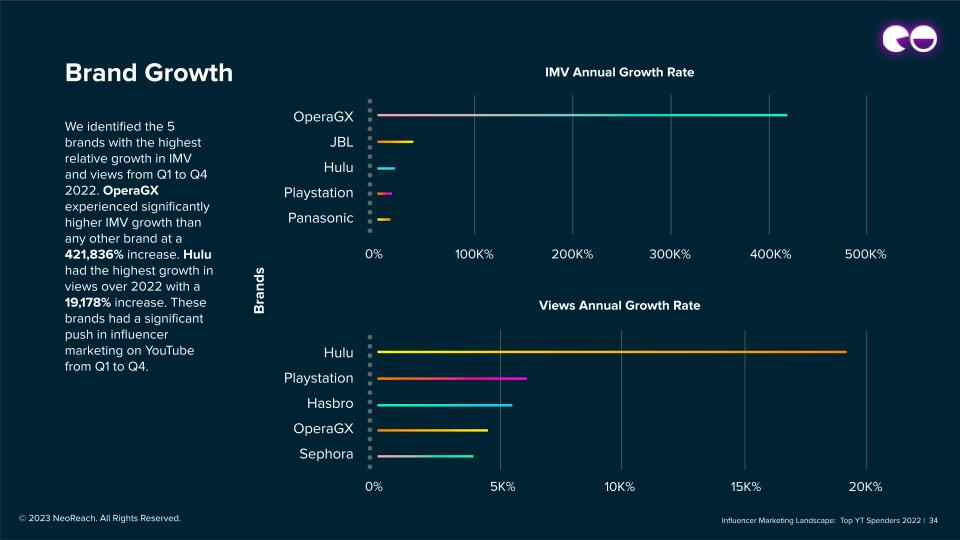 ---
Brand Socials
To investigate whether high spending on YouTube partnerships would translate into social media growth, we looked at our top 5 brands' Instagram followings and how they grew from January to December 2022. ExpressVPN had a 45% increase in followers over 2022, the highest of these brands. None of these top brands had more than a 50% growth in followers, showing a lack of social growth for brands spending more than $13M on sponsorships.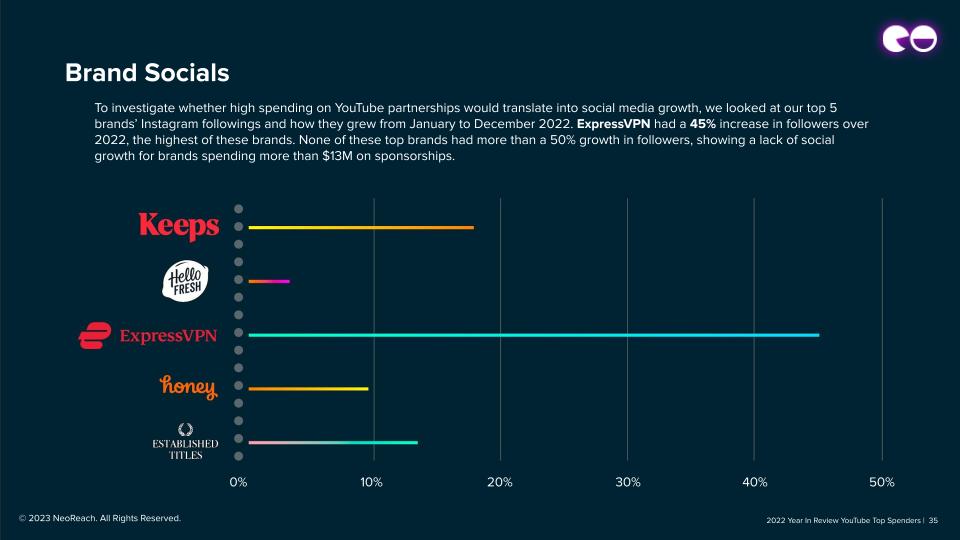 ---
Cost Per View
In our analysis, we calculated the estimated CPM (cost per 1000 views) based on our Social Intelligence API's IMV calculation. The brand with the highest CPM was Verizon at $927, while Tommy John had the lowest at $51. The mean CPM for all brands in 2022 was $138.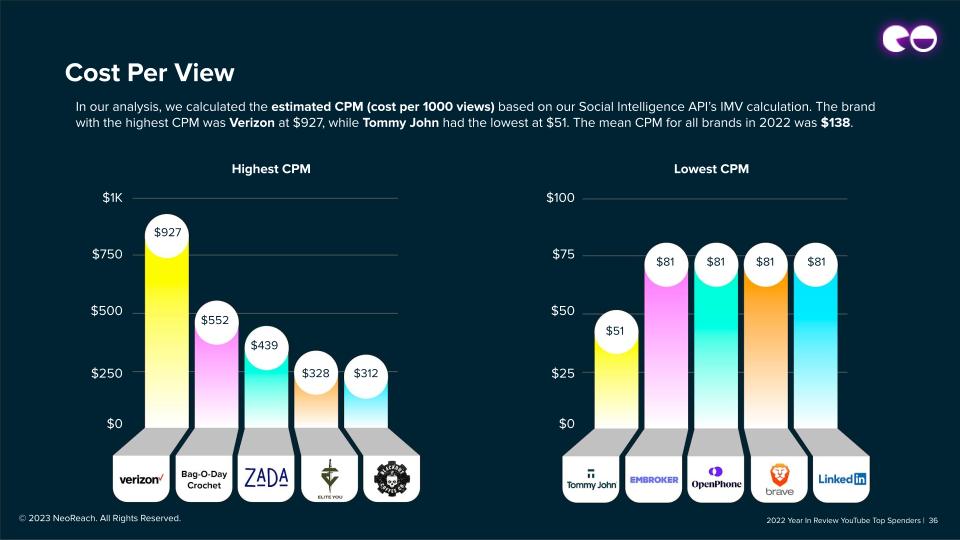 ---
Monthly Stats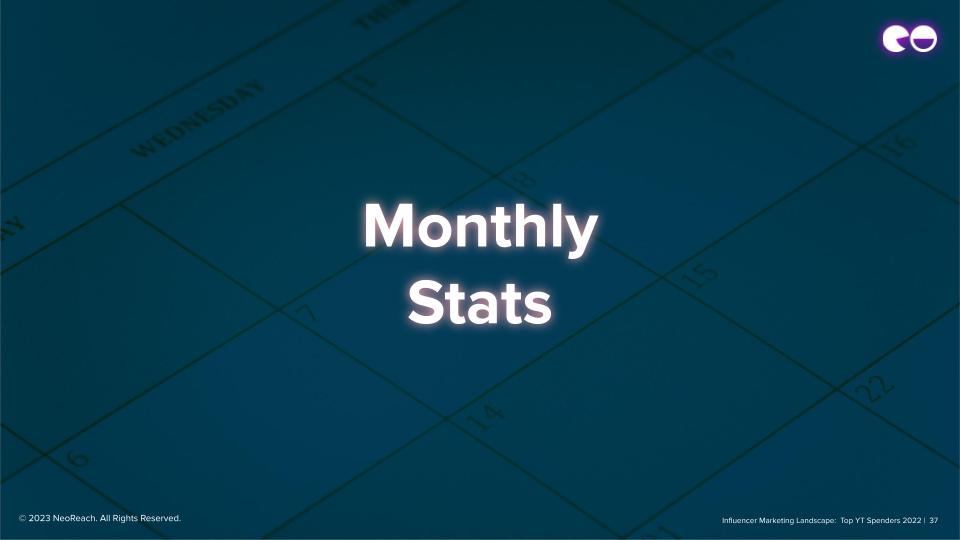 Top Monthly Spenders
In addition to the top spenders for the whole year, we also looked at the monthly leaderboard. As seen earlier in the report, Keeps was a high spender at the beginning of the year. We also see three brands, Betterhelp, NordVPN, and DraftKings, that were top monthly spenders that were not in our top 5 spenders for the year. ExpressVPN is the only top spender that did not dominate a month, meaning their spending was more spread out over 2022.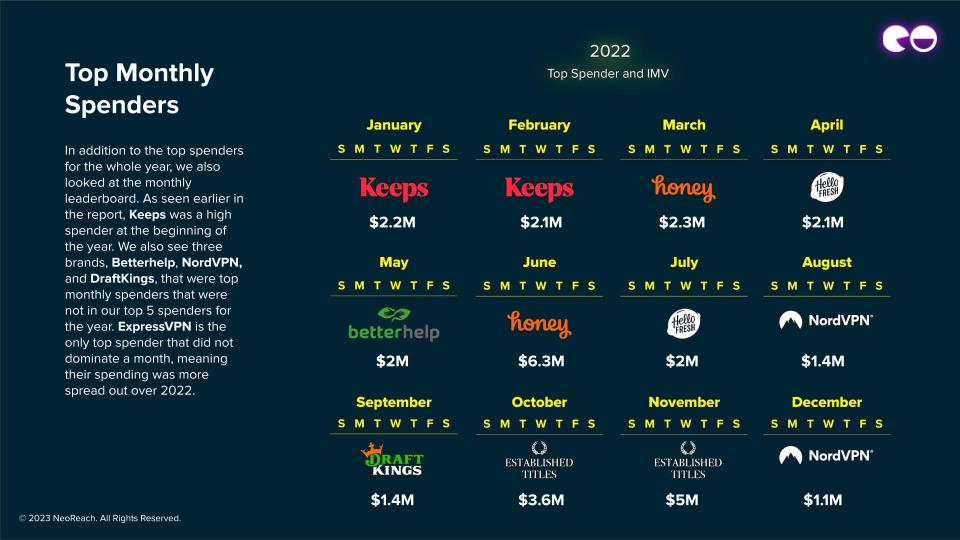 ---
Monthly Stats
On top of the top monthly spender, we have also broken down total spend, views, reach, and the number of brands by month. From January to February, we can see a big jump in the number of brands that were sponsoring YouTube videos. In fact, the highest number of brands sponsored videos in February (903 brands) despite spend being relatively low. We can see a significant increase in spend from February to March, coinciding with an increase in views.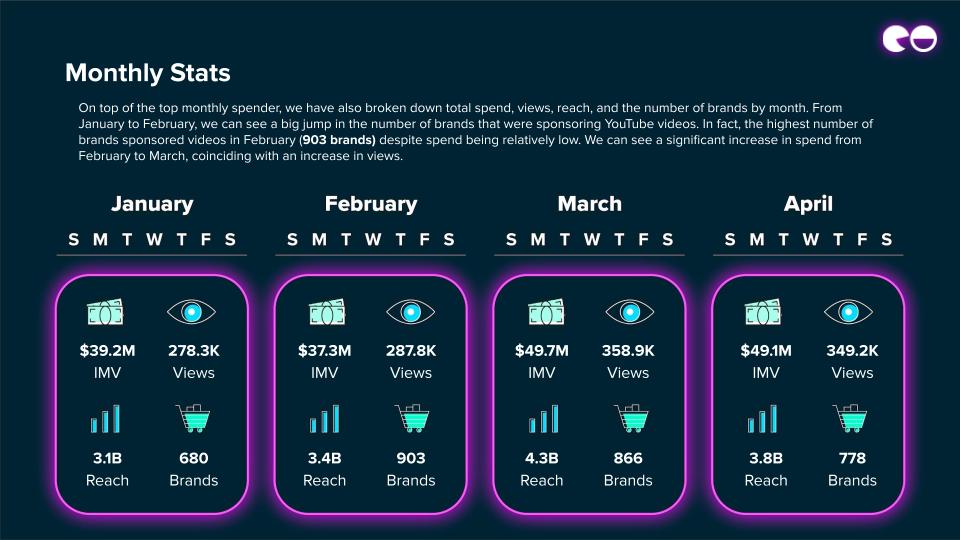 In June, we see the monthly views and IMV peak at 363.8K and $51.5M, respectively. August had some of the lowest metrics of the year, as the only month to have less than a 3B reach. With the lower reach, August had 242.7K views, the lowest of the year. This comes only two months after June when views and reach were at their highest.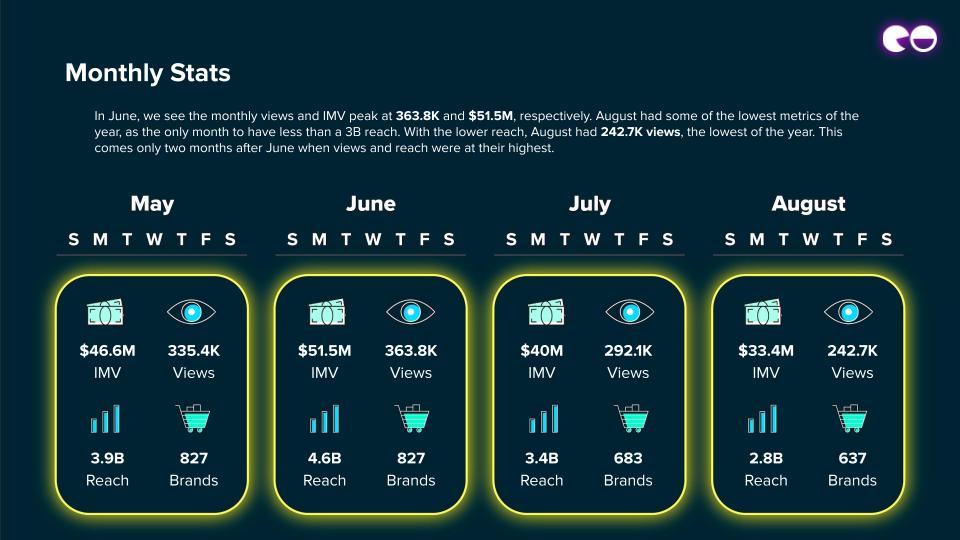 Monthly IMV increases again for October and November before dropping 30% in December, ending the year with the lowest spend of $33.3M. In October, the reach was 4.6B, its highest yet, which corresponds to the high spend of $49.5M.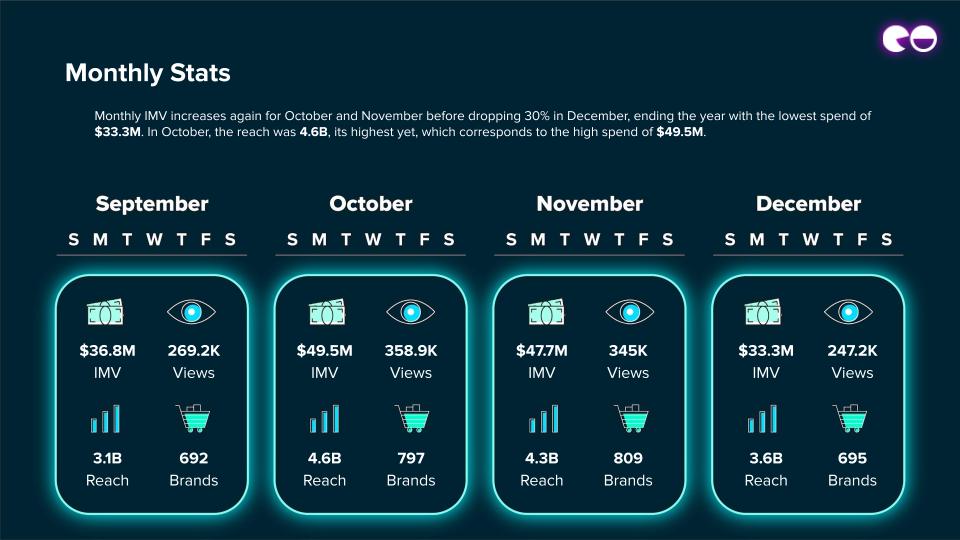 ---
Top Creators by IMV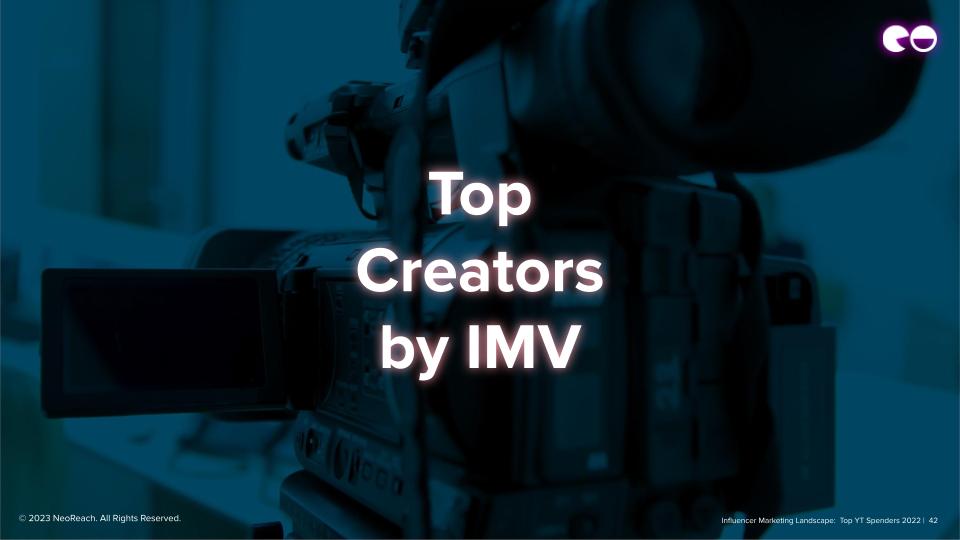 Brands spent the most amount of money on these 10 creators in 2022. The top creator by IMV is Donut Media, with an IMV of $16.8M. These 10 creators make up 17% of the total spend for the year, with a total of $88.2M over 877 videos. Donut Media, Linus Tech Tips, and Ben Shapiro were the only creators in 2022 to have brand partnerships totaling over $10M.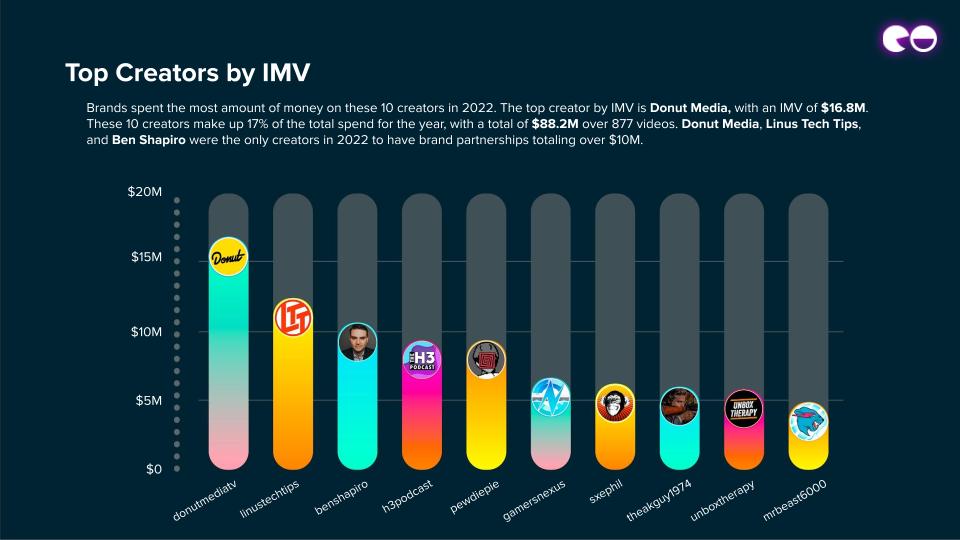 ---
Quarterly Breakdown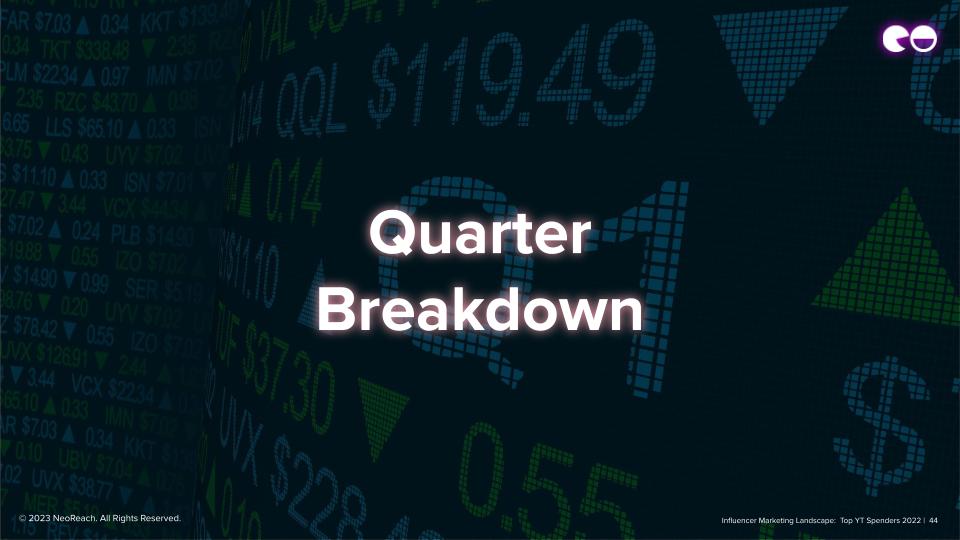 In Q1 2022, 7.4K videos were posted, amassing a total of 925.1M views. IMV remained relatively steady from Q4 2021 with only a $4M increase quarter-to-quarter.
Q2 had the highest spend of the year with $147.4M and was the only quarter to reach over 1B views.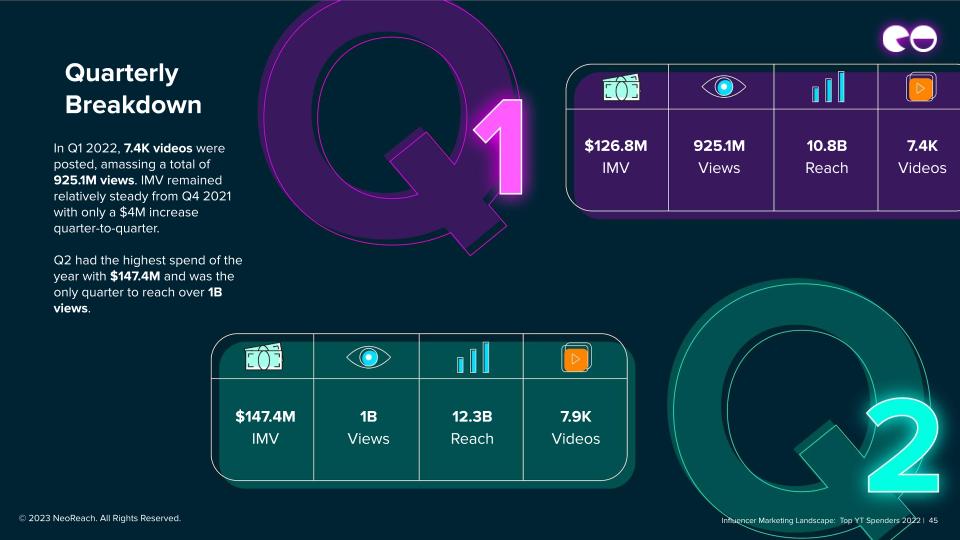 Q3 had the lowest metrics of the year, with a drop of 244M views. This could correspond to the lower number of sponsored videos posted this quarter.
In Q4, the IMV and views increased again within a similar range to Q1. By the end of 2022, there was only a $3.8M increase in IMV from Q1 to Q4.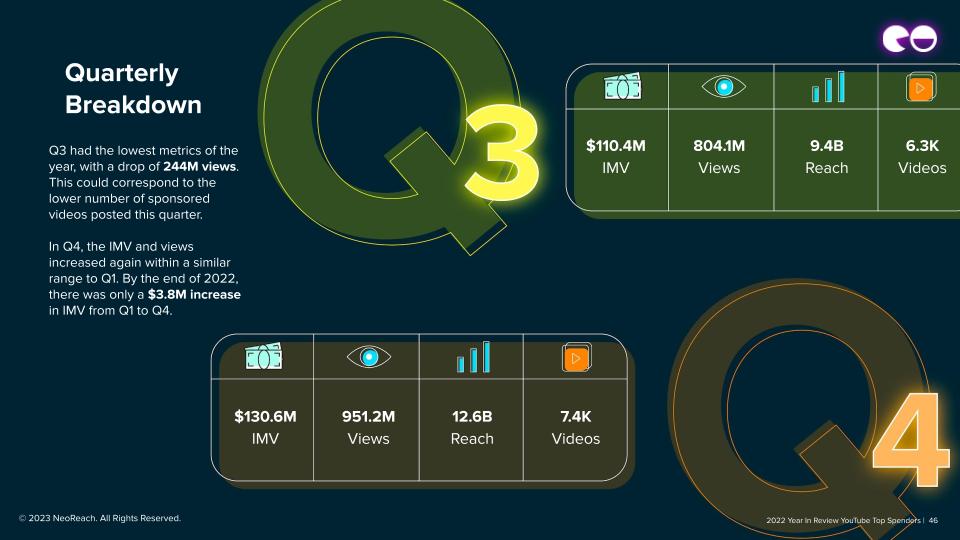 ---
Industry Breakdown: Tech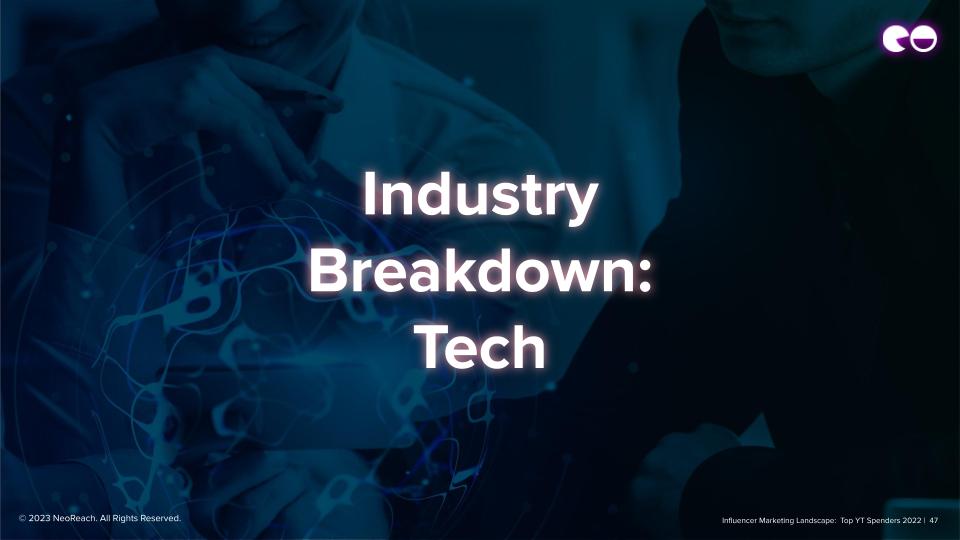 Top Tech Brands
The top two Tech brands by spend and views were VPN brands. The first is ExpressVPN, with an IMV of $15.6M and 111.8M views. Both NordVPN and ExpressVPN had similar average IMVs per video, at about $34K, however, ExpressVPN sponsored about 100 more videos. Despite being the lower spender of these brands, Meta PC sponsored the most videos this year, at 515 videos with an IMV of $4.1M.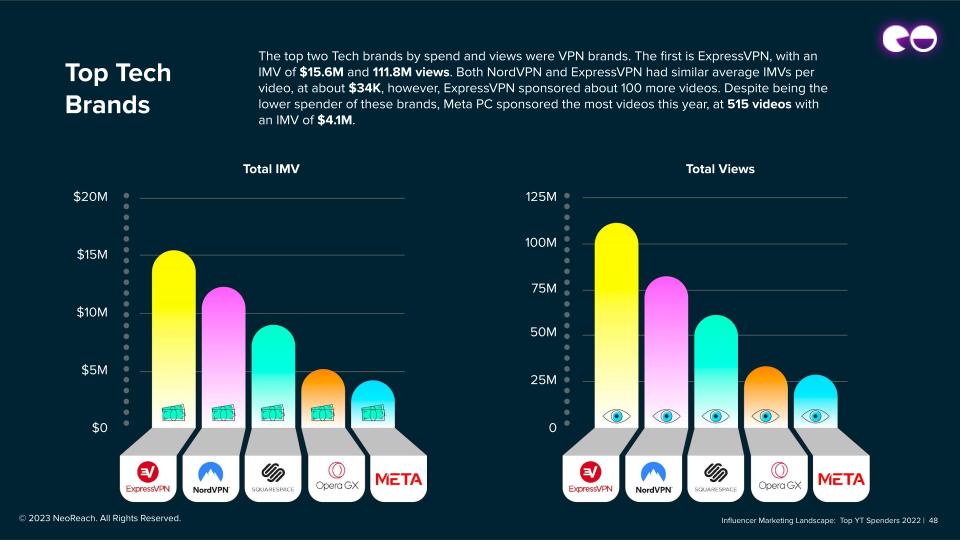 ---
Tech Overview: Quarterly Breakdown
When looking at the Tech industry's quarterly statistics, we can see that Q3 was the worst-performing quarter, mirroring the trend for all industries. Similarly, Q2 had the highest IMV with $23.1M. However, despite having a lower IMV, Q4 performed the best with 164.9M views.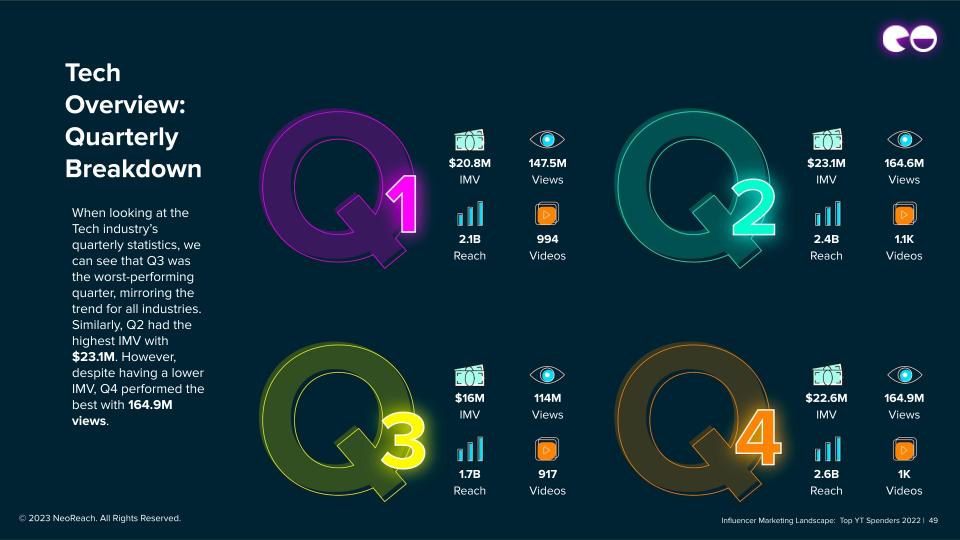 ---
Top Grossing Tech Video
Crunch Labs spent an estimated $1.4M to sponsor this video, by Mark Rober, making it the highest-grossing video sponsored by a Tech brand. It amassed over 31M views and 880K likes.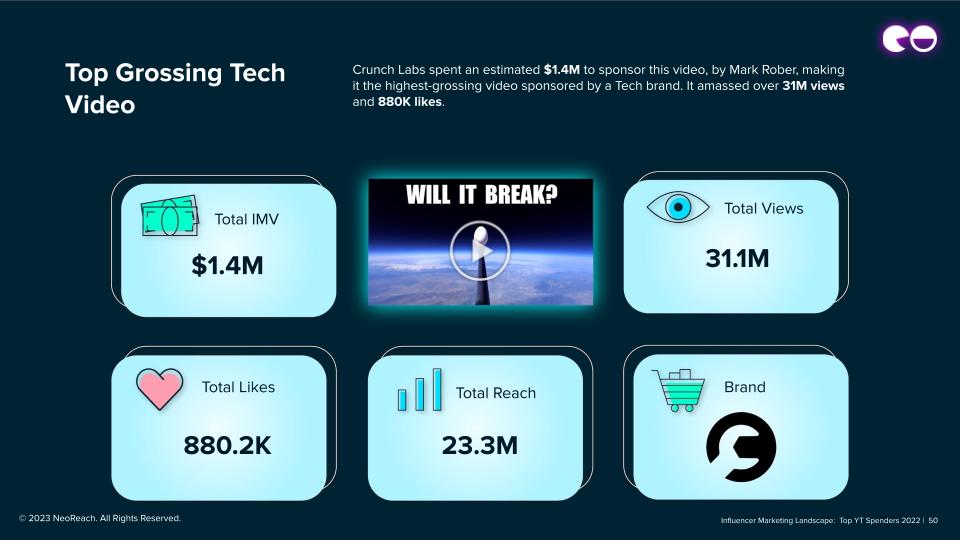 ---
Top Tech Creators by Spend
When looking at our top industry, we also look at the creators that were paid the most by brands in this industry. Ben Shapiro was the creator who made the most money from Tech brand partnerships, with a total of $9.4M. However, the creator who made the most per video was Pewdiepie, with an average of more than $357K per video.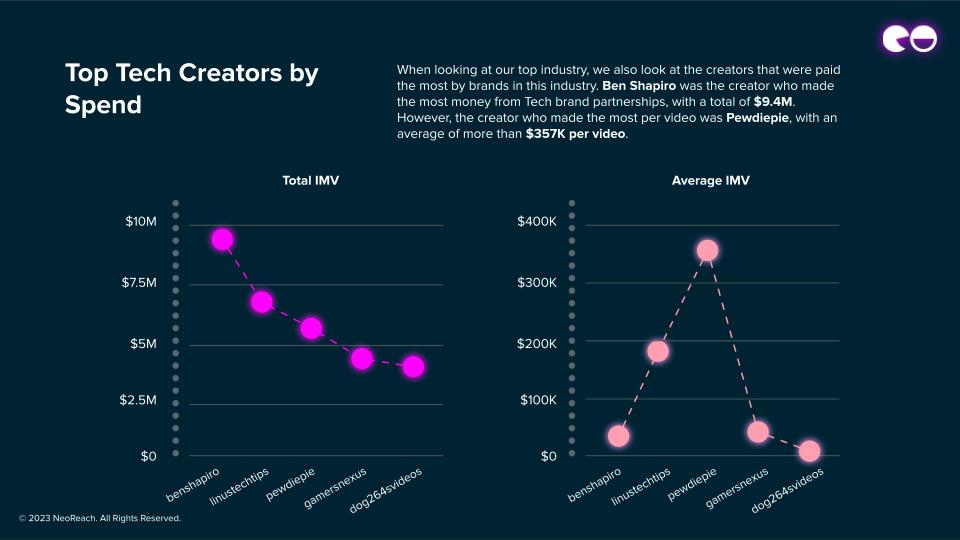 ---
Top Tech Creators by Views
We also looked at the total views these creators amassed with these Tech-sponsored videos, and what their average views per video were. Ben Shapiro had the highest total views, with 88% of his total views coming from Tech brand partnerships.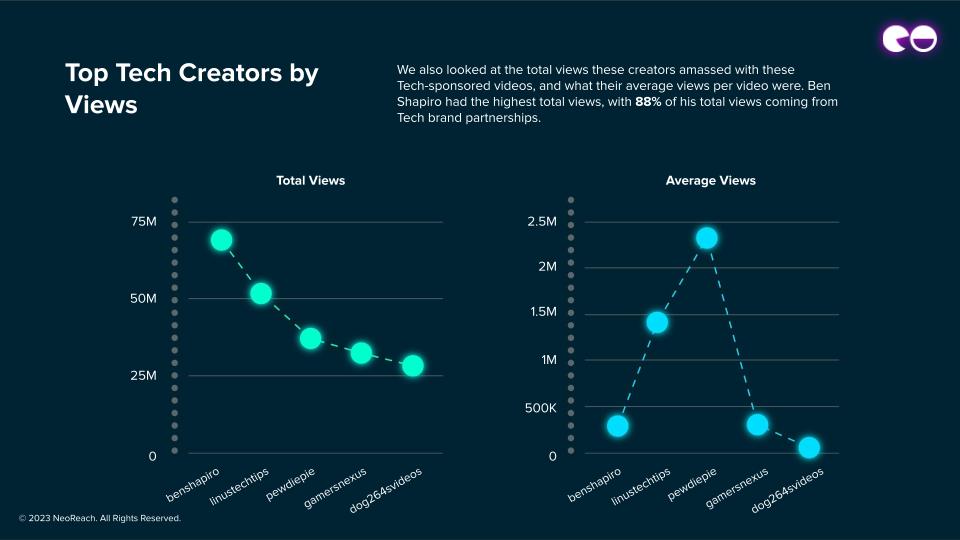 ---
Top Tech Creators Overview
Pewdiepie has a significantly higher reach than his fellow creators and posted the least videos sponsored by Tech brands. His large number of subscribers allows for higher views and IMV.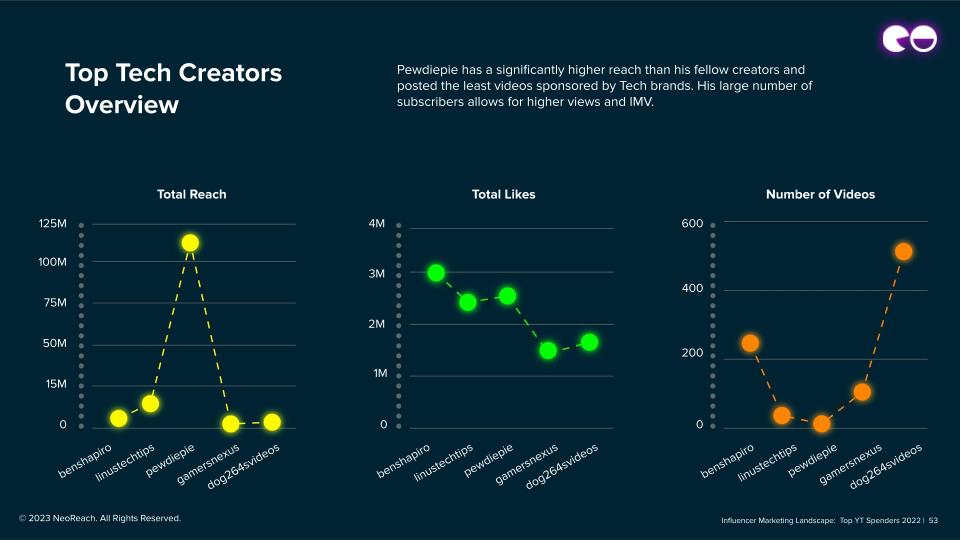 ---
Industry Breakdown: Gaming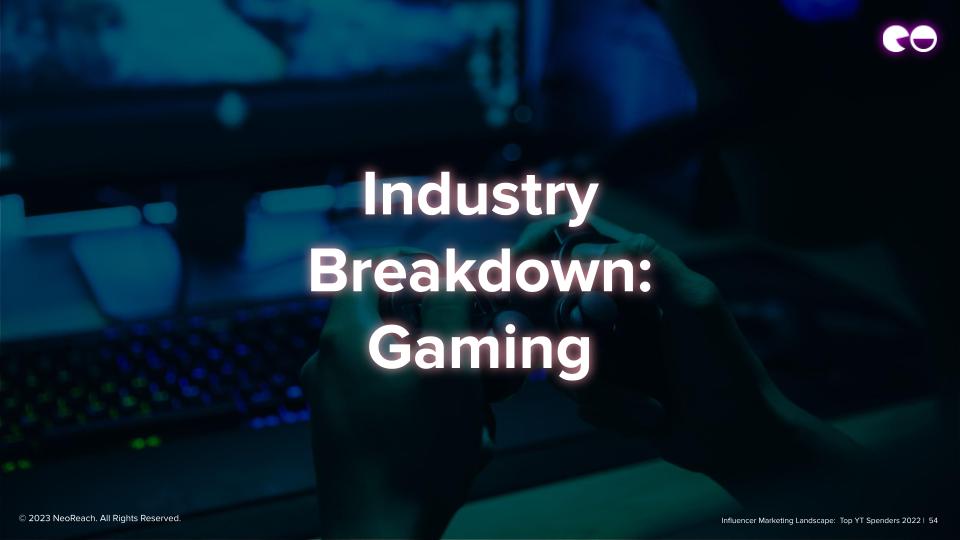 Top Gaming Brands
With Fortnite being one of the most popular games of 2022, it follows that its developer Epic Games was the highest-spending Gaming brand for the year and reached over 50M views. Two mobile games, Raid Shadow Legends and Marvel SNAP, made it into the top spenders, with IMVs of $3.5M and $1.7M, respectively.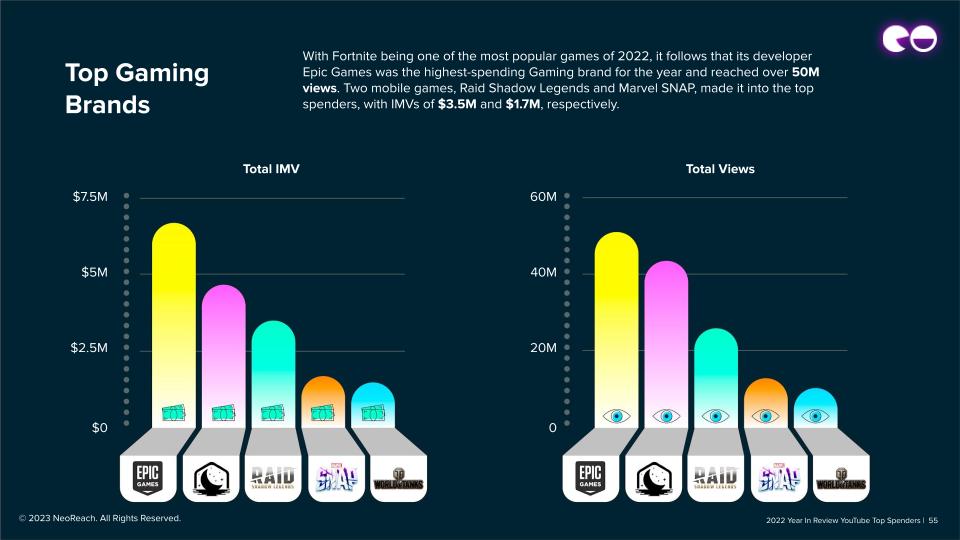 ---
Gaming Overview: Quarterly Breakdown
The Gaming industry spent the most on YouTube sponsorships in Q2, with $18M, and the least in Q3, with $12.4M. Despite having a lower spend than Q2, the most amount of sponsored videos were posted in Q4. We can also see that unlike Tech and the overall summary, the Gaming industry spent less in Q4 than in Q1.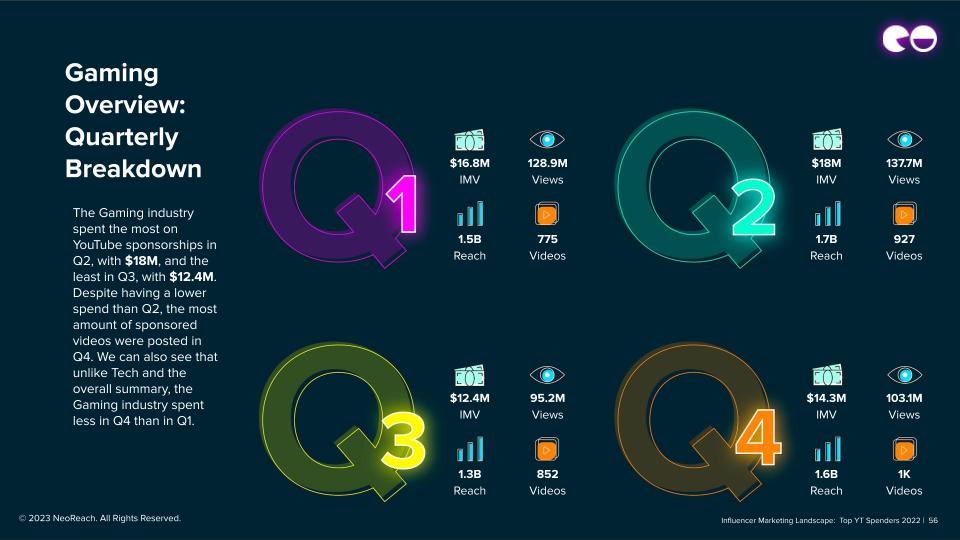 ---
Top Grossing Gaming Video
The top grossing video sponsored by a Gaming brand was not sponsored by any of our top spenders. Fall Guys spent an estimated $1M on this video and amassed 27.6M views and almost 451K likes.
---
Top Gaming Creators by Spend
Here we can see xNestorio was the top grossing creator from Gaming brands, having a total IMV of $4.6M – more than double that of any other creator. However, he did not have the highest average IMV per video, which actually came from Dude Perfect who made an average of $682K per video.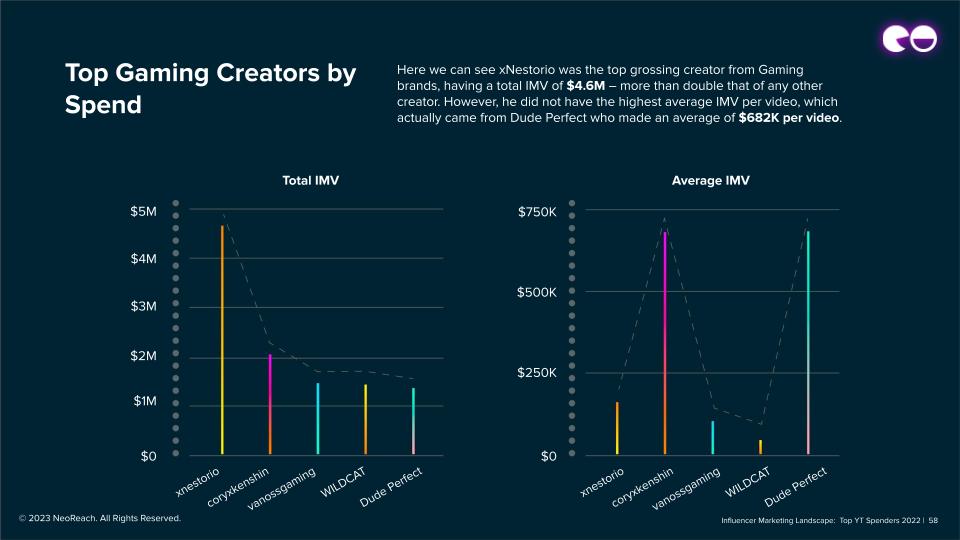 ---
Top Gaming Creators by Views
Despite having the lowest total views for Gaming-sponsored videos, Dude Perfect had the highest average number of views per video at 5.1M views. While WILDCAT had a similar total view count, he had the lowest average views per video at 354K.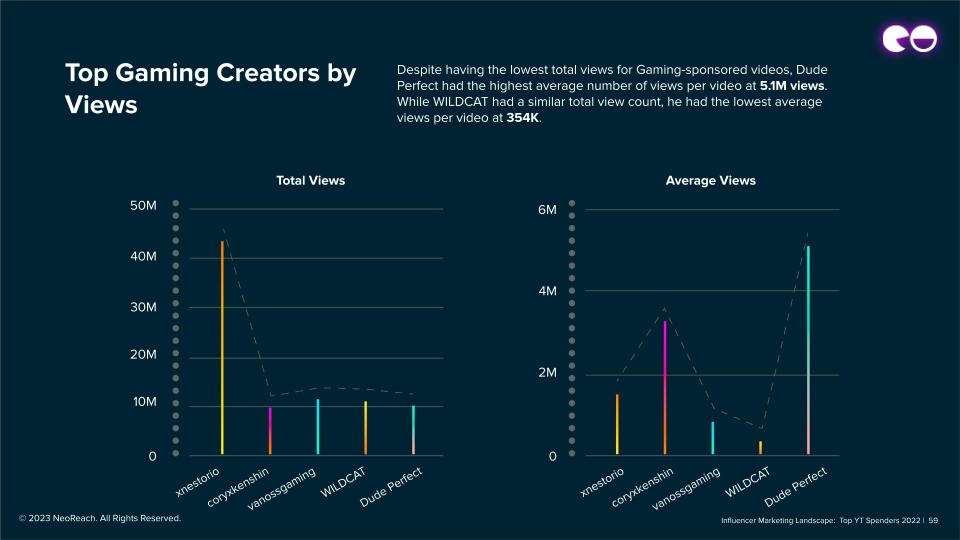 ---
Top Gaming Creators Overview
Dude Perfect released only 2 videos sponsored by Gaming brands, however, their 58.6M reach and high views allowed them to be among the top creators in this industry. CoryxKenshin had the most total likes, despite only posting 3 videos in this category.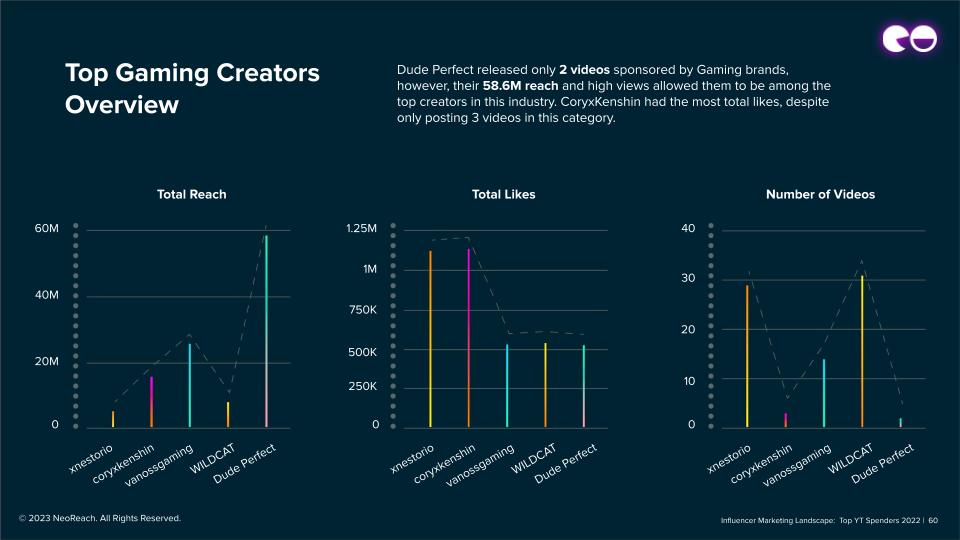 ---
Industry Breakdown: Entertainment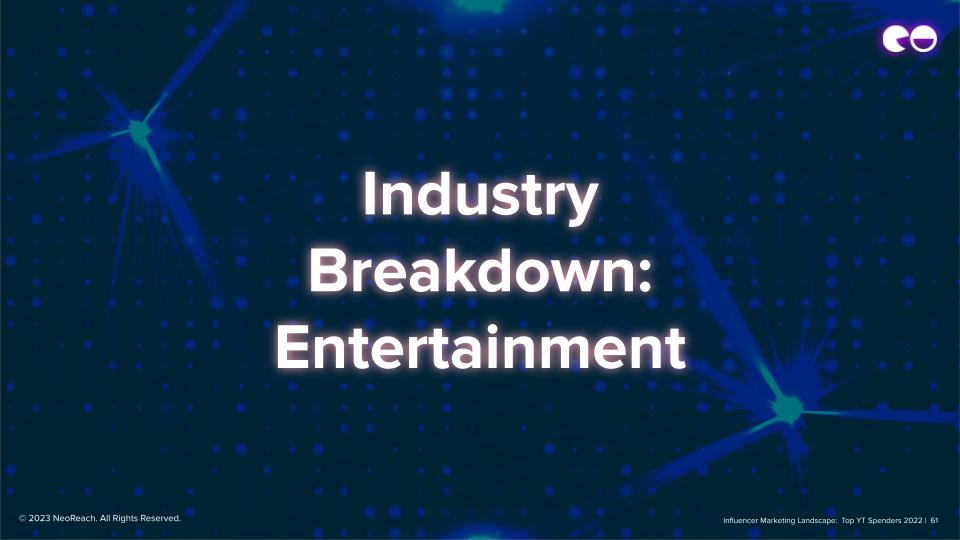 Top Entertainment Brands
Established Titles had a significant lead in IMV and views over the other Entertainment brands, with an IMV of $14M and a total of 91M views. The other top brands had more consistent spending in 2022, with SeatGeek being the next highest spender at almost $6M.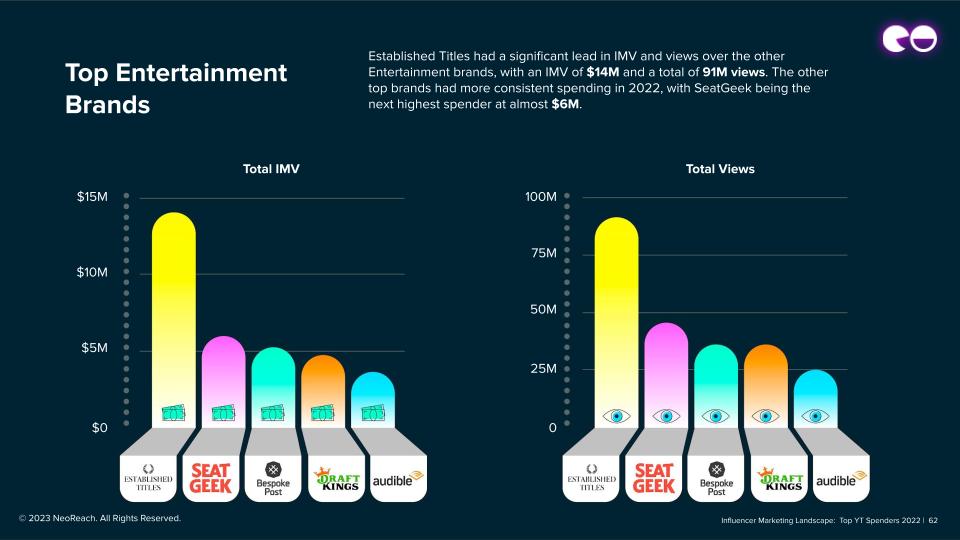 ---
Entertainment Overview: Quarterly Breakdown
The Entertainment industry follows a different trend from the other industries in that the IMV was significantly higher in Q4 than in any other quarter. From Q1 to Q4 there was a $6.6M increase in IMV. We can also see that the IMV for Q1 and Q3, at around $12.4M, were very similar, despite Q3 having more views and fewer videos.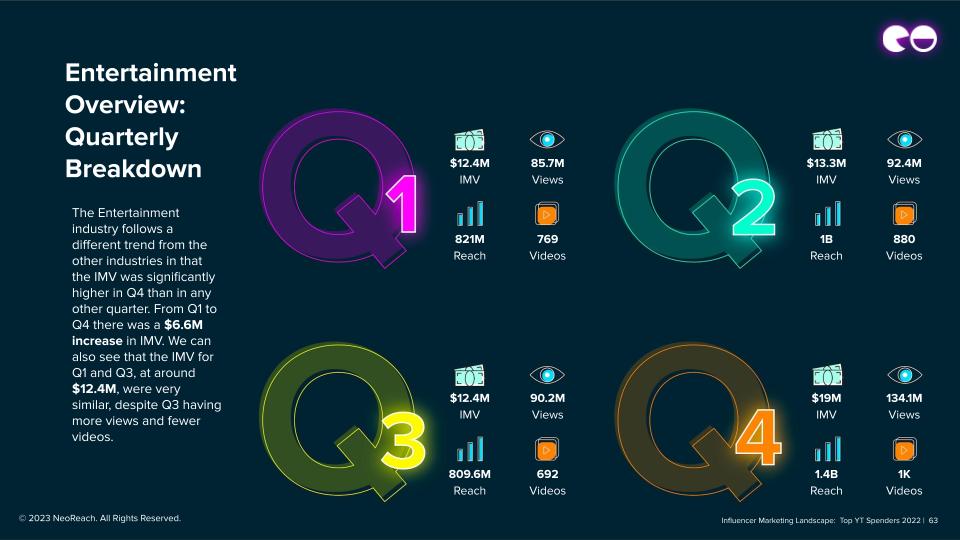 ---
Top Grossing Entertainment Video
The top grossing video sponsored by an Entertainment brand was a video published by The Game Theorists. The video, sponsored by Displate, amassed over 8.7M views and 475.1K likes.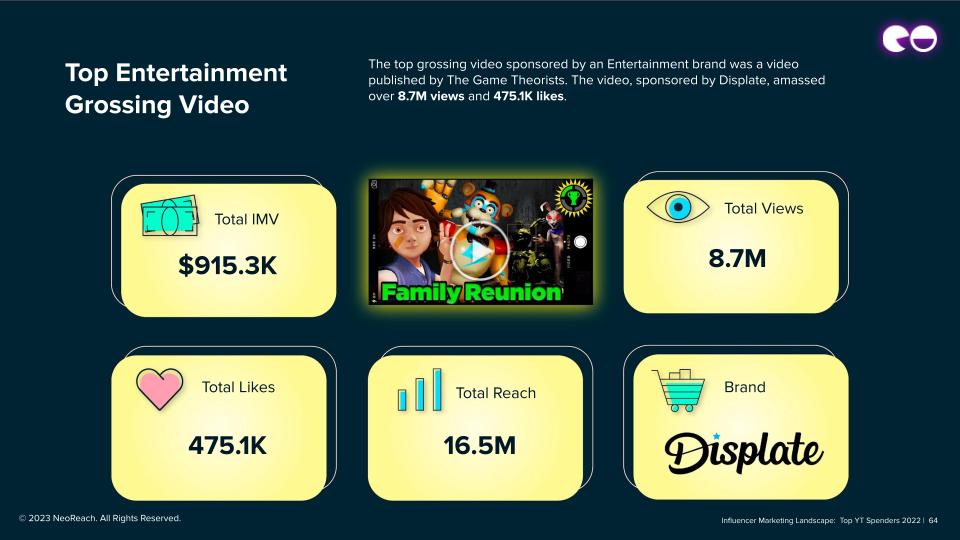 ---
Top Entertainment Creators by Spend
Dude Perfect had the highest IMV per video, at an average of almost $718K. CarlosStory had a significantly smaller IMV per video, at an average of only $2.9K. Meanwhile, Donut Media was the top grossing channel from Entertainment brands with an IMV of $2.1M.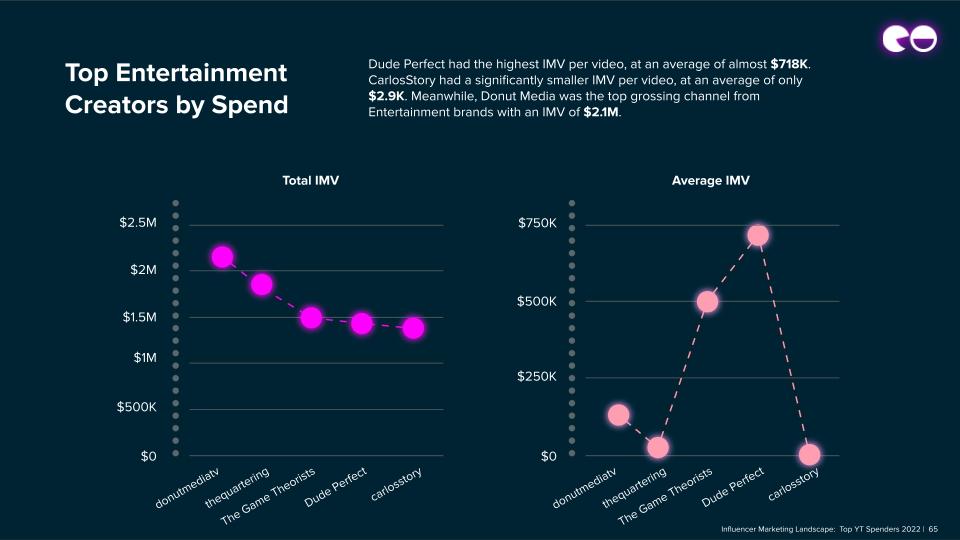 ---
Top Entertainment Creators by Views
CarlosStory had the lowest views per video, at an average of 23.8K, while having the third-most total views for the year. Donut Media averaged about 1M views per video, amassing a total of 16M views for Entertainment-sponsored videos.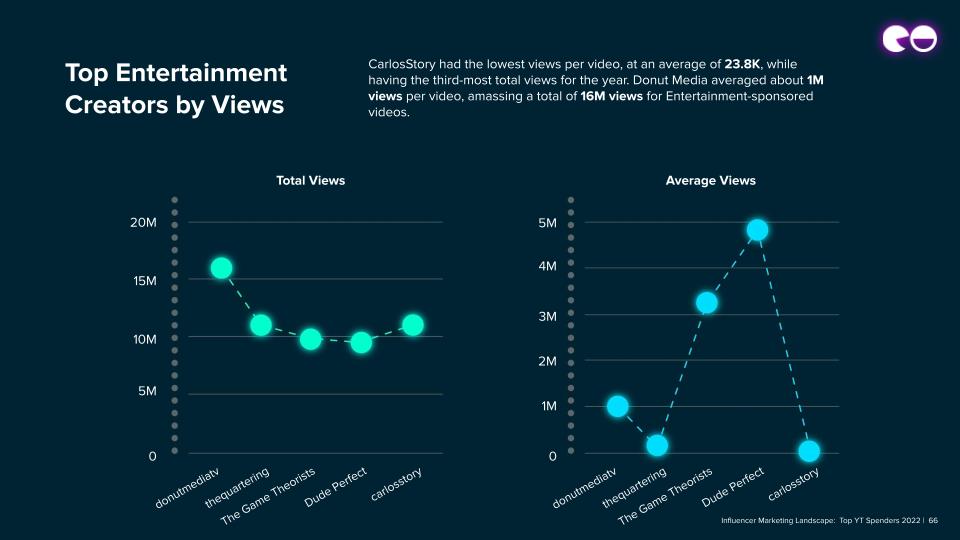 ---
Top Entertainment Creators Overview
CarlosStory posted the most videos in this category by a wide margin, with 464 videos. This large number allowed for him to make it into the top creators for this category despite the lower metrics seen in earlier slides. We again see Dude Perfect with a much larger reach than other creators despite posting fewer videos.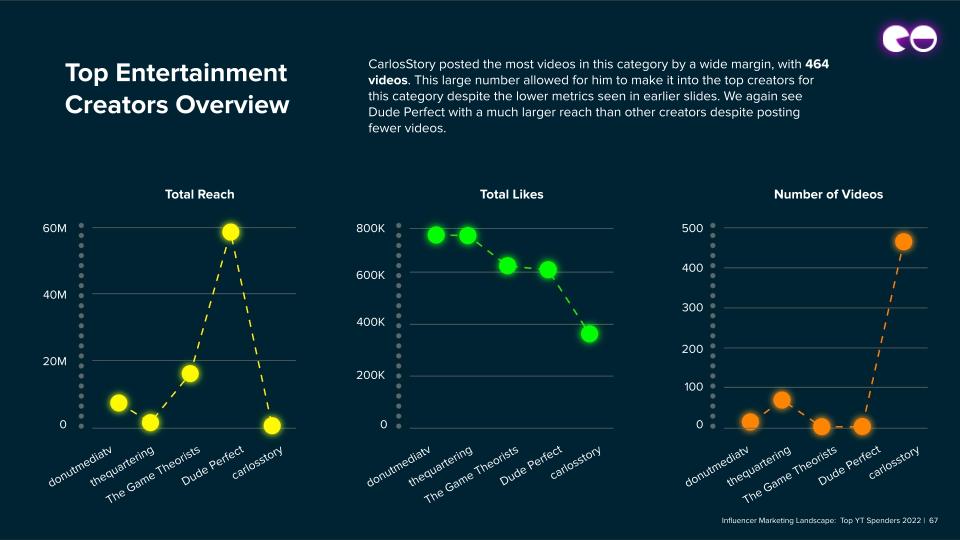 ---
Future Predictions
Based on the data in this report, we were able to make some future predictions about the Influencer Marketing industry and the Creator Economy.
Brands will continue the current trend of sponsoring smaller creators at a more frequent rate.
With the growth of the Health and Wellness industry in YouTube Influencer Marketing, we see this growth continuing into 2023 and expect more brands in this industry to begin sponsoring YouTube creators.
With the Tech industry ending the year on a higher spend than it started with, we see this industry continuing to dominate the space, particularly focusing on Tech channels.
With the ever-growing number of brands sponsoring YouTube videos, we predict creators will begin to become more specific about which brands they work with. This can mean choosing brands that align with their channel or that they actually use.
Smaller creators will be able to more easily make a living on YouTube as there are more sponsorship opportunities.
---
Key Takeaways
The top spending brand was Keeps, with an IMV of $17.3M. Keeps sponsored 631 videos and 251 creators, amassing over 123M views.
Tech was the highest spending industry for the second year in a row, spending more than $82M on sponsored YouTube content this year.
The majority of brands use a Promo Code campaign type, however less so in the Gaming industry.
While it's a less popular campaign type, Gaming brands make up more than 50% of the sponsored content of the Download or Install campaign type.
Three of our top-spending companies – ExpressVPN, Honey, and Squarespace – worked with less than 100 creators in 2022
The top creator by IMV was Donut Media with an IMV of $16.8M.
Six out of ten of the top creators for 2022 were also top creators in 2021 – Donut Media, Linus Tech Tips, Ben Shapiro, The H3 Podcast, Pewdiepie, and MrBeast
Spend peaked in Q2 with a total IMV of more than $147M and more than 7.9K videos sponsored. Spend was at its lowest in Q3 with an IMV of $110M and 6.3K videos sponsored.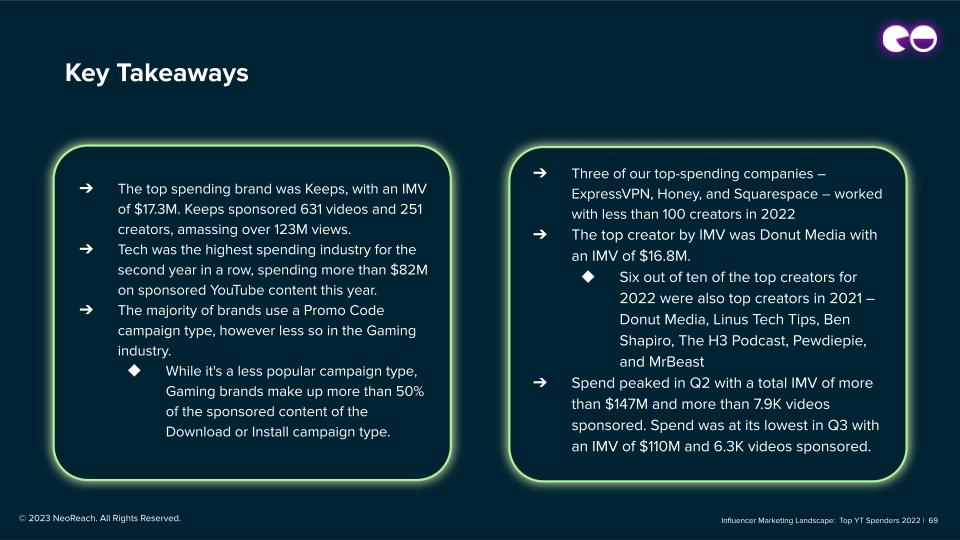 ---
Editor's Note
Influencer Marketing has become an important part of the marketing industry as a whole, and in this report, we look at the state of affairs at the end of 2022. This report is intended to demonstrate how this industry has changed over the year and to indicate where it may go in the future. Over the past few years, the number of sponsorships on YouTube has grown exponentially, and it is not slowing down. Not only are new brands sponsoring content every day, but the veteran brands are continuing to grow and figure out how to get the most out of Influencer Marketing.
Through the data collected and shown in this report, we can see the power of Influencer Marketing, not only for businesses but for creators as well. Creators of all sizes are able to take part and build relationships with brands. With so many brands eager to sponsor YouTube content, creators are also able to pick the brands they want to work with, whether it's a company they enjoy or a company that their audience will connect with.
The IMV shown in this report is an estimate calculated using NeoReach's own formula. Any change in IMV from the previous year could be due to a decrease in interactions with sponsored content on YouTube.