Twitch overlay templates are a must. They help streamers elevate their profiles, creating more enjoyable experiences for audiences. The great thing about Twitch overlay templates is that they are customizable. You can take any of your favourite templates and make major and/or minor tweaks to make them your own. And as Twitch continues to expand, more designers continue to bring out amazing templates that you can take and personalize.
In this blog post, we'll share 16 of the best free and premium Twitch overlay templates we have found. We'll share what we like about them, and also what each template comes with ‒ details you need to know of if you and if you want to get your hands on them.
---
16 of the Best Free and Premium Twitch Overlay Templates:
---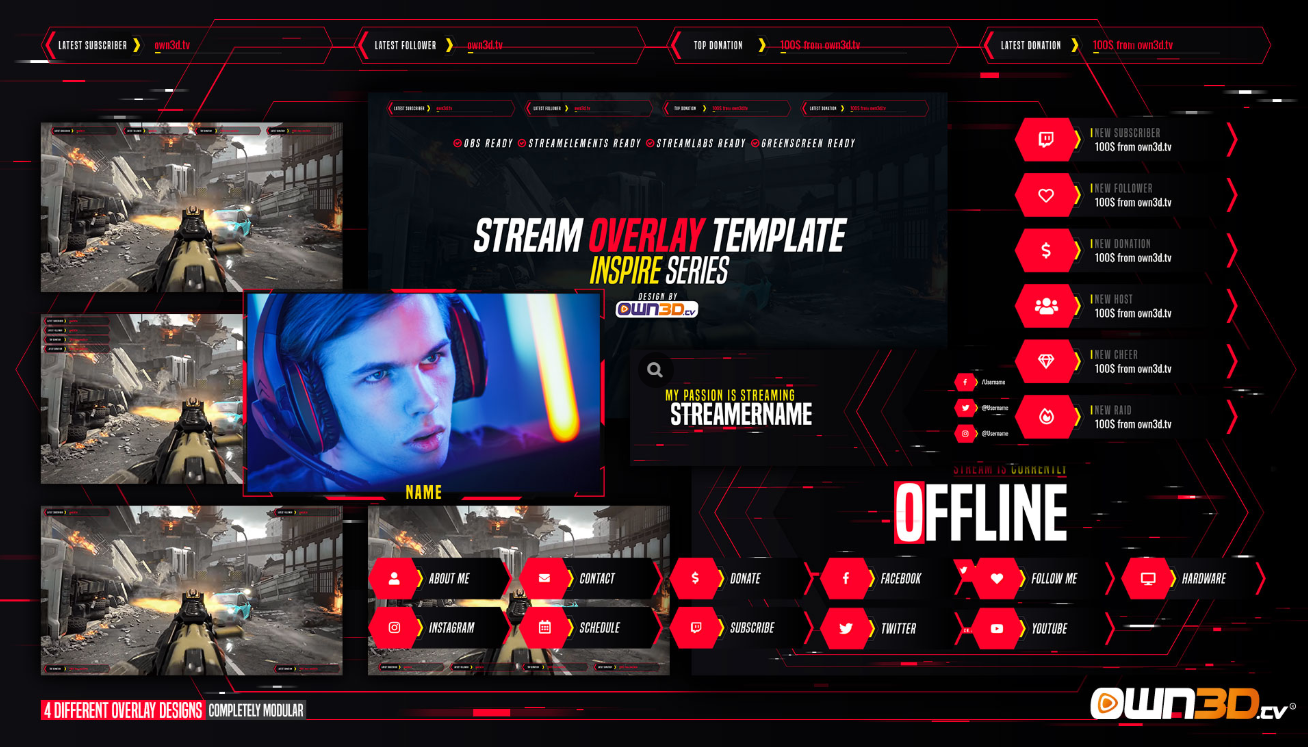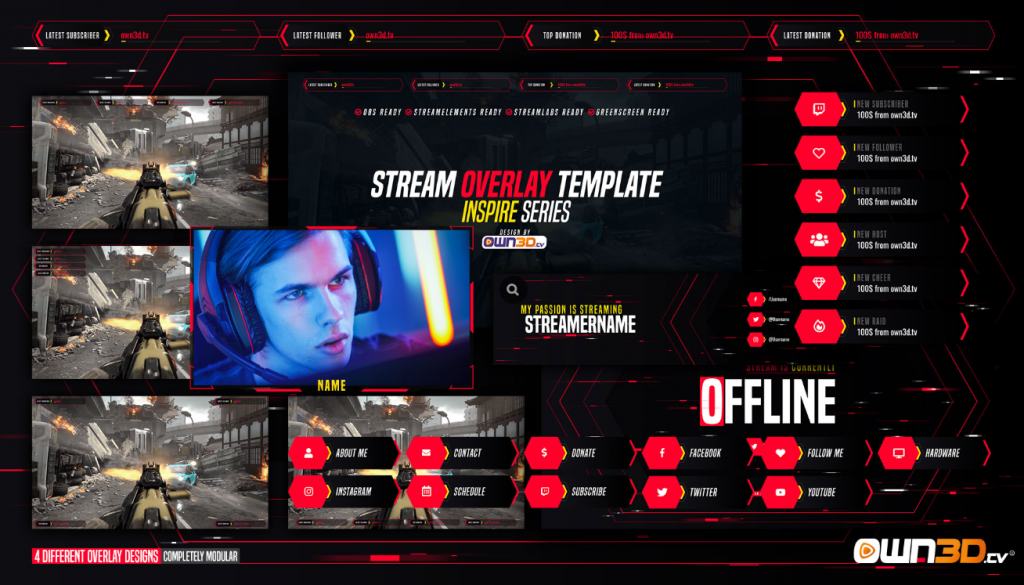 The Inspire Starter Bundle is an entire collection of elements from Own3d. It includes an attractive overlay that displays a host of information points about your channel. For example, you can tell who just subscribed to your channel, which subscriber just made a donation, and where your last cheer came from. All of these details are neatly displayed out of the way of gameplay and at the top of your screen.
The Inspire Start a Bundle Twitch overlay isn't offered separately. When purchased it comes with everything you need to make your channel unique. For example, you have a choice of colour schemes and different banner designs. You also get all PSD files to customize your overlays.
---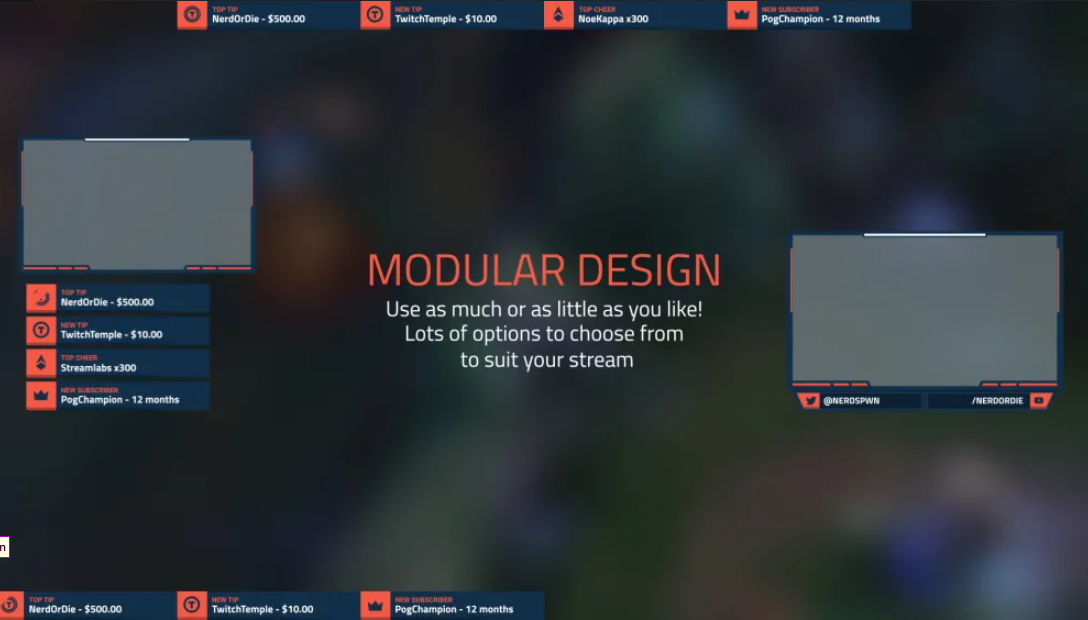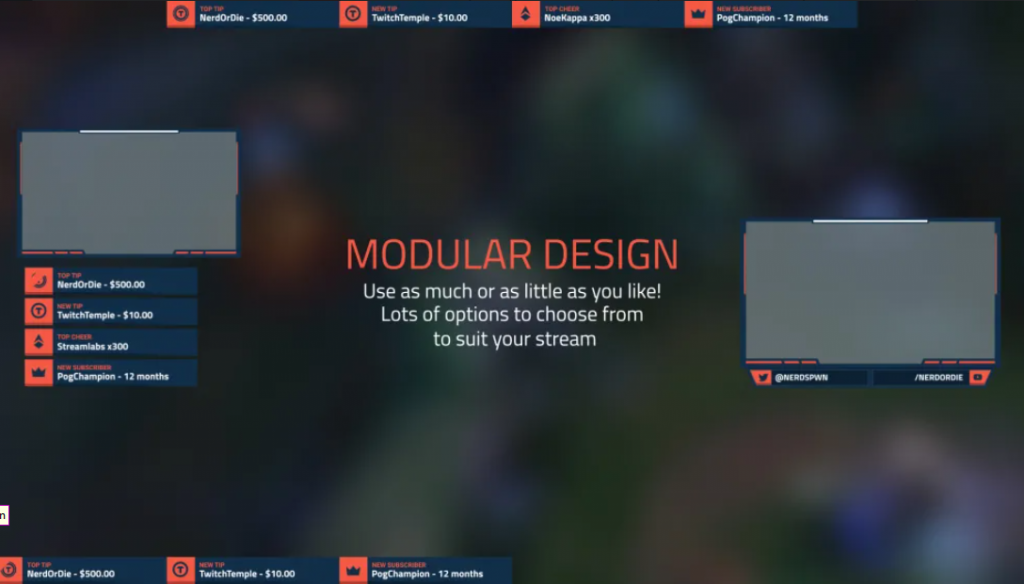 The Apex E-Sport Package is an animated pack. It offers a contemporary look at Twitch overlays for sport-based channels. You'll appreciate the clean lines and combination colours that contrast beautifully. As an animated pack, you get a combination of animated and static overlay files.
This is a premium pack from Nerdordie, and access to Photoshop and After Effects files will cost a little extra. The great news is that access to both Photoshop and After Effects files will allow you to completely customize Twitch overlay panels.
---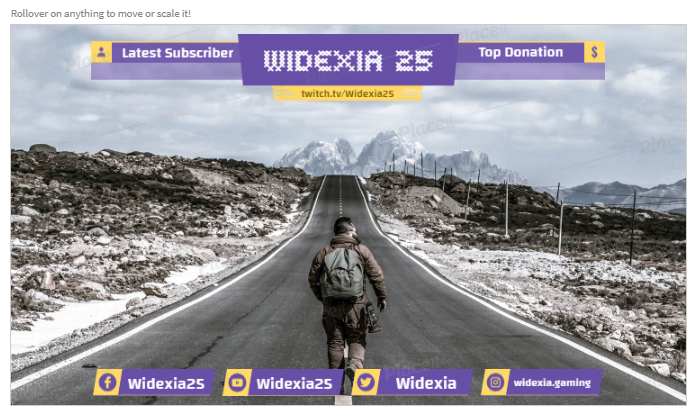 Placeit's Twitch overlay template builder is one of the cleanest we've seen and includes some of the most important elements your channel needs to grow. For example, this design shows your channel name positioned in the top-centre of the screen along the top the donation received to the right, and the handle of your latest subscriber the left. In the footer of the screen, you're given the option of including links to your Facebook, Twitter, YouTube, and Instagram accounts.
As a Placeit template, you're able to tweak all of these elements for download. This includes adding media account handles and changing the name, channel and background colours.
---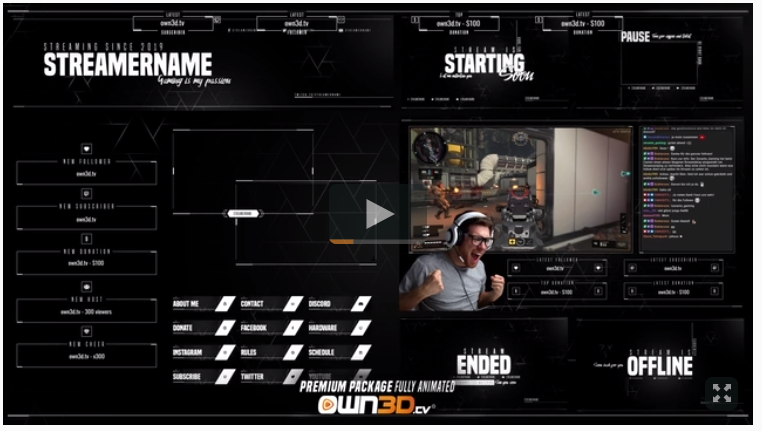 Are you a first-person shooter fan? If so, New World is the perfect Twitch overlay template for you. Originally designed as the perfect Fortnite overlay, it can be adapted to your taste. It's based in the minimal design, removing all of the elements outside of the view of gameplay. As is, it also comes with animated features. This overlay template is available to Own3r members for free download.
---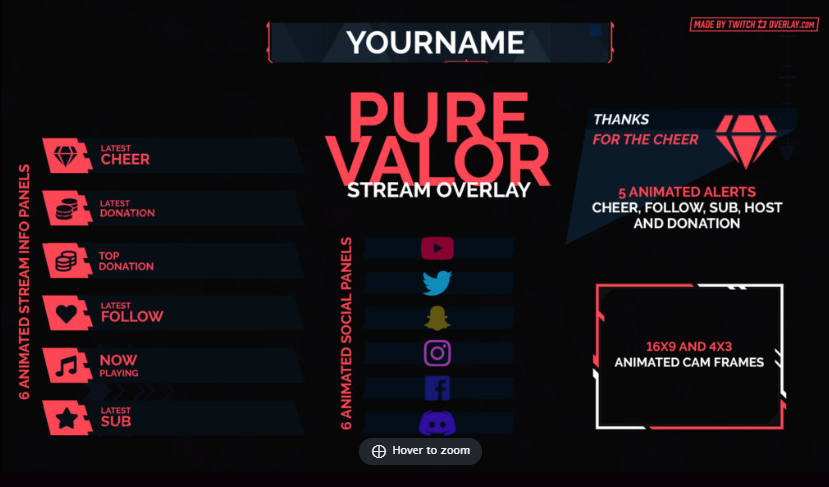 Pure Valor is one of the most vibrant overlays we've seen. Using neon pink, it stands out on screen. It's originally part of the Valorant stream package available from Twitchoverlay.com. This stream overlay comes with a host of downloadable files. You get an animated header, five animated alerts, six animated social profile panels, six animated stream info panels, an animated WebCam overlay, and an animated background.
Pure Valor is also one of the easier templates to update. You don't need to use PSD files as all text is flat and in white writing. To edit text, simply place text over the top of the graphic in OBS or xSplit.
---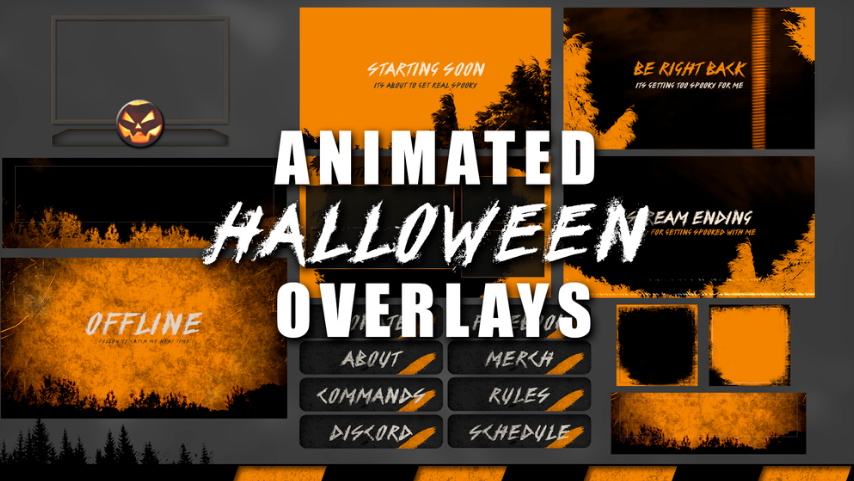 Halloween is an animated Twitch overlay pack. It comes from well-known Twitch streamer Gael LEVEL. The overlays are generally minimalistic and sport Halloween colours (orange and black). As these overlays come in a pack, you receive animated starting soon, be right back, intermission, stream ending, and camera overlays. You also get static elements that include two avatars, two banners, two offline screens, one low bar, to camera overlays, and 18 description panels.
---


Future is a simplistic overlay set. It includes start, in-game, and intermission overlays. It's also available in a collection of five colours. These include lime green, grass green, blue, purple, and pink. It is designed to be more of a first-person shooter overlay and recommended by player.me for Counter-Strike: Global Offensive.
---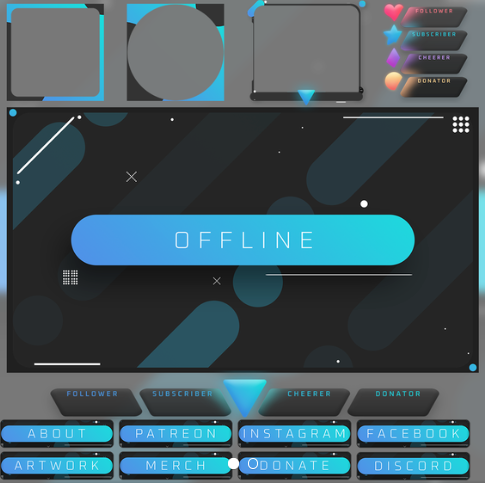 DIGITAL is a Twitch animated overlay mega pack from Gael LEVEL. It includes a sleek design with a minimalistic feel and cool colours that blend together using colour gradients. The pack comes with animated and static elements. Animated elements include a starting soon, be right back, intermission, stream ending, and two blank backgrounds. You also get a camera overlay, to label bars, nine transition overlays, and five alerts.
Static elements include two avatars, a banner, an offline image, a blank background, a camera overlay, six label bars, and 20 panels. This overlay pack can be edited using Pixlr, gimp, Photoshop, Paint.net, MS Paint, or any other editing software.
---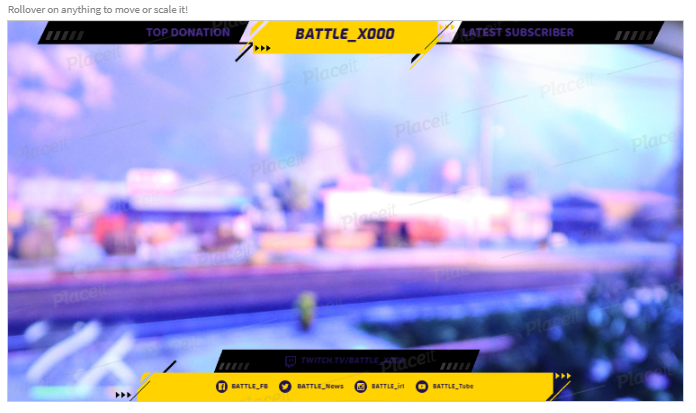 This Twitch overlay template from Placeit offers a little more customization through their online design tool. With it, you can change everything from the text in various sections (think top donation and latest subscriber panels), along with adding your various social media platform handles. You can also edit the main graphic itself. You have access to over 14 horizontal frame choices that come in different colour combinations. As with all Placeit templates, we can also change the background colour.
---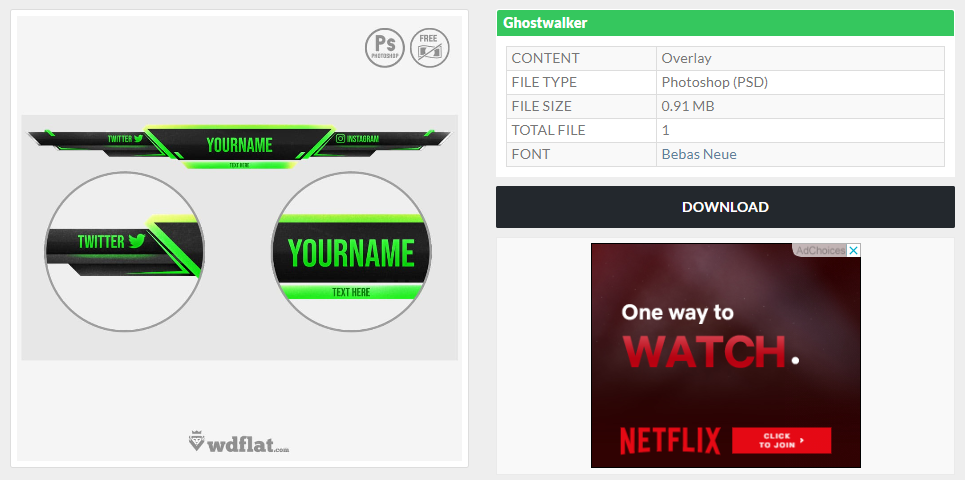 Ghostwalker was designed to evoke an edgy look and feel. Unlike most of the Twitch overlay templates on our list, this one allows you to update four elements but still makes for an attractive look. These include your name at the top of your screen, the text just below your name field, and editing social media handles that flank your name. As a basic overlay, you only receive the Photoshop PSD file, but it's all you'll need to customise the template.
---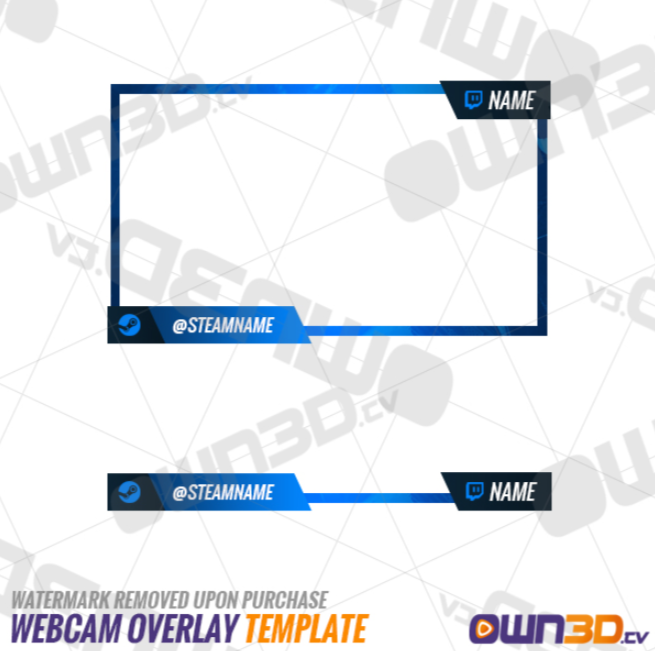 Crossfire – CS: GO is a WebCam overlay from Own3d. It comes in a combination blues, making it instantly pop. The overlay is professionally designed and features your name in the top right-hand corner along with you stream the bottom left-hand corner.
This overlay comes with one PST file and one PNG file. Included is an alternate stream label, one that places stream name and name in-line.
---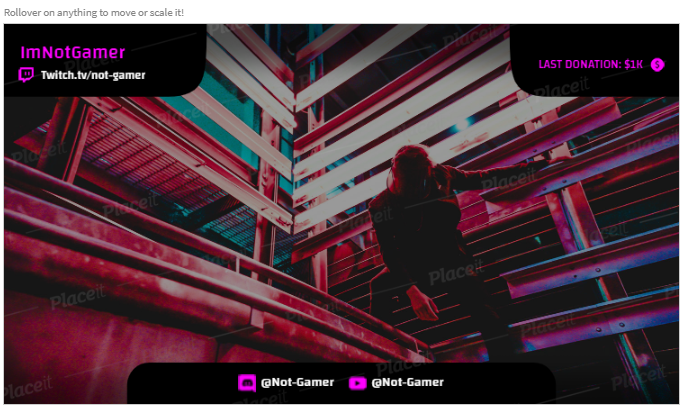 Looking for a Twitch overlay template with softer lines? This one from Placeit includes rounded frames, giving it a gentler look and feel. Another distinction between this and other Placeit templates is the positioning of each label on-screen. Your channel name appears in the top left-hand corner with an alternate label on the right. The bottom of your screen is reserved for social media handles.
---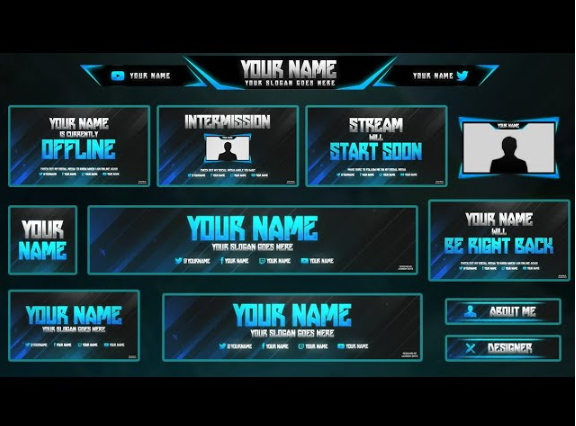 Hitbox is a free overlay pack that comes in PSD file format from graphicdesignresources.net. It includes offline, intermission, stream will start soon, WebCam, name, and about me editable banners.
Hitbox is completely customizable given the file format it is available in, allowing you to put your spin on each overlay and element.
---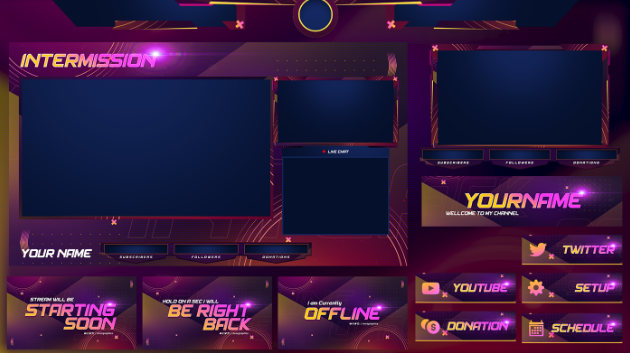 Overwatch is a free overlay pack from Ovoz Graphics. While it is an overlay template with files available in PSD format, you may want to leave it as is. A lot of detail is gone into this design. It includes an eye-catching colour combination of yellow and purple, with beautifully designed banners.
This pack comes with currently offline, starting soon, be right back, and intermission overlays. You also get five panels that can be edited for your channel.
---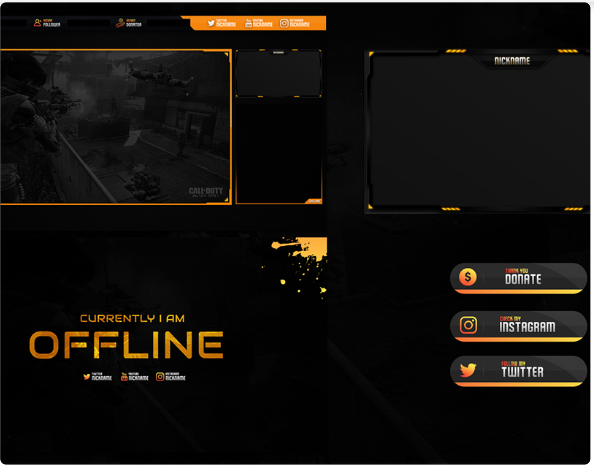 Black Ops is a sleek-designed overlay. Using strong contrasting colours (orange and black) overlay elements pop on-screen. This template pack includes a stream, WebCam, and offline overlay. You also get three banners (donate, Instagram, and Twitter).
---


Anthem is a free overlay set based on the online multiplayer action role-playing video game by the same name. The design is unique compared to most of the overlays on our list. All elements are kept at the bottom of your screen. You can also feature a small WebCam window that appears in the bottom left-hand corner of the screen.
This free overlay set includes start, in-game, and intermission overlays. It also comes in orange, burnt orange, envy green, grass green, and parakeet green.
---
Wrapping Up
And there you have it! These 16 Twitch overlay templates include some of the most attractive free and premium overlays available today. The great thing about overlay templates is that they are customizable, so don't be afraid to get creative! Test new ideas, colour schemes, fonts, and design elements to take these and make them your own.