Advertising Disclosure
Advertising disclosure:
Our partners compensate us. This may influence which products or services we review (also where and how those products appear on the site), this in no way affects our recommendations or the advice we offer. Our reviews are based on years of experience and countless hours of research. Our partners cannot pay us to guarantee favorable reviews of their products or services.
Going into the office might have become optional for you, but that's probably not the case when it comes to meetings. Email and messaging are great tools and can cover 99% of the communication in most cases, but for some things you need that face-to-face interaction. That doesn't necessarily mean that you need to break your remote routine just to commute for that one meeting, though.
Thanks to advances in tech, there are a number of great platforms and software solutions that can make virtual meetings as good as the real thing. This is probably not the best analogy if you're not a fan of meetings. What we're trying to say is that with one of these solutions engagement and interaction don't necessarily need to suffer if you prefer to meet virtually instead of in person.
To help you, we've scoured the web and read the reviews to create this list of 10 of the top software solutions and platforms to help you run virtual events. Whether it's a monthly meeting or a one-off, one-of-a-kind event, these are the places to meet.
---
Best Virtual Meeting and Event Software for Interactive Experiences:
---
Top Tools for Virtual Meetings and Events
Top
virtual event software
2024

If you don't have Zoom fatigue yet, continue reading to find out more about this platform and its features. Otherwise, feel free to skip ahead to one of the other nine platforms and software solutions that can be used for virtual meetings and events.
Zoom needs no introduction. Its name was used so much during the pandemic that its brand name even has its own entry in the online Cambridge Dictionary.
To illustrate its popularity during the pandemic specifically, here's an interesting sidenote. When the effectiveness of COVID-19 vaccines were announced towards the end of 2020, its share price fell from $500 to just over $400 in a single day. Even though the world has returned to "normal", Zoom remains a key tool if you're running a digital workplace and one of the leading tools for hosting virtual meetings and events.
With regards to meetings, it offers few useful features. For starters, it syncs with your calendar allowing you to join from anywhere and via any device. In addition to convenience, it also prioritizes security. All meeting, messaging, and webinar content is encrypted by means of 256-bit Advanced Encryption Standard. You can also set up your meeting in such a way that it can start only once the host is presented and, as an added security measure, you can create waiting rooms where attendees will be given entrance one by one.
If you're interested in hosting a virtual event, it also lets you create hybrid and virtual experiences. Plus, if you want to monetize this event, it includes built-in ticketing. Afterwards, you can use its analytics to evaluate if it was successful in terms of attendance, engagement, and revenue.
Key features include:
Cloud recording storage
Editable boards
Built-in collaboration tools
Plans and pricing: It offers a free plan for both personal and business use. For more advanced needs, there are various subscription plans with pricing starting at about $15 per user per month. It also has several optional add-ons that include Zoom Whiteboard, premier support, and cloud storage.
---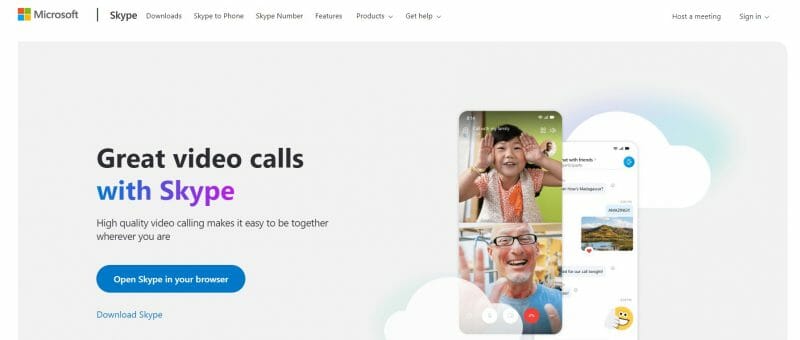 Before Zoom, there was Skype. For meeting purposes, it remains one of the preferred choices thanks to its high-quality video calls.
In addition to its audio and video calling quality, it also prioritizes accessibility. You can, for example, use live subtitles to read the spoken words. It also offers affordable international calling rates to landlines as well as mobile phones so that you can reach contacts even when they're offline. And, to help other decision makers access key documents, it includes integrated screen sharing.
A few years ago it also released a Skype for Content Creators feature, making it a good choice if you run a podcast or rely a lot on video content. In short, it helps creators to integrate Skype calls into their live streams, vlogs, or podcasts easily. For more informal contexts like these, it lets you customize your message reaction picker, a useful feature if you like to include popular emojis in your communication.
Key features include:
Call recording
Live subtitles
Screen sharing
@mentions
Plans and pricing: Skype is free to use, but it also offers affordable deals if you will be making a lot of phone calls. US users can get unlimited minutes from as little as $2.99 per month. In select countries you can also buy a Skype Number, a second phone number that will be linked to your Skype account.
---

If you prefer Google over Microsoft, you can check out Google Meet (previously called Hangouts Meet). Just like Zoom and Skype, you've probably already used Google Meet before.
It lets you enjoy premium video meetings for free and is very easy and straightforward to use. All you need to do is click on "New meeting". A link will be generated that you can then copy and share with colleagues. When you click on "New meeting", it will also give you the option to schedule meetings directly in your Google Calendar. This way, you can add more details like duration or, if it will be a regular event, you can set on which days it should be scheduled automatically.
To join a meeting, you need to be invited or admitted by the host. So, you can rest assured that it also has security measures in place.
One useful feature that creators and event planners will be interested in that deserves special mention is that you can also use Google Meet to live stream a meeting publicly to YouTube. If you want to put this feature to the test, just double-check that your YouTube channel is in fact approved for live streaming (approval can take up to a day so don't leave this until the last minute).
Key features include:
Breakout rooms
Polls
Noise cancellation
Attendance tracking
Plans and pricing: Any Google account holder can use Google Meet to host an hour-long meeting with up to 100 participants for free. For more functionality, like live streaming, Google Workspace has a number of subscription plans for individual users, educational institutions, small businesses, and large companies. After a free, 14-day trial, pricing starts at only $4.80 per user per month.
---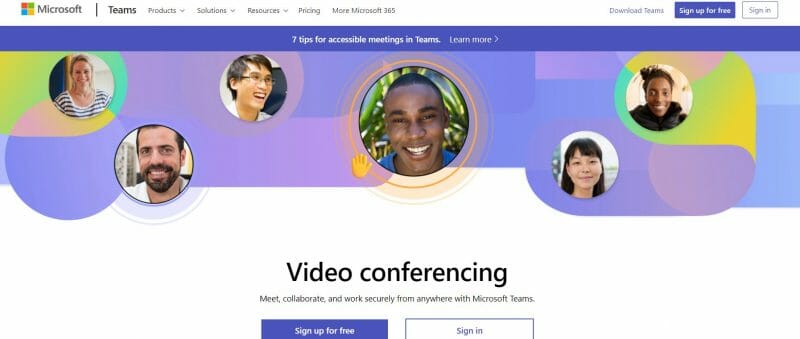 Along with Google Meet, Zoom, and Skype, Microsoft Teams is another one of the most well-known tools for holding virtual meetings. With it, you can host interactive meetings for as many as 1,000 attendees and broadcasts and webinars to thousands.
It has a meeting recording feature so that you can focus on what's being said instead of trying to jot down notes. For added clarity during the meeting, you can turn on live captions making it easier to stay up to speed in real time.
It also recently introduced a Speaker Coach feature. Think of it as your very own personalized presentation coach. With the help of artificial intelligence, it offers guidance. It will, for example, inform you when you interrupt someone or nudge you to slow down when you're speaking too fast. This feature is available to all the attendees and not just the one leading the meeting.
Key features include:
Live captions
Speaker coach
Participant list
Customized backgrounds
Plans and pricing: It has a no-commitment free plan for both personal and business use. For the ability to hold bigger group meetings, pricing starts at about $5 per user per month.
---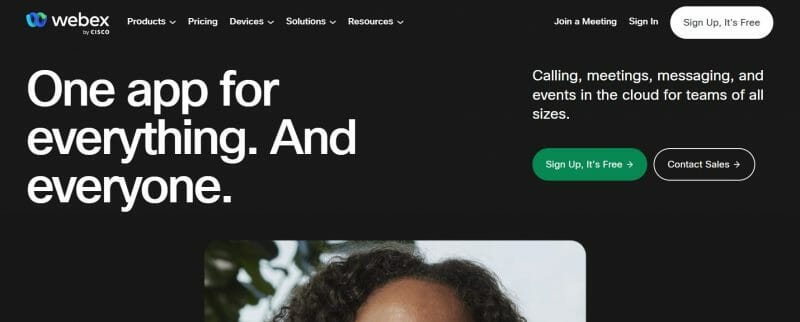 According to their website, Webex by Cisco is trusted by 95% of Fortune 500 companies. They offer a free video conferencing tool that you can use to host meetings with up to 100 participants in high-definition video. As you would expect, it also offers the standard features like screen sharing and messaging.
One of the features that make it one of the leading tools in this category is that they also include AI-powered features that improve productivity and inclusivity. It, for example, offers automatic transcription, gesture recognition, and custom layouts. The advanced noise removal can also come in handy to help minimize distractions, while the animated virtual backgrounds will take care of the other distractions in the background.
If you're interested in hosting events, you can check out Webex Events (formerly Socio). It offers end-to-end management via a single platform and great flexibility. Switching between virtual and in-person formats is simple, making it a great tool to have in your tech stack for your next hybrid event. And, if it will be a paid event, you can use different ticket types, price categories, and even apply discount codes.
Key features include:
Team messaging
File sharing
Polls
Plans and pricing: It offers a free basic plan and a number of paid plans. Pricing starts at about $12 per user per month for meeting functionality, while for events you'll need to contact sales for more info about the custom pricing.
---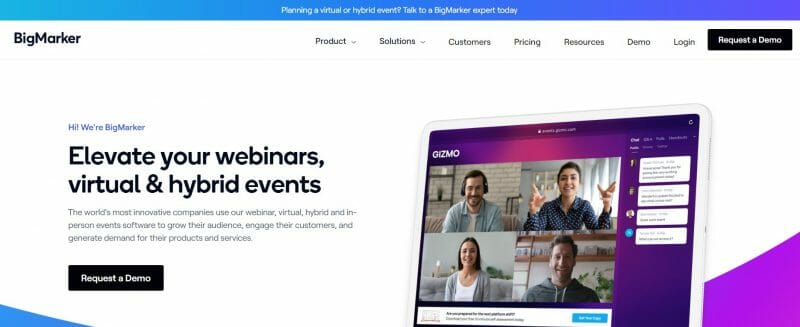 Trusted by leading global brands like Bose, Samsung, and TED, BigMarker is one of the highest-rated virtual event software solutions on Capterra. In 2022, they also made Capterra's shortlist of emerging favorites. To put this achievement into perspective, 350 products in their virtual event software directory were analyzed and only 25 of the most popular and highest-rated ones were included on a list.
Whether you want to use it for training purposes, like a webinar, or host a fully virtual or hybrid event, BigMarker makes hosting highly customized presentations easy. If hosting live presentations will be a regular thing on your calendar, you can check out their white-label services. This way, you can integrate interactive video experiences into your marketing.
Even if you don't opt for the white-label services, you can look forward to loads of customization. You can change the look, feel, and flow to deliver a truly unique experience. It also offers over 15 modules so that you can create various event formats.
As interaction is at the core of a successful event, it also includes networking and interactive features that can boost engagement. It, for example, has an AI-powered matchmaking service that will partner attendees with the most relevant contacts. Alternatively, attendees can use the network builder and choose their own connections based on their goals and interests.
Key features include:
Built-in marketing tools
Post-session surveys
Analytics and reporting
Plans and pricing: For more info about their pricing, you'll have to reach out to their sales team via their website.
---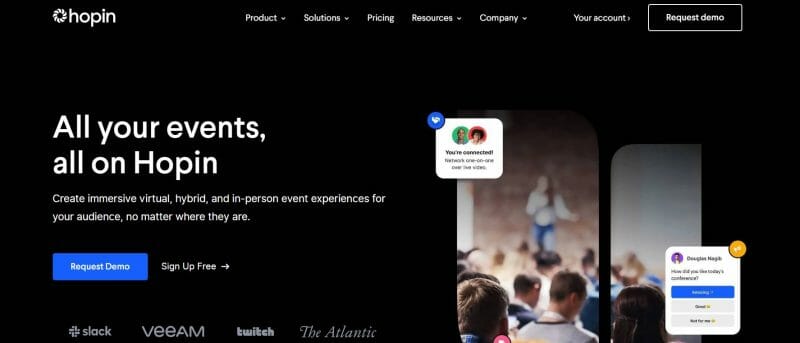 Hopin is an all-in-one events management platform that you can use to create live, interactive, online events. Their goal when they designed their software was to help event planners to recreate the in-person experience as accurately as possible.
Officially launched only a few years ago in 2019, they've already attracted hundreds of thousands of users from all over the world. There are several success stories. Their software, for example, helped the Toronto International Film Festival (TIFF) in 2021 to host a whopping 60 events in just 10 days.
Capterra has also included them on their 2022 shortlist as one of the top 5 most established players in their virtual event software directory. It received a popularity score of 41 out of 50, just one point shy of their most popular tool in this category.
In addition to virtual/hybrid events, you can also use it for internal company events. This can be a great option if you have a remote work policy in place.
Key features include:
Customizable registration
No-code website builder
Basic analytics
Plans and pricing: It offers a free plan for small, two-hour events. For events stretching across multiple days, pricing starts at $99 per month. However, if you opt to be billed annually, you can save 15%.
---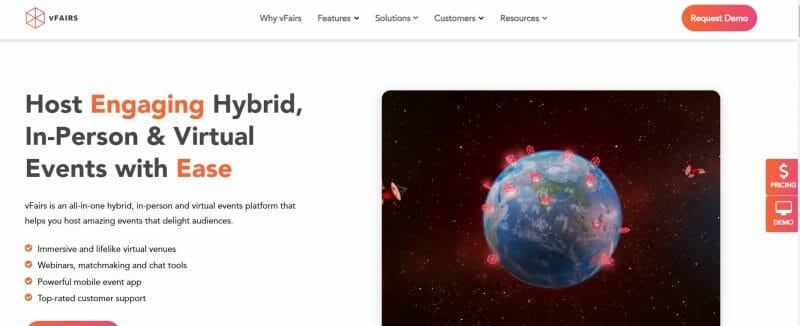 vFairs is an all-in-one platform that has years of experience behind its name. While it doesn't boast the same popularity on Capterra as BigMarker, it has received more reviews. Here, users have praised it for its customer service and ease of use.
One of the features that set it apart from other tools and platforms is that it also includes 3D visual designs and animation. You can use it to jazz up your virtual lobby, for example. Alternatively, you can go all the way and use it to create a 3D model of an entire real-life venue.
Not only do they focus on the aesthetics, but also functionality. To help encourage engagement, it includes networking and gamification features. Then, to assess which strategies worked best, it offers event reporting too. You'll get access to real-time attendee stats which you can export as an Excel file and share with the rest of your team.
Key features include:
A virtual exhibit hall
Custom exhibitor booths
Gamification
Plans and pricing: For pricing details and a free comprehensive product demo, you'll need to contact them personally.
---
Founded in 2015, Swoogo is an easy-to-use, event management platform that can be used for digital events and hybrid events among others. From ensuring that your registration form is as unique as your business to helping you gather valuable post-event analytics, Swoogo offers impressive functionality.
One of its features that deserve special mention is that it offers a number of marketing tools too to help ensure that all your hard work isn't in vain. It, for example, includes email templates that you can customize and an event website builder.
However, it's not cheap. Not only does it not have a free plan, but its cheapest plan is already nearly $10,000 per year.
Plans and pricing: Pricing starts at $9,800 per year.
---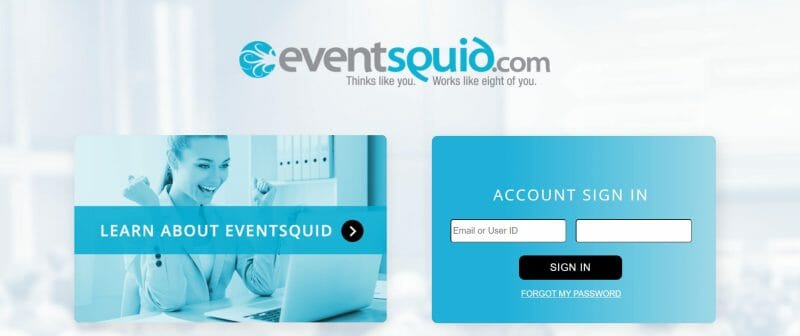 Eventsquid is an award-winning, event software solution for different types of live, virtual, and hybrid events. It was founded in the same year as Swoogo, but has received nearly four times as many reviews on Capterra already.
From event registration to reporting, Eventsquid helps you to automate many of the tasks to "work like eight of you" (hence, the squid reference in its name).
Before we delve into its list of features a bit further, let's just mention that similarly to Swoogo it doesn't come cheap (well, at least it's cheaper than Swoogo). For this reason, it's best suited for organizers that host multiple virtual events throughout the year. Not only is it pricey, but there's also no option to pay a monthly subscription. Instead, you'll need to fork out thousands in one go.
One of the reasons why it costs more is because it devotes a lot of attention and time to creating a personalized experience. You'll, for example, receive individualized training. Not that the software necessarily has a steep learning curve. In a matter of minutes, you can create a basic event website.
Another feature that will help you to free up time and improve user experience is its Virtual Event Organizer (aka VEO). It will summarize key info, such as session and speaker ratings and links for accessing the live stream, into a single screen.
Then, so that you can easily manage your event, it offers a unified Smart Daily dashboard. Here, you'll find a quick overview of registration in real time and other important criteria such as revenue.
Key features include:
Flexible registration options
A virtual event organizer
Automatic data graphing
An integrated communication center
Plans and pricing: Pricing starts at $4,000 for a minimum annual license.
---
Wrapping Things Up
Some of the tools that we've listed above can be used purely for hosting virtual events, while others can double up as a platform that you use for both meetings and events. Whichever one you choose, it's key that you pay attention to user-friendliness. If it's hard to set up and use, you'll find that participants' frustration levels will already be high before the meeting has even started.
Another key feature to consider is engagement tools. Successful meetings require ideas to be exchanged freely, while successful events are measured in the number of connections that were made.
Depending on your use case, custom branding can also be valuable. If you'll be using it to host online events, the ability to incorporate your brand's logo and color scheme can help to boost brand awareness which is likely one of the main reasons for organizing the event in the first place. While building brand awareness is less important when holding meetings, including your company's branding can help to add that professional touch which will help to encourage employees to become active advocates for the business.
Frequently Asked Questions
What is the best virtual event software or platform?
Here's our list of virtual event software and platforms to execute and engage hybrid events:
Zoom

Skype

Google Meet

Microsoft Teams

Webex by Cisco

BigMarker

Hopin

vFairs

Swoogo
What is the best virtual platform?
Here are 9 powerful virtual event platforms in 2023:
Zoom

Skype

Google Meet

Microsoft Teams

Webex by Cisco

BigMarker

Hopin

vFairs

Swoogo
How do I create a virtual event online?
Here are 5 key tips for hosting virtual events online:
Set clear goals

Pick the right platform to host your virtual event

Promote your event

Develop a clear agenda with speakers and timeframes

Engage your audience
What is a 3D virtual event platform?
3D Virtual Event Platforms are industry agnostic fully web-based solutions. These virtual event platforms let event organizers and exhibitors to embrace the power of digital gamification. This builds online events to eliminate the need for common logistical expenses.