Amazon is the largest retail marketplace in the world. And it caters to all kinds of merchants. If you're large, you can sell your products to Amazon, much as you would any other wholesaler or retailer. If you're too small to interest Amazon in selling your products themselves, you can sell on Amazon, where you still reach their audience of 300 million customers, but you have to do much of the marketing yourself. And with the size of your potential audience, you might be worried about how much Amazon ads cost.
Too often, Amazon sellers forget to budget for marketing when they research the process of getting their products on Amazon. But in most cases, that is a vital cost you can't ignore. It's easy to have products listed on Amazon but much harder to have them sell. And Amazon has minimum sales levels before making payouts to its sellers, many of whom never receive any payment because they don't reach these thresholds.
If you sell to Amazon, you don't have to worry too much about advertising on the platform. You've made your sale (to Amazon), and it's up to them to sell your products to their customers; although if you give a "helping hand" to this, you might increase your chances of Amazon making another purchase shortly. If you sell on Amazon, however, you will need to advertise your products so that they stand out from everyone else's.
Amazon earned $24.47 billion from digital advertising revenues in 2021, which is projected to reach $34.95 billion in 2023. So, you certainly won't be alone in advertising on Amazon.
Like Google and Facebook, most Amazon ads operate using a bidding process. With over 9.7 million Amazon sellers worldwide, you need to ensure your products appear more visible than those of your competitors, so you want your products (or brand) to appear higher in Amazon's search listings than others.
However, as with all ad bidding, it helps to know how the process works before you find yourself on the wrong end of a hefty bill.
Download Amazon Advertising Guide
---
What do Amazon Ads Cost?:
---
Our Amazon Ads Cost Estimator
Our Amazon Ads Cost tool does much of the mathematics for you. Simply enter the requested details, and our tool will estimate the potential average cost per click (CPC) of your Amazon advertising campaign so that you can set aside a realistic budget for your Amazon ads. It will also calculate your Average Cost per Sale.
Remember, advertising is essential for anybody selling on Amazon, whether you're a startup or a seasoned business selling there for years. So your Amazon ads cost is a necessary part of trading on the platform.
Drag the slider to calculate potential affiliate earnings
---
How Much Do Amazon Ads Cost?
According to Ad Badger, US Amazon advertisers paid $0.71 on average for every click on their ad in 2020. Covid has had an effect since then, however. Ad Badger has noticed that CPC has risen to $0.89 for every click.
Of course, this is very much an average, and individual advertisers pay wildly varying amounts. The nature of bid-based advertising means that it can be impossible to give a definitive cost for advertising on Amazon. Your Amazon ad cost will depend on a range of factors, including the type of ads you choose, the budget you set, how you target your ads, and the specific bids you make. Some niches are particularly competitive and have very high CPCs as a result.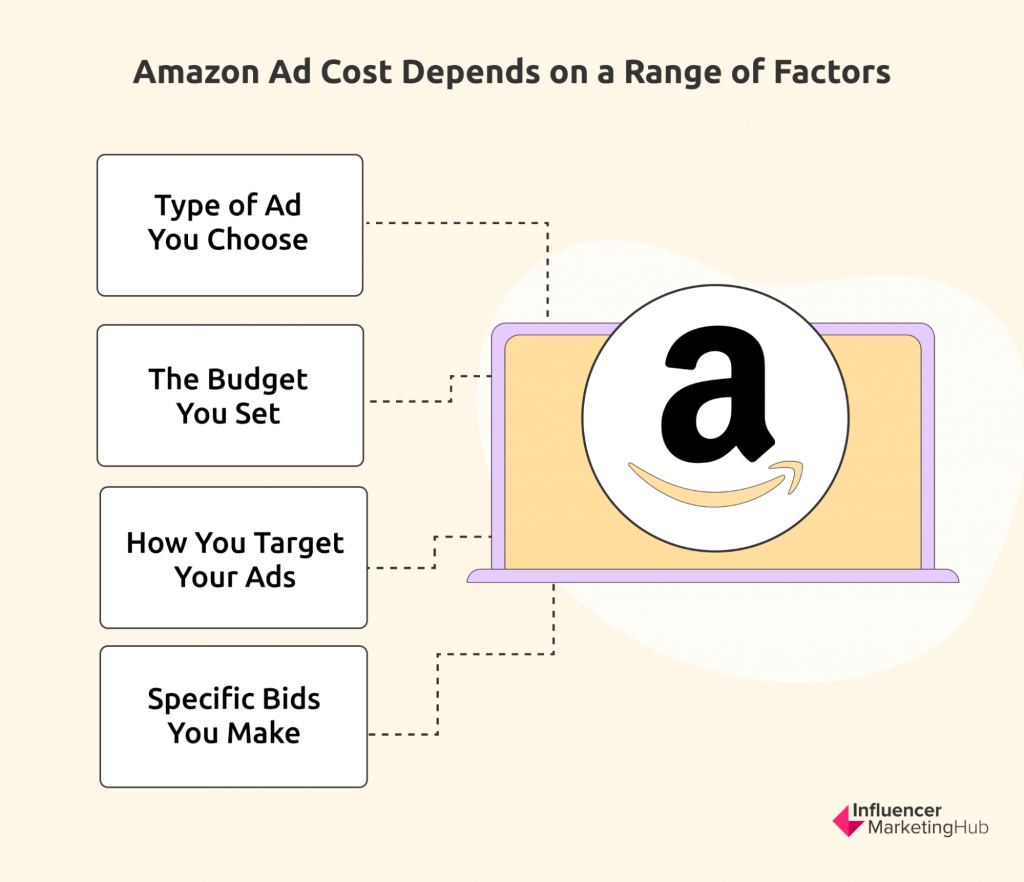 You will need to consider each of these factors carefully. You could end up spending much more on advertising than you make if you poorly target your ads or don't understand how your bids work. Likewise, there is little point in getting your targeting right if you send traffic to a poor listing. You need to ensure that your brand and its products sound legitimate and worthwhile for customers to risk making a purchase.
Ad Badger believes the significant increase in the CPC over the last years is because of increased competition between sellers on Amazon. You're bidding against more sellers to win the best placement for your ad.
---
Amazon Ad Types
Although you have a range of ad types you can purchase on Amazon, they come into two main types:
Self-service ads – these function similarly to Google or Facebook ads. You set them up in your Amazon console, and they appear when somebody searches for your type of product or brand. You pay for each click on your ad (CPC).

Premium ads are more like other display ads you see on the internet, usually appearing as a banner or in a sidebar.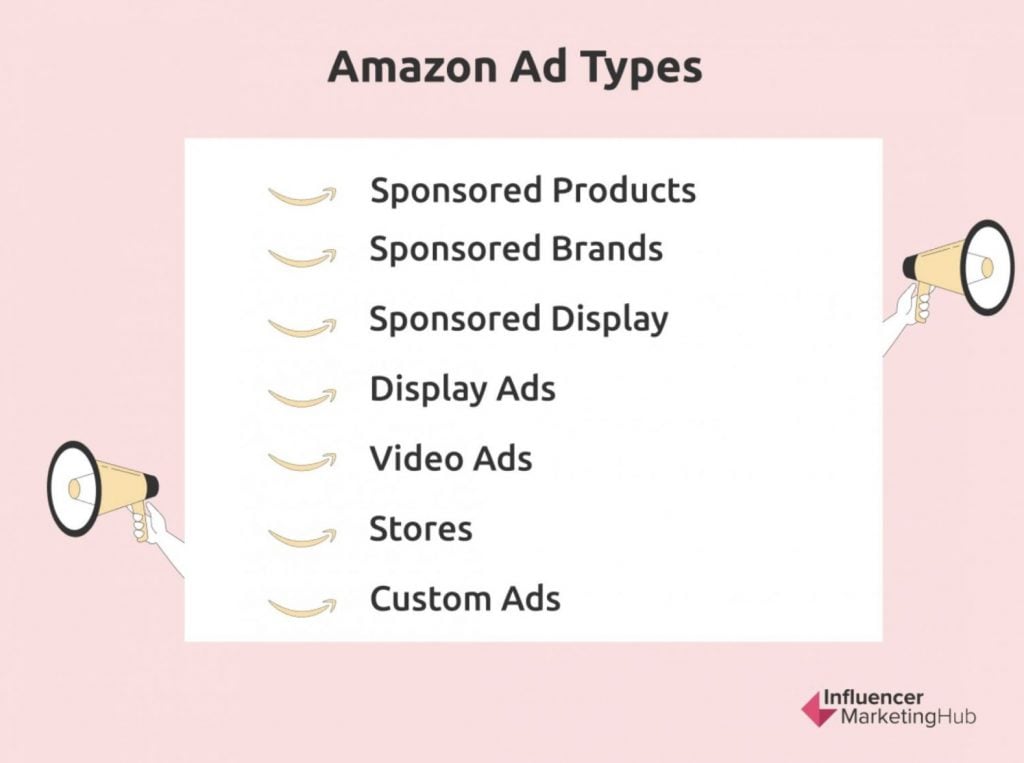 Self-Service Ads
The most common Amazon ads are self-service ads. You use your Amazon Advertising Console to create ads and bid for slots for these ads in searches based on Cost Per Click. To have access to anything other than Sponsored Product ads, you will first have to register on the Amazon Brand Registry. This legitimizes your brand.
As the name suggests, you can create and bid for Amazon's self-service ads yourself. You don't have to work with any sales representative to book advertising.
1. Sponsored Products
Sponsored Product ads are one of the most effective ways of presenting your products to Amazon's customers. However, if you target them well, you will generally show them only to people searching for goods like yours.
Sponsored Product ads integrate with Amazon organic search results, and as a result, customers don't even realize that they're looking at an ad. They often appear before the organic listings and have a small "Sponsored" tag, but they otherwise resemble the other product search results.
You will usually target specific keywords, i.e., the terms that Amazon's customers use in their product searches. You aim to make ads relevant to people's search terms so that potential customers will look at your product as the obvious item to purchase.
Sponsored Product Ads operate Cost per Click (CPC) ads, and the amount you pay will depend on the number of potential customers who click on your ads in their search results. Therefore, you should bid the maximum amount you are prepared to pay (per click) to have your products appear in a higher position in Amazon's listings for searches for your preferred keywords.
In the above example, an Amazon customer has searched for "Streaming Devices." You will notice that the first product to appear in Amazon's search results is a Sponsored Product Ad for Corsair Elgato Stream Deck - XL Advanced Stream Control. Additional Sponsored Products appear further down the page after some organic listings.
With Sponsored Products Ads, Amazon gives you the choice of whether you want to run an automated or manual campaign. The main difference is that you select the keywords to target in manual campaigns, whereas an Amazon algorithm does it for you in automated campaigns.
If you opt for an automatic campaign, you can select from one of four match types: Close match, Loose match, Substitutes, and Complements. We cover this in more detail in our Complete Guide to Amazon Advertising. However, Amazon generally does an excellent job of ensuring that its automatic targeting is relevant to customer queries, no matter which of the four targeting options you have chosen.
---
2. Sponsored Brands
in our Complete Guide to Amazon Advertising. However, Amazon generally does an excellent job of ensuring that its automatic targeting is relevant to customer queries, no matter which of the four targeting options you have chosen.
Alternatively, brands may wish to promote themselves rather than specific products. Sponsored Brand ads help drive brand awareness. These ads display on top of, alongside, or within shopping results and may appear on both desktop and mobile. Once a potential customer clicks on your Sponsored Brands ad, they only see information about your brand, not your competitors. In addition, you can now include videos in your Sponsored Brands ads.
Sponsored brand ads typically highlight three of your products. They appear in the search results as banners.
Jungle Scout has found that Sponsored Brand Ads give the highest Return on Ad Spend (RoAS) of the three types of sponsored ads.
---
3. Sponsored Display
Amazon Sponsored Display ads are a newer option and are still not available everywhere. These let you reach relevant audiences both on Amazon and some third-party websites.
Unlike Sponsored Product and Sponsored Brand Ads that target keywords, Sponsored Display Ads target customers based on audience interests and shopping behaviors. Amazon retargets customers based on the ads and listings they look at.
---
Premium Ads
Premium ads require a considerably larger ad budget than self-service ads do. In all cases, you will work with a sales rep to manage the ad creation process, rather than creating your ads yourself in your Amazon Advertising Console app as you do with self-service ads. It is hard to predict what Amazon premium ads cost, as they vary in each situation.
Premium ads are more like traditional ads, and you can use your own creative copy and imagery. The costs of these ads aren't based on CPC.
4. Display Ads
These are display ads that you can use to promote your Amazon presence, both on and off Amazon. Unlike Sponsored Display ads, they don't follow a set layout.
5. Video Ads
These appear on videos on Amazon subsidiaries, such as IMBd.com.
6. Audio Ads
These are 10-30 second ads that play on Amazon Music (for listeners who don't pay for an ad-free plan).
7. Custom Ads
These are tailor-made ads created by Amazon's Custom Advertising team, and they vary according to your goals. However, Amazon's custom ads could cost you up to tens of thousands of dollars, depending on your requirements.
---
What Happens if You Don't Advertise on Amazon?
If you have products on Amazon and choose not to advertise, your products may still appear in people's organic search results. It may be worth experimenting by assigning a few dollars of advertising budget to each product and then comparing your post-advertising sales results with how things were before. You can easily adjust your budget for particular ASINs (Amazon Standard Identification Numbers) once you have data available or delete your advertising if you don't notice any positive difference.
Whether you advertise or not, your products will appear somewhere in the organic listings generated by Amazon's A10 algorithm. However, your organic listings will most likely appear beneath your competitors' sponsored ads (and indeed beneath those products' organic listings too).
If you want your organic listings to appear near the top of the search results, you will have to optimize your product listing pages.
---
What is a Realistic Daily Budget to Advertise on Amazon?
One of the choices you make when setting up your ads is setting a daily budget or a lifetime budget for your entire campaign. In most cases, you would opt for a daily budget, which makes it easier to modify things based on the performance of your campaign. Indeed, you can only set lifetime budgets for a Sponsored Brands campaign, and they have to be at least $100.
The best way to determine a daily budget on Amazon is to experiment. You can begin advertising at no more than $5 to $10 per day, although most successful campaigns cost at least $50 to $100 per day.
There is no correct daily budget. You simply need to spend as much as you can afford to make your ads profitable, i.e., the increased sales you make as a result of your ads are more than the fees Amazon charges you.
For example, if you decide to run ads for a week at $50 per day, it will cost you $350. The actual number of times your ad appears will depend on your successful bids and thus your cost per ad.
If these ads yielded you $200 in additional sales, then they weren't worth it. You did something wrong with your bidding, your landing page didn't appeal to potential customers, or you simply had a poor reputation, possibly resulting from bad reviews. On the other hand, if these ads generated an additional $500 of sales, you made a profit, and it may be worth increasing your daily budget next week.
---
How Does Bidding Work on Amazon?
To an extent, this depends on the type of ads you select. However, for Sponsored Product ads, you choose keywords on which to bid. As we stated above, you can do this manually or let Amazon select keywords automatically for you using one of their match types.
When you make a bid, you are bidding against other brands wanting to rank for a specific search term (keyword). For example, at the time of writing, F Fityle had clearly bid the two highest amounts for the keyword "Quadcopters & Accessories" and held the first two spots for their products.
Amazon ranks bids from advertisers based on the amount they are willing to bid, although they also look at an ad's relevance to a shopper's query. Amazon will not take additional advertising fees for irrelevant ads, as that will make shoppers less interested in the platform's recommendations overall.
It's important to remember that your bid is the MAXIMUM amount you will pay. You actually pay an amount slightly higher than the next-highest CPC bid. So, if you bid 50c per ad, and the next highest bidder bids 40c, Amazon will charge you at a price like 41c per clicked-on ad.
Amazon will recommend bid amounts for your chosen keywords as you set up your ads. Although bidding this amount won't guarantee that you win your preferred spots, they're genuinely a helpful guide to your Amazon ad costs. However, you can ignore Amazon's recommendations and bid any amount you like.
If you bid low, you may find that your ads appear well down the search rankings, and potential customers may opt for more visible brands and products. Indeed, very low bids may result in your ads not appearing at all for your preferred customers. While low bids save you money upfront, they have the potential to result in horrendous returns.
Using our Amazon Ads Cost tool can give you a good indication of what you can expect to pay for your ads.
---
How to Lower Your CPC on Amazon
The CPC you have to pay will very much depend on your product's niche. It can be extremely high for particularly competitive keywords in particular product categories. CPC rates can vary from approximately $0.05 to $10 per click, depending on the keyword. You have to be very careful if you're committing to paying $10 per click for a popular term - you will want to be sure that you can make good money from your product sales.
In practice, you will have the lowest CPC with automatic targeting if you select loose match targeting. On the other hand, tight match targeting has the highest CPC as you are far likelier to make a sale to somebody who clicks on your ad than in other cases.
Choosing the right keywords will mean little if you send potential customers to a poor-quality product listing page. Instead, it would be best if you optimize your product listing pages, making them as informative and relevant as you can. Many of the same search engine optimization (SEO) techniques you use to optimize your webpage or blog posts work for your Amazon product listings. Optimize your title using important keywords and include all the key features and benefits of your product. However, don't "keyword stuff" by placing keywords in irrelevant places. The human eyes of your potential customers are just as important as Amazon's AI algorithms.
Ensure you include clear photography of your products, preferably from different angles. This is particularly important because people don't have the opportunity to try out your product in-store like they can in a traditional bricks-and-mortar shop.