In a world where brands face fierce competition with new and better products popping up from every corner, the experience you deliver is what sets your brand apart. It's the best way to leave a lasting impression on your audience and get them to choose your brand. That's why concepts such as experiential marketing have gained so much popularity over the past few years as it allows brands to effectively differentiate themselves from the competition.
So what is experiential marketing and how does it benefit your business? And how can you try it for your own brand? In this post, we provide you with the answers to all those questions. Let's get started.
---
What is Experiential Marketing? Examples and Ideas to Inspire You:
---
What is Experiential Marketing?
Experiential marketing is a marketing technique that involves creating unique and memorable experiences to connect with your target audience. Often involving in-person interactions, this type of marketing technique immerses the audience in the brand experience, which brings the brand to life and helps it to connect with consumers.
Brands may create experiential marketing campaigns that involve live events and pop-up stalls where people can directly interact with the brand. Guerilla marketing campaigns are also an interesting and unconventional way to create memorable brand experiences.
Think of the promotional campaign for "King Kong 3D," which involved massive footprints on Santa Monica Beach and a crushed lifeguard vehicle to boot. Needless to say, this got people to talk about it on social media and share photos of their experiences.
---
How Experiential Marketing Helps Your Business
Based on what you know so far, you might have some idea that experiential marketing could be great for your business. But how great is it, really? Let's break down some of the main benefits of experiential marketing for businesses.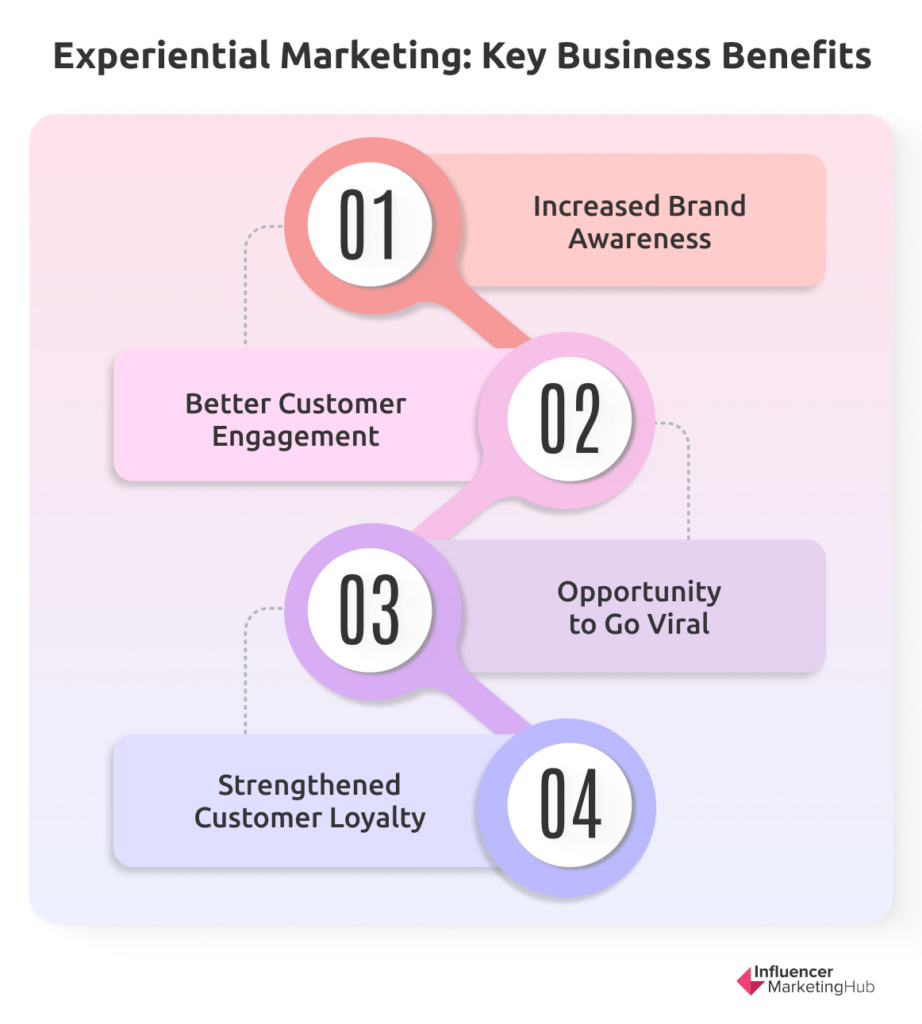 Increased Brand Awareness
With experiential marketing, you can get your brand in front of a bigger audience. You're not just limited to a social media platform or two or just a handful of channels. Instead, you're taking your brand to the public, where more people could come across it and learn about it. They might even take the discussion further and share their experience through other channels. This allows you to significantly boost brand awareness and attract more potential customers to your brand.
Better Customer Engagement
The entire point of experiential marketing is to immerse consumers in the brand experience, which would also give them the opportunity to engage directly with the brand. As a result, this approach to marketing is highly effective for driving engagement around your brand. Your campaign may involve demonstrating how a product or service helps the audience or it might be so creative that they want to participate. Regardless of the specific scenario, you can expect more people to engage with your brand through the campaign.
Opportunity to Go Viral
With modern experiential marketing campaigns being highly creative and out-of-the-box, it's only natural that people would want to talk about it on social media. They may want to share their experiences with others on the internet, which might entice many others to also enjoy the experience. Soon, your brand's campaign could become a viral sensation if it's unique enough to get people talking.
Take, for instance, how everyone was creating their own Barbie poster using the Barbie Selfie Generator before the release of the new "Barbie" movie. The AI-powered tool allowed users to take a selfie and turn themselves into a Barbie (or a Ken), thus immersing them in the experience. As they saw others using the Selfie Generator, more and more people wanted to try it out, which contributed to the movie becoming viral on social media.
Strengthened Customer Loyalty
When people enjoy the experience they have with your brand, they're more likely to come back as repeat customers. Experiential marketing allows you to deliver exceptional experiences that are not only memorable but help the audience to make a positive association with your brand. This positive brand perception is essential to garnering customer loyalty as people feel like they will enjoy their experience with your brand even if they come back.
---
Ideas for Experiential Marketing
Based on the benefits we've highlighted above, you may be convinced to get started with experiential marketing. So let's take a look at some experiential marketing ideas that will inspire you.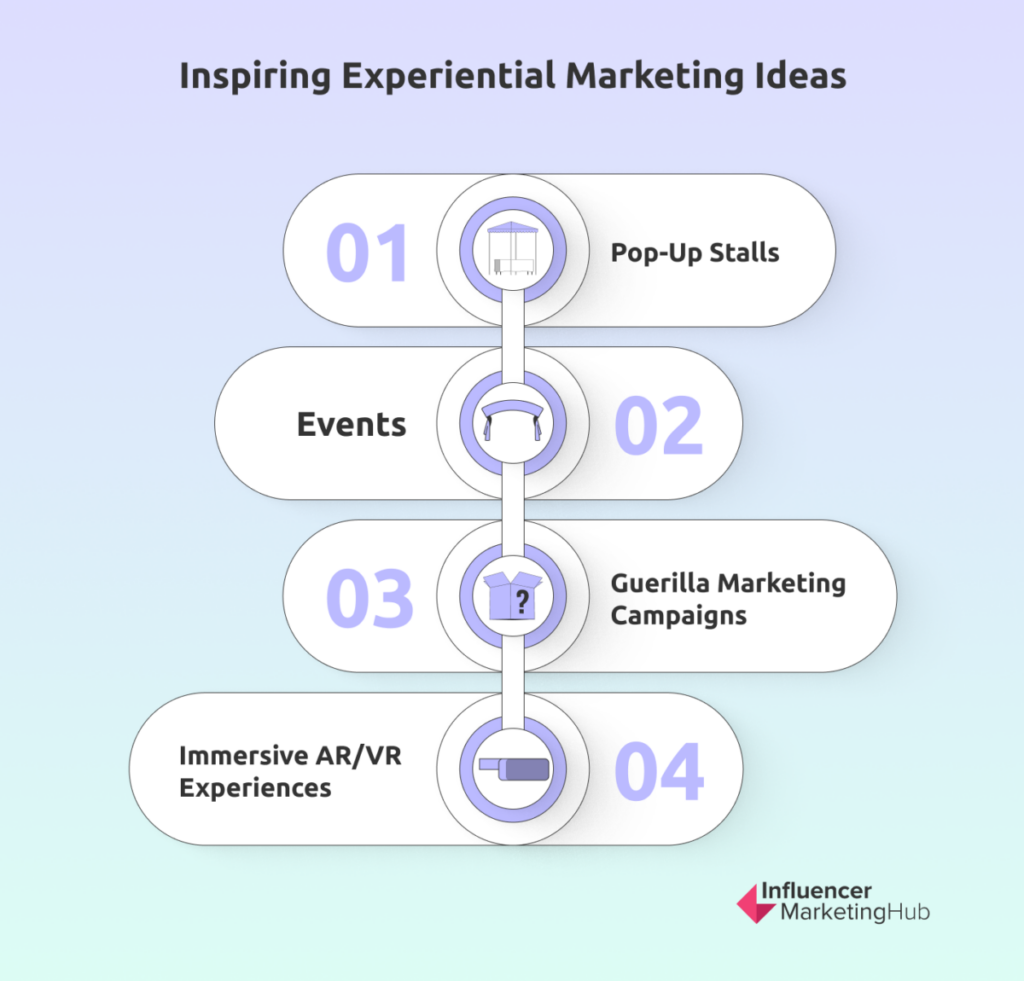 Pop-Up Stalls
One of the most popular experiential marketing strategies involves pop-up stalls. Brands will set up pop-up shops in public places and relevant events, which allows them to create brand awareness and give their audience an opportunity to interact with the brand. They may offer product demonstrations, freebies, discounts, and more.
To make these pop-up stalls work for you, make sure they're fun and interactive so your audience can really immerse themselves in the brand experience. You could set one up at a popular event related to your industry and take advantage of the existing audience. For example, Paramount Pictures hosted an immersive Dungeons & Dragons pop-up experience at the 2022 San Diego Comic-Con. This allowed them to tap into the existing Comic-Con audience, thus enabling them to create more engagement around the franchise.
Alternatively, you could also set up standalone pop-up stalls intended to attract its own set of audience. When M&M launched three new flavors back in 2018, they set up an immersive pop-up experience in New York that people could visit. They created three unique rooms dedicated to each flavor so visitors could immerse themselves in the smell and feel of the new flavor. Customers could then get the chance to vote for the flavor they liked best, which would then be chosen as the flavor that stayed.
Events
What better way to immerse your audience in the brand experience than through events that they can participate in? Event marketing is a core experiential marketing technique as it involves hosting unique and creative events that create an opportunity for visitors to interact with the brand. The best part about this tactic is that you can go all out and come up with out-of-the-box ideas for creating a memorable event.
You could host events that offer hands-on opportunities to enjoy the products or services you're promoting. You could offer guided demos and interactive installations that will allow visitors to truly engage with your brand. This can help to create a memorable experience that leaves a lasting impression on them. In other words, they'll always remember the experience and they'll always remember to come to your brand first if they're going to make a purchase.
Back in 2016, PAW Patrol went on a RollPatrol Road Tour, which lasted for three months and hit 21 cities. The events were fully interactive, featuring an 18-wheel semi-truck PAW Patroller. The truck opened up to reveal a PAW Patrol Headquarters that kids could explore. For this tour, people had the opportunity to engage with activations such as the Jungle Rescue area, life-sized race cars, and photo setups with PAW Patrol pups.
Needless to say, the event was a huge success with the show's target audience. It brought out more than 100,000 people from all over the country and saw a combined impression of more than 3 million. You can work with an event marketing agency to come up with an event that works for your brand and helps you achieve your goal.
Guerilla Marketing Campaigns
If "unconventional" is in your brand DNA, guerilla marketing campaigns are a great way to create unique experiences for your target audience. These campaigns involve surprising people with unconventional methods to catch their attention and ignite their curiosity. They tend to go against the grain and be highly unexpected, which usually gets people talking. So you stand a good chance of driving brand awareness and leaving a lasting impression on your audience.
Guerilla marketing campaigns aim to create a sense of delight in the audience by pulling off stunts that are so out of the ordinary. This allows brands to break through the noise and drive conversations on other channels including social media. Since this type of campaign involves a lot of planning and creativity, it's best if you leave it to experts who have the experience and expertise to pull it off. Look for guerilla marketing agencies that have put together impressive and noteworthy campaigns in the past.
When Gold Toe needed to launch a new underwear and t-shirt line, they took advantage of New York's streets and iconic landmarks to launch a creative guerilla marketing campaign. Public statues such as the Wall Street Bull could be seen wearing the brand's t-shirts and underwear. Underwear-shaped posters were strategically placed on outdoor advertising to further amplify the impact of the campaign.
3/Gold Toe took over the Wall Street Bull.

The company took over-the-top tactics to promote a new underwear line on an eleven-foot bull.

Gold Toe got a lot of press and plenty of tourist photos. pic.twitter.com/o41u8tG1oQ

— Suda (@GrwthPartner) May 6, 2022
Immersive AR/VR Experiences
With augmented reality and virtual reality technologies evolving at a rapid pace, they've opened up new opportunities for brands to take their experiential marketing to the next level. AR/VR experiences allow brands to create immersive experiences even outside of the physical space, making them a great way to truly engage the audience even without hosting in-person events. For example, brands have been creating AR filters on social media to get their audience to engage.
In many ways, AR/VR experiences can be a better option than in-person experiences as they can be launched digitally, allowing for global reach. This means that brands can exponentially grow their reach and engage a massive audience made up of people who wouldn't have been able to physically interact with an in-person experience.
One of the best examples of an immersive AR experience is the Pizza Hut AR campaign in which the pizza chain provided customers with a new way to play the classic PAC-MAN game. They delivered a pizza box that had an AR marker integrated with a QR code to activate the game. This campaign garnered a lot of good press for Pizza Hut and enabled them to create a highly immersive experience for their customers.
---
Experiential Marketing Campaign Best Practices
As impactful as experiential marketing campaigns may be, they can be a bit challenging to pull off, unlike traditional marketing campaigns. Here are some best practices that will help you improve your chances of succeeding.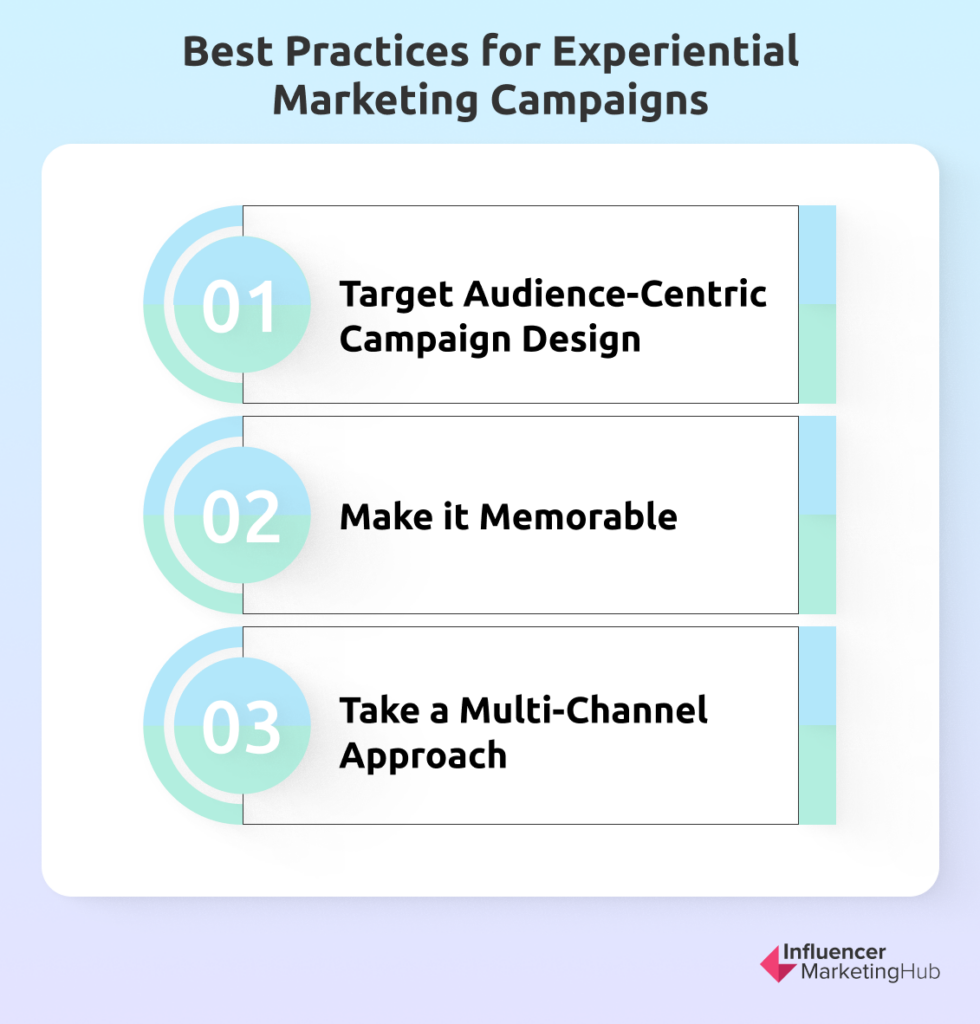 Design Campaigns with Your Target Audience in Mind
A creative campaign is only as good as the impact it leaves on the audience. What's impressive to a group of professionals in the tech industry may not resonate as well with people who are less tech-savvy. Similarly, what appeals to teens may not necessarily have the same impact on C-suite executives. So make sure your campaign is designed keeping in mind what would resonate with your target audience.
Make it Memorable
One crucial question to ask when brainstorming for an experiential marketing campaign is – Will by audience remember this? For your campaign to be successful, you need something that stands out and would leave a lasting impression on your audience. Don't be afraid to get as creative as you possibly could and find a way to break through the noise.
Take a Multi-Channel Approach
Marketers have a number of channels available at their disposal. If you can make use of these different channels, your campaign has a better chance of success as it will reach more people and yield more impressions. So you don't necessarily have to limit yourself to just one channel when launching your experiential marketing campaign.
This makes it vital to integrate multiple channels into your campaign for a greater impact. Even if the execution is only taking place through one channel, find a way to spread the message through other channels. For example, you could encourage people to take photos of their in-person experience and share it with a specific hashtag on social media.
---
Create Memorable Brand Experiences
As you can see, experiential marketing campaigns can be challenging but completely worth the time and effort. However, they require a lot of creativity and planning that you may not necessarily have the resources for. Consider working with an experiential marketing agency that will help you come up with brilliant ways to create immersive and memorable brand experiences.
Frequently Asked Questions
What are experiential marketing campaigns?
Experiential marketing campaigns are campaigns that involve delivering immersive brand experiences to raise brand awareness and drive engagement.
What are examples of experiential marketing?
Pop-up stores, events, AR/VR experiences, and guerilla campaigns are some examples of experiential marketing.
How do you use experiential marketing?
You can use experiential marketing by delivering creative and immersive experiences that people will remember for a long time.
What are the types of experiential marketing?
Event marketing, immersive experiences, guerilla marketing, brand activation, and product showcases are some types of experiential marketing.
What is XM in marketing?
XM is short for experiential marketing.