Marketing technology (aka MarTech) includes the tools businesses use to assist them in meeting their marketing goals and objectives. You could say that MarTech consists of the tools beloved by marketing managers. When a marketing team uses a mix of marketing technology tools, you can call the combination their marketing technology stack. Most firms will use some combination of marketing technology in their digital marketing campaigns, and often even more traditional offline marketers too. Gartner describes marketing technology as "a set of software solutions used by marketing leaders to support mission-critical business objectives and drive innovation within their organizations."
Scott Brinker, the editor of the Chiefmartec blog, examines the marketing technology landscape (most) years. Although he missed out on writing a 2021 overview, he believes his 2020 marketing technology landscape is still relevant and that the MarTech landscape remained a similar size in 2021. Considering all the disruption caused by Covid, this is quite an achievement. In 2020, there were an estimated 8,000 MarTech solutions, up 13.6% from 2019's figures. Back when Chiefmartec began its survey in 2011, there were just 150 marketing technology solutions.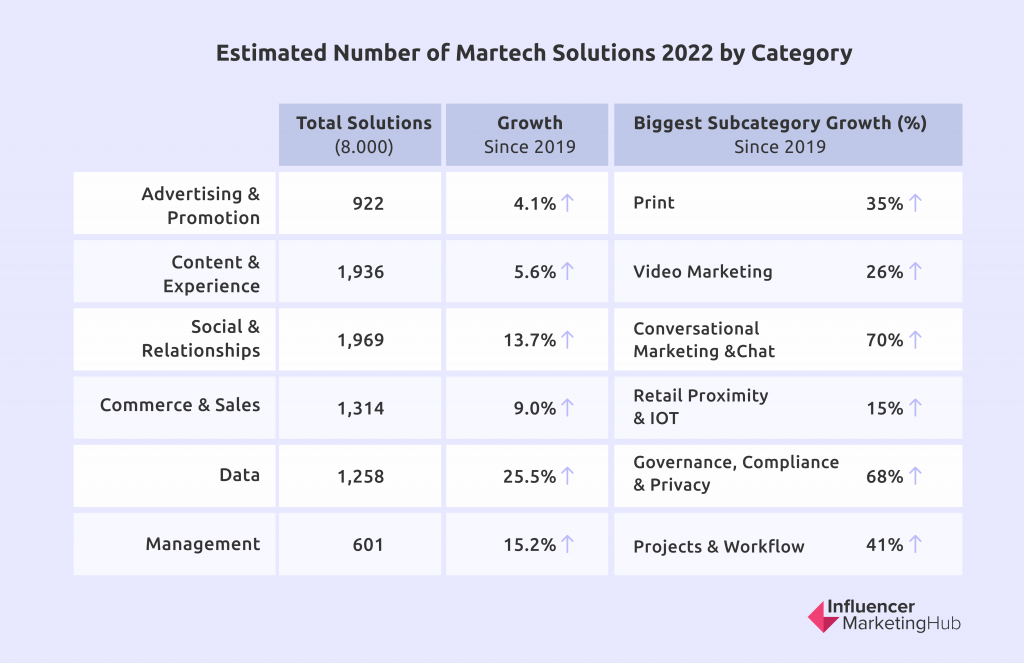 ---
What is Marketing Technology?:
---
Is MarTech the Same as AdTech?
Another marketing buzzword in recent times is AdTech. You might wonder whether AdTech is just another name for MarTech. Although the two concepts are similar, you can see the noticeable difference in their extended names: advertising technology vs. marketing technology. Although advertising is a component of marketing, it doesn't encompass all marketing. Similarly, AdTech does not include all the technology marketers consider to be MarTech.
The American Marketing Association distinguishes marketing from advertising as follows: "In basic terms, marketing is the process of identifying customer needs and determining how best to meet those needs. In contrast, advertising is the exercise of promoting a company and its products or services through paid channels. In other words, advertising is a component of marketing." Therefore, AdTech includes all the technology and tools you use to promote your products, while MarTech also contains tools that assist with the other Ps of marketing: Product, Price, and Place.
You can look at MarTech as all the technology you use in a digital marketing strategy. Virtually all the different types of platforms we review on the Influencer Marketing Hub count as examples of MarTech. Businesses use these tools to create, optimize and promote their digital marketing campaigns.
AdTech is more focused. It is the technology marketing teams use to get their campaigns into the marketplace. These include ad exchanges, networks, servers, demand-side platforms, supply-side platforms, digital banners, and tag management systems.
A more subtle difference between MarTech and AdTech is how the technology companies charge for using their software. Nowadays, most MarTech companies use a SaaS-based model, where marketing departments buy a subscription, paying monthly or annually for the right to use the software. However, some still sell their products outright, where you make a one-off payment to buy the technology.
AdTech companies tend to bill based on how much advertising you purchase. They also sell to anybody who buys advertising spots, including media and advertising agencies.
---
Typical Types of Marketing Technology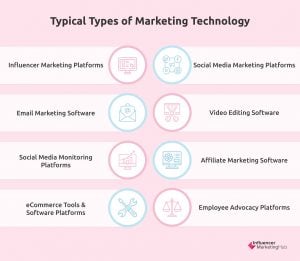 There are many types of MarTech marketers can use to assist with their marketing activity. However, not all kinds will be of value to every firm – it all depends on the types of marketing you include in your digital marketing mix.
We review examples of the following types of MarTech in the Platforms area of the Influencer Marketing Hub:
It is debatable whether the last two types of technology we review, Online Learning Software and Creator Tools are examples of MarTech as these tools don't target marketers. Still, they do help creators earn more from their audience and following. Marketers can also use these tools to create some of their marketing.
Other types of marketing technology include:
Marketing Attribution Software

Content Management Systems

Customer Relationship Management Software
As we said above, advertising is a subset of marketing, so virtually all your advertising technology counts as marketing technology too.
The marketing technology you use will very much depend on your target market. For example, if you target Baby Boomers and Generation Z, you are more likely to use email marketing (and their associated tools) than if you target Generations Z or Alpha. On the other hand, those marketing to youngsters are particularly likely to engage in Social Media Marketing and Influencer Marketing and benefit from the technology that focuses on these areas.
---
How to Benefit from Marketing Technology?
While you will have to pay to use most marketing technology, you will benefit from increased efficiency and effectiveness. For example, suppose you intend to engage in influencer marketing. In that case, it is substantially easier to find and then contact quality relevant influencers using an influencer marketing platform than it is to use organic methods to find and communicate with suitable influencers. Similarly, email marketing is particularly complicated without email automation software because you hit anti-spam limitations set by your traditional email providers, meaning that you can't mass email from your regular accounts.
As with most types of technology, MarTech allows you to automate tedious marketing activities, freeing up your personnel to do more productive work.
Marketing technology makes it possible to manage marketing across a wide range of channels where you're likely to find potential customers. Companies that invest in MarTech have the tools to spread their marketing across all the channels where they need a presence, a task that is virtually impossible without technology unless you have an enormous marketing team.
Many examples of marketing technologies allow you to determine the ROI of particular marketing activities. For example, many social media marketing platforms provide you with in-depth analytics showing how your posts and social account activities contribute to meeting your goals. Similarly, if you're a brand that uses affiliate marketers to promote your products, you can determine the additional sales these marketers generate by using your affiliate marketing software. Once you know your ROI, you can shift your resources towards the more successful forms of marketing and reduce your expenditure on activities that aren't helping you meet your goals.
---
What Should a MarTech Stack Encompass?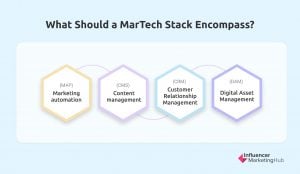 Ideally, your MarTech Stack should encompass every stage of the marketing cycle (attract, engage, convert, manage, and understand). You can narrow this down to four overarching marketing technologies:
Marketing automation (MAP)

Content management (CMS)

Customer Relationship Management (CRM)

Digital Asset Management (DAM)
All the other marketing technologies we have referred to ultimately fit into one of these four categories.
---
How Does MarTech Connect with Digital Asset Management (DAM)?
Digital asset management (DAM) systems help organizations store, organize, find, retrieve, and share their digital content. Businesses often use a centralized DAM system to store their entire digital library. Digital assets are any form of a digital file, for example, images, documents, photos, presentations, and videos. DAM is tailored toward creative workflows, but document management and video management are essential aspects of DAM.
DAMs originally had a narrow implementation, perhaps used by a few marketers and possibly the social media team of an organization. However, DAM is now considered an enterprise-wide application, integrating with other business systems.
Many years ago, a firm might use a filing cabinet to store its documents and other content assets. Obviously, these were hard copies, not digital. However, now that most content assets are digital, firms must find MarTech-related solutions to store their content.
Theresa Regli of Real Story Group wrote in her book, Digital & Marketing Asset Management: The Real Story of DAM Technology & Practice, "content marketing isn't just about creating the right content: the right digital marketing technology is needed for a content marketing strategy to be effective. You can't attract, acquire, and engage an audience without a proper collection of systems to manage customer data, compelling content, and product information." She also considers that "digital marketing technology is the collection/cocktail of digital systems that marketers use to gather, cultivate, and nurture leads and customers." As marketing becomes more customer-centric, marketers find that new approaches must focus much more intensely on customer preferences, such as browsing and buying history, and meet them in customers' chosen channels. Digital assets can help with this.
Regli saw that you could view the marketing technology stack in four layers. From the bottom up, these are:
Enterprise Data Foundation - business intelligence, analytics, and customer and product data

Content & Engagement Management - other foundational components, such as digital asset management, marketing automation, social media engagement, and web content management

Marketing & Sales Services - technologies that rely on the lower layers to streamline the execution of specific functions, e.g., eCommerce management, content delivery networks, online video platforms, and self-service portals. These all require content

Major Channels - channels where marketers carry out strategies to engage their target audience, e.g., social, email, website, mobile, print, and TV
---
MarTech Can Even Assist with Traditional Marketing
In this article, we have focused on the benefits of marketing technology to your digital marketing. However, many traditional marketing channels have tried to follow suit, using technology to remain relevant.
Many traditional media companies, e.g., print, radio, television, and billboards, have used MarTech solutions for some time. Most newspapers, for instance, now have a digital edition, which often has more sales than its print counterpart. Likewise, television and radio newsrooms often have websites running alongside them, often simulcasting news bulletins and shows.
While most of the software we have reviewed on this site targets companies that engage in digital marketing, many are equally helpful for other types of marketing. Just because you use traditional methods to distribute your marketing doesn't mean that you can't use digital technology at other cycle stages. Virtually every newspaper ad, for instance, will have been created using Adobe Photoshop or some other type of digital photography software. Print copy (and even radio and television ad scripts) will probably have started life as a Microsoft Word document. Many businesses, including traditional media companies, use apps like Trello, Slack, Google Drive, and Dropbox to communicate and store their files.
---
Building Your MarTech Stack
Over time, many businesses have picked up various marketing tools, effectively building a marketing technology stack organically. However, it could be worthwhile more formally analyzing your MarTech needs.
You will want to consider the following points:
What is your business model? What are you selling? Are you a B2B or B2C business, or do you cover both types of markets?

What are your marketing goals? What are your desired outcomes from any MarTech investment?

What is your marketing funnel? What stages do your customers go through from awareness to purchase (or re-purchase)?
Once you have answered these questions, look at your current marketing technology. Are you able to meet all your marketing goals using this existing MarTech, or are there areas where you will most likely receive better results by investing in new or improved technology and systems?
---
MarTech Provides All the Necessary Information for Your Marketing Decision-making
One benefit of having a MarTech Stack is that you have a wealth of data covering your entire marketing process. Of course, data by itself is useless; we are all surrounded by millions of data points every day. However, if you use your MarTech strategically, you can sift out the most crucial marketing information from this endless data supply.
Marketers can access analytics on virtually every part of the marketing process that they can use to inform their decision-making. For example, you can find out more about your target audience now than ever before, no matter the channel. You can even use tools like A/B testing, multivariate testing, and heat mapping to compare results for various marketing activities. In the past, determined marketers had to extract insights from raw data. Now they can access information already targeted and filtered to meet their needs.