People love watching videos. They enjoy watching and creating live videos even more because of their element of spontaneity. That's probably why Twitch is so popular.
Twitch is a leading livestreaming platform. Think YouTube, but with only live videos. If you've never heard of it, don't worry. That's normal. Twitch has a niche audience of online gamers. In fact, the majority of Twitch users are gamers who host and share eSports events and challenges on the platform. In fact, it is the world's largest online game streaming platform.
But that doesn't mean that Twitch has nothing to offer to other content creators. You'll find all kinds of videos on Twitch, including demos and tutorials on DIY, cooking, makeup, creative arts, and lifestyle. And with a daily active user count of 15 million, Twitch is not a social platform you can ignore.
Previously, we've written detailed guides on Twitch marketing and how to stream on Twitch. In this article, we will talk about Twitch basics and features. We will also explain how you can access the platform and use it effectively.
---
What is Twitch?:
---
Twitch Basics
Twitch started as a spin-off of Justin TV. By 2014, the platform had gained a good number of subscribers. Mega-brand, Amazon, saw potential in it and purchased it for $340 million. Since then, Twitch has gone from strength to strength.
Twitch is a platform where content creators can show their skills, connect with their audiences, build tight-knit communities, and make money doing what they love to do.
Content creators are called "Streamers" on Twitch. Streamers create channels where all of their streams are stored.
As you grow on the platform, Twitch unlocks many rewards and monetizing options. You can progress from a Streamer to Affiliate to Partner. Take a look at the various streaming levels on Twitch:
1. Streamer: Anyone can stream on Twitch, but people below 18 years of age need parental consent before going live. Streamers can broadcast content, chat with their audience, access their stream analytics, and build a community of fans.
As a Streamer, you can start working towards becoming a Twitch Affiliate, a status that will unlock many exclusive features and rewards for you. You can monitor your progress through the Achievements page, which you can access under Home > Insights > Achievements.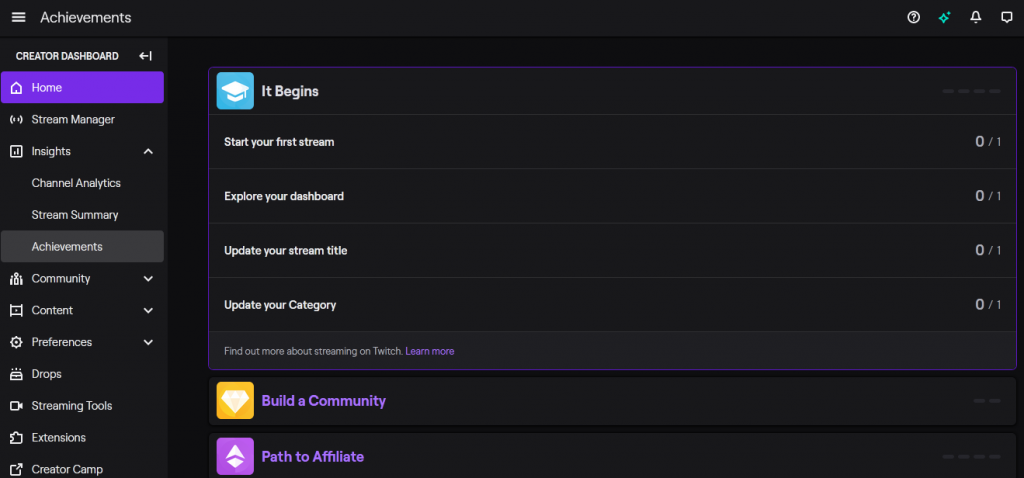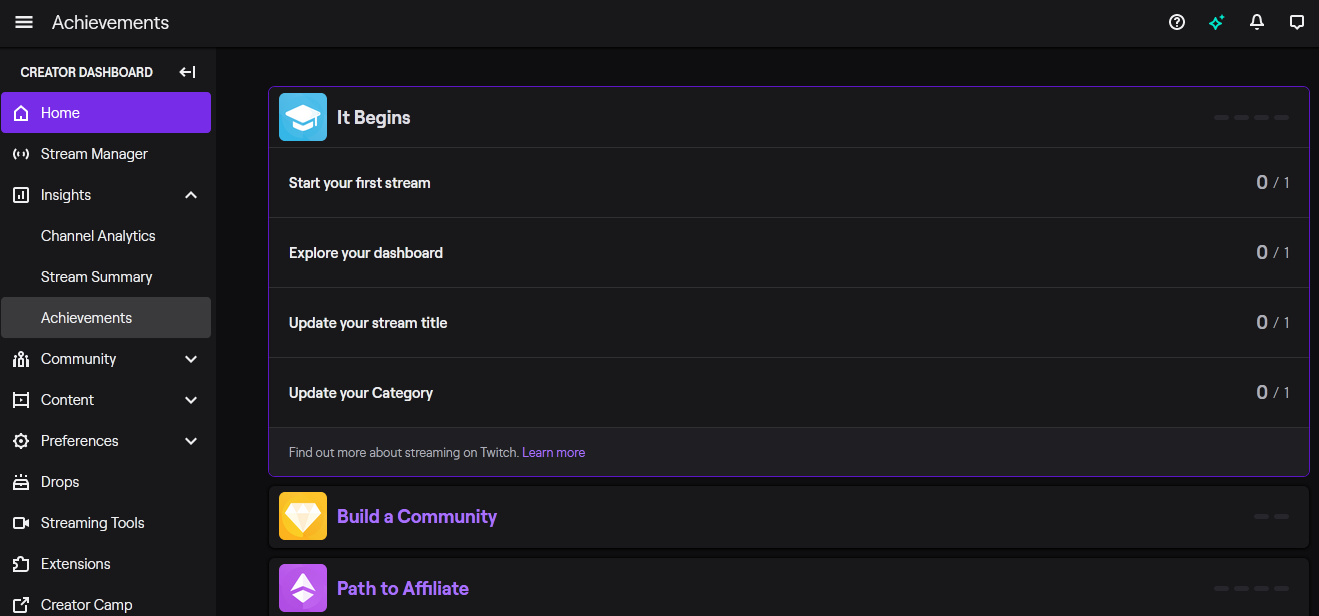 Once you fulfil the qualifying criteria, you'll see a link from Twitch inviting you to onboard as an Affiliate.
---
2. Affiliate: As a Twitch Affiliate, you'll have a number of great tools at your disposal. You'll get a subscription button for your fans and a custom emote. If you are striving to make a living from Twitch, you need to attain the Affiliate level.
Twitch Affiliates can monetize their channels in a number of ways, including:
Subscribers can gift you Bits, which can be exchanged for real money

Earn money by promoting upcoming games and selling in-game items

Ads and donations

Make money from subscriptions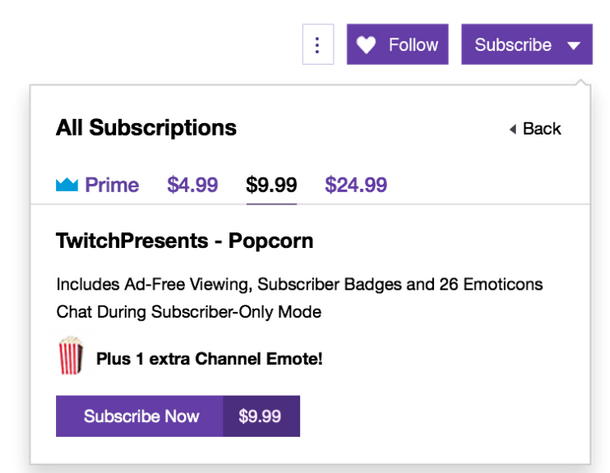 The minimum qualifications for becoming an Affiliate include:
Reach = 50 followers

Broadcast = eight hours or seven days in 30 days

Average of three viewers per stream (for at least three concurrent streams)
If you're serious about cracking the Affiliate Program, keep track of your milestones through the Achievements page.
---
3. Partner: If you're a successful Affiliate, you can take a shot at the Twitch Partner program, which guarantees prioritized support and better monetizing opportunities.
Twitch Partners enjoy the following perks:
Earn monthly subscriptions

Verified badge for your channel

Custom badges for subscribers

Custom emotes

Lockable chats that are available only to your subscribers

Restricted access to your content archives

Disable ad viewing or give that control to your subscribers
There are three criteria you will need to meet for becoming a Partner:
Time streamed = 25 hours in the last 30 days

Unique days streamed = 12 in the last 30 days

Average of 75 viewers per stream
After you meet these benchmarks, you'll need to fill a formal Partner application for Twitch to consider. If Twitch approves your application, you will be an official Twitch Partner.
---
Twitch Terminology Explained
We've compiled a glossary of Twitch-typical terms for you. Going through these descriptions will help you understand how Twitch works.
Follows:

People who are interested in your streams may decide to follow you. If they've set up Twitch notifications, they will be notified every time you go online.

Chat:

Every streamer gets a chat room with their account. You can deactivate yours if you want. However, we recommend that you use chat to connect with viewers one-to-one.

Subscriptions or subs:

Once you are an Affiliate, you can charge a monthly amount from your subscribers. Subscribers can choose to pay on a one-time or recurring basis. They get access to your emotes and other benefits defined by you.

Emotes:

Twitch offers a vast emotes library that can be used to express reactions while chatting and streaming. Affiliates and partners can create custom emotes.

Ads:

Twitch Partners and Affiliates can run ads on their channels and make money from them. These are visible on page load or mid-stream, depending on your ad settings.

Templates:

To give your channel a distinctive look, Twitch lets you use ready-made

templates

. Templates include all the customizable parts of your channel, including panels, overlays, banners, avatars, and alerts.

Extensions:

You can plug in

extensions

from the Twitch Extension Manager into your channel. Using extensions, your subscribers can create leaderboards, polls, and mini-games.

Bits:

Subscribers can "Cheer" affiliates and partners by sending them Bits via chat. One bit is currently pegged at $0.01. You can encourage subscribers to use Bits for polling or for celebrating big moments in your broadcast.

Merch by Amazon:

if you're an Amazon account holder and Twitch Partner, you can sign up for Merch by Amazon. By doing this, you will earn every time custom merchandise is sold on your channel.
---
How Can You Access Twitch?
To start streaming on Twitch, or to view or comment on streams, you need to create an account on Twitch. You can access Twitch through their official website or the Twitch app which is available on iOS, Android, Mac, and console game stations like PS4 and Xbox One.
Livestreaming on Twitch is not possible until you use specialized software, such as OBS and Streamlabs. You will also need a good-quality headset so that you can give commentary and respond to comments.
Once you have all the gear in place, you can create a profile for yourself and start streaming.
---
What Should You Stream on Twitch?
While it's true that Twitch houses a lot of gaming content, you can find other types of content as well. When we compiled our list of top 30 Twitch streamers, we found people from all walks of life who are making waves on the platform. It's a good idea to study the content these top streamers are sharing to get a hang of the kind of content that succeeds at the platform.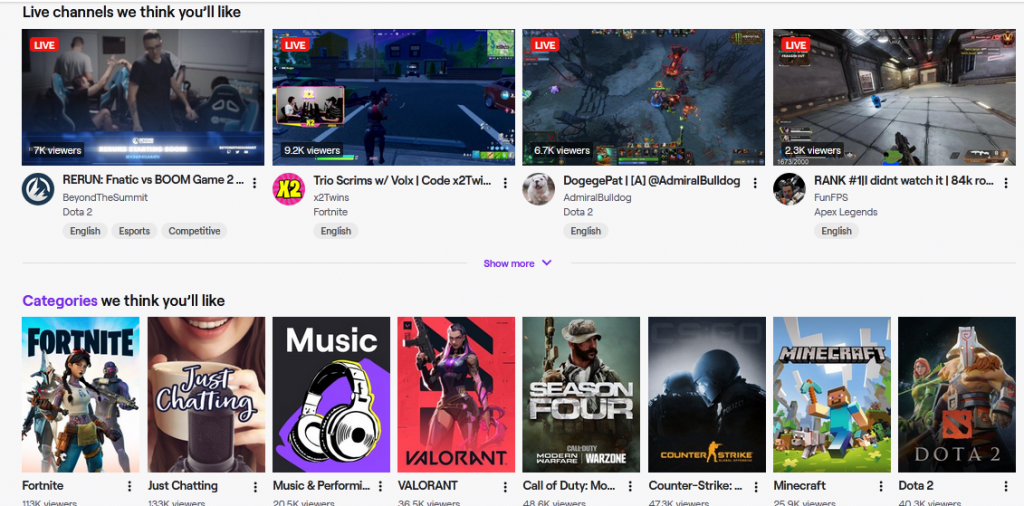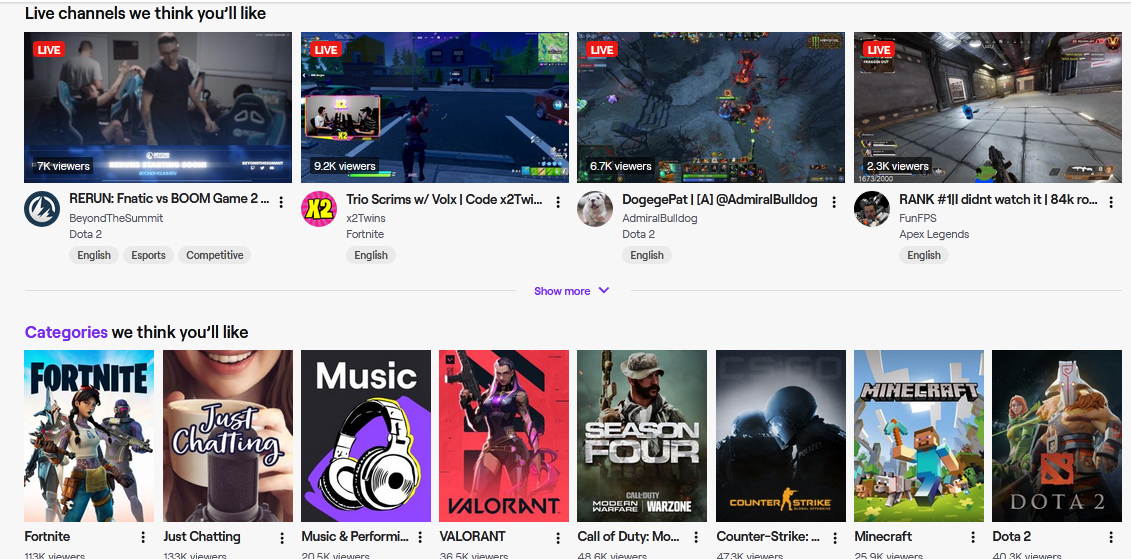 Whatever you choose to stream, tailor it to the needs and interests of the audience. If you need some stats to help you plan your content strategy for Twitch, here they are:
Nearly 41.5% of Twitch users are male. That is to be expected since gaming is more popular among males than females.

Surprisingly, the majority of Twitch users are not teens and tweens. In fact, they lie in the 18-34 years age bracket.

Twitch raises a lot of money for charitable purposes. So, if you champion a worthy social cause, you can be a good fit for the platform.

21.32% of Twitch viewers are in the U.S., followed by Russia, Germany, and Brazil.
Be sure to go through Twitch's community guidelines before you start streaming. It contains standard prohibitory rules against hateful and violent content, plus special guidelines for gamers and streamers.
---
Twitch Etiquette
Livestreaming can be exciting as well as daunting, especially for newbies. Though you can test-run your stream beforehand, you just can't be prepared enough to handle unexpected glitches during showtime. You're basically on your own once the camera starts rolling. You get to show your real personality and you need to make a good first impression.
After observing a number of popular content creators, we've compiled a list of dos and don'ts that streamers should follow on Twitch.
Write instructions about how viewers should conduct themselves on your channel. Make sure that your guidelines are prominently displayed on your page.

Don't hijack conversations by talking too much or promoting your channel. Make intelligent conversation and insightful comments.

Be creative in your content but remain true to your niche. This will help you establish authority and showcase your skills better.

Try to nurture relationships with viewers. Chat and use emotes liberally while streaming.

Build connections with like-minded streamers. Spend time in the right communities and look for collaboration opportunities with other content creators.

Never copy the content of other streamers. You can land in a legal dispute which can ruin your chances of shining on the platform.
---
That's a Cut
Whether you want to connect with gamers, host eSports challenges, demonstrate your talent, or just enjoy great live content, Twitch is the place to be. Using the information in this post, you can start your Twitch journey confidently.