If you are searching for a way to monetize your content, a membership plugin is a great tool to add to your arsenal. In short, it is designed to make it easier for creators to launch a subscription-based business by creating memberships. This way, they can charge a subscription (or a fee) to those who would like to access the members-only content. With the help of the following WordPress membership plugins, you will be able to create a fully functional WordPress membership site. We have tried to include a plugin to fit any budget and some of them you might even be able to use free of charge, depending on your requirements.
---
12 WordPress Membership Plugins to Try in 2023:
---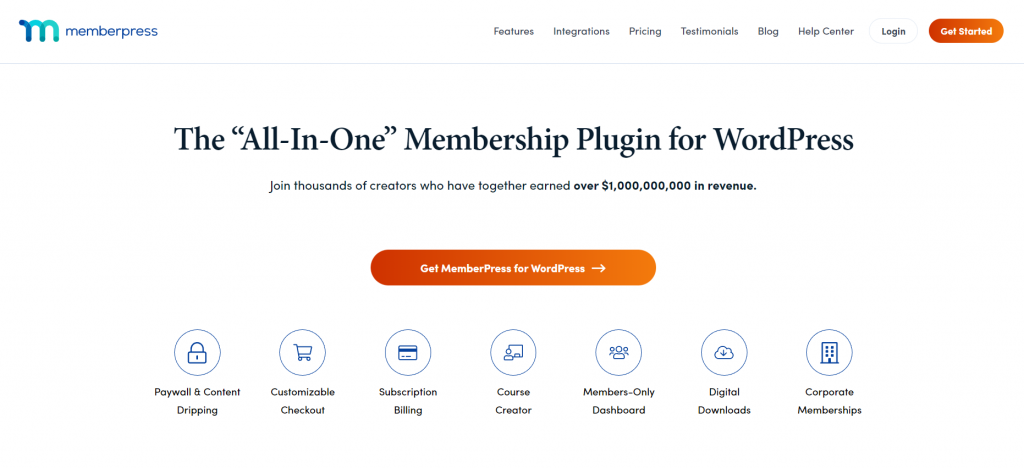 If you are planning on selling digital services or products via a WordPress site, MemberPress is one of the top plugins to check out. It offers powerful access rules making it pretty straightforward to sell membership plans, online courses, and pay-per-view content.
While it is a good option for newbies, they, unfortunately, do not offer you the option to be billed monthly, which can make it difficult for content creators with a shoestring budget. Their cheapest plan is usually about $240 per year, but they do have promos every now and again that can make it easier to pay the once-off annual fee. While this plan offers most of the features that you will get with the other plans, it excludes integrations with Zapier and Authorize.net. Alternatively, you will need to sign up for their Plus plan (usually $300 per year) or their Pro plan (about $549 per year).
All in all, it really is one of the best WordPress plugins that you can invest in. So, if you can look past the fact that it is not the cheapest plugin on the market, you will be rewarded with all the features you need and super support (which you will likely not need).
Here are a couple of the highlights:
Content dripping

Integration with WooCommerce (and many other third-party services)

A self-serve member dashboard

Multiple memberships per member

Customizable registration form

Discount coupons

Automated reminder emails

Terms of service on checkout

Built-in course builder
---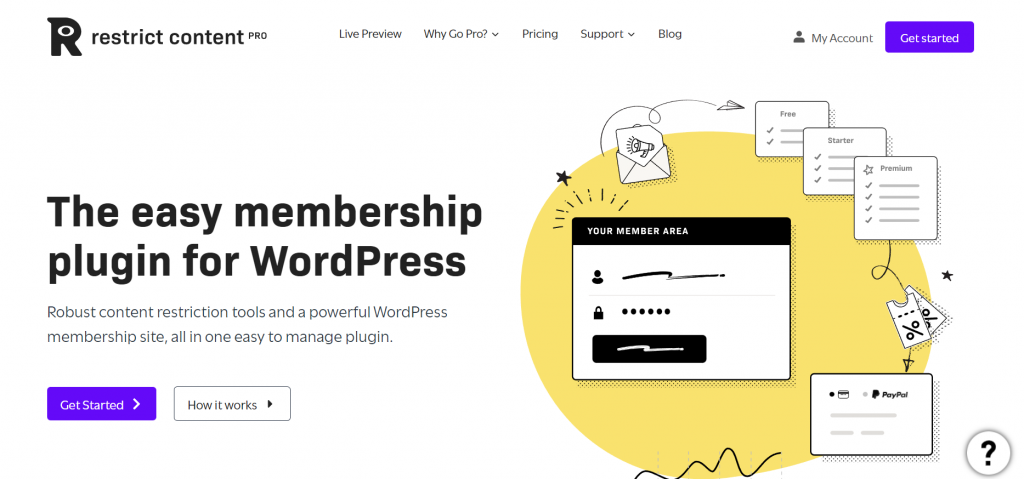 While they have been in the business for more than a decade, their goal is not to offer all the possible features. Instead, they focus on creating an intuitive platform that offers all the key features. Last year they were bought by iThemes. so that may just change in the foreseeable future.
One of Restrict Content Pro's most impressive features is the complete customer dashboard. Here, a member can view all the most important information like renewal date, account status, and a complete payment history (with PDF invoices for each separate payment). Considering how important user experience is, this feature is a big benefit.
When it comes to pricing, they take a slightly different approach. In the first year, users pay a discounted price, with the cheapest plan starting at $99 for the first year. Then, if they wish to continue using the plugin, it will be renewed at a more expensive price in the second year.
Some of the main features:
Prorated upgrades and downgrades

WooCommerce integration

Discount codes

A number of automatic emails that can be configured
---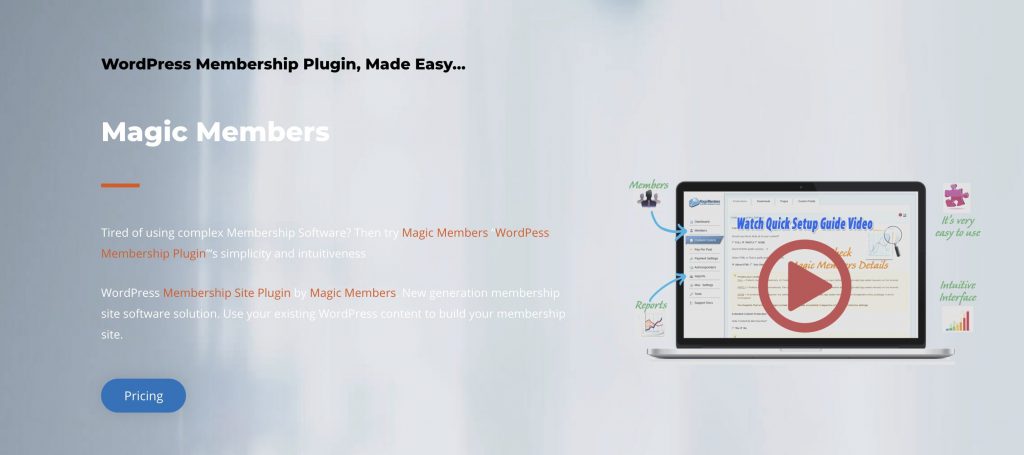 While it costs more or less the same as the Restrict Content Pro, its learning curve is slightly steeper. That being said, all in all, it is still a good plugin if you want to sell online courses, pay-per-view content or drip content. They have been in the business for 12 years and their plugin is used by more than 88,000 websites.
A few of the primary features:
Multiple membership levels

A sequential course delivery system

The ability to control the length of a subscription

Partial content display

Integrations with numerous autoresponders and payment modules
---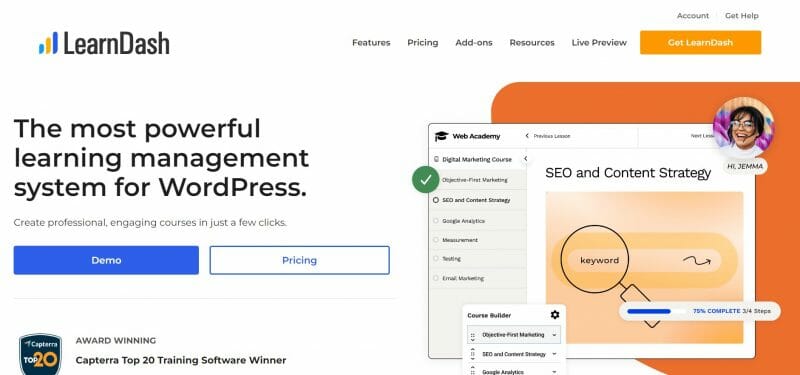 LearnDash is one of the most popular WordPress plugins, not only for learning management, but also for creating membership sites. Thanks to its drag-and-drop builder and themes, it is really simple to create a great-looking course quickly. Then, once your course is ready, you can use the membership functionality to market and sell your online courses. However, if your plan is to create a membership site that sells something other than online courses, this plugin will not be the best investment. Considering all the tools it offers to create user badges, certificates, and quizzes, it really is geared towards selling online courses.
The Basic plan is normally $199 per year. So, it is neither the cheapest nor the most expensive plugin on the market.
A couple of the key features:
The ability to select between subscription, membership and one-time pricing

Supports images, audio, video and Google Docs

Works with Stripe and PayPal

Offers easy content restrictions

A powerful drip content feature
---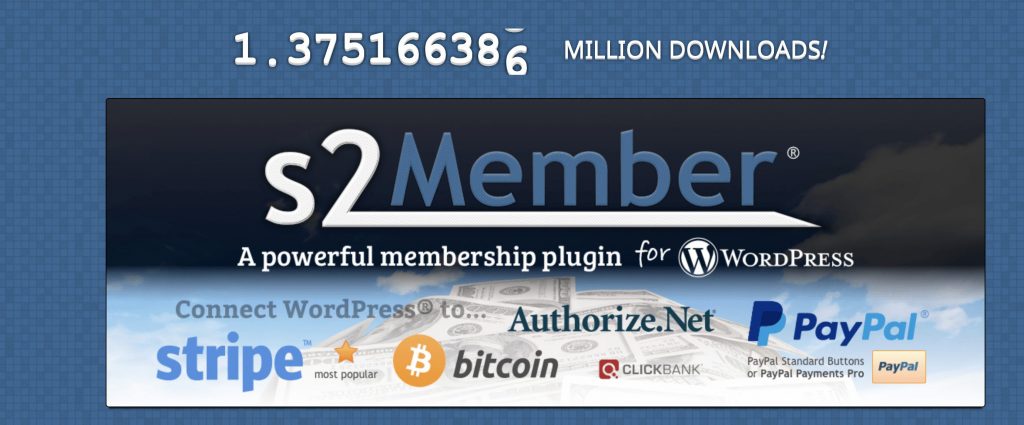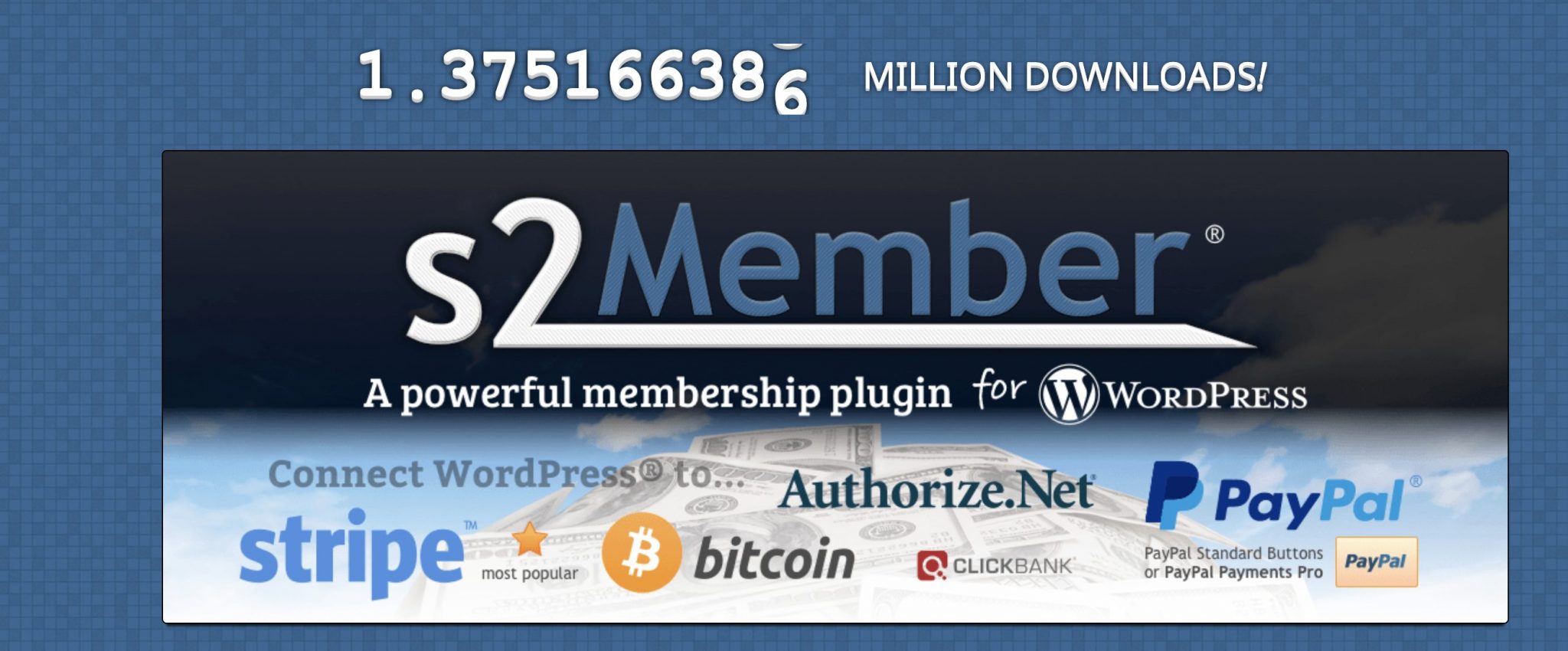 To date, s2Member has been downloaded more than 1 million times. It offers loads of flexibility allowing you to sell non-recurring or recurring subscriptions. You can also use it to offer highly configurable access to certain parts of your content. Whether you want to sell specific posts or access to file downloads, this plugin can help you to sell access in multiple ways.
Unlike many of the other top WordPress membership plugins, s2Member actually offers a type of free plan. Anyone can download its base plugin free of charge. However, this free option does come with quite a few limitations. On the other hand, if you opt for one of its two Pro versions, you will only be charged a one-time fee. In other words, they do not charge an annual subscription like most other plugins.
One drawback is that it is not very intuitive. That being said, it does boast an impressive knowledge base.
Some of the key features:
Integration with Stripe, PayPal and a few others

Content dripping

Integration with autoresponders like MailChimp
---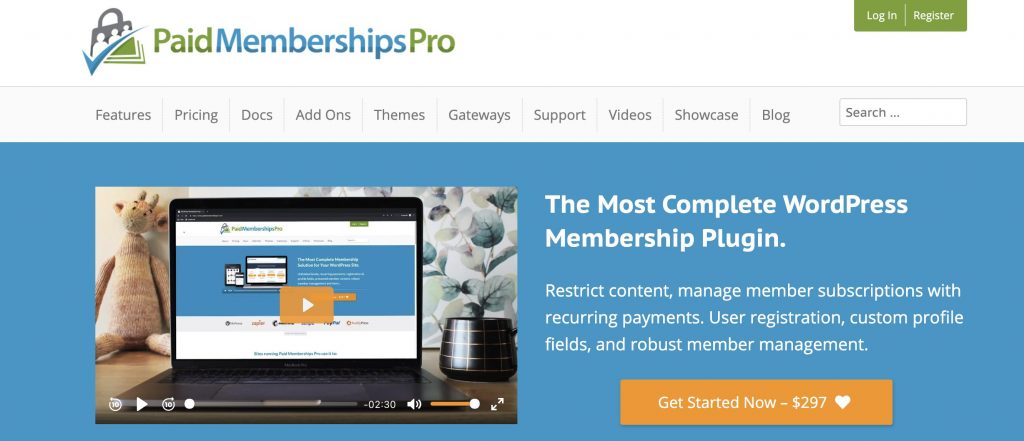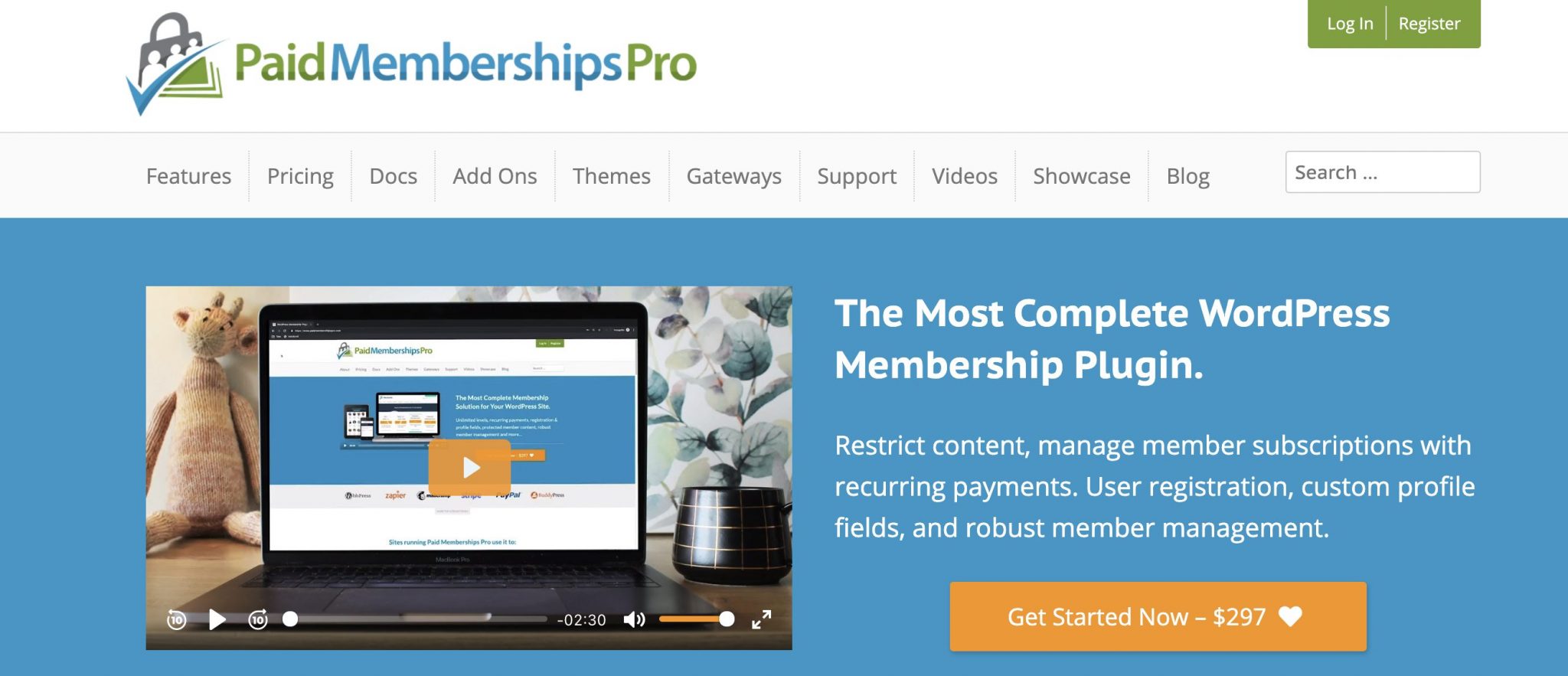 From offering discount codes to drip content, Paid Memberships Pro offers a wide range of features to help you create fully functional membership sites. One of its most useful features is that you can use it to show a portion of your restricted content to non-members as well. This is great for SEO purposes. While Paid Memberships Pro offers a free version, its paid plans will set you back quite a bit and the user interface can be a bit tricky.
Here are a few of the main features:
Integration with Constant Contact

Compatible with Stripe and PayPal

The ability to accept recurring payments

Members-only product discounts
---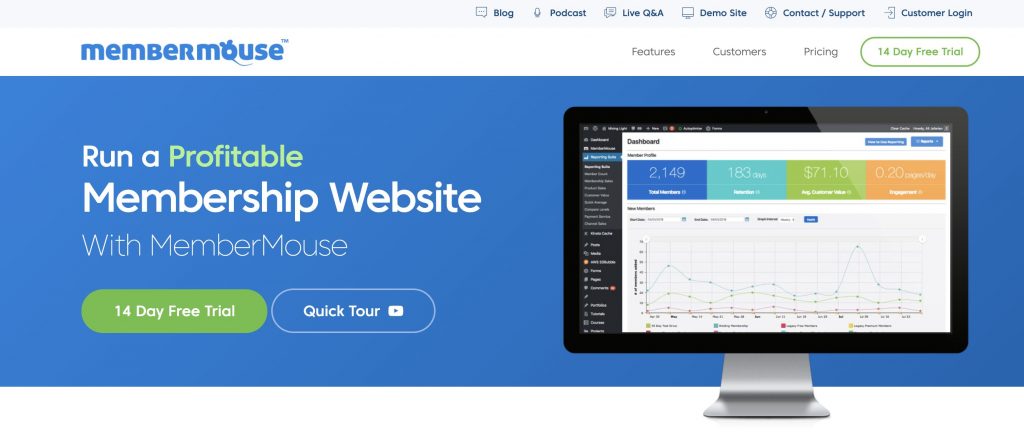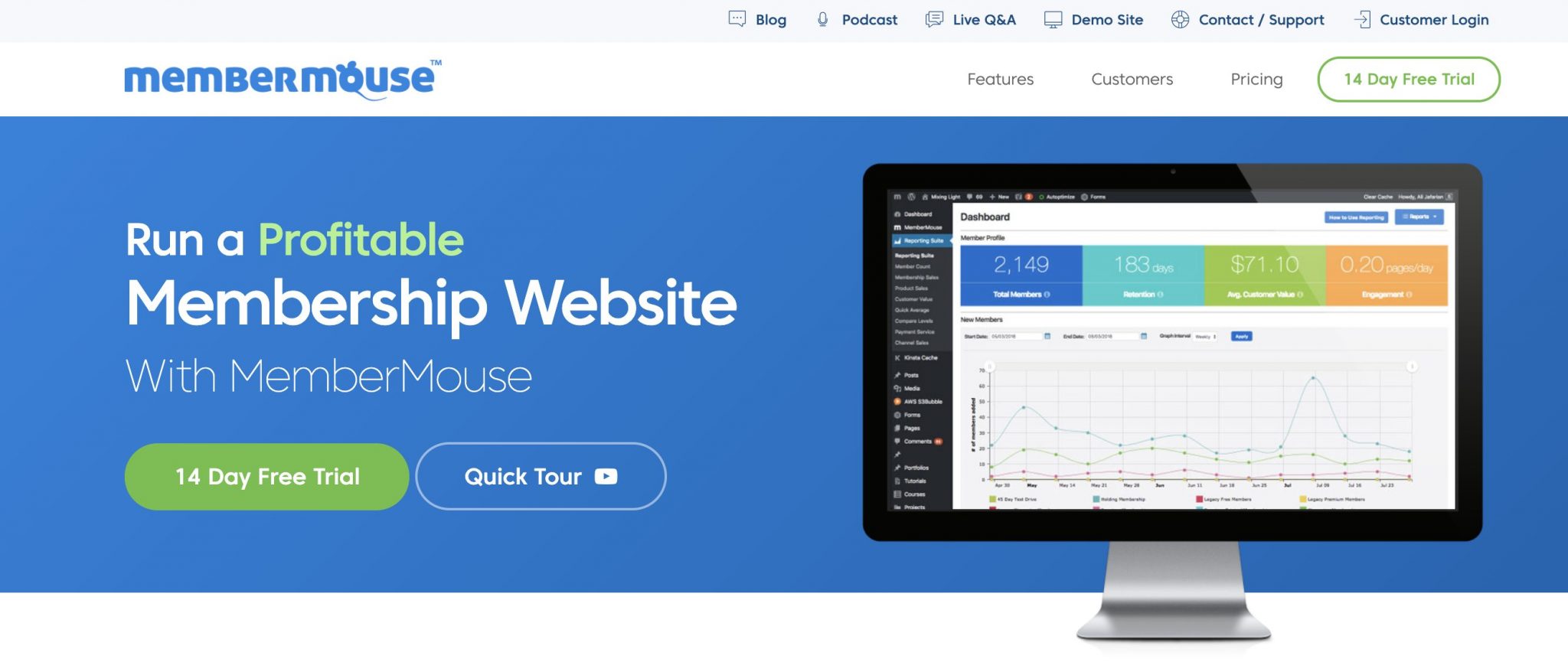 If you are not that experienced at and comfortable with using plugins, MemberMouse will be more up your alley. You can use it to create trial offers, coupons, membership levels and bundles. Also, unlike many of the other plugins mentioned in this list, MemberMouse offers you the choice to pay per month or per year, with its cheapest plan starting at about $30 per month. You may also want to consider whether it makes more sense to pay annually if your cash flow works out, as you can save up to 17%. That being said, while it is one of the top WordPress plugins to check out, there are plugins with better user interfaces and more features.
Some of the key features:
Integration with the top payment gateways and autoresponders

Split testing

Prorated upgrades

Content dripping
---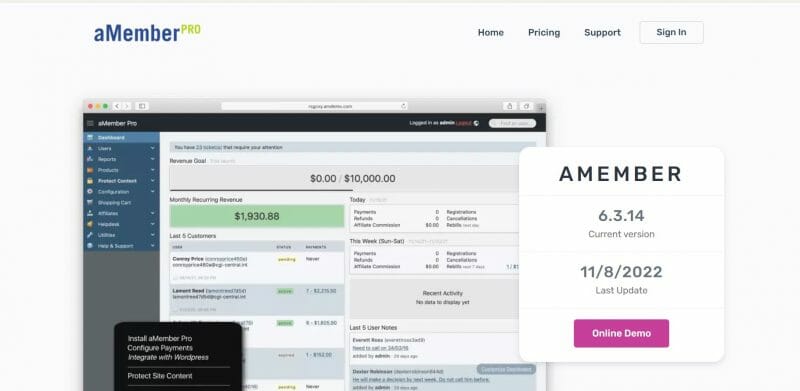 Before you continue reading, you should note that while aMember Pro is packed with features, it is not a native WordPress plugin. So, if you use other WordPress plugins, you might encounter problems with compatibility.
Now, let's focus on what it does have to offer. With aMember Pro, you can set up unlimited membership levels, create dynamic prices and upload an infinite number of products. It's also easy to manage your memberships via the admin panel. And, probably the most attractive benefit, just like s2Member they charge a one-time fee as opposed to a recurring annual fee.
A couple of the main features:
Hundreds of payment options including Stripe and PayPal

Complete member management

Incremental content delivery

Automated sign-up and expirations

Integrated modules

Translated into German, Spanish, Greek, Russian, Chinese and French

Content dripping
---


When it comes to restricting access to content, WP-Member takes a different approach. Its default setting is to restrict all your content and then it is up to you to select the content that should be accessible to all.
One of its advantages is that similarly to Paid Memberships Pro, you can use this WordPress Membership plugin to create content teasers. In other words, you have the option to protect only certain sections of your content allowing visitors to see the rest of the content without first having to sign up or log in.
With regards to its pricing, it offers three paid plans. If one domain will do, you are looking at a one-time fee of $47. However, if you will need to use the plugin on more than one site, you will either have to sign up for the Multi Site or Developer license.
A few of the primary features:
Unlimited membership levels

Flexible subscription packages

Drip feed content

Protected digital downloads

Easy-to-use shortcodes

Automated membership and payment processing
---


If intuitive navigation is a prerequisite for you, you will love ProfileGrid's dashboard area. It's simple to use and offers a wide range of features. One feature that deserves special mention is the ability to send private messages and receive notifications.
ProfileGrid also offers a decent Free plan that includes more than 90 powerful core features and 13 free extensions that you can download via WordPress.org. Though, to unlock MailChimp integration and the ability to accept credit card payments via Stripe, you need to sign up for its Premium plan that costs $199.
A couple of the key features:
The ability to create User Groups for more flexibility

Email templates

WooCommerce integration

Advanced forms

Group events
---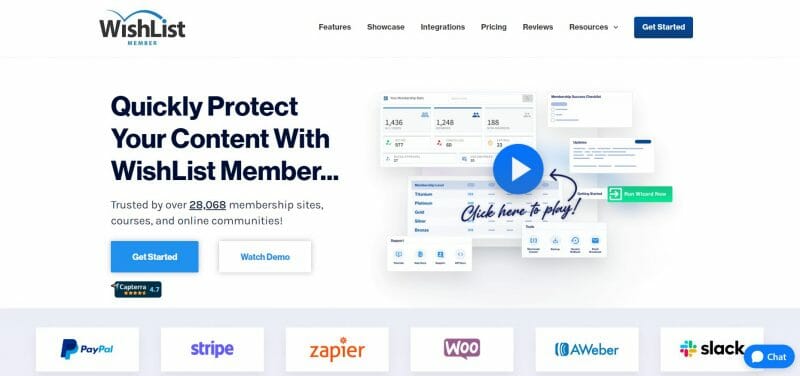 Too much of a good thing can, well, be too much. This is, unfortunately, the case with WishList Member. It offers a lot of options which can become overwhelming. Although, if you do get stuck, there are loads of videos, how-to guides and tutorials available if you need to learn more about its features.
Make no mistake, it is still one of the best WordPress plugins if you want to create a membership website and powers more than 100,000 membership sites.
With regards to its pricing, it is also not the most affordable plugin available. It offers only paid plans, with the cheapest plan starting at $147 per year.
Some of the main features:
Unlimited membership levels

The ability to archive content

Content dripping

Content teasers

Integration with numerous payment providers

Multiple payment setups

Integration with email service providers like MailChimp, Constant Contact and ActiveCampaign
---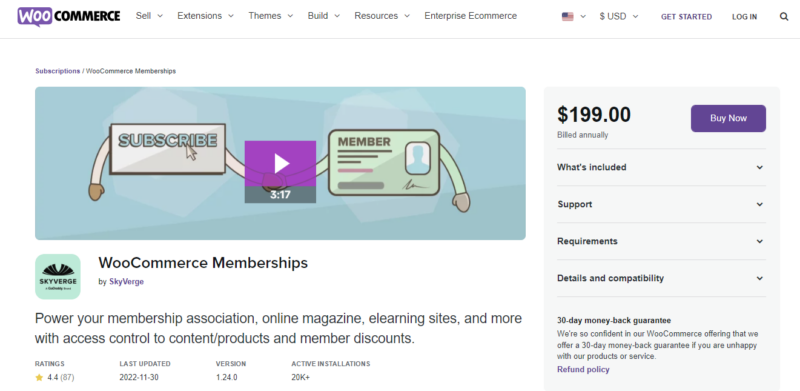 WooCommerce Memberships is one of the easiest plugins that you can use to create a WordPress membership site. One of the benefits of using this plugin is that you can create membership plans separately from other products. For example, users will be able to buy a subscription and get access to another section for free, if you want to follow this type of approach. You can also use it to reward members with special discounts and you can decide if it should apply to all products or only specific products or categories.
Similarly to Restrict Content Pro, it also offers an easy-to-use Member Area that allows them to see everything you want to find out about their membership.
One of the cons is that it offers only one paid plan. So, if $199 per year is too expensive for you, it is take it or leave it.
Here are a few of the main features:
Content dripping

Free shipping for members

The ability to create members-only products
Frequently Asked Questions
Is there a membership plugin for WordPress?
WP-Members Membership Plugin is a free plugin that will help you create and scale a membership site on WordPress. It's easy for any WordPress user to install and configure with more than 100 action hooks. It's a powerful plugin.
Is there a free membership plugin for WordPress?
The free membership plugin for WordPress is WP-Members. WP-Members is a free membership plugin that offers simple and fully functional features for restricting content, member profiles, and more.
What is best membership plugin?
The best membership plugin is Restrict Content Pro, LearnDash, S2Member or Paid Memberships Pro.
How do I add a membership to my WordPress site?
Here's how to add a membership to your WordPress site:
Set up the memberPress Plugin

Set up your payment methods

Build membership levels

Create access rules

Create content for your members

Build a pricing page

Add sign up and login forms