Best for:
Small, Medium, and Large businesses
The story of a software company founder experiencing some problem out in the wild and then conceiving of a product that would solve that problem is nothing new. Yotpo's origin story is no different—except that it is, a little. As Tomer Tagrin tells it, he and his co-founder Omri Cohen saw a need for something like Yotpo after getting burned on a digital camera purchase in 2010. The pair were shopping for a gift for a mutual friend who was heavily into photography, and Tagrin took the reins of researching which camera they should get him. Long story short, it was a terrible purchase: their friend took a photography class where the teacher informed him he was using the worst possible camera for high-level photography.
Tagrin admitted that his purchase decision really boiled down to a single review that he read online; after learning the gift was bunk, he realized how silly it was to trust a single review from a person he didn't know, much less confirm that this person had actually bought the camera. Now, for many of us reading this who might know a thing or two about photography, we can say with certainty that the issue was not with this review. It's clear that Tagrin doesn't know much about photography or cameras—it's not that hard to find a quality camera with manual settings. Literally anything with the name Canon or Nikon on it would have been great, and there's no review—legitimate or otherwise—that could have imparted that knowledge to Tagrin.
But, regardless of at what point things went wrong with this gift, Tagrin's experience highlights a very real truth: online reviews (and other forms of social proof) actually carry a lot of weight. And as Tagrin's experience shows, the less you know about a topic the more you will rely on people who you think might know better. And so a product like Yotpo solves a problem for both consumers and retailers. The former gets to rest easy knowing the reviews are authentic, while the latter will see a boost to their sales based on this authenticity. It's a win-win.
And this is just where Yotpo started out. Today, the platform facilitates the use of all kinds of user-generated content, as well as the addition of an SMS marketing engine and a loyalty/referral program. With this suite of tools, the platform can make very small businesses look much bigger and more technologically sophisticated. Paradoxically, it also makes large businesses seem much smaller and more intimate. The appeal of this is written all over the company's success: with a valuation of over $1.4 billion and a partnership with Shopify that will create deeper integrations between the two platforms, it's no wonder Tagrin and Cohen's brainchild keeps getting authentically positive reviews.
---
Summary:
---
Pricing
There's no doubt that Yotpo's tools are well thought out answers to real-life problems that online retailers have, but there appears to have been little thought to how they were going to package all this functionality. As they added more features, they just became separate products, each with different levels of subscription. We'll break these down separately here, and you'll start to see why this aspect of Yotpo is a confusing mess.
Reviews & Ratings
Free, $0/mo —

Up to 50 orders per month, Reviews widget, Automated review request emails, full reviews moderation, SEO & social push tools, review comments, imported reviews

Growth, $15/mo —

Everything in Free, plus: Google rich snippets, video, and photo reviews, reviews carousel, coupons, and email upsells, manual review requests

Prime, $119/mo —

Everything in Growth, plus: Google Shopping ads and Seller Ratings, Klaviyo integration, Walmart syndication, Q&A, Product grouping & blacklist capabilities, priority support

Premium, $Custom/mo —

Everything in Prime, plus: advanced email and widget customization, smart AI features, multiple users & domains, consumer insights, all integrations, dedicated customer success manager

Enterprise, $Custom/mo —

Everything in Premium, plus: expedited time to market, unlimited scalability, migration services, dedicated security & compliance, multi-domain review syndication, retail syndication, strategic consultation, enterprise customer success manager
If that were all that Yotpo offered, five levels of service would seem like a nice way to make sure everybody can get the most out of their budget. But when you add three more major features, each with another four of five levels of service—and with inconsistent naming schemes but maybe including some unspecified level of service for one of the other features—it becomes a matter of too much choice. Here comes the rest of their pricing, but without as much detail as we provided for the Reviews & Ratings service because we're not trying to confuse you.
SMSBump
Free, $0/mo —

Automated SMS campaigns, subscriber collection tools, audience segmentation, analytics, Yotpo Reviews, Yotpo Loyalty

Growth, $19/mo —

Everything in Free, plus: SMS Flow builder, 1:1 conversations, integrations, send from business name

Prime, $59/mo —

Everything in Growth, plus: All subscriber collection tools, timezone based messaging, export analytics, branded URL

Premium, $Custom/mo —

Everything in Prime, plus: Conversational flow builder, A/B testing, AI-powered segmentation, Shopify POS integration, dedicated success team

Enterprise, $Custom/mo —

Everything in Premium, plus: Custom reporting, API Access, Compliance solutions, multi-domain, strategic consultation
Loyalty & Referrals
Free, $0/mo —

Up to 100 orders, customizable loyalty page builder and rewards, referral program, paid and social campaigns

Silver, $29/mo —

Everything in Free, plus: customized rewards pop-up, points for product reviews, Instagram follow campaign builder, Exit intent referral popup, fraud prevention

Gold, $249/mo —

Everything in Silver, plus: email marketing integrations, ReCharge integration, Shopify POS integration, coupon-based referral program

Platinum, $Custom/mo —

Everything in Gold, plus: VIP incentive programs, points for photo & video reviews, referral code shares via SMS & Whatsapp, post-purchase referral pop-up, redeem points at check out, redeem points for products, dedicated success manager

Enterprise, $Custom/mo —

Everything in Platinum, plus: expedited time to market, dedicated implementation manager, dedicated security and compliance, customizable UI
Visual UGC
Free, $0/mo —

User-generated content galleries for a website, curate galleries from Instagram, curate galleries from a hashtag, Shoppable Instagram

Growth, $9/mo —

Everything in Free, plus: unlimited product galleries, unlimited albums, multiple layouts, curate from mentions and tagged posts on IG, curate photos from reviews

Premium, $Custom/mo —

Everything in Growth, plus: Upload photos/videos on the site, curate videos, AI-assisted tagging, social ads, CSS editor, product grouping, analytics, dedicated customer success manager

Enterprise, $Custom/mo —

Everything in Premium, plus: onboarding services, moderation services, API access
As you can see, this is a lot. Like, way too much. It's confusing for the simple fact of there being so much to keep track of. But it's also confusing because something like the free plan of SMS includes the ability to collect Reviews and communicate about Loyalty services, but the Reviews and Loyalty services don't include SMS at any tier? And there are bundles available, too, though they only list three of them on the website—and all three bundles only include a pair of services. Can you mix and match other pairs, or even bundle more than just two services? Probably, though there's no indication of that from the pricing page.
It's all deliberately confusing, an assertion we feel comfortable making. The obvious endgame here is to get prospects on the phone with a sales rep to work out a custom solution. And there's nothing wrong with that—it's not uncommon to keep pricing under wraps and require a conversation. It just would have been easier and more transparent to say something like "Here are our features, call a sales rep to build a plan that works for you." Instead, Yotpo's pricing page overloads you with information and conveys a message of "Please watch this goat rodeo until your eyes hurt, then give us a call if you want it to make sense."
---
The Details
Perhaps one of the reasons that Yotpo's bundling of services doesn't really make sense is that there's no real direct overlap of the features—except when there is, but we'll get to that. We'll cover each of Yotpo's major services separately, and take this moment to point out that the criticism of how the platform's services are packaged and made available isn't meant to be critical of these services themselves. Each is a highly effective tool for any e-comm website owner. We'll focus on the Reviews and Ratings, because that's where the company itself started—and really is still its main draw.
With this service, Yotpo solves three problems at once. The first is, as mentioned, it's a mechanism to collect reviews that are nearly guaranteed to be authentic because these reviews are from people who've actually purchased the product. Note that we used the phrase "nearly guaranteed" because you still have to rely on people to write them—this is not a fault of the software itself. The software is giving those who've purchased the platform to air their opinions, and this brings us to its solution for the second problem retailers tend to run into, which is getting people to actually write the review. Yotpo addresses this by sending automated follow-up emails and/or SMS messages asking your customer to submit their feedback. By default, this request is done 14 days after an order is processed, though this timing is customizable. The messages themselves are also customizable, and—depending on which plan you're subscribed to—offer the ability to solicit feedback on multiple products without having to send multiple orders.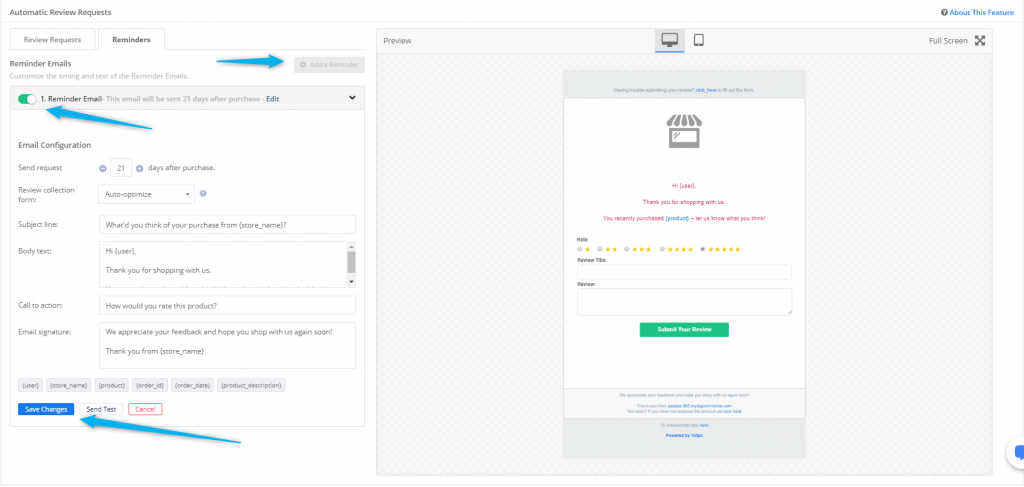 The third problem that Yotpo solves is guiding the people who write reviews into submitting something that's actually useful and informative. For every review that's submitted, there's an AI engine that's "reading" them all and learning what kinds of things people are mentioning. After the first 10 reviews are submitted for a given product, the AI then provides "smart prompts" to future users by telling them the sorts of things other people mentioned. So, someone reviewing a t-shirt might be told that other people have commented on the fit or the fabric. And as they type they're receiving visual feedback in the form of a progress bar; even if there's no minimum character requirement for a review, this kind of feedback sends subtle psychological clues to people to keep typing. You can also craft your own questions for each product to make sure your customers are staying on topic and hitting the points you need them to hit.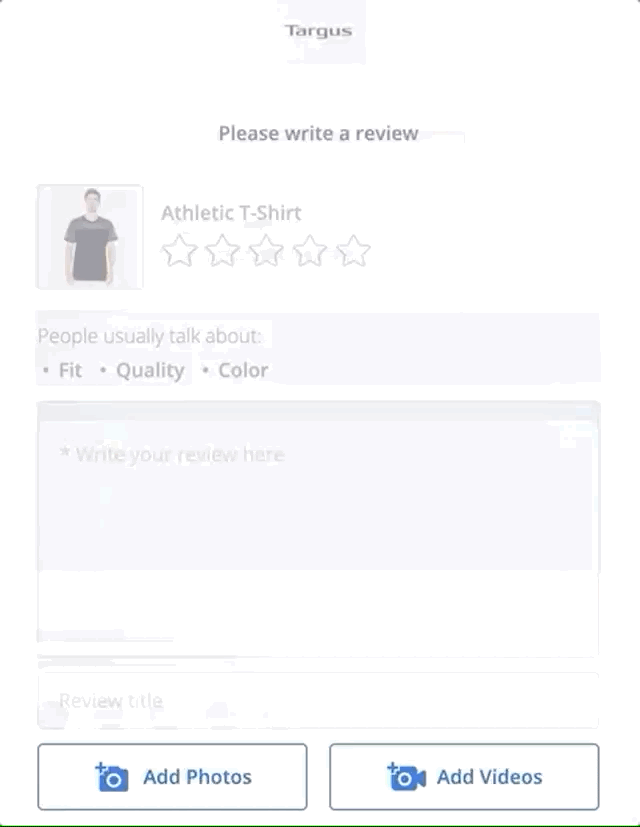 There's one more thing that the Reviews feature does, which isn't so much a solution to a problem as it is a reinforcement of the value that reviews provide. It makes sure that your prospective customers see these reviews when it matters most: right at the checkout page. There are widgets that place reviews (and review highlights) on your website at various points of the customer journey, but seeing these bits of social proof when they've reached the checkout page can give people the extra boost they need to go ahead and make that purchase. And if they don't? The Klaviyo integration can pick it up from there.
But these reviews aren't strictly confined to your website either. Yotpo leverages tech partnerships with Google and Facebook that amplify your customer reviews beyond the confines of your store. Star ratings—both for products and for you as a seller—can easily be integrated into Google Shopping Ads, along with user-generated content like customers' photos of your products. Yotpo reviews can make their way into organic search results, too, using the Rich Snippets feature. Meanwhile, you can turn reviews into paid Facebook Ads, and set up a syndication feed so that they appear on your Facebook and Instagram shops. Yotpo's AI can also automatically select from your best reviews and UGC and push them out to your social feeds for a more organic placement on other people's timelines.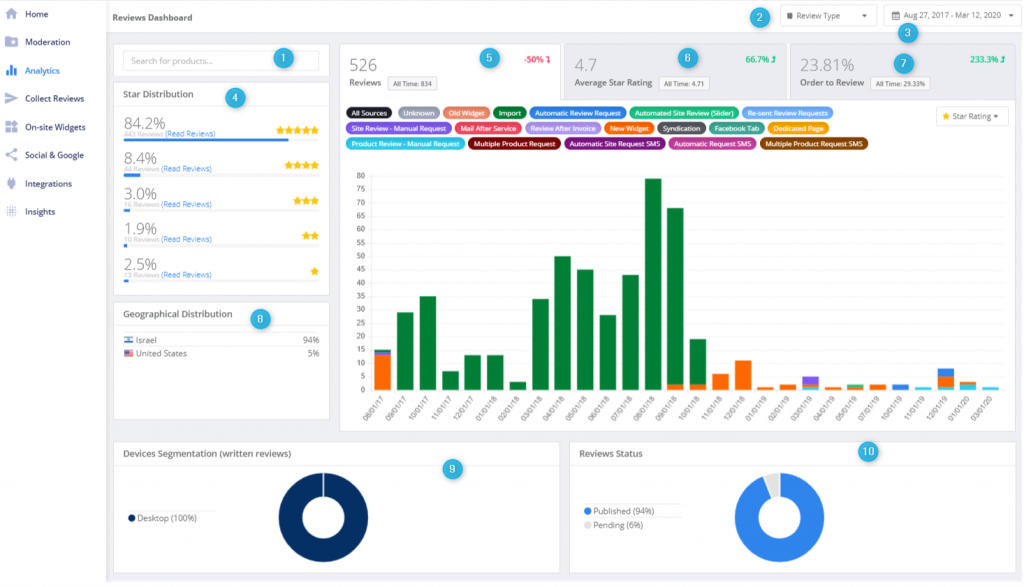 The best way to know that you're getting results with Yotpo is the revenue boost you get from increased sales, but for the more proactive among you the analytics you get from the platform help you get out ahead of results. It doesn't just let you know how well reviews are working, it also lets you know how well (or not) you're doing even collecting the reviews. The dashboard provides an easy-to-use bar graph that plots out the number of reviews you're receiving and color-coding them according to the source. If you find, for example, that you're getting a lot of feedback after an email request, but not so much after an SMS request, you'll know where to focus your attention to keep increasing the amount of feedback you get. You'll also get quick insights into conversion stats, as well as an understanding of the general nature of the reviews (Are they good? Bad? Are they getting better or worse over time?). There's not a lot of information you'll get about the people who are leaving the reviews (aka: your customers), which is a shame. The platform will tell you what device a review was left with, which is pretty much useless information, but it doesn't leverage its partnership with Facebook to maybe pull in some demographic data about people. Still, there's plenty of information here to help you understand how well you're doing, as well as to identify ways to improve.
---
Integrations
Yotpo offers an almost-crazy amount of integrations with other platforms, for just about any purpose you could conceive of.
Yes, there's a partnership with Shopify, but it also works with plenty of other e-commerce platforms. BigCommerce, WooCommerce, Adobe Commerce (formerly Magento), and Volusion are among the more recognizable names here.
In addition to Klaviyo, it also integrates with more than a dozen other email marketing platforms, like MailChimp, Hubspot, Drip, and Optimizely. The complete list is exhaustive, and includes all categories of software, from CRM to influencer marketing to business intelligence to affiliate marketing platforms like Refersion. One weird omission, though, given that with reviews you're also collecting customer info, is Salesforce. The lack of integration with their CRM is even more puzzling when you learn that Yotpo does integrate with Salesforce's e-commerce platform. This is like buying stock in Coca-Cola because you think Dasani is the best-bottled water.
To get a complete idea of what you can connect to Yotpo, check out their page of integrations.
---
Conclusion
Yotpo made its name as a platform that simplified the task of collecting reviews from customers, and vastly improved the tasks of influencing the decisions of prospects by making sure they saw these reviews. It has since expanded its offering, creating tools for SMS marketing, loyalty and referral programs, and curating UGC. It appears that the company is looking to create an all-in-one platform hosting a suite of marketing tools for e-commerce businesses. Nothing about the way they bundle or price these distinct services gives the impression of a unified product, though.
Leaving all the newer features aside, its flagship product for collecting, publishing, and syndicated consumer reviews was kind of a game-changer for a lot of e-commerce businesses when it was first introduced. And, given its current level of popularity and continued growth, it's still the go-to platform for this. There's no question that, when deployed correctly and thoughtfully, Yotpo's service will benefit its own customers. With their freemium model, you can check out the other products and see how they work in tandem with the Reviews & Ratings. For that service, though, it's worth blowing right by the free plan and signing on with as many of the features as your budget allows.
Yotpo
Features

Ease of Use

Reporting

Integrations

Best for:
Small, Medium, and Large businesses