If you went to school for marketing, you've probably heard phrases like "the marketing mix" and the "4 Ps of marketing." They've been around forever. And they work. But if you've never heard these terms before, never fear! We've put together this in-depth guide to the 4 Ps of marketing and the marketing mix so you can learn (or re-educate yourself) about these powerful marketing theories and how to apply them to your business.
---
The 4 Ps of Marketing and the Marketing Mix: An In-Depth Guide:
---
What Is the Marketing Mix?
The marketing mix is attributed to James Culliton, a professor of marketing at Harvard. Culliton published an article in 1948 where he called marketers "mixers of ingredients." The phrase really came alive under Neil Borden, another professor, years later. Borden published an article of his own, saying he was inspired by Culliton. Borden's marketing mix model included 12 ingredients that are dependent upon one another:
Product planning

Pricing

Distribution channels

Personal selling

Promotions

Packaging

Displays

Services

Physical handling

Fact-finding analysis
In addition, Borden offered up four market forces that influence the marketing mix:
Consumer buying behavior

Industry and trade behavior

Competitor positioning, behavior, and industry response

Governmental regulation of the industry and market
---
What Are the Four Ps of Marketing?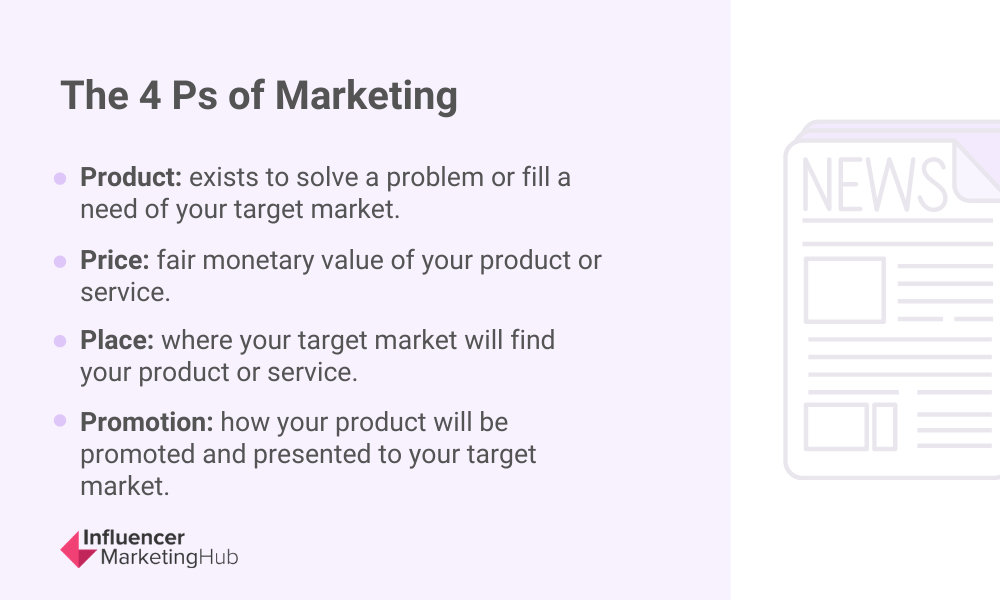 So, how did we get from 12 codependent ingredients and market forces to the four Ps of marketing? The four Ps are intended to help marketers think about everything required to market a product or service, answering questions about the competition and what consumers really want. We take Culliton's marketing mix combined with Borden's ingredients and marketing forces and distill it into the four Ps of marketing.
#1. Product
Product is the first of the four Ps of marketing. This is your brand's product or service that exists to solve a problem or fill a need of your target market. This is where marketing starts.
#2. Price
Price is the second of the four Ps of marketing and is the fair monetary value of your product or service plus supply costs, competitor pricing, and more.
#3. Place
Place is the third of the four Ps of marketing. This is where your target market will find your product or service, where you'll be selling it, and even where you're marketing it. These days, there are several options for place, from eCommerce sites to emails to physical stores to social media and everywhere in between.
#4. Promotion
Promotion is the final of the four Ps of marketing. This is all about how your product or service will be promoted and presented to your target market and the marketing strategy involved.
---
The Four Ps of Marketing: An In-Depth Guide
Now that you're more familiar with the terms, let's take a deeper dive into the four Ps of marketing and how you can apply them to your own brand, products, and services.
Product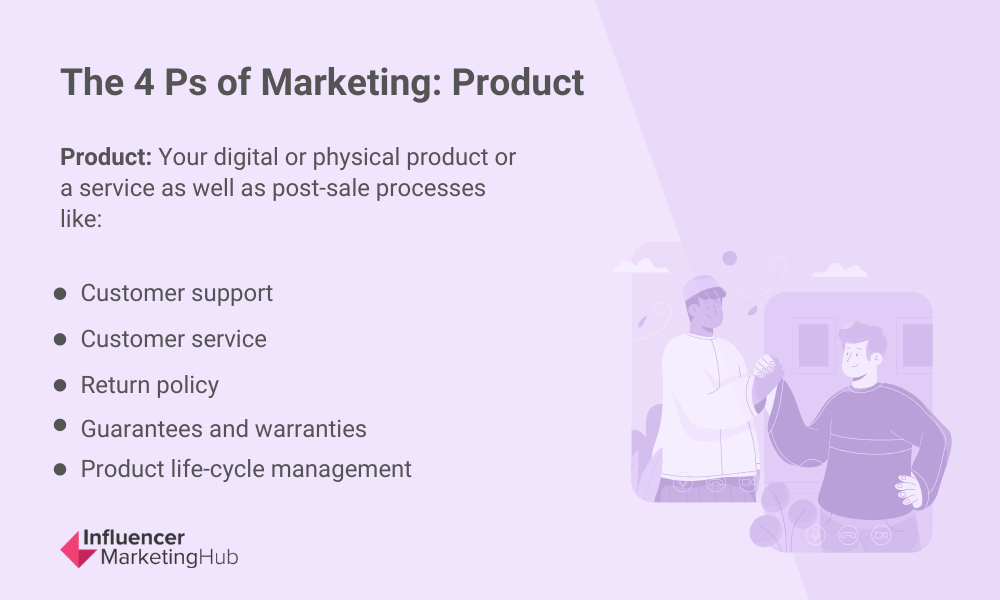 What exactly is it that you're selling—a digital product, physical product, an app, maybe a service. Whatever it is that you're selling is your product. As a marketer, when you think about your product, there are probably a lot of questions that come up for you. How is your product different from what's already out there? What need does your product fill? Are you selling the right product? It's important to consider all of these questions and more so you can effectively market your product.
Additionally, you'll need to spend time thinking about how you might change and improve upon your product—new features, improved quality, or maybe even creating an entirely new product line. What some marketers don't understand is that your responsibility to your consumer doesn't end with the sale of your product. There are processes that happen after every sale and are still part of your product:
Customer support

Return policy

Guarantees and warranties

Product life-cycle management
Customer retention is vitally important to building a thriving business, so it's important to consider every aspect of your product when planning your marketing strategy.
Creating the Right Product
If your product has competitors (and most do), you'll need to focus on how to distinguish your product from the competition. Why should your target audience buy your product right now? What can they get from you that they can't get from your competitors? When planning out your product marketing strategy, be sure you have addressed:
A desire that matches your product offering

Features, variations, and sizes that your competitors aren't tapping

Additional services you provide

A top-notch customer experience

An emotional value or appeal

Higher quality including materials, designs, and usability
---
Price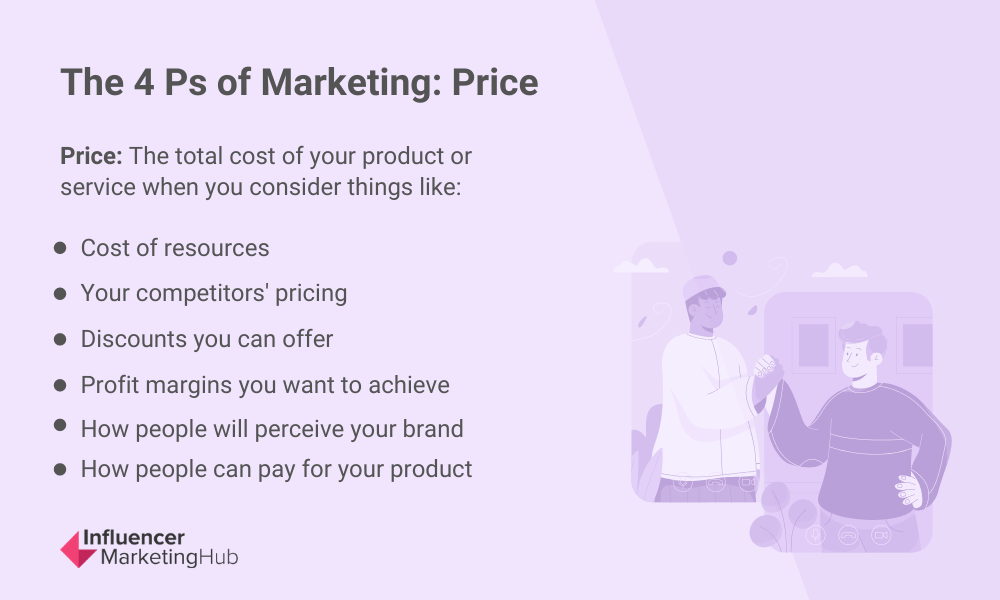 Price is another of the 4 Ps of marketing that requires you to examine what makes sense for your brand and the audience you're targeting. You need to make a profit, but you also need to take into account what your competitors are charging, how much your target audience is willing to pay, and even how you want your pricing to reflect your brand. For example, if you're a luxury brand, your pricing is likely going to be at a higher setpoint than the brand that's aiming for a reputation as a cost-effective option. There are also other things to consider like the value of your product, what went into its production, how pricing changes will impact buyer decisions, and more.
Fortunately, you don't have to figure out your pricing all on your own. There are more than 40 different pricing strategies you can use to create the best price for your product. We've also seen an increase in pricing model experimentation as technology continues to advance and shopping heads online. It's also important to consider that the internet making the world a smaller place where consumers are able to compare prices from multiple vendors in moments.
Pricing Your Product Correctly
With all of that to think about, how do you set the right price for your product in such a competitive market? To make sure that you're creating a price that's fair to your brand and also agrees with what consumers are willing to pay, here are some things to consider:
Cost of resources—materials, employees, production costs—that go into research, development, and promotion of your product

Your competitors' pricing

Discounts you can offer (while maintaining profitability)

Profit margins you want to achieve

How people will perceive your brand based on pricing

How people can pay for your product (one-time payments, installments,

subscriptions

, etc.)
---
Place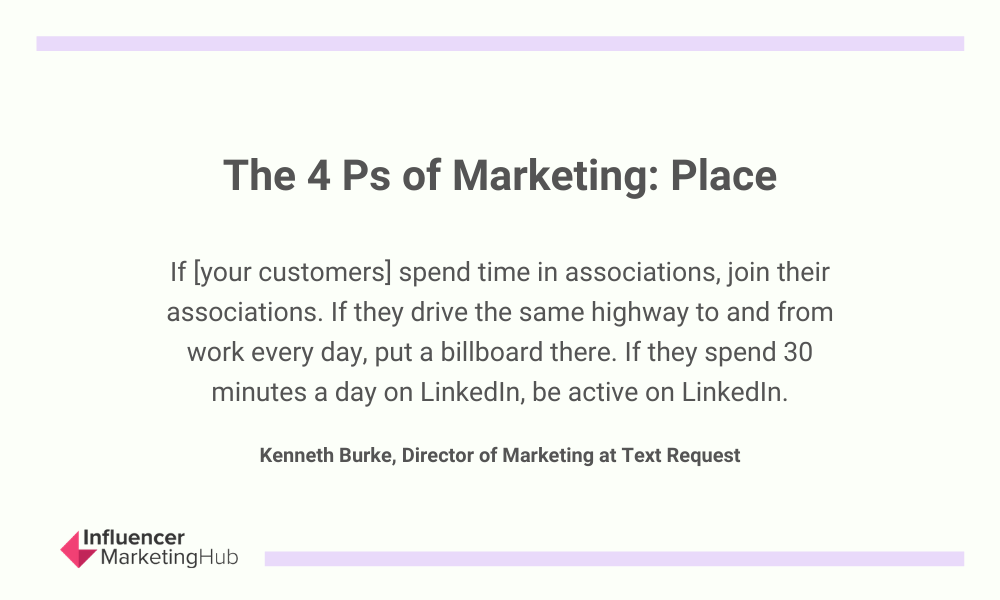 Place is where you'll market and distribute your product and includes everything from physical stores to social media. It's heavily dependent on where your target market exists. If your target market is Gen Z or Millennials, that place is generally on social media. For Gen X, you might have better luck with email or eCommerce sites and marketplaces. For Boomers, you may find yourself better off driving them to brick-and-mortar stores.
It's important to remember that access is changing every day. If 2020 taught us anything, it's that we can never truly know what's going to happen. A global pandemic was enough to drive 5% of senior shoppers to make their first online purchases, after all.
Competition is steep no matter what your place is—there's no need to make it harder for yourself by focusing on places that just aren't frequented and used by your target audience. When you're considering the right place for your product, think about where your target audience shops and meet them there. Before you can hope to sell your product to someone, you need to get your brand and product in front of them.
Kenneth Burke, Director of Marketing at Text Request, puts it like this: "If [your customers] spend time in associations, join their associations. If they drive the same highway to and from work every day, put a billboard there. If they spend 30 minutes a day on LinkedIn, be active on LinkedIn."
Finding The Right Place for Your Product
These days, your customers are more than likely going to be online, probably on social media. But there are more than 100 social media platforms—not even getting into all of the eCommerce sites and marketplaces! With all of these places vying for your attention, how do you find the best options to focus on? Fortunately, you're not the only one to ever face these problems and questions. Here are some ways you can find the best places for your products:
Check out Amazon reviews, subreddits, and Quora answers to better understand your target market

Analyze your competitors

to find out the places they're present

Find examples of your target audience and follow them around to see where they're shopping (not literally, just follow their behaviors and patterns)

Test every channel on your own
---
Promotion
The last of the four Ps of marketing is promotion. This is your brand messaging, brand awareness, and how you generate leads or sell your products and services. How are you going to promote and advertise your product? Promotion is the culmination of all the work you've done in the product, price, and place areas to this point. How will you position your brand to stand out against your competition?
Promotion is not marketing. Promotion is just a piece of the marketing mix. It's where you figure out how to let your target market know about your product to get sales, traffic, and build awareness of your brand. With advances in technology, promotion has never been easier. In addition to physical ads, there are now digital ads, SEO, content marketing, videos, social media platforms, podcasts, and any number of other channels where you can find your audience, but how do you get people to actually pay attention and respond?
Promoting Your Product Correctly
The promote your product effectively, you'll need a mix of organic and paid promotion efforts. But, you'll also need to work to nurture and build relationships with your target market. This means being honest about what your product can do, meeting and exceeding expectations, and providing more than just a "we sell, you buy, the end" relationship.
Your job isn't to sell, it's to coach the conversion. This starts with an understanding that most consumers aren't going to make an instant decision to buy your product. The decision to buy is a combination of a number of things like reviews, what their friends say, and their own past experiences. This becomes even more important as the price point increases.
---
Applying the Four Ps of Marketing
The four Ps of marketing can help you develop a plan to bring your product to market as well as test your marketing strategy to ensure that it's optimized. Here's how to apply the four Ps of marketing to the greatest benefit for your brand:
Identify the product or service you want to sell or analyze.

Ask questions to challenge the efficacy and value of your offer. You might consider any of the questions we've posed throughout our in-depth guide, as well as other questions.

Test your offer from the perspective of your target market. Does the product meet their needs? Is it priced appropriately? Will they find it where they shop? Will your promotion efforts reach and resonate with them?

Continue asking questions and changing your marketing mix until it's optimized.

Review your marketing mix regularly. We exist in a world that's constantly changing, so it's important to regularly run tests on your marketing mix to ensure that it's performing well.
---
Wrapping Up
The four Ps of marketing and marketing mix have been around for nearly 80 years and have changed very little in that time. Sure, there are regularly marketing experts who seek to change or add to the four Ps of marketing, but those efforts have yet to really gain traction. While nothing can ever be perfect, the four Ps of marketing, as they are, will help you develop a marketing strategy that incorporates everything you need to create and define your product, its price, where you're going to sell it, and how. Ultimately, these are the four elements that are critical to marketing success.