Anyone who's ever been to the United States has either shopped at or seen a Walmart store. With over 4,700 stores operating in the US and 5,300 more in 23 other countries, Walmart is a major force in the retail industry. Considered to be one of the largest retailers in the world, Walmart took a 6.3% share of the American retail market in 2022, representing sales of $572 billion. The company presents excellent opportunities for advertising products and increasing brand awareness.
---
The Ultimate Guide to Advertising on Walmart (Plus Best Practices for Success):
---
Why Advertise on Walmart?
Walmart may not be as dominant as Amazon in the eCommerce industry, but it is still a significant player. You would be remiss not to consider advertising on Walmart especially if your target audience is similar to theirs.
Walmart rose to prominence in the early 90s after the establishment of the first Walmart Supercenter in Arkansas. Since then, Walmart has become a household name, virtually synonymous with American shopping. In their website, Walmart states that 90% of the US population live within 10 miles of a Walmart store, making the brand one of the most well-known in the country.
In terms of market share, Walmart is widely considered the largest retailer in the US, and one of the top eCommerce companies by web sales. Below are some of the advantages of advertising on Walmart.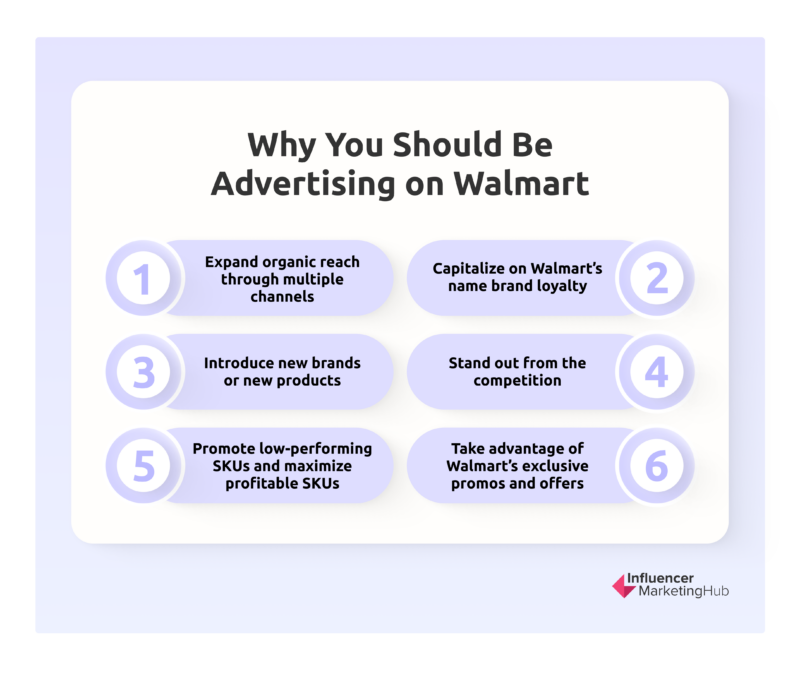 Expand organic reach through multiple channels
Advertising on Walmart can actually supplement your organic presence. Paid ads can reach more populations, and this can pave the way for more people to discover your brand organically. Walmart is an omnichannel retailer, so your brand can gain visibility through web, mobile, and on-site channels.
Capitalize on Walmart's name-brand loyalty
Millions of people already trust the Walmart name brand, so you can capitalize on that brand loyalty by advertising on its platform.
Introduce new brands or new products
Paid ads is one of the best strategies for promoting new products of existing brands, or altogether new brands. Walmart advertising is an excellent platform for introducing this new merchandise because of the large global reach of the retail giant.
Stand out from the competition
For products and SKUs that belong to categories with fierce competition, paid advertising on Walmart can give your products a needed boost in order to stand out from the crowd.
Promote low-performing SKUs and maximize profitable SKUs
If one or more of your SKUs is lagging behind, you can promote them through Walmart advertising to increase awareness and visibility. On the other hand, you can also maximize revenue by promoting your high-performing SKUs.
Take advantage of Walmart's exclusive promos and offers
Walmart's "Rollbacks and More" and "Deals for Days" promos are exclusive to the retailer and attract a lot of traffic to the site, giving your ad more opportunities to be seen. Meanwhile, these promos also encourage people to make purchases, something you can also take advantage of as a Walmart seller.
---
What is Walmart Connect?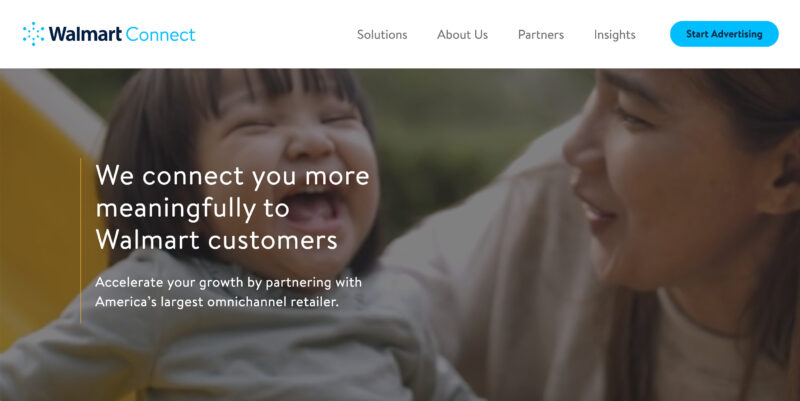 Walmart Connect is Walmart's retail media platform. Formerly known as Walmart Media Group, the company was renamed in 2021 with the aim to connect brands with its customer base.
As Walmart's main advertising platform, Walmart Connect serves as an important strategic point in the company's overall approach. Part of their objectives is diversifying revenue streams by expanding Walmart+ and its eCommerce operations.
---
Walmart Ad Types
Walmart offers different ad types. We'll do a rundown of the different options so you can determine the best ad type for your products.
The company categorizes their ad solutions into three main types: Search, Display, and In-Store. Search ads include Sponsored Products and Sponsored Brands; Display includes the more conventional type of online ads, shown either on Walmart's own media or offsite such as social media and other websites. In-Store ads are targeted to Walmart customers shopping in physical stores, and can be seen in TV screens inside the store or at self-checkouts.
Sponsored Products
Sponsored Products is probably the most popular ad type. These are ads that you normally see when you do a search on Walmart.com, labeled "Sponsored Product." Sponsored Products get more visibility because they appear at the top of search results. Walmart states that there are 16 million searches on their website daily, so Sponsored Products are a good way to start if you are new to Walmart advertising.
Sponsored Products appear in one of three ways: Search In-grid, Product Carousel, and Buy Box. These are CPC ads, so you only pay when someone clicks on your ad. Search In-grid and Carousel placements are available for both automatic or manual campaigns, while Buy Box ads are only available for automatic.
Search In-grid ads appear in specific slots of Walmart SERPs. This ensures that your product shows up as a search result within the first few pages for optimum visibility. Previously, Walmart set an eligibility criteria for Search In-grid placements, such as ranking within the top 128 organic results. This has since been removed to allow more small and medium businesses to bid on Search In-grid placements.
If you're looking at Search In-grid placements for your product ad, then be prepared to budget either $100 for the entire campaign or a minimum of $50 per day. But bear in mind that as a CPC model, this amount only refers to the minimum bid that will be entered in the platform and not what you will actually pay.
Another placement mode for Sponsored Products is the Product Carousel. Product Carousel ads appear in search, browse, category, and product pages. Unlike Search In-grid ads that need to be relevant to a search keyword in order to appear in SERPs, carousel ads do not have such restrictions. This means that you can promote products that are yet unfamiliar to shoppers, increasing visibility across Walmart platforms.
Carousel ads can appear product recommendation modules like "Customers Also Bought" and "Products you may also like." There is a limit of 24 Sponsored Products per carousel.
Buy Box ads can be found in prime digital real estate space. These are ads you'll see in the product detail page of a similar or relevant product, under the Buy Box. Only one buy box placement is allowed per page, so visibility is excellent. Like carousel ads, buy box ad placements are not subject to an eligibility criteria.
---
Sponsored Brands (formerly Search Brand Amplifier)
Sponsored Brands or SB are a step above Sponsored Products. SB ads prominently feature your logo, a custom headline, and up to four products at the top of a search results page.
This is perfect for brands who are looking to amp up their awareness and have several SKUs they want to promote.
Display Ads
Display ads appear onsite in Walmart's digital media properties, such as Walmart.com on desktop, on mobile web, and the Walmart app. They can also appear offsite in external websites, social media, and other channels.
Walmart offers ads with a premium, visually appealing look to elicit positive responses for better conversions. Display targeting ensures that your ads will only be shown to relevant audiences. Combining Search and Display ads will maximize your reach and visibility across the web, ensuring familiarity and awareness for your brand.
In-Store Ads
Finally, you can also opt to run ads inside store premises with Walmart's in-store ads. These ads will feature as TV Wall ads or be shown at self-checkout monitors. People have returned to shopping in-store, so these ads are an excellent opportunity to introduce new products and promote brands to shoppers. In-store ads can drive conversions well, because people's mindset inside a store are already inclined toward shopping and purchasing.
---
How to Start Advertising on Walmart
First, you'll need to have an eCommerce business and apply to be a seller on Walmart Marketplace. For obvious reasons, the company only runs ads for products that are available for purchase in their store (online or in-store). Once you're approved, your Walmart store needs to be fully operational before you can advertise. You'll need to create your product catalog, listing all the things you intend to sell on Walmart. Check out our guide on how to sell on Walmart for the full details.
Once you're good to go as a seller, the next step is to apply for access to Walmart Connect for advertising services. If your application is approved, you'll need to attend a training webinar where you'll learn how the marketplace and advertising platform works.
After completing the training, you can now set up your ad campaigns through the Walmart Ad Center. Sign in as a Seller (other options are as a Supplier or Agency), and begin creating your campaigns. The Walmart Ad Center works as a dashboard where you can choose the type of ads you want to bid on, your budget, the length of the campaign, and others.
For more details or to talk to a Walmart representative for your advertising options, you can send them a message via Walmart Connect.
---
Best Practices for Successful Walmart Advertising
Advertising products on a large platform such as Walmart is no simple feat. Below are some tips and best practices to keep in mind when advertising on Walmart.
Monitor campaigns frequently
Just because it is automatic doesn't mean you can set and forget. Many experts say that automatic campaigns are likely to perform better over time, but you need a minimum number of product SKUs (around 10) and careful tracking and analysis is required.
Tracking your campaigns consistently will give you an idea about which campaigns are more effective and which can do with some modifications on bids, budgets, keywords, or campaign length. You need to review your data analytics regularly to ensure that you're meeting your KPIs and not wasting the budget.
Keyword research is key
This is especially true for manual campaigns, where you determine the keywords yourself. Walmart Ad Center has a Suggested Keywords tab, which is an excellent starting point. Use your own keywords only if you're already highly experienced at running Walmart ads and you have a clear idea of what keywords your customers are using.
Researching keywords to use also involves monitoring your current keywords for diminishing returns. Your data analytics will tell you if there are keywords you are using whose returns are dwindling over time.
Create custom content for Walmart
While reusing ad copy from your other platforms is efficient, it may not exactly be suited for Walmart's customer base. Create new ad content that is exclusive for Walmart ads, and try to match the appearance and feel of Walmart so the ad will look seamless on their SERPs and on offsite media.
Spread out advertising budget
Don't focus on one type of ad, one set of keywords, or one audience segment. A mix of marketplace advertising will give you better returns, and you might also discover new keywords or a new market to expand into. Nurture your established customer bases, but don't be afraid to explore other opportunities.
Optimize your product catalog
Your product catalog also plays a role in the effectiveness of your ads. When customers click on your ad, they will land on your product page. The quality of your product listing content can determine if they'll convert or leave your page without buying. Make sure your catalog is updated with a variety of high quality products, include excellent product visuals, add video if the product category allows it, write effective product descriptions, and use relevant keywords.
Partner with an eCommerce agency or use a tool
If you still feel quite inexperienced and unsure of how to go about the best way to advertise on Walmart, consider hiring an eCommerce agency to help you with your advertising strategy for eCommerce. The best eCommerce agencies will undoubtedly have the market experience, skills, and knowledge to mount high-performing ad campaigns across a wide range of platforms.
To ensure the best results, go for an agency that specializes in Walmart advertising. Pacvue, one of the leading eCommerce software companies, features a platform that allows you to manage Walmart ad campaigns seamlessly and effortlessly. It includes keyword research, campaign automation, customized reporting, and budget management, plus other AI optimization tools that can help you you get the best out of your ads across Walmart's digital media.
Significant Changes in Walmart Advertising in 2023
Last year, Walmart announced two major changes in how they operate advertising. The first is that they were transitioning to an advanced second-price auction model for Sponsored Products and Sponsored Brands. This is the model currently used by competitors eBay and Amazon, and it allows advertisers to bid without worrying about overpaying or overbidding.
In a second-price auction model, the highest bidder wins, but they won't necessarily pay the amount that they submitted. Usually, they pay a little more than what the second highest bidder placed. In Walmart's model, the final price is also influenced by the relevancy of the item to a given search. More relevant items equals lower cost.
Another major change that Walmart implemented was removing the restrictive eligibility criteria and enhancing search relevancy. Advertisers do not need to worry about organic rankings and instead can focus their efforts on researching relevant keywords for their items. It will also help customers in that more relevant products can appear in ads, allowing for easier introduction of new items.
Frequently Asked Questions
What is the difference between advertising on Walmart and advertising on other eCommerce marketplaces?
Walmart's algorithms operate differently from others like Amazon. Advertising performance affects organic listings, so if there's an effective ad for Product A, it won't go higher in organic listings.
Another key difference is that brands don't have their own pages within Walmart.com or the Wallmart app, unlike Amazon brand pages.
How long does it take for Walmart to approve my ads?
Generally, it takes Walmart 24-48 hours to approve ad campaigns. Keep this mind when scheduling ads for special events, holidays, and promo periods.
What is the difference between automatic and manual campaigns?
Automatic campaigns are most suited for those just starting out with Walmart advertising. All you need to do is input product information and budget. Automatic campaigns provide high exposure for optimum visibility, so it's perfect for product launches and for introducing brands to new customer segments.
Manual campaigns offer advertisers a lot more control over keywords, bids, and placements. You'll need to have a solid background in advertising on Walmart to optimize manual campaigns.
What are the key performance metrics to measure the success of my Walmart advertising campaign?
Walmart suggests looking into these eight KPIs to measure success:
Impressions

Clicks

Units Sold

CTR

Total Attributed Sales Revenue

Conversion Rate

Ad Spend

ROAS