Best for:
Content creators, small and large enterprise businesses
Introducing Beacon's AI Outreach Tool, a visionary collaboration born from the bonds of friendship during the founders' PhDs in machine learning at Stanford University. Neal Jean, David Zeng, Jesse Zhang, and Greg Luppescu have united their collective expertise and passion for machine learning to craft an exceptional AI-powered tool. Beacon's AI Outreach Tool is not just a revolutionary tool, it's a tale of the fusion of technology and passion that aims to redefine the realm of brand outreach for creators.
With a remarkable background in creator-focused tools and a profound understanding of machine learning, the Beacon team has channeled their knowledge into creating an innovative outreach tool. Their goal is to bridge the divide between AI and human interaction. Drawing from their personal experiences and technical acumen, this tool stands out in its ability to tackle the challenges and harness the potential of artificial intelligence.
---
---
Key Features
Pitch Crafting
One of the primary features of the AI Outreach Tool is Pitch Crafting. It tackles the often daunting task of creating unique and persuasive pitches by using cutting-edge AI algorithms. By selecting a brand, choosing your tone, and defining the email length, the AI engine quickly generates a professional and customized pitch.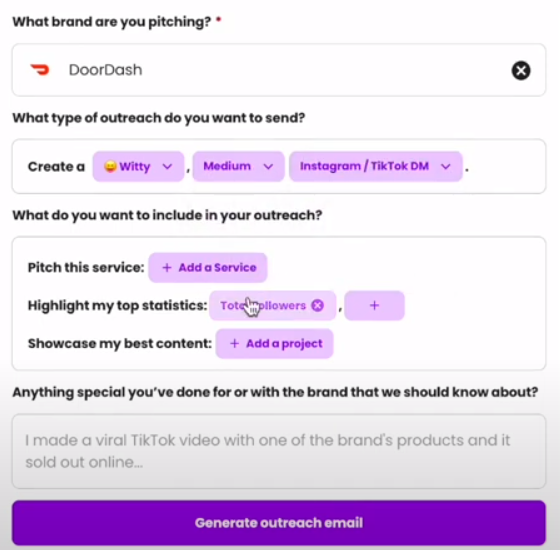 Brands Database
The tool also includes a massive brand database. This vast reservoir allows for outreach to any brand a creator may want to pitch to, creating a unique selling proposition and making the process more efficient and broad-ranging.
Tone of Voice Customization
The customization feature provides a solution for maintaining a unique and personalized voice in your pitches. It uses AI to emulate your tone and style, thereby ensuring that every pitch is genuinely reflective of you.
Editing
The Editing feature allows you to fine-tune the AI-generated pitch before sending it. This tool ensures that every pitch meets your satisfaction and has a personal touch.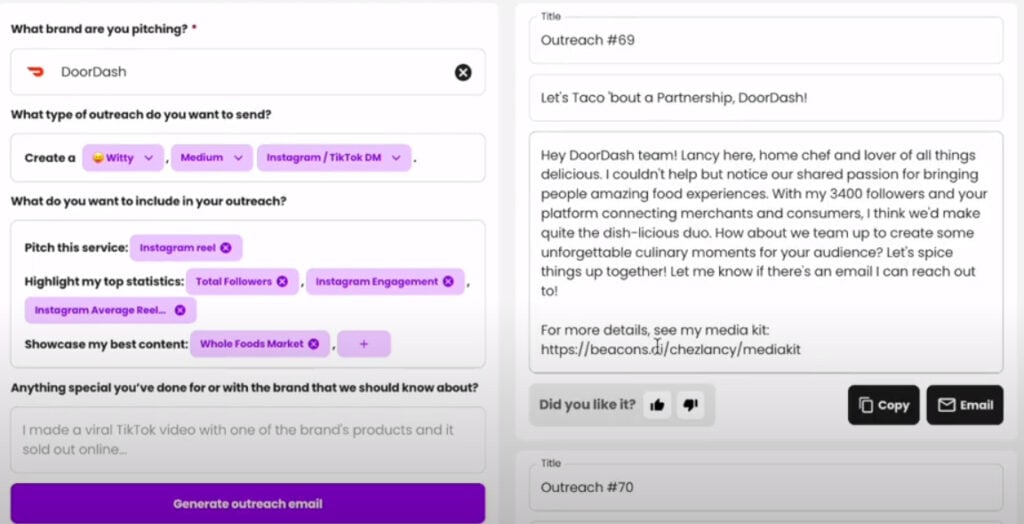 ---
How to Use
Using Beacon's AI Outreach Tool is quite straightforward. Just select a brand, define your desired tone and the length of the pitch, and the AI engine will generate a unique and professional pitch. Use the Editing feature to adjust and perfect the pitch as per your requirements.
---
Pricing
Beacon offers the AI Outreach Tool as a part of their Link in Bio Pro plan priced at $10 per month.
---
Conclusion
In conclusion, Beacon's AI Outreach Tool is an efficient tool that aids in creating persuasive and professional pitch emails swiftly. It allows users to streamline their outreach process, save time, and enhance results. With the potential to significantly improve your brand partnerships, it's worth exploring the tool's features to see its suitability for your brand outreach requirements.
Features

Ease of Use

Support

Best for:
Content creators, small and large enterprise businesses