A big part of running a business is navigating the different people, resources, and tools you need to complete projects on time and to perfection. But if you're managing projects using a spreadsheet, well, you're just not being as efficient as you could be. That's why we've put together this list of the best project management software you can use to streamline your workflows and organize your resources so you can get more done without sacrificing quality.
---
10 Best Project Management Software Tools to Get More Done in Less Time:
---
What Is Project Management Software?
Project management software is a digital tool that helps you get more done. This might mean overhauling your day-to-day workflow, streamlining your task lists, organizing your calendar and schedules, bringing your communication tools together, and giving you the reports and analytics you need to figure out where your processes need to be improved. Chances are, you're familiar with tools like Trello and Asana, but there are more project management software tools out there that you might not have considered. In this article, we'll be covering our picks for the 10 best project management software tools available right now.
---
Why You Need a Project Management Tool
If you've been plugging along with your spreadsheets and 25 different tools, you might be wondering if you actually need project management software. Even if you're a solopreneur, the answer is yes. Here's what a project management tool can do for you:
Project Planning:

Easily plan out your projects using historical data to develop a better timeline and workflow.

Scheduling and Time Management:

Track the time you're spending on each project and take your team's schedule into account when planning.

Communication and Collaboration:

Collaborate with your team and communicate with external stakeholders (and keep a record of those communications in a single system).

Documentation and File Management:

Maintain and manage documents, media, and other files easily.

Resource Allocation and Tracking:

Ensure that you and your team are working on the right things at the right time (and let them know when they're getting off track).

Budgeting:

Track your time and spending for each project.
---
What to Look for in Project Management Software
As you can see, project management software offers tons of benefits to your business. But you'll want to make sure that the platform you choose does everything you need it to do. So, what should you look for when evaluating your options? Let's take a look at a few features and functionalities you might need:
Features and Functionality:

Look for a project management software that supports multiple ways of planning and tracking projects (like Kanban boards and Gantt charts), as well as features supporting task and project timelines along with dependencies and deadlines.

Communication Tools:

The right tool will make collaborating and communicating easy. You might also want to look for a platform that integrates with your

email marketing service

and messaging tools.

Ease of Use:

The user interface should be clean, visually appealing, and easy to learn. Look for platforms that offer support and training so you're sure to get the most from the software.

Task Management:

Choose a project management software that makes it easy to track tasks so you always know who's responsible for what and by when.

Integrations:

We already mentioned integrations with email and messaging tools but if there are any other marketing tools or enterprise tools that you use regularly, you might want to find software that integrates with those tools to consolidate as much as possible into a single platform.

Reporting:

Reporting is another important thing to consider when choosing project management software. Your reports will give you information about where your process is working and where it isn't so you can get back on track and make changes to improve for the next project.
---
10 Best Project Management Software
Now that you're whipped into a frenzy over project management software, it's time to turn our attention to the project management tools we're loving right now. From this list, you'll be able to find exactly the right project management software for you and your team. Looking for a tool specifically for marketing? Check out this list of marketing project management software.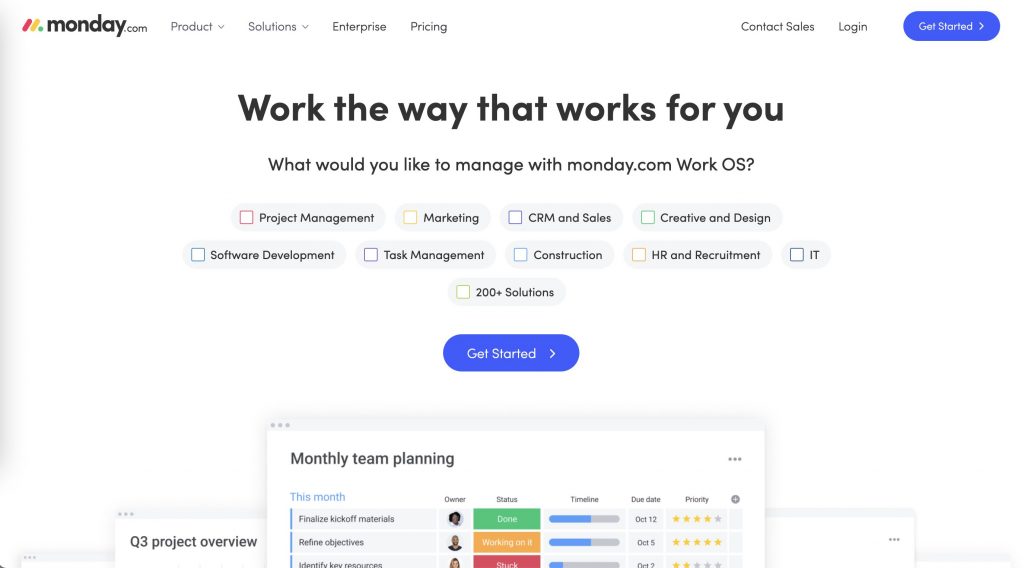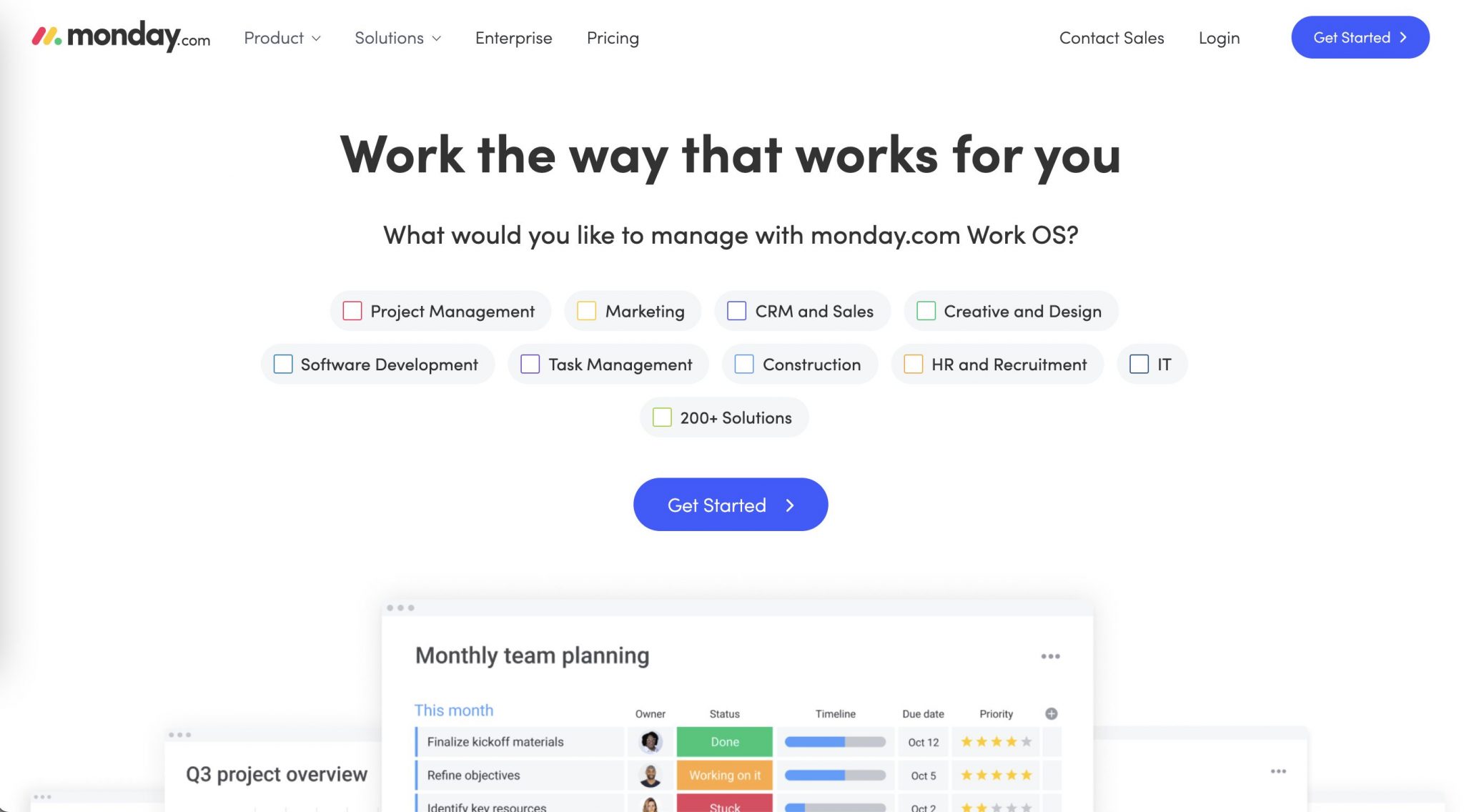 Monday.com is consistently ranked one of the best project management software tools. It has a visual, easy, and intuitive user interface where you can choose from 200+ workflow templates to create the ideal workflow for your team in minutes or drag and drop 30+ column types to customize a workflow specific to your needs. Everything is synced in real-time and status buttons make it easy to identify what's going on with your projects at a glance. You can also communicate with team members, add files, and link boards to keep everything organized. The platform includes several ways to view your projects—Kanban, calendar, timeline, Gantt, map, form, and workload views let you see things the way that works for you. Plus, you can set up automation to handle routine tasks and free up time.
Pricing:
Pricing starts at $8 per seat per month with a minimum of three seats.
---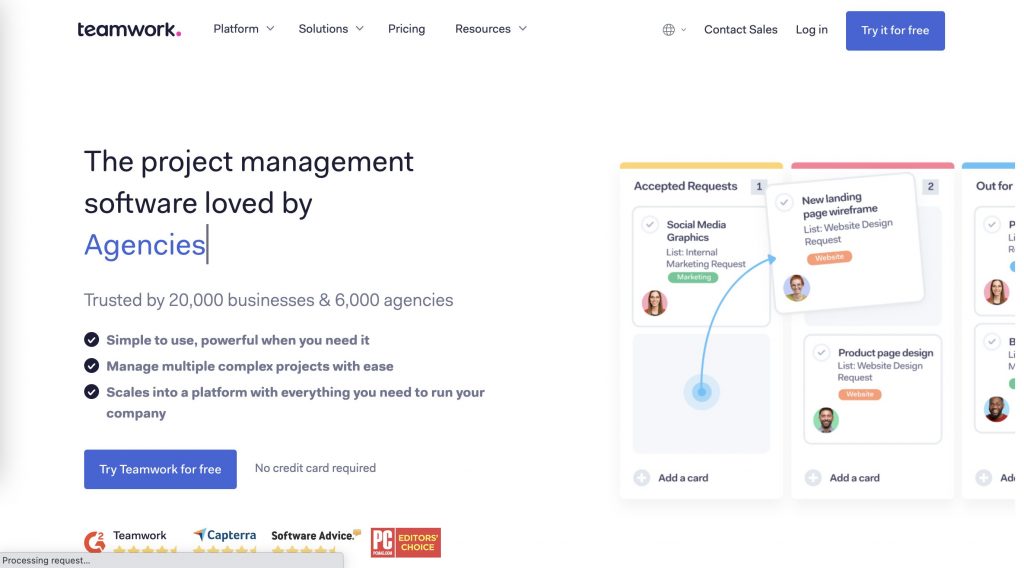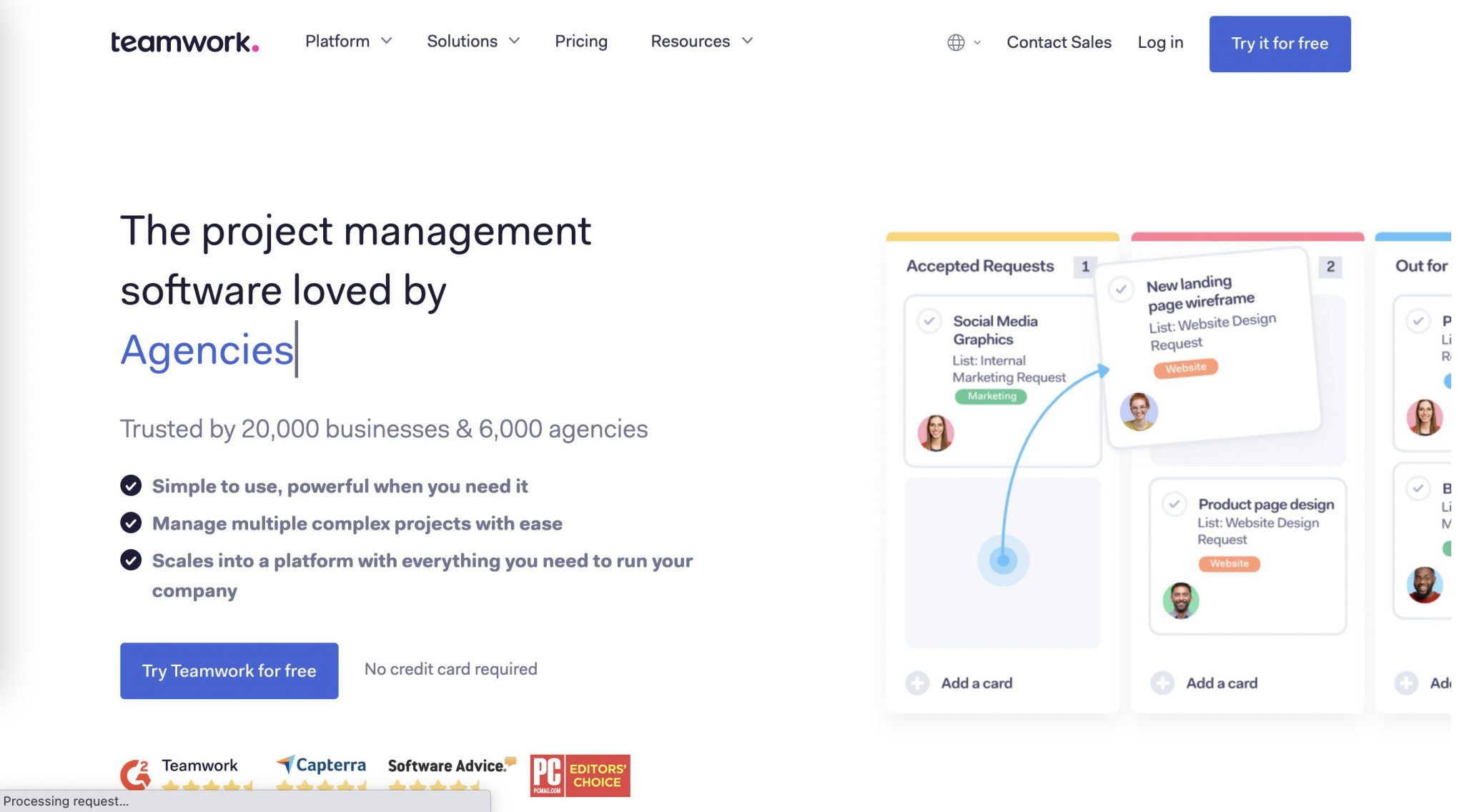 Teamwork gives you everything you need to manage projects in a single place. You can create tasks and projects, add comments, and upload files, as well as view your projects via Gantt chart, task list, or Kanban board. Teamwork has several advanced features that let you customize the platform based on the way you work. The platform has powerful task management tools so you can track your projects on a granular level. You can even create and save task list templates so you don't have to recreate the wheel when you start a new project.
Pricing:
Teamwork offers a free plan. Paid plans start at $10 per user per month.
---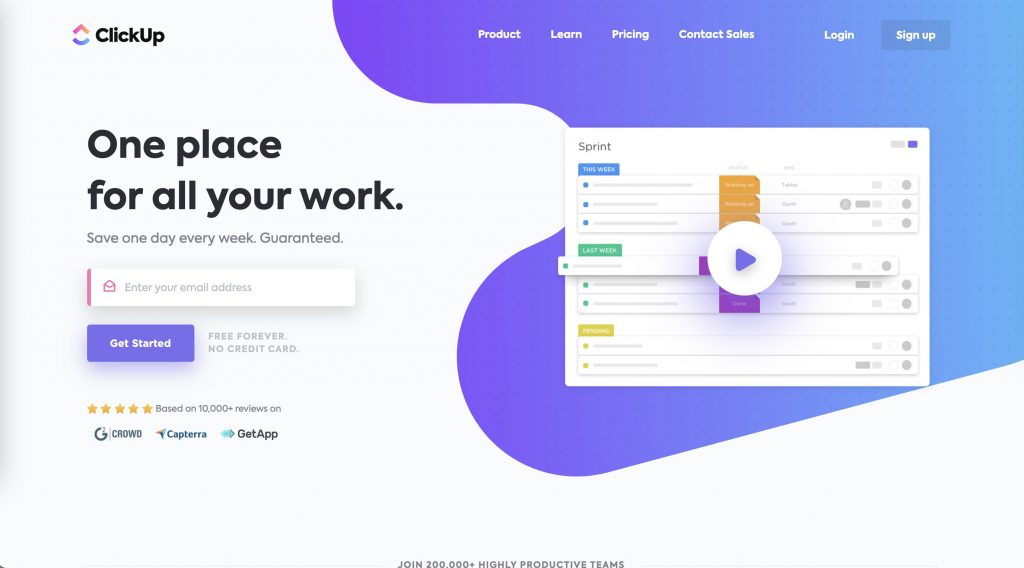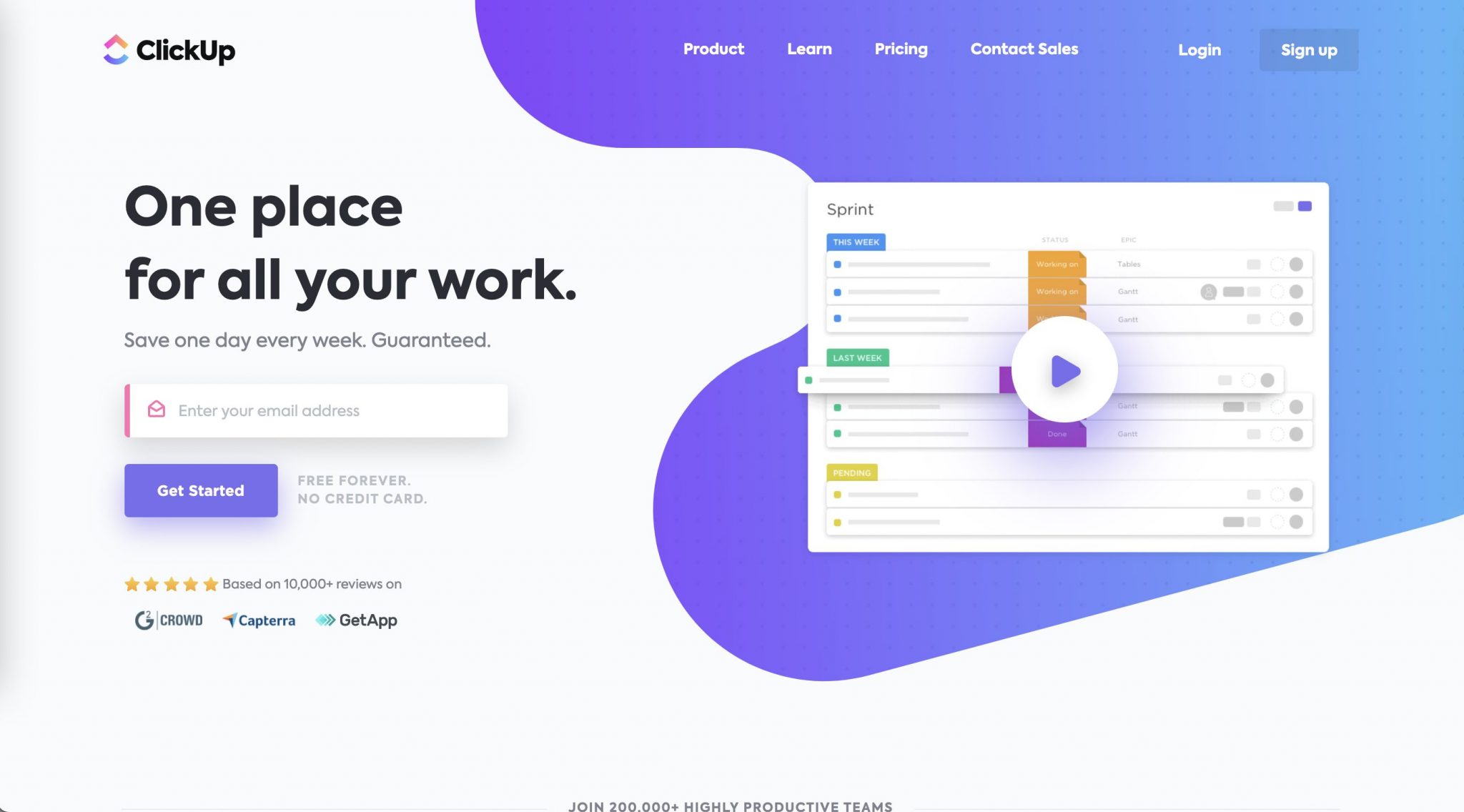 ClickUp brings your team together in a single place to plan, track, and collaborate on any project. With ClickUp, you can organize projects at a glance, collaborate and communicate with your team, and track your progress and goals. The platform includes several different views to make managing your resources easy: list, box, Gantt, Kanban, and calendar, or create your own workflow using one of ClickUp's customizable views. You can your team can reach agreements faster by adding comments to tasks or documents, assigning comments to action items, share attachments, chat in real-time, and more. ClickUp also includes dashboards where you can add visual widgets for tasks, sprints, time tracking, team members, statuses, documents, embeds, and a host of other things.
Pricing:
ClickUp has a free plan available. Paid plans start at $5 per member per month.
---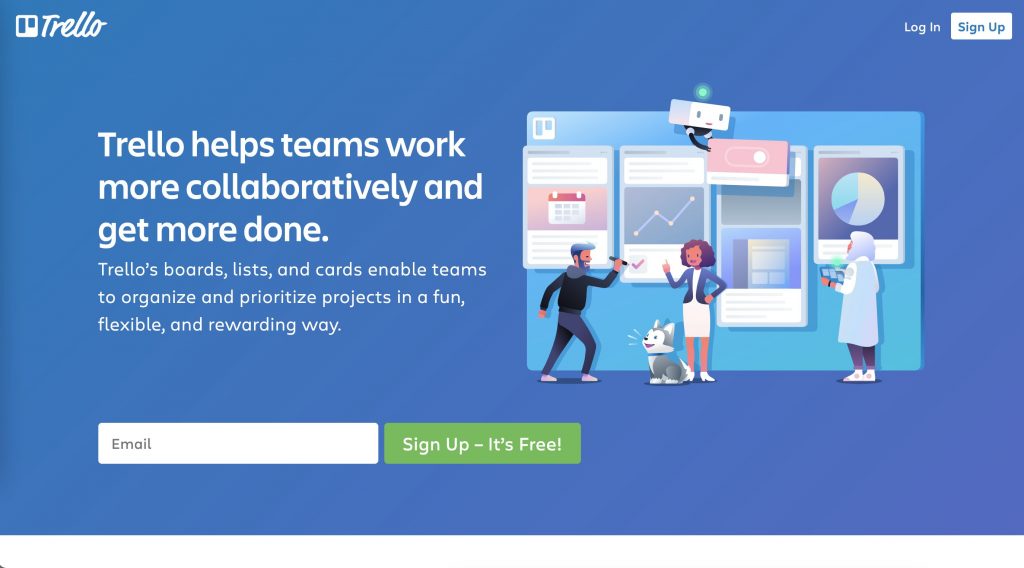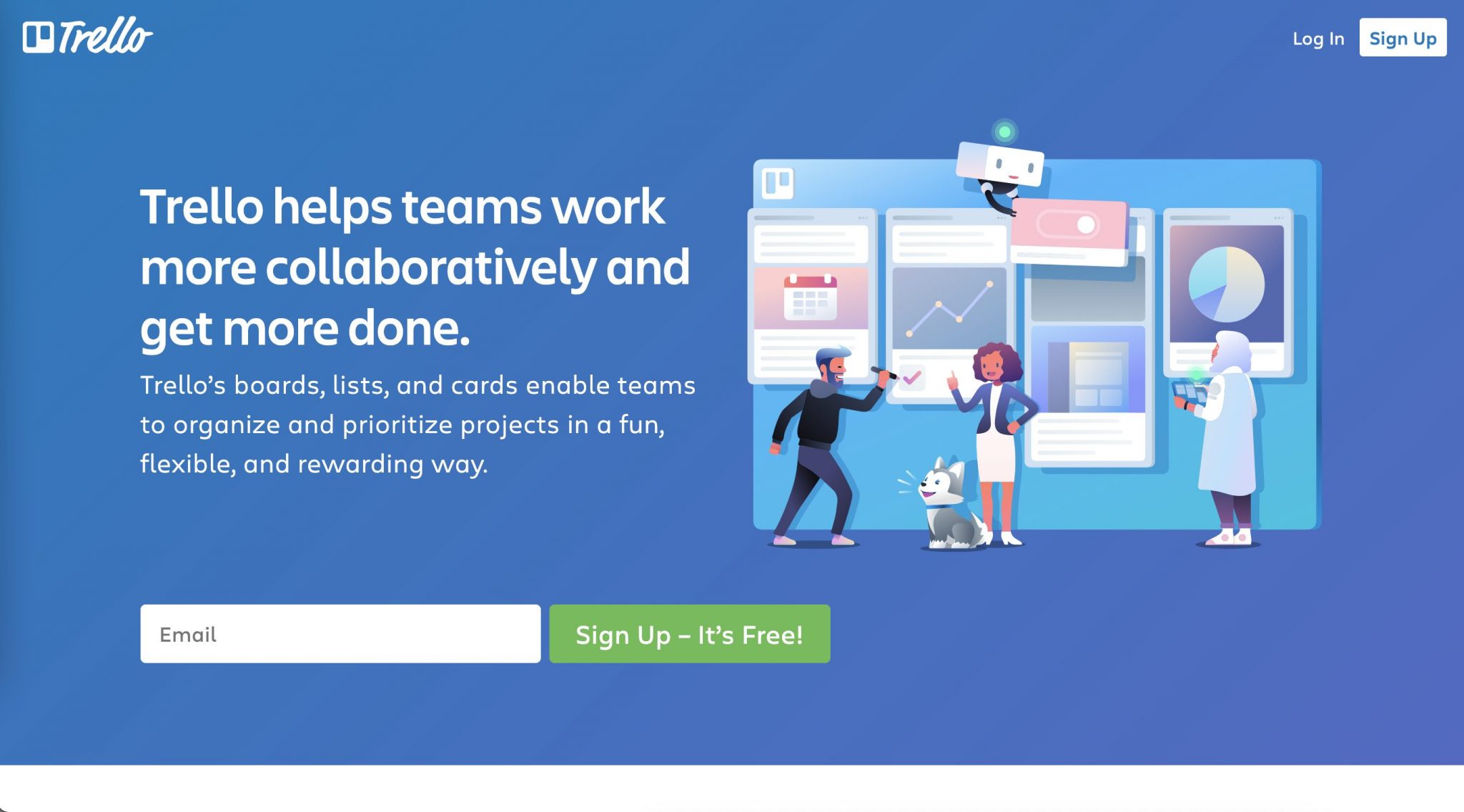 Trello is one of the more popular project management software tools on our list. It includes boards, lists, and cards so you have the flexibility you need to organize and prioritize your projects. No matter the project you're working on, work or personal, Trello will help everyone stay organized and gives you the ability to add comments, attachments, due dates, and more. Trello also has built-in workflow automation called Butler that helps users boost productivity through task automation. Butler functionality includes rule-based triggers, custom card and board buttons, calendar commands, and due date commands.
Pricing:
Trello has a free plan available. Paid plans start at $9.99 per user per month.
---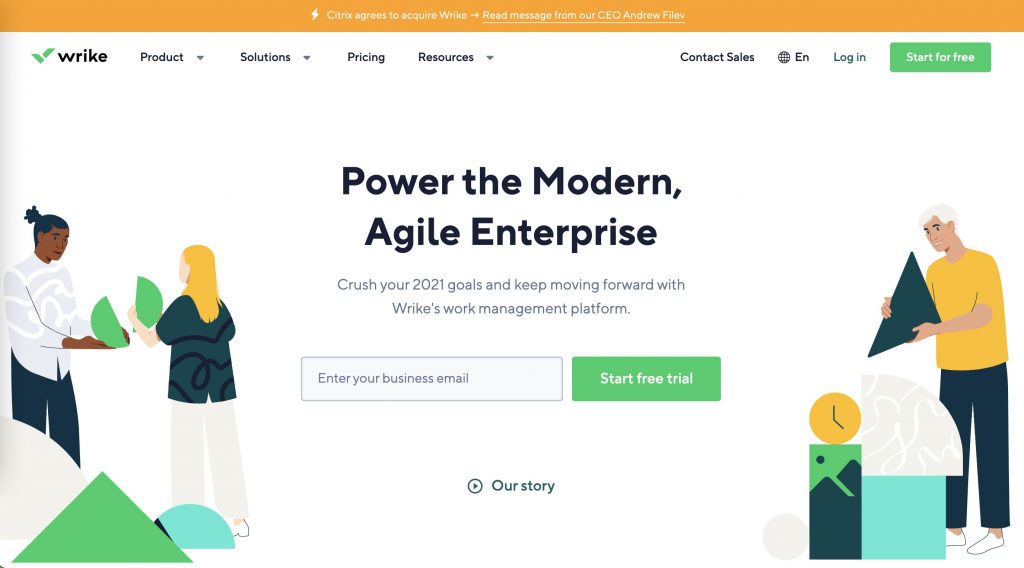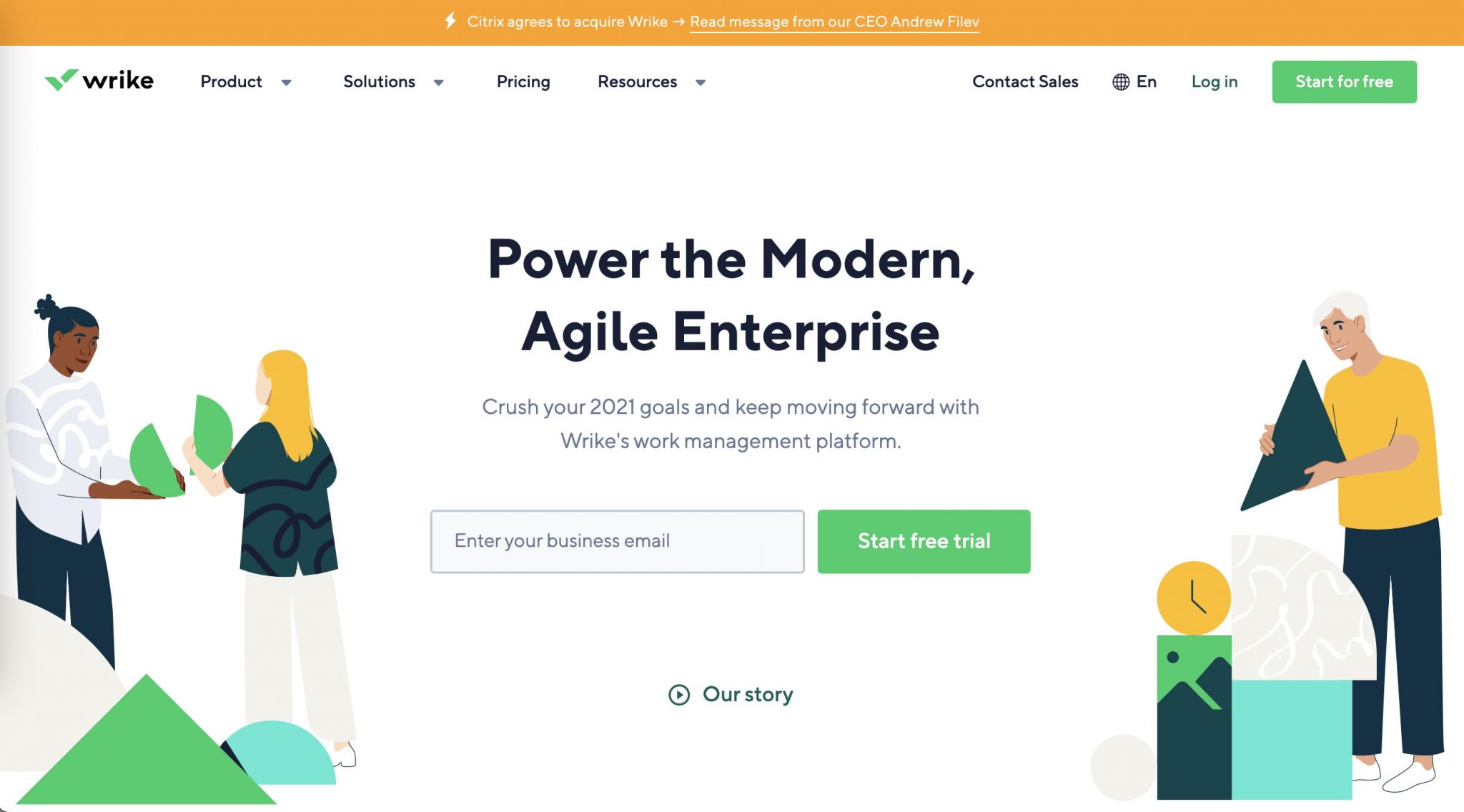 Wrike is a project management software build to be customized to your needs. You can create custom dashboards and workflows, team-specific automations, and more to build a project management system that works for your business. The platform includes real-time commenting and notifications, live editing, and dynamic reports so you can stay on top of everything easily. Wrike prioritizes your safety with enterprise-grade security and puts you in full control of your data.
Pricing:
Wrike has a free plan for up to 5 users. Paid plans start at $9.80 per user per month. Wrike was recently purchased by Citrix so pricing may change.
---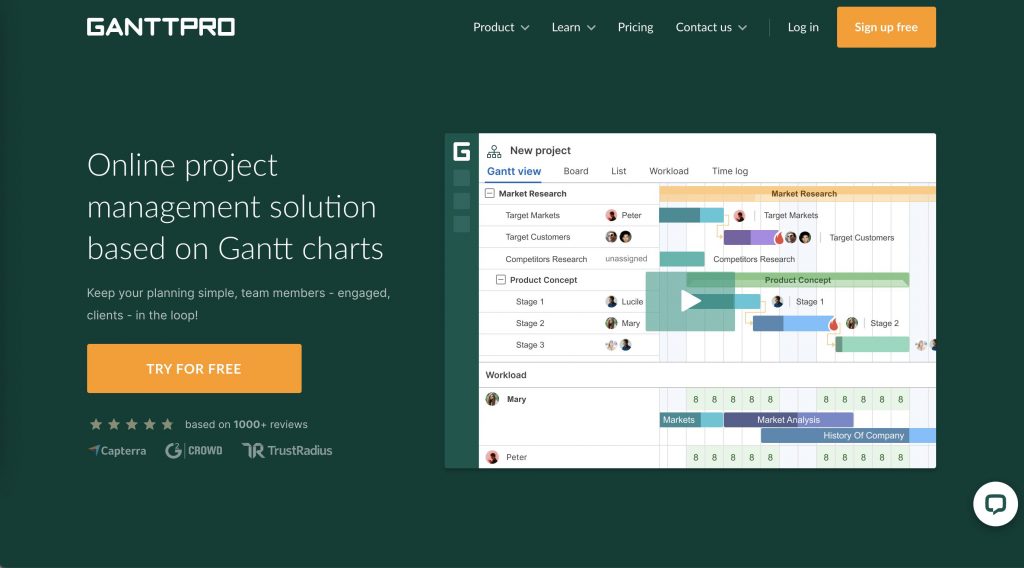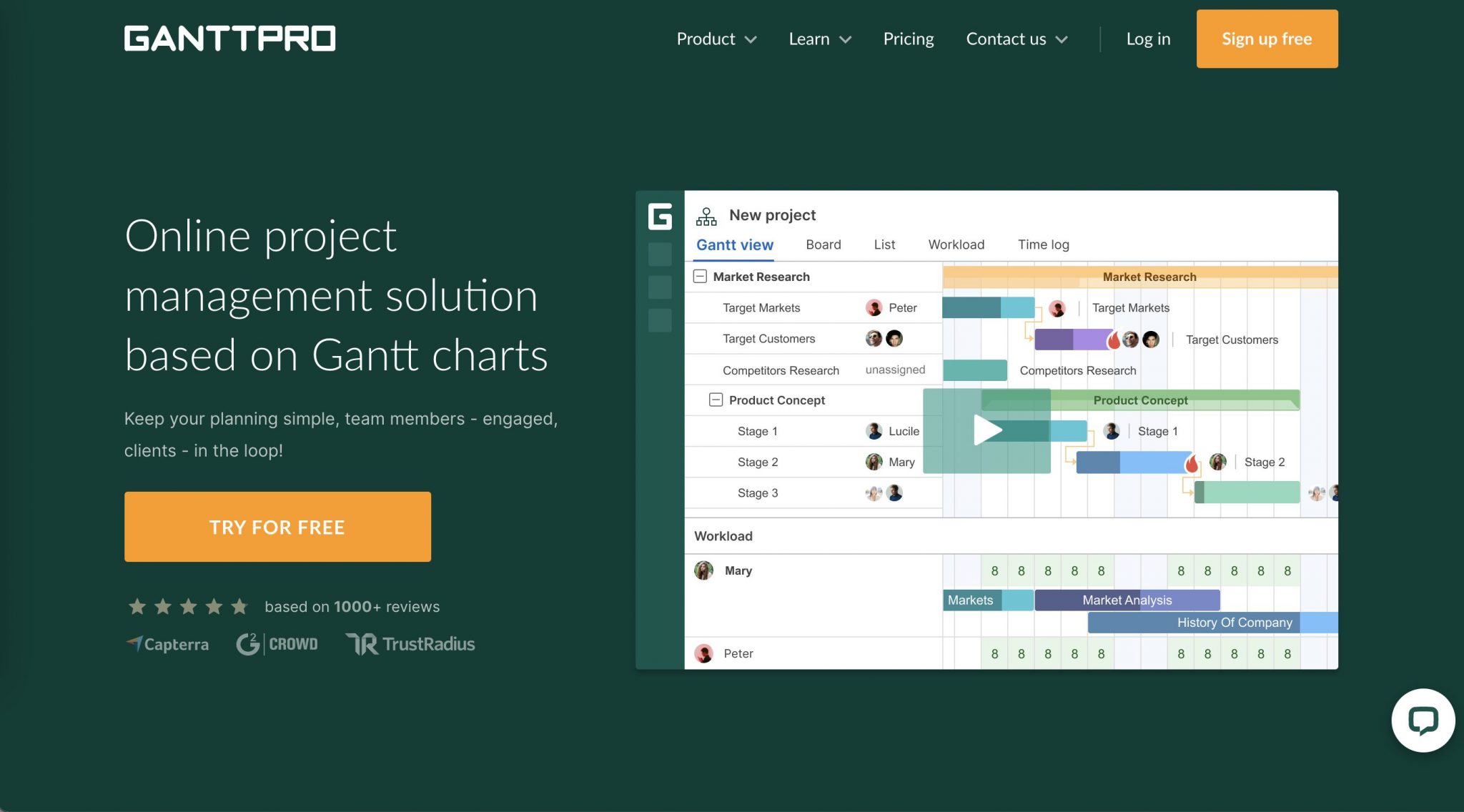 GanttPRO lets you split your projects into groups of tasks, subtasks, and milestones that you can organize and schedule, as well as add dependencies. It has different workspaces for personal tasks, milestones, and team projects. You can delegate parts of the process to different team members and ensure that only the people you want to be involved can see a project. GanttPRO has everything you need to work, either on your own or with a team. You can set roles, assign tasks to specific people, add attachments and comments, and track project progress. Plus, you can share Gantt charts with your team and clients so you can catch any concerns before they become problems.
Pricing:
GanttPRO has an individual plan for $15 per month. Team plans start at $8.90 per user per month with a minimum of five users.
---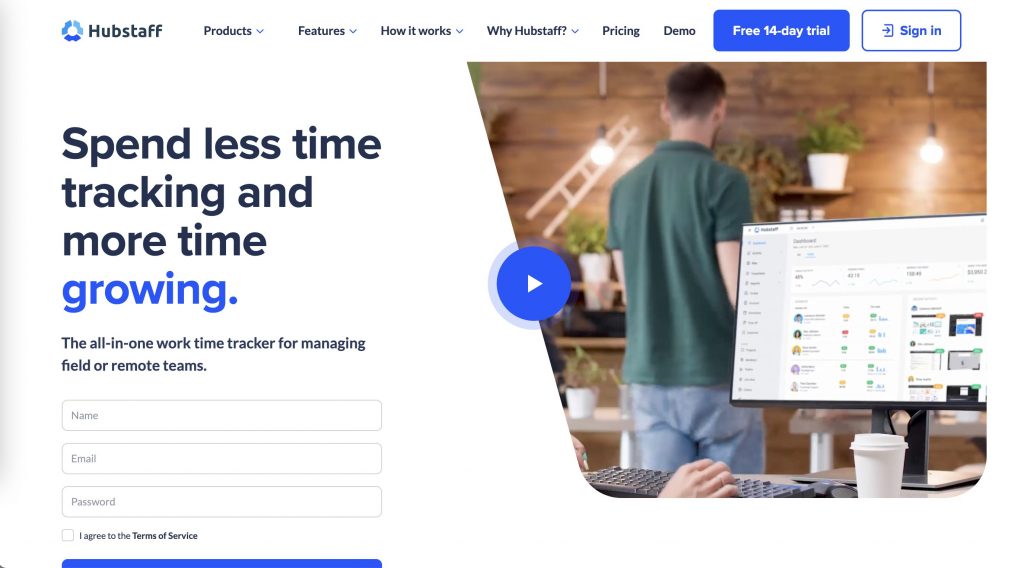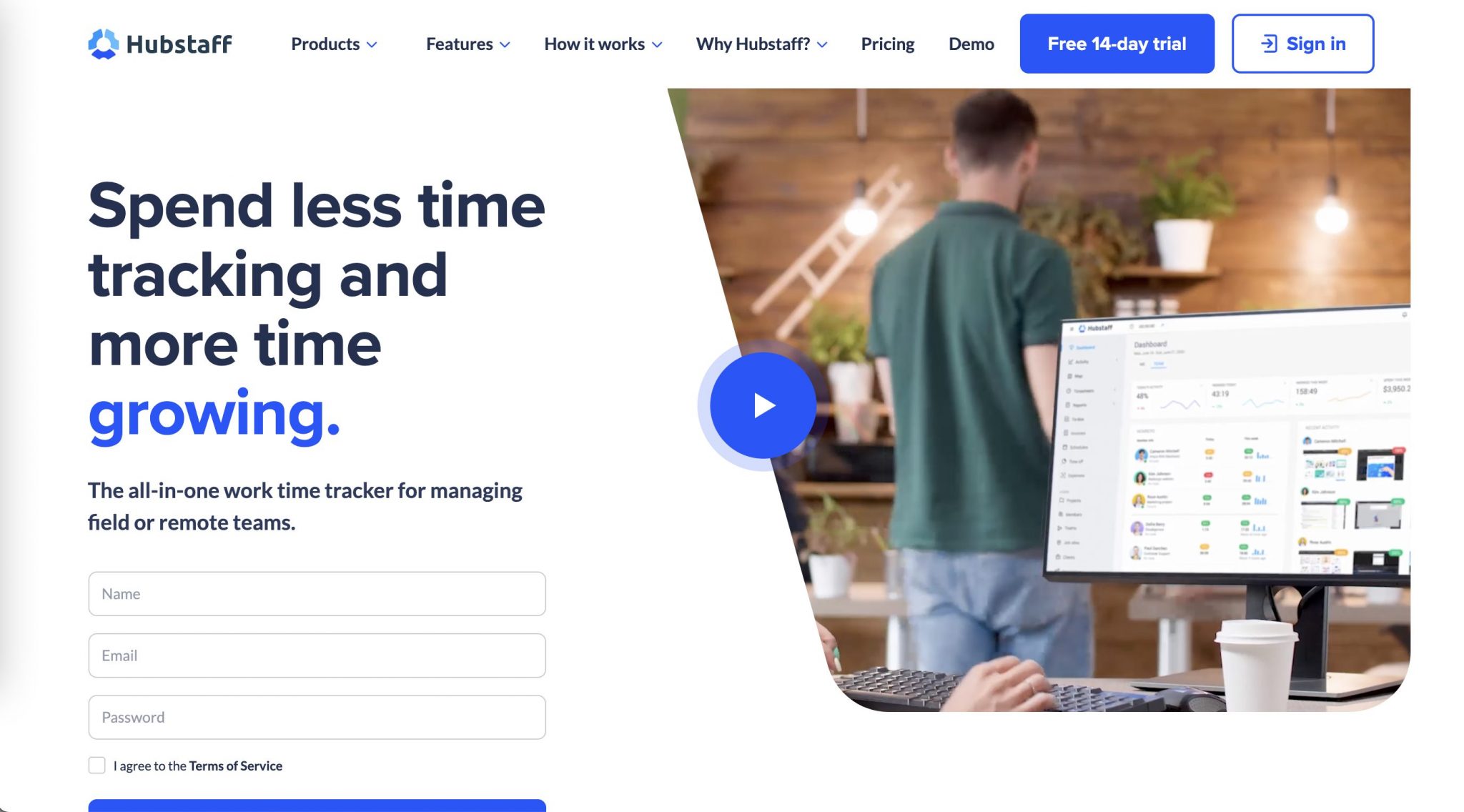 Hubstaff is an all-in-one time tracker you can use to manage remote teams. The idea behind it is that if everyone can see how their coworkers are spending their time, the entire team's focus will improve. Hubstaff is a bit different from the other project management software tools on our list in that it's a time tracker at its core, not a strict project management tool. However, the platform's productivity monitoring and scheduling tools make it a great addition to your project management system. Plus, you can run reports that will let you know if a certain project or client is cutting into your profit margin.
Pricing:
Hubstaff offers a free plan. Paid plans start at $5.83 per user per month with a minimum of two users.
---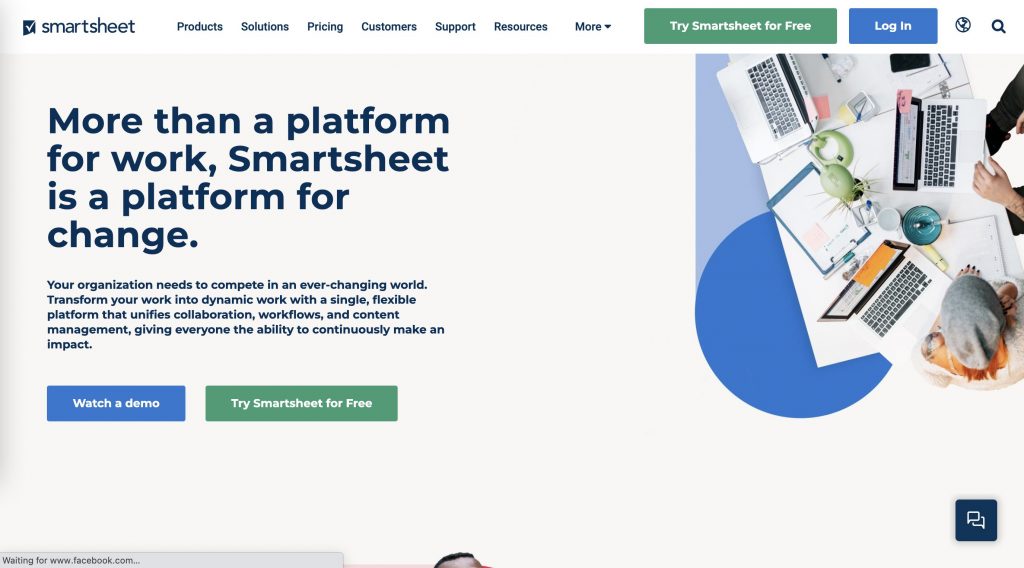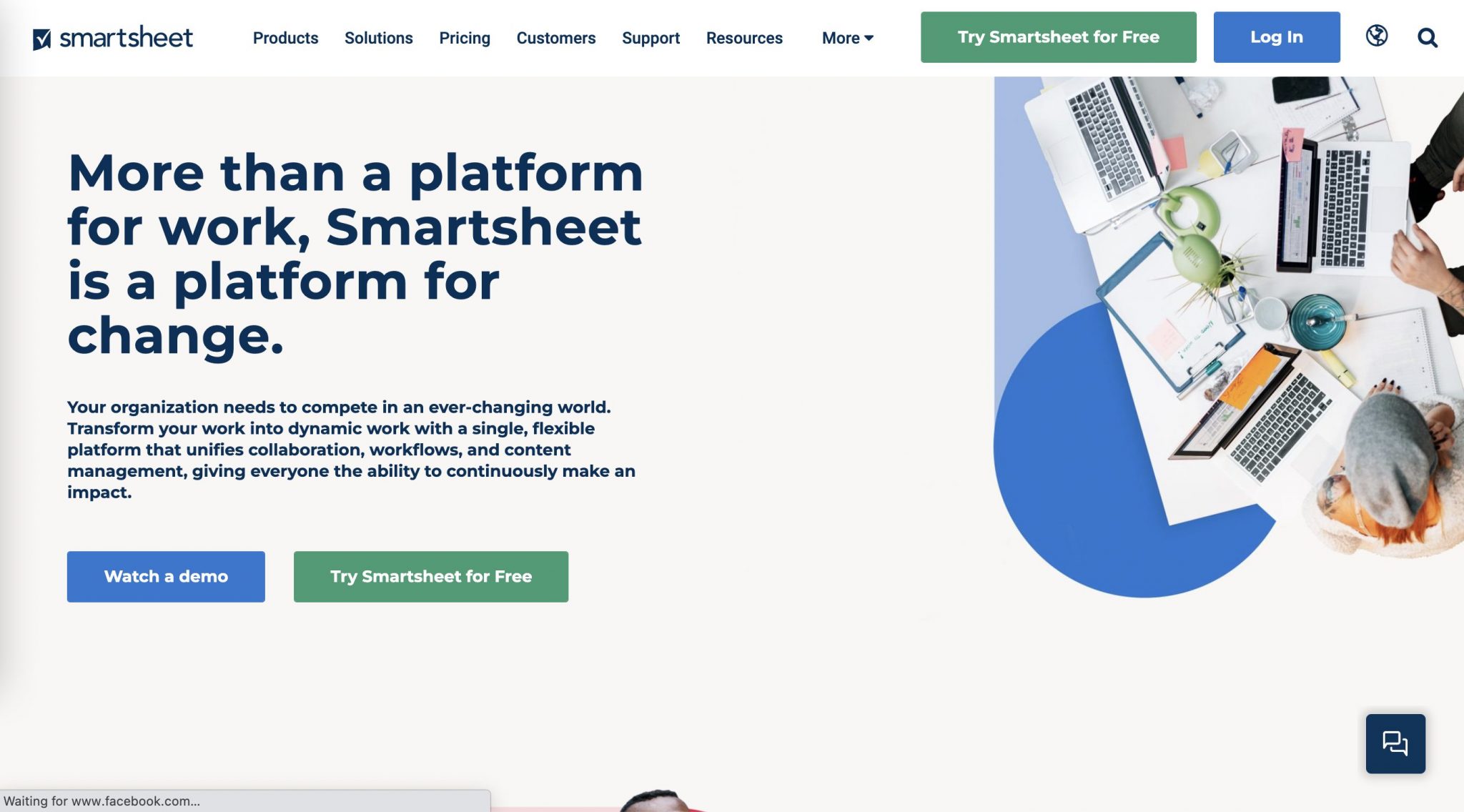 Smartsheet brings together collaboration, workflows, and content so you can work as an agile team. It gives you everything you need to plan, manage, automate, and report on the work your team is doing so you can get more done in less time. The platform also integrates with the tools and apps you're already using so you can build a powerful project management system. With project plans and schedules, task tracking, reporting, resource management, budget tracking, and even strategic planning tools, Smartsheet has everything you need from a project management software.
Pricing:
Smartsheet pricing starts at $14 per month.
---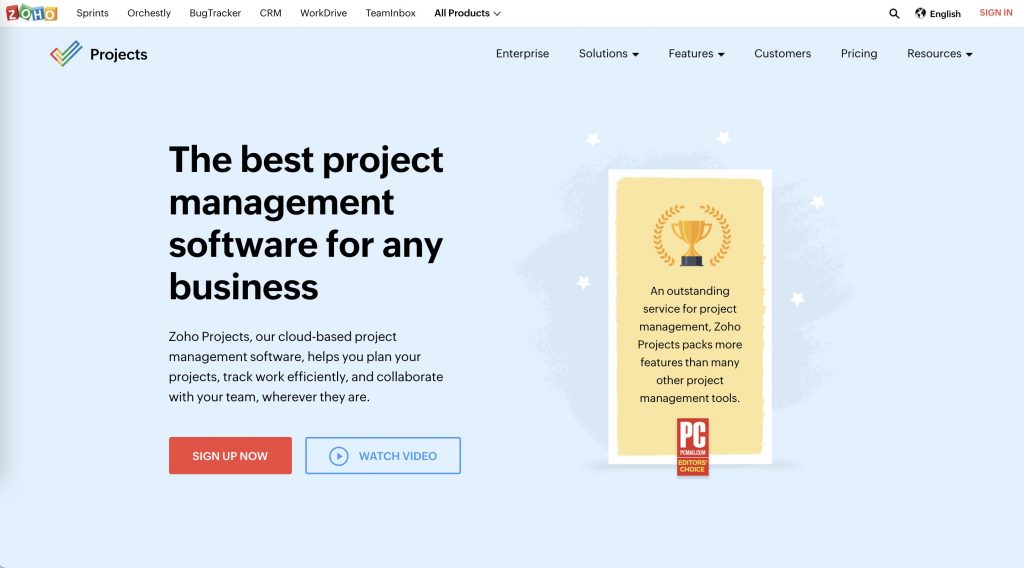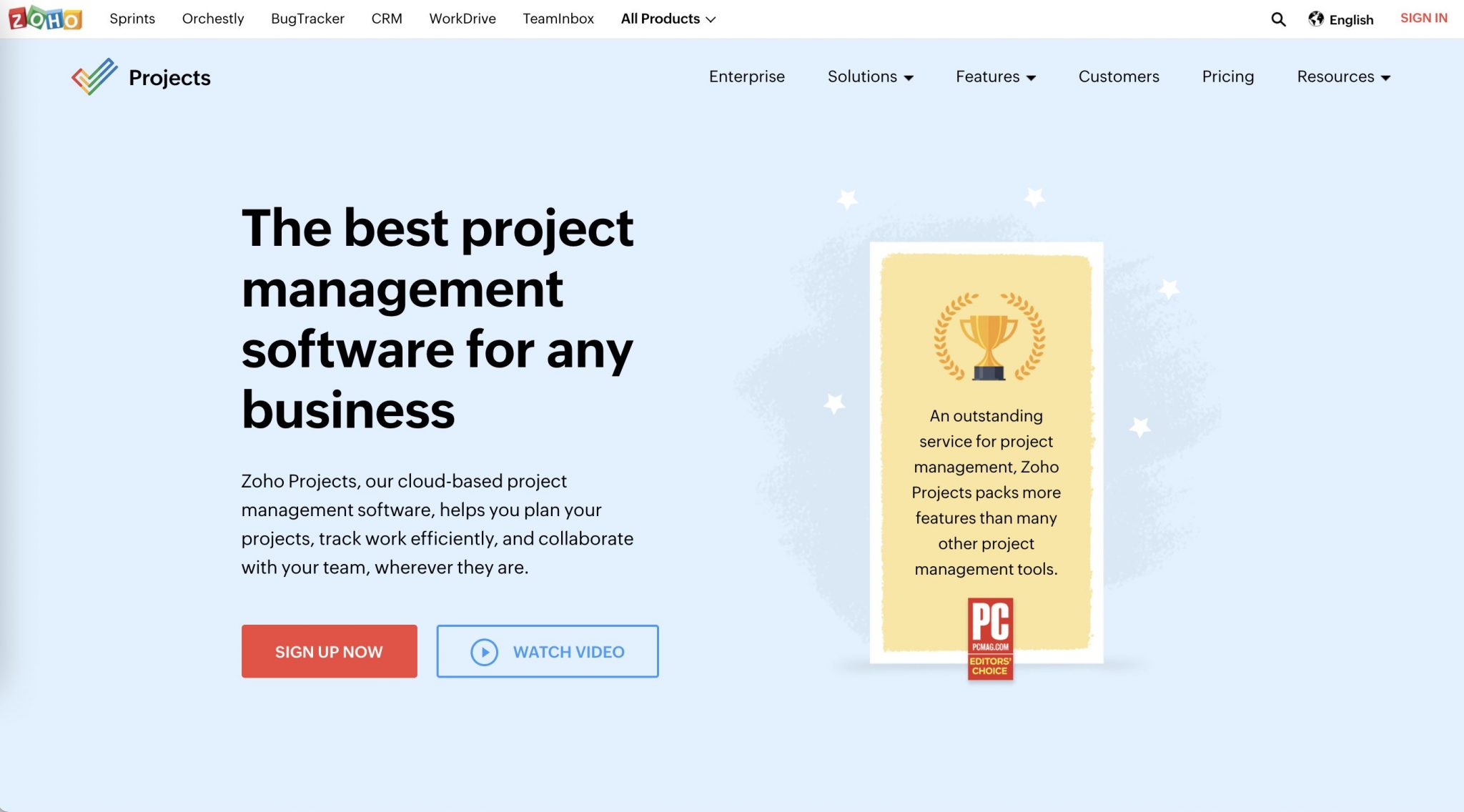 Zoho Projects offers an easy-to-use interface and integrations with Zoho apps and other third-party apps to develop a project management system that works for your team. The platform helps users save time on routine tasks through workflows and automations and even includes timesheet functionality so you can track billable and non-billable hours spent on each project. Zoho Projects is fully customizable, allowing for personalized fields, layouts, project statuses, and workflows.
Pricing:
Zoho Projects is free for up to three users. Paid plans start at $4 per user per month for up to 50 users.
---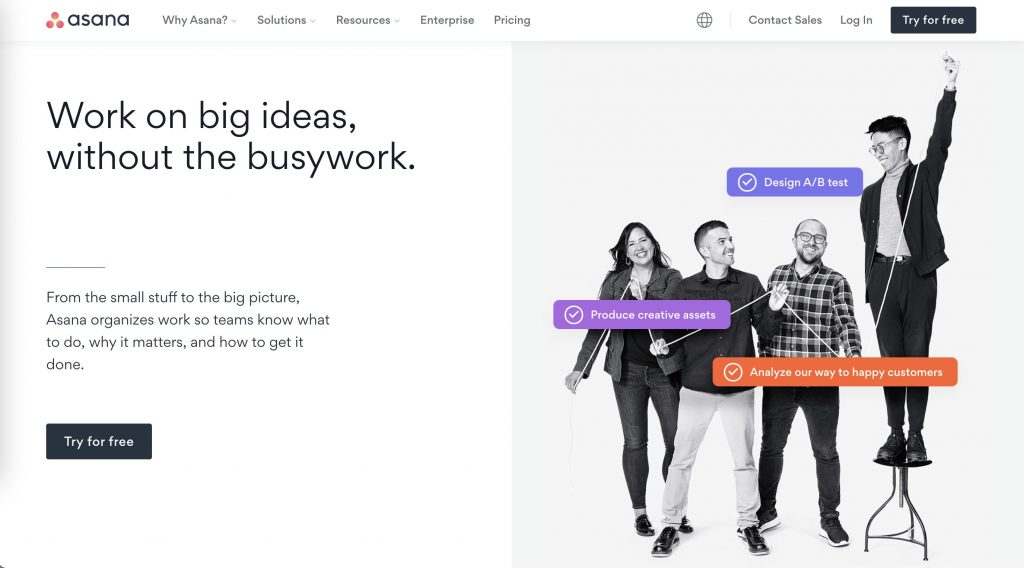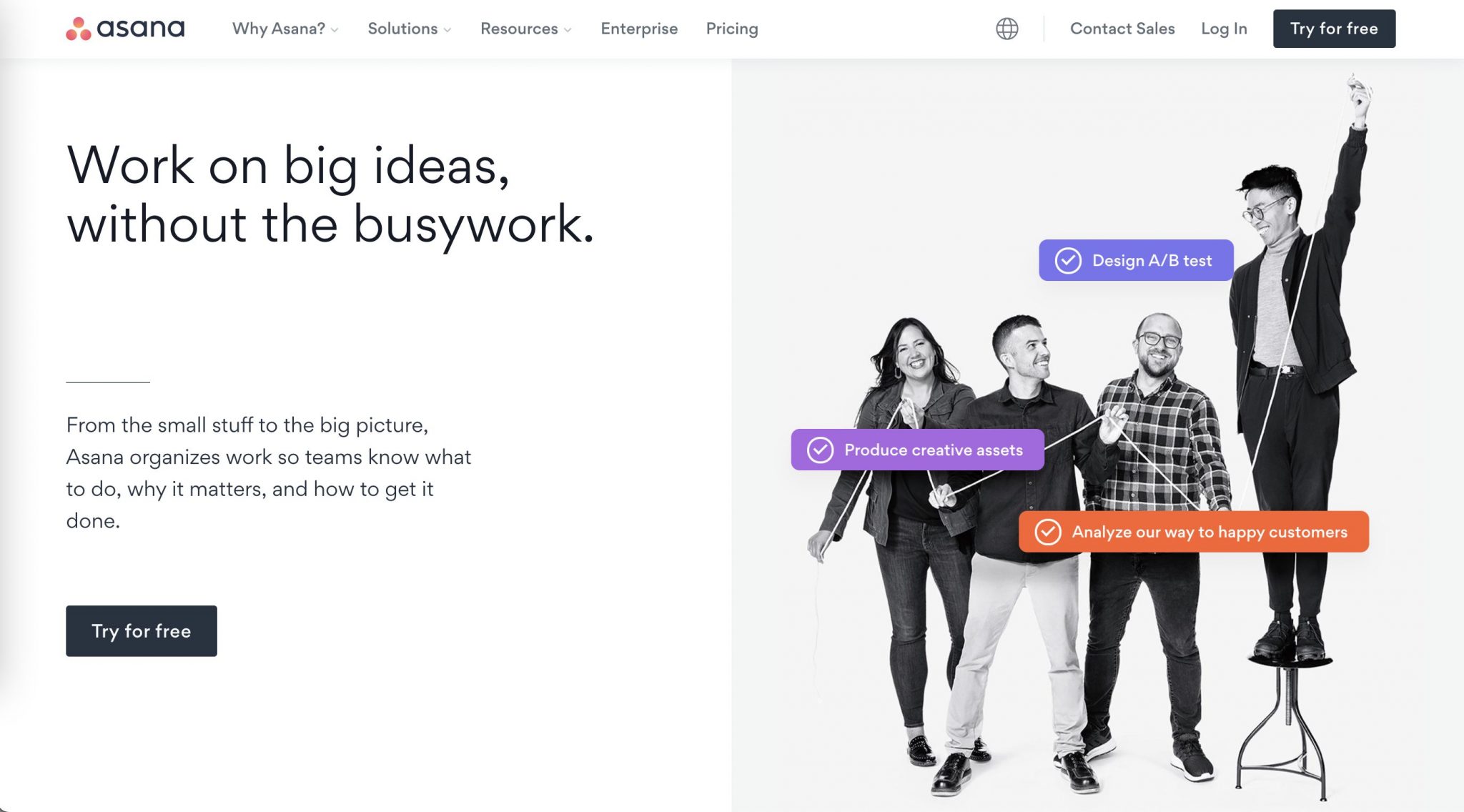 Asana is another popular and well-loved project management software. The platform lets you choose from different project views like lists, timelines, and boards. Asana gives teams space to share key resources, set goals, and do whatever they need to keep their team organized and on task. Asana's rules feature can help you automate tasks like assigning work, setting dues, and other repetitive tasks, minimizing the risk for errors. The platform even has a Forms feature so users can submit work requests, making it easy for every to get the information they need to tackle the project. Asana also has more than 50 project templates that you can tweak to work for your team without having to build everything from the ground up.
Pricing:
Asana has a basic free plan. Paid plans start at $10.99 per user per month.
---
Wrapping Up
All the processes in the world aren't going to help you if you don't have the right tools to manage them. Any project management software on our list will give you everything you need to stay on top of your projects, manage your time and resources effectively, and get your work done on time.