Advertising Disclosure
Advertising disclosure:
Our partners compensate us. This may influence which products or services we review (also where and how those products appear on the site), this in no way affects our recommendations or the advice we offer. Our reviews are based on years of experience and countless hours of research. Our partners cannot pay us to guarantee favorable reviews of their products or services.
Blockchain technology has the potential to revolutionize many industries. As a result, blockchain payment gateways have emerged as a way for businesses to manage and process payments. Using these solutions can help facilitate peer-to-peer payments, reduce transaction costs, speed up payment processing, and improve security.
To help you decide which is best for your business, we'll discuss the top 12 blockchain payment gateway solutions in 2022 and their key features. We will also share other useful information you can find helpful as you continue your research.
---
Top Blockchain Payment Gateway Solutions:
---
What is blockchain technology?
Blockchain technology is a distributed database secured by cryptography. Several industries, including finance and healthcare, can benefit from integrating it into business. Using it for decentralized exchanges and smart contracts will make transactions more efficient and secure.
You can manage your cryptocurrency via software known as a wallet. Each user has a unique 'address' composed of a private key and a public key. Like an email address, your public key can be used to send money. To spend your money, you digitally 'sign' transactions with your private key, which is your password.
---
What is a blockchain payment gateway platform?
A blockchain payment gateway platform is a service that allows businesses to accept payments in cryptocurrencies. This form of online payment system provides secure and transparent transactions. Moreover, blockchain payment gateways are immutable, so transactions cannot be reversed or canceled. A blockchain payments system can utilize an existing financial system or be built from scratch.
---
Is blockchain different from cryptocurrencies?
A lot of people use cryptocurrencies and blockchain synonymously, but in fact, they are not the same. Cryptocurrencies are decentralized digital assets that can be used to purchase goods and services or traded for other assets. Simply put, they are the cash equivalent of the internet. On the other hand, the blockchain is the infrastructure on which cryptocurrencies are built. It is a distributed database that allows for secure, transparent, and tamper-proof transactions.
---
Top Blockchain Payment Gateway Platforms
Find out more about the top blockchain payment gateway platforms and their features below!
---
---
---
---
---
---
---
---
---
---
---
---
---
What to consider when choosing a blockchain payment gateway
With many companies that have adopted blockchain technology as one of their payment gateways, there are things you should consider when choosing one that best suits your business.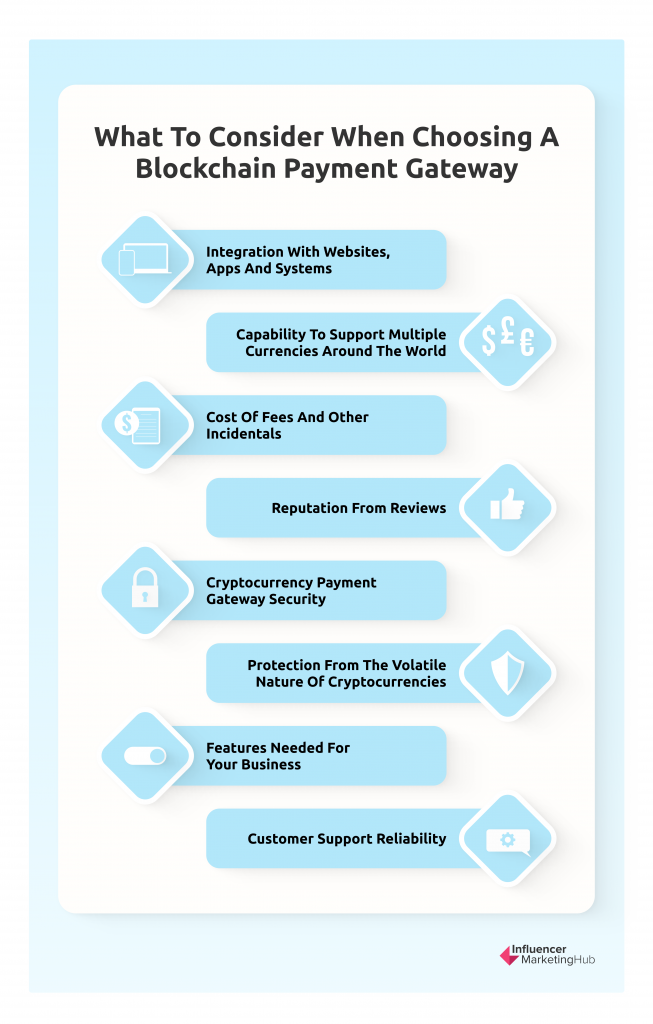 1) Integration with Websites, Apps and Systems
When it comes to blockchain payment gateway platforms, consider choosing one that is easy to integrate with your website and the apps and systems that you already use for your business. This way, you won't have to worry about the difficult and time-consuming technical details of implementation. Moreover, this will ensure that transactions are processed quickly and smoothly, without any disruption in your operations.
---
2) Capability to Support Multiple Currencies Around the World
Nowadays, a lot of blockchain payment gateways accept cryptocurrency and fiat currency. If you choose one that supports a more comprehensive list of currencies, especially for conversion, it gives you the convenience and flexibility to accept and receive payments from a wider range of customers. This can help you tap into new markets and broaden your customer base in other countries.
---
3) Cost of Fees and Other Incidentals
Transaction fees, network fees, merchant fees, and base fees can all add up quickly when using crypto payments gateways. For this reason, it is important to be mindful of the budget for both you and your customer. While you do not want to spend too much on these, you also do not want your customers to be burdened with potentially high fees they will need to shoulder.
Platforms with lower transaction fees may make up for it in the other fees, so it is important to choose a platform that fits your budget and get the best possible value for your money.
---
4) Reputation from Reviews
When choosing a payment gateway, it is important to look for a company with a good reputation. A reputable blockchain software company that has a growing active user database is typically indicative of having a good track record, especially when it comes to compliance with all the relevant local and international regulations. Additionally, you could take a look at the reviews that are available online. The opinions and ratings of past and existing users will help you get a better sense of which platform is right for your business.
---
5) Cryptocurrency Payment Gateway Security
Security is a top priority for any business. The decentralized nature of blockchain technology allows for the network to be more secure because there is no central point of control. The best blockchain gateway software solutions are designed to help you integrate your business processes with blockchain technology. This is done by providing a high level of security and confidentiality, both for you as a business owner as well as your customers. When choosing one, see if they offer end-to-end encryption so that all data is encrypted at the point of entry and decrypted only by the person or device for whom it was intended.
---
6) Protection from the Volatile Nature of Cryptocurrencies
The volatile nature of cryptocurrencies is one of the biggest reasons why many businesses are hesitant to adopt them. However, there are blockchain payment gateway software solutions that allow you to accept payments in cryptocurrency while protecting you from the volatility of their prices. When choosing a payment gateway, check if their software has payment protection and instant transactions. These will allow you to accept cryptocurrency payments without worrying about price volatility.
---
7) Features Needed for Your Business
There are a few key features to look for across all options when choosing a blockchain payment gateway solution for your business. Invoicing is important because this function allows you to capture and track expenses and billing information, which can be helpful in managing your business' finances. Additionally, mass payouts and recurring payments are convenient features that save you a lot of time when logging and monitoring transactions. Accounting functions and reporting analytics also help you keep track of the financial data and income trends of your business. These features not only make your life easier but can also help you increase profits.
---
8) Customer Support Reliability
Making use of reliable payment gateway software alone is not enough. When choosing one, take a look at their customer support and how well they can address your concerns. A reliable company will have a customer support team that can quickly and efficiently address your questions and solve any problems you might be facing.
The best way to find out if a gateway software is the right one for your business is to get a demo and try it out. The demo will show you how easy it is to use, what features are available, and whether or not it can handle the volume of transactions you expect to see.
---
Use a blockchain payment gateway solution to grow your business
Blockchain technology is one of the most exciting innovations to hit the business world in a long time. It has the potential to revolutionize a variety of industries and is currently being used by a number of businesses to streamline their operations at a rapid pace.
As a result, blockchain payment gateway software solutions have emerged as a way for businesses to manage and process payments. Using any one on the list above can make a big difference in your business' ability to process payments and scale as you grow.
Frequently Asked Questions
Which payment gateway is best for cryptocurrency?
Top Blockchain Payment Gateway Solutions:
Paystand

BitPay Wallet

ALFAcoins

GoURL

SpicePay

Veem

Coingate

Aliant Payments

Coinbase

NOWPayments
What is blockchain gateway?
Blockchain payment gateways have emerged as a way for businesses to manage and process payments. Using these solutions can help facilitate peer-to-peer payments, reduce transaction costs, speed up payment processing, and improve security.
How does a blockchain payment work?
Blockchain technology helps facilitate fast, secure and low-cost international payment processing services, in addition to other transactions. The blockchain technology uses encrypted distributed ledgers that provide trusted real-time verification of transactions. There's no need for intermediaries, like banks.
How do I accept payments on blockchain?
To accept cryptocurrency payments, follow these easy steps:
Have the merchant sent a QR code

The customer will scan the QR code

Customer will enter their private key

Transaction will appear on blockchain

All computers on the blockchain will validate the transaction