When it comes to converting digital assets such as cryptocurrencies into fiat, you have to take many factors into consideration so that you can choose the best crypto exchange platform for your purpose. It's easy to find exchanges that will accept your fiat currency to turn into crypto, but changing your funds back into fiat currency and then withdrawing your funds comes with its own set of hassles.
There are different reasons why you might want to exchange your cryptocurrency for fiat currency. You may want to profit from favorable market conditions. Or since fiat currency remains the most widely used type of payment method worldwide, you may want to use yours to pay bills and other transactions.
---
Top 7 Cryptocurrency Converter Tools:
---
Cryptocurrency vs. Fiat Currency
First, it's important to distinguish between crypto and fiat before we go on to our list of top converter tools. It will be to your advantage to educate yourself about crypto and other currency types.
Cryptocurrencies are digital money that serve as a medium of exchange. With crypto, you can make direct transactions with another individual without having to go through an intermediary.
Meanwhile, fiat currency is declared as legal tender by the government, which makes it valuable. By itself, it has no intrinsic value, unlike commodity money, which gets value from its own worth. Examples are gold and silver.
Are fiat and crypto similar? Well, yes and no. Crypto is considered as money given that it serves as a medium of exchange and it stores value. But crypto as an alternative payment method has features that make it different from traditional money, the foremost being that it's decentralized.
---
What To Consider When Choosing the Best Crypto to Fiat Converter
You have to find an exchange platform that you can fully trust, and make sure that it comes with reasonable fees and withdrawal limits. You will need a platform with a streamlined process, essentially making it easier for you to cash out your crypto profits.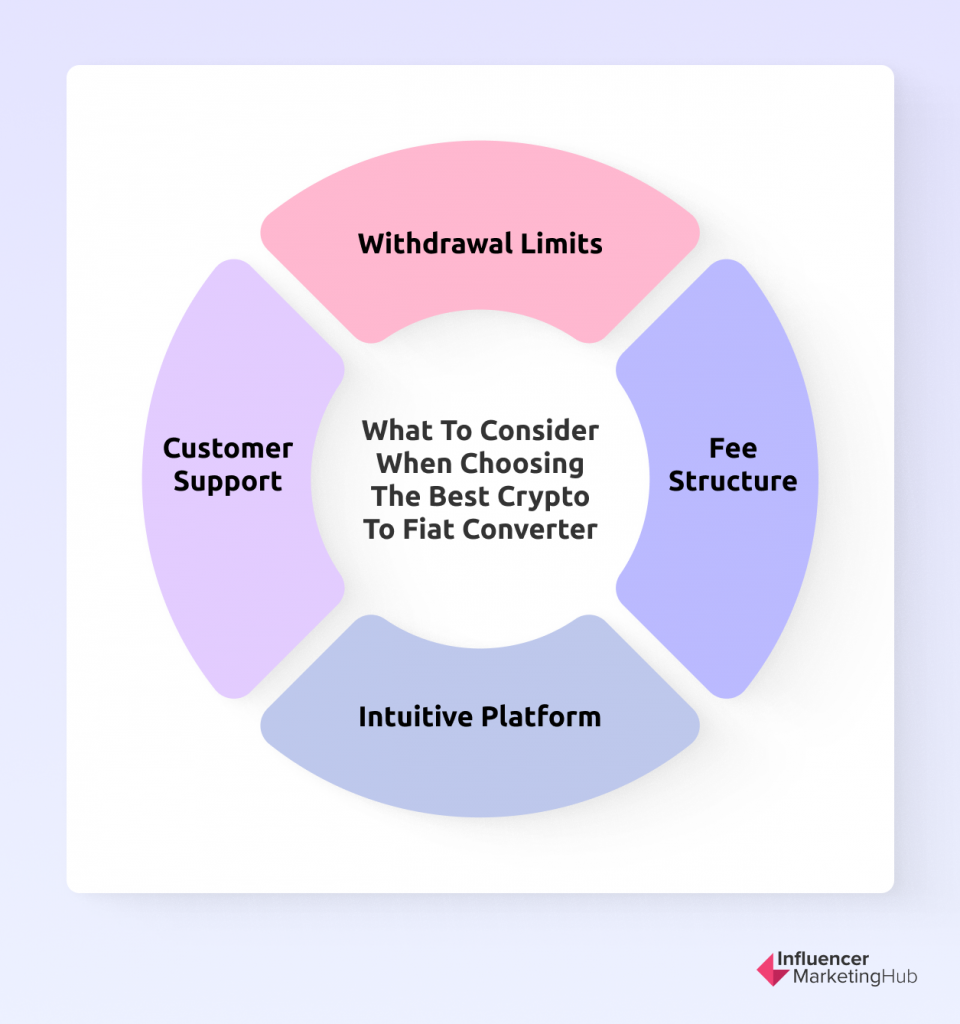 Crypto exchanges usually impose a daily limit on the amount that you can withdraw. This ensures the security of your funds. You should choose a platform with multiple options for withdrawing your funds as well as minimal fees. Ideally, the withdrawal fee should be at a flat rate, no matter how much you are planning to take out.
Exchanges earn by commission, and they get it from various fee types such as those from deposit, trading, and withdrawal fees. Choose exchanges with a straightforward fee structure, one without hidden transaction fees.
Complicated user interface should be a thing of the past as well as terrible transaction speed. If a platform comes with a non-friendly interface, traders are then more likely to look for other exchange platforms.
Good customer care is also important. If you ever encounter any issue with the platform, being able to contact a customer representative is essential.
---
How to Convert Crypto into Fiat Currency
This may depend on the type of cryptocurrency that you have, but the usual methods for converting it into fiat are through exchanges, debit cards, peer-to-peer exchanges, and ATMs. But since we're focusing on exchanges, here's the process of converting using this method.
Using cryptocurrency exchanges is how most people convert their cryptocurrencies into fiat currency. The process is not unlike when you utilize a money changer or remitter. The exchange will convert your crypto into your local currency. The drawback of this method is the delay in cashing out your fiat money. In some cases, it can take up to five business days before the process is completed.
The exchange will use a crypto converter built into its system. It will show the amount of fiat currency that you can receive with the amount of crypto that you have. Most exchanges nowadays have intuitive interfaces designed to make the conversion easier.
---
7 Best Exchanges for Converting Your Crypto
Aside from fee structure, withdrawal limits, and ease of use and support, you should also take into account additional factors, such as the exchange's supported crypto coins and level of security. You can also listen to crypto experts and pick their minds regarding the subject. With that in mind, here are some of your options for converting crypto into fiat currency.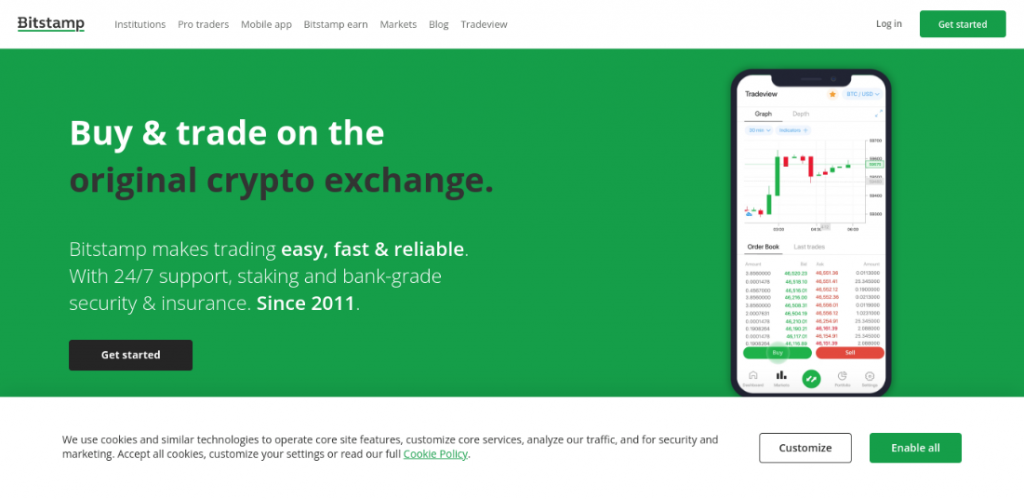 Bitstamp has become a favorite crypto converter tool of many because it has no limit when it comes to withdrawal amounts. This makes it a great option for you if you tend to withdraw large sums of cash.
There's a 0.1% fee for international withdrawals, but the minimum fee must be $25. This is worth paying if you're going to withdraw large amounts. Of course, there are other exchanges with lower fees, but those who would rather go for reputation and trustworthiness won't have to look elsewhere.
You can withdraw fiat currencies in USD, CHF, EUR, AUD, GBP, CAD, and JPY. Bitstamp supports cryptocurrencies, including Bitcoin, XRP, Litecoin, Stellar Lumens, SAND, and more.
Pros:
Various methods for deposits and withdrawals
Cons:
Supported currencies' list could be expanded
---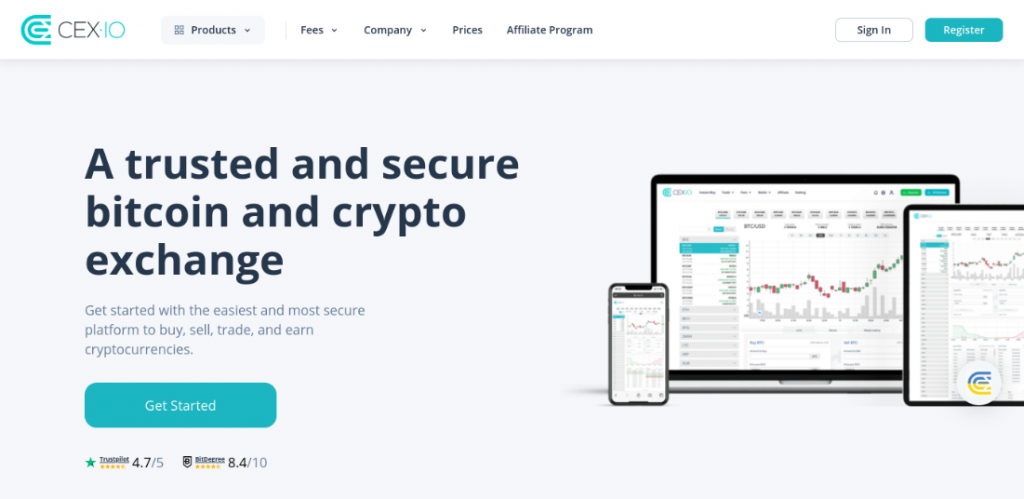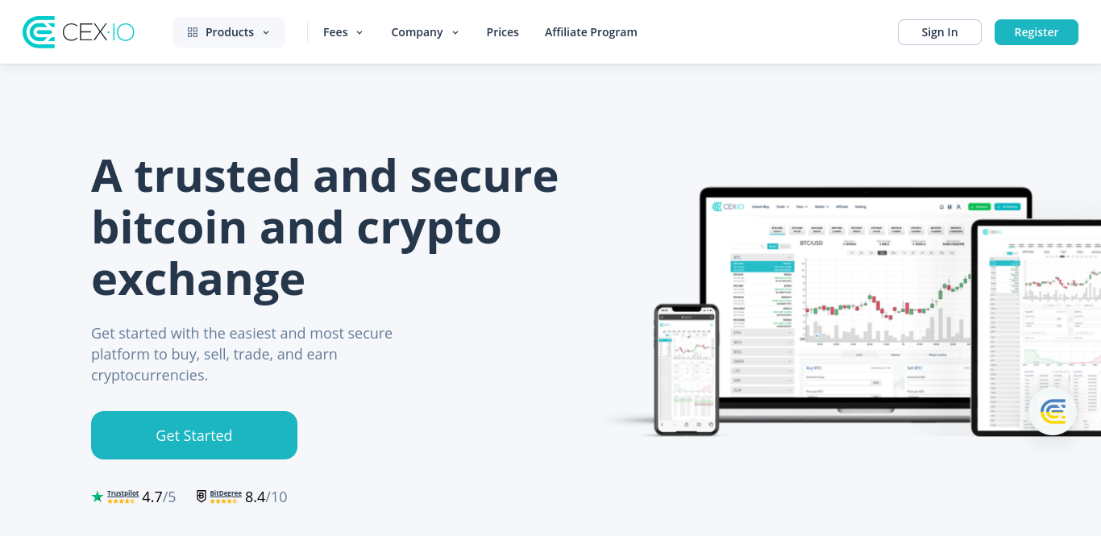 CEX touts itself as a secure and trusted platform for crypto trading, buying, selling, and more. You can use various methods for withdrawing, such as Visa, Mastercard, PayPal, Sepa, and ACH. With some payment methods, such as S.W.I.F.T. and Sepa, you can withdraw unlimited funds. Service charge fees for withdrawing your crypto coins vary per payment method. For instance, Visa card withdrawals entail a service charge fee of up to 3% + $1.20.
An advantage of using CEX is that it supports a wide range of cryptocurrencies. Meanwhile, you can withdraw fiat currencies in: USD, EUR, GBP, and RUB. Not all exchanges support RUB, so if you plan to withdraw in RUB, CEX may be your best option. Overall, the process of withdrawing your funds through the CEX platform is relatively easy and quick.
Pros:
Reliable security measures

Licensed not just in the US but also other parts of the world

Allows users to earn crypto via crypto staking
Cons:
Not the most beginner-friendly for first-time users

Needs further verification to increase users' withdrawal and deposit limits
---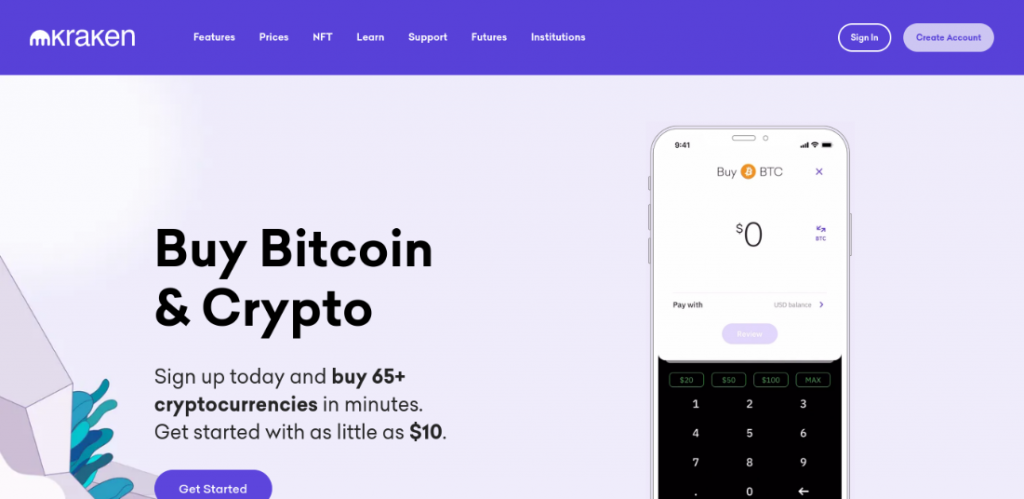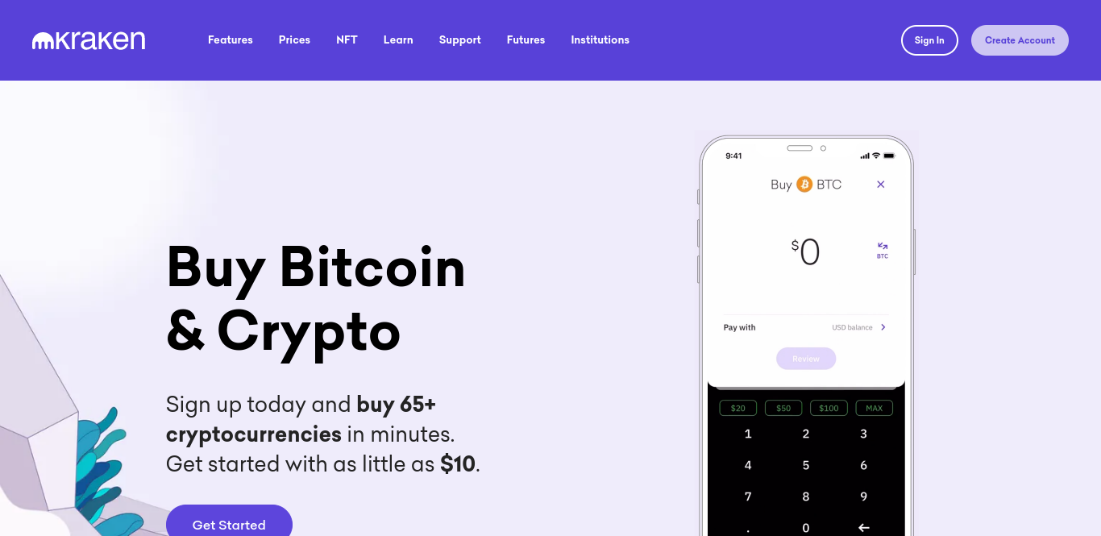 Kraken is also a preferred exchange for converting your crypto into fiat because of its high withdrawal limits. How much you can withdraw will depend on your verification level. There are four verification levels: starter, express, intermediate, and pro. To increase your deposit and withdrawal limits, you'll need to submit different requirements and documents.
Submitting your email, full name, birthday, contact number, and address will grant you the starter level. Adding your social security number and information about your job lets you upgrade your level from starter to express. Meanwhile, giving a valid ID and proof of residence as well as submitting a photo of your face means you're at the intermediate level. Lastly, customers who want to be verified at the Pro level need to fill out a KYC questionnaire and enable two-factor authentication.
At the Express level, users are given a daily and monthly withdrawal limit of $9,000. Intermediate users can withdraw $100,000 daily and $500,000 monthly. Meanwhile, Pro customers can withdraw $10,000,000+ daily and $100,000,000+ monthly.
Kraken supports a wide number of altcoins, which gives it an edge compared to other major exchanges. You can withdraw fiat currencies in: USD, EUR, GBP, CAD, CHF, AUD, and JPY. The processing time depends on the method you choose, ranging from instant withdrawal to five days. Withdrawal fees also vary.
Pros:
Wide selection of supported cryptocurrencies (100+)

Operates in 190+ countries

Great for advanced traders
Cons:
Slow, extensive verification

Relatively high withdrawal minimums
---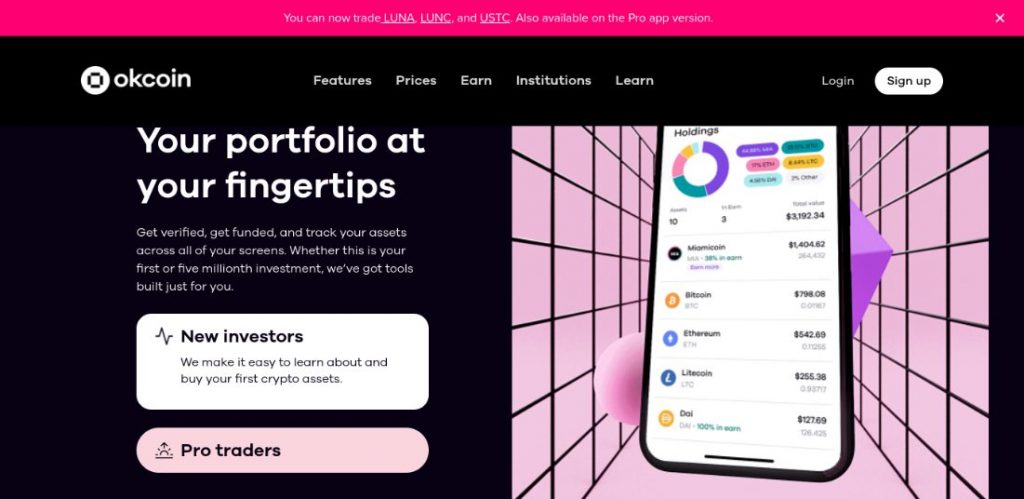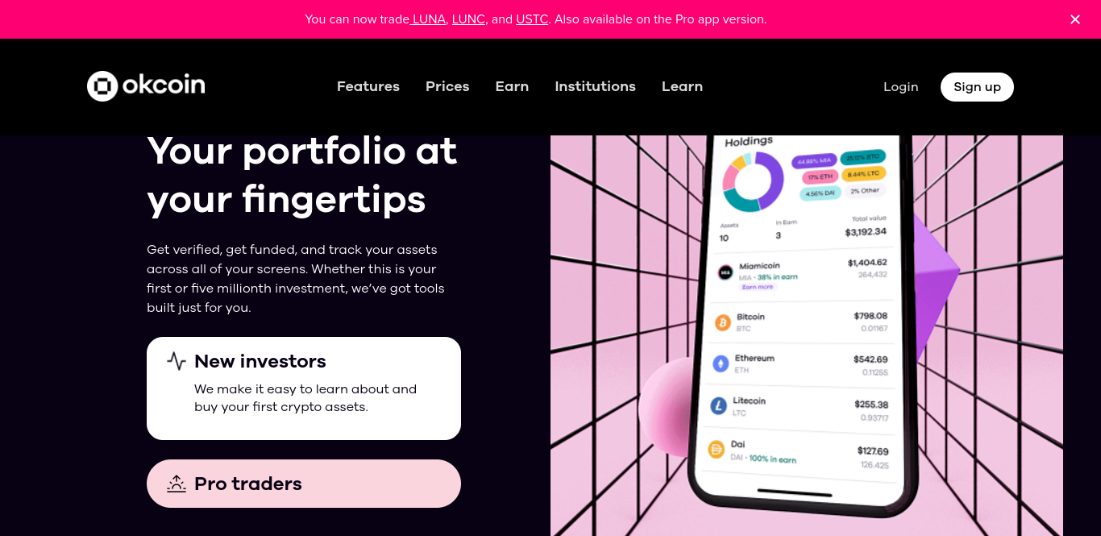 Okcoin has been operating since 2013 and has been expanding mostly in North and South America. It first launched in China, but given the country's ban on crypto, it decided to expand in other places instead.
What gives Okcoin an edge is that it allows users to trade, deposit, and withdraw in currencies that are not supported by other exchanges. The fiat currencies it supports are USD, EUR, SGD, and BRL. If you're converting your crypto into US dollars via ACH, there's no withdrawal fee, and the minimum should be $10. The transaction speed ranges from one to five business days depending on the payment channel you've chosen.
Pros:
App is geared toward new investors and pro traders alike
Cons:
Limited languages supported
---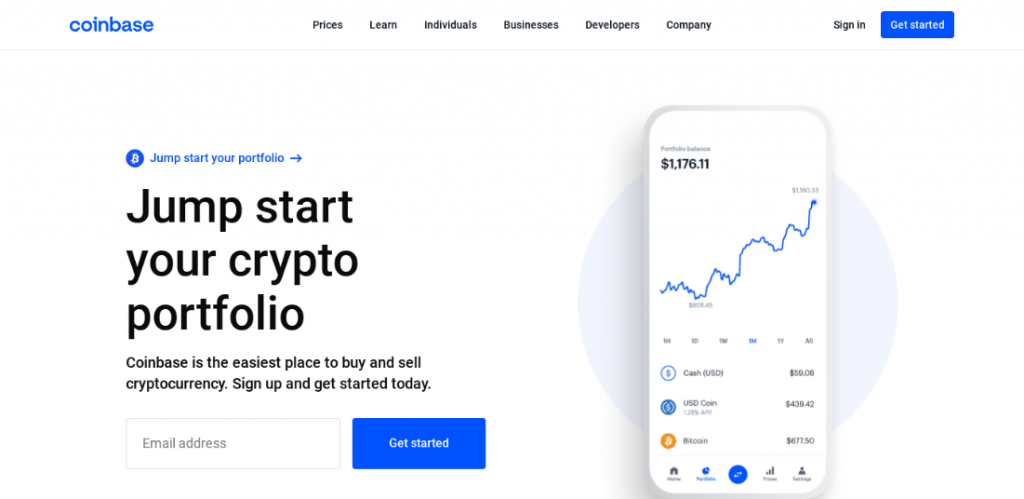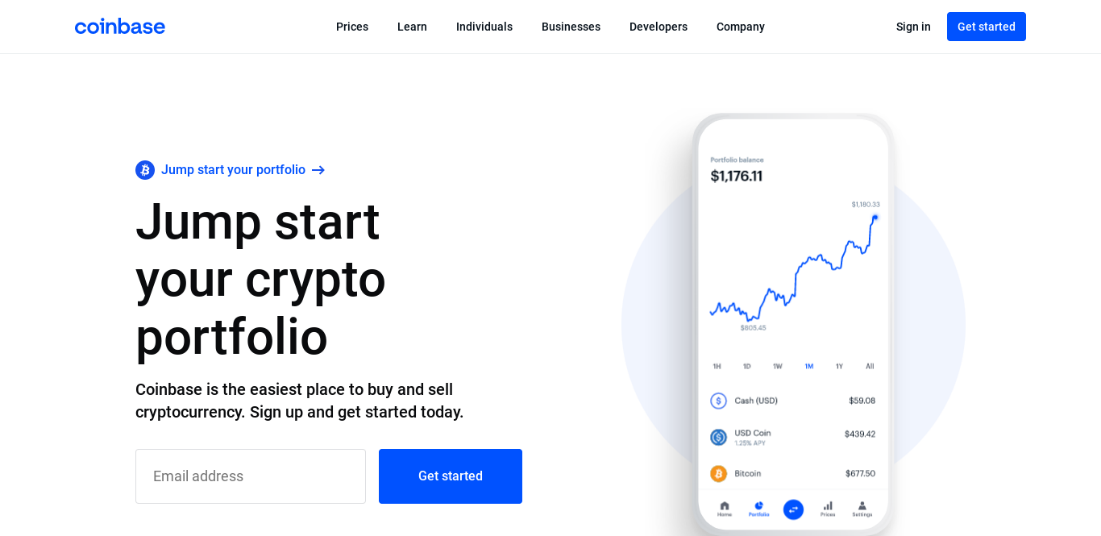 Coinbase is usually recommended for beginners in the trade who need fiat to crypto conversions. However, it does maintain relatively steep fees for cashing out from crypto to fiat. Crypto conversion fees range from 0.50% to 2%.
Coinbase supports fiat currencies such as USD, EUR, and GBP. Each time you withdraw, you would have to pay a network fee of 1%.
Coinbase has a stringent verification process. In order to sign up for Coinbase Pro (which has a withdrawal limit of $50,000 per day), you need to submit at least two government-issued documents to confirm your identity. Not all people would be willing to comply with this. However, Coinbase is still a viable option for cashing out your crypto funds, given its stellar reputation and its simple but effective interface.
Pros:
Vault protection feature for added security
Also available in iOS and Android
Maintains crypto insurance
Cons:
---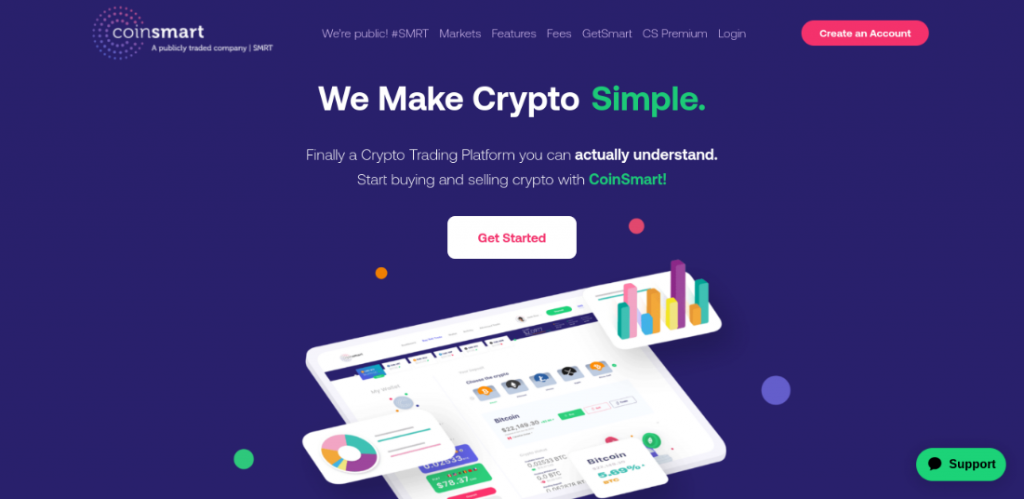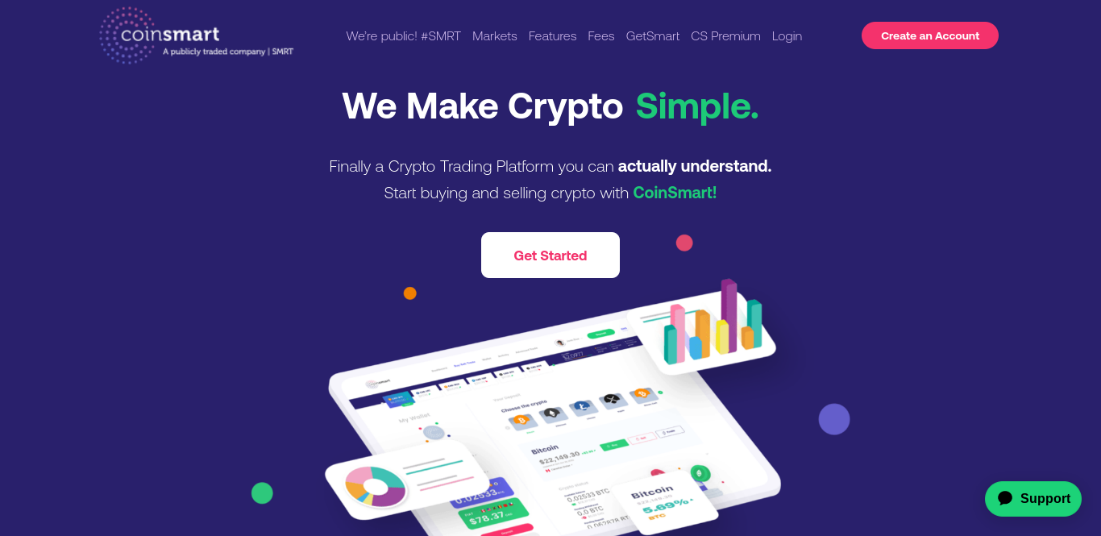 CoinSmart is considered ideal for crypto to fiat conversions, most especially Bitcoin to fiat for withdrawing via bank account. With CoinSmart, you are guaranteed a same-day deposit.
As of writing, the platform supports 16 cryptocurrencies, including Bitcoin, Ethereum, Litecoin, USDC, Stellar Lumens, Cardano, and Solana. It supports fiat currencies like USD, EUR, and CAD. For bank wire or electronic funds transfer, there's a 1% fee ($15 minimum). For electronic funds transfer, you can withdraw a minimum of $50 and a maximum of $15,000. For bank wires, there's a minimum limit of $10,000 and maximum of $5,000,000. The processing speed can take one to five days.
Pros:
Relatively low trading fees
Cons:
Limited supported fiat currencies
---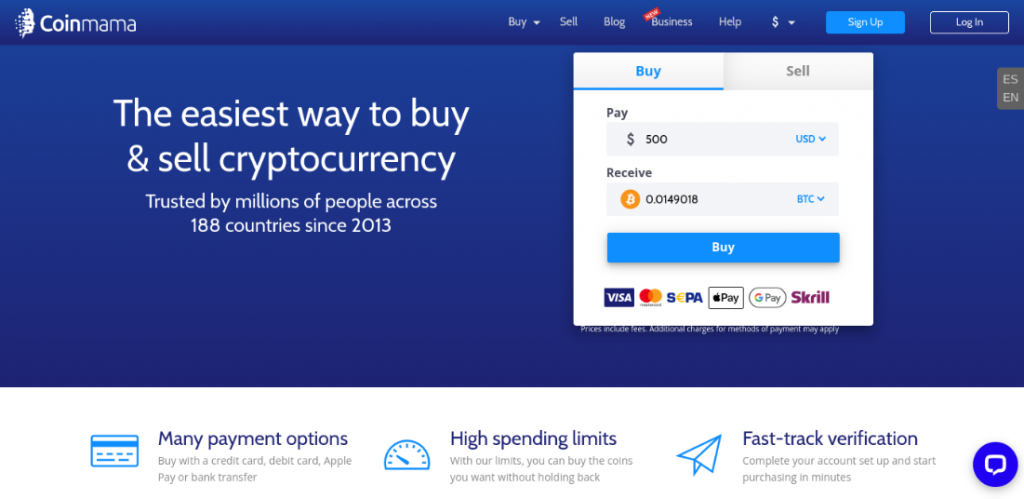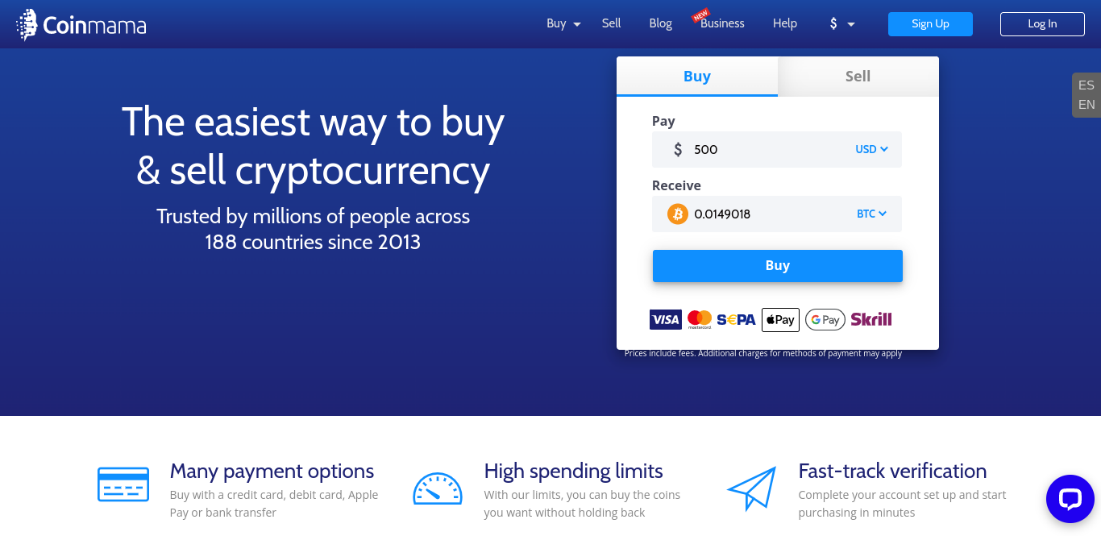 Coinmama is suitable for both crypto to fiat and fiat to crypto conversions. However, it only supports Bitcoin cash-outs. You will need to convert your other crypto into Bitcoin first, so you can cash out the former.
Coinmama supports 10 cryptocurrencies, including Bitcoin, Ethereum, Ripple, Cardano, EOS, and Litecoin. An advantage of using Coinmama is that it doesn't charge additional fees for deposit or withdrawals.
Pros:
Streamlined verification process
No additional withdrawal fees
Cons:
No built-in crypto wallet
---
How About the Best Peer-to-Peer Exchanges?
Another way to exchange your cryptocurrency for fiat money is to use peer-to-peer exchanges. These platforms offer several options for cashing out. There are several benefits to choosing peer-to-peer exchanges for your crypto needs. For instance, you gain access to buyers and sellers from all over the globe. P2P exchanges also provide anonymity if you prefer it. Here are some examples of peer-to-peer exchanges.
LocalBitcoins has been operating since 2012 and has since become a popular service for peer-to-peer buying and selling of Bitcoin. It facilitates Bitcoin exchange in most places around the globe. There are no fees for registering, purchasing, and selling Bitcoin. It instead charges a 1% fee for users who create an ad and then completes a trade.
LocalCryptos works similarly to LocalBitcoins in the sense that users get different options for withdrawing their funds and they can do so anonymously. This P2P marketplace offers more than 40 payment methods and is powered by smart contracts.
LocalCoinSwap is great for beginners in the world of crypto, offering an intuitive platform with straightforward and well-structured processes. It supports more than 190 local currencies and over 300 payment methods.