Developed by Satoshi Nakamoto in 2009, Bitcoin is the world's first and largest cryptocurrency. It has increased in value from $0.30 to $16,811 today, with its highest recorded value being $69,000 in November 2021. Only 21 million bitcoins exist, and currently, there are 19 million bitcoins in circulation.
As exciting as Bitcoin may sound, it is a very risky investment. Its value is highly speculative and extremely volatile. So before investing in or acquiring bitcoins, make sure to learn as much as you can about it and understand the risks involved.
---
10 Easy Ways to Get Bitcoins in 2024:
---
Where to Get Bitcoins
There are two main ways to get bitcoin: buy them or earn them.
When buying bitcoins, you exchange real-world money (called fiat currency) for cryptocurrency. To do so, you can purchase bitcoins via these channels:
Cryptocurrency Exchanges

Investment Brokerage Firms

Payment services like Paypal

Offline services like Bitcoin ATMs

Peer-to-peer exchanges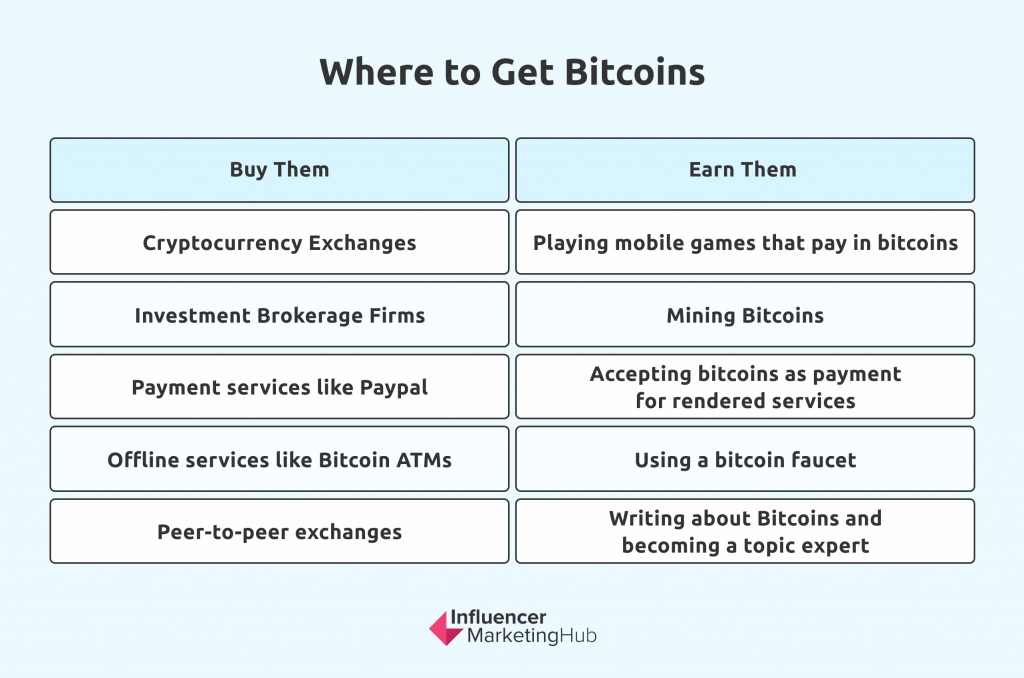 There are also numerous ways to get bitcoins without spending actual money. You only need to trade your time and use computer resources. Here are some quick ways to get bitcoin for free:
Playing mobile games that pay in bitcoins

Mining Bitcoins

Accepting bitcoins as payment for rendered services

Writing about Bitcoins and becoming a topic expert

Using a bitcoin faucet.
---
Understanding the Bitcoin Wallet
Before you can start buying and spending bitcoins, you need to have a bitcoin wallet. It's like a physical wallet where you keep actual currencies. In reality, bitcoin wallets only store the encrypted keys of your bitcoins. You use these keys to access your actual bitcoins, which are located as part of the blockchain.
There are two general kinds of bitcoin wallets:
Think of hot wallets as online wallets that run on the internet. You can access them on any device that has an internet connection. Hot wallets are convenient and easily accessible—they allow for quick Bitcoin transactions.
However, they're vulnerable to attacks, so it's best to avoid using them to store large amounts of bitcoins. You should also protect your wallet with good security measures such as strong passwords, safe browsing settings, and two-factor authentications.
Cold wallets, on the other hand, are offline wallets. It is not connected to the internet and can be stored on any device or physical location. They can be as simple as a piece of paper where the encrypted keys are printed or as complex as USB devices that are virus-proof.
Cold wallets are not easily accessible to hackers and can serve as a safer way to store a large amount of bitcoins. You can keep them in a secure place that's accessible only to you, such as safety deposit boxes.
On the downside, cold wallets are not easily accessible and can be complicated to set up. It would also be hard to retrieve if you lose it or forget where you've kept it. Use cold wallets for storing bitcoins that you don't intend to trade or spend. Also, keep the paper or device in a location that you can easily access and remember.
---
Five Common Ways to Get Bitcoins
The fastest way to get bitcoins is to buy them using fiat currencies. You can do these through the following channels.
Cryptocurrency exchanges are marketplaces where sellers and buyers trade bitcoins for fiat money (real currencies) or other digital currencies (other cryptocurrencies). They are similar to stockbrokers and can either be centralized or decentralized. They provide tools within their platform that allow you to easily and conveniently trade bitcoins.
Pros:
It's quick and easy to setup an account.

You automatically get a cryptocurrency wallet where you can store your bitcoin.

There are many platforms to choose from, allowing for competitive rates and fees.

Some platforms offer insurance for potential failures on their end like a security breach.
Cons:
Centralized exchanges are prone to hacking, since they use private servers in a central location.

It's possible for your wallet to be exposed to hackers.

You don't own the keys to the wallet they provide. It's advisable to still keep a separate wallet for storing large sums of bitcoin.

In the case of decentralized exchanges, it can be used for any means including illegal uses.
Popular Platforms: Coinbase, Binance US, Gemini, Kraken
Things to Consider When Choosing A Cryptocurrency Exchange:
Reputation of the platform (Is it highly trusted?)

Transaction fees and other associated fees (Are they economical?)

Security of the exchange (Do they provide some form of insurance in case of breach?)

Wallet storage (Are you allowed to transfer your bitcoins to a personal bitcoin wallet?)

Ease of using the platform (Are they easy to use especially for beginners?)
How to Get Started:
Choose a trading platform. For beginners, we recommend going to popular and established ones.

Create an account by providing all the required information and wait for it to be approved.

Once approved, fund your account using your bank account, credit card or debit card.

Exchange the funds for bitcoins. Some exchanges offer an easy BUY NOW button. Some offer more advanced options.

Once you've purchased your bitcoins, the exchange will take care of storing them. In case you want to move it to your personal wallet, simply initiate a transfer.
---
Investment Brokerage Firms
Due to the rise of cryptocurrencies, some traditional investment firms already offer bitcoin together with stocks, bonds, options, and other financial products as investment assets. These are accessible through online portals and easily traded on a smartphone just like traditional stocks.
Pros:
Most investment firms don't charge commissions for successful trades.

You can use the platform to trade other types of investment assets.

Some firms, like eToro, allow you to copy successful trades of other users.
Cons:
Only a handful of investment brokerage firms handle bitcoin trading.

These platforms don't have an online wallet to store bitcoins. You need to create a separate wallet outside the platform.

Cryptocurrency investments are not protected by SIPC (Securities Investor Protection Corporation) unlike other investment products.
Popular Platforms: Robinhood, eToro
How to Get Started:
Choose an investment brokerage firm.

Sign up for an account on their website and provide the required details.

Verify your identity.

Fund your account using your debit card or bank account.

Begin trading.
---
With the popularity of Bitcoin, payment services like Paypal, Venmo and CashApp now allow users to buy, sell, and hold bitcoins. If you have cash earnings stored in these apps, you can use them to purchase bitcoins.
Pros:
You don't need to create a separate account on a crypto exchange platform or an investment brokerage platform.

You can buy bitcoins for as low as $1 making it easy to get started and learn more about cryptocurrency.

You can earn cashback in the form of bitcoins.

CashApp allows users to earn bitcoins for every purchase made with their app.
Some credit card companies offer Bitcoin reward cards that let you earn back bitcoins from purchases made with the card.
Cons:
Some third-party providers do not accept Paypal as a means of purchasing bitcoins.

Payment services charge hefty fees especially when purchasing using a credit card.

Bitcoins purchased and stored in a Paypal wallet cannot be transferred to another online wallet.
Popular Platforms: Paypal, CashApp, Venmo
How to Get Started:
Check your current payment platform if they already offer bitcoin purchases.

If they do, follow the process for purchasing bitcoin. For most payment providers, it's as simple as clicking the BUY button.

Make sure your account is funded. You can purchase bitcoins for as low as $1.

The payment provider takes care of automatic conversions.
---
Bitcoin ATM machines are like cash ATM machines. You can deposit and withdraw cash as you buy and sell bitcoins. You visit a physical place where these machines are located and insert cash into the machine. You use the inserted cash to purchase bitcoins that are transferred to an online wallet.
Pros:
Machines are easily accessible.

They accept cash which means you don't need to link banking information. This is helpful for people who don't use formal banking systems.

They are convenient and immediate. You can immediately buy or sell bitcoins using these machines.

Newer machines have started dispensing cash in exchange for selling bitcoins.
Cons:
These machines charge hefty fees like a purchase fee and a conversion fee that are way higher than what crypto exchanges charge.

Recently, they have started requiring government-issued IDs before a transaction can be completed. This eliminates the anonymity these machines once offered.
Apps for Finding Bitcoin ATMs: Coin ATM Radar, LibertyX, CoinMap
How to Get Started:
Create a bitcoin wallet and have the details ready. You can take note of the wallet's alphanumeric code or simply download the

QR code

.

Visit the nearest Bitcoin ATM machine.

Create an account with the ATM operator.

Enter your bitcoin wallet information.

Insert cash into the machine. The machine will automatically compute how much bitcoin is equivalent to the cash you inserted. This is based on the prevailing value of bitcoin plus the machine's fees.

Review your transaction. The machine will display how much bitcoin you've bought and the fees they charged.

Confirm the transaction. The bitcoins will be deposited to your bitcoin wallet.
---
Another way to get bitcoins is by using peer-to-peer (P2P) exchange networks. These are direct connections between the buyer and seller.
Pros:
You can search for the best deals offered by different sellers.

Most P2P exchange platforms have trust rating systems, so you can vouch for the reputation of the seller.

You enjoy very low transaction fees, since transactions are conducted directly between buyer and seller.

Your private information is protected, given how P2P exchange platforms don't collect private information from both buyer and seller.

Payment methods are flexible. Sellers can choose how to get paid and buyers can choose how to pay for purchases.
Cons:
Slow trading speeds. The seller may decide to delay the transaction for various reasons.

Prone to fraud. While most P2P exchanges have security measures against fraud, it's still possible that fraudulent sellers and buyers exist in the platform.

P2P platforms don't have an inherent bitcoin wallet to store your bitcoins. You need to create a separate wallet to store your bitcoins.
Popular Platforms: LocalBitcoins, BinanP2P
How to Get Started:
Create an account on a P2P platform.

Browse seller posts and decide on a trade you like.

Contact the seller. Most platforms have a buy button that allows you to specify how much bitcoin you want to buy.

Pay for the purchased bitcoins using your preferred payment method.

Send proof of payment to the seller. At this point, the platform holds in escrow the bitcoin you purchased.

Once the seller confirms payment, the bitcoin is released to your bitcoin wallet.

In case of disputes, you can contact the P2P platform. Most have customer support to settle disputes.
---
Free Ways to Get Bitcoin
Using real money and buying bitcoins is not the only way to get bitcoins. If you have the time to allot to it, you can get bitcoins for free.
There are many ways to do this. The most popular and easiest ones are listed below.
Learning About Cryptocurrency
Did you know that by simply expanding your knowledge about cryptocurrency, you can earn free bitcoins? Coinbase, a popular cryptocurrency website, rewards you with cryptos for every knowledge course you finish. The more you learn about cryptocurrencies, the more cryptos you get.
You can then exchange these cryptos for bitcoins. Check out Coinbase Earn to learn more.
Some online games available in the market reward players with small amounts of bitcoins as prizes. This encourages players to keep playing and even watch ads.
The more players participate in these games, the more companies are encouraged to show ads in exchange for bitcoins. However, be warned. Most of the prizes are really very low.
Bitcoin has become a popular reward for doing various odd tasks. There are websites that will give you free bitcoin in exchange for completing various tasks, such as answering surveys, testing website functionalities, taking quizzes, and so forth.
The rewards may be small but they add up over time.
Becoming a Bitcoin Expert
If you learn a lot about bitcoin, you can start writing about it. There are sites who will pay bitcoins for your expertise. You can even continue and learn about different cryptocurrencies.
A number of websites pay for this kind of knowledge. However, you must really sound knowledgeable in order to land such gigs. The best thing about pursuing this path is you can eventually become one of the top influencers in the crypto space.
Online Shopping and Cash Backs
A popular browser add-on, Lolli, lets you earn cashback in the form of bitcoins for every successful transaction on their more than 1000 partner websites.
You'll automatically get a cash back for whatever product you're buying online, as long as it's from a Lolli partner. If you love shopping online, this is an easy and quick way to get bitcoins.
---
Other Ways to Get Bitcoins
There are still other means to get free bitcoins. The ones listed above are the easiest and most rewarding ways for beginners.
Other methods, like mining bitcoins or joining airdrops, are simply too resource-intensive or risky. We didn't include them in this list, but you can always research more about them.
You can also start accepting bitcoins as payment for selling items like influencer merch or rendering services like brand promotions. Bear in mind that accepting bitcoins as a form of payment is taxable in some countries. Be sure to review your tax laws to make sure you're compliant.
---
Final Thoughts
The world of cryptocurrency is a brand-new avenue for all of us. It has gained a lot of momentum and traction in the past years and more people are already open to the possibilities it brings.
However, investing in cryptocurrencies, including bitcoins, is risky. They are highly volatile, and despite having huge gains today, their values may plummet tomorrow. You should always exercise caution when dealing with bitcoins.
But if you already understand the risks and are willing to take them, you can explore the numerous paid and free ways to get bitcoins. It's evident that cryptocurrencies are here to stay. So, if you can get your head in the game, now is the right time to do so.