Cryptocurrency and blockchain can be intimidating to research about, but one of the best ways to learn more about crypto, blockchain, DeFi, the metaverse, and all other nascent concepts is by attending cryptocurrency events. Many organizers are now holding more in-person events to allow interested enthusiasts to meet the movers and shakers of the crypto and blockchain industries.
To help you discover what notable crypto events to watch out for this year, we've curated a list of some of the top crypto, blockchain, NFT, and metaverse events that are worth attending.
---
Top 27 Cryptocurrency Events for 2022 :
---
Why Go to Crypto-Related Events?
Whether you're a crypto expert or an enthusiast, crypto events serve as a way for you to expand your personal network and establish partnerships with other like-minded individuals. You'll be thrust into a professional network where you have the opportunity to meet, learn from, and even collaborate with major industry players, developers, designers, investors, and pioneers in crypto or blockchain.
Aside from gaining industry insights, you'll be able to gain a wider perspective on these emerging technologies. You'll get to join in on debates, panels, and live discussions that are all event exclusive. If you'd like a change of scenery, some of these major crypto events are held in some of the most picturesque locations like Valencia, Davos, and Šibenik.
---
Top 27 Cryptocurrency Events in 2022
Below are some of the upcoming crypt events in 2022 that are worth looking into.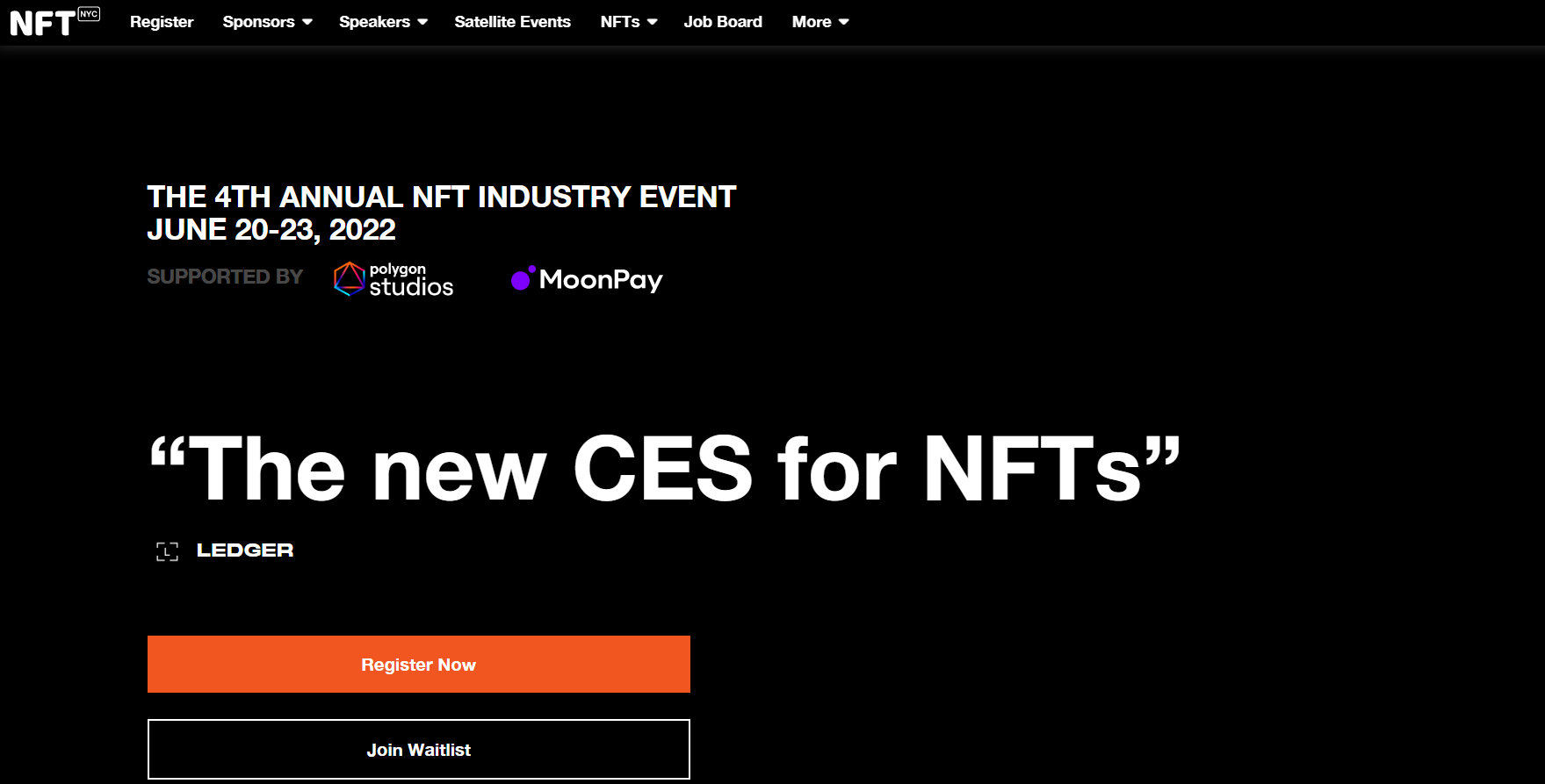 Date and Venue: June 20-23, 2022, New York City, USA
About the Event:
Since 2018, NFT.NYC has been an avenue for the emerging NFT community, which includes artists and creators. This expansive event currently has over 1,000 speakers all coming from different aspects of the Web3 space. Current speaker lineup includes Github's Zhonghao Liu, The Chameleon Collective's Zach Blush, and Creator Labs' Stephen Hadeed Jr.
Get news and updates here.
---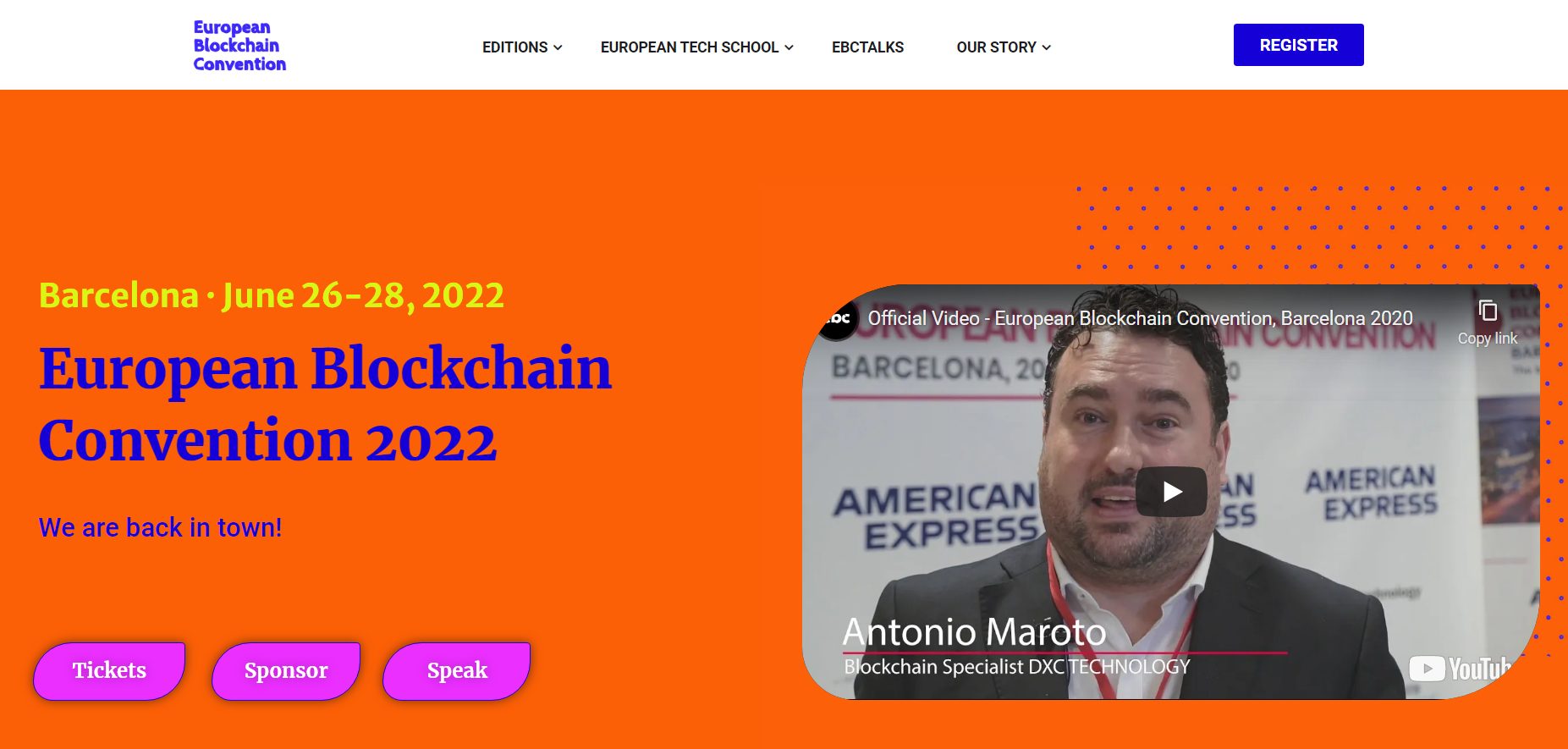 Date and Venue: June 26-28, 2022, Barcelona, Spain
About the Event:
The European Blockchain Convention is one of Europe's most influential crypto and blockchain events, bringing together over 1,000 attendees. During this three-day event, participants will have the opportunity to meet with thought leaders and innovators who are shaking up and reshaping the finance, crypto, and blockchain industries. Aside from panels, keynotes, workshops, and talks about crypto and blockchain, the event also covers DeFi, NFTs, and Web3.
Speakers include The Sandbox COO and Co-founder Sebastien Borget and TRON DAO Blockchain Advisor Laurent Perello. Learn more about the convention here.
July
---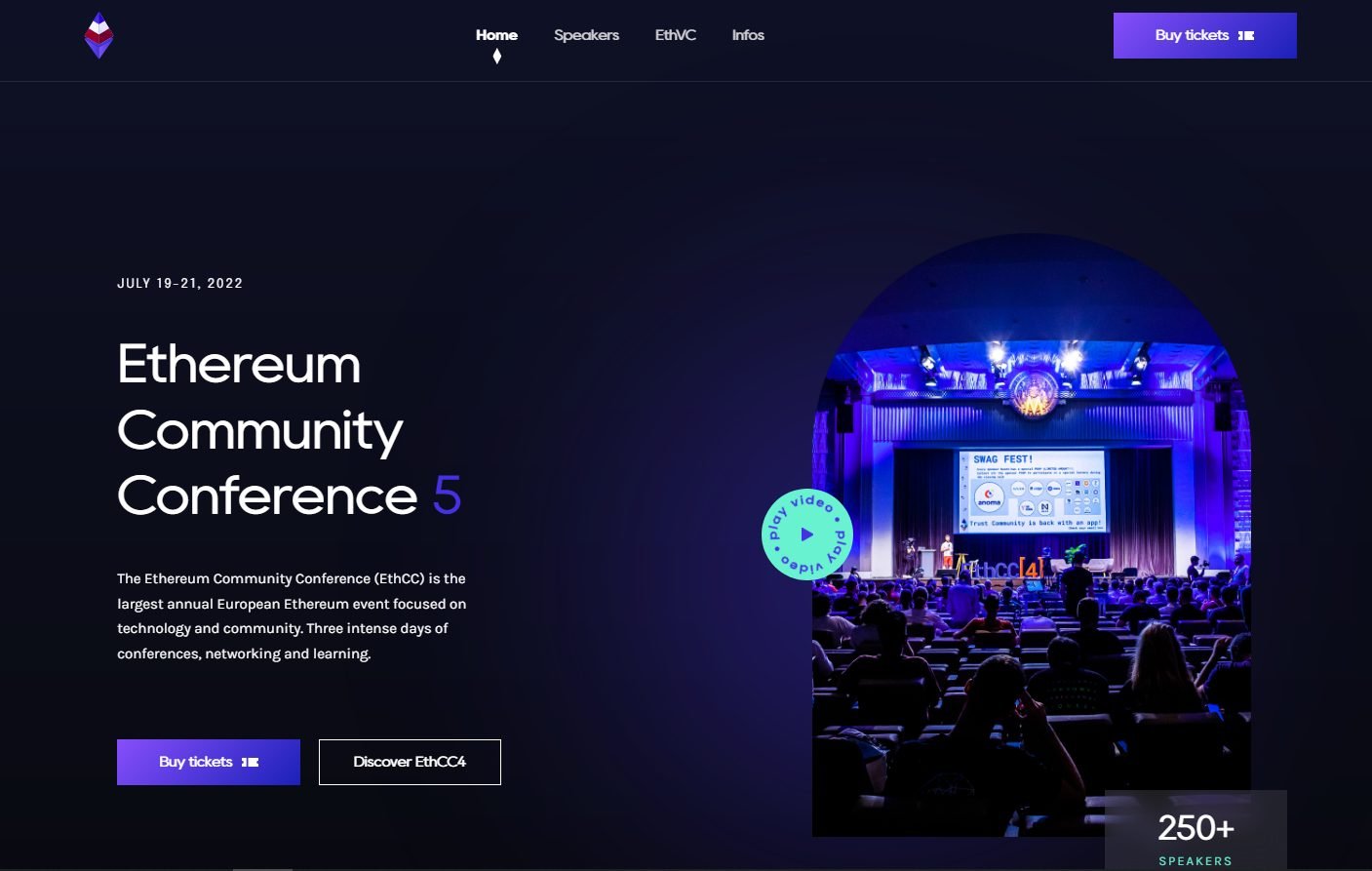 Date and Venue: July 19-21, 2022, Paris, France
About the Event:
ETHCC is the largest annual Ethereum event in Europe. This three-day event has conferences, networking opportunities, and other learning experiences like workshops that are designed to build up the attendees' knowledge and understanding of blockchain technology. Speakers for the ETHCC 5 include Gitcoin's Kevin Owocki and Covalent's Ganesh Swami.
Find out more about ETHCC 5 here.
---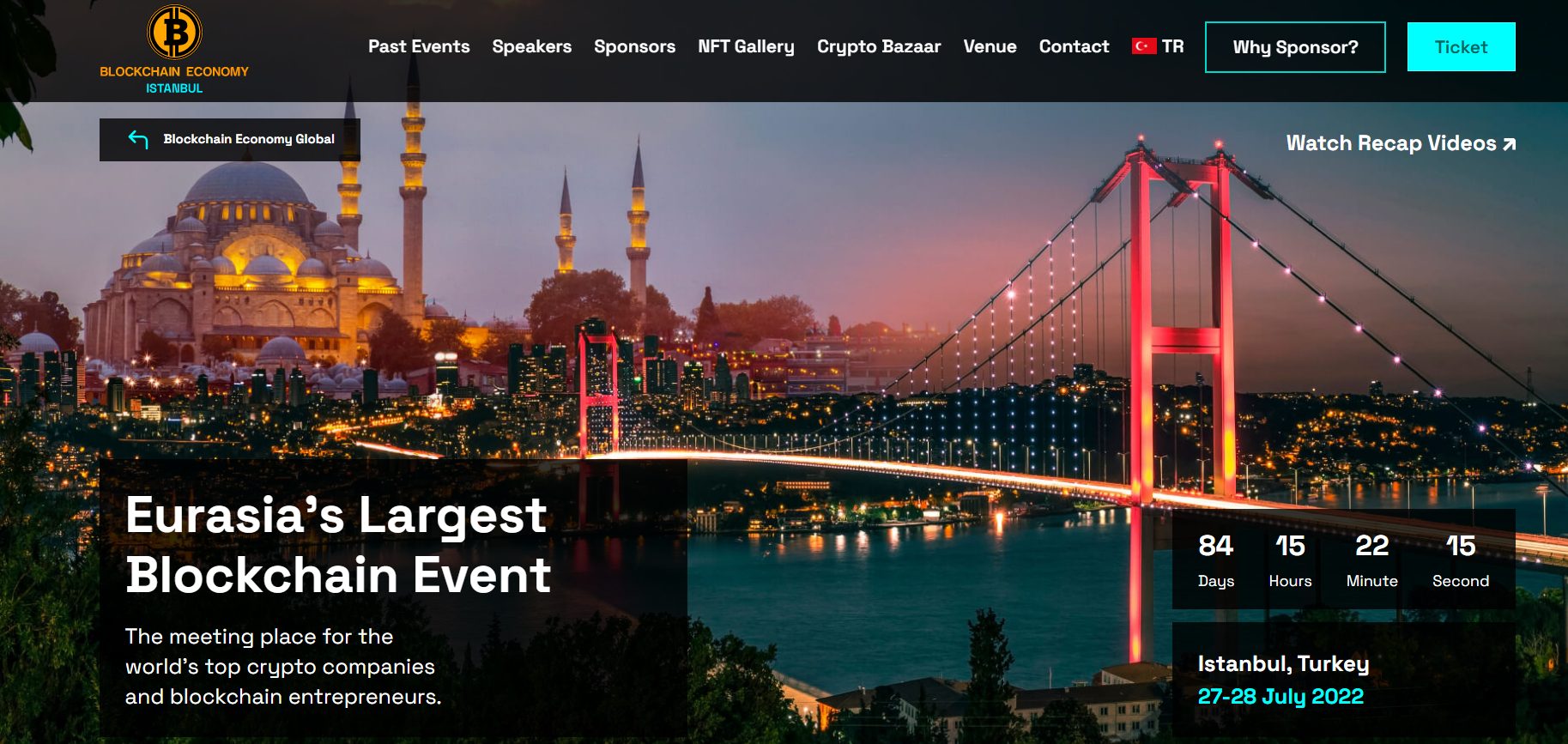 Date and Venue: July 27-28, 2022, Istanbul, Turkey
About the Event:
Dubbed as "Eurasia's Largest Blockchain Event," the summit brings together some of the crypto industry key players, experts, blockchain entrepreneurs, and participants from over 55 countries. Some of the top speakers for previous summits included Polygon's Sandeep Naiwal, Draper Associates' Tim Draper, and Crypto.com's Mariana Gospodinova. This year, speakers include the Deputy Minister of Digital Transformation of Ukraine, Alex Bornyakov and Uzmancoin Co-founders Burak Köse and Ceylan Arslan.
Learn more here.
August
---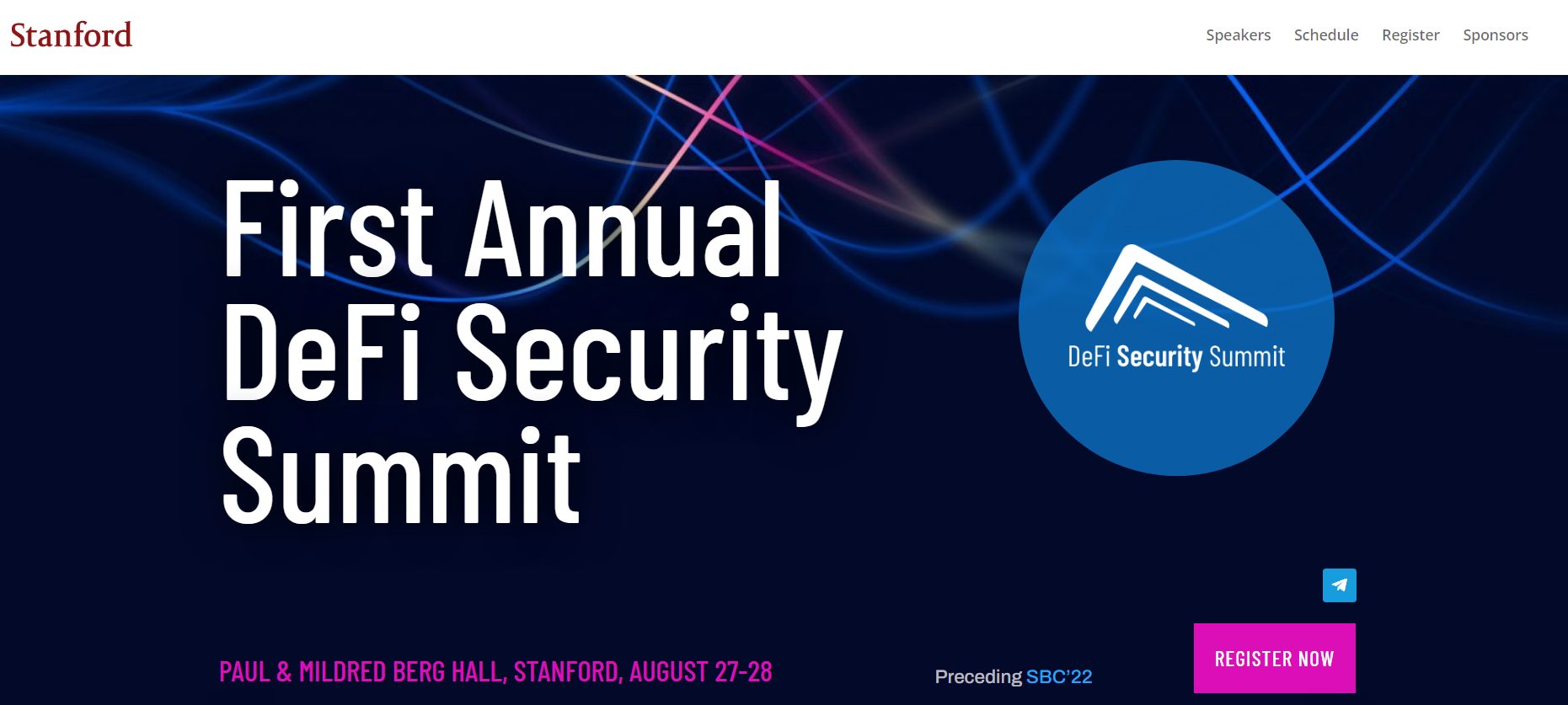 Date and Venue: August 27-28, 2022, Paul & Mildred Berg Hall, Stanford University, Stanford, California, USA
About the Event:
The First Annual DeFi Security Summit stems from the need to address pressing DeFi security issues such as vulnerabilities in smart contracts and how such damages can be prevented moving forward. The summit includes discussions and talks centered on topics like DeFi vulnerabilities, cross-chain security, and audits. Confirmed speakers include Aave Head of Smart Contracts, Emilion Frangella, Nexus Mutual Founder Hugh Karp, and Optimism Security Engineer John Mardlin.
Check out the Summit's tentative schedule and other details here.
September
---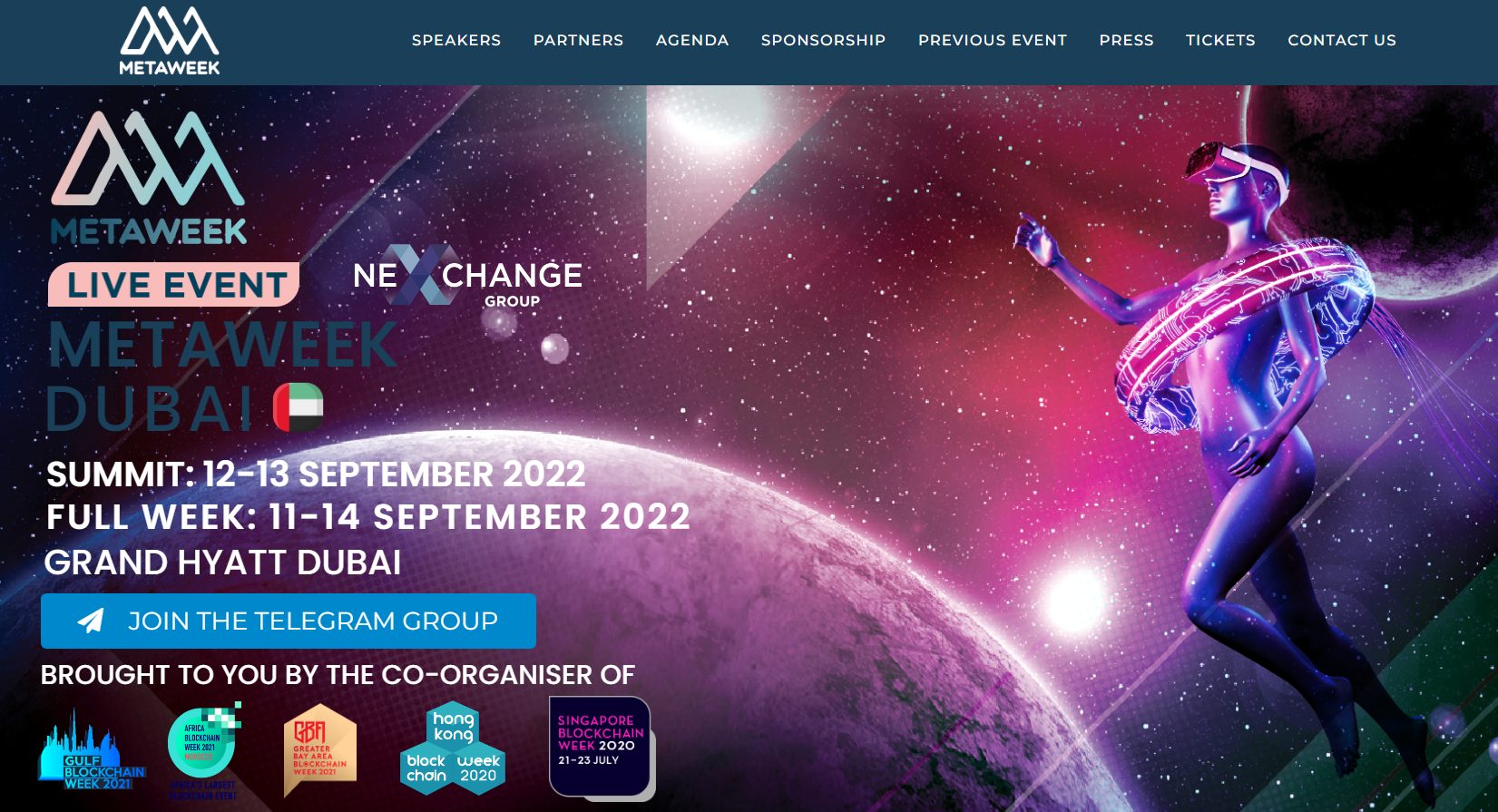 Date and Venue: Summit: September 12-13, 2022. Full week: September 11-14, 2022, Grand Hyatt Dubai
About the Event:
Learn more about the Metaverse and recent developments in this ecosystem during the 2022 MetaWeek Dubai. Aside from the Metaverse, this week-long event will cover other relevant topics such as financial and non-financial applications of blockchain, FinTech, tokenization and more. During this event, attendees will have the chance to learn from blockchain experts, NFT creators, DeFi and AI authorities, and artists.
Learn more here.
---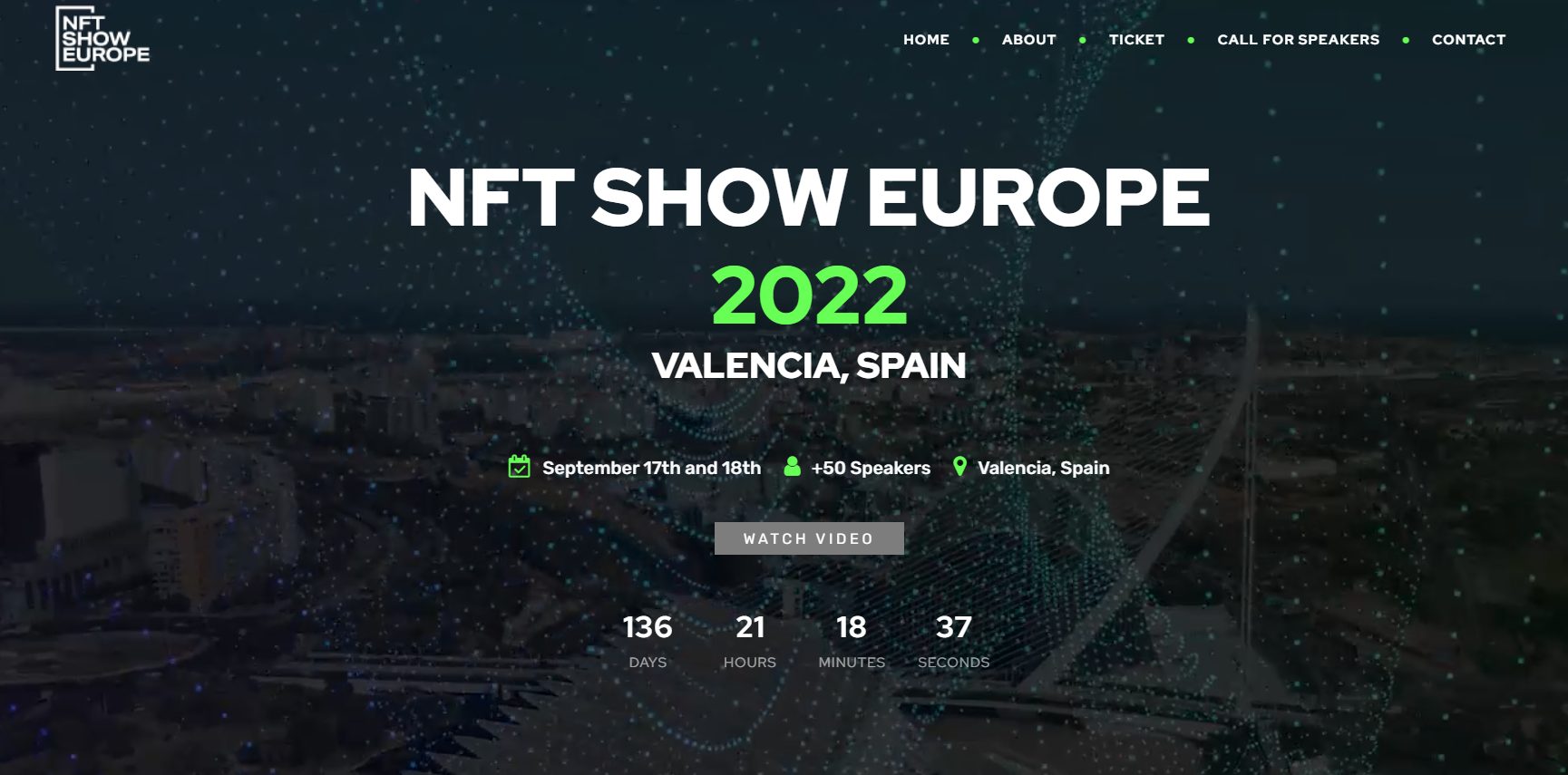 Date and Venue: September 17-18, 2022, Valencia, Spain
About the Event:
Hailed as the "biggest crypto-art and blockchain event in Europe," the NFT Show Europe 2022 provides an avenue for artists, platforms, crypto experts, and collectors to share their views on NFTs and cryptocurrencies through art exhibits—one of the event's most iconic parts which showcases different art forms like AR and digital collectibles, as well as interactive and glitch art—talks, meetups, debates, and side events in Valencia, Spain.
Attendees can expect a range of activities, such as workshops, tech shows, and a unique Experience Hall, that will further their understanding and knowledge of crypto and NFTs.
Discover more here.
---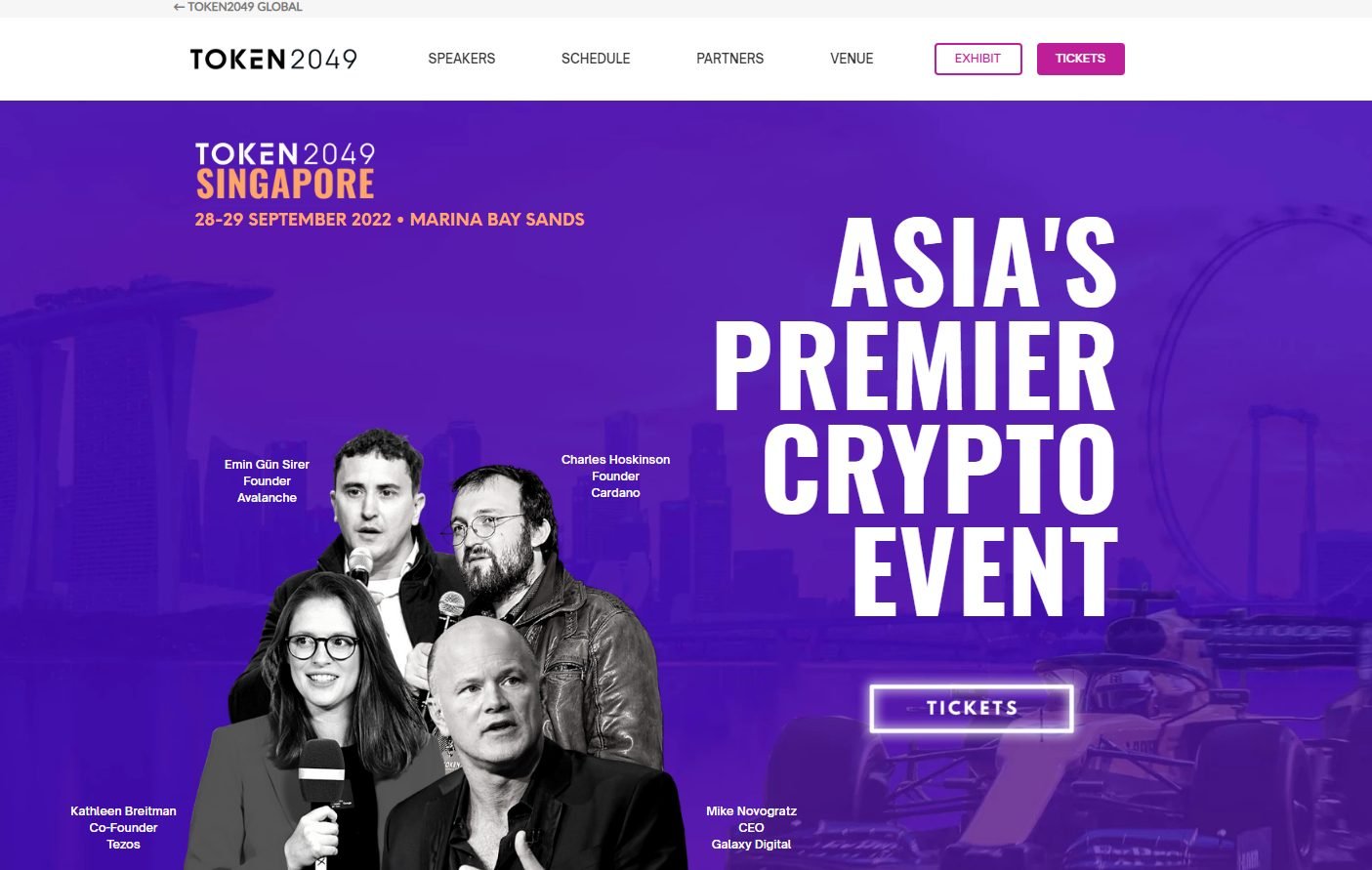 Date and Venue: September 28-29, 2022, Marina Bay Sands, Singapore
About the Event:
An offshoot of the global premier crypto event Token2049, Token2049 Singapore unites crypto pioneers, early adopters, investors, developers, thought leaders, and more to bring about "Asia's Premier Crypto Event." During this two-day affair, attendees will take part in activities like meetups, workshops, and hackathons to expand their networks and gain a wider perspective on the crypto and blockchain ecosystem.
Listen to some of the world's leading crypto voices like Tezos Co-founder Kathleen Breitman, Polygon Co-founder Sandeep Nailwal, and Binance Head of Investment Bill Qian.
Know more here.
---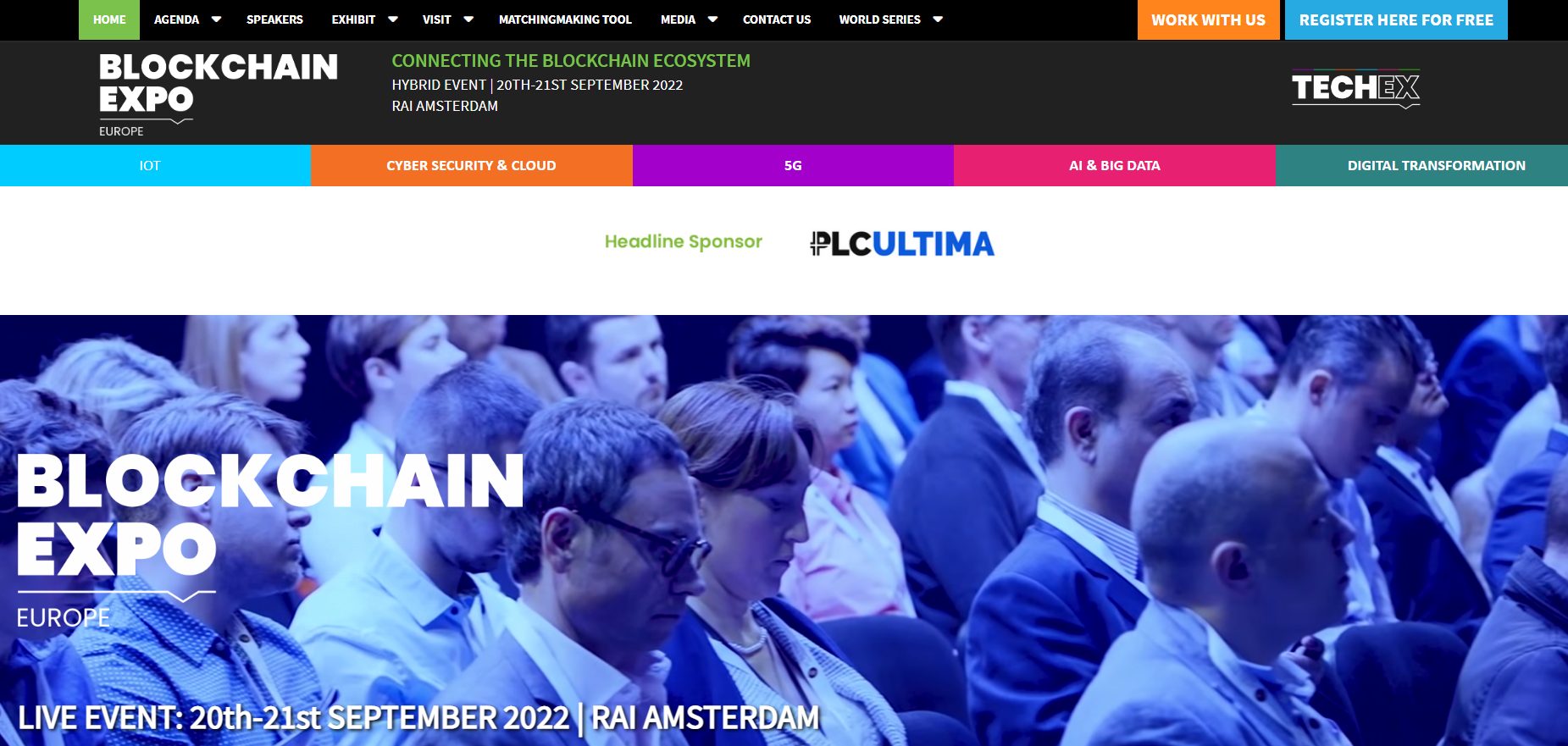 Date and Venue: September 20-21, RAI Amsterdam, Netherlands
About the Event:
The 2022 Blockchain Expo Europe is a part of the Blockchain World Expo Series. It's one of Europe's leading conferences and exhibitions that focus primarily on blockchain and other key topics under the TechEx Europe event, which includes discussions on or explorations of AI, big data, 5G, cybersecurity, and IoT ecosystems.
Check out the full speakers list and other Expo details here.
October
---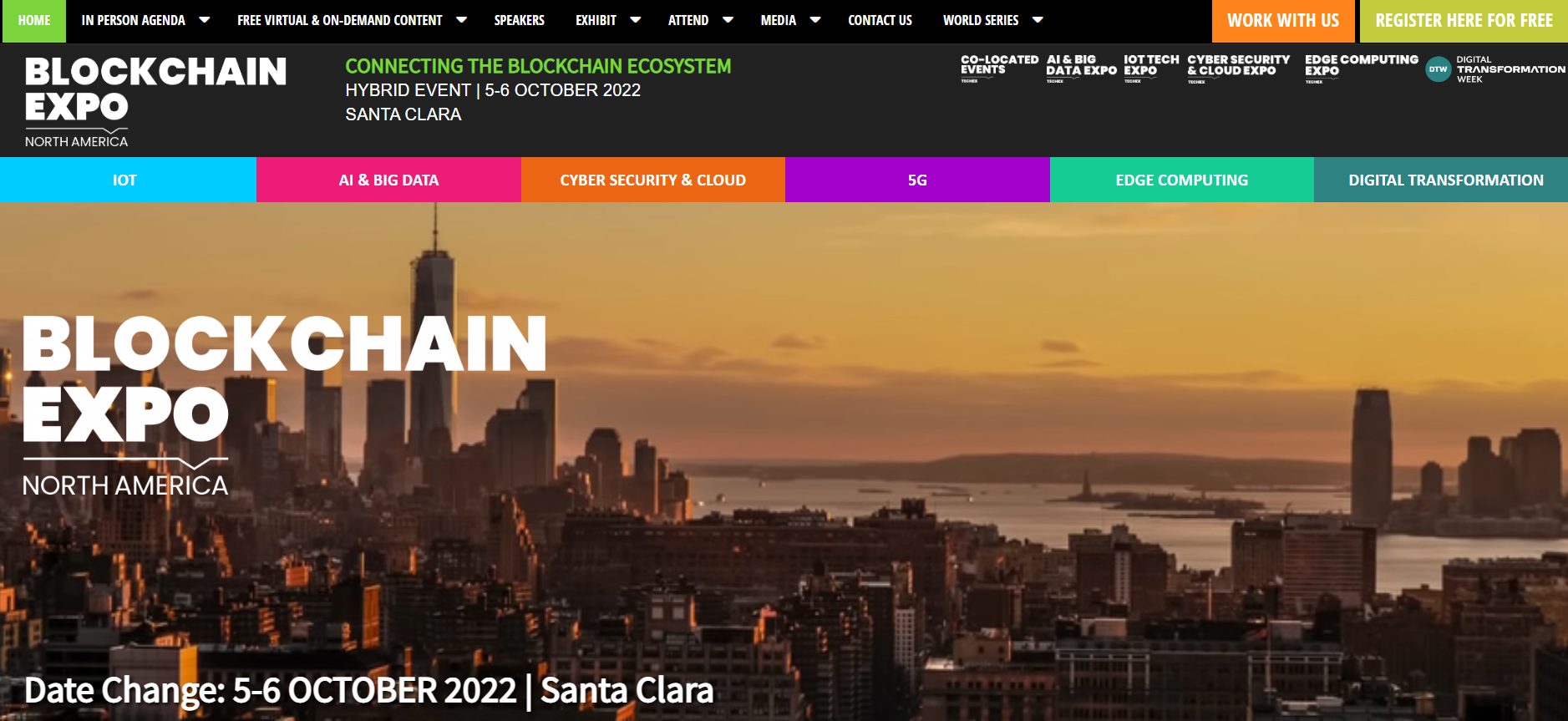 Date and Venue: October 5-6, 2022, Santa Clara, California, USA
About the Event:
This technology conference and exhibition focuses on recent developments within the blockchain ecosystem. Other key topics that will be covered by the Blockchain Expo 2022 speakers include tokenization, blockchain in finance, and digital currencies, among other topics. Some of the Expo's guest speakers include PayPal Director Anita Rao and CasperLabs CTO and Co-founder Medha Parlikar.
The Blockchain Expo 2022 is a hybrid event that's co-located with the Digital Transformation Week, Edge Computing Expo, and TechEx events that cover aspects such as IoT, AI and big data, and cybersecurity.
Learn more about the Expo here.
---
Date and Venue: October 4-5, 2022, Dubai, UAE
About the Event:
As one of the world's largest blockchain conference networks, the Blockchain Economy Dubai Summit gathers some of the world's top crypto companies and blockchain entrepreneurs. The summit's more than 3,000 attendees come from over 60 countries, making the Dubai Summit "The Most Global Blockchain Event Ever."
Find out more about the summit here.
---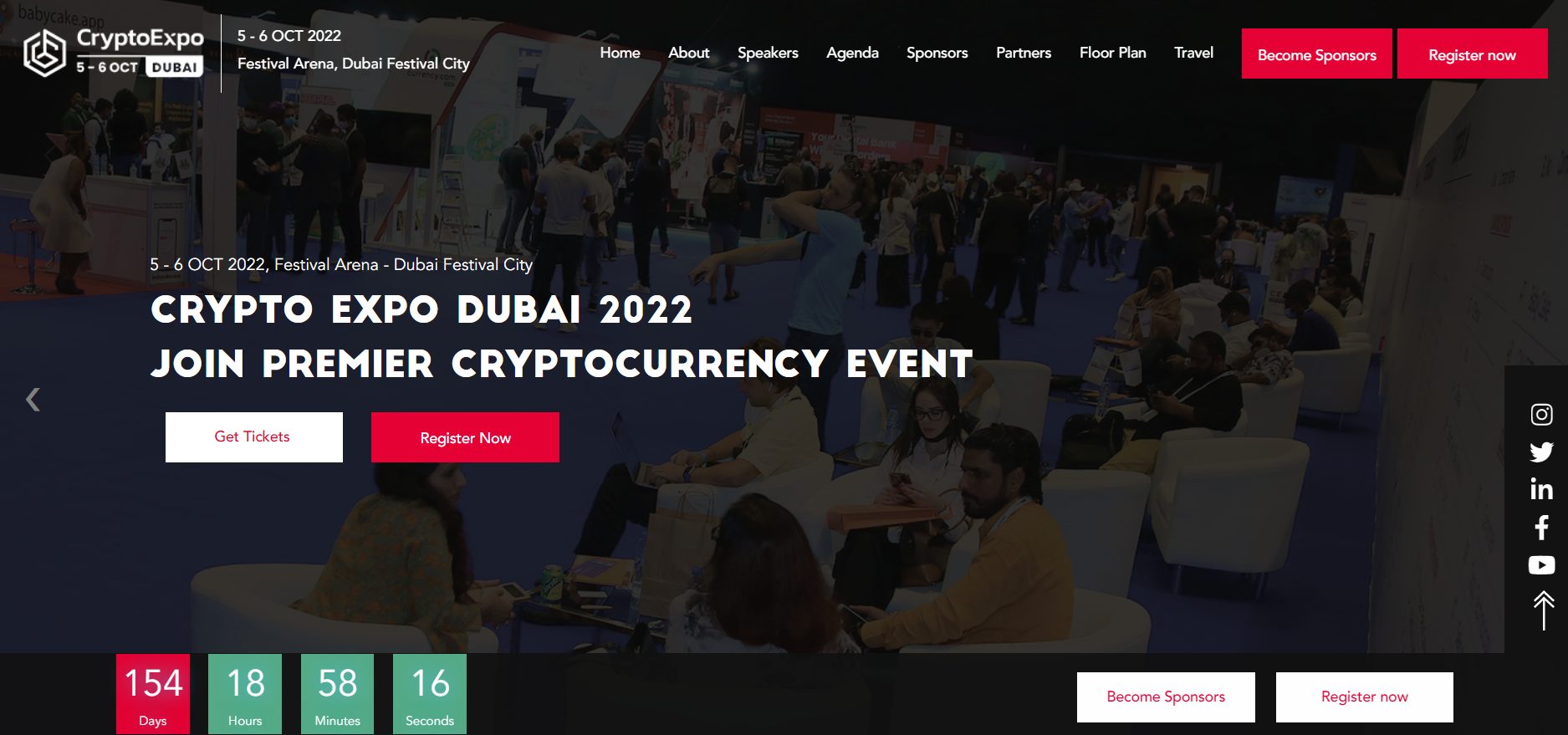 Date and Venue: October 5-6, 2022, Festival Arena, Dubai Festival City
About the Event:
Explore the latest developments in the crypto and blockchain ecosystems during the Crypto Expo Dubai 2022. During this event, attendees will learn more about how blockchain and other digital assets can potentially usher in a new Crypto Era. Get valuable insights on what goes on in the crypto industry and network with some of the world's crypto industry leaders, investors, traders, and businesses.
Register and learn more about the event here.
---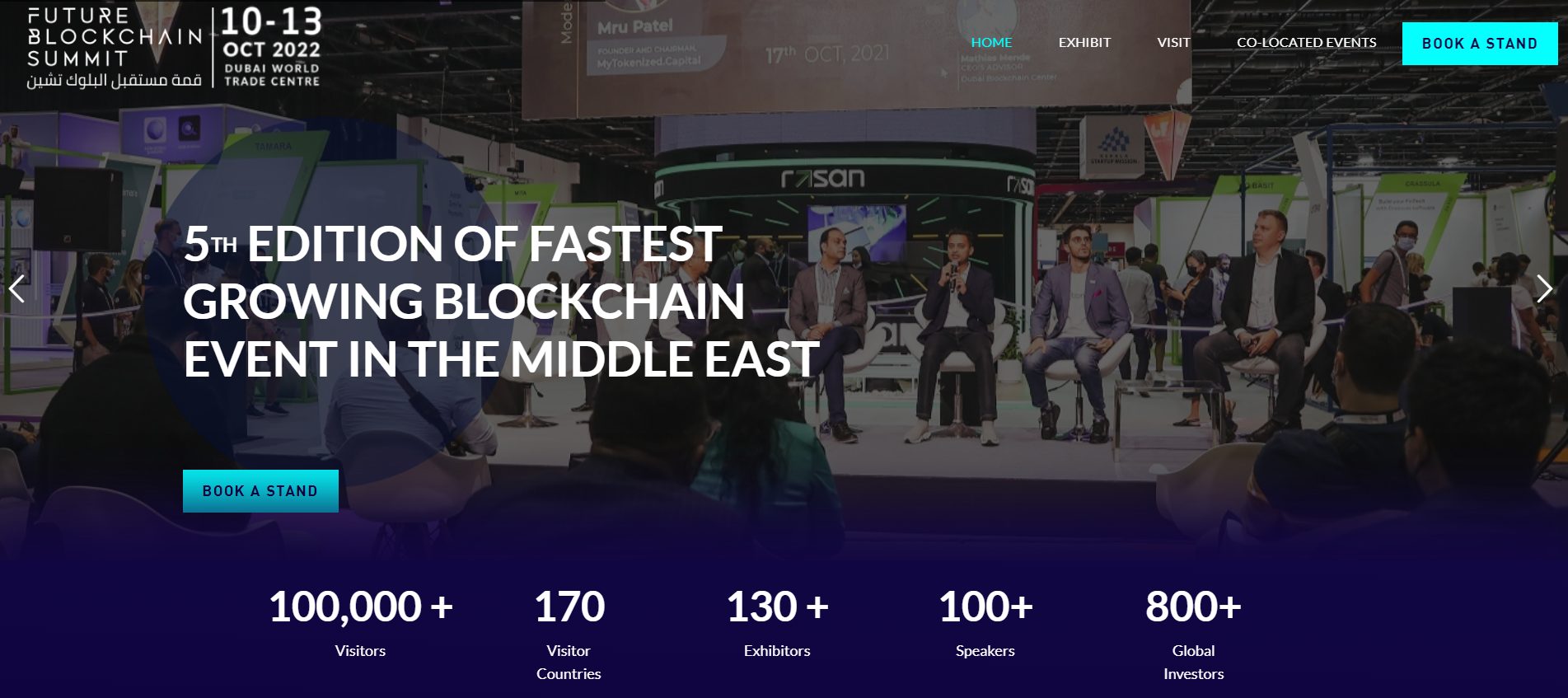 Date and Venue: October 10-13, 2022, Dubai World Trade Center
About the Event:
This four-day summit brings together industry experts and the disruptive business technology trends that are shaping the future of crypto and other digital assets. Aside from giving attendees plenty of networking opportunities, you'll also be able to enjoy an expert conference program and workshops that revolve around the following themes: Blockchain for Enterprise, The Future of Digital Assets, and Into the Metaverse.
The 2022 Future Blockchain Summit is a part of GITEXT GLOBAL, which is dubbed as "the world's most complete, experiential technology event." Other main components under the GITEX GLOBAL banner include AI, 5G, cloud, big data, cybersecurity, fintech, and more.
Past speakers during the 2021 Future Blockchain Summit included:
Changpeng Zhao, Founder and CEO of Binance
Ralph Simon, CEO of Mobilium
Dina Saman, Founder and Managing Director of CoinMENA
Learn more about the 2022 Future Blockchain Summit here.
---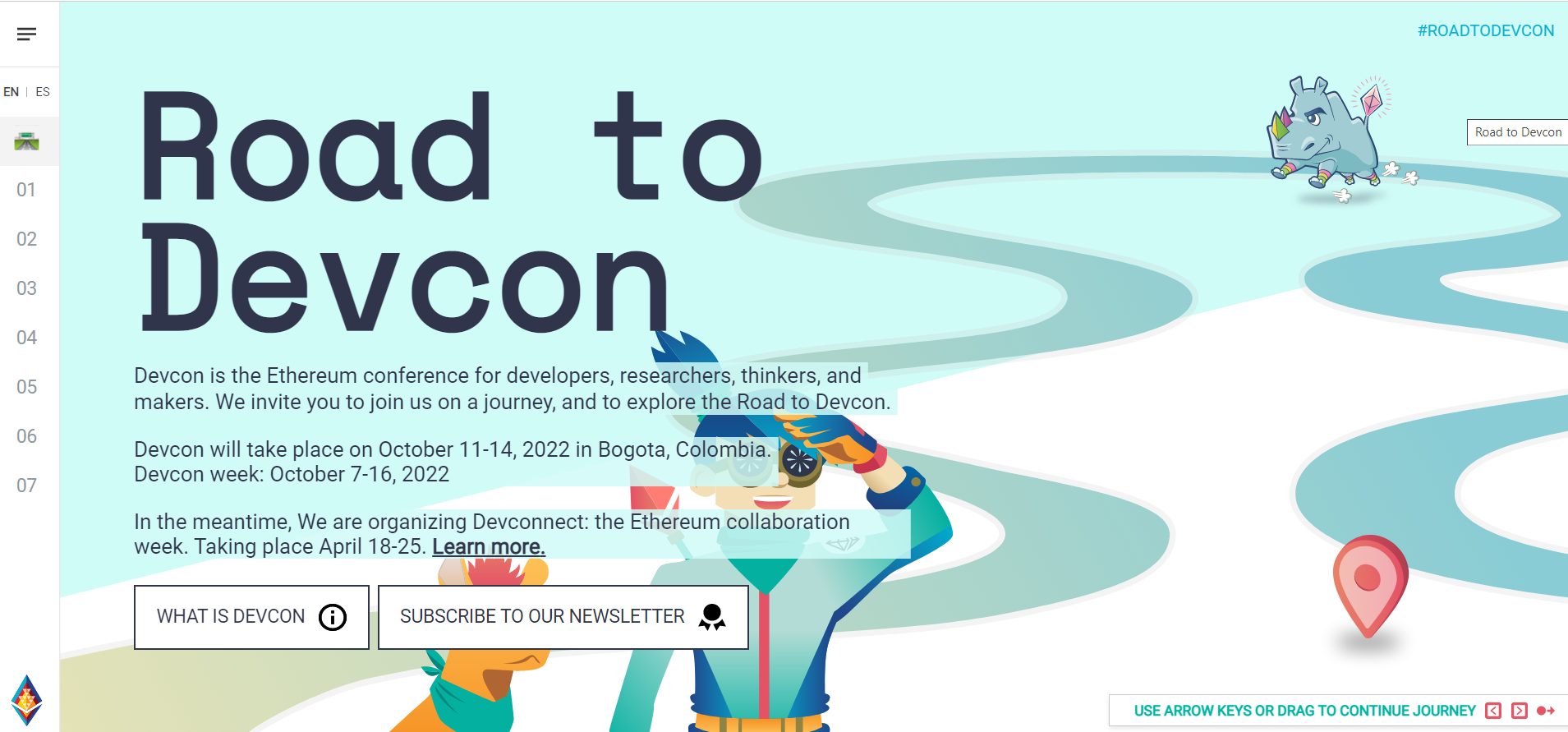 Date and Venue: October 11-14 2022, Bogota, Colombia
About the Event:
Devcon is a conference hosted by the Ethereum Foundation that's geared toward developers, researchers, and movers within the Ethereum ecosystem. Devcon aims to deliver a holistic learning experience through panels, lighting sessions, workshops, and more.
Check out the Devcon website to stay updated on the latest news.
---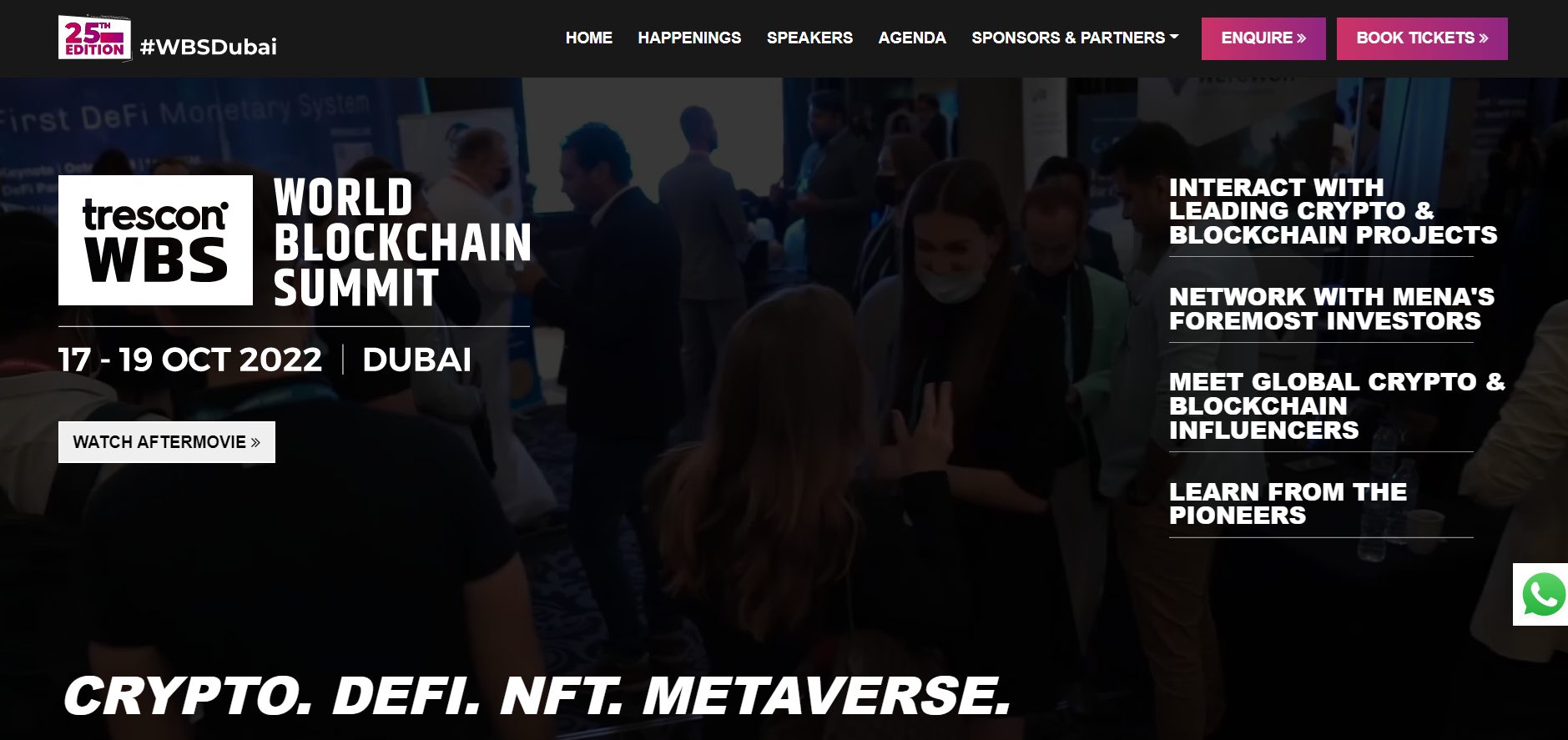 Date and Venue: October 17-19, 2022, Dubai
About the Event:
Dubai is the ideal location for the 25th edition of the World Blockchain Summit (WBS). This is because Dubai, and the UAE in general, is more receptive toward cryptocurrency and blockchain technologies. The Dubai leg of the WBS covers topics such as cryptocurrencies, DeFi, NFTs, and the Metaverse. Other discussion topics include the current state of DeFi, regulatory advances in the crypto industry, and the evolution from Web 2.0 to Web 3.0.
Attendees will also get the chance to meet and learn from crypto and blockchain project experts and pioneers, network with the region's top investors, and meet international crypto and blockchain influencers. Check out the WBS Dubai site to find out more.
---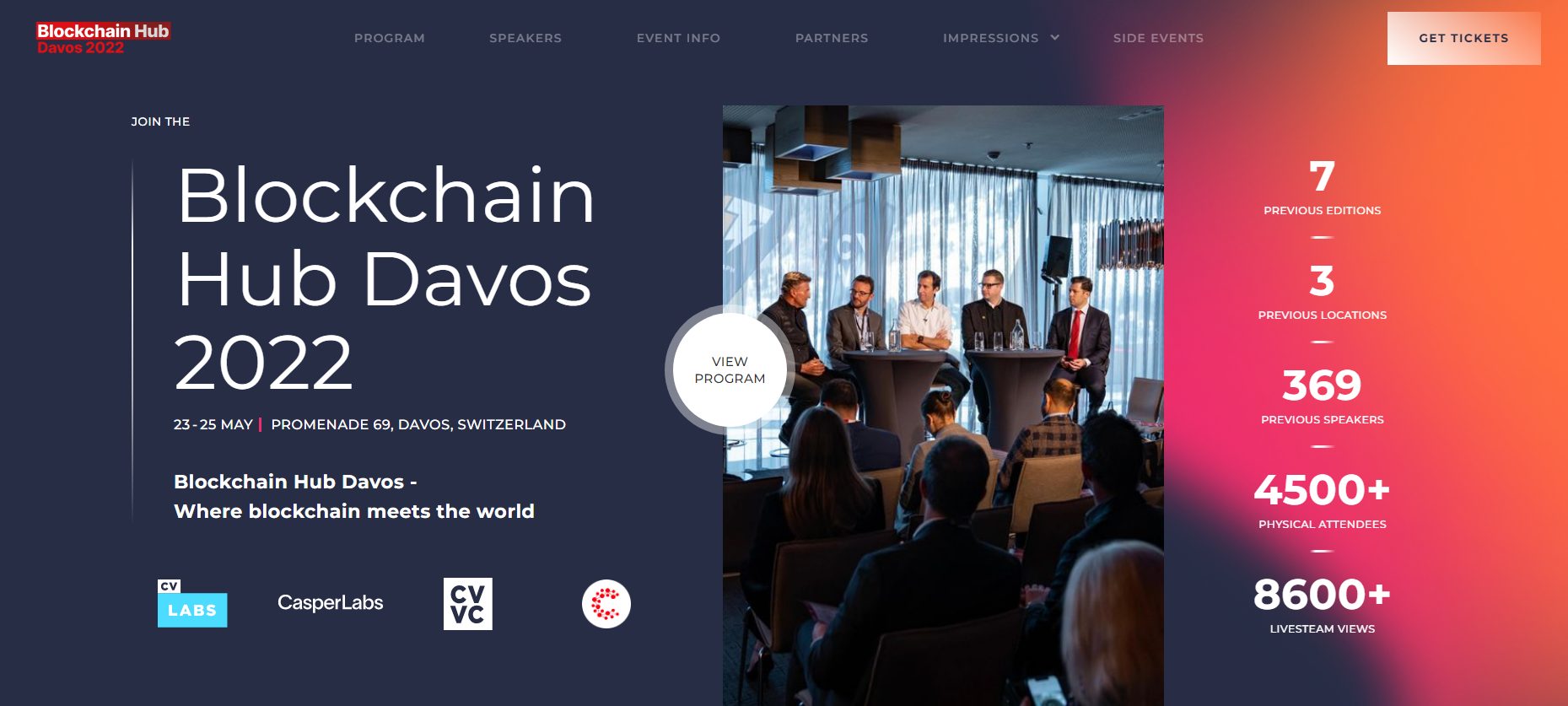 Date and Venue: May 23-25, 2022, Promenade 69, Davos, Switzerland
About the Event:
Presented by CasperLabs and CV Labs, the Blockchain Hub Davos 2022 brings together some of the world's top blockchain and crypto authorities, investors, startup founders, and policymakers. The event's goal is to further the attendees' understanding of what's happening in the blockchain space while helping them gain insight into this emerging industry. It also aims to offer them a venue where they can expand their personal network.
Learn more about the 2022 Davos Blockchain Hub here.
---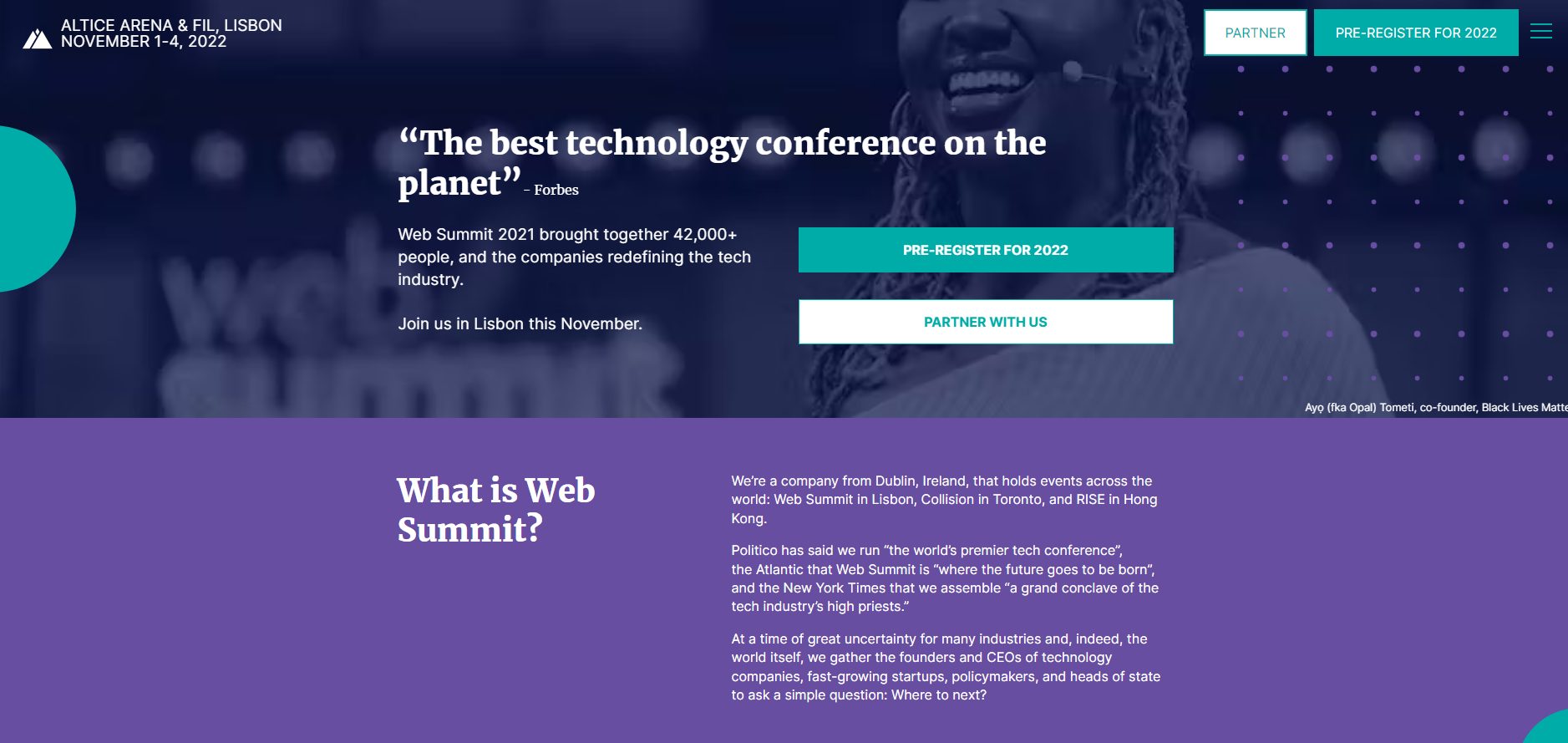 Date and Venue: November 1-4, 2022, Lisbon, Portugal
About the Event:
Cited by Politico as "the world's premier tech conference," Web Summit gathers tech company founders and CEOs, startups, policymakers, and heads of state—all of whom play a role in redefining and shaping the tech industry. Some of the notable speakers from last year's Web Summit event include Facebook Whistleblower Frances Haugen, Black Lives Matter Co-founder Ayo Tometi, and Alexa Amazon SVP Tom Taylor.
Sign up to become a partner or pre-register here.
---

Date and Venue: November 3-5, 2022, San Francisco, USA
About the Event:
Hailed as the West Coast's premier Ethereum event of 2022, ETH San Francisco unites blockchain and crypto enthusiasts, as well as developers, industry experts, and tech companies.
Discover more Ethereum events around the world here and check out the ETHGlobal site to get more updates about this and other upcoming events.
---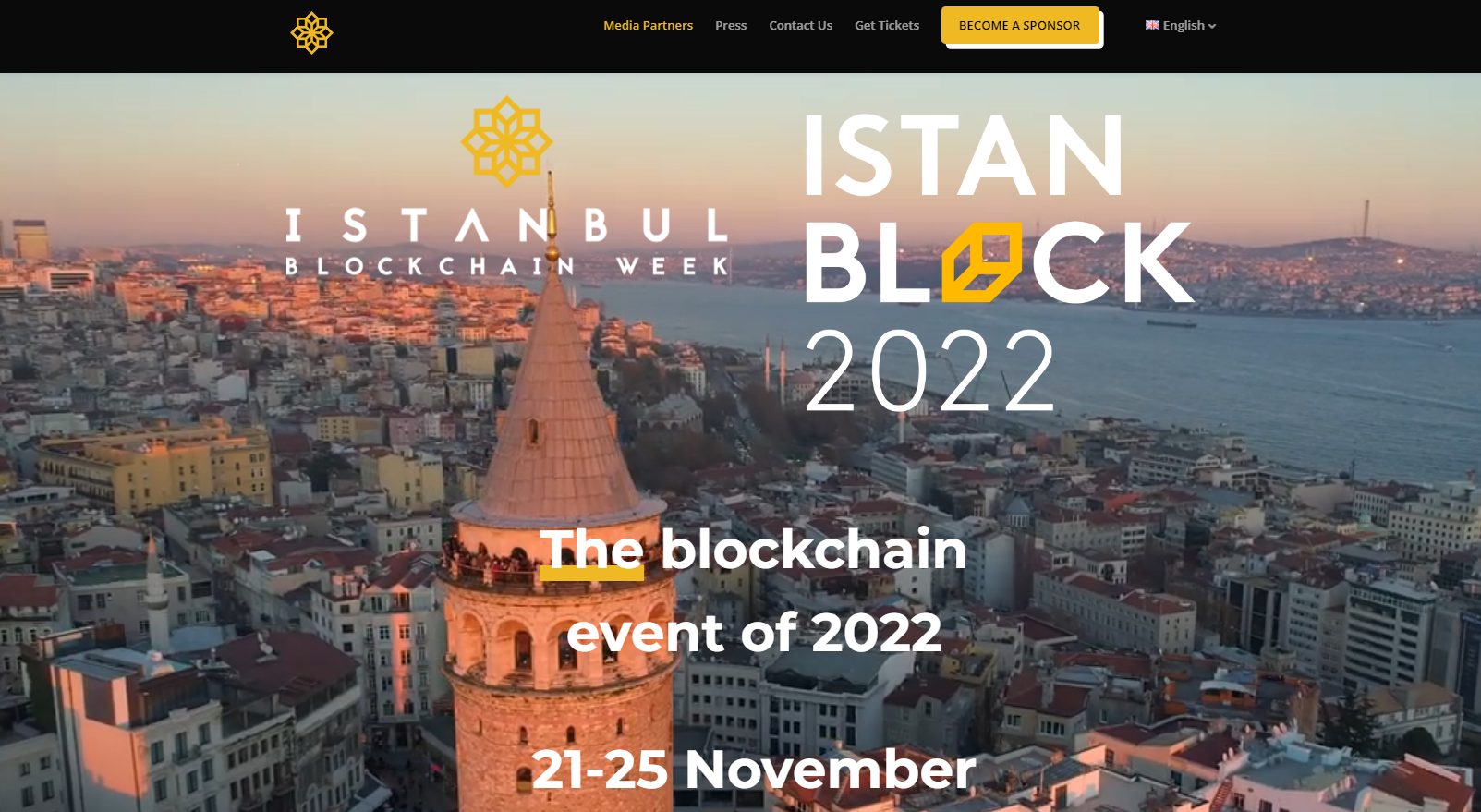 Date and Venue: November 21-25, 2022, Istanbul, Turkey
About the Event:
The Istanbul Blockchain Week (IBW) is considered as Turkey's largest blockchain conference and is dubbed as one of this year's most anticipated blockchain events. The IBW is designed to foster relationships and build partnerships within the country's blockchain community. Moreover, attendees will have the opportunity to learn from distinguished speakers not only from the blockchain industry but also from the government and business sectors.
Discover more details here.
---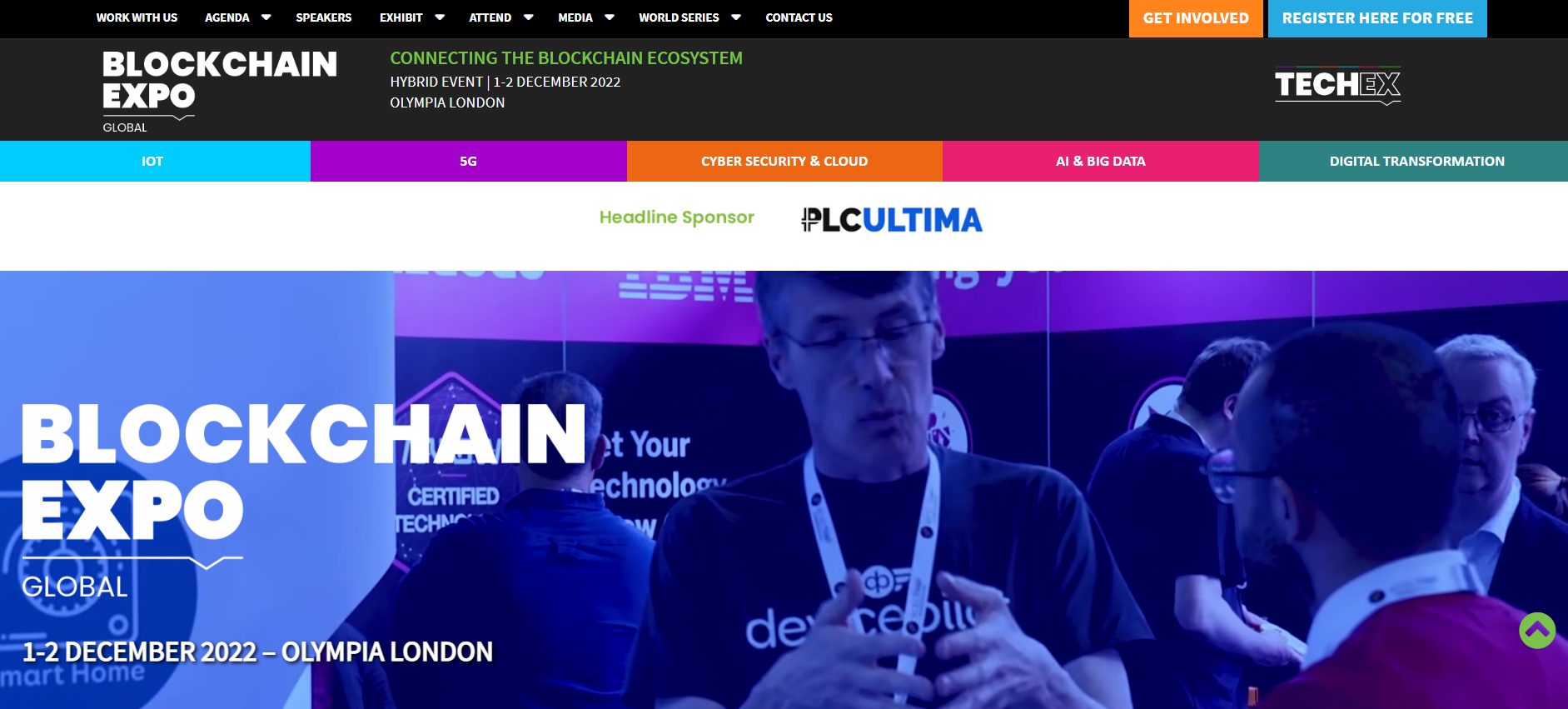 Date and Venue: December 1-2, 2022, Olympia, London
About the Event:
The London leg of the Blockchain Expo World Series brings together CTOs, IT directors, investors, VCs, and other key players for two days of tech exhibits, panel discussions, keynotes, case study presentations, and more. Topics covered include financial services, cryptocurrency, platforms, applications, and strategies.
Find out more here.
Past 2022 Crypto Events
Below are some of the past blockchain and cryptocurrency events that are still worth checking out. Note that many of these events take place annually or at least several times a year.
---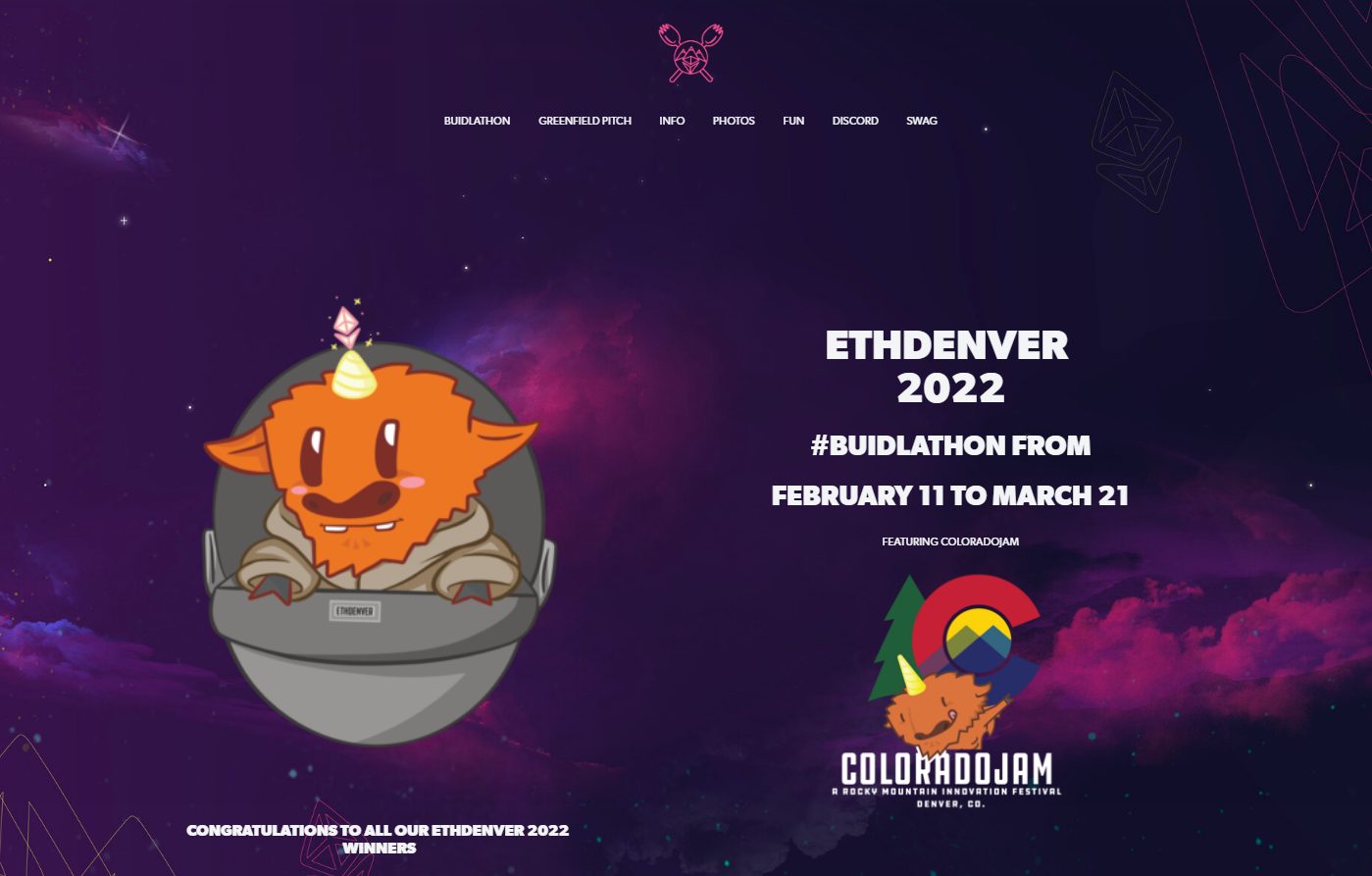 Date and Venue: February 11 to March 21, 2022
About the Event:
ETHDenver is the world's longest-running ETH event. It's also the largest #BUIDLathon (or hackathon) in the world for Ethereum. It unites blockchain enthusiasts, developers, and designers with the goal of further developing or contributing to the global blockchain ecosystem.
---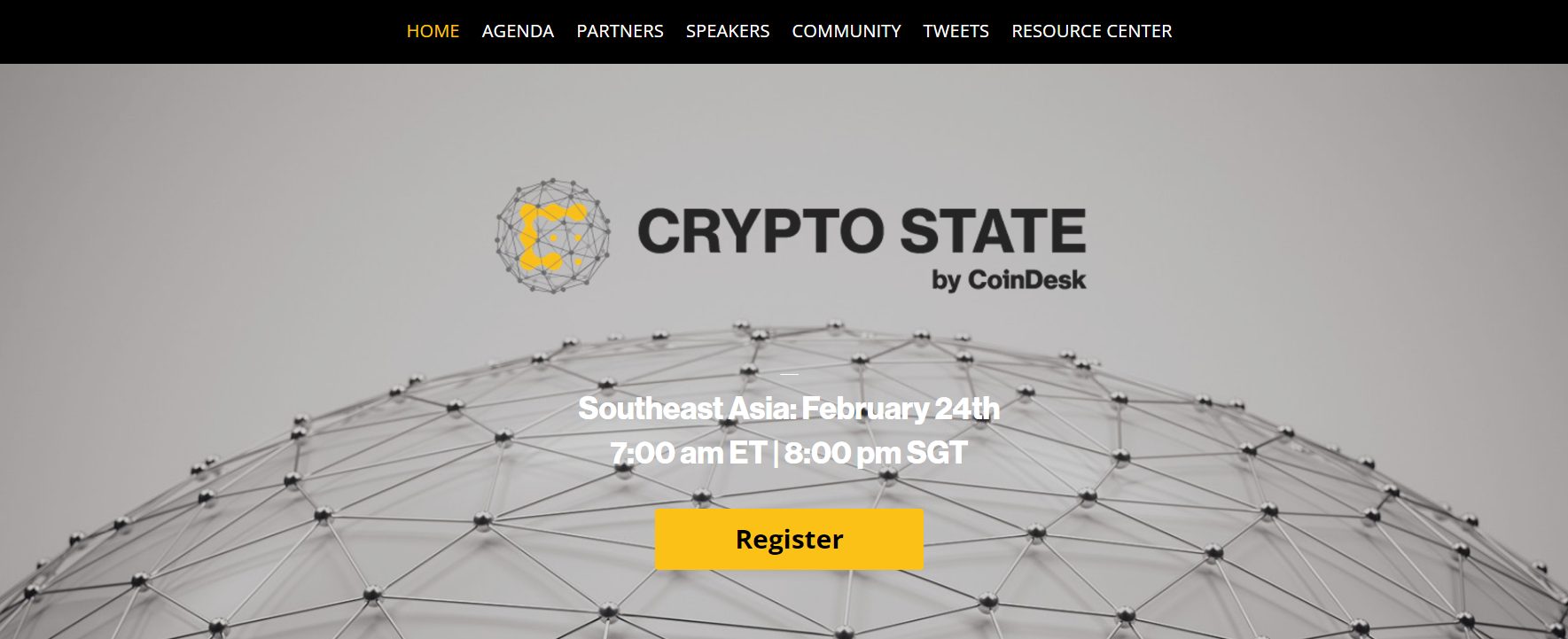 Date and Venue: February 24, 2022, Southeast Asia
About the Event:
This was the Southeast Asia leg of CoinDesk's Crypto Sate series, which had the goal of connecting local communities with crypto thought leaders and innovators to help the former better understand the potential impact of cryptocurrency in investment and finance. Aside from Southeast Asia, the event was also held in Nigeria, Middle East, and North Africa.
Learn more here.
---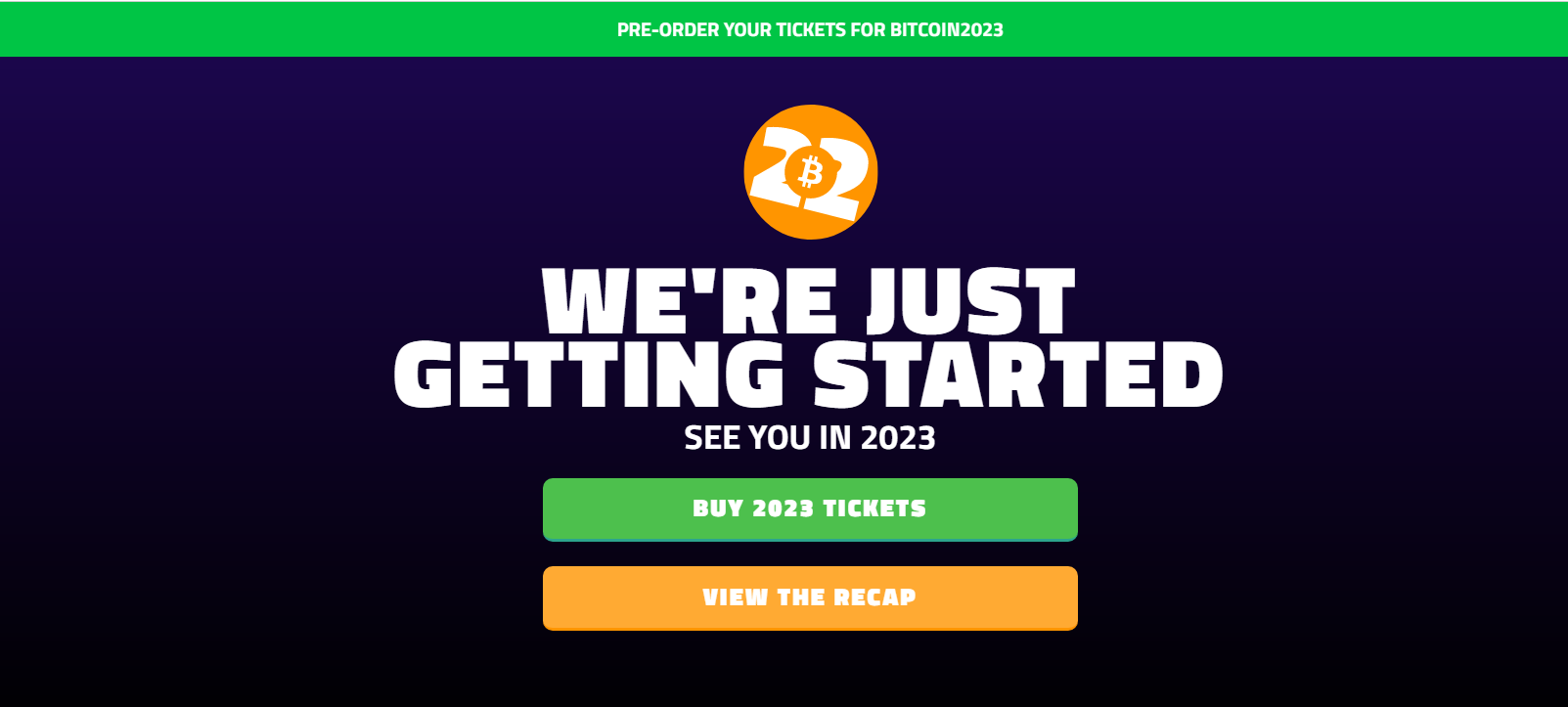 Date and Venue: April 6 to 9, 2022, Miami, Florida, USA
About the Event:
Bitcoin 2022 was a four-day event that was hailed as the "world's largest gathering of bitcoiners" and "the biggest bitcoin event in the world." If you missed out on this year's event, you can look forward to Bitcoin 2023. Purchase your Bitcoin 2023 tickets and get the latest updates here.
---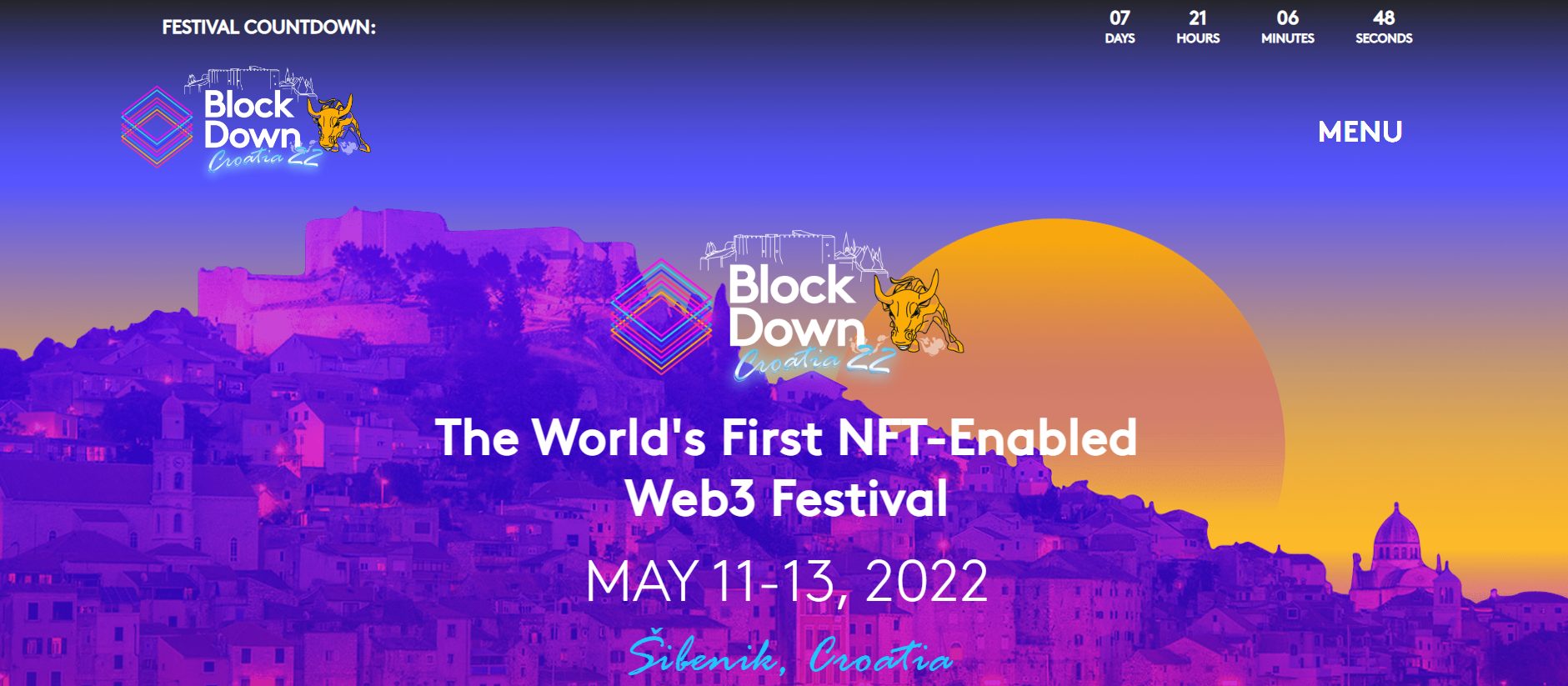 Date and Venue: May 11-13, 2022, Šibenik, Croatia
About the Event:
BlockDown Croatia is also known as "The World's First NFT-Enabled Web3 Festival" and is the first-ever in-person BlockDown Conference event. During this event, you'll have the opportunity to listen to and meet crypto and Web3 thought leaders such as Theta Labs' Head of Strategy, Wes Levitt and Lili Zhao, the Ecosystem Growth Director for Neo Global Development Europe. More than being a place where crypto, NFT, and Web3 enthusiasts and experts can gather, BlockDown Croatia also gives its attendees the opportunity to connect with others through parties, outdoor events, and exclusive VIP events.
Learn more about BlockDown Croatia 22 here.
---

Date and Venue: May 19-22, 2022, Minneapolis, Minnesota, USA
About the Event:
Featuring an exclusive lineup of speakers ranging from artists, performers, analysts, investors, and more, Gary Vaynerchuk's "superconference" brings together pop culture icons and NFT leaders for a series of innovative talks, Q&A sessions, competitions, and other activities. It's the world's first NFT-ticketed conference that brings together Web3 key players and enthusiasts. This means only VeeFriends token holders will have access to this event.
Learn more about VeeCon 2022 here or visit the FAQ page.
---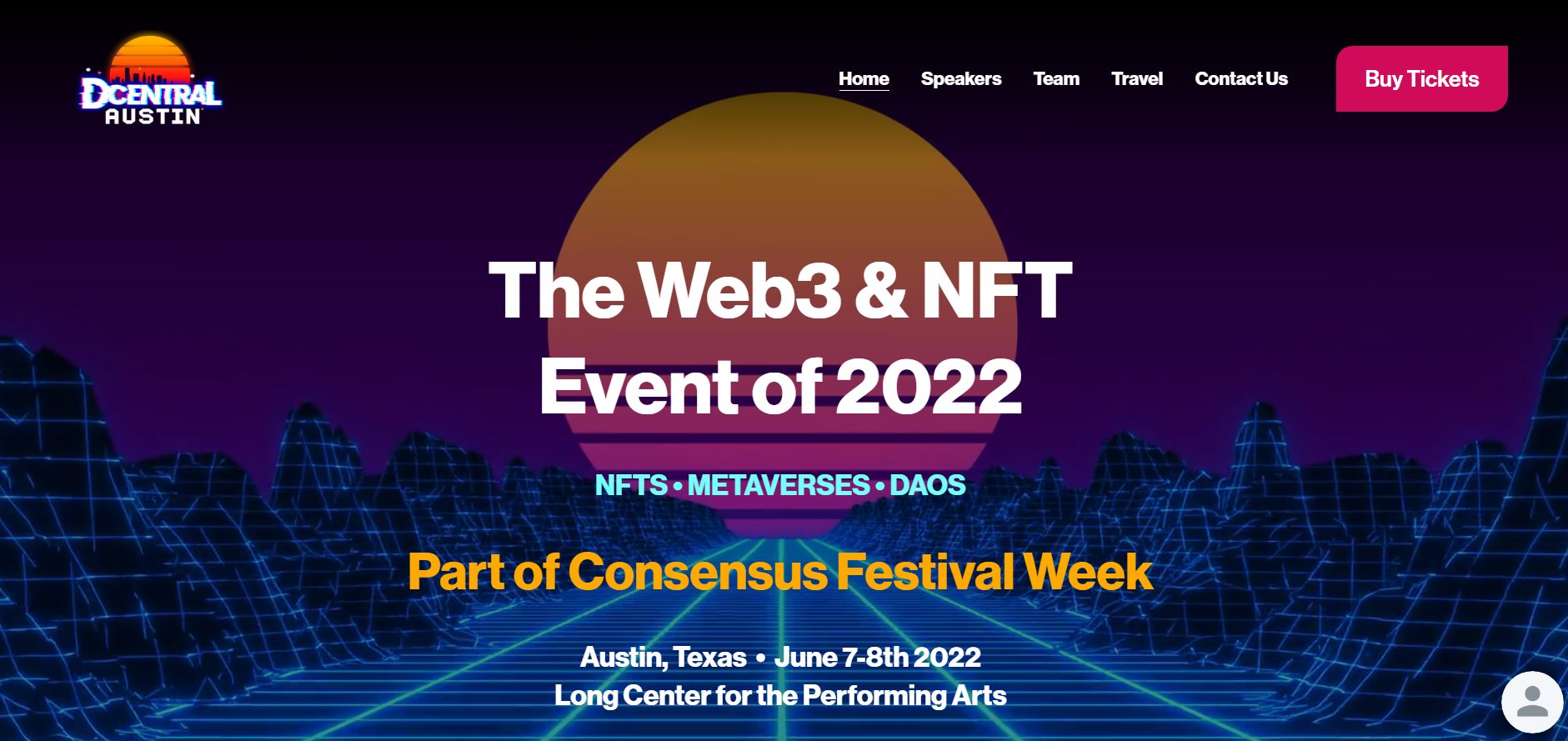 Date and Venue: June 7-8, 2022, Austin, Texas, USA
About the Event:
The DCentral Austin Web3 Summer Event is part of the Consensus Festival Week and promises to bring all of Web3 together: the metaverse and NFTs, GameFi and Play 2 Earn, and DAOs and DeFi. Speakers include more than 80 builders, creators, and artists such as Metakey Founder Matty, Chubbiverse CEO String Nguyen, and Token Metrics Founder and CEO Ian Balina.
Find out more about the event and its ticket prices here.
---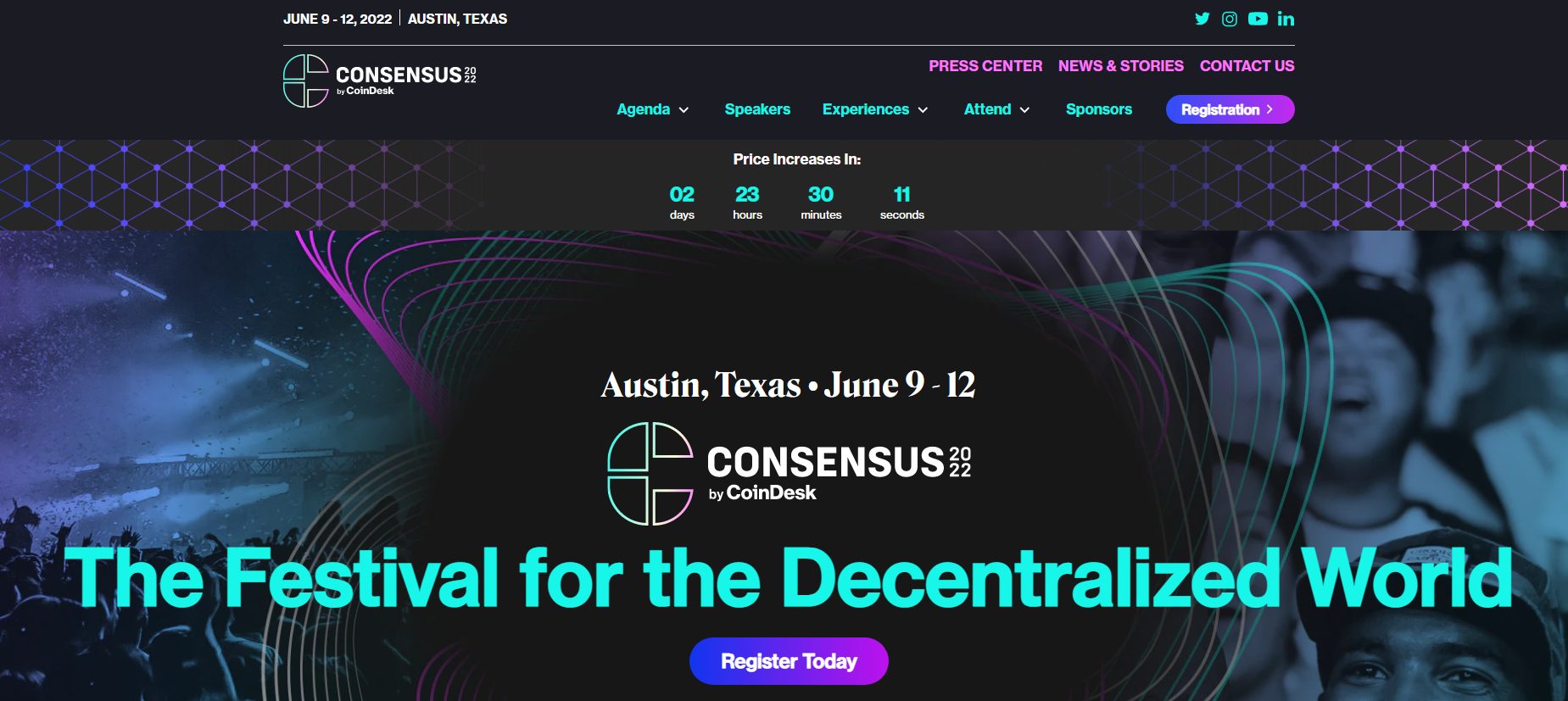 Date and Venue: June 9-12, 2022, Austin, Texas
About the Event:
Hosted by CoinDesk, Consensus 2022 is one of the world's biggest and longest-running cryptocurrency festivals. It's an event that covers everything related to blockchain, cryptocurrency, Web3, and the metaverse. Experience highlights include the Money Reimagined Summit, Creator Summit, NFT Gallery, and DAO House. Speakers for Consensus 2022 include:
Author Neal Stephenson
Binance Founder and CEO, Changpeng Zao
Freedom of Press President Edward Snowden
Tribute Labs CEO Aaron Wright
Find out more here.
---
The Future of Crypto
Crypto is an emerging field. We've yet to see its full potential, and as with anything that's relatively new, there's plenty of room for growth. Attending crypto events can help you gain industry insight from blockchain and crypto experts, leaders, policymakers, businesses, creators, artists, and more. You'll have the chance to learn about the latest industry developments, key issues, niche topics like GameFi and DeFi, challenges to security and implementation, and regulations geared toward crypto and blockchain.
These cryptocurrency events help paint a picture of the direction that nascent technologies are taking. They also help us learn from and adapt to a world that's home to ever-evolving technologies.
Frequently Asked Questions
What are cryptocurrency events?
Cryptocurrency events are live or digital events organized for crypto traders, investors, and enthusiasts. These can take the form of conferences, festivals, and expos that are held all over the world and are organized or hosted by blockchain or crypto-related companies like cryptocurrency exchanges and decentralized finance (DeFi) companies. Various activities like workshops and hackathons can take place during these events.
Aside from giving attendees the opportunity to connect with like-minded individuals, these events are used to launch or update new assets or showcase new developments or news for all things crypto, blockchain, and NFT.
What are some of the biggest crypto events in 2022?
Some of the biggest cryptocurrency events in 2022 include past events like:
CryptoWorldCon (CWC)

– April 1-2, 2022

Bitcoin 2022

– April 6-9, 2022

Cryptocurrency World Expo 2022

– March 9-10, 2022

Crypto State by CoinDesk

– February 24, 2022

Blockchain Expo World Series 2022
Blockchain Expo of North America

– 2020

Bitcoin Conference

– 2020

2021 DeFi Summit

– June 14-18,2021
Many of these past crypto events had global coverage and a mix of international crypto and blockchain experts, spanning regions like Southeast Asia, the Middle East, Europe, and the US. If you've missed some of these past events, the good news is that most of these crypto events, like Bitcoin 2022, are annual events. In fact, you can start purchasing tickets for Bitcoin 2023 as early as now.
What topics are covered in these cryptocurrency events?
Usually, cryptocurrency events cover a range of crypto or blockchain-related topics such as decentralization, banking, governance, regulations, and applications. Topics covered also include the technical aspects of crypto and blockchain technology, available or upcoming platforms, and privacy. Other areas of concern that could potentially be discussed in cryptocurrency events include the rise of altcoins, NFTs, and the adoption of cryptocurrency.