As a consumer, there are brands you automatically trust for quality – whether it's Rolex for watches, Whole Foods for groceries, Williams Sonoma for cookware, or Dyson for household appliances. So when you're going to buy something, you'd instinctually want to buy from these brands because you have the peace of mind that the quality would meet your expectations. That's how much power brand reputation has on consumers and their purchase decisions.
But for brands, building and maintaining a good reputation has become a major challenge as online reviews and social media posts become more accessible to consumers. One minor mistake could cause serious damage that takes years to rebuild. This makes it crucial to be on the constant lookout for any threats to your brand reputation and fix them before they go out of hand. In this guide, we dive deep into brand reputations – why it's important, how you can measure it, and how you can improve it.
---
Monitoring and Improving Your Brand Reputation:
---
What Is Brand Reputation?
Brand reputation refers to the perception that everyone else has of your brand i.e. how consumers, stakeholders, media, and competitors see your brand. It can be affected by a combination of factors including the quality and price point of your products, your customer service, your marketing strategies, and your employee experiences.
Your brand reputation is the factor that influences the level of trust people have in your brand and whether or not they choose to buy your products or services. It also influences people's loyalty toward your brand and whether or not they advocate for you, want to work for you, or choose you over the competition.
As such, it's extremely important to closely monitor and manage it to avoid any long-term damage to your business. In fact, 87% of executives in a Deloitte survey said that reputation risk was the top strategic risk for their business. This is because of the large-scale impact a negative reputation event can have on your business. According to the same survey, 41% of companies experienced a loss of revenue and brand value after a negative reputation event.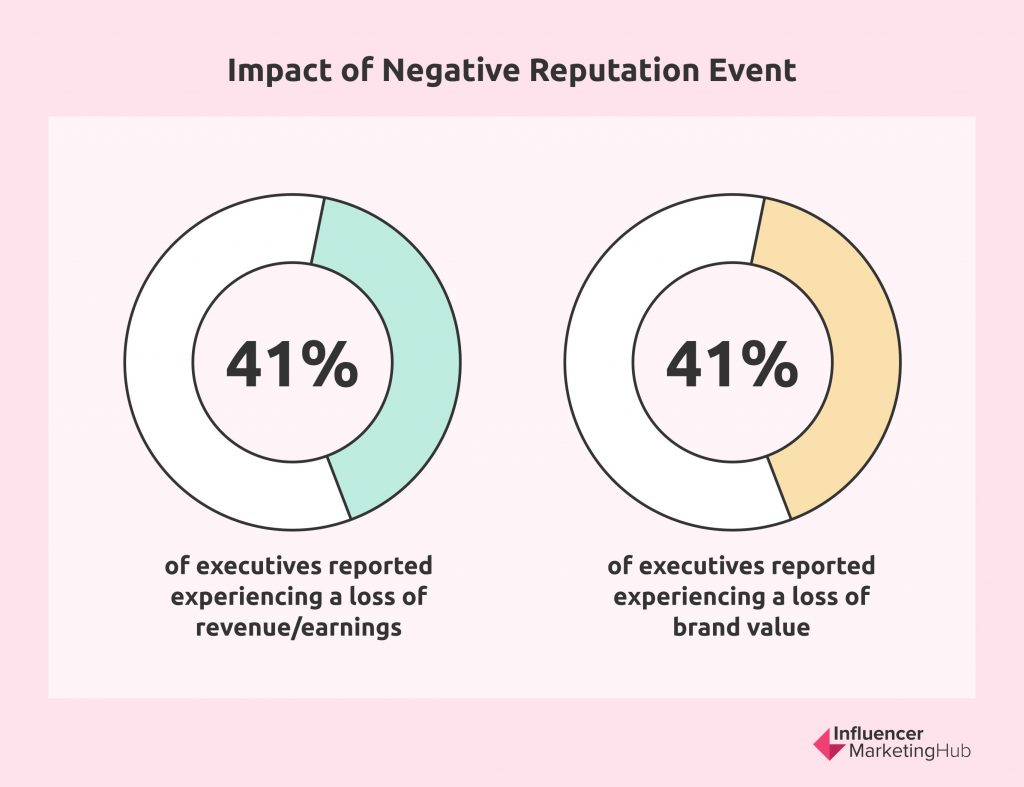 ---
How to Measure Brand Reputation
While most businesses understand the importance of brand reputation, many don't know how to improve it because they don't even know how to measure it in the first place. Keeping a close eye on your brand reputation will help you manage it more effectively. This means you can easily notice when your reputation needs saving, when there's a need for instant intervention, and how your current efforts are paying off.
Identify Key Brand Reputation Metrics
When narrowing down on the key brand reputation metrics to track, consider the biggest questions you want to be answered. Your brand reputation monitoring efforts should answer questions like:
How popular is your brand?

Are people talking about your brand?

How do people feel about your brand?

How do you fare compared to your competitors?
This will give you a baseline of what metrics might be important to you. Most reputation monitoring efforts focus on the following KPIs:
Reach –

This gives you an idea of how popular your brand is. It looks at factors like how many followers you have on social media and how many

YouTube subscribers

you have.
Share of Voice (SOV) –

This tells you how much conversation you own in comparison to your competitors, with brand mentions being a powerful indicator.
Sentiment –

This helps you understand the underlying sentiment behind conversations about your brand. In other words, you can get an idea of how people feel about your brand in general.
Besides these, you may also use other metrics like your search engine ranking, customer satisfaction score, and online reviews to get a fuller picture of where your brand reputation stands.
---
Use the Right Monitoring Tool
Many social media monitoring tools come with the ability to measure the above brand reputation metrics. But it's important to find one that can help you track the metrics that are important to you.
Talkwater Analytics, for instance, comes with robust brand management tools to help you get a complete picture of your brand perception. Using AI-powered sentiment analysis, it provides you with insights on brand awareness, user satisfaction, product perception, and customer loyalty. The instant alerts allow you to detect any threats and fix them before they become a crisis. Moreover, it goes beyond just text mentions to analyze conversations that take place through images and videos.
YouScan also uses AI-powered image recognition technology to add context to social media conversations and get a complete picture of your brand reputation. That means you can see your product in real-world consumption situations and understand how people perceive your brand. It brings you real-time notifications so you can quickly deal with negative mentions before they become a reputation risk.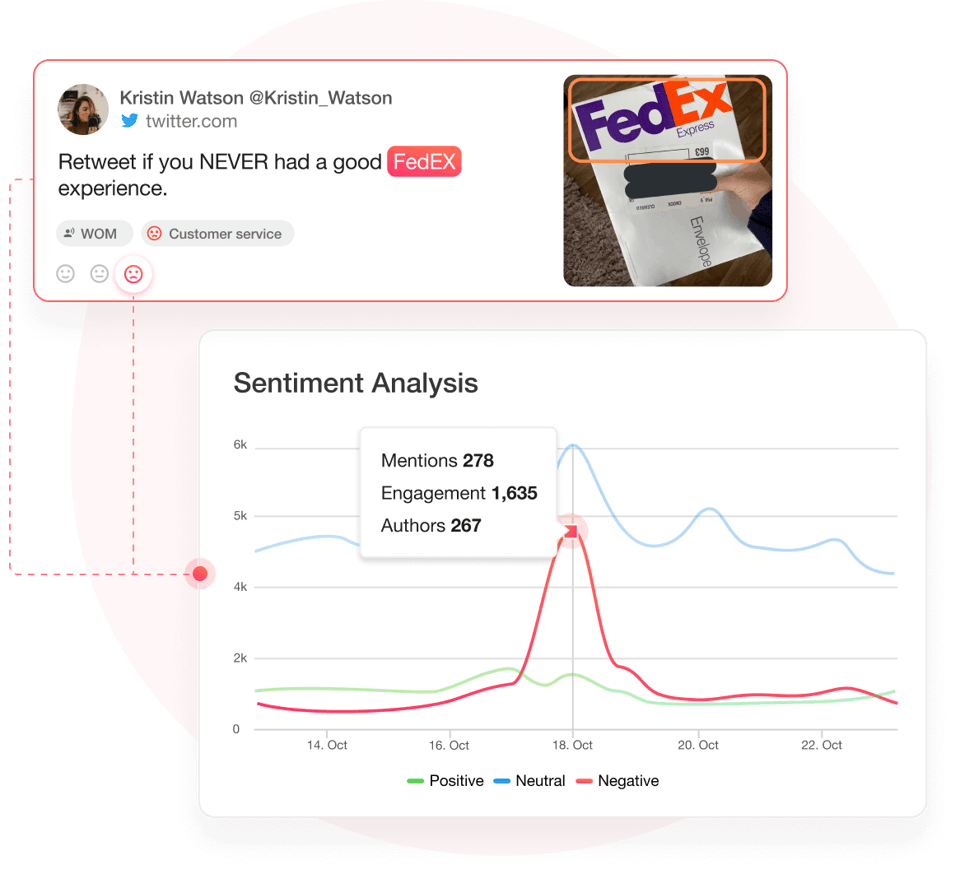 ---
Best Practices to Improve Brand Reputation

With even the smallest mistakes having the potential to ruin your brand reputation, building and growing your reputation is no easy feat. While the best practices below don't guarantee a positive brand reputation, following them consistently will significantly improve your chances of earning one.
Listen to Your Customers
Who better than your customers to tell you how you can fix your brand reputation? As they deal directly with your business, your customers are the best people to tell you what you're doing wrong, what needs improving, and what you're doing right. So listen to their social media conversations, collect feedback, and actively monitor reviews to get inside their mind.
This can give you valuable insights into what issues your customers are facing, how you can improve their experiences, and what you need to keep doing. Plus, showing them that you're actively listening to them is a great way to make them feel valued, which further adds to the customer experience and subsequently, your brand reputation.
For example, Twitter regularly collects feedback from users through surveys and other interactive methods. They even host Twitter Spaces sessions to actively collect feedback about products that they're planning to improve such as DMs.
Join us for Feedback Friday!

We'd like to talk to you about DMs, especially if it's not your thing.

Members of the Twitter DMs product team will join. We have questions. We'd like your feedback.https://t.co/ZlYcqooxyo pic.twitter.com/xxnNmQ0nOZ

— Reggie Murphy (@reggiemurphy) July 16, 2021
---
Listen to Your Employees
After your customers, your employees are the next best source of information on what your brand is lacking. As they maintain a direct line of contact with your customers, they can get first-hand information about the problems that your customers are facing that are affecting your brand reputation. And since they have an inside view, they can also provide actionable insights into exactly which processes need fixing to solve those problems.
For example, long wait times to contact customer support may be a major cause of frustration for your customers, resulting in thousands of tweets about poor customer service. But your employees know why those long wait times happen and what could solve the issue – whether it's live chat support to divert some of the phone traffic or better tools to make their job more efficient.
Moreover, their own experience as employees of your brand also influences your brand reputation as a whole as it affects employee advocacy. Do you provide reasonable benefits and salary? Do you care about their work-life balance? What are you doing to address their concerns? Are you providing them with enough training and resources to do their job better?
All of these factors will play into your overall brand reputation. So it's important to genuinely care about your employees and listen to their feedback and grievances. This will help you understand not only how you can help them do their jobs better, but also how to improve their experience working for your brand.
HubSpot has an excellent reputation as one of the best places to work due to how the company treats employees. They offer perks like remote work options, unlimited vacation, five-year sabbatical, generous parental benefits, tuition reimbursement, leadership development opportunities, and many more for a healthy work-life balance.
---
Keep Your Promises
One of the easiest ways to lose consumer trust and harm your brand reputation is by failing to keep your word. This could be because you made bold claims that your product or service was unable to follow through on. It could also be because you didn't deliver an order on time, issue refunds quickly enough, or follow-up at the promised time.
Whatever the specifics may be, not keeping your promises tells your customers that they can't trust your brand and it could seriously damage your reputation. So it's crucial that you always try to follow through on the promises you made. Avoid misleading marketing campaigns and advertising copy for a start. And be transparent about what you can and cannot do for your customers so you can set realistic expectations.
---
Be Responsive
When customers contact your business, they do so expecting a response. Even if you don't have the correct answer right away, they at least expect you to let them know that you're working on getting them that answer. On the other hand, when you leave them hanging with no response, you're giving them more opportunity to grow frustrated with your service and eventually take their experience public.
While this might be a one-off scenario, making a habit of not responding to your customers will ultimately take a toll on your brand reputation as more and more people start posting about how they never got a response. And soon, the public will know your brand as one that doesn't care about responding to customer complaints and queries.
So the last thing you want to do when someone reaches out to you with a complaint or question is ignore them and let their frustration build up. Responsiveness should be an important aspect of your customer service strategy. According to SuperOffice, 46% of customers expect a response within four hours, so this should be your "golden window." Even if you don't have the right answer within this timeframe, you should make the effort to acknowledge their query and notify them that your team is working on it.
BarkBox has built a strong reputation as a considerate brand that genuinely cares about their customers. And the way they respond to customer queries is one of the biggest factors contributing to this positive brand image.
Hi there, Zach! I am glad to hear that your pup loved these Thanksgiving toys so much 😊 We do have our Best of Barkbox boxes and always love bringing favorites back, with a twist! Definitely keep your eye on your add-to-box page for favorites as well!

— BarkBox (@barkbox) January 30, 2022
---
Make Authenticity and Transparency Your Motto
In a world that's become oversaturated with marketing ploys, consumers are increasingly craving authenticity from brands. They want to be able to trust your brand when you're telling them that X product will solve Y problem or that you're supporting a certain cause. An honest and authentic brand that's transparent with their business values and practices has a strong chance of boosting its reputation in the long run.
This could involve sharing your business practices like how you make your products, how you source your ingredients, or how you treat your employees. It could also be something as simple as owning up to a mistake and resolving to fix it or improve in the future.
In fact, a Sprout Social survey found that 85% of people would give your brand a second chance after a bad experience if you have a history of being transparent. And 85% would stick by your brand during a crisis if you're known for being transparent. Moreover, 89% would trust you again if you admit to a mistake and share the steps you're taking to resolve the issue.
Consumers expect your brand to be transparent about changes to your products or services and your company values. Policy changes, employment practices, and pricing decisions should also be openly shared with your audience on social media to improve the transparency factor.
Patagonia has earned a name in sustainability due to the brand's continued efforts to minimize their environmental impact. And one of the ways they've managed to build that reputation is by being transparent. They openly share information about how their clothes are made and their efforts to give back to the environment.
---
Build a Reputation that Lasts
Building a strong brand reputation is all about consistency and authenticity. Your efforts shouldn't just stop after you start to see improvements. Rather, you should regularly monitor your brand reputation to see how it changes over time and quickly detect sudden changes. This will help you proactively solve issues before they escalate and turn into reputation risks.
Frequently Asked Questions
What is brand reputation?
Brand reputation refers to the perception that everyone else has of your brand i.e. how consumers, stakeholders, media, and competitors see your brand. It's the factor influencing people's trust in your brand, their purchase decisions, and their loyalty toward your brand.
How do I find my brand reputation?
You can monitor your brand reputation using social media monitoring tools that let you track metrics like sentiment, reach, and share of voice.
How do you manage your brand reputation?
Managing your reputation requires quickly responding to issues before they become reputation risks – whether it's a customer complaint or a negative review. You can also manage your brand reputation by listening to your customers and your employees.
What is ORM in social media?
ORM is short form for online reputation management and it refers to the process of monitoring and improving how the public views your business online.
What are the advantages of good brand reputation?
Good brand reputation can improve brand trust, which subsequently contributes to higher brand value, improved customer loyalty, increased sales and revenue, and better talent pool in recruitment.