So, it's 2018 and you still haven't bought into a social media management or analytics tool for your business. Maybe you thought it would be easy enough that you didn't need any fancy tools to stay on top of your accounts. And maybe at the beginning, it was. But if you're doing things correctly, then those accounts are going to grow too big for you to handle just by logging in everyday to post and engage. If this is where you find yourself, sinking in social chaos and ready to get organised again, then congratulations! You've done fine work growing your social media presence, and it's time to take it to the next step.
If you're just getting started, this post applies to you, too. Maybe even more so, because you have the chance to do things the right way, from the beginning. You'll probably even be able to grow your accounts faster by being organised so early on. Really, it doesn't matter where you are in your social media marketing efforts—if you're on social media, then you need to manage it properly. That's not just a matter of posting and engaging, but also understanding how good (or not) you are at doing all that. Without good reporting, there's no point in doing it at all.
Any social media management tool needs to have a great analytics component, but not every analytics tool needs to have a management component. That's how important data is. It's best to get everything in one platform, but sometimes you need something more purpose-built. We're listing both kinds of tools here, and any of them will add value to your social media marketing.
---
5 Social Media Management Tools to Boost Your Marketing Game:
---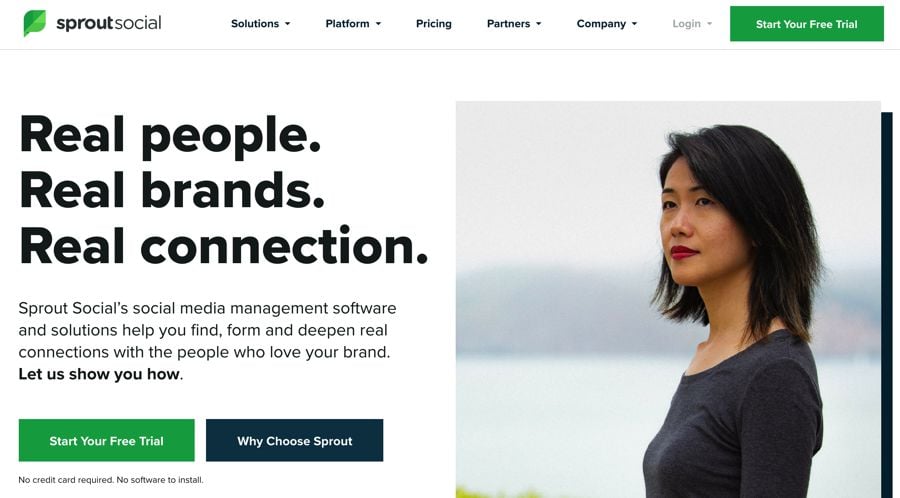 There's a reason Sprout Social is one of the most recognisable names in social media management: their platform pretty much does it all. It works with Facebook, Instagram, Twitter, LinkedIn, Pinterest, and Google+, and provides a way to work with all of them, simultaneously and without confusion. You can draft, schedule, and publish content from the interface, and monitor the performance of each post once it's live. Social listening tools can show who's talking about your business (or anything else you want to listen for), and what they have to say. The unified inbox brings all messages across all your accounts into a centralised place—including any of the hashtags or mentions you're listening for—easing the pain of social's most important (and difficult-to-manage) task: engagement.
What most sets Sprout apart is its sophisticated collaboration tools. It's easy to delegate tasks to team members, and to track their progress on those tasks. Content submission and approval all happen through an intuitive workflow. Most impressive is the "Live Activity Updates" feature, which notifies users in real time when someone is working on a particular task. This is especially important when it comes to responding to comments or messages from users, when you don't want two people responding back at the same time.
Sprout Social is designed for small to large/enterprise businesses. There are three levels of subscription at $99, $149, and $249 per month, with more features available the more you pay.
---
Like Sprout Social, Hootsuite has name recognition and a long history behind it. It works with Facebook, Instagram, Twitter, LinkedIn, Pinterest, and YouTube. Scheduling, reporting, listening, and collaboration tools are there, as you'd expect, and Hootsuite's dashboard gives users a quick way to survey their social landscape. The engagement tools aren't as clean as those with Sprout Social or Agora Pulse—messages and comments appear in each account's "stream" rather than in one consolidated place, so that can get pretty messy.
Hootsuite does excel in the area of content curation. Teams can manage a cloud-based cache of already approved content that can be posted on the fly (and then the audit tools make sure no one posts it again). You can easily repost any content that surfaces as a result of your social listening, right from the interface, and you can do the same with content you find on the web using the Hootlet browser extension.
With four different levels of service, brands can grow their subscription along with their needs. Monthly pricing goes from $29 to $599 per month, with custom pricing for enterprise clients.
---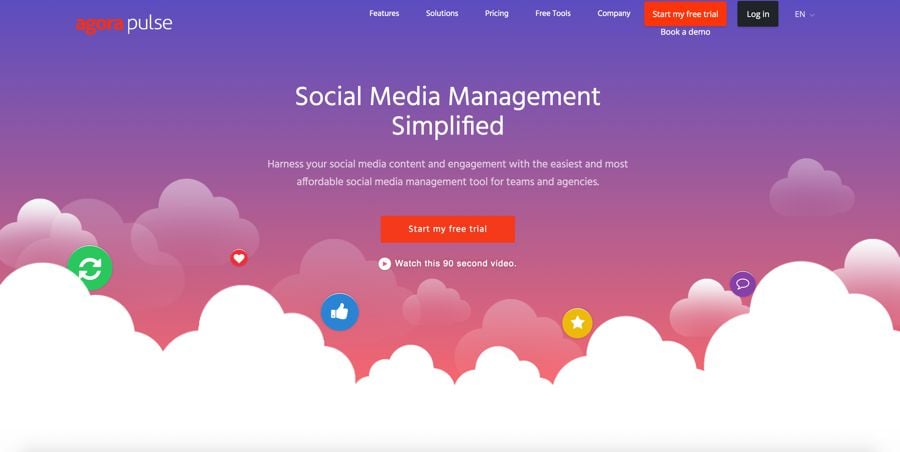 While not as well known as the Sprout Social or Hoot Suite, Agora Pulse has been quietly making a name for itself over the last few years. Before Sprout had their unified inbox, Agora was making lives easier with Inbox Zero. It's the same concept, done first—and better. It doesn't just collect messages and mentions, but any comments on your posts, as well. And where Sprout's inbox also shows any posts surfaced as a result of your social listening for hashtags and mentions, Agora keeps those separate for a cleaner experience. Inbox Zero is strictly for staying social with the people who are reaching out to you in one form or another.
Agora's inbox also integrates with Facebook's marketing API, so you can see and manage comments people leave right along side the other messages. This is a good thing: advertising is supposed to present you at your best and, let's face it, people don't always leave the nicest comments. It's good to have a real time way to react to (read: delete) those. And for people who are leaving real and/or positive comments? It never hurts to engage with them, and show them there's a real social aspect to your social media marketing.
With plans ranging from $39 to $239 a month, Agora should appeal to businesses of all sizes.
---
4. Snaplytics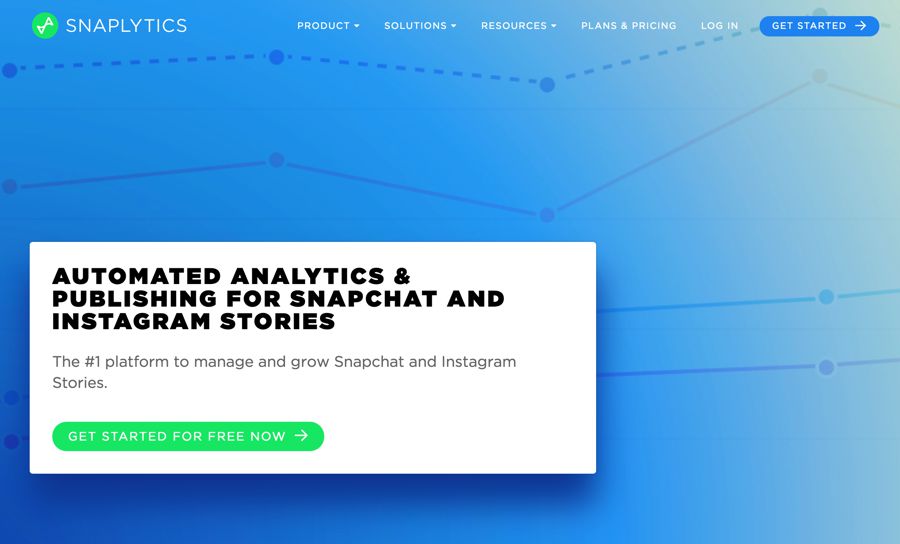 Snapchat is notoriously light on analytics, perhaps owing to the fact that the Snap was never meant to be something that stuck around for long. Why measure the performance on a 24 hour personal message? But, the service evolved into what it is today, a true social media platform, and brands are finding it a great place to reach Millennials and Gen Zers. Instagram Stories, which are really just Snaps, can also suffer from the same lack of data for the same reasons. This is what makes Snaplytics such a powerful tool.
Apart from providing a central place for brands to manage, schedule, and publish their Snaps and Instagram Stories, the platform can dive a little deeper into performance. You can track your stories' open rates, and plot these alongside your follower count, assisting you in on identifying which content is having the best effect. Snaplytics also creates an archive of all your stories to go along with the data so you don't have to worry about it all disappearing when the stories do. You can also categorise your videos to get analytics on how your content performed within that category. Finally, the platform's listening features are really a clever little opposition research tool that allows you to monitor competitors' accounts. You can find out what, when, and how often they're posting to help strategise your own content.
Snaplytics doesn't list their pricing publicly, so you'll have to contact them directly to find out the cost.
---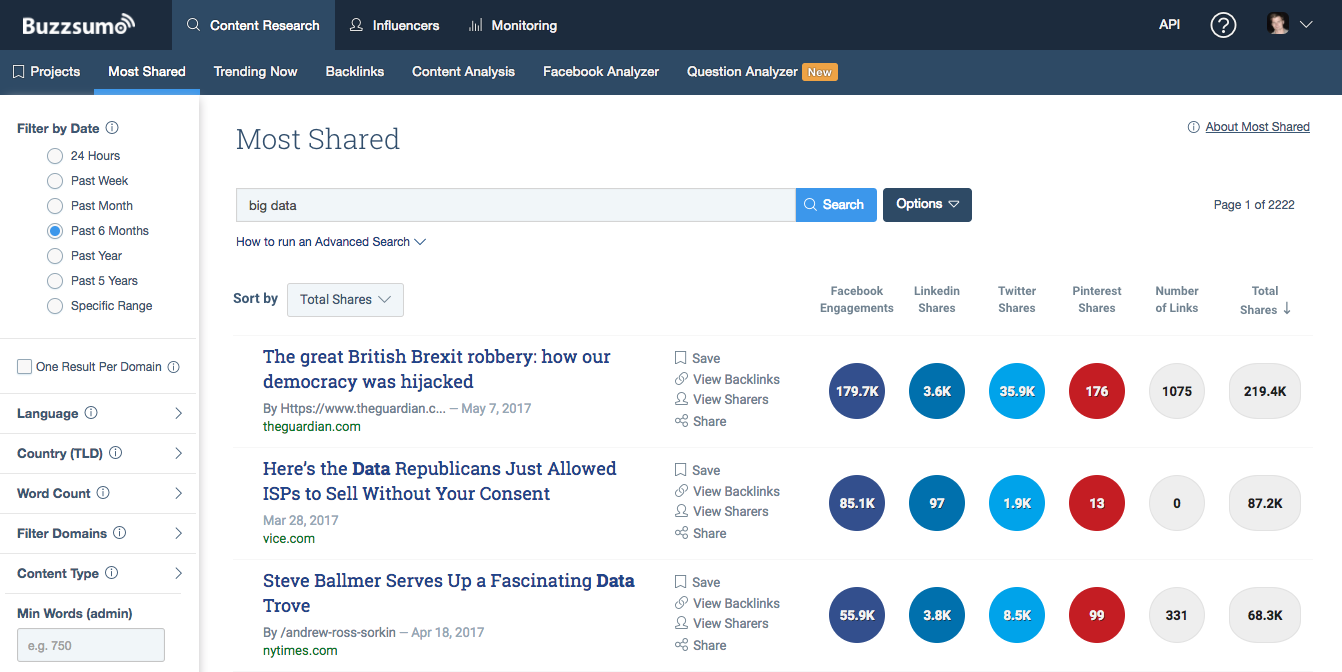 BuzzSumo isn't really a social media management tool in that you don't use it to manage and monitor your accounts. Instead, its chief use is to measure the social performance of content on websites. This isn't just showing you what's trending, but gives you a detailed breakdown of social engagement for each piece of content across Facebook, Twitter, Pinterest, and Reddit.
The function of this is twofold: First, it can be used as a content strategy research tool, as you can find out the kind of content that's resonating with audiences. While you can't search according to any audience criteria (you won't get demo- or psychographics on them), you can restrict the search to be content from your competitors. Their target audience is your target audience, so it helps to know what they're doing right (and wrong).
Restricting the search by domain (or author) also facilitates the second use for BuzzSumo: monitoring and analysing your own content's performance. And if you've found that your blog posts aren't reaching as wide an audience you would have liked, there's a built-in influencer search feature to find people who can amplify them.
BuzzSumo is useful for companies of any size that rely on a content marketing strategy, because it focuses on tracking the actual content rather than accounts. This gives a more holistic view into how well the content is working, as opposed to the social post that promoted the content. With plans that range from $79 to $499 per month, there's something there to fit almost any budget.
---
Social Is As Social Does
For users of social media, you can really only get out of it what you put into it. That's as true for your grandmother's Facebook account as it is for Nike's Instagram profile. The only difference is your grandmother doesn't really care if people see her posts or not, whereas Nike is investing the time into social media to reap the benefits at a bank down the road. That's why businesses can't afford to treat their social accounts like your grandmother treats hers, which is precisely why it's so important to have the right tools to manage it all. These don't represent all your choices, but they are some of the best. No matter what you're doing on social for your business, there's something here to help you do it better. And that's a statement that needs no analysis.