Advertising Disclosure
Advertising disclosure:
Our partners compensate us. This may influence which products or services we review (also where and how those products appear on the site), this in no way affects our recommendations or the advice we offer. Our reviews are based on years of experience and countless hours of research. Our partners cannot pay us to guarantee favorable reviews of their products or services.
Online users, particularly those on social media, are constantly barraged with ads and content. In an immensely saturated market, brands must work harder than ever to get people's attention. Businesses must create non-intrusive and unique strategies to engage with target consumers. Branded content is a key tool in achieving this goal.
As the name implies, this type of content is tightly linked to your brand and conveys your principles in a manner that evokes an emotional reaction in your audience. Branding is all about encapsulating what your company stands for—values, vision, intentions, and goals. Creating branded content is an excellent way to show these characteristics.
Furthermore, the effectiveness of branded content in fostering brand loyalty is significant. A branding statistic reveals that 55% of consumers are more likely to buy a product if they love a brand's story. This highlights the immense value of creating branded content that resonates emotionally with the audience, effectively communicating your company's values, vision, intentions, and goals, thereby not only enhancing brand reach but also deepening customer loyalty.
By extension, it helps them to recognize what your company stands for. Brand content also improves brand loyalty and broadens brand reach. This is particularly true when its impact touches the audience's hearts, and the message goes beyond the product or service you provide.
Brand content, often crafted with the expertise of a branding agency, can take various forms. This could range from a YouTube video, a social media micro-video, a blog, a news article, a podcast, a video game, or even an event. Research shows that 44% of B2B businesses plan to spend more on branded projects this year.
---
Top 8 Branded Content Agencies:
---
Branded Content Marketing Vs. Content Marketing
Branded content highlights your company's brand, principles, experience, and narrative for all to see. It isn't intended for or distributed to a specific group of your audience; rather, it is for everyone. Content marketing, on the other hand, is tailored to specific audiences and emphasizes promoting your products and services. Branded content marketing aims to build awareness, motivate, excite, and inspire. Content marketing aims to drive leads and revenues.
Branded Content Characteristics
To ensure that your marketing team is creating branded content, and not just traditional marketing, it should: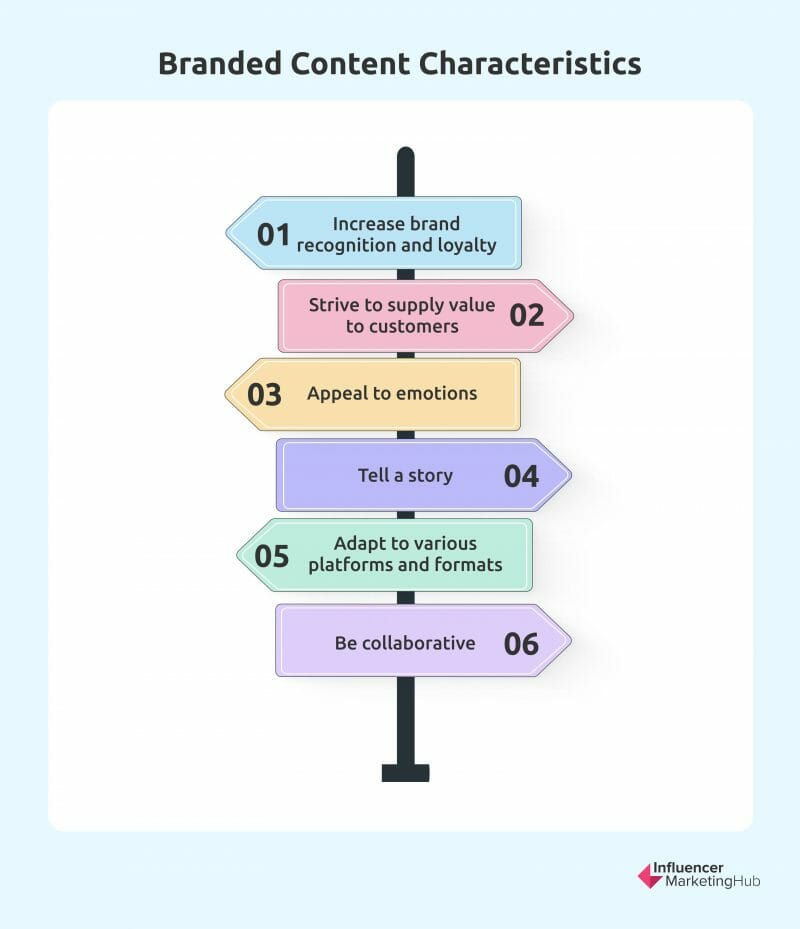 Increase brand recognition and loyalty.
Rather than pitching a product or service, branded content aims to build brand notoriety and attachment. Even though it may look like a typical video ad at times, it concentrates on the brand's intangible qualities rather than the products it sells.
Strive to supply value to customers.
Watching intrusive traditional ads is often the price you pay for getting more relevant information. Branded content, on the other hand, is a resource that people are interested in. This type of content aims to engage the audience and inspire company-related conversations, not a direct sale or conversion.
Appeal to emotions.
Branded content aims to set up an emotional connection with consumers. Rather than highlight why your brand is better than the competition, it engages the audience on a more personal level.
Tell a story.
Storytelling drives branded content. It tells a narrative that is both entertaining to the viewers and beneficial to the brand. It has a protagonist. There is a beginning, middle, and end to the story. The plot often uses an immersive, sensory-driven style. It combines rich multimedia formats such as music, video, and interactive features. These elements offer deeper conversations and emotional experiences than words or static images.
Adapt to various platforms and formats.
Branded content is a flexible approach used to convey a brand's story through videos, podcasts, interactive formats, video games, or a hybrid of all. Apps, social media platforms, owned media domains, and the company site can all share the material. And since they are predominantly audio and video-driven, these projects are mobile-friendly too.
Be collaborative.
Branded content can be co-created and co-produced. It is common for businesses to collaborate with filmmakers or other well-known artists to create their best content. Another popular asset is user-generated content, which lets people tell their own stories about the brand. Co-creating stories with publishing firms that share the company's values and interest help the brand's message gain traction. It also gives both parties a vested stake in the success of the work.
---
Top Robust Branded Content Agencies to Team Up With
Creating effective branded content is not an easy task. Tell your brand's story in a unique and inspiring way with the help of the following branded content agencies.
Top
branded content agencies
2024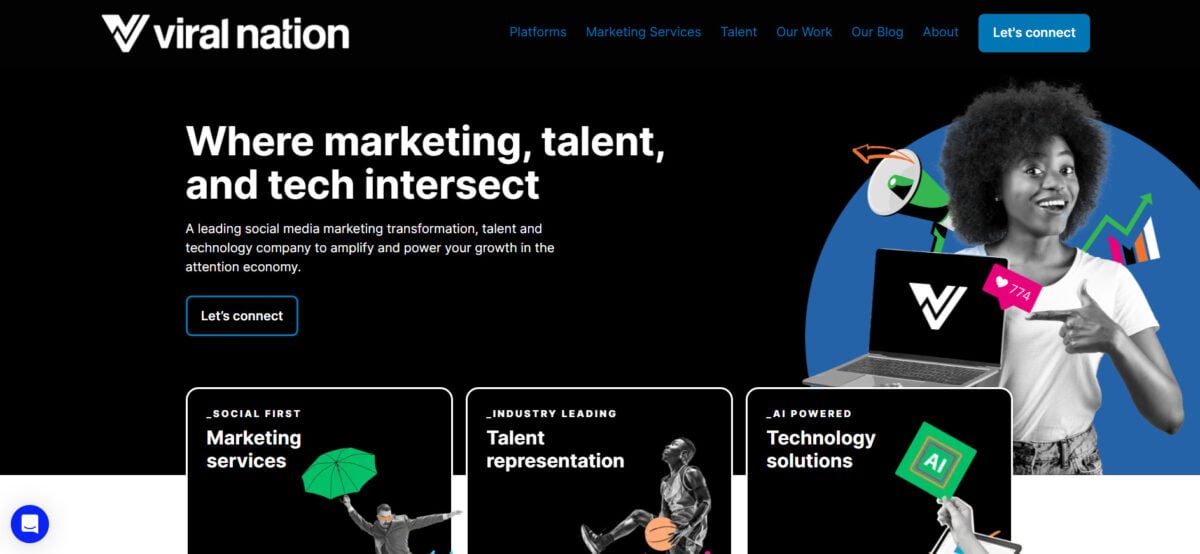 Viral Nation optimizes brand experiences. This modern marketing and technology agency offers top-tier creative and social media services to brands and talents. It uses unique custom content tailored to grab the attention of viewers around the world.
Storytellers, creatives, social media specialists, and designers make up its award-winning team. Together, they generate branded content with cultural relevance. They tell a company's story across new media, digital, and immersive platforms.
Viral Nation's strategy-first style fuses media and design. Its customized distribution and digital augmentation increase reach and impact. The agency's innovative strengths span multidisciplinary creative initiatives, product and service development, and global brand engagements. Clients can establish their businesses with branded content powered by videos, artwork, and photos. Viral Nation also provides unrivaled expertise in social media channels and best practices.
Other services: influencer marketing, digital marketing, paid and performance media, blockchain and web3, social media marketing, talent management, full-service production
Key clients: Meta Quest, Activision Blizzard, ViewSonic, Discover Boating, PUBG MOBILE, Anheuser-Busch, Energizer, Twitch, Campbell's, Logitech, Disney, Tim Hortons
---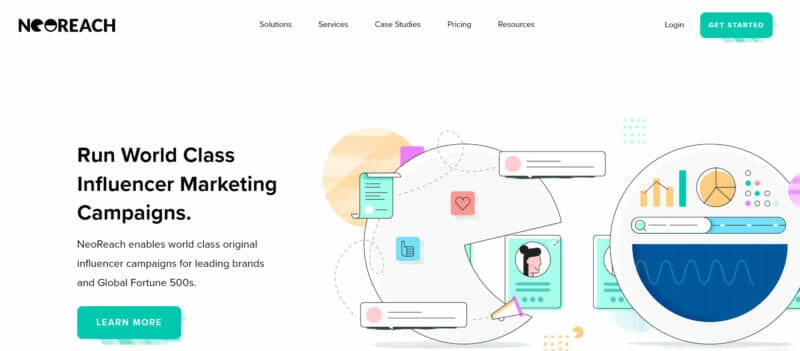 NeoReach is a global brand influencer marketing agency that offers top-notch search, system integration, monitoring, and enterprise-grade analytics. The agency also has a team of experts that build successful data campaigns at scale. NeoReach aids in growing ROI and brand engagement. The platform facilitates reaching the intended audience by finding the suitable influencer, streamlining the influencer initialization, appraising active campaigns promptly, and scaling the influencer marketing solution.
NeoReach's system also enables clients to gather additional data, design more effective campaigns, and gain vital business intelligence. NeoReach gives business applications real-time access to a wide range of audience segments, competitive intelligence, paid campaign statistics, post data, and rich creator insights.
NeoReach has a global database of over 3 million influencers. Brands may find social media influencers on the most popular platforms, like Facebook, Twitter, TikTok, and Instagram. They may also upload their own lists of social media influencers to the portal. The platform also includes 40+ robust categories that help users zero in on the right influencers to work with.
The platform has a distinct algorithm that assigns a score to influencers. Brands can use it to gauge their authority within their customer base. NeoReach also provides predicted prospects for each selection based on its assessments, giving clients a sense of how the campaign could perform.
The agency provides an opportunity for influencers and brands to network and determine whether they are a good fit. The global NeoReach community is composed of creative content creators from nearly every genre, industry, and expertise. The NeoReach official Discord provides a community of content producers and marketing prospects that are not accessible elsewhere.
Other Services: tech-enabled services, paid media, API, fraud detection and reporting, crypto and NFT marketing
Key Clients: Airbnb, Amazon, The New York Times, Honda, Walmart, BET Networks
---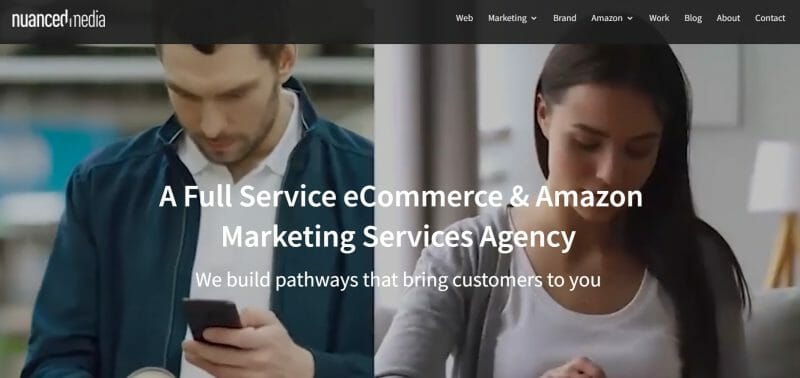 Nuanced Media is a leading Amazon and eCommerce marketing agency based in Tucson and Phoenix, Arizona. The full-service company provides a broad approach to developing innovative and effective solutions for domestic and global retail clients. It also offers first-class branded content marketing through research, fact-checking, teamwork, and creative thinking.
Its team of designers, writers, researchers, and builders monitors industry trends and tech advancements to better understand how to differentiate its customers from the competition. The Nuanced team focuses on creating fully transparent relationships with clients to learn about their values, goals, and user base. This way, the team can produce original branded content that motivates and engages their intended audience.
A Nuanced Media branding strategy is based on the company's values, culture, and how visitors will remember the brand. The brand identity efficiently portrays the company's value and evokes emotion in the client's target demographic. It also positions the company for future growth and success.
Other services: eCommerce marketing, Amazon marketing, website design
Key clients: Lunt Solar Systems, Unisox, Green Line Goods, Microderma Mitt, Studio 71, Krush Kandy, Crystam Impressions, Seat Covers Unlimited, MenoLabs
---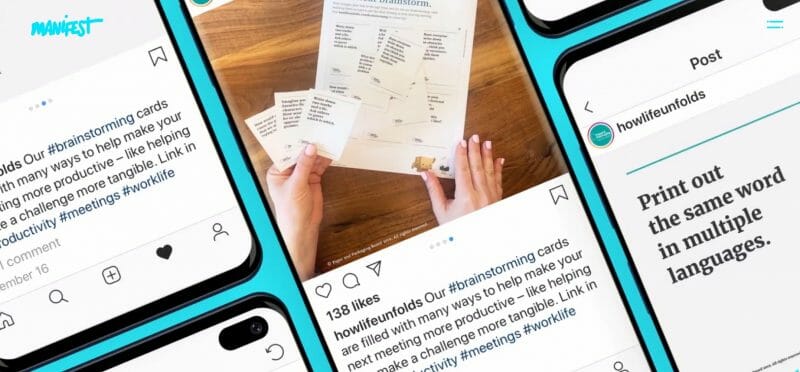 Manifest has 30 years of experience and expertise in all things content—branding, strategy, creation, and marketing. The once-limited content marketing team has grown into a contemporary brand dialogue agency. The company's foundation is rooted in revolutionary ideas, the highest journalistic standards, and an uncanny awareness of what a business truly needs.
From campaigns to storytelling, Manifest content relies on behavioral data. Each strategy is designed to push through the clutter. Its team is constantly devouring culture to grasp where it is going. When producing branded content, Manifest uses the most innovative research tools available to delve deep into the brand's key demographic. The team then improves as they go to ensure optimum engagement.
Manifest has four offices in the United States (Chicago, New York, Washington, D.C., and Phoenix). It employs over 150 workers, including strategists, designers, entrepreneurs, and journalists.
Other Services: brand strategy and position, social media and engagement strategy, journalist and editorial, social content, custom publishing, UX strategy and design, web and mobile development
Key Clients: Delta, JW Marriott, Hilton, BMW, Staples, Paper & Packaging, Cleveland Clinic, Michigan Medicine, Alamo, The Ritz-Carlton
---
Sweden-based SNASK is a niche firm focusing on branding, design, and communication. It offers a surplus of services and solutions that help companies with marketing and advertising. SNASK creates attractive brands that convey a positive vibe that is hard to replicate. It delivers moving content that speaks from the brand's heart and produces eye-catching designs that outshine the competition.
SNASK's team is made up of creative and technical specialists that work together to generate exceptional content for clients and other agencies all over the world. The team creates content with the intent of moving the needle — and even reshaping industries. Its branded content is meticulously crafted down to the last detail.
Collaborating directly with its clients, SNASK crafts concepts that bring their brands to life. SNASK's branded content includes videos, still photos, animations, and loops. They are efficiently delivered across numerous channels, such as social media, print, video ads, and presentations.
Other Services: Video Production, Rebranding, Communication Strategy, Packaging Design, Brand Strategy, Graphic Design, Stop Motion
Key Clients: Spotify, H&M, The Washington Post, Klarna, Samsung, Microsoft, Kaibosh, Universal Music Group, Brooklyn Brewery
---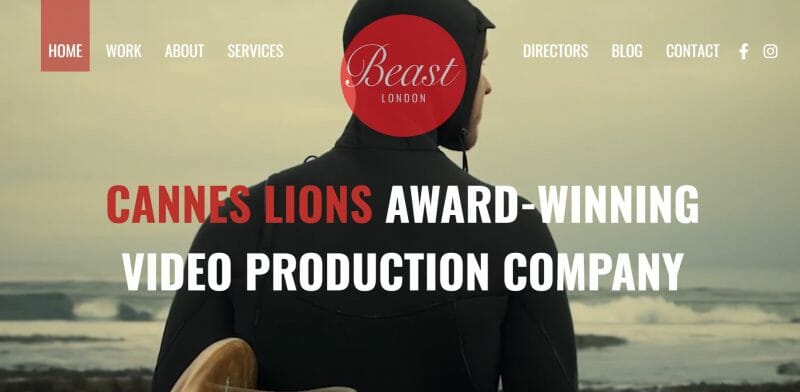 Beast Agency delivers compelling stories that keep audiences captivated. Beast is an award-winning branded content agency based in London that helps companies with their narrative from concept to delivery. Its collaborative "one-stop-shop" approach makes it easy for the company to create branded content quickly and efficiently, not just in the UK but all over the world.
Beast develops engaging and captivating ad campaigns with branded content that is tailored to the brand's core audience. Regardless of their client's budget, the team creates and delivers high-quality creative campaigns. Beast has a higher capacity to control costs and provide the best possible results in any situation since the company produces and completes the entire project. Clients can also pick from Beast's roster of renowned ad directors.
Beast's employs a small, multi-faceted team. Over the years, they've specialized in ad agencies, branded content creation, TV production, and fashion video and photography. Both computer-generated animation (CGI) and motion graphics (MG) have been used in their earlier projects.
Other services: creative, video content, postproduction, digital marketing
Key clients: Adidas, British Airways, Guinness Surfer, Memoto, Swatch, Burger King, Netflix, Huawei
---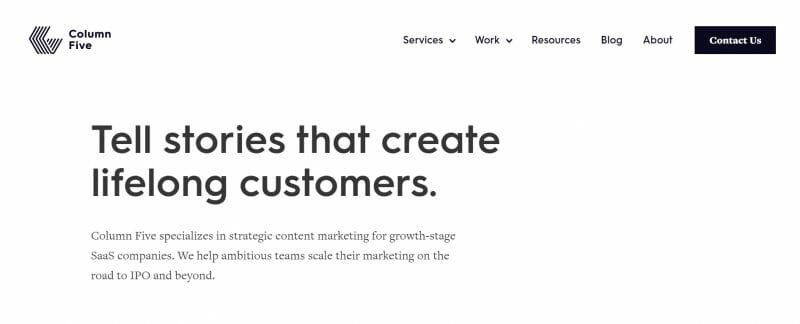 Column Five specializes in smart content marketing for startups and established businesses. Its team of creatives, storytellers, and specialists helps its clients' businesses stand out from the pack and win people's hearts. The US-based agency uses the power of storytelling to help brands meet and bond with lifelong consumers, develop meaningful connections, and make sound choices for people, profit, and the planet.
Column Five's branded content strategy is all about the heart. The team believes that brands with thriving communities behind them can change the world. For a company to build a strong community, it must be clear about who it is and what it stands for. The agency helps to communicate these values consistently across every touchpoint.
Column Five ties the business, brand, and story together by identifying and conveying the core elements of the company. The team sustains the brand's identity and integrity with a beautifully crafted narrative that subtly underlines the brand's principles. They also create a cohesive brand message using a framework in which they present a continuous, clear narrative.
Other services: content strategy, content creation, distribution strategy,
Key clients: Cornell University, Course Hero, Forrester, Banc of California, Edwards Lifesciences, J.P. Morgan, Girls Who Code, Zillow
---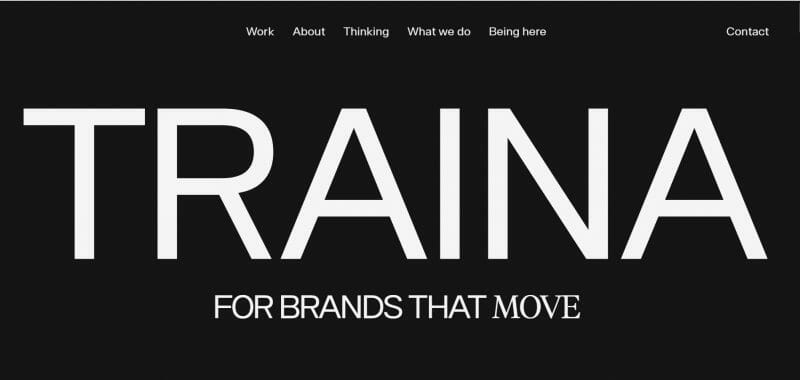 Traina is a creative firm dedicated to building brands. The San Diego-based agency specializes in branding strategy and identity solutions. Traina produces branded content within a design framework that allows continuous, dynamic brand embodiment across the company.
Its team works closely with its customers to establish an authentic vision, values, and branding tactics. This approach is translated into a visual and verbal image that highlights who the company is and why the world should know about it.
The Traina team's work is centered on strategy. It's what empowers them to move their clients' brands with intent and purpose. Traina's creative and development teams collaborate to show how systematized design can help companies looking to optimize their brand. They develop brand experiences across all touchpoints to entertain and captivate audiences, stir emotions, and earn brand loyalty. They integrate big ideas with detailed work. Every detail and design is created to reach the audience's hearts and minds.
Other Services: digital marketing, packaging, publications, web design
Key Clients: Stater Bros. Markets, Umo Transit, Legion, Taylor Guitars, Uniworld, Microsoft, MotoSonora
---
Final Thoughts
Effective branded content generates marketing experiences that are virtually indistinguishable from other forms of content. It is a unique marketing strategy that both companies and consumers can benefit from. Companies have the chance to deliver a compelling story, which can lead to organic referrals and reinforce customer loyalty. Consumers can get tailored information or experiences while learning more about the brand.
Your branded content should have a clear and unique brand voice that reflects your brand values. It should also convey your brand's story in an entertaining way to connect with your target audience. Working with a reputable branded content agency not only makes your goal easier to achieve, but also makes what you imagine more relatable, touching, awe-inspiring, and memorable.
Frequently Asked Questions
What is an example of branded content?
Branded content will often always include articles, YouTube videos, podcasts, films, and other social media content. Branded content does not include traditional advertising like TV commercials or banner ads.
What does branded content do?
Branded content is about marketing through the creation of content. This content is funded, or outright produced, by an advertiser. Branded content should build awareness by associating the brand with content or an influencer that shares its values.
What is the difference between sponsored content and branded content?
Branded content is produced in-house by staff, but sponsored content is produced together with the staff and a publisher's editorial team. Branded content will go to a brand's audience, but sponsored content will reach a publisher or influencer's audience.
What is FB branded content?
Facebook Branded Content is a tool that lets influencers, content creators or brands tag sponsored brands on their content. The goal is to announce content collaborations between a brand and a Facebook administrator.