Advertising Disclosure
Advertising disclosure:
Our partners compensate us. This may influence which products or services we review (also where and how those products appear on the site), this in no way affects our recommendations or the advice we offer. Our reviews are based on years of experience and countless hours of research. Our partners cannot pay us to guarantee favorable reviews of their products or services.
Online users, particularly those on social media, are constantly barraged with ads and content. In an immensely saturated market, brands must work harder than ever to get people's attention. Businesses must create non-intrusive and unique strategies to engage with target consumers. Branded content is a key tool in achieving this goal.
As the name implies, this type of content is tightly linked to your brand and conveys your principles in a manner that evokes an emotional reaction in your audience. Branding is all about encapsulating what your company stands for—values, vision, intentions, and goals. Creating branded content is an excellent way to show these characteristics.
By extension, it helps them to recognize what your company stands for. Brand content also improves brand loyalty and broadens brand reach. This is particularly true when its impact touches the audience's hearts, and the message goes beyond the product or service you provide.
Brand content can be in various forms, such as a YouTube video, a social media micro-video, a blog, a news article, a podcast, a video game, or an event. Research shows that 44% of B2B businesses plan to spend more on branded projects this year.
---
Top 8 Branded Content Agencies:
---
Branded Content Marketing Vs. Content Marketing
Branded content highlights your company's brand, principles, experience, and narrative for all to see. It isn't intended for or distributed to a specific group of your audience; rather, it is for everyone. Content marketing, on the other hand, is tailored to specific audiences and emphasizes promoting your products and services. Branded content marketing aims to build awareness, motivate, excite, and inspire. Content marketing aims to drive leads and revenues.
Branded Content Characteristics
To ensure that your marketing team is creating branded content, and not just traditional marketing, it should: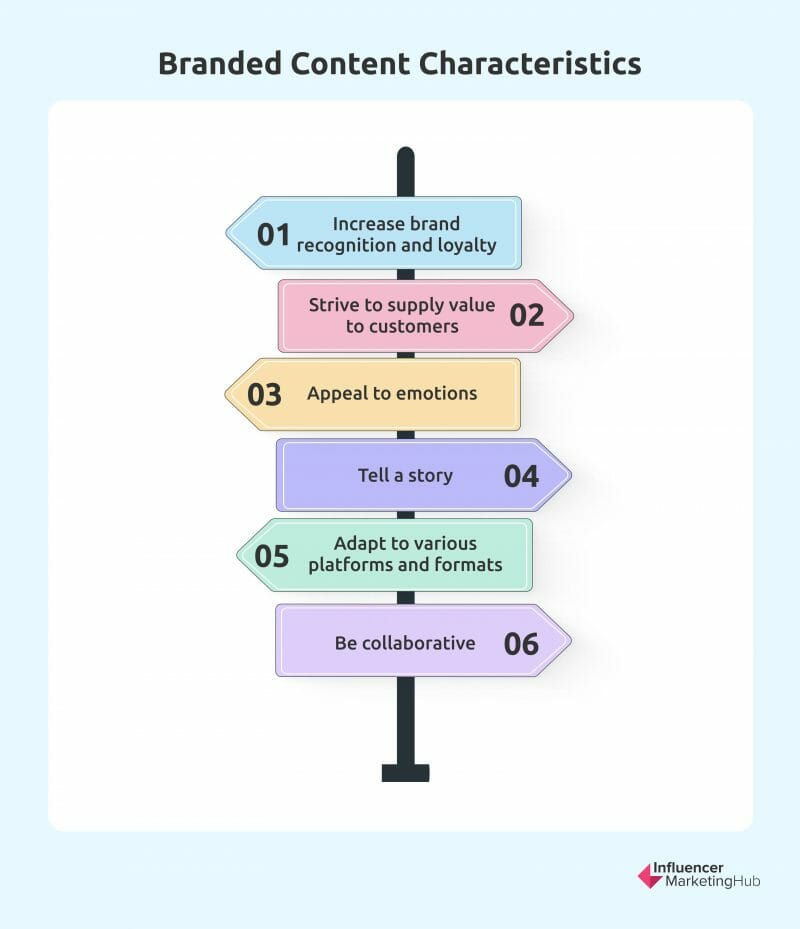 Increase brand recognition and loyalty.
Rather than pitching a product or service, branded content aims to build brand notoriety and attachment. Even though it may look like a typical video ad at times, it concentrates on the brand's intangible qualities rather than the products it sells.
Strive to supply value to customers.
Watching intrusive traditional ads is often the price you pay for getting more relevant information. Branded content, on the other hand, is a resource that people are interested in. This type of content aims to engage the audience and inspire company-related conversations, not a direct sale or conversion.
Appeal to emotions.
Branded content aims to set up an emotional connection with consumers. Rather than highlight why your brand is better than the competition, it engages the audience on a more personal level.
Tell a story.
Storytelling drives branded content. It tells a narrative that is both entertaining to the viewers and beneficial to the brand. It has a protagonist. There is a beginning, middle, and end to the story. The plot often uses an immersive, sensory-driven style. It combines rich multimedia formats such as music, video, and interactive features. These elements offer deeper conversations and emotional experiences than words or static images.
Adapt to various platforms and formats.
Branded content is a flexible approach used to convey a brand's story through videos, podcasts, interactive formats, video games, or a hybrid of all. Apps, social media platforms, owned media domains, and the company site can all share the material. And since they are predominantly audio and video-driven, these projects are mobile-friendly too.
Be collaborative.
Branded content can be co-created and co-produced. It is common for businesses to collaborate with filmmakers or other well-known artists to create their best content. Another popular asset is user-generated content, which lets people tell their own stories about the brand. Co-creating stories with publishing firms that share the company's values and interest help the brand's message gain traction. It also gives both parties a vested stake in the success of the work.
---
Top Robust Branded Content Agencies to Team Up With
Creating effective branded content is not an easy task. Tell your brand's story in a unique and inspiring way with the help of the following branded content agencies.
---
---
---
---
---
---
---
---
Final Thoughts
Effective branded content generates marketing experiences that are virtually indistinguishable from other forms of content. It is a unique marketing strategy that both companies and consumers can benefit from. Companies have the chance to deliver a compelling story, which can lead to organic referrals and reinforce customer loyalty. Consumers can get tailored information or experiences while learning more about the brand.
Your branded content should have a clear and unique brand voice that reflects your brand values. It should also convey your brand's story in an entertaining way to connect with your target audience. Working with a reputable branded content agency not only makes your goal easier to achieve, but also makes what you imagine more relatable, touching, awe-inspiring, and memorable.
Frequently Asked Questions
What is an example of branded content?
Branded content will often always include articles, YouTube videos, podcasts, films, and other social media content. Branded content does not include traditional advertising like TV commercials or banner ads.
What does branded content do?
Branded content is about marketing through the creation of content. This content is funded, or outright produced, by an advertiser. Branded content should build awareness by associating the brand with content or an influencer that shares its values.
What is the difference between sponsored content and branded content?
Branded content is produced in-house by staff, but sponsored content is produced together with the staff and a publisher's editorial team. Branded content will go to a brand's audience, but sponsored content will reach a publisher or influencer's audience.
What is FB branded content?
Facebook Branded Content is a tool that lets influencers, content creators or brands tag sponsored brands on their content. The goal is to announce content collaborations between a brand and a Facebook administrator.