Advertising Disclosure
Advertising disclosure:
Our partners compensate us. This may influence which products or services we review (also where and how those products appear on the site), this in no way affects our recommendations or the advice we offer. Our reviews are based on years of experience and countless hours of research. Our partners cannot pay us to guarantee favorable reviews of their products or services.
According to statistics, billions of people around the world use email to share and receive files, messages, and information. By 2023, the total number of email users is expected to reach 4.3 billion.
With the number of email users growing each year, it's natural for businesses to use email not only to reach out to prospective clients but also to communicate with and keep existing customers up to date about their brand. If you're sending an email to a person who doesn't know the brand, product, or service you're promoting, you're sending a cold email.
---
Free Email Signature Generator Tool
The tool below has been developed to allow you to create a great-looking email signature easily. Now you can create an original signature for your emails with our generator in just a few easy steps.

---
Top 12 Cold Email Marketing Software Tools for 2023:
---
Cold Email vs. Spam: What's the Difference?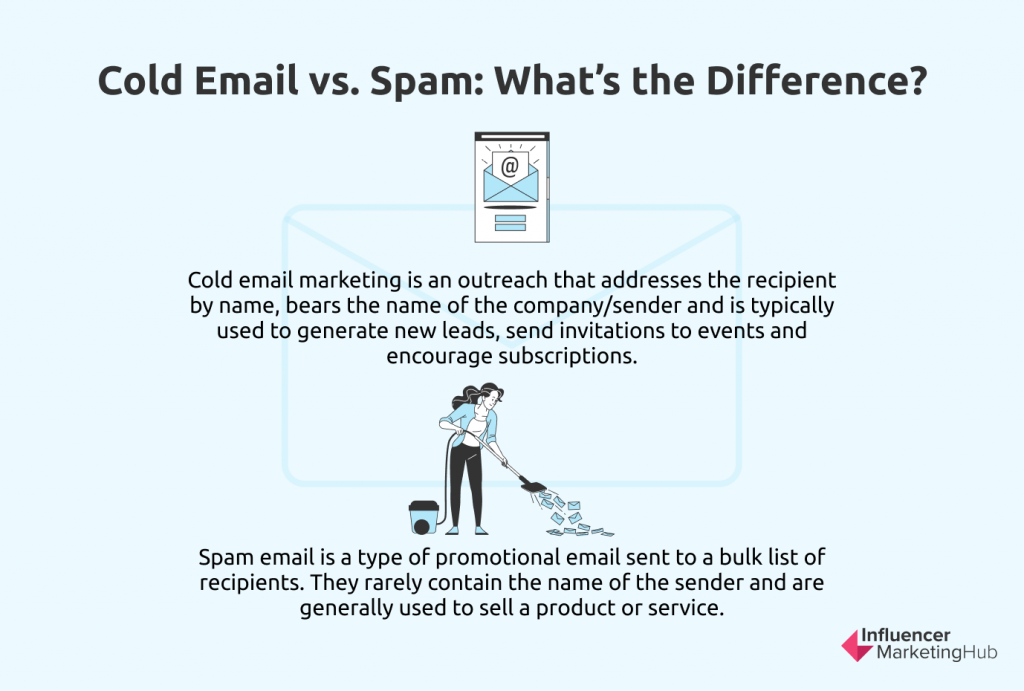 A cold email and a spam email may initially look the same because both are sent to people whom you haven't communicated with before or who don't know your company or its product and services. But that's where the similarities end.
Cold email marketing is a sales outreach strategy that aims to capture the interest of a target audience, encourage them to open and read the email and form a long-term connection with them. To gain the trust of the recipients, a cold email bears the name of the company or the brand representative and addresses the recipients by their name. Recipients would find the sender's real name, position in the company, and contact information within the cold email.
Cold emails are typically used to generate new leads, invite people to attend a workshop, listen to a podcast, or subscribe to a newsletter. Businesses also use cold emails to request people to participate in a survey or research or to recruit candidates for a vacant position.
If the recipient is not interested, they can let the sender know they don't want to continue receiving emails through an opt-out link or by replying to the email.
Meanwhile, a spam email is a type of promotional email sent to a bulk list of recipients. The primary purpose of a spam email is to sell a product or service, regardless of whether the recipients are interested in it. Spam emails may be sent by a real person or company, but they rarely contain the name and/or contact information of the sender.
---
How Do You Run a Successful Cold Email Marketing Campaign?
A successful cold email marketing campaign relies on several factors, from creating an engaging subject line and writing informative content to ending the email with an encouraging call to action (CTA).
Before coming up with a cold email, you should also determine who your target audience is and customize your message based on the profile or buyer persona of your target customers. After sending out a cold email, you must also remind and follow up with your prospects, ideally 3 days after sending your first email–in case they don't respond right away. Tracking and measuring cold email marketing metrics, such as open rate, click-through rate, and bounce rate, to help you gauge how you can improve your cold marketing campaign.
But no matter how creative and meticulously crafted your cold email outreach is, its success could be impeded if you're going to send emails manually to your target recipients, organize data, and add/delete email addresses from mailing lists.
To streamline your processes, you need to automate your cold marketing. Here is where you'll need cold marketing software. A cold email software tool offers functionalities such as sending bulk emails and follow-ups, tracking email opens and clicks, and preparing reports. Using cold emailing software tools can help you reach your leads faster and potentially increase your ROI.
---
Top 12 Email Marketing Software Tools for 2023
Choosing the best cold email marketing software tools could be challenging with so many companies offering similar services. To help you decide, we're listing down the top 12 cold email marketing software and tools to jumpstart your cold email campaigns.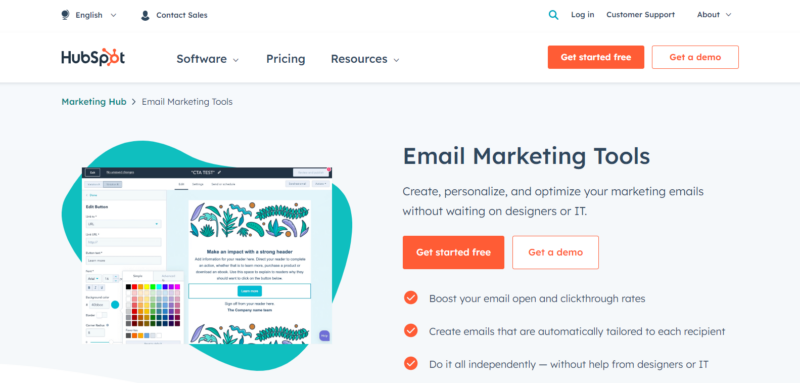 HubSpot offers a CRM platform that covers a wide variety of solutions for marketing, sales, and customer service. In the Marketing Hub, individuals and businesses can use email marketing tools that can help them create email campaigns, send email in bulk, and analyze campaign performance.
If you own a startup, you can try the Marketing Hub for free. The zero-fee plan lets you use features such as email marketing tools, live chat, Facebook ads, and content management. As you scale your business, you can upgrade to premium plans. Your options include the Starter plan ($45 per month), the Professional plan ($800 per month), and the Enterprise plan ($3,600).
Pros:
HubSpot CRM Integration

Social management and integration

Mailing list segmentation

Landing page design
Cons:
More expensive than other cold email marketing software

May need CSS knowledge to modify templates with ease
---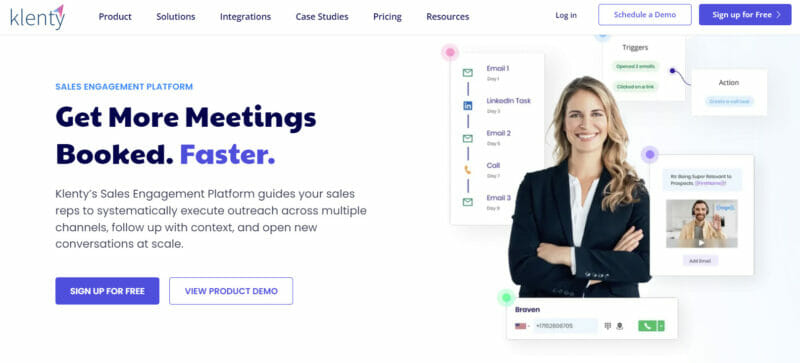 Klenty is a sales communication and engagement tool that offers integration with CRM platforms like HubSpot, Pipedrive, and Zoho. This means you can easily import data, such as your list of prospects, from your CRM.
You have the option to integrate Klenty email marketing tools to Zapier, allowing you to create automated tasks and workflows, like updating prospect lists and stopping emails from being sent to a prospect. The Klenty-Slack integration is also an option, allowing you to receive alerts when a prospect clicks, opens, or responds to an email and shares prospecting activity and updates with team members.
Klenty offers three plan options, which you can pay annually, quarterly, or monthly. Newly established companies or small teams can get the Startup plan, which costs $50 a month per user. Larger teams and companies can opt for the Growth Plan, which costs $70, or the Enterprise plan, which costs $140 per user per month. Klenty lets you try the features of their software at no cost for 14 days. After that, you can either choose to upgrade to a paid plan or discontinue using their service.
Pros:
Workflow automation

Integration with a variety of CRM tools and apps

Great customer service
Cons:
A bit buggy, according to some users

Could improve filter options and analytics tools
---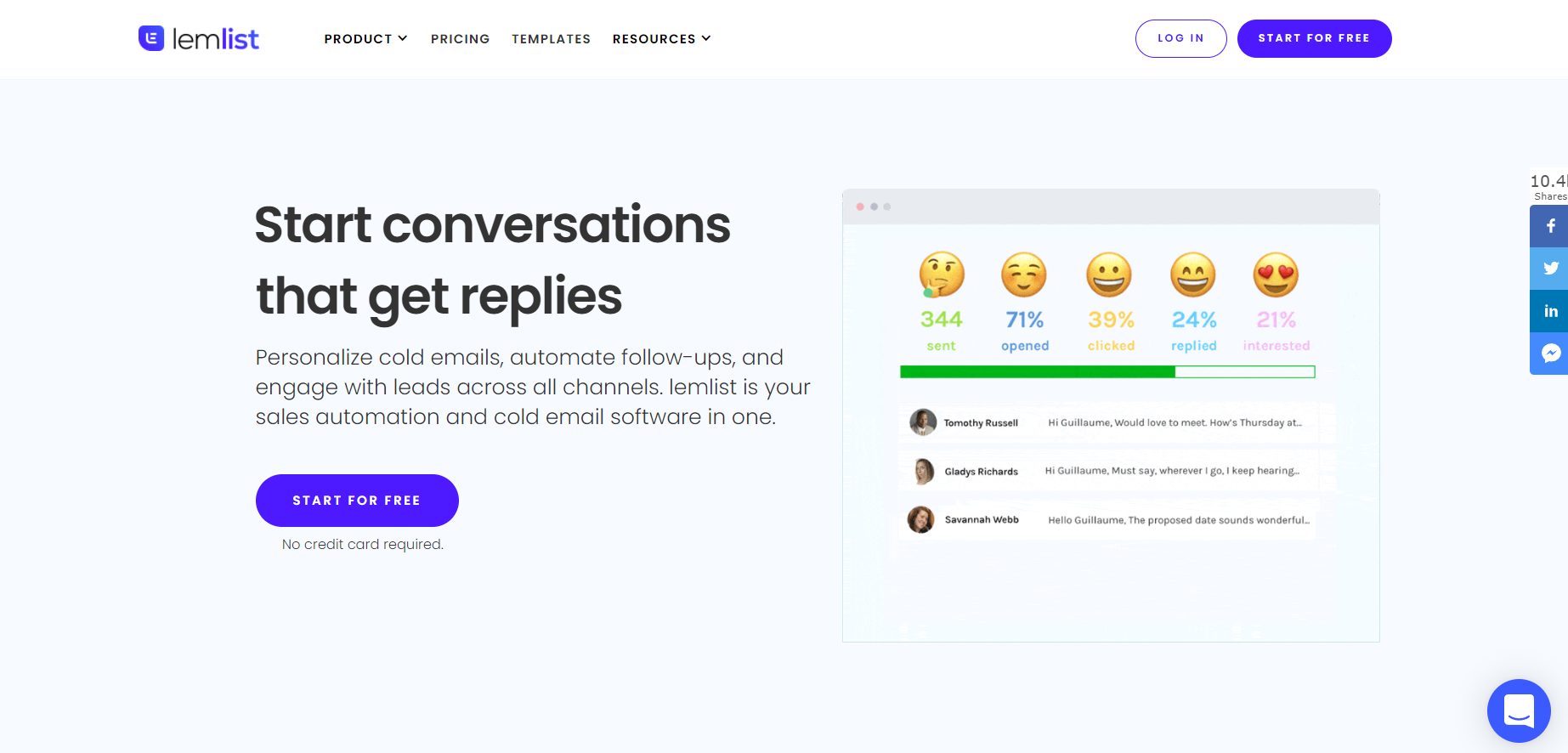 Lemlist is a cold email marketing software that lets you build more meaningful connections with your prospects through personalized messages, texts, videos, and landing pages. Through customized messages, you can engage with your target customers on a more personal level, which can help gain their interest and trust.
One of the most helpful features of the Lemlist software is Lemwarm, which allows you to track where your cold email lands, whether on the inbox, categories, or spam folder of your prospects. Using Lemwarm, you can also set a limit on the number of emails sent to your leads.
Like other cold email marketing software, Lemlist offers the automated follow-up feature. You can also set certain triggers, which prompt the software to perform an action based on a specific condition. For example, if a recipient opens an email, the software will no longer send a follow-up email.
Using the basic features of Lemlist costs as low as $29 (Email warm-up) per month. If you want to use premium features, you can select the Email Outreach option that costs $59 per user per month or the Sales Engagement option that costs $99 monthly for each user.
Pros:
Integration to CRM tools like Salesforce, HubSpot, Zapier, and Slack

Custom tracking and scheduling

Easy to add images and videos
Cons:
Could be expensive if you want to use more features

Dashboard layout needs improvement
---

Mailshake offers several email outreach automation features that let you save a lot of time, from prospecting leads to monitoring lead activity. If you're using Gmail, Outlook, Exchange, or Office 365, you can easily import your prospect list using Google Sheets or a CSV file. To make sending emails easier, you also have the option to use your email provider by connecting to the SMTP server. Mailshake also allows you to connect to leads through social media and cold calling.
One of the most useful features of Mailshake is the Duplicate Detection feature that scans and identifies duplicate prospects in the mailing list. With this feature, you can avoid sending the same cold email to a recipient multiple times.
The Lead Catcher feature of the platform lets you track lead activity like open rates, click rates, and bounce rates per campaign. If you want to optimize a campaign, you can run it through the A/B testing feature before sending out your emails.
Mailshake allows integration with CRM tools like HubSpot, Salesforce, and Pipedrive, and other email automation tools like Zapier and Slack.
You can sign up for their Email Outreach plan for $58 or their Sales Engagement plan for $83 per user per month. Mailshake does not have a trial period, but they offer a 30-day money-back guarantee if you wish to cancel your subscription.
Pros:
Simple UI/UX

Offers suggestions on improving campaigns

Prevents emailing the same prospect multiple times
Cons:
Could improve analytics and reporting tools

No free trial
---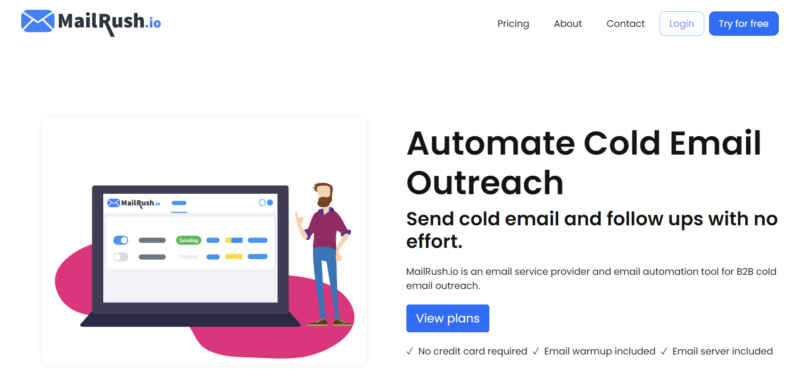 Mailrush.io helps B2B companies automate their cold email marketing strategy. It comes with the email warming feature that makes sure cold emails don't land in the spam folder of your prospects. The platform has its own email service provider, but you can use Mailrush.io's drag-and-drop feature to build your mailing list easily.
Similar to other cold email marketing platforms, Mailrush.io allows you to send follow-up emails automatically based on certain conditions or events. You can also track metrics such as email opens and replies to help you assess the performance of your campaigns.
You can subscribe to the Starter plan for as low as $19 per month and enjoy standard features such as sending up to 1,000 daily emails, 10,000 emails a month, and Zapier integration. However, you have to pay for additional features such as email validation and email warming. Mailrush.io offers Enterprise plans which come in 3 different packages. You can try their service for free for 14 days, then decide whether you want to subscribe to one of their plans.
Pros:
Drag-and-drop email template editor

Free trial option

Dedicated IP
Cons:
Campaign analytics could be more detailed

Limited choices of email templates
---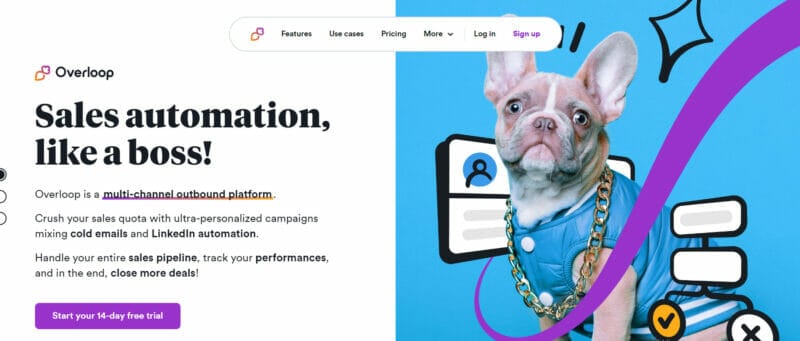 Overloop, formerly Prospect.io, is a lead generation and cold email marketing software tool designed to help sales and marketing campaigns to mine emails, verify the validity of emails, and build email lists for drip campaigns. Overloop is accessible as a Google Chrome extension and can be integrated with other tools and apps like LinkedIn, Slack, Mailchimp, and Zapier.
You can use the platform not only for creating prospect lists for different campaigns but also exclusion lists to prevent emails from landing on the email accounts of identified contacts. Overloop, like several other cold email marketing software, comes with editable email templates that allow you to customize messages based on the profile of your prospect list.
Metrics tracking and reporting are also available, allowing you to view which of the recipients clicked, replied to, or didn't open your email.
Overloop claim they like simple things, so they have created only one paid plan option that costs $ 99 /user/month. You can also try their service for 14 days at no cost.
Pros:
Drip campaigns that are easy to set up
Email scraping and verification feature
Integrated with LinkedIn and Gmail
Cons:
Email finder needs some tweaking
Need to clone the entire campaign to test different variables
---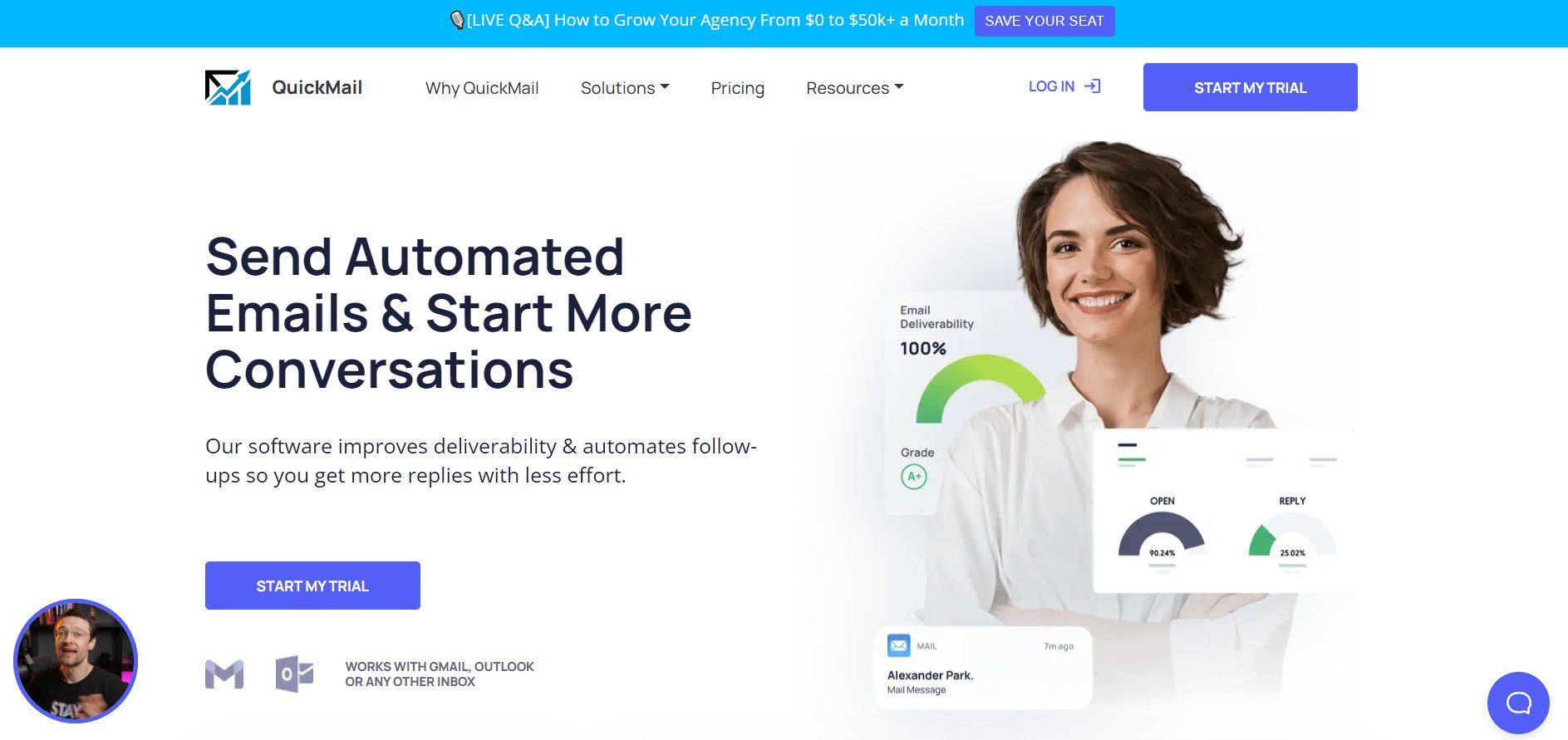 QuickMail.io is a cloud-based tool that is designed to automate email marketing for teams and businesses. It comes with the basic features of cold email marketing software, like uploading prospect lists, sending automated follow-ups, and email template customization.
If you're running email campaigns with a team, you can manage campaigns together, track and view updates on a dashboard and share them with team members. QuickMail reporting features include real-time notifications and change history tracking.
What makes QuickMail different from other platforms is that if you want to scale a campaign, you can send campaigns from multiple inboxes instead of duplicating an entire campaign. This feature allows you to save time in developing and running campaigns.
To use QuickMail, you can sign up for a free trial for 14 days. If you want to continue using QuickMail, you can get the Starter plan at $59 a month or the Pro Plan at $79 per month. At these prices, multiple users can access the platform. You only need to pay extra if you want to add an inbox, which could happen if you want to scale your campaigns.
Pros:
User-friendly interface

Managing and scaling campaigns is easy

Free trial available
Cons:
Initial set-up could be challenging

A bit pricey
---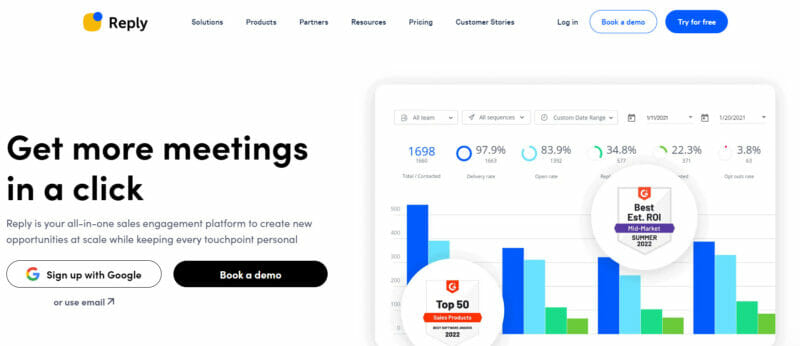 Reply.io is an all-in-one cold emailing software that offers both outbound and inbound sales automation. In the platform, you can automate processes such as email searches, email sorting, email and phone validation, and follow-up scheduling.
Through the Reply Chrome Extension, you can search for emails on LinkedIn, Sales Navigator, or LinkedIn recruiter. Reply also allows you to connect with your prospects using other channels, including phone, messenger, and social media.
To build connections with your prospects faster, you book meetings directly from the platform when you connect your Gmail account, sync your Google calendar, and set the time and dates you're available.
Reply.io comes with a built-in email assistant that can create new cold emails, edit existing emails, and check email content.
Collaborating with teams on multiple campaigns is also convenient. You can filter activities performed by each team, track team progress and send follow-ups, and monitor campaign performance.
Reply.io offers four paid plan options, depending on the size of your team. Pricing starts at $60 per month for each user.
Pros:
Extensive list of features

Integration with a variety of CRM platforms

Team collaboration
Cons:
Limited editing options on email templates

Website speed could improve
---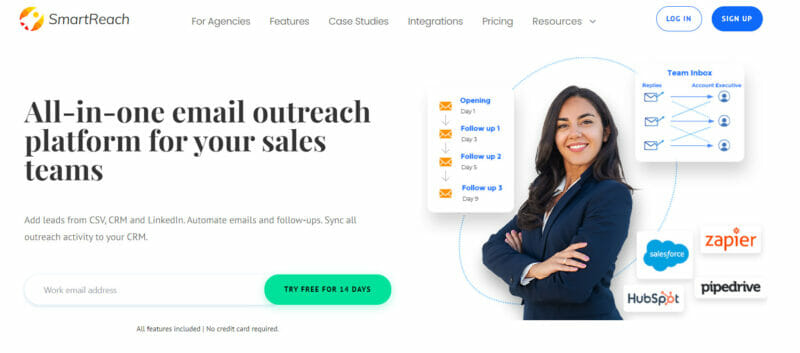 SmartReach.io is an email outreach software that lets recruiters, marketers, and sales teams automate their email campaigns to reach their prospects faster, thereby increasing productivity while reducing operational costs. Some of the features of the platform include email validation, domain warm-up, and spam testing.
The email validation feature checks whether the recipient's email is active, which can help you ensure you're building up a functional list of prospects. Meanwhile, the email warm-up feature helps in establishing a good sending reputation, as it allows you to increase the number of emails you send over time. SmartReach.io also lets you perform spam tests to help make sure that your cold emails don't land on your recipients' spam folder.
With SmartReach.io, you can use merge tags to add dynamic content to the email, so you can change up messages according to the profile of your target recipient. This means you can create hyper-personalized emails to make them more engaging, which can help improve open and reply rates.
SmartReach.io integrates with email service providers like Zoho, Outlook, G Suite, and Microsoft Exchange, enabling you to send emails from your email account. Integration with CRM tools such as HubSpot and Salesforce is also available to help streamline workflow.
The platform offers three paid plan options, namely, Standard ($24 per month), Pro ($39 per month), and Ultimate ($59 per month). The cost is per user, so if you want to add more users, you have to pay extra. Before subscribing to a paid plan, you can try using the platform for free for 14 days.
Pros:
Email content personalization

Integration with email servers

Intuitive UI
Cons:
Limited ways to filter contact list

Fees go higher as you add more users
---

Snov.io is a lead generation and cold outreach software that helps you reduce time in finding and connecting to your target leads. Using the platform, you can search for email addresses in several ways, including by company, domain, or social media profile. You can also perform an email search through the Chrome extension.
The email verifier feature lets you check whether email addresses are working, allowing you to create contact lists with operational email addresses. With this feature, your contact list remains clean, which helps reduce bounce rates and boost the deliverability of your emails.
Using the app, you can create drip campaigns and schedule emails, follow-ups, and appointments. You can also track how campaigns perform based on specific metrics like bounce rates and unsubscribe rates.
One of the unique features of Snov.io is its technology checker, which lets you know what type of tools your prospects are using. It can identify CMS platforms, Document Management Systems, web servers, and analytics of the websites you're browsing.
Snov.io offers a free trial, where you can test features such as email search and verification, drip campaign design, and technology checker. You can also choose among three paid plans, starting at $39 per month.
Pros:
Unlimited users

Integration with multiple CRM platforms and business apps

Technology checker
Cons:
No Facebook integration

Email verifier could be more accurate
---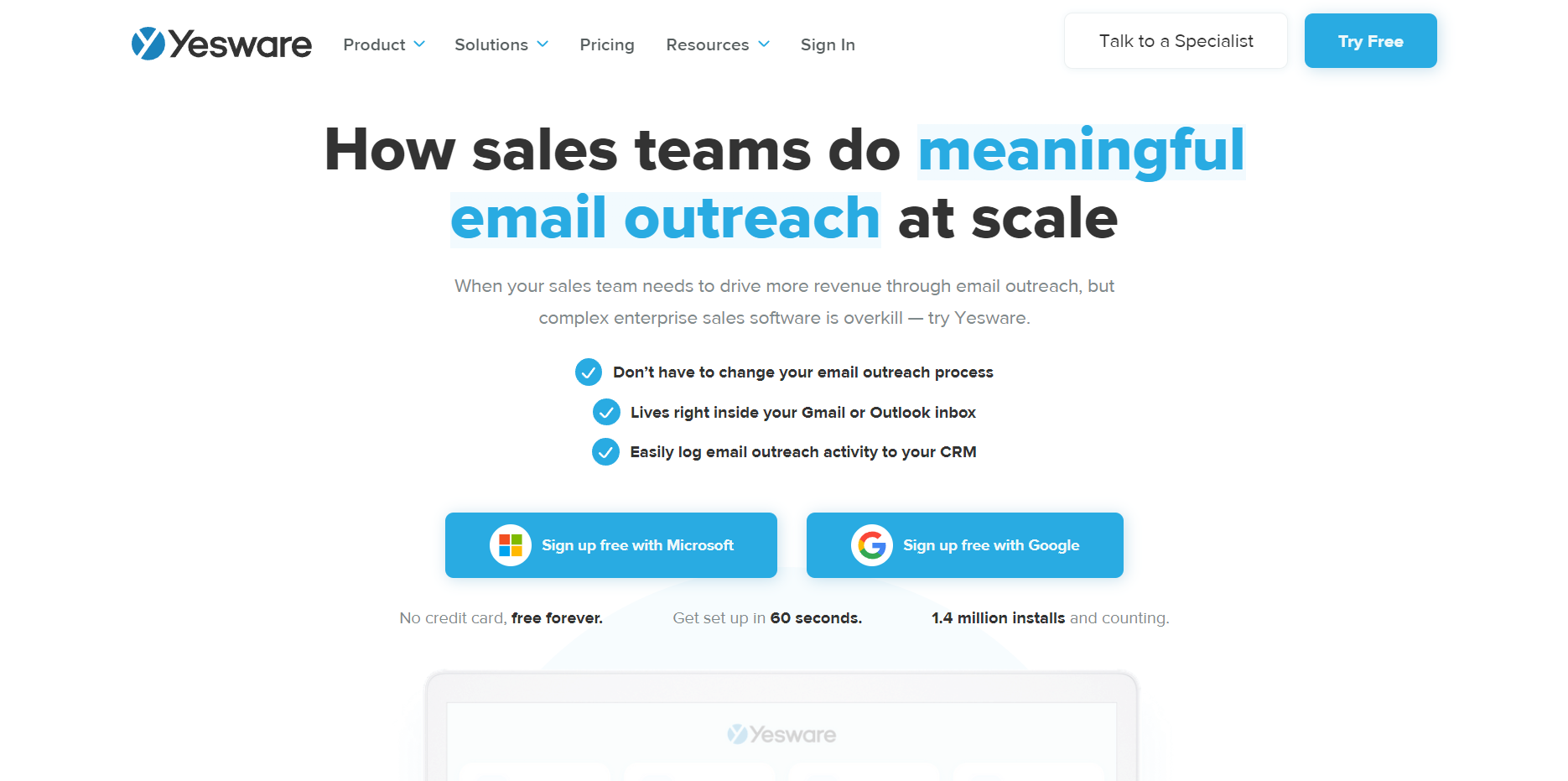 Yesware is a sales engagement and outreach tool that comes with features like email tracking, multi-channel campaigns, campaign analytics, and reporting. Yesware integrates with CRM platforms like Salesforce, so you can import contact lists faster. You can also merge contacts to Yesware through CSV files and LinkedIn Sales Navigator. It is also compatible with G Suite and Outlook.
Like many cold email software tools, Yesware allows you to create personalized messages using built-in, customizable templates. Yesware comes with the Send Later feature that lets you send follow-up emails on a pre-determined date and time. You can also send emails according to the recipient's time zone.
By tracking email clicks and opens, Yesware lets you identify which prospects are interested and the ones who may not be interested in what you're offering.
Yesware comes with reporting and analytics features that lets you view campaign performance. Some of the metrics that you can track in the dashboard are emails opened, reply rates, and meetings booked. These performance data can help you distinguish which campaigns are performing well.
You can use Yesware for free or choose among 3 paid plans, based on your needs. The cost per seat/user starts at $15 per month. But if you have larger teams or running multiple campaigns for different products, you can either go for the Premium plan ($35 per month) or Enterprise plan ($65 per month). Yesware also offers plan customization.
Pros:
Email personalization and template library

Engagement and performance tracking

Real-time notifications
Cons:
Integration or syncing with CRM and other apps could be smoother

Could include better team functionalities
---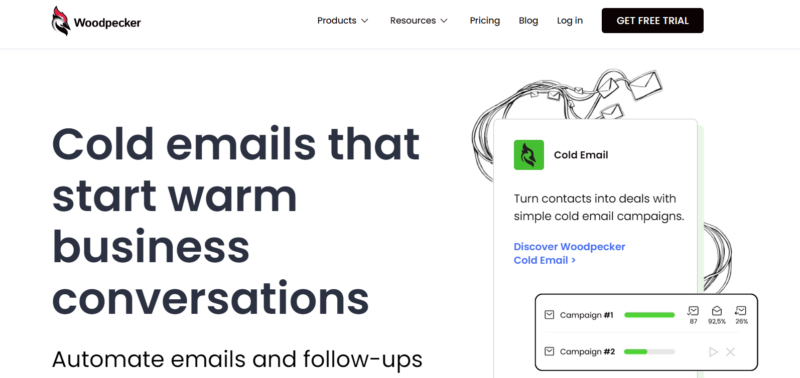 Woodpecker is an email outreach automation tool that lets you create, personalize, and send your sales and marketing emails. You can automate email sending and follow-up sequences, so you can focus more on improving your overall marketing strategy and spend less time on repetitive and voluminous email outreach tasks.
You can manually add email addresses to the database, or if you have an existing prospect list, you can download and import it via CSV. Woodpecker also integrates with email servers like Gmail or Outlook and other CRM tools and business apps like Salesforce, HubSpot, Pipedrive, Zapier, and Zoom.
Woodpecker automatically tracks the performance of your cold outreach campaigns and provides you statistics on metrics such as open rates, click-through rates, emails delivered, and emails sent. Such information lets you identify which subject lines and message templates are performing well, so you can use them as a reference for your next campaigns.
Email warm-up and recovery is one of the most useful features of the Woodpecker tool. This system, which not only builds up sender reputation but also ensures email deliverability, works both on email and domain.
The cost of using the Woodpecker platform starts at $49 per month. This includes basic features like 50 daily contacts, unlimited team members, warm-up and recovery, and integration with your chosen email server. You can customize the plan to include features you need, but with an additional cost. They bill per slot or email account that you use.
Pros:
Integration with multiple business apps

Allows plan customization

User-friendly interface
Cons:
Free trial is only for 7 days

Does not let you add attachments to the email
---
Final Word
Cold email marketing is one of the most effective digital marketing strategies you can implement to raise awareness of your brand. To make sure that you run a successful cold email marketing campaign, you need an automation tool that can help you deliver your message quickly and efficiently to your target audience.
Now that you have a list of the top cold email marketing software tools, you can compare the features and pricing options offered by each, so you can select which one suits your requirements.