Your brand has already chosen the best influencers in the niche—now, it's time to put the agreement in writing. Having a convenient and secure contract platform will protect your brand and your relationship with influencers, whether there are unforeseen changes, mismanagement, misunderstandings, and more.
Indeed, creating and managing contracts do not only apply to influencer marketing, but they're a major part of any business operation. From small-scale businesses to enterprises, contracts determine what is legal and the terms of the working relationship. The thing about contracts is they can be so tedious. The very process of creating a contract is already time-consuming and prone to errors. You would also have to consider any changes or addendum. If there is no secure way to send and resend contract drafts, your company may be liable.
---
Top Contract Management Systems for Your Influencer Campaigns:
---
Why Use Contract Management Software?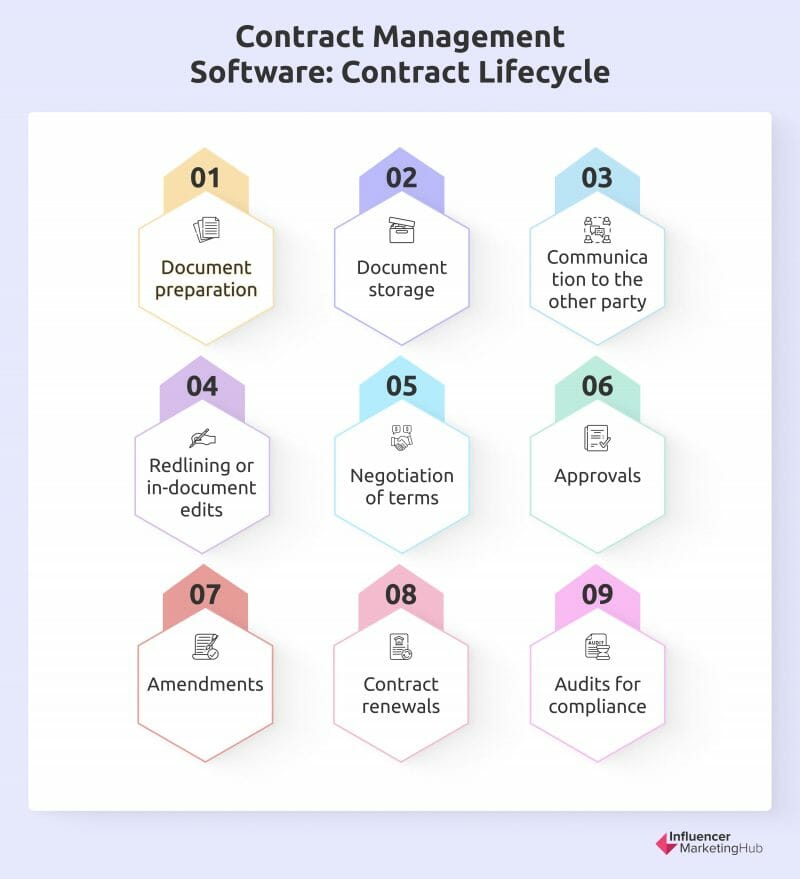 With influencer marketing, you need to have all bases covered. Whether it involves a third-party contract, a non-disclosure agreement (NDA), or a compensation-based engagement, you can track the entire contract lifecycle as specified, including:
document preparation

document storage

communication to the other party

redlining or in-document edits

negotiation of terms

approvals

amendments

contract renewals

audits for compliance
Depending on the terms of relationship, influencer agreements should contain the essentials:
Non-disclosure confidentiality agreement that delineates what type of information is sensitive and should not be publicly disclosed

Compensation model for specifying fees, commissions, product seeding, or a package allowing all three modes for an independent contractor

Brand campaign guidelines that can spell out how the brand messaging should be like to sustain the brand's overall tone, style, and language

Influencer campaign guidelines that can specify how the brand will respect their personal authentic messaging.

Deliverables that the specific campaign period requires from the influencer

Content rights that let your brand and the influencer agree on which

sponsored content

can be repurposed and reused by your business without infringing on the influencer who created that content in the first place
Streamline the process of furnishing and managing contracts by using contract management software, or contract lifecycle management (CLM). They make sending, editing, and working with contracts more efficient. Brands can also better delineate the influencer relationship objectives and other staple items the contract should include.
---
5 Recommended Contract Management Systems
We determined some of the best contract management software solutions right now. These systems can facilitate a thriving influencer business relationship. Let's review each one: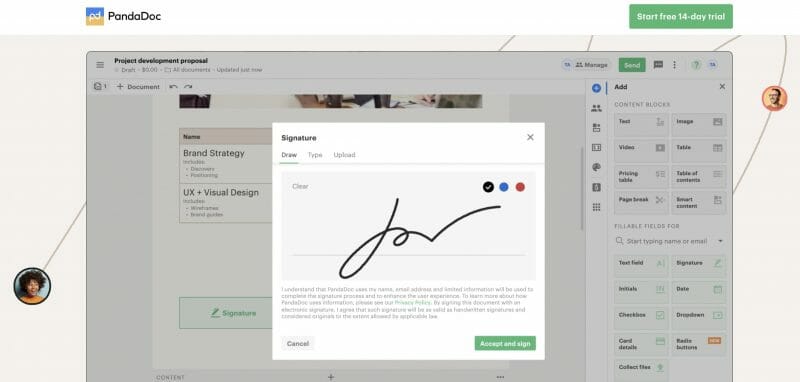 PandaDoc is a contract and document management platform that offers an intuitive suite of options to oversee the entire life cycle of your legal arrangements. The software was launched in 2011 and has since dominated the industry with its plethora of features.
PandaDoc has a self-service portal that allows contractual parties to access the contract for easier negotiation and communication. The platform can store all types of documents and e-signatures in its content library and makes things easy through its drag-and-drop editor.
What's excellent about PandaDoc is that it's easy to use and customize. You have an unlimited number of allowed users, as well as documents and e-signatures for use within the platform. There are real-time notifications for any changes in the contract, payment processing, and other activities. PandaDoc has secure cloud-based storage. Sensitive contracts pertaining to health, like HIPAA-compliant agreements, are safe within the platform.
PandaDoc makes integration smooth as it can be interoperable with 15 different customer relationship management platforms, such as HubSpot, Pipedrive, and Microsoft Dynamics, to name a few.
This software is one of the most value-for-money options on the market, but some key features like integrations, custom branding on the documents, and bulk sending will cost extra. Also, the content library is available only under Business or Enterprise plans. PandaDoc has monthly or annual plans, with a 34% discount if you opt for a yearly payment. The Essentials plan starts at $19 per month, while the Business plan costs $49 per month. There's a 14-day trial to explore the software before committing to a paid plan.
---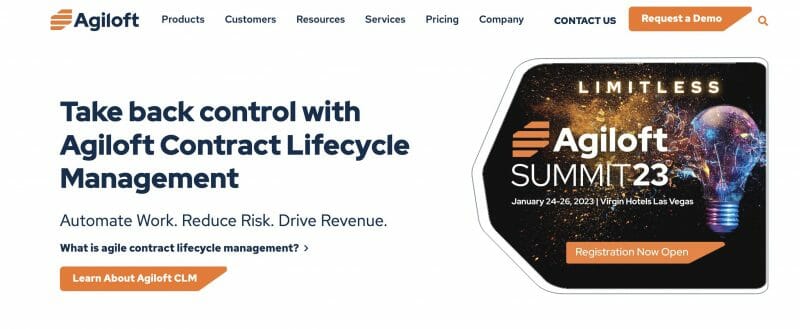 Want contract management software without too many technical coding requirements? Agiloft is the perfect solution. This platform offers code-free custom contract lifecycle management for small-scale businesses and enterprises.
Agiloft was the first to offer contract management service back in 1991. Through the years, there have been competitors that established their respective systems, but Agiloft continues to be trustworthy and easily customizable. The cloud-based software offers important features like contract authoring, contract print templates, e-signature via Adobe Sign or DocuSign, and a content library. It also has a clause library, where an author could cross-check any edits or additions to clauses.
Agiloft lets marketers build custom workflows, routing, and reporting processes. The software beats competitors when it comes to code-free workflow setups. You can personalize the dashboard to track key performance indicators (KPIs) or place specific contract notifications. Security is established, as Agiloft keeps an audit trail for each document and is equipped with compliance measures that follow Sarbanes-Oxley, GDPR, and HIPAA regulations. In addition, it integrates nicely with Google or Microsoft for maximum convenience in your workplace.
The only drawback with the software is that it can confuse beginners with the plethora of customization options it offers. Therefore, users may want to engage in the online training it provides within the platform. Agiloft also has no internal chat feature that may be useful during contract negotiations.
With regards to cost, Agiloft has an open-ended free trial, but companies can set up a custom plan based on what they need. There is a free plan for small businesses if you don't require all the bells and whistles in a contract management system.
---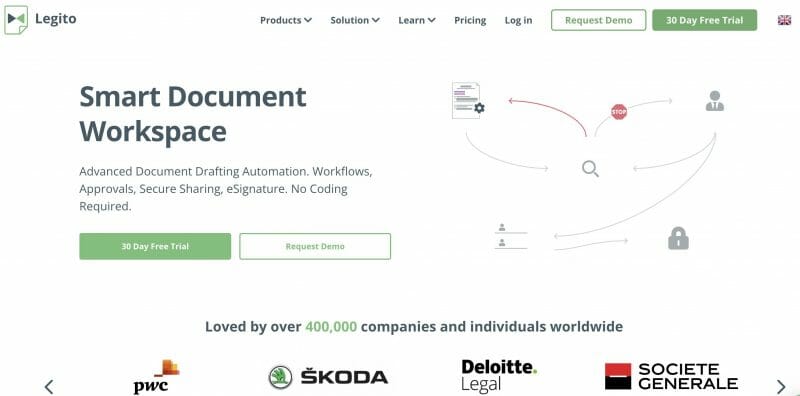 Legito is a document management platform that facilitates secure contract sharing, editing, and storing, which users can customize. With a focused dashboard, AI-based capabilities, and a unique template editor to automate without coding, this reliable option has worked in over 80 countries worldwide.
Legito offers a self-service portal where users can set up collaboration, notifications, and communication for contracts. Multiple users can manage documents and edit within the platform. If you prefer time-bound contract sharing, the software enables emailing links that lapsed within a given time. Aside from contracts, Legito has an array of templates for agreements, deeds, leases, and more.
The software lets you set a role-based authorization scheme to identify which users can access particular editing features of the contract. Features that can speed up contract management include template editor, custom fields in document records, data import, batch generation, and external sharing. There are also approval checklists to track different levels of a case and note every revision and signature in multiple documents.
A drawback of Legito would include the intimidating factor. Even if it is a no-code platform, first-time users may feel overwhelmed with its suite of features. You might need more time configuring the system and exploring how your marketing campaigns can have custom contract management solutions. The platform has video tutorials and a guided tour that can help your onboarding process.
Price-wise, Legito is on the expensive side, but this is understandable as it can optimize all document management processes beyond contracts. It has a basic plan of $1,200 per year and $100 for every additional user. The Small Business plan is steep at $9,600 per year for up to 10 users and $80 each for added users. The software does not offer a free version, but you can subscribe for a free trial.
---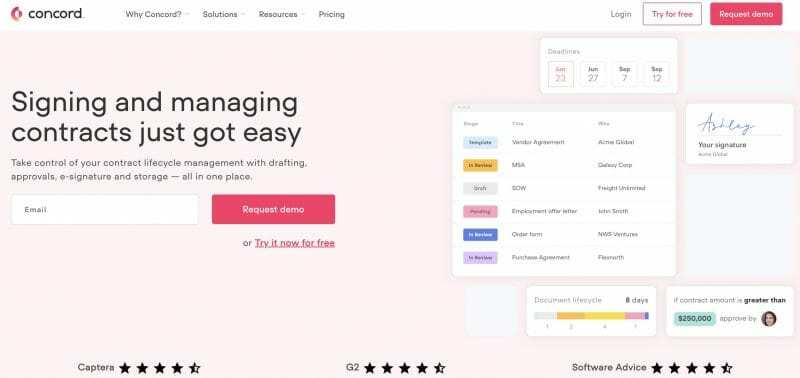 Concord started in 2014 and has since built a robust platform that supports enterprise-level contract management. The software does not limit your processes and allows unlimited contracts, document viewers, file storage, and e-signatures. It has a simple dashboard that helps businesses stay on top of contract negotiations, changes, and compliance.
Concord's dashboard looks like Gmail's, quickly set up and personalized for live edits, redlining, comments and chatting in real time, and deadline reminders. The platform has a full-text optical character recognition (OCR) search that can retrieve info easily. It also has an intelligent autofill feature that makes contract creation and negotiation extremely convenient. Concord's unlimited support is notable, and it also has a bulk upload feature on all plan tiers.
With this system, your influencer contracts stay secure because it has encryption and auditing mechanisms comparable to those used in finance. Users can set up custom approval processes and user groups and gather necessary insights from long-term agreements. You can integrate them with Dropbox, DocuSign, Salesforce, and other software.
This software provides a rich and intuitive system for lifecycle management, but it also has drawbacks. It does not allow refunds on paid plans. Once you commit to a plan, there's no going back. Concord's security audits on document versions also create long data logs that may be too tedious. It also needs improvement in integrating contracts created outside its platform.
Concord works best for large-scale businesses that must uphold a substantial compliance and tracking system for their contracts. There is a free version that has unlimited documents and e-signatures for three users, a Standard plan that costs $115 per month, a Pro plan that costs $295 per month, and the Enterprise plan with a custom quote.
---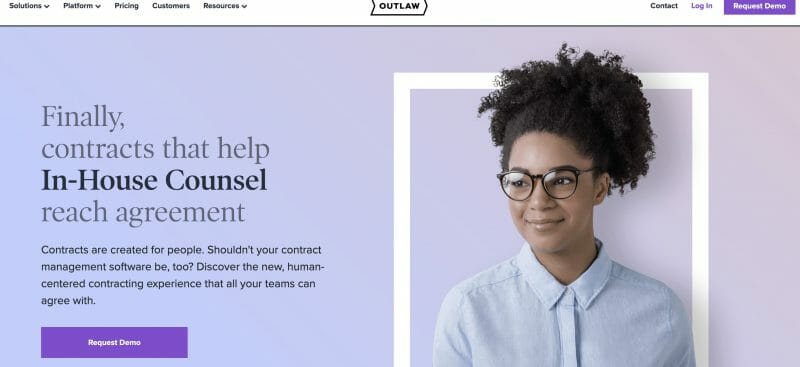 Outlaw has an intriguing name, but it does everything to keep businesses on track and compliant with their contracts. Founded in 2017, it is relatively new software, but it has powerful AI-assisted analytics and a convenient dashboard that are perfect for reporting and lifecycle management needs.
The platform is built for all types of businesses. Businesses can customize document storage, contracts, and e-signatures within the system. The rich capabilities will aid contract management—beyond that, users can easily create ad hoc formal correspondences. There are significant features like full-text search, bulk sending, cloud-based redlining and auditing, native e-signature, real-time notifications, and secure payment processing done by Stripe.
Outlaw's users have a wide range of templates, automated options for renewals, and dynamic contract fields to customize any change. It makes contract statuses and activities very accessible, allowing urgent action on any updates. The software integrates with Salesforce, HubSpot, Zapier, Slack, and QuickBooks. With their industry standards, your documents are guaranteed to be housed in SOC-2 compliant data centers.
You will appreciate Outlaw's focused and streamlined platform, but there are still areas for improvement. Sharing is made to be very secure, so much so that sharing outside the system can be inconvenient compared to other software. Only specific people can sign the documents, which may cause issues if you are pressed for time and need to change signatories. Outlaw only allows five core users, and you can't add more collaborators beyond that.
Pricing is different from other software, as you have two user categories. The Core User is the admin—at $125 per month, you gain full control of the system. There are also Collaborators with the rate of $60 per month who have access but without full administrative features.
---
Contract Management Software: The Takeaway
Contract management may be overlooked when it comes to the nuanced nature of influencer marketing. But it is one of the safeguards that your business can invest in to be able to maintain an attentive and compliant relationship with partners and collaborators.
Influencers are technically part of your marketing campaign. They open the doors for negotiation, short-term and long-term goals, and continuous avenues for growth. A proper contract management system makes record-keeping and auditing hassle-free while protecting both your company and the influencer's interests.
Most contract management software has annual or monthly subscriptions. With standard contracts, your business can settle on simple, low-cost plans or even free options. But suppose you must keep track of multiple influencer engagements, renewals, and such. In that case, you may opt for a vigorous system with unlimited secure file storage, real-time messaging and editing, and intuitive analytics within the platform.
Frequently Asked Questions
What does a contract management system do?
Contract management software tools will help your organization help mitigate risk and ensure compliance. These softwares make it easy to bring a contract into the platform and find potential problem causes. The software can analyze contracts and create risk analysis reports.
Is contract management part of CRM?
The difference between contract management and CRM is simple. Contract management systems are a repository for contracts, whereas a CRM (customer relationship management system) will keep track of commercial opportunities and interaction with possible clients.
How do I choose a contract management software?
Here's what you need to know about picking contract management software:
Evaluation of end users

Involve your key staff

How to distribute information

Technical compatibility with your systems

Support and training for your staff
How much does CLM software cost?
A CLM software costs $23 per user per month for Avokaado, then $59 per user per month for pro. Enterprise solutions are available on request.