Last year was a good year for cryptocurrency. In November last year, the crypto market hit a market cap of $3 trillion and it's expected to reach and even exceed this figure in the future. Businesses in the blockchain and cryptocurrency field are taking advantage of the industry's progress to scale their businesses.
But with so many competitors around, how can businesses get a foothold in this cutthroat industry? Blockchain and crypto use such advanced technologies, but for businesses to succeed in this field, they'll need to go back to basics: SEO, particularly cryptocurrency SEO.
---
Top 14 Cryptocurrency SEO Services:
---
SEO's Role in the Cryptocurrency Industry
By 2026, the cryptocurrency market size is expected to grow to $2.2 billion. Two key factors, distributed ledger technology and growth in investments, are the key drivers of the industry's sustained growth.
In such a saturated and competitive field, it can be difficult for businesses to be seen. Whether you're a crypto exchange, a blockchain-focused website, or an NFT creator, cryptocurrency SEO can help grow and improve your digital marketing strategy.
Key players like Google and Facebook issued bans on cryptocurrency ads in 2018, which made it difficult for crypto companies to promote their offerings. While these bans have since been eased or lifted, the challenge of getting your work out there or promoting your work still remains.
Cryptocurrency SEO, unfortunately, is an often overlooked solution, but it's an effective strategy that can help organizations or individuals reach their target audience, improve organic traffic, grow their brand, and generate more business. It optimizes your website or online presence, so your brand becomes more visible to your target audience. It's similar to conventional SEO, only it's geared toward the blockchain and crypto market.
Moreover, an effective crypto SEO strategy can bolster your digital marketing efforts as it can help establish you or your business as an authoritative figure in the industry. It can also build audience trust and foster transparency.
---
Top 14 Cryptocurrency SEO Services in 2022
There's no denying the fact that crypto SEO entails a lot of hard work, from keyword research to website audits. The good news is, there's plenty of crypto and NFT agencies that can help you harness the power of cryptocurrency SEO for your business.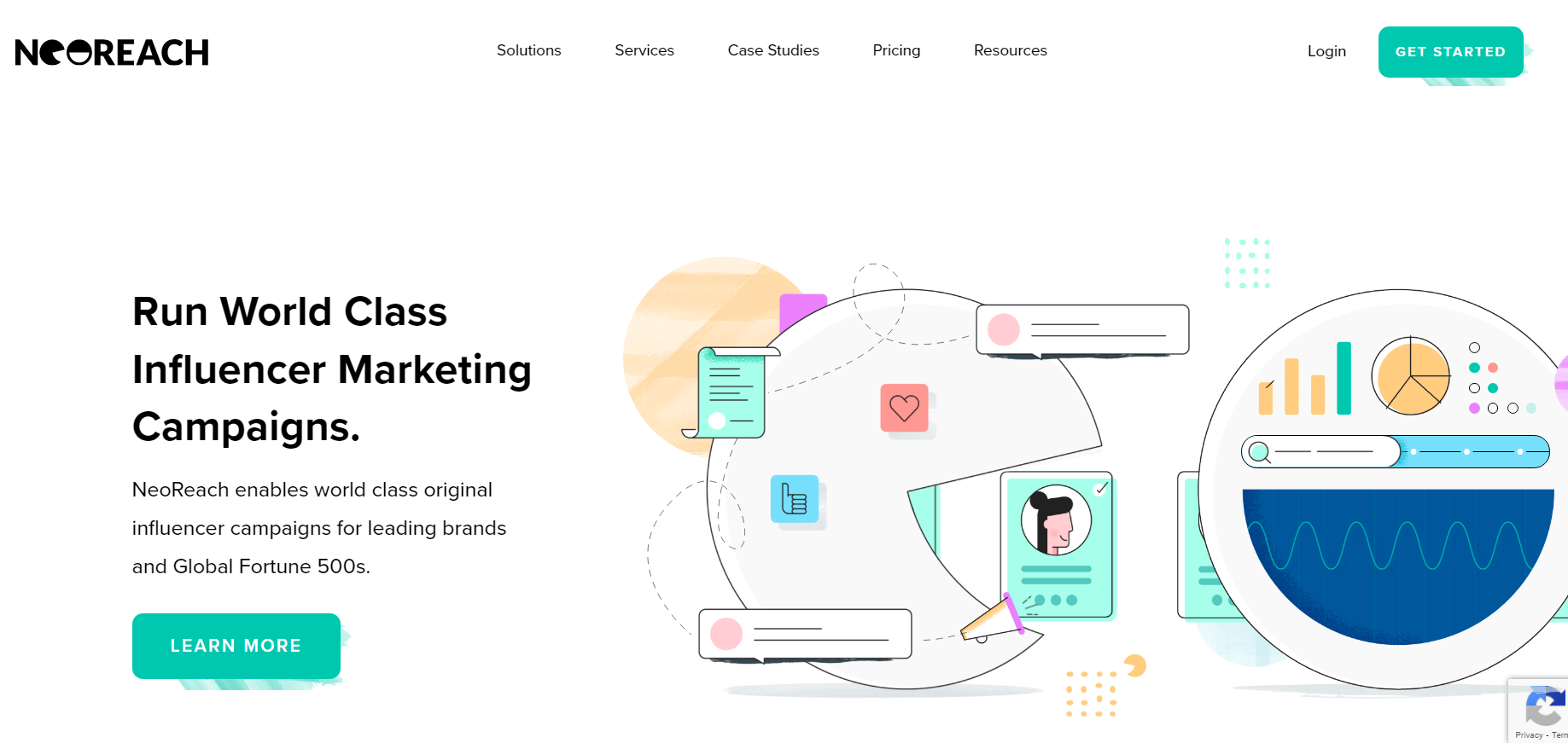 NeoReach creates impactful influencer campaigns for different global brands. Aside from its focus on influencer marketing, NeoReach also offers solutions for crypto and NFT marketing, such as building tailored, full-service marketing campaigns designed for Web3 projects. It works with experienced Web3 marketers to deliver support of and launches for dApps, crypto exchanges, and NFT projects. With NeoReach, you get data-backed crypto and NFT marketing strategies, as well as progress reporting, insights, NFT minting timelines, and more. You can also opt to sign up for additional services, such as social media management and experiential activations, to further bolster your campaigns.
---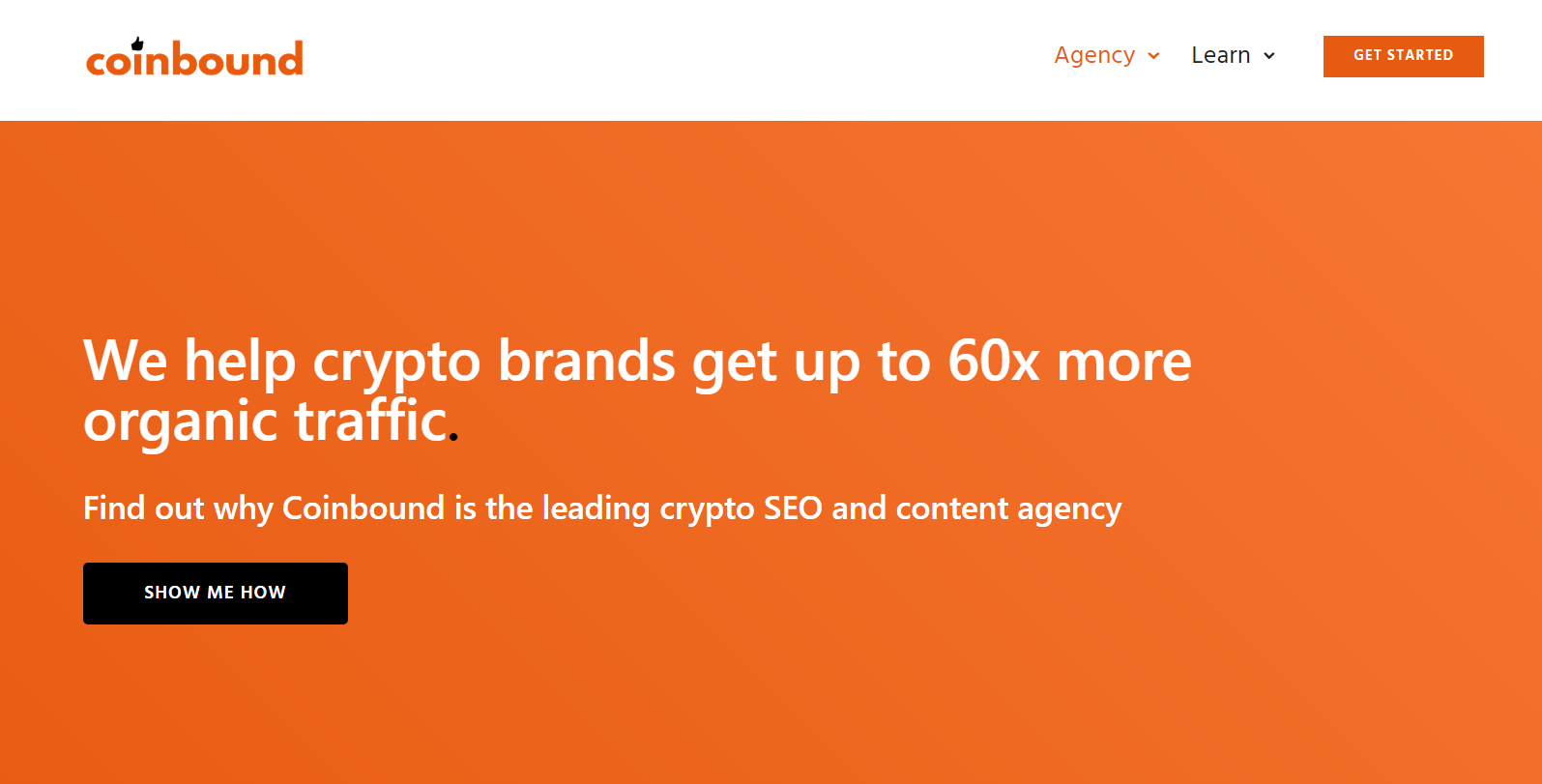 Coinbound has worked with some of the world's top cryptocurrency businesses and trading platforms, including Voyager and eToro. It's also one of the leading cryptocurrency marketing agencies based on Google SERP results. Coinbound follows a three-tiered approach when it comes to crypto SEO: research, content, and authority building.
Some of the benefits you can get if you work with Coinbound include monthly keyword analysis, organic traffic, live performance reporting, and monthly SEO audit reports. Coinbound understands that crypto SEO can be complex, which is why one of its best features is its SEO helpline.
---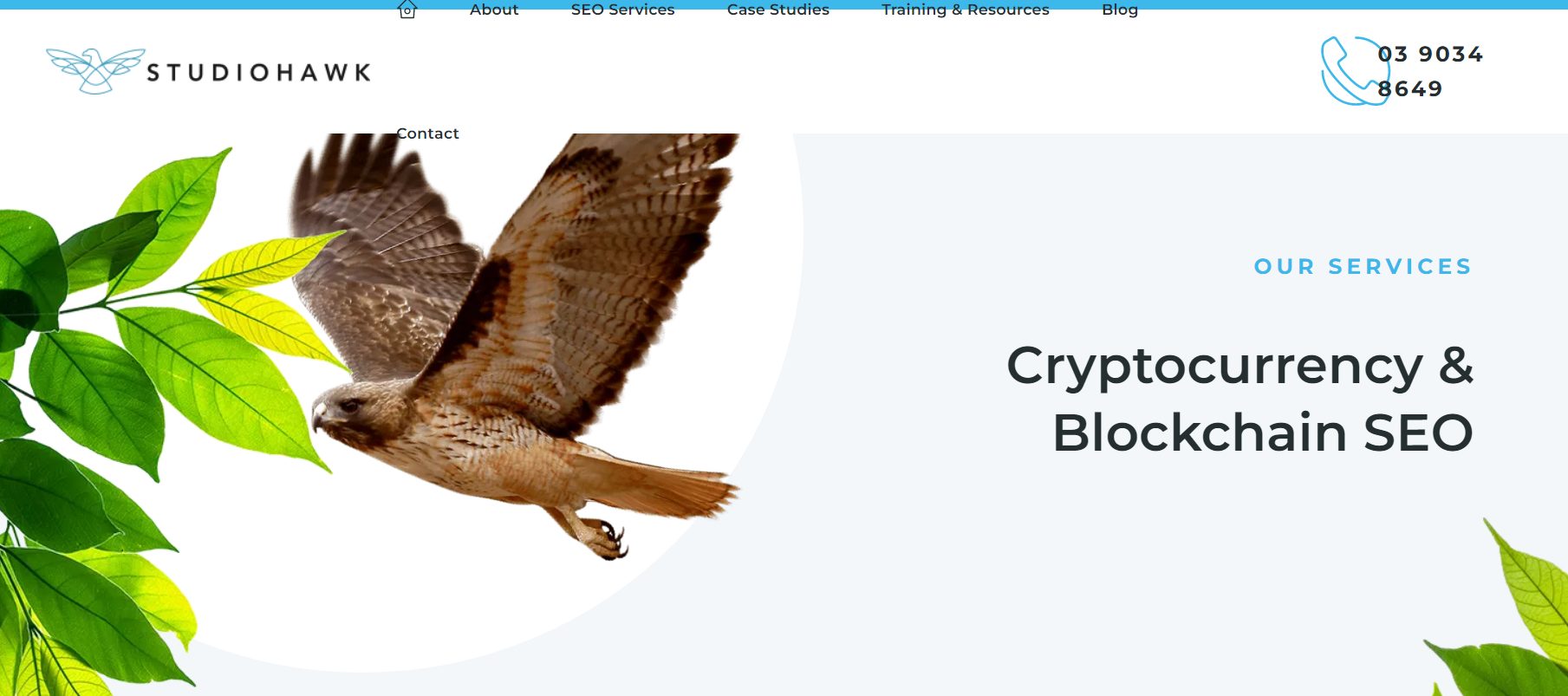 Founded in 2015, StudioHawk is a specialized SEO agency that helps clients reach and maintain an average of 300% ROI using white hat techniques. StudioHawk follows a four-step process to help websites within the crypto niche receive organic traffic and boost sales and ROI:
Conducting keyword research

Optimizing your content strategy through content creation and using relevant keywords

Streamlining your website structure

Acquiring links and conducting digital PR
StudioHawk has offices in Melbourne and London.
---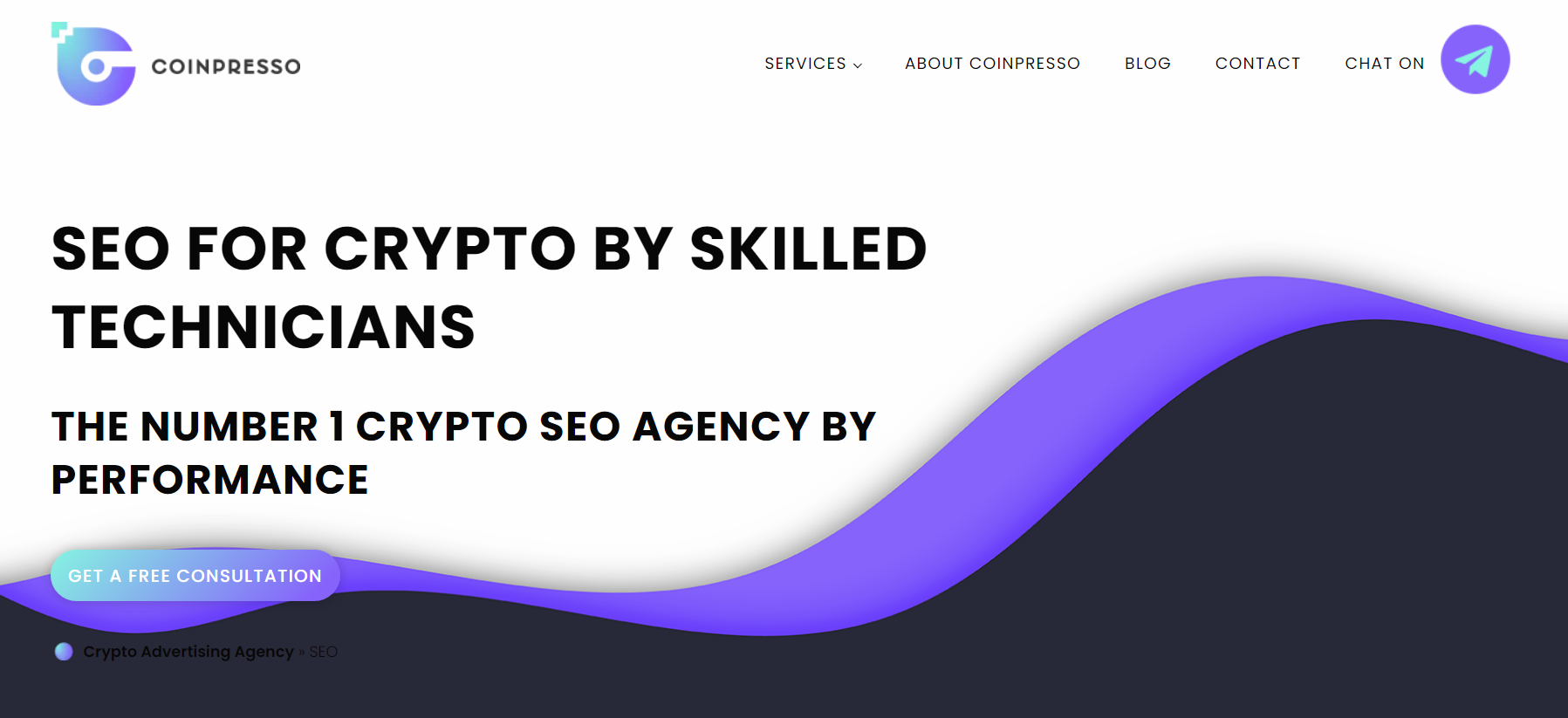 Coinpresso uses white-hat implementations to put its clients on Google's first page. Its crypto SEO services include testing, on-page audits, white hat-link building, and implementing audit findings. As a one-stop shop for crypto SEO services, Coinpresso also offers other cryptocurrency SEO services, including:
Featured snippet optimization

Technical crypto SEO services

International SEO (localization and translation of pages)

Goal tracking and analytics setup

Conversion rate optimization

Crypto Google ads

Website building
Some of Coinpresso's clients and partners include Bitcoin Magazine, Aurora FS, and Ruby.
---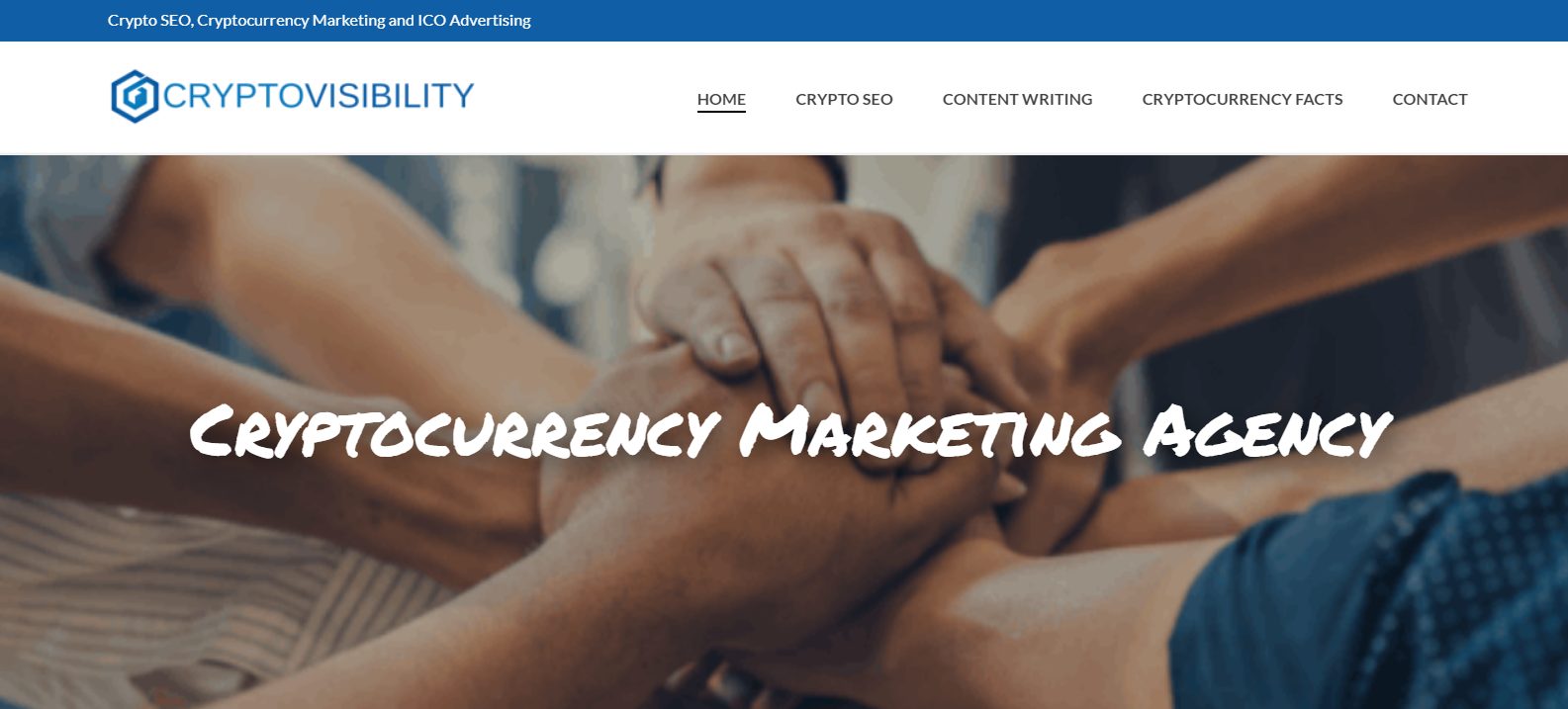 Crypto Visibility helps crypto and blockchain businesses improve their natural search engine visibility. Aside from cryptocurrency SEO services, it also offers cryptocurrency advertising, content writing, link building, website design, and analytics services for companies that want to market and promote their initial coin offering (ICO).
Crypto Visibility isn't just a crypto marketing agency, it also serves as a consulting firm for startups, leveraging its more than 20 years of experience in business.
The great thing about this crypto marketing agency is it accepts payment in cryptocurrency, including almost all alt coins, stable coins, BTC, LTC, ETH, and BCH.
---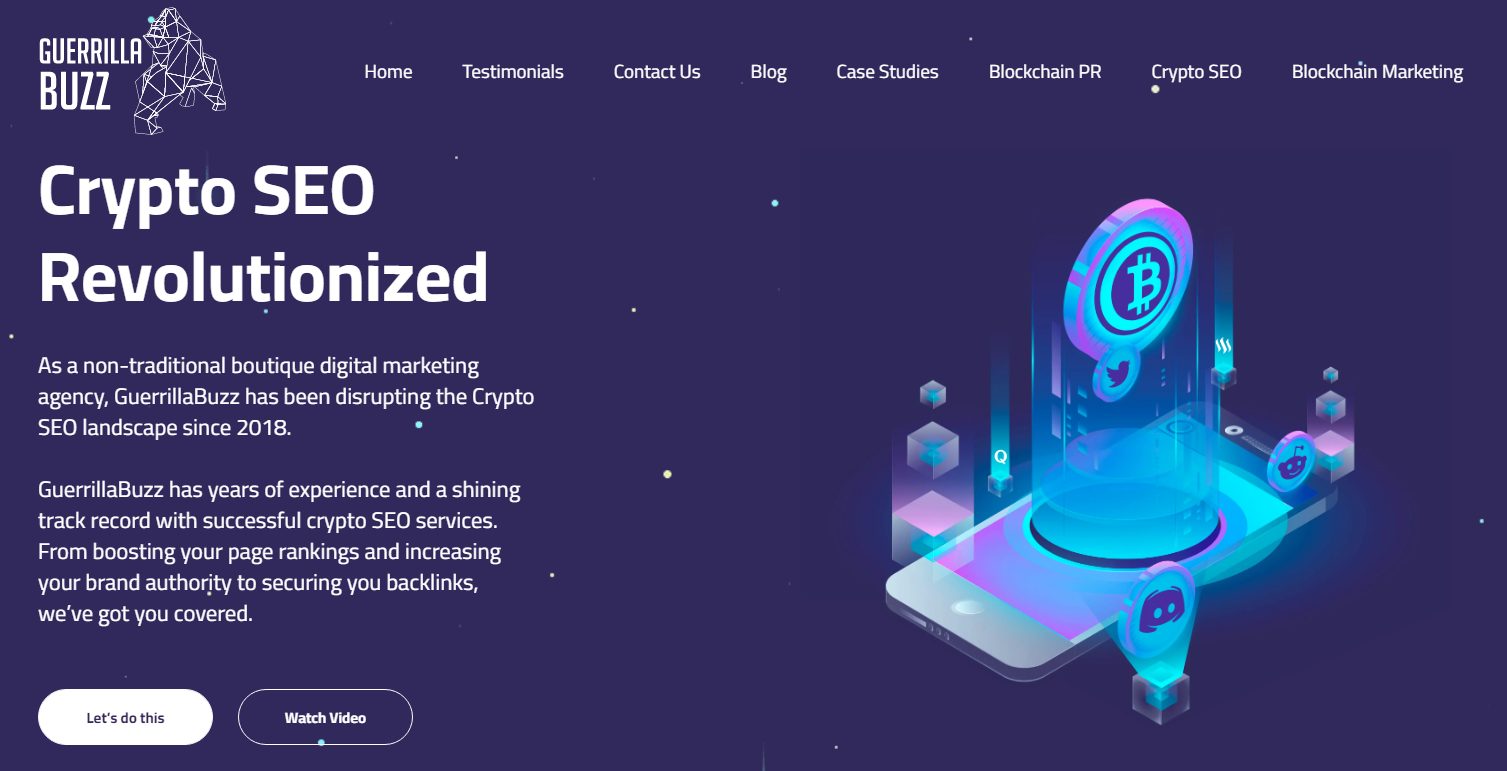 Based in Tel Aviv, GuerillaBuzz labels itself as a "non-traditional boutique digital marketing agency" and has been working within the crypto SEO niche since 2018. It has worked with global crypto-focused companies such as CoinGecko, PolySwarm, and CoinSpace. It offers inventive blockchain and crypto digital marketing strategies, which include guest posting, on-page and off-page crypto SEO services, link building, and keyword research. GuerillaBuzz also offers blockchain PR and blockchain marketing services.
---

UniK SEO is a crypto SEO agency with offices in Portugal and the UK. It can help crypto-focused or crypto-related businesses achieve sustainable growth through SEO strategies that generate organic traffic. UniK SEO follows a four-step process to drive results:
Keyword research for cryptocurrency
The first step in UniK SEO's crypto SEO strategy is understanding the relevant keywords within the crypto niche to ensure that your campaigns reach your target audience.
Your content will then be analyzed and adapted to make it appealing not only to prospects but also to search engines.
Your website structure is an important factor in SEO. Given that the cryptocurrency niche is laden with technical information, this might intimidate crypto novices. UniK SEO can help organize and structure your website to make it more accessible to crypto enthusiasts, whether they're novices or experts.
The last step in UniK SEO's process is link building (backlink profile) to help you gain domain authority and improve your SERP rankings.
UniK SEO recognizes that each business is different and has unique needs and thus offers distinct SEO services.
---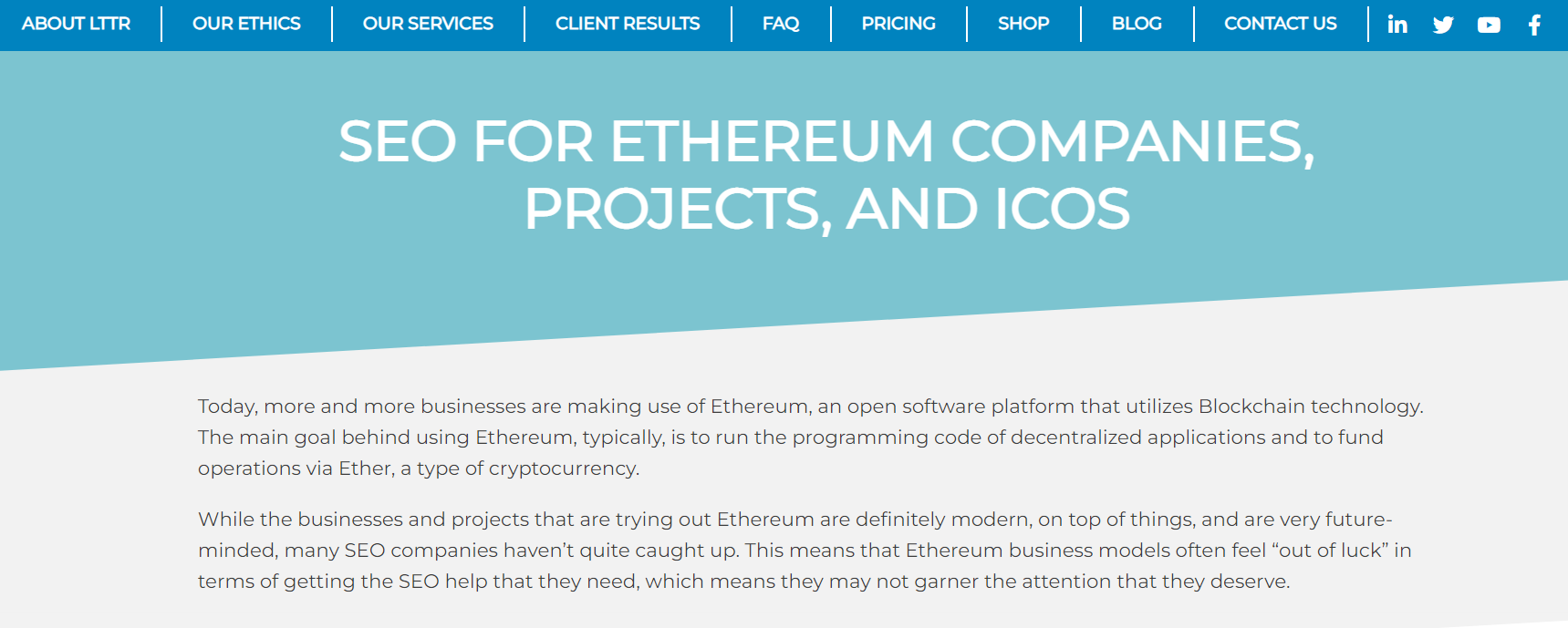 Look to the Right (LTTR) specializes in crypto SEO for Ethereum-based companies and projects. It's built on the premise that while Ethereum and Ethereum-based initiatives have been gaining popularity, most SEO companies don't focus on Ethereum business models. Its crypto marketing services include SEO, Google ads management, web design, web development, and reputation monitoring and management.
LTTR has offices in Raleigh, North Carolina and Santiago, Chile. Its portfolio includes work for eCommerce, PPC, and SEO for a range of crypto and non-crypto businesses.
---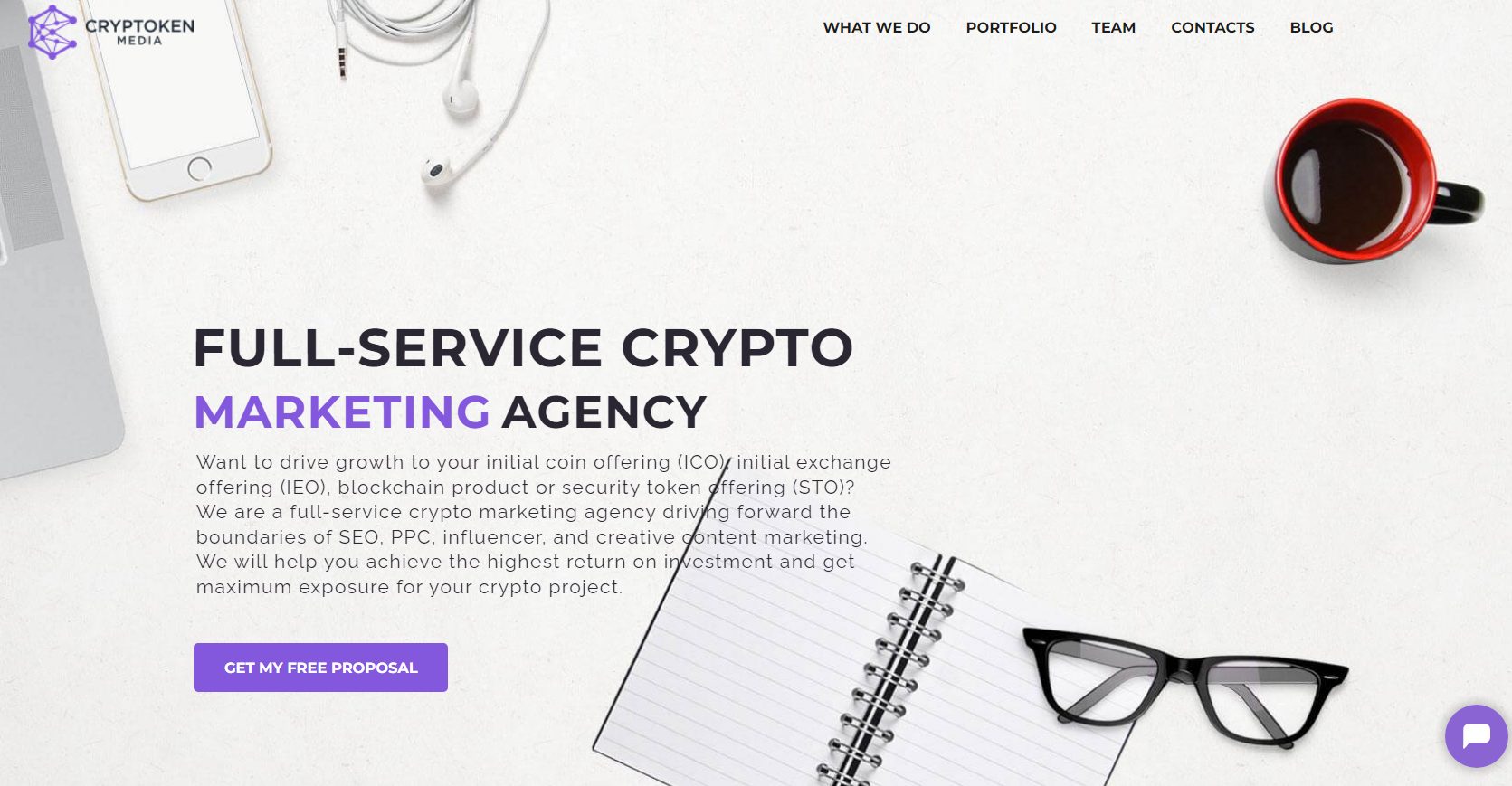 Cryptoken Media is a full-service cryptocurrency marketing agency that combines SEO, PPC, influencer marketing, and content marketing. It utilizes data-driven marketing strategies to help crypto startups and blockchain companies enjoy higher ROI. Some of its clients include big names in the crypto industry, such as Binance, Liquid, and eToroX.
Aside from crypto SEO, it also offers content marketing, digital PR and outreach, influencer marketing, native advertising, and conversion rate optimization services.
---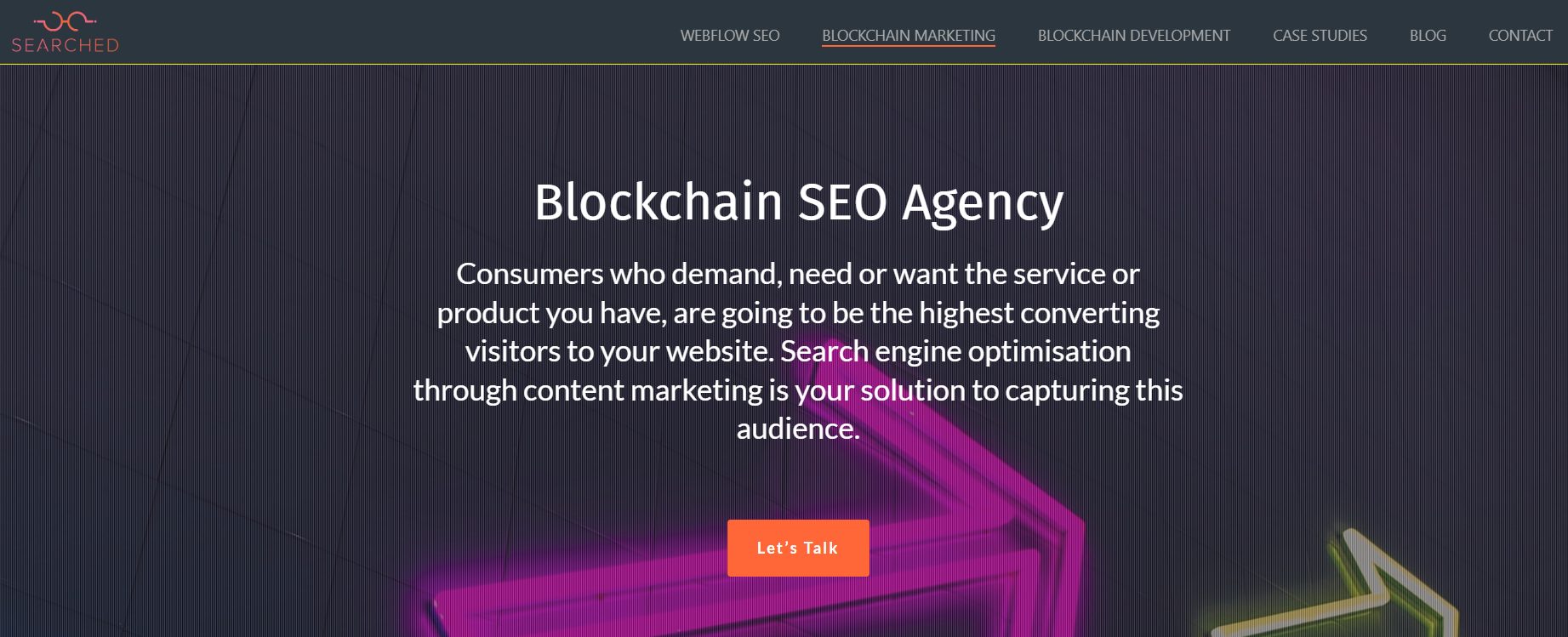 A blockchain-focused SEO agency, Searched.io has been working with various blockchain and crypto companies like Decentraland and BlockFi since 2016. It applies its decades of search engine expertise to build SEO strategies that drive organic, recurring web visitors and help businesses better understand crypto market data. Aside from blockchain and crypto SEO services like outreach, content marketing, and SEO maintenance, it also specializes in Webflow SEO, which is especially helpful for websites built on this particular platform.
---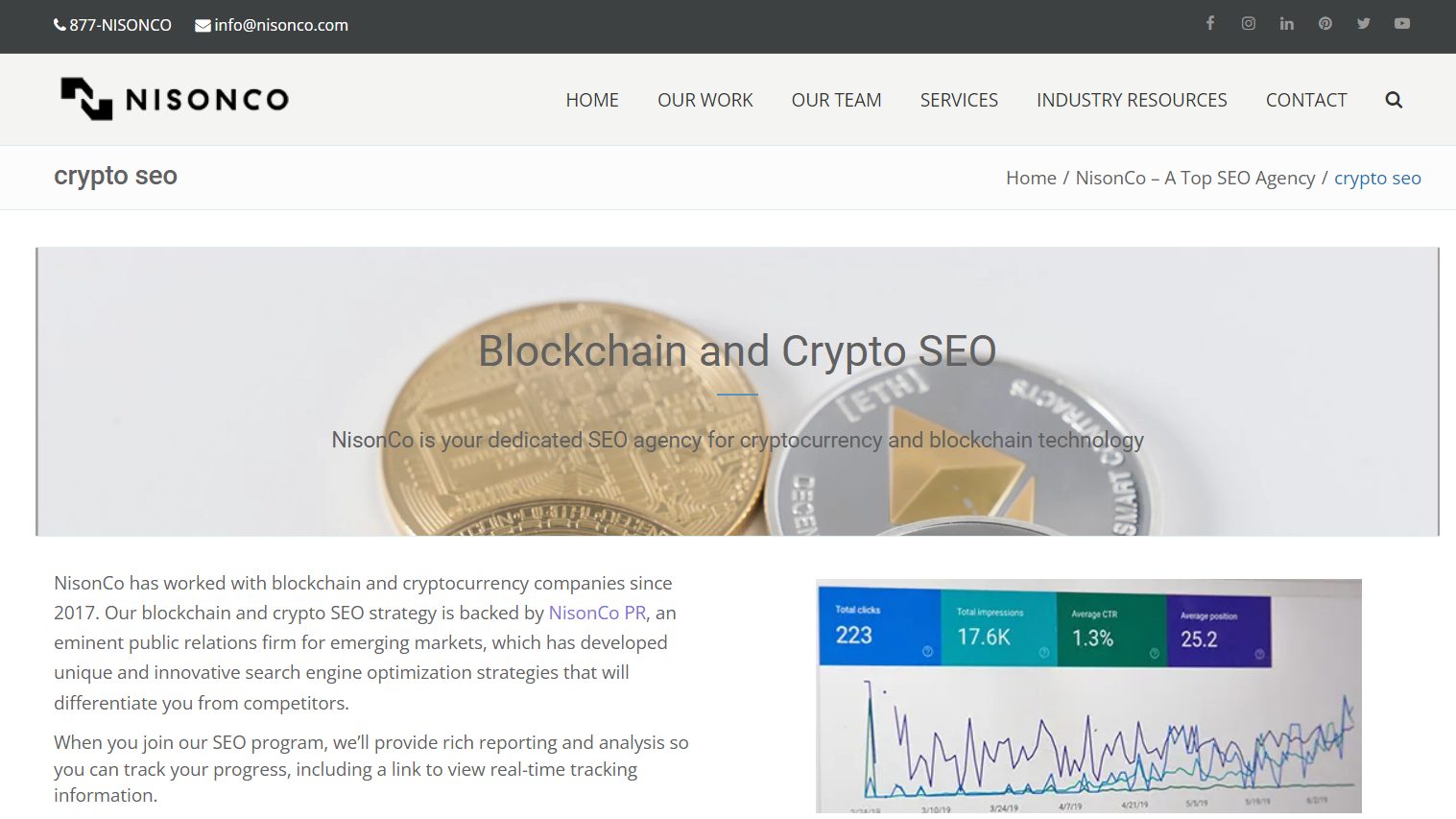 Since 2017, NisonCo has been working with numerous blockchain and crypto companies, helping them build custom and innovative crypto SEO strategies. Its crypto SEO strategies are backed by its PR firm, NisonCO PR, which specializes in PR for emerging markets. NisonCo's cryptocurrency SEO services include blockchain and crypto keyword research, competitive analysis, on-site and off-site SEO, data analytics, continuous SEO optimizations, and blockchain and crypto SEO audits.
---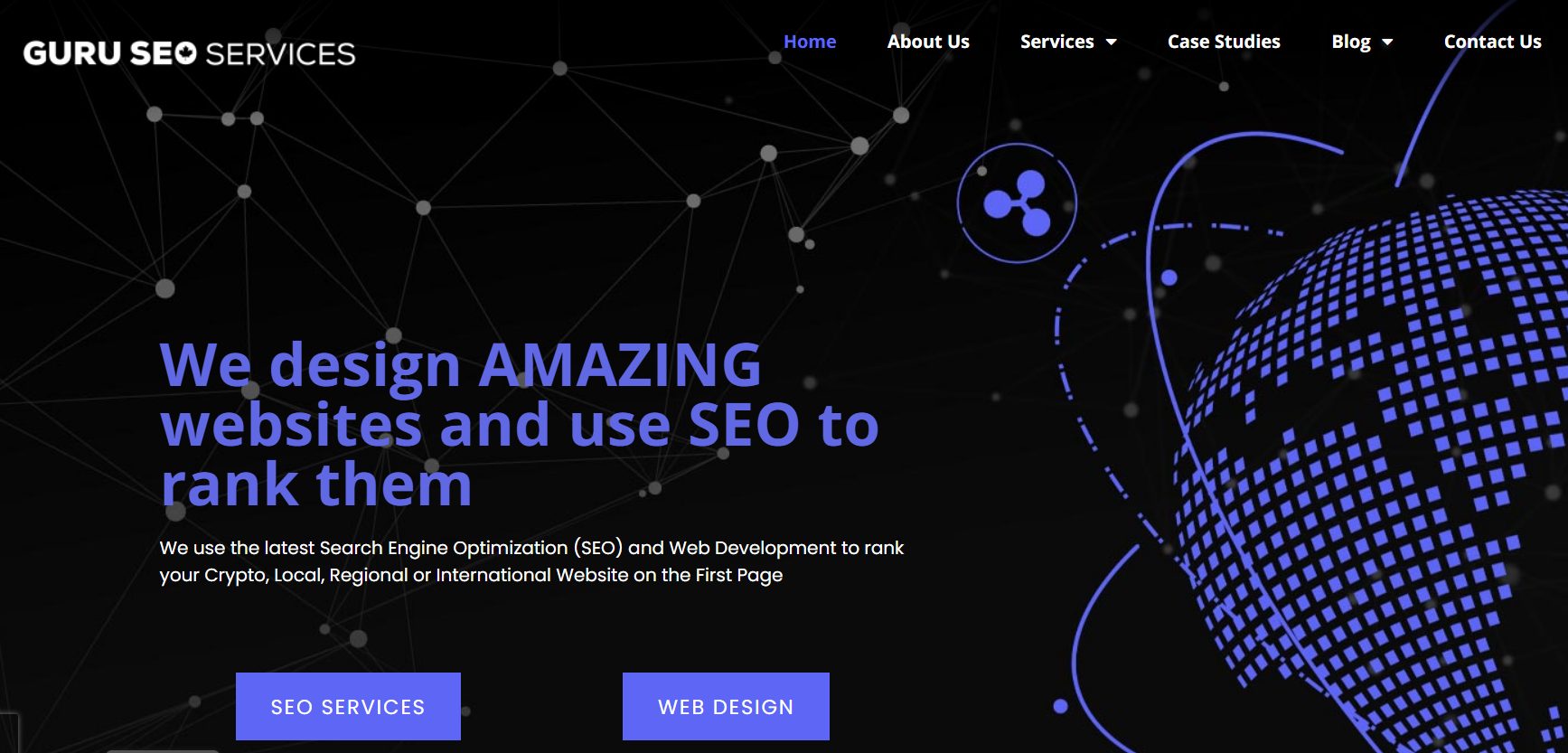 Guru SEO Services is an SEO and web development company based in Alberta, Canada. Aside from local and national SEO, it offers services like web design, web development, content development, and data analysis. It also has blockchain marketing services, which offers PPC, content development, SEO, and web design, which can help your business attract more visitors and drive sales for your NFT or blockchain projects. The agency's three-step process entails improving your business's online presence, helping you generate income and converting your visitors into customers.
---

Assertive Media works with companies in the crypto and blockchain industry and helps them reach their goals by leveraging cryptocurrency SEO that's coupled with inventive content marketing. It understands that there's no one-size-fits-all approach to crypto SEO and, therefore, builds custom online marketing strategies for each client it works with. Some of its cryptocurrency SEO services include technical SEO, local SEO, on-page SEO, and link building. Assertive Media makes it easy for blockchain and crypto businesses to achieve success online with its simple, four-step onboarding process.
---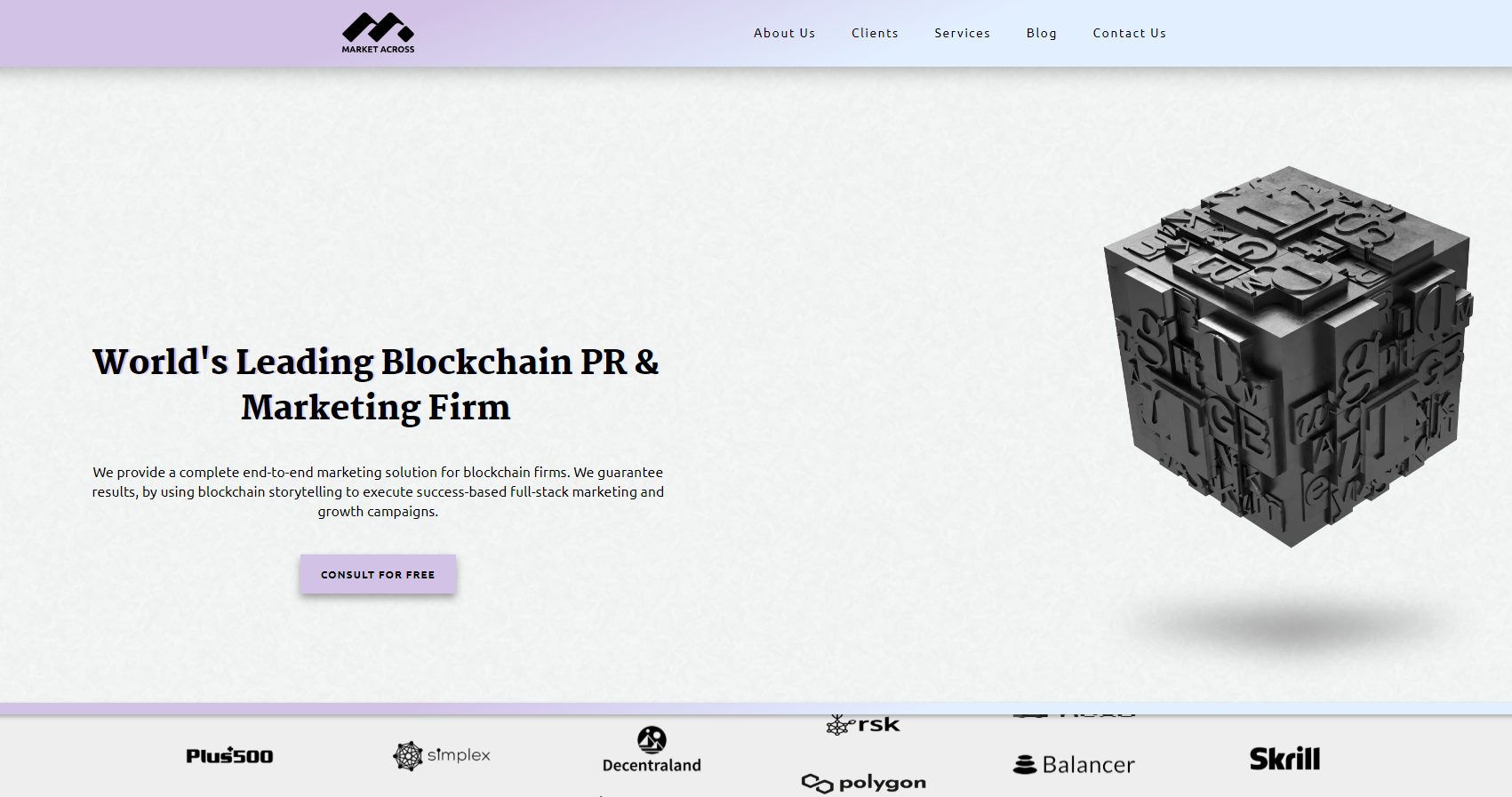 MarketAcross offers an array of blockchain marketing services that are designed to deliver measurable results. It delivers transparency to each of its projects and full-stack marketing services that cater to every budget and company size. The blockchain PR and marketing firm works with both crypto companies and non-crypto companies that are planning to dip into the crypto and blockchain industry. Aside from crypto SEO, MarketAcross also offers blockchain PR and content marketing, reputation management services, thought leadership, content distribution, and messaging strategy services.
---
How to Utilize Crypto SEO
In a broader sense, SEO is an effective strategy that can deliver sustainable, long-term results. How can you take advantage of cryptocurrency to promote growth? Here are some ways you can utilize crypto SEO:
Keyword research is usually the first step to a successful SEO strategy. This allows you to understand what your target audience is looking for. Prior to conducting keyword research, you need to identify who your target audience is, what their needs are, or what they could potentially want from your business.
You can use keyword research tools like Ahrefs or SEMrush to look for focus keywords and long-tail keywords. Focus keywords are shorter and are the search terms you want your business to be linked to when someone looks for something crypto-related online. Some examples are "Cryptocurrency" and "Alt coins". Long-tail keywords tend to be more specific, such as "top crypto exchanges in 2022" or "the best NFT marketplaces".
The adage "content is king" still rings true for businesses within the crypto and blockchain space. To strengthen your cryptocurrency SEO strategy, you'll need to craft unique, high-value content that effectively incorporates relevant keywords. And it's not just your content that should have the relevant keywords—they should also appear throughout your website.
A word of caution, though—don't go overboard with your keywords in an attempt to improve its ranking on SERPs. Keyword stuffing can lead to poor user experience and can deter your visitors. You may also face penalties and, in worst case scenarios, Google may even remove your page from its search results.
While it does take time, link building helps generate organic traffic. It also boosts your credibility and authority, which can play a role in boosting your ranking on SERPs. When adding backlinks, it helps if you use links from high authority sites as these have more impact.
You'll also need to establish good relationships with other businesses, personalities, and authorities within the crypto and blockchain niche to continue generating traffic. One way to build backlinks is to regularly publish high-quality, relevant content. You can also collaborate with cryptocurrency influencers who can help generate traffic for your content.
Frequently Asked Questions
Is SEO still important for crypto-related businesses?
Yes, SEO is a vital component for businesses in the crypto space because it can help you promote your brand or work to your target audience. When executed properly, it's an effective strategy that can generate measurable and sustainable results.
How can crypto SEO help businesses thrive?
Crypto SEO utilizes SEO strategies like keyword research, link building, competitive research, content optimization, and on-page SEO to help businesses generate organic traffic, boost conversions, increase sales, and establish a strong online presence. Plus, SEO is a cost-effective way to get your brand out there.
What are the top cryptocurrency SEO services available today?
Some of the top crypto SEO services include:
NeoReach

Coinbound

Coinpresso

GuerillaBuzz