In 2021, Bitcoin, the first cryptocurrency, yielded a year to date return that was almost thrice as big as that of Standard and Poor's 500 index. This high return on investment is the primary reason why millions of people flock to digital currency. With Web 3.0 already in the works, experts predict that the number of cryptocurrency users will reach its billionth mark by the end of this year.
The potential gains of digital coins are clear. However, investors often find it hard to keep track of their holdings, especially since they're mostly scattered across multiple wallets and exchanges. This ultimately makes it hard for crypto users to compute their earnings and file their taxes—a process that is altogether tedious.
Fortunately, crypto tax calculators are here to help you navigate the economy of digital currency. Aside from making crypto taxes more digestible for users, they also automate and optimize the accounting process and make sure that you comply with their country's tax regulations.
---
11 Best Crypto Tax Calculators for 2022:
---
What Is a Crypto Tax Calculator?
A crypto tax calculator is a software solution that helps you calculate your crypto profits, losses, income, and tax liabilities. The resulting numbers are based on your investing activity, data, and information, which crypto tax calculators retrieve from your exchanges, wallets, and other crypto platforms.
To reduce the hassle of filing taxes, crypto tax calculators compute your gains and losses in your home fiat currency.
Unlike crypto profit calculators, crypto tax calculators do more than tracking your profits. Aside from automating the tax reporting process, it can also help you optimize your portfolio all year round.
---
Why Should You Use a Crypto Tax Calculator?
For most governments around the world, cryptocurrencies are an asset. Just like with any other asset, you must track and report every transaction, as well as any income that you incur from investing in crypto.
However, crypto exchanges can't generate your tax documents for you, and keeping an eye on all your trades and activities can be a chore. This is why many investors fail to file their crypto tax reports.
The Internal Revenue Service (IRS) is very serious about penalizing crypto holders who evade taxes though, whether they do it on purpose or not. Failure to file your taxes may result in fees, audits, and even jail time.
Crypto tax software solutions help streamline the process by retrieving your data across all your cryptocurrency platforms, auto-generating your tax reports, and ensuring total compliance with tax laws within your country.
---
How to Use a Crypto Tax Calculator
You can generate a tax report with a crypto tax calculator in four steps: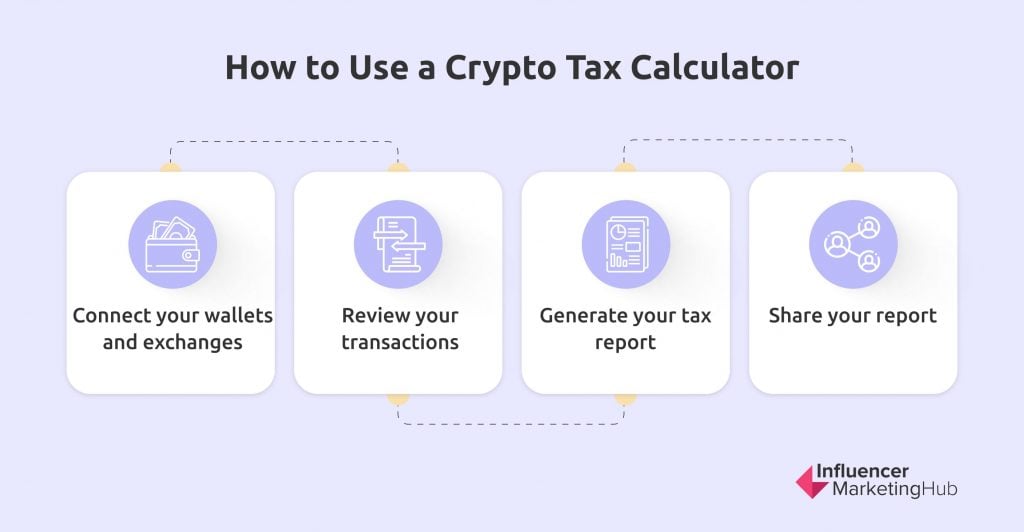 Connect your wallets and exchanges
First, import your data from your crypto exchanges to your crypto tax platform. You can import your data automatically via Application Programming Interface (API), or you can manually upload a Comma Separated Values (CSV) report of all your trades.
Verify whether your transaction history is correct. In some cases, you will need to manually correct or edit some information to ensure accuracy.
Gain insights on your portfolio, optimize your cost basis accounting method, and save thousands on your taxes through tax-loss harvesting.
Some crypto tax calculators support TurboTax, the leading platform for filing taxes in the US. This enables you to conveniently send your report directly to TurboTax. On the other hand, you can also hire a certified public accountant (CPA) to file your report for you.
---
What to Look for in a Crypto Tax Calculator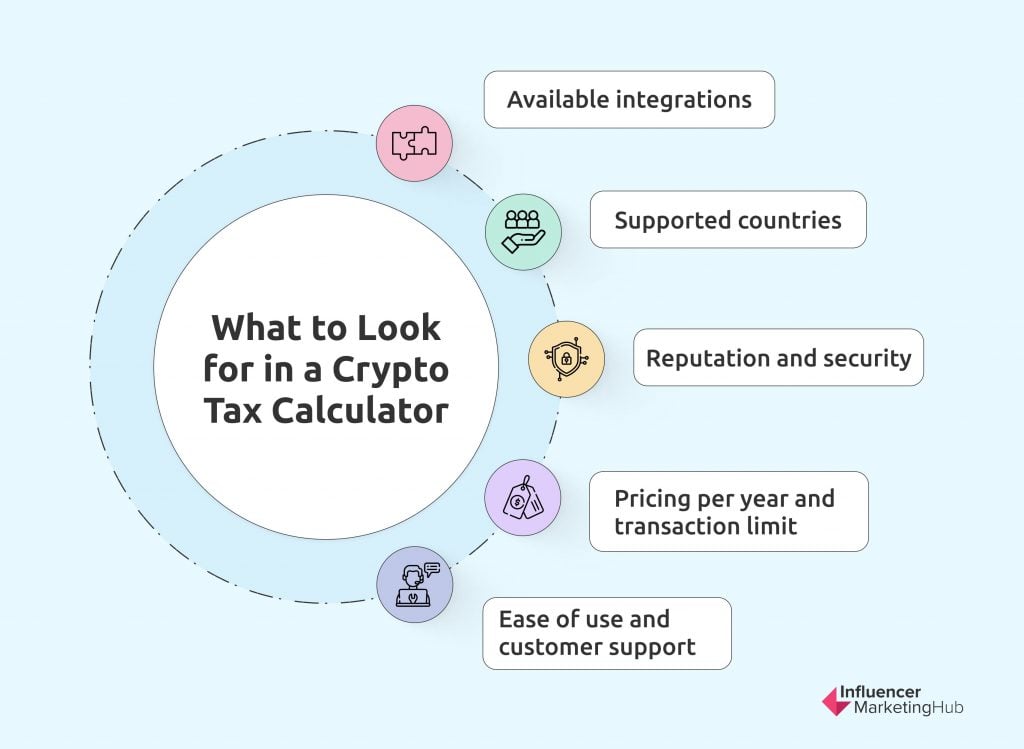 Choose a crypto tax software that can integrate with all the major exchanges such as Coinbase, Binance, Kraken, and eToro. This allows you to seamlessly pull in your data and transactions instead of manually keying them in. Aside from calculating your earnings, your tax calculator should also be able to track the number of coins you traded, your hold duration, and dates of transaction.
Aside from exchanges, you should also check available integrations and support for blockchains, Decentralized Finance (DeFi) protocols, and crypto coins, including futures, non-fungible tokens (NFT), and mining swap. With more integrations, you'll be able to generate a more complete view of all your crypto transactions across different platforms.
Some crypto tax calculators provide full support for select countries and only partial support for others. Find software that can address the requirements in your country. More supported countries can also reduce the likelihood of switching to a different calculator or manually uploading your spreadsheet once you're outside your region.
Other crypto tax tools provide downloadable tax forms, even for country-specific tax reports. Others also support countries that use exclusive accounting methods, namely First-In First-Out (FIFO), Last-In First-Out (LIFO), Highest-In First-Out (HIFO), and Adjusted Cost Base (ACB).
A good reputation makes crypto tax calculators reliable and trustworthy. Partnerships with reputable financial technology and accounting companies are indicators of trust. For example, you can rely on a software program partnered with TurboTax. There's also more trust for software solutions built by CPAs and crypto veterans.
In addition, make sure that your crypto tax calculator has a reputation for keeping your information secure. A transparency policy is often enough to ensure that nobody is selling the information that you provide. To protect your funds, your cryptocurrency calculator should use a read-only access to your exchange accounts when importing data.
Pricing per year and transaction limit
With most crypto tax calculators, prices depend on the transaction limit. Many platforms offer free services for calculating and previewing your tax report and charge only when you want to download those reports. This is a great way to gauge whether the software's features are right for your needs before shelling out any amount.
Most calculators also start with a free plan for less than 30 transactions. If you're a frequent trader, aim for a high number of transactions for just the right price. Review the included features too. Lower tier plans seldom include more advanced crypto transactions like mining and staking. If possible, try the free trial, keep your eyes open for hidden charges, and review the refund policy.
Ease of use and customer support
The main objective of crypto tax platforms is to simplify the tax accounting process. For this reason, a highly intuitive interface is important to allow beginners and experts alike to navigate through the platform. A crypto tax software should be able to import your data and generate your tax report within only a couple of minutes and with minimal error or manual adjustments.
A responsive customer support team will also be helpful. You should be able to connect with knowledgeable live chat support that can address your issues and provide you with more information about the software. Many crypto tax platforms also publish educational resources to help users learn more about digital currency taxes.
---
Top Crypto Tax Calculators
With those factors in mind, here are 11 of the best crypto tax calculators that you should try in 2022.
---
---
---
---
---
---
---
---
---
---
---