Advertising Disclosure
Advertising disclosure:
Our partners compensate us. This may influence which products or services we review (also where and how those products appear on the site), this in no way affects our recommendations or the advice we offer. Our reviews are based on years of experience and countless hours of research. Our partners cannot pay us to guarantee favorable reviews of their products or services.
Are you ready to have a digital wardrobe? Fashion is one of the most forward-looking industries there is. It's no surprise that it has embraced new digital and immersive technologies to captivate fashion enthusiasts worldwide.
---
Top 8 Digital Fashion Marketplaces:
---
Digital Worlds and Fashion
Forbes reports that the younger generation makes NFTs and digital asset ownership boom. 2021's third quarter enjoyed $10.7 billion sales, which is eight times more than in the previous quarter. Individuals interested in joining the virtual world and the metaverse are also keen on owning digital assets.
But it's not about solely going digital when it comes to fashion. Recent findings about the impact of the traditional textile industry on the environment are sobering. Studies show that more than 85% of total textiles end up in landfills, amounting to billions of global material loss due to throwaway culture and trend changes. Fashion going digital means less physical clothing consumption and more immersion into virtual technologies.
Digital fashion is most pronounced in the gaming world. Players in gaming platforms like Roblox and Fortnite revel in expressing their personalities through costumes for avatars, so it makes sense that digital fashion thrives in gaming events.
Today's top fashion influencers can capitalize on the trend by introducing digital fashion houses to their followers. In this article, we take a look at the top digital fashion marketplaces that are revolutionizing our virtual style.
---
What Are Digital Fashion Marketplaces?
Digital fashion marketplaces are sites that sell digital clothing and accessories. They work much like an eCommerce platform where a customer can browse through the products, add to cart, and pay for them upon checkout. It's much like what gamers have been doing for years—buying skins for their avatar—but now, there's more emphasis on what's in vogue, instead of just straightforward costumes.
Digital fashion products can only be used in video games, VR platforms, and social media. Essentially, these are all pixels, but they make one's virtual experience that much more vivid and stylish.
---
Top 8 Digital Fashion Marketplaces
Digital fashion marketplaces either market through a blockchain, and sell NFTs, or do not. Here are our top digital fashion stores:
Top
digital fashion marketplaces
2024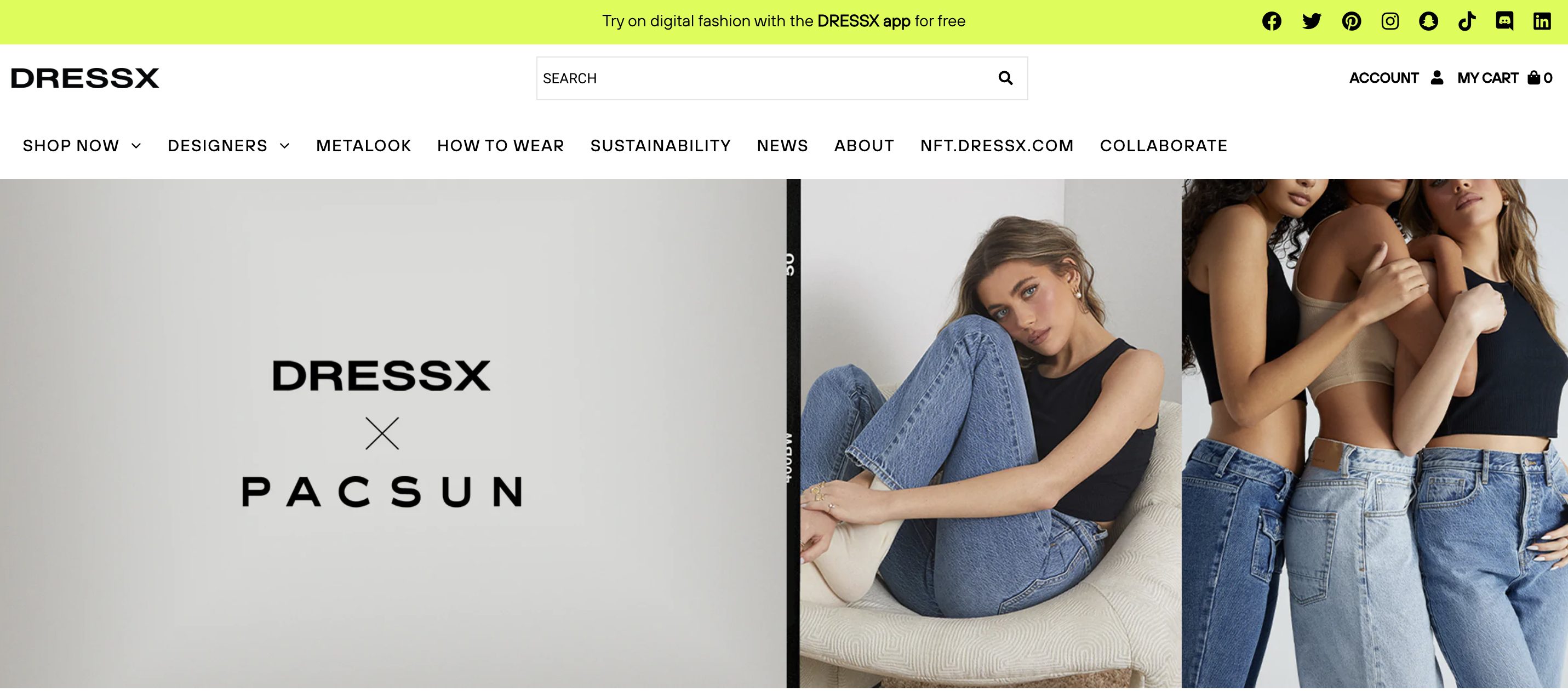 DRESSX is among the most popular digital fashion sites that carry collections from world-renowned artists like Van Gogh, Vermeer, Kandinsky, Schiele, as well as fashion brands like Pacsun and more.
The California-based company was launched back in August 2020, aiming to showcase fashion that's not going to contribute waste to the environment. The site popularized digital fashion for both gaming and metaverse enthusiasts alike.
DRESSX is designed like a typical eCommerce site. The main difference is, when you choose an item, you send a picture that its fitting team will use to tailor the 3D engineered garments. DRESSX will return the photo of you wearing the item. There are over 600 items featured on DRESSX, both from traditional fashion houses and up-and-coming digital-only brands. DRESS also has in-house designer pieces on the platform.
DRESSX brings photos that influencers can showcase as custom-fitted digital looks. These assets are Instagram-ready, perfect for gaining traffic, especially with the artsy audience.
The company has recently launched an app that allows virtual fittings using AR before purchasing the item or an entire look. DRESSX also partnered with Crypto.com to facilitate a permissionless and secure transaction. It's only a matter of time before we have NFTs straight from DRESSX, an exciting prospect for avid virtual fashion collectors!
---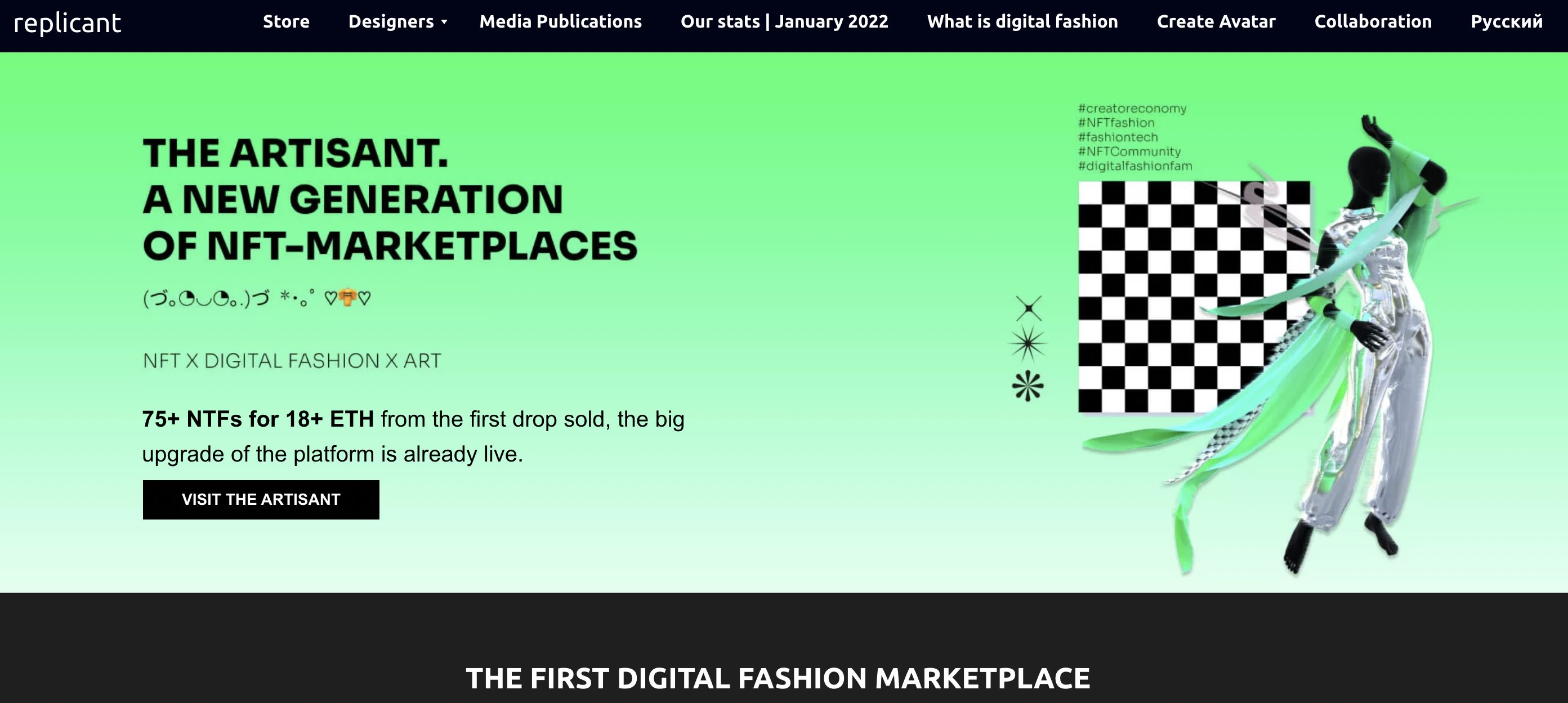 Replicant is an NFT and fashion marketplace, which allows customers to try on digital garments and lets designers display their creations on the site. The site uses cryptocurrency for transactions.
Like other digital fashion spaces, Replicant recognizes the need for self-expression that won't produce unnecessary carbon footprint. For the creators, digital clothing can go much further, and it still celebrates self-identity within virtual worlds.
Replicant works like an eCommerce store, where you can choose an outfit, upload a photo where you want to show that garment, pay for the purchase, and wait 48 hours for the photo rendering. This virtual fashion marketplace has fantastic, otherworldly pieces that can liven your avatar or Insta feed. There are over 100,000 visitors worldwide showing interest in the NFT fashion marketplace.
---
Auroboros is a digital fashion house that works differently from the abovementioned marketplaces. The London-based company is part of the charity work set up by the house of Alexander McQueen and combines science with physical haute couture creations.
Auroboros is the first brand to present a digital collection at London Fashion Week. The collection, called "NatureTech," received positive reaction from the industry. The aim is to create a new category of fashion that brings a more immersive experience to the audience.
While the goal is still mainly about fashion and not so much to lessen the carbon impact of physical wares, Auroboros brings a new mode of expression to couture buyers. Individuals can "preserve" and display these virtual assets more conveniently by simply posting them on social media and gaming sites.
The designs are nature-inspired and, at the same time, highlights technical skill and engineering. The 14-piece Biomimicry Collection can be purchased at DRESSX, the fashion game Drest, and Auroboros' own website.
---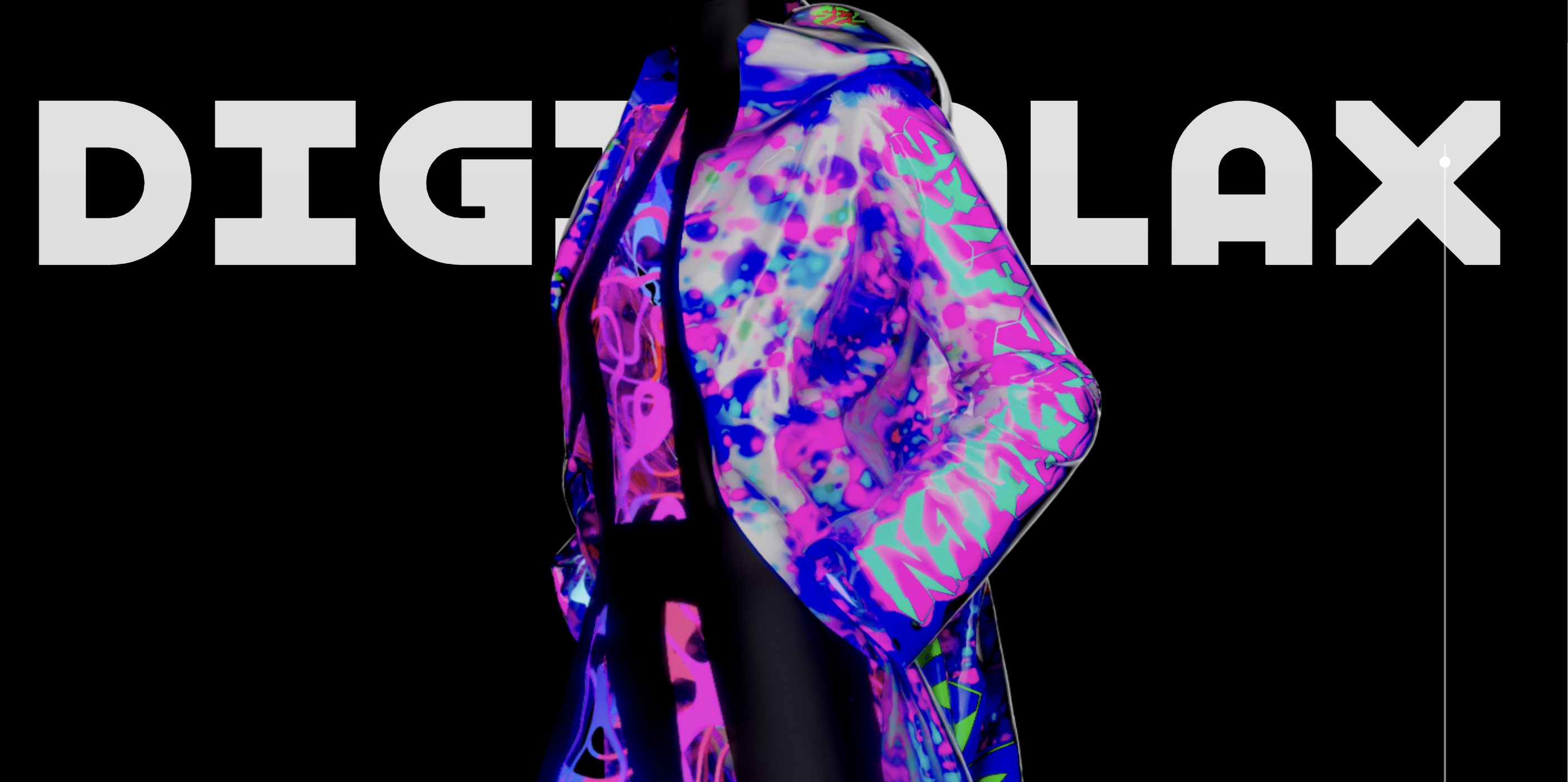 DIGITALAX is an NFT-based fashion marketplace that works mainly as a site for virtual goods. The web3 architecture enables the company to set up the first Digital Fashion Operating System. This translates the goods seamlessly into gaming, VR and AR, metaverse, and other 3D landscapes.
DIGITALAX, launched in 2020, remains an open source platform that encourages creators to collect, wear, and trade digital fashion assets within virtual communities. The company serves as a one-stop shop for all the latest fashion NFTs, making it easy for enthusiasts and designers to converge.
DIGITALAX works much like other blockchain-powered fashion marketplaces. Customers can browse through different pieces, get to try them on, make the purchase, and receive the digital garment or accessory afterward. You get the graphic, material component, and a decentraland skin for every item purchased.
The digital fashion marketplace aims to make high-end couture and maximalist pieces easier to access, collect, and have a broader audience outside the usual social media setting.
---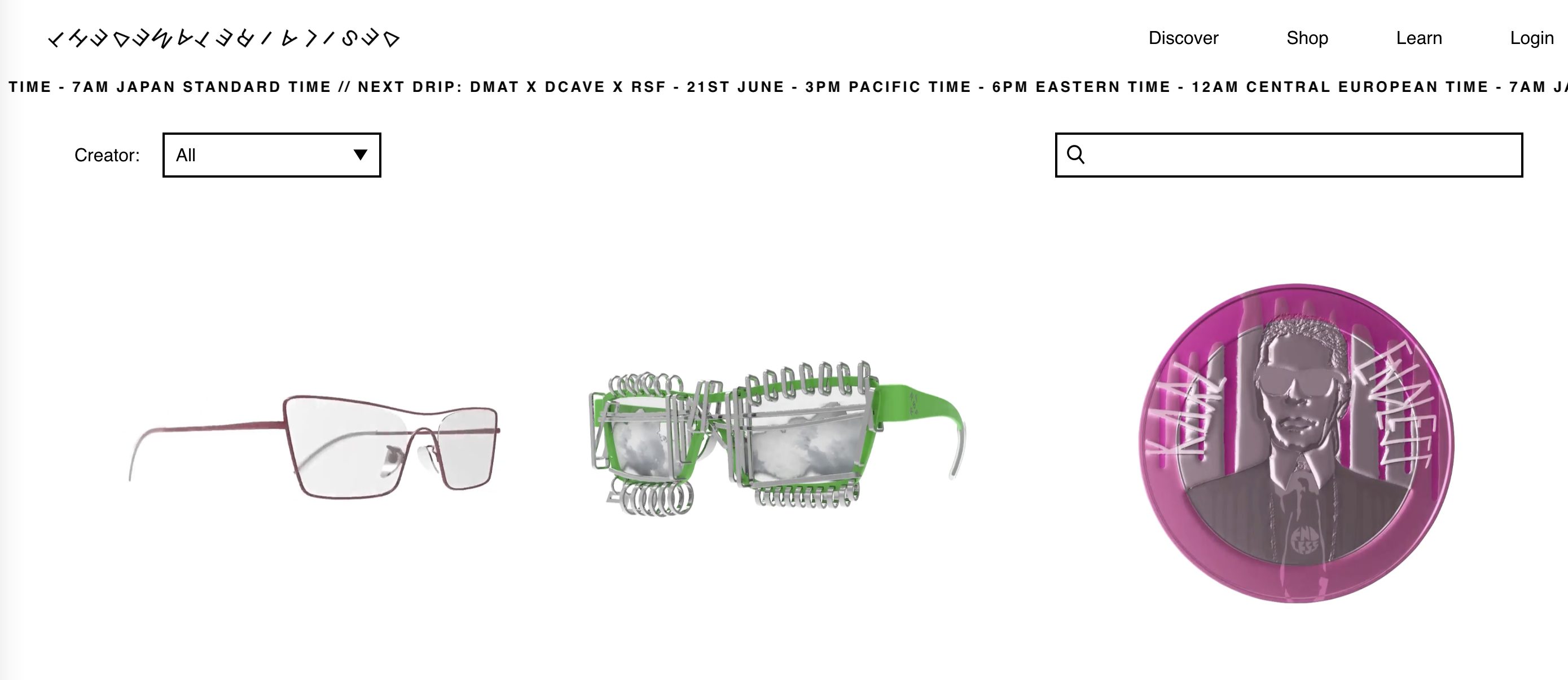 The Dematerialised is an NFT-based fashion marketplace launched by Lukso, a blockchain that specializes in digital lifestyle. The platform is specifically focused on designer fashion products offered as NFT assets.
What's innovative about The Dematerialised is how it fosters viable revenue streams for virtual fashion goods. Its approach lessens the dependence on traditional fashion business models that have become so consumption-focused and end up being wasteful. The Dematerialised creates a new mindset of making fashion companies more transparent, more creative, and more equitable in their practices.
The digital fashion marketplace lets famous brands, like Karl Lagerfeld, release their unique NFT drops. In fact, the brand made its first foray into blockchain technology through The Dematerialised platform. The platform guarantees that virtual goods are authentic, valuable, and rare in the industry. It's built to cater to high-end customers who want to merge couture with virtual lifestyle.
In 2021, The Dematerialised dropped a RTFKT x THE FABRICANT NFT collection, called "RenaiXance," which is a gender-fluid collection that celebrates street culture while blurring boundaries that are still prevalent in gaming fashion.
---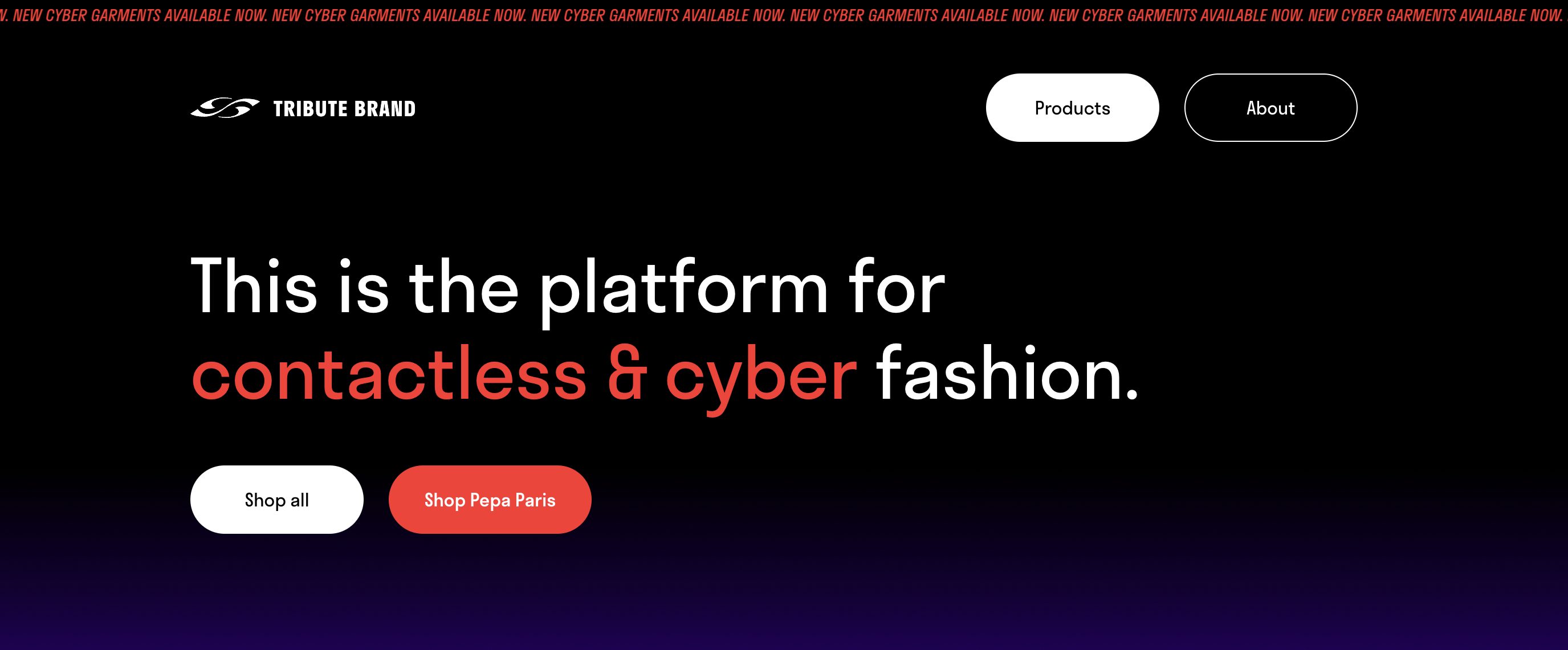 Tribute Brand is a Croatian-based digital fashion marketplace that is leading the way in "contactless and cyber" fashion. The team recognizes that digital fashion is the future of design and that virtual worlds allow freedom of expression—regardless of size, gender, and style preference.
Tribute Brand encourages people to foster their own virtual identity because this can be a more sustainable way to consume fashion. Its collective was inspired by the recent events surrounding the COVID-19 pandemic, which highlights the need for systemic change towards sustainable practices.
With experts in CGI 3D modeling, UX design, coding, and, of course, fashion, Tribute Brand offers a fun, contactless way to enjoy couture and modern fashion pieces without manufacturing, shipping, and disposal costs relating to physical garments.
Customers who buy clothes from Tribute Brand will receive CGI images of their submitted photo wearing the cyber outfit. The processing takes one to five days, and you have the choice to combine multiple purchases in one image. The platform does not have an NFT gallery, but you receive a digital certificate that serves as authenticating proof of that product you purchased.
The pieces have a limit of up to 100 uploads, which means they will be sold once that number is reached. There are no restocks, so that garment won't be available once it's sold out. What's more, it can do custom requests if a customer wants to turn a physical outfit into a digital one.
---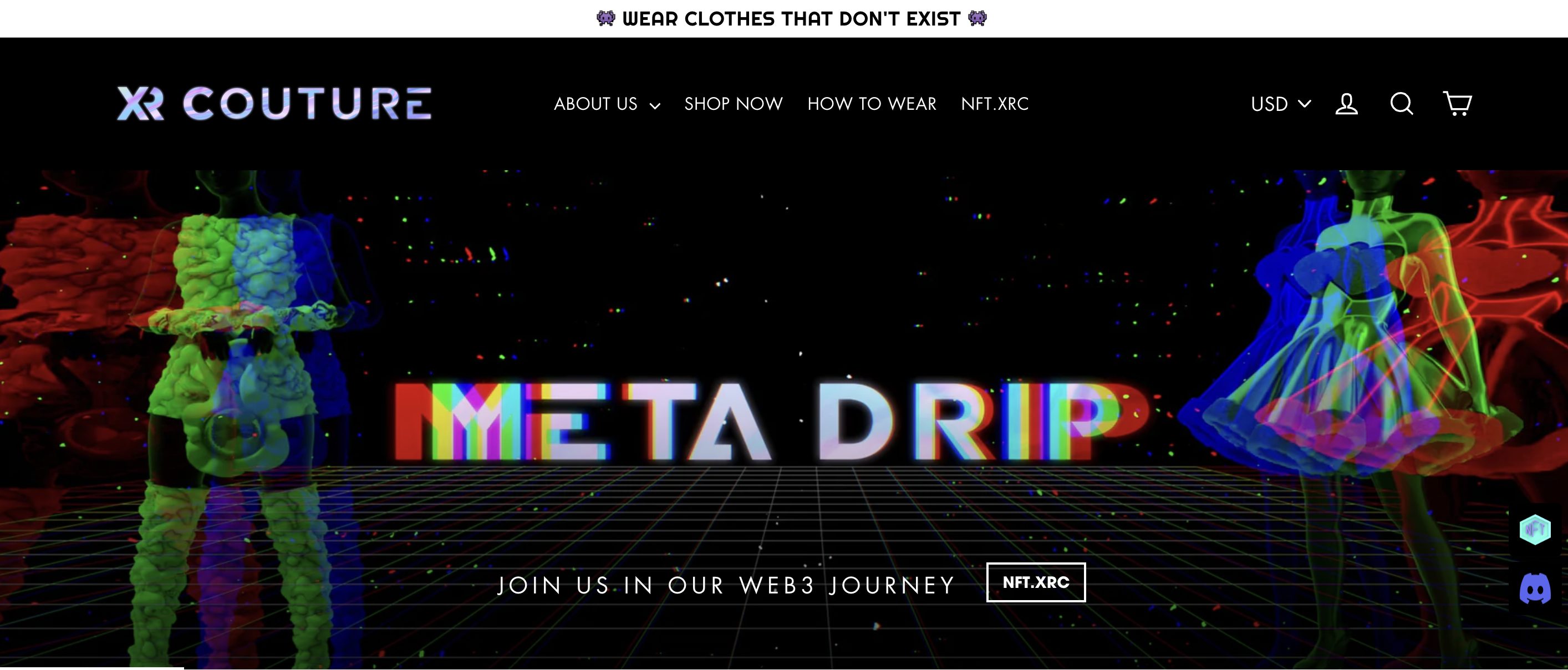 XR Couture was founded in 2020 by Subham Jain, who wanted to curb fashion waste through digital expression. Aside from the environmental impact, XR Couture was developed because Jain saw that the pandemic halted the usual influencer practices. The digital fashion couture platform can create new and visually exciting content without having to be exposed to the outside world.
XR Couture has become a popular digital fashion marketplace. A strong collaboration with artists and designers brings unique, outstanding designs for audiences worldwide. Similar to DRESSX and other platforms, the virtual fashion source lets customers submit an image and virtually fits the virtual assets on the photo. There are no NFTs so far, but in the future, it is planning to offer unique assets.
XR Couture has a useful feature that lets you upload different photos for the same order of outfit. Unlike other platforms that have a one-on-one order per garment, XR Couture lets you use the virtual outfit in multiple colors. And its expert 3D artists can recommend which photo will work best with the outfit, as they can digitally test the photos and the ordered clothes. XR Couture opens fashion to all types of customers because it offers a lower price-point than other marketplaces.
---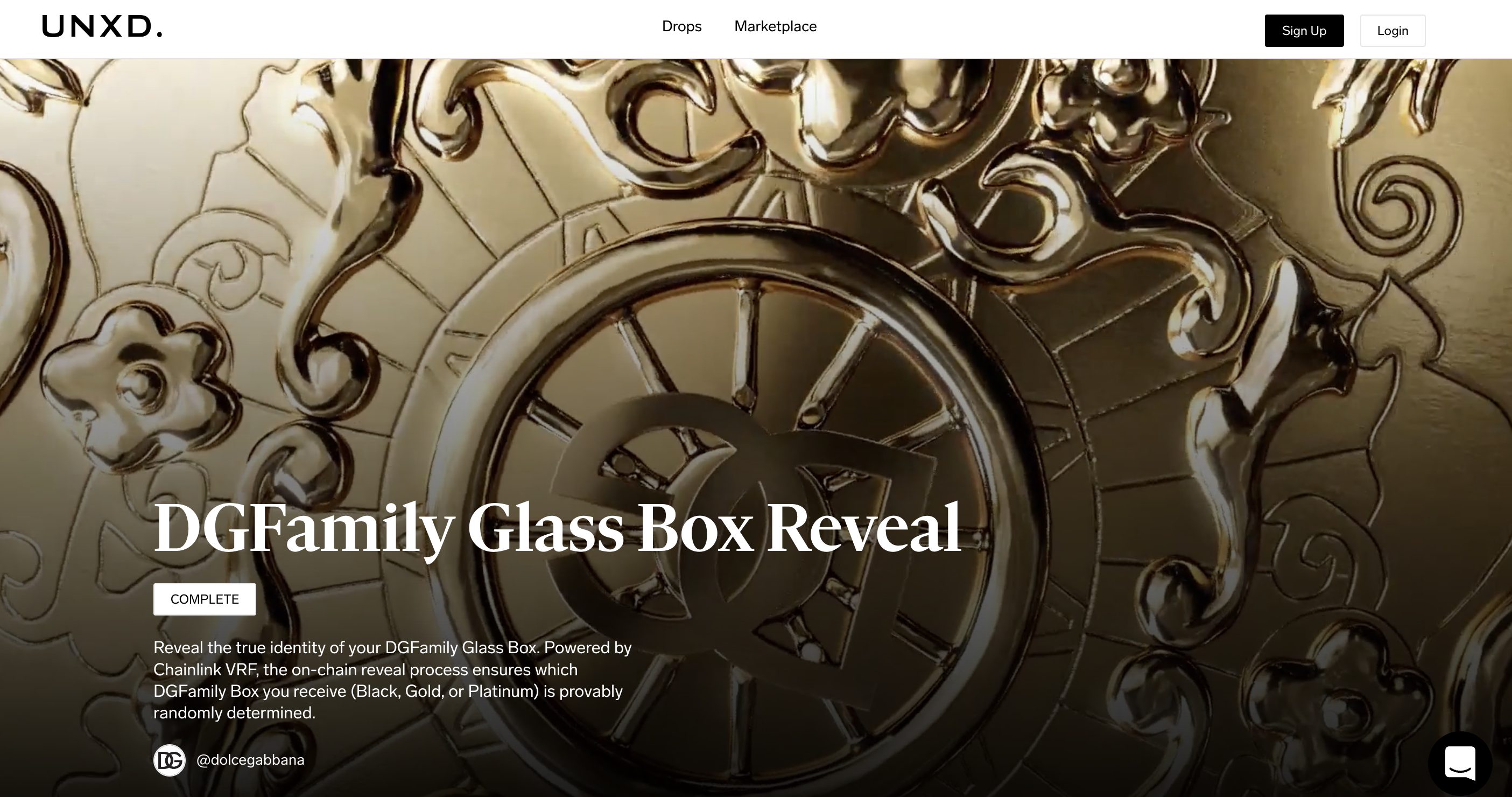 UNXD is a high-end digital fashion marketplace that works with one of the biggest names in the traditional fashion industry, Dolce & Gabbana.
Collectors who are ready to spend and invest in digitally authenticated luxury goods enjoy the space with NFT drops from leading creators and brands. Aside from couture clothing, UNXD also offers art, accessories, and virtual experiences that have never been experienced in other platforms.
UNXD is proof of how digital fashion has captured audiences. Just weeks after the platform launched, Dolce & Gabbana sold the first nine-piece collection called "Collezione Genesi" for over $6 million dollars. This has been the most successful digital fashion NFT drop to date.
---
---
Digital Fashion Marketplaces: Final Thoughts
Digital fashion marketplaces have grown in popularity in recent years. The pandemic brought about the need for virtual expression that gives a richer experience for gamers and metaverse enthusiasts. Digital fashion platforms have also given a more sustainable avenue for fashion lovers. Customers can enjoy boundless designs without the manufacturing, shipping, and waste cost that traditional fashion goods bring.
Digital fashion marketplaces disrupt fashion through blockchain-powered technologies. These platforms can bridge the gap between artistic demand and access to physical pieces. The key is to rely on robust blockchain tech to ensure that marketplaces meet the growing demands.
While traditional fashion houses are here to stay, these brands are now recognizing that digital is the present and the future of fashion. Big brands are joining the game, but for many gaming and meta users, there is still clamor for up-and-coming virtual-based designers and brands that are crafting affordable but fantastic designs. Fashion becomes a seamless and immersive experience all throughout, and the various NFT drops make collecting couture that much more exciting.