Advertising Disclosure
Advertising disclosure:
Our partners compensate us. This may influence which products or services we review (also where and how those products appear on the site), this in no way affects our recommendations or the advice we offer. Our reviews are based on years of experience and countless hours of research. Our partners cannot pay us to guarantee favorable reviews of their products or services.
In an increasingly digital-first world, selecting the right digital marketing strategy agency is paramount for success. In this article, we'll delve deep into the top 10 agencies that are leading the way, offering insights into their unique approaches and results. Stay tuned for a comprehensive review that might just guide your next marketing move!
---
Digital Marketing Strategy Agency Picks
Top
digital marketing strategy agencies
2024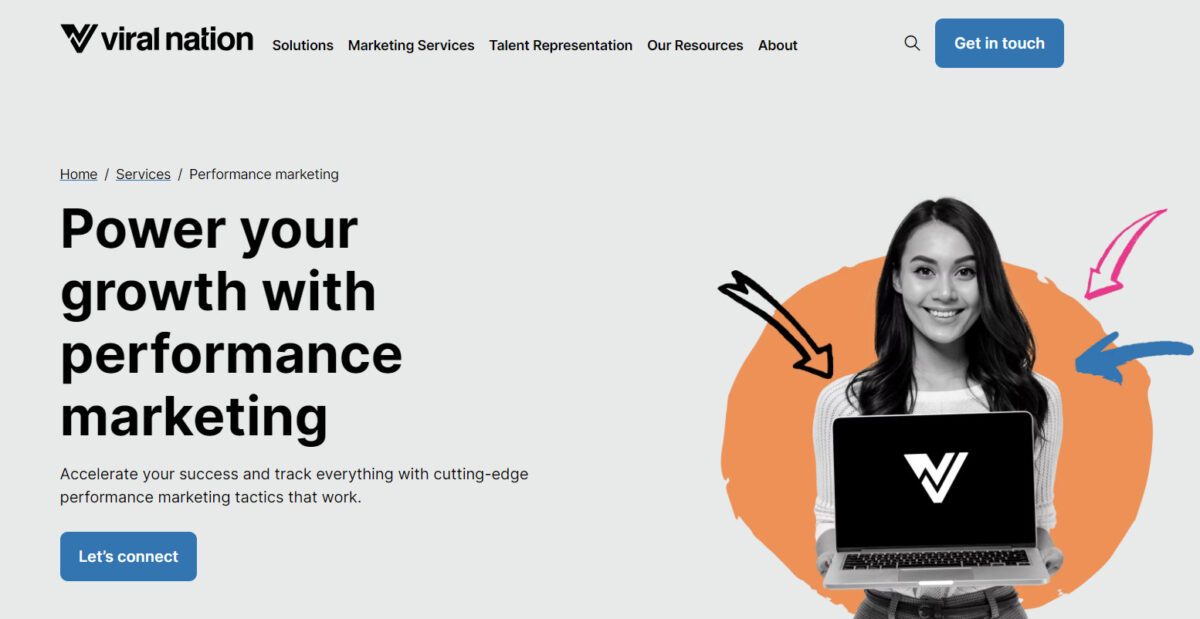 Viral Nation demonstrates expertise in performance marketing by amalgamating strategic planning, compelling content, and data analytics. The agency is adept at propelling businesses to new heights with personalized strategies that resonate deeply with target audiences. Every campaign is underpinned by a relentless focus on Return on Ad Spend (ROAS) and constant optimization. Their approach to content and creative is distinguished by collaborations with an award-winning team and an exclusive talent roster, ensuring the delivery of world-class, audience-tailored content.
Why Is Viral Nation a Standout Pick?
Their robust reporting and analytics bolster the agency's reputation. Backed by AI-powered tools, Viral Nation provides actionable data, driving decision-making processes and yielding insights that enable brands to push the envelope consistently. They emphasize iterative improvement, ensuring that in each campaign round, the strategies are refined, leading to enhanced engagement and conversions.
Case Study
A testament to Viral Nation's prowess is their recognition at the 2022 AVA Digital Awards as a Platinum Winner for their remarkable social campaigns. One notable success was their work with Activision Blizzard eSports, exemplifying their capability to create and amplify content that not only resonates but drives cultural relevance. Their strategic approach intertwines creativity, SEO, and market insights, underpinning their award-winning status and underlining their ability to elevate brands to prominent statures in their respective markets.
---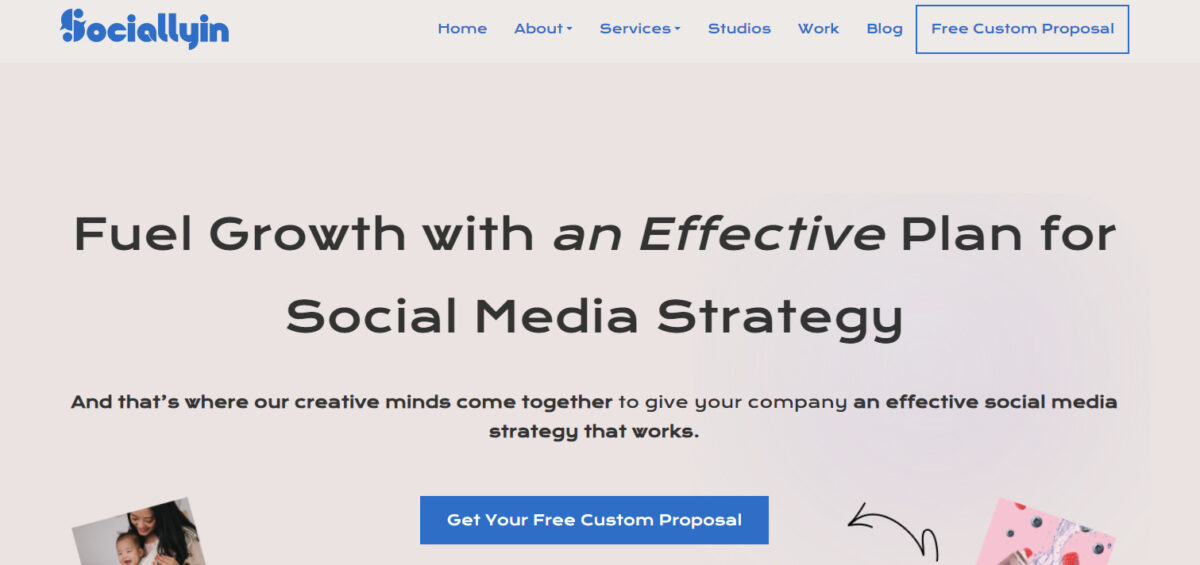 Sociallyin has carved out a niche in the crowded digital marketing landscape with its tailored and strategic approach to social media. Their comprehensive process starts with a strategy kickoff call, immersing themselves in the client's business goals and key buyer personas. A meticulous brand audit follows, utilizing insightful examinations of social media presence to identify optimization areas.
Why Is SociallyIn a Standout Pick?
Each strategy is meticulously crafted, eschewing the one-size-fits-all solutions and favoring customized plans intricately aligned with specific business objectives. Their process is characterized by in-depth audience analysis, creative innovation, and precision targeting, ensuring impactful and resonant content dissemination. Their prowess is exemplified in their clever use of paid social media advertising, combining efficiency and impact to optimize client's ROI.
Advertising campaigns are not just about far-reaching promotions; Sociallyin ensures each ad is a crafted masterpiece, honing in on specific target demographics with pinpoint accuracy. Constant innovation is at their core, with a team always attuned to the evolving trends of social media advertising. Every ad crafted and campaign executed is a testament to Sociallyin's commitment to pushing the boundaries, driving engagement, and fostering brand growth, underscored by a personalized touch that elevates every client's unique brand identity.
---

Disruptive distinguishes itself with a bespoke approach tailored to align with each client's distinct business objectives. Specializing in magnetic marketing for brands ready to escalate their growth trajectory, the agency has an arsenal of strategies in Lead Gen and eCommerce. A holistic full-funnel marketing strategy is at the core of their service offering, meticulously devised to tackle a brand's complex challenges and to accentuate its unique strengths.
Why Is Disruptive a Standout Pick?
With adeptness in a myriad of platforms and services, Disruptive is more than an ad account manager; they are an extension of the client's team, a long-term growth partner crafting campaigns that resonate profoundly with the target market. Their multidimensional service suite encompasses SEO, Google Ads, and a plethora of social media advertising platforms, including Facebook, LinkedIn, and emerging arenas like TikTok.
Case Study
Evidence of Disruptive's effectiveness is illustrated in a case study where they catalyzed a staggering +158% increase in monthly revenue for a sporting goods company. Each campaign is underscored by a meticulously researched and impeccably executed creative strategy, ensuring that it doesn't just look great but performs exceptionally. With over $450M in annual ad spend managed for clients and a highly rated presence on Clutch, Disruptive stands as a beacon of innovation, results, and tailored solutions in the digital marketing landscape.
---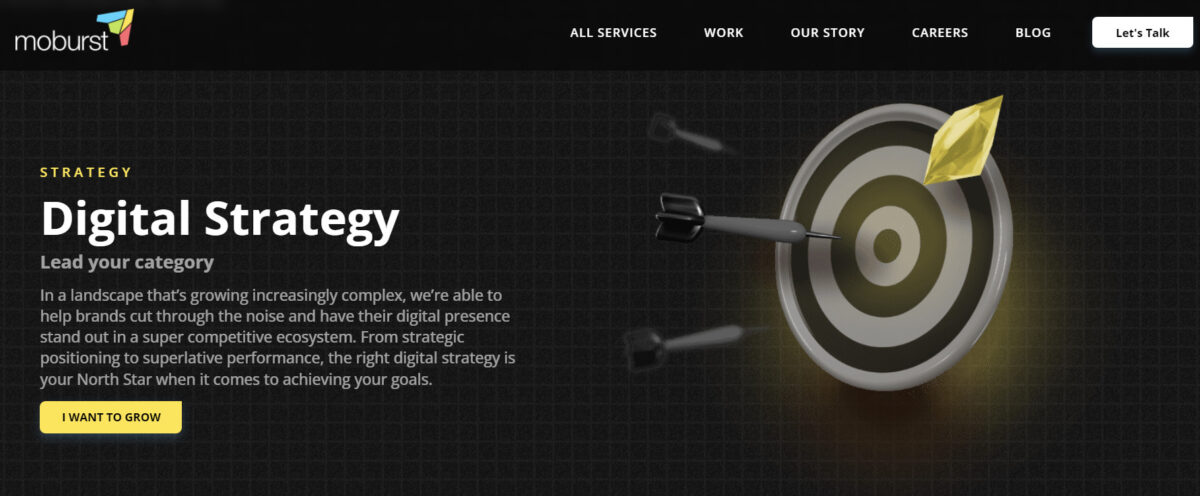 Moburst excels in offering tailored, dynamic, and innovative digital marketing strategies designed to propel brands into the limelight. With a commendable expertise in mobile marketing strategy, the agency adopts a meticulous approach, considering each client's specific app, goals, KPIs, and vision to craft strategies that are not only tailored but are engineered to succeed.
Why Is Moburst a Standout Pick?
In the digital landscape rife with competition, Moburst carves a niche by helping brands navigate through the noise with strategic positioning that transforms digital presence into a robust asset anchored by performance metrics and operational excellence. Case in point, the breadth of their expertise is manifested in the variety of their core services, including social strategy, where knowledge and experience converge to develop compelling content that spurs user engagement and incites action.
But Moburst doesn't stop at strategy; they immerse themselves in analytics and BI, turning scattered data into comprehensive, visually intuitive insights that empower decision-making, optimization, and increased ROI. The agency is a harbinger of holistic growth, intertwining mobile, digital, and social strategies with analytics to offer a converged solution that's agile, responsive, and results-driven. Every campaign is backed by a reservoir of insights gleaned from working with a diverse array of products, ensuring that strategies are not just theoretically sound but are proven to deliver tangible results.
---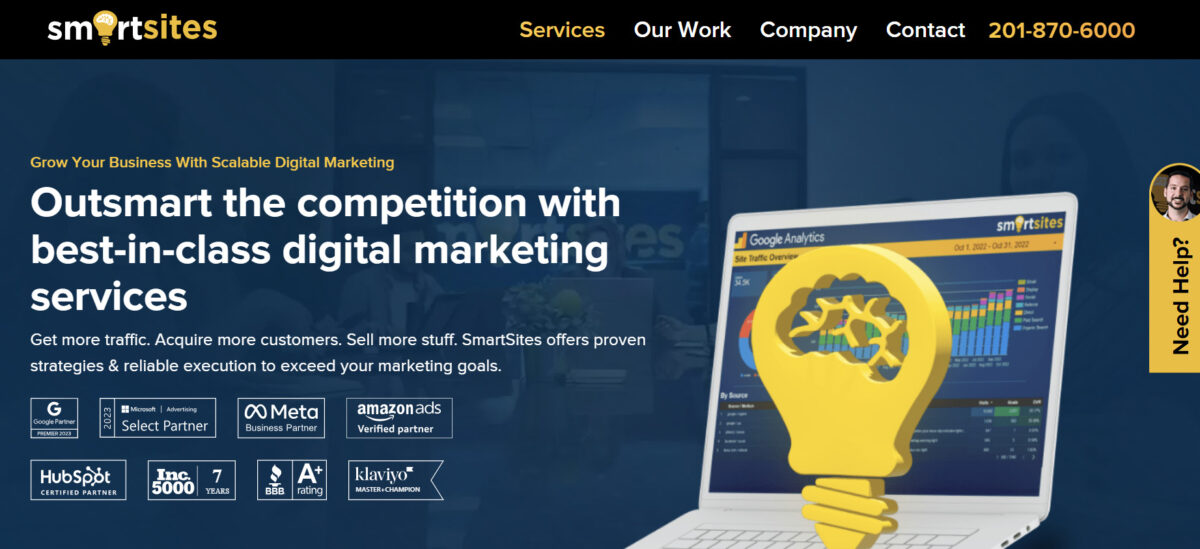 SmartSites is positioned at the pinnacle of digital marketing excellence, distinguished by its fusion of innovative strategies and precision execution. As a Google Premier Partner and touted by notable platforms like Forbes and Bloomberg, the agency's credibility is underscored by a proven track record.
Why Is SmartSites a Standout Pick?
SmartSites is adept in elevating businesses through their bespoke web designs that are not only aesthetically compelling but are engineered to optimize customer engagement and conversions, boasting over 900 successful website launches since 2011.
In the realm of Pay-Per-Click Advertising, SmartSites reigns supreme, placed in the top 1% of digital marketing agencies renowned for merging performance with exceptional customer service. Their expertise in SEO is demonstrable, with campaigns typically witnessing a doubling in traffic within six months, attesting to a strategy that meticulously works on every variable impacting Search Engine Results Pages (SERPs).
The agency's foray into Email & SMS marketing and Social Media Management is marked by personalized and engaging content strategies that not only boost brand visibility but are instrumental in converting visitors into loyal customers.
---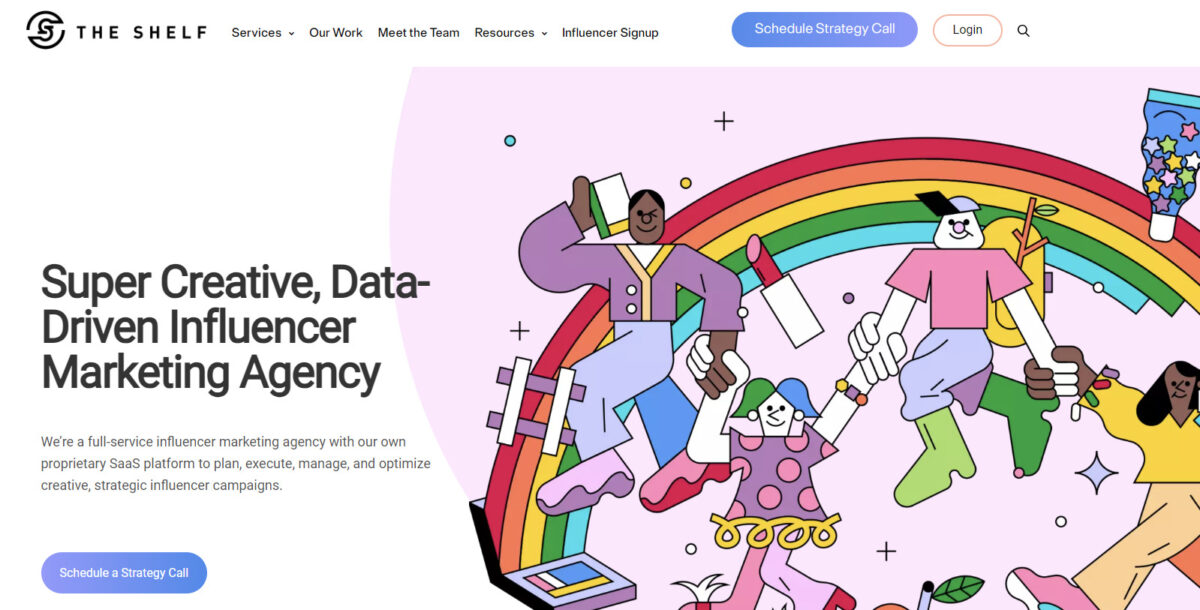 Theshelf stands as a testament to the seamless integration of creativity and data analytics in the dynamic landscape of influencer marketing. The agency's proficiency is showcased through its proprietary SaaS platform, a beacon of technological innovation, enabling meticulous planning, execution, and optimization of influencer campaigns.
Why Is Theshelf a Standout Pick?
The crux of Theshelf's modus operandi lies in its data-driven approach, where over a billion collected posts serve as a rich reservoir of insights, ensuring that campaigns are not just visually captivating but are strategically aligned to over-deliver on KPIs. The fusion of meticulous data analysis with creative flair ensures each campaign is a tailored masterpiece, resonating profoundly with the targeted audience and achieving unparalleled engagement and visibility.
Case Study
A pertinent exemplar of Theshelf's prowess is encapsulated in its collaboration with Lenox. Amidst a significant rebranding initiative, Theshelf orchestrated an influencer marketing campaign that not only exuded visual allure but transcended engagement expectations by 378%. With a staggering 62.9% engagement rate on whitelisted content, the campaign epitomized the agency's ability to amalgamate aesthetic brilliance with strategic ingenuity.
---

Thrive Internet Marketing Agency is renowned for its bespoke, data-driven approach to digital marketing. Eschewing the one-size-fits-all strategies common in the industry, Thrive commits to tailored solutions, intricately designed to meet the individual needs of each business.
Why Is Thrive a Standout Pick?
This agency's dynamism is exhibited in its adaptability, offering specialized services that cater to diverse industries, ensuring each client receives strategies aligned with their unique market and goals. Core services like SEO, content writing, and PPC management are meticulously executed, providing clients with a clear pathway to achieve and exceed their ROI expectations. This blend ensures each campaign is aesthetically compelling and resonates with the target audience, driving engagement and conversions.
Case Study
Illustrative of their efficacy is a case study involving a Multiple-Location Orthodontic Practice Group. With Thrive's expertise, the client witnessed a monumental 226% uplift in Conversion Rate Optimization (CRO) and an impressive 122% increase in top 5 keyword rankings, underscoring the agency's knack for combining strategic precision with creative innovation. Thrive's focus on client relationships and result-oriented solutions underscores their commitment to not just meeting but exceeding client expectations on every project.
---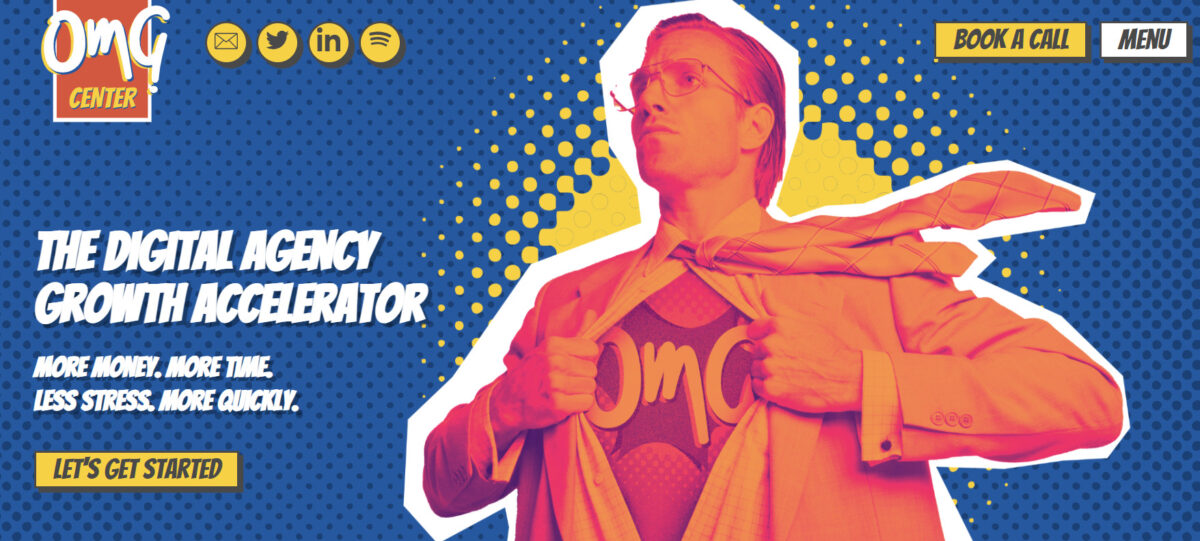 OMG Center is a top digital marketing agency, attributing its prominence to a meticulous amalgamation of innovative and strategic services. The agency deploys an ensemble of comprehensive strategies, including content marketing, SEO, social media marketing, and PPC advertising, each tailored to augment online visibility and engagement.
Why Is OMG Center a Standout Pick?
The wide range of services is a testament to OMG Center's proficiency in the digital marketing world. Content marketing, fortified by visually engaging and shareable content, caters to brands aiming for an impactful digital presence. SEO services are accentuated with keyword optimization and web analytics, aiming for enhanced search engine rankings and organic traffic.
Optimization is another cornerstone of OMG Center's expertise, utilizing a blend of on-page and off-page strategies to amplify online search visibility. Social media marketing, another forte, is executed with precision, utilizing content calendars and audience data to create emotionally resonating content that drives engagement. Their PPC advertising is marked by effective ad creation and keyword research, ensuring optimal budget utilization and high conversion rates. This multifaceted approach underscores OMG Center's commitment to delivering bespoke, result-driven digital marketing solutions.
---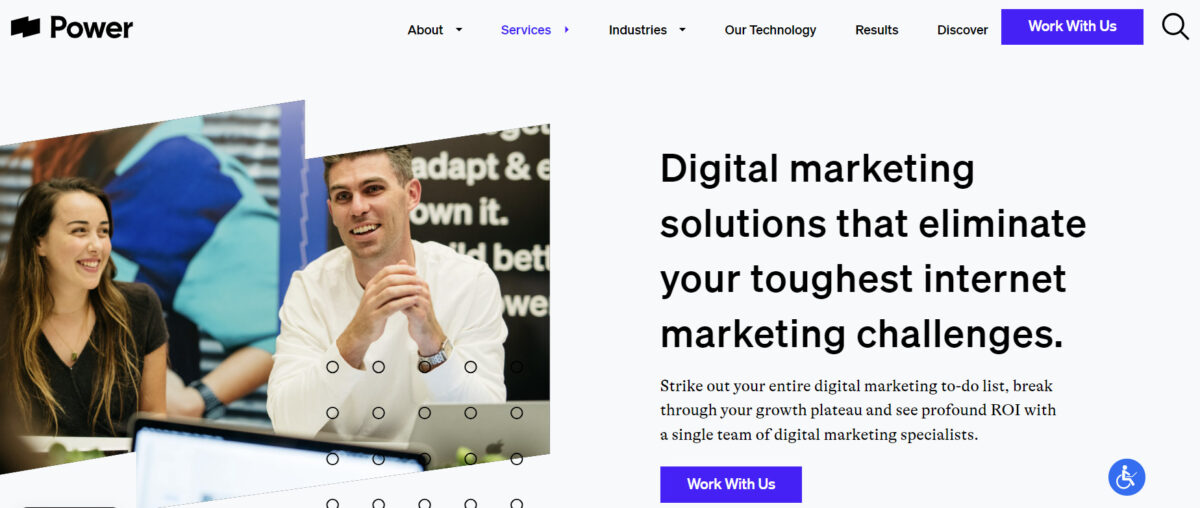 Power Digital Marketing is a modern growth marketing agency crafting tailored strategies through innovative solutions and technology. Clients enjoy the advantage of full-funnel digital marketing services, each meticulously designed to identify and fill gaps in their current marketing strategies.
Why Is Power Digital Marketing a Standout Pick?
Integration is a key strength, with the agency functioning as an extension of the client's team, ensuring seamless cooperation and significant impacts on the bottom line. Nova Intelligence, their proprietary technology, epitomizes innovation by empowering marketers with meaningful data and actionable insights, transcending traditional analytics tools.
Clients benefit from a blend of short-term wins and long-term results thanks to a meticulous approach that frontloads work from the initial contact. Companies that collaborate with Power Digital Marketing consistently outpace industry growth averages, a testament to the agency's efficacy. The firm's commitment to overdelivering is reflected in a client retention rate exceeding 96%, underscoring the tangible value and ROI clients attain. With a team driven by results rather than egos, clients receive not just a service but a partnership that prioritizes impactful, data-driven, and ROI-focused outcomes.
---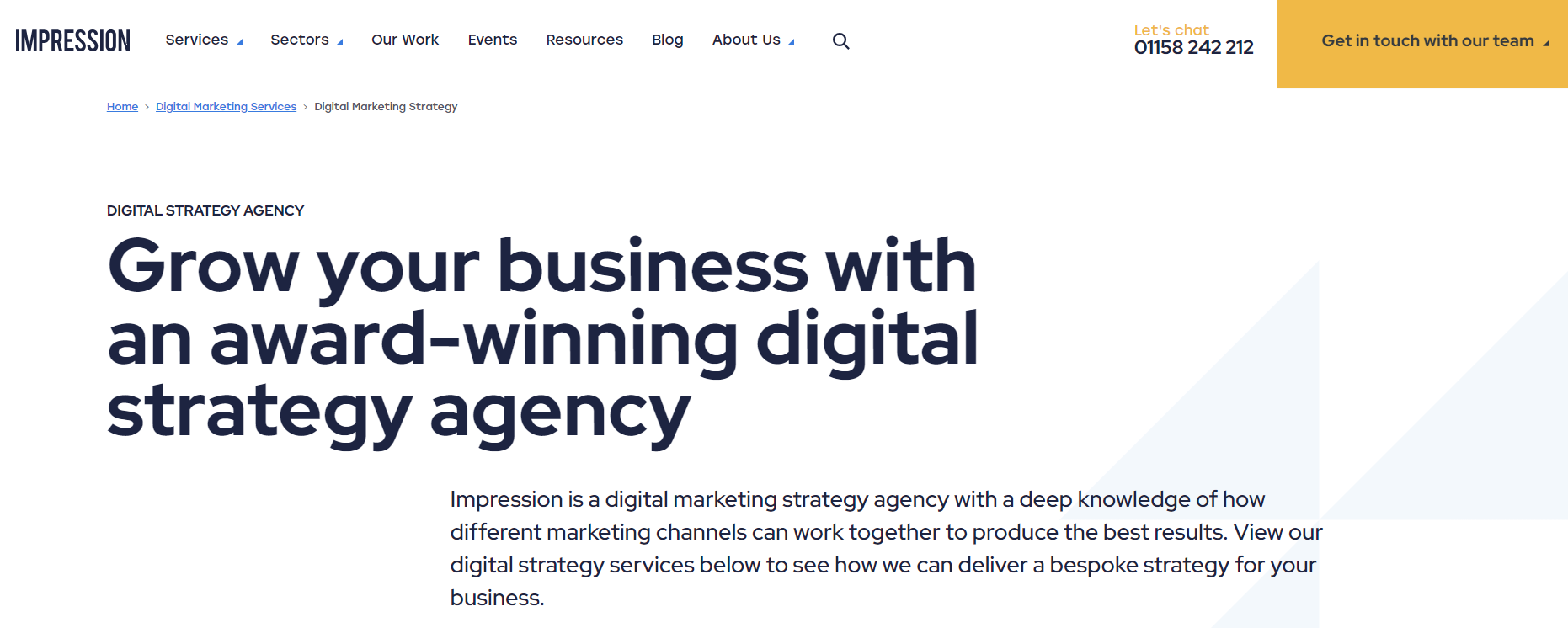 Impression Digital crafts each campaign to align with the distinct business objectives of each client. The agency, known for its award-winning services, underlines the importance of a synergistic approach, ensuring every marketing channel is orchestrated to work in harmony for optimal results.
Why Is Impression Digital a Standout Pick?
Their core services range from digital strategy retainers and short-term strategy projects to insights & research, in-house consultancy, and bespoke training programs. Each service is tailored, showcasing Impression Digital's commitment to delivering insight-led, integrated solutions that are both measurable and data-driven. A testimony to Impression Digital's expertise is reflected in their comprehensive approach to strategy formulation and execution. The process initiates with objective setting, progresses to insights gathering, and culminates in strategic recommendations, execution, and evaluation.
Utilizing a blend of first and third-party data, the agency crafts data-led recommendations, ensuring each channel contributes effectively to overall business objectives. The agency's commitment to continuous evolution and learning underscores their ethos, ensuring strategies are not just deployed but are also iteratively optimized for maximum efficacy and ROI. Clients are equipped with real-time business intelligence and reporting services, making every investment traceable and accountable.
---
Cutting-Edge Tools and Techniques Utilized by Top Digital Marketing Strategy Agencies
The top digital marketing strategy agencies have mastered the art of employing innovative tools and methodologies to position brands optimally in the saturated online market. But to showcase their proficiency in elevating digital brands, we must look at the tools and techniques most commonly iutilized by the industry leaders.
Search Engine Optimization for Enhanced Online Visibility
Search Engine Optimization (SEO) is one of the central elements that distinguish these elite agencies. By leveraging advanced SEO tools like SEMrush, Ahrefs, and Moz, they conduct in-depth keyword research, competitive analysis, and devise strategies that ensure their clients' websites rank prominently on search engines. According to Ahrefs, 53.3% of all online traffic comes from people Googling stuff.
Furthermore, the use of AI-powered tools has revolutionized content optimization, making it tailored to specific audience preferences and behaviors. The use of these tools has grown tremendously over the years, with ChatGPT being the fastest-ever app to achieve 100 million users. Similar AI tools like Jasper.Ai have more than 70,000 active users. 
Online Advertising Platforms for Streamlined Business Processes
The integration of artificial intelligence and machine learning in digital advertising has personalized the user experience to unprecedented levels. Platforms like Google Ads and Facebook Ad Manager are enhanced with algorithms that analyze user data and target ads to niche audiences with precision. The agencies optimize ad performance through real-time analytics, ensuring the highest ROI for every campaign. This has an inevitable effect on business processes, as the use of such marketing platforms helps marketers in tremendous ways. 
Content Creation Platforms for Delivering Impactful Content
Content marketing, another pivotal aspect, is enriched with tools like BuzzSumo and Grammarly, the latter of which boasts and impressive 30 million user base. These enable agencies to create compelling, error-free content that resonates with the target audience and aligns with SEO standards. Visual content creation tools, such as Canva and Adobe Spark, empower them to produce captivating visual content that boosts user engagement.
Data Analytics Tools for Data-Driven Campaigns
Data analytics tools like Google Analytics and Tableau play a pivotal role. These platforms provide insights into user behavior, website traffic, and conversion metrics, empowering agencies to make decisions based on hard evidence. The incorporation of predictive analytics enables forecasting trends and consumer behaviors, ensuring brands are always a step ahead.
By embracing these cutting-edge tools and techniques, top digital marketing strategy agencies guarantee enhanced visibility, engagement, and conversions for businesses, positioning them as leaders in the highly competitive digital space.
---
Conclusion
In this comprehensive exploration of the top digital marketing agencies, readers gain invaluable insights into the unique offerings, innovation, and results-oriented approaches that set these entities apart. Each has demonstrated a distinct prowess in curating personalized strategies, enhancing online visibility, and amplifying return on investment. Through meticulously tailored approaches, utilization of cutting-edge technologies, and an unwavering commitment to client objectives, these agencies exemplify the epitome of digital marketing excellence.
Frequently Asked Questions
What is the Process of Customizing Digital Marketing Strategies for Different Industries?
Every industry has unique needs and customer behaviors. Agencies typically begin with a comprehensive analysis of the industry's landscape, competitors, and target audience. They then customize strategies involving SEO, content marketing, social media, and paid ads, ensuring they are tailored to meet specific industry challenges and opportunities.
How Do Digital Marketing Agencies Stay Current with Industry Trends and Technologies?
Agencies prioritize continuous learning and adaptability. They invest in ongoing training, attend industry conferences, and follow thought leaders to stay abreast of emerging trends. Agencies also experiment with new tools and technologies, ensuring clients benefit from the most innovative and effective strategies.
How is ROI Measured in Digital Marketing Campaigns?
ROI in digital marketing is measured by evaluating key performance indicators (KPIs) such as traffic growth, lead generation, conversion rates, and sales. Agencies use advanced analytics tools to track these metrics, providing clients with detailed reports on campaign performance and the achieved ROI, ensuring transparency and accountability.