Although Discord is probably best known as a chat platform for gamers, it features many other chat servers too. Disboard currently lists 1,138,594 public Discord servers covering a wide range of topics. The most popular tags are Gaming, Anime, Community, Chill, Roleplay, Social, Fun, Minecraft, RP, and friendly. Some of the tags relevant to influencers and creators include Creators, Art, YouTube, Designers, Creatives, Streaming, and Music. Many of the Discord Servers that use the tag Community also cater to influencers and creators.
In this post, we examine selected Discord servers who promote themselves as being welcoming to creators.
---
Top 20 Discord Servers for Influencers & Creators:
---
1. Content Creators Cabin
Member Count: 3830
Content Creators Cabin promotes itself as a place where content creators from all the platforms unite and thrive, a land of opportunity for content creators.
It groups its channels into Important, Growth, General, Creators, Advertising, and Voice Channels.
The growth channels will be of particular interest to many creators. They collect many resources in music, sound effects, video editors, photo editors, SEO tools, and misc.
---
2. YouTube Gamers Alliance (YGA)
Member Count: 1962
YGA is a community of dedicated gamers, and content creators focused on growing their platforms and making new friends. You can promote your videos after reaching level 3 status by chatting and participating in the community.
They created the server for the sole purpose of gathering an awesome base of gaming content creators to help one another better their channels. Even if you don't make YouTube videos, any gamer is welcome.
---
3. YouTube Squad
Member Count: 1378
YouTube Squad is a server for content creators to hang out and help each other out through feedback and support and discover new content and friends. YouTubers can learn to grow their channels by working on improving their content with feedback from fellow YouTubers. While they have a dedicated advertising channel, they like to focus on content improvement to increase your audience instead of spamming links everywhere, hoping to get a few pity views. They also hold events where members play games and watch things together.
---
4. Sludge Island
Member Count: 80
Sludge island is a small community of aspiring YouTube content creators. They emphasize that their community is wholesome.
They are a friendly group that loves to connect. They split their channels into Parliament (rules, instructions, etc.), Lobby (introductions, video clips, birthdays, etc.), Miscellaneous, Voice Channels, Off Topic, YouTube Schedule, Server Catalog, and Partnerships.
---
5. Creators Achievements
Member Count: 2,110
As the server's name suggests, Creators Achievements provides a forum for creators to advertise what they do. Their goal is to provide a safe and comfortable community for their members to talk, meet new people and even make friends.
You can select roles (and matching emoji) depending on your number of Discord server members, YouTube channel subscribers, or Twitch stream followers.
They split their channels into Server Info, Info, Verified Creators, General, Creator Hub, Collabs, and Advertise.
---
6. Small Creators Community
Member Count: 17,286
This server community may call themselves the Small Creators Community, but they are not small as a group. They aim to grow your YouTube, Twitch, or Discord.
The community features over 13 promotion channels. You can collaborate with other YouTubers, Twitch Streamers, and Discord server owners and receive and give advice. It's a growing community with an active chat and staff. It also features growth announcements where they ping and show your videos to hundreds of people.
---
7. Streamers Evolved
Member Count: 898
Streamers Evolved exists to support small streamers and for small streamers to support one another. They want to build a long-lasting community for everyone to benefit from.
They have a channel promoting a Streamer of the Week. Other channels include Affiliate Live Alerts, Non-Affiliate Live Alerts, FB-YouTube Live Alerts, Road to Affiliate, Appreciation, Develop Program Chat, and more.
---
8. TheSyndicateGG
Member Count: 208
The Syndicate GG welcomes content creators, broadcasters, graphic designers, and all-round gaming enthusiasts. TSG is built around connecting and supporting content creators with a focus on streaming to Twitch and YouTube. The community is always buzzing in Discord with chats about people's days, the latest games played, new game releases, streamers producing content, eSports, and questions. They strive for their community to help with mental awareness, which is one of their biggest passions besides gaming.
---
9. Creator's Hub
Member Count: 16,937
Creators Hub is an active and welcoming community for creators. It is designed to be a safe, welcoming, and friendly place for all creators of any kind. They cater to music producers, YouTubers, Twitch streamers, artists, writers, photographers, developers, and more. However, you don't have to make any content to join.
It has many channels reflecting its member's interests. Categories include Info Channels, Talking Channels, Voice Channels, Event Division, Partnerships, YT Division, Streamer Division, TikTok Division, Music Division, Performing Arts Division, Writing Divisions, Art Division, Software Division, and Modeling Division.
---
10. Heroes of Glory
Member Count: 174
Heroes of Glory is a place where you can express yourself as a content creator. There are opportunities for you to build connections, showcase your content, and receive feedback for the improvement and growth of your content. You can chase your hopes and dreams until you fulfill them.
They offer an organized server layout, specific channels to share your content, great community chat, and supportive creators.
---
11. ReMixz's Twitch Server
Member Count: 48
As the channel name suggests, ReMixz's Twitch server is a Discord channel set up by Twitch streamer ReMixz. It provides a place for content creators to get together, have a relaxing time, and make content. If you're not a content creator and just want to join for the fun of it, that's no problem either. Everyone is welcome to join.
---
12. Underrated Content Creators
Member Count: 44
Underrated Content Creators (UCC) is a server family that aspires to network and connect many aspiring online content creators worldwide. Even if you have a small following but intend to grow slowly, you are most welcome to join. They believe it important for their members to have a community they can rely on for motivation and support. So, whether you are a musician, a gamer, a fashion influencer, a lifestyle vlogger, even a tik-toker, anything is possible.
---
13. What is Algorithm
Member Count: 20
What is Algorithm is mainly dedicated to the YouTube algorithm, but also tries to help any sized content creators grow. You need to select a role to gain full access to the server. Roles are @YouTubers, @Streamer, @Editors, @Artists, @Commission:Other. Each has size requirements; for example, the @YouTubers role requires you to have a channel with 1K+ views and 100+ subs.
---
14. Comic Creators
Member Count: 108
Comic Creators is a server for artists, writers, and readers to share their work, find new creators, and make friends.
They have many channels they split into Get Familiarized, Chat, Games, Share, Links, Voice & Video, Creator's Village, The Plaza, The Park, and The Campsite.
---
15. Frostify's Design Cord
Member Count: 632
Frostify's Design Cord is a place for creatives to come together and help one another with Graphic Design, Video Editing, Content Creation, and other things like that. You can share your work with others and receive opinions, submit your designs for contests, send memes, and listen to speakers talk about Graphic Design. You can join voice chats and even find helpful design assets for you as a creator.
---
16. TagMango CreatorPad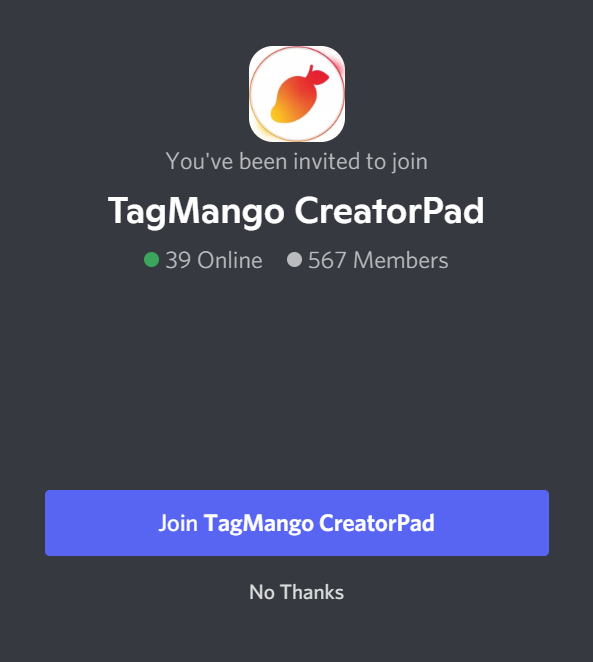 Member Count: 491
TagMango CreatorPad is a one-stop destination for all creators, artists, entrepreneurs, influencers, etc. TagMango is a tool for growth-minded creators, helping you accelerate their content creation careers.
They organize regular sessions on the Discord server delivered by successful creators, and the audience can interact with them and ask questions.
---
17. StreamerBase
Member Count: 146
StreamerBase has an active Twitch community and YouTube activity. Members watch each other's work and promote their content to their fellow group members.
---
18. The Zenoh Army
Member Count: 119
The Zenoh Army is a server based around content creators and their content. They like to help starting YouTubers grow their channel. They also give people the chance to find new and exciting YouTube channels and videos, or if you're more into streams, you could also come and look for your new favorite streamer.
---
19. Bella's Playroom
Member Count: 143
Bella's Playroom is a streaming and content creation server set up by Twitch Streamer Bella Vendome, focused on promoting herself to the online community and giving other streamers a place to connect, share, make friendships, and network. It is dedicated to being a safe space for all genders, races, sexual orientations, political views, and personality types. You will find exclusive giveaways, events such as cinema nights, co-op gaming, and knowledge-sharing centered events on overlay creation and technical setup.
---
20. Reel Mood Community
Member Count: 1,030
Reem Mood Community is a server for musicians to show their music and earn money. They welcome all musicians and music lovers. It is about the Reel Mood community, run by the official creator of Reel Mood. Reel Mood, also known as RMD, started back in 2019. It is all about music creators live streaming their music while earning RMD Crypto.
You can talk with the community, interact with other creators and ask any questions you might have. Sometimes they host giveaways to show their appreciation. You can even get prizes just for being active.