Finding ways to connect with your audience is important for all businesses, but it's especially important for creators who are trying to build a membership site or turn their content into a thriving business. Discord can be an invaluable tool for making those important connections, building community, and adding value to your offer so your followers keep coming back for more. But what is Discord, how does it work, and how do you use it as a creator? Keep reading to have all of those questions answered and more!
---
What Is Discord: How to Build a Community as a Creator:
---
What Is Discord?
Discord is a chat app like Slack. When it first hit the scene in 2015, Discord was geared toward gamers and gaming influencers, giving them a way to connect, coordinate play sessions, and chat while playing. The platform supports text chat, voice chat, and video calls, making it a powerful option for groups who don't want to try to coordinate via Zoom, Google Hangouts, or Facebook.
While Discord got its start as a haven for gamers, the platform has since grown to encompass groups with limitless interests. Creating a private server for members is becoming more and more common among creators — both those who sell memberships and those who don't. Plus, Discord is free!
---
What Is Discord Nitro?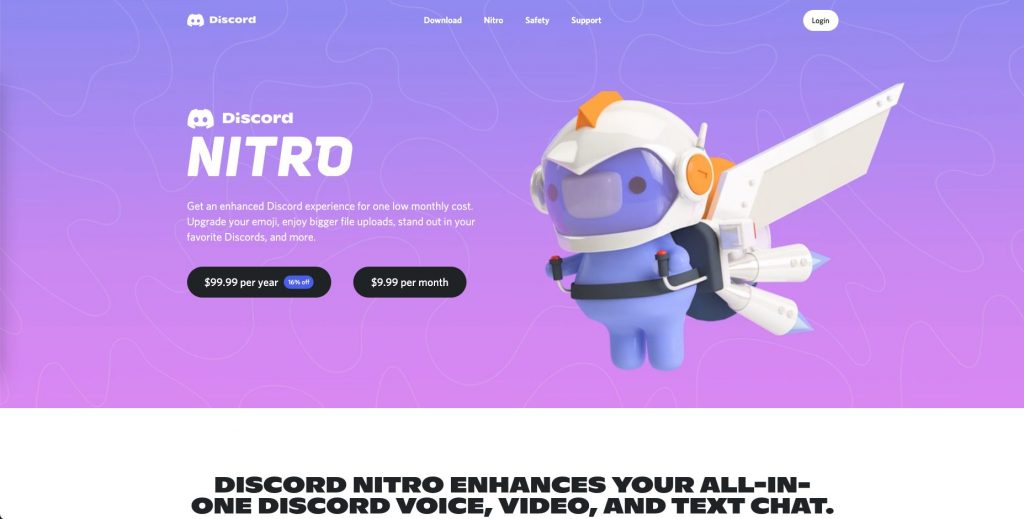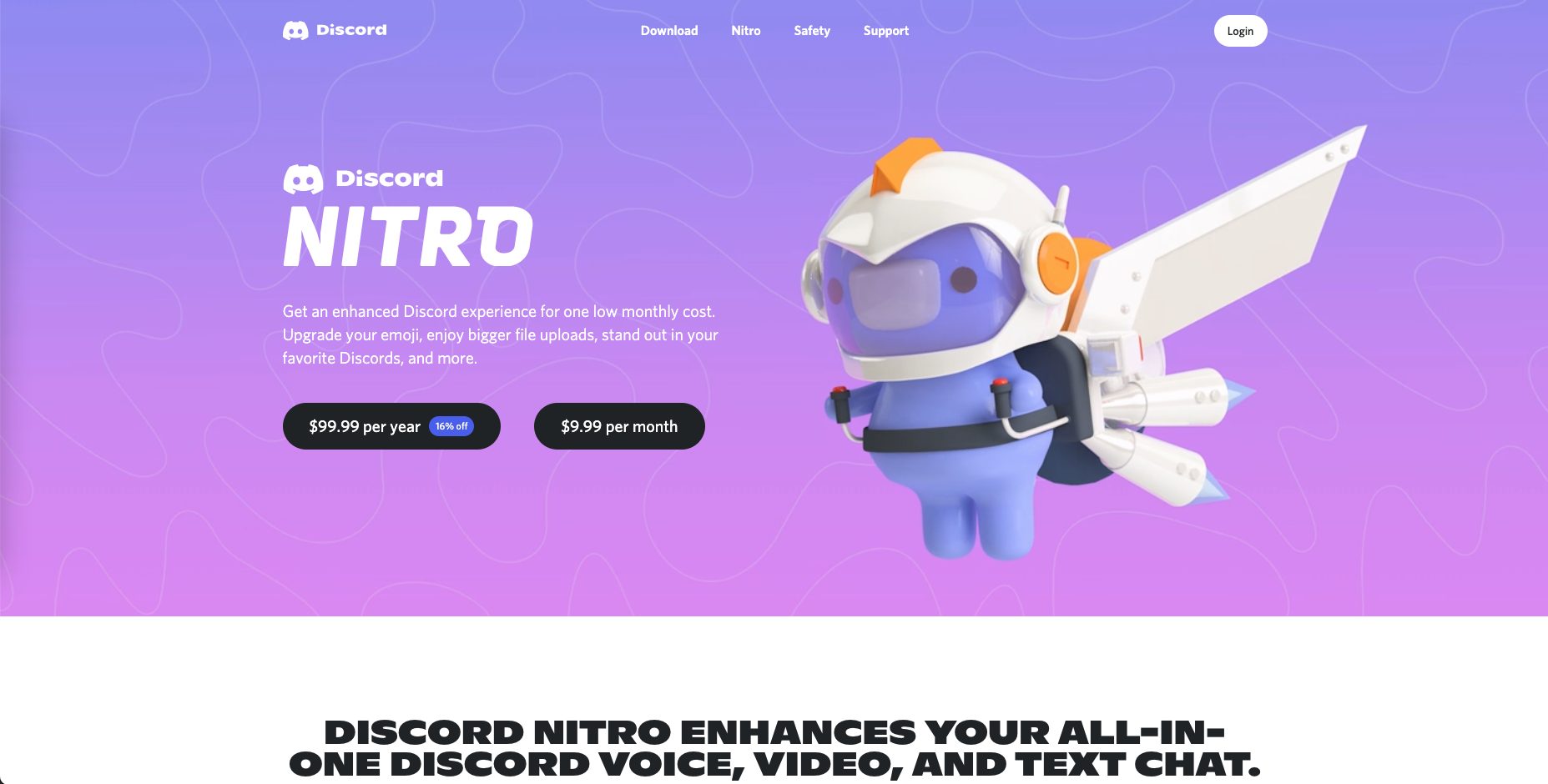 Okay, we just said Discord is free, but there's also Discord Nitro to think about. Discord Nitro is a premium subscription that gets you things like larger upload size limits, animated avatars, custom emojis, and HD video for streaming and screen sharing. If you subscribe to Discord Nitro, you also get two Server Boosts (tokens you can use to improve your server). Server Boosts include things like animated server icons, better video and audio quality, more emoji slots, and more.
Features
Collect or make your own custom and animated emojis

Use an animated avatar and claim a custom tag

Get two Server Boosts and 30% off extra Boosts

100MB upload size for high-quality file sharing

Hi-res video, screenshare, and Go Live streaming
Pricing
Discord Nitro costs $9.99/month or $99.99/year. You can also buy additional Server Boosts for $4.99/Server Boost/month.
---
Discord Revenue and Usage Statistics
Discord has been around since 2015 and has enjoyed some excellent success since. According to the Wall Street Journal, Discord generated $130 million in revenue in 2020, marketing a year-on-year increase of 188%. Nearly all of Discord's revenue comes from Discord Nitro. Let's take a look at a few more interesting Discord statistics:
Discord has more than 140 million active monthly users and 300+ million registered accounts (Business Insider, Techspot)

At last report, Discord has 14 million daily active users (TechCrunch & Engadget, 2019)

As of 2021, Discord was valued at $7 billion (Forbes, WSJ)

As of 2020, Discord had 6.7 million active servers (Wersm)

850 million messages are sent on Discord every day (VentureBeat)

4 billion minutes of conversation take place on Discord each day (The Verge)

6 billion messages are sent on Discord every week (VentureBeat)

25 billion messages are sent on Discord every month (VentureBeat)
---
Why Discord Matters For Creators
Creators can use Discord to turn followers into a community. And community is a powerful thing. Having space where your followers can come together has several benefits for creators:
Helps creators identify their brand evangelists (those followers who are most active and actively promoting them)

Encourages followers to form their own relationships (this increases affinity for the creator for giving them that space to connect)

Takes some of the pressure off of creators to continuously engage and produce
---
How to Use Discord as a Creator or Influencer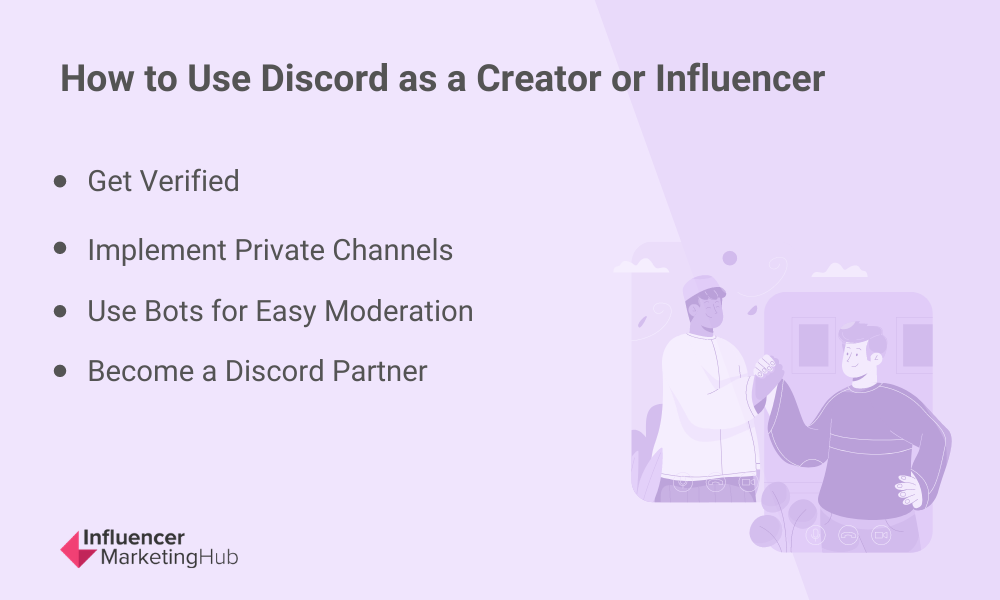 By now, you're probably already getting some ideas about how you could use a platform like Discord to build a community around your business. Here are some things you can do to improve both your experience and the experience of your followers on the platform.
---
Get Verified
Yes, verification is everywhere, even on community forums like Discord. Getting verified on Discord can help you bring in more fans and followers. It also confirms that you're actually the person you claim to be and that your server is the real deal. When you're verified, you can promote your brand through custom art, a personalized link, and access to VIP voice services that come with better performance than the standard voice servers.
---
Implement Private Channels
Discord allows you to set private channels, known as role-exclusive channels, which are channels that can only be accessed by members with specific roles on your server. These roles are set by you and help you create exclusive communities within your larger community where you can provide discounts, greater access to you, or other special benefits.
---
Use Bots for Easy Moderation
Discord bots can be your best friends. You can use them to automate tasks related to moderation and admin to keep your admins and mods focused on other things that a bot can't do. At the very least, you should have a moderation bot to welcome users to your server, enforce your norms and guidelines, and get rid of spam.
---
Become a Discord Partner
You used to need a powerful following on other social media platforms if you wanted to apply to the Discord Partner Program. These days, Discord bases acceptance to this program on Discord-related stats. Becoming a Discord Partner gives you access to some great perks like free access to Discord Nitro, a Discord hoodie, personalized servers, an exclusive badge, and high-performance voice servers. You have to apply to be considered for the Discord Partner Program and will definitely need an already strong presence either on Discord itself or on another platform. To give you an idea of what you're up against, the average Discord Partner has more than 100K YouTube subscribers, more than 10K followers on Twitter or Twitch, and more than 800 members on their Discord server.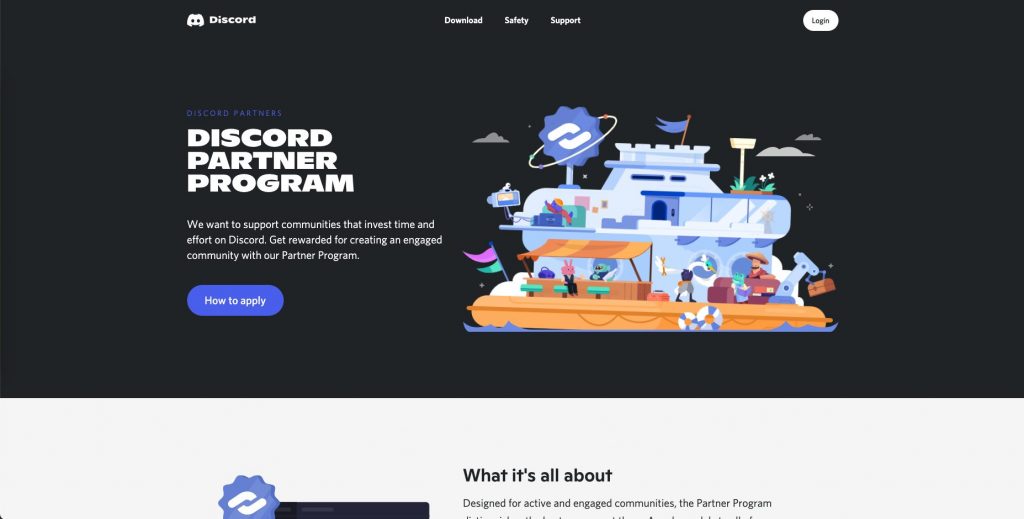 The Discord Partner Program is built for active and engaged communities that act as role models for other server owners on the platform. When you become a Discord Partner, you'll get access to a personalized server with a custom URL, server banner, and invitation splash. You'll also get Discord Nitro for free, access to the Partners-only Discord server, and rewards for your community. Plus, you get a special server badge that helps your server stand out on the Discovery page. Benefits are always being added, so check out the Discord Partner Program page for up-to-date details.
---
Tips to Get the Most From Your Time on Discord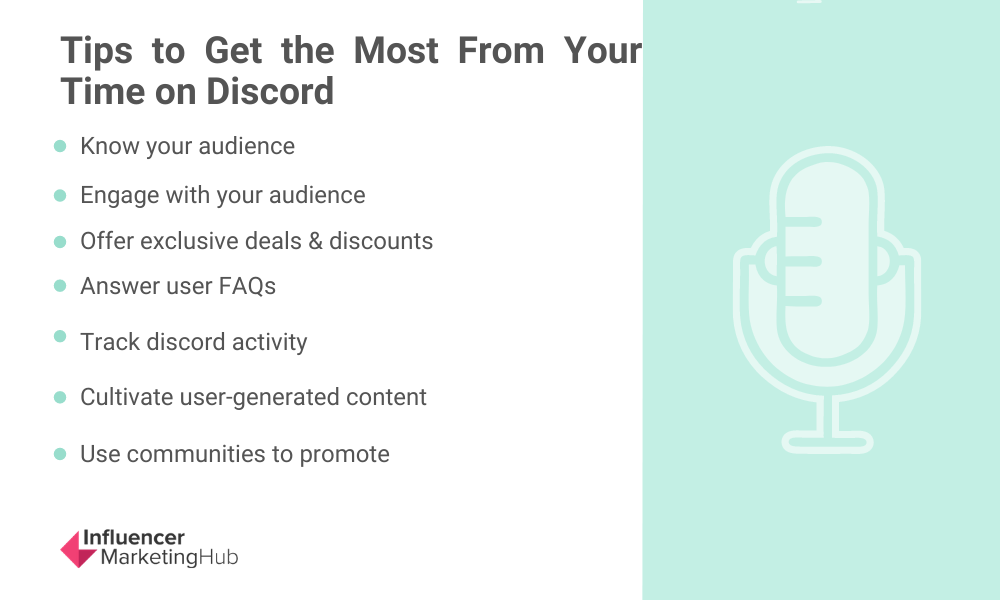 Discord provides creators with a highly engaged and enthusiastic audience that is interested in what they have to say. But if you've never run your own community, it can seem a bit scary. Never fear! Here's how you can effectively market to the followers on your Discord server:
Know Your Audience
It's vital to know your audience. Discord users tend to be on the younger side (teens and young adults), so if your target audience includes folks in their 60s, Discord might not be the right platform for you. It's also not a professional space. Discord definitely has a more casual feel and users are typically on the platform because that the vibe they're looking for.
---
Engage With Your Audience
Just like any other social platform, it's important to engage with the people on your Discord server. That's why they're there, after all. Many creators use Discord as a perk for their Patreon members, giving paying supporters easier access to them on the server. This is a fantastic way to build your membership program, earn additional income, and build relationships with your strongest supporters. With Discord, you'll be able to speak directly to your followers through text, video, or chat.
---
Offer Exclusive Deals & Discounts
Offering exclusive benefits to your Discord server members is another great way to keep your audience engaged. You might try hosting contests and giveaways, or just offering exclusive content. You can even use Discord to distribute early-access content if that's a benefit you've decided to provide to your paying members.
---
Answer User FAQs
People generally have lots of questions. As a creator, you can use those questions as an opportunity to engage with your followers, get feedback, and fine-tune your product offering. Give members a chance to ask you questions directly, or set up a bot that can handle those questions for you.
---
Track Discord Activity
Discord provides server insights that you can use to better understand member retention, channel engagement, where your server members are from, and more. You can track this information on a daily, weekly, or monthly basis, and export it to a CSV file if you need to do some more analysis. Tracking your server's performance is a great way to find out if the value you're offering to your Discord server members is worth it to them.
---
Cultivate User-Generated Content
User-generated content is a great form of social proof that can be a huge benefit in terms of marketing. Encourage your Discord server members to share their own content related to your brand. You can also collect UGC to use in your marketing — just be sure to get permission first.
---
Use Communities to Promote
Discord servers are a great way to promote your brand and bring together your followers to build a community. And an active community is a huge draw for new members! Starting your own server is super easy. From the Discord site, just click on the plus button in the menu on the left side of the screen. You can start a server from a template or create your own. Discord walks you through it!
Once you have your server set up, why not head over to Patreon or your favorite membership site and start up an account. Then, link your Patreon account to your Discord server and offer community membership as a perk. You'll be building a community and a revenue stream at the same time.
Frequently Asked Questions
What is Discord?
Discord is an app that you can use for text, voice, and video chat. It was built as a way for gamers to come together but has since grown into a widely-used platform for a number of interests.
Is Discord safe to use?
Discord has had its fair share of problems, notably for being used for hate speech. However, you can update your privacy settings to prevent that stuff from coming up. We also encourage you to only accept friend requests from folks you know.
How do I join a Discord server?
You can join through the Join menu, in the app, or from a web browser.
What devices does Discord support?
You can use Discord just about everywhere:
iPhone
iPad
Android
Linux
Windows
Mac
How does it work?
At a basic level, Discord lets members message each other.
What server types are available?
Servers are filled with text channels (where you talk via text) and voice channels (where you can voice-chat with others).
Where can I find a Discord server?
The easiest way to find a Discord server is to Google "topic + Discord server."
What are Go Live and Go Live and Screen Share?
In voice channels, users can connect through a voice or video call in real-time, and can share their screen with their friends.
What is a group DM?
As a subset of Discord's Friends List, you can call and start group messages without a server. Group messages aren't public and require an invite from someone in the group to join.
What is Discord Nitro?
Discord Nitro is a premium Discord subscription. With Nitro, you get global access to custom emojis, a custom Discord number tag, animated avatars, and Server Boosts.
What are Server Boosts in Discord Nitro?
Server Boosts give servers special perks like more custom emojis, better video and voice quality, and customizable invite links.