Social media marketing has been an integral part of the marketing strategy of modern businesses. With consumers having multiple accounts across different social media channels, brands can reach a wider market and connect with potential customers by being visible on those channels. One platform that is opening new possibilities for brands to grow is Discord.
In Spring 2020, only 2 percent of US teens chose Discord as their favorite social media platform. By Spring 2021, this number rose to 5 percent, making Discord more preferred over Twitter and Facebook. This rising popularity underscores the need for brands to tap into the platform to reach a new market.
---
5 Discord Marketing Strategies Proven to Work:
---
Why Discord Matters to Brands
Discord is a voice-over-internet protocol (VoIP) and digital distribution platform that enables users to interact with each other through video, voice, and text messaging. Initially developed for gamers, it served as a platform for them to link up with other people and form communities with those who have common interests.
However, since its launch in 2015, it has become the next-generation platform for social engagement attracting users from all other industries. It has paved a way for people to form online communities and create a space where they feel a sense of belonging. Today, you'll see study groups, art communities, and different clubs on the platform. While most of the users are gamers, NFT enthusiasts, and crypto fans, more online creators from other sectors are beginning to use the platform to turn their followers into a community.
From 130 million users in 2018, the Discord community has grown to over 350 million users in 2021. In 2020, the platform recorded approximately 963 million messages exchanged by users per day. For brands, this presents a wide market that's highly active and organized. It enables you to widen your reach and reach the right set of audiences.
Discord pushes communication in a very structured way. Each server has three types of channels: text, voice, and video. Different channels and rooms can be created, with each one serving a specific purpose. Users can then access information per category, making it easy to run campaigns where your target audience is already engaged.
Another appeal the platform has for brands is that it is algorithm free. The platform does not filter posts according to likes, comments, or other engagement metrics. Announcements and messages are listed in chronological order, so all information is visible to users. Whatever content you share will be seen by users on the same server.
Still, the platform is relatively new, and many brands are still struggling to craft effective marketing strategies to capture the community. To help kickstart your Discord campaign, we present five Discord marketing strategies proven to work this year.
---
5 Proven Strategies for Discord Marketing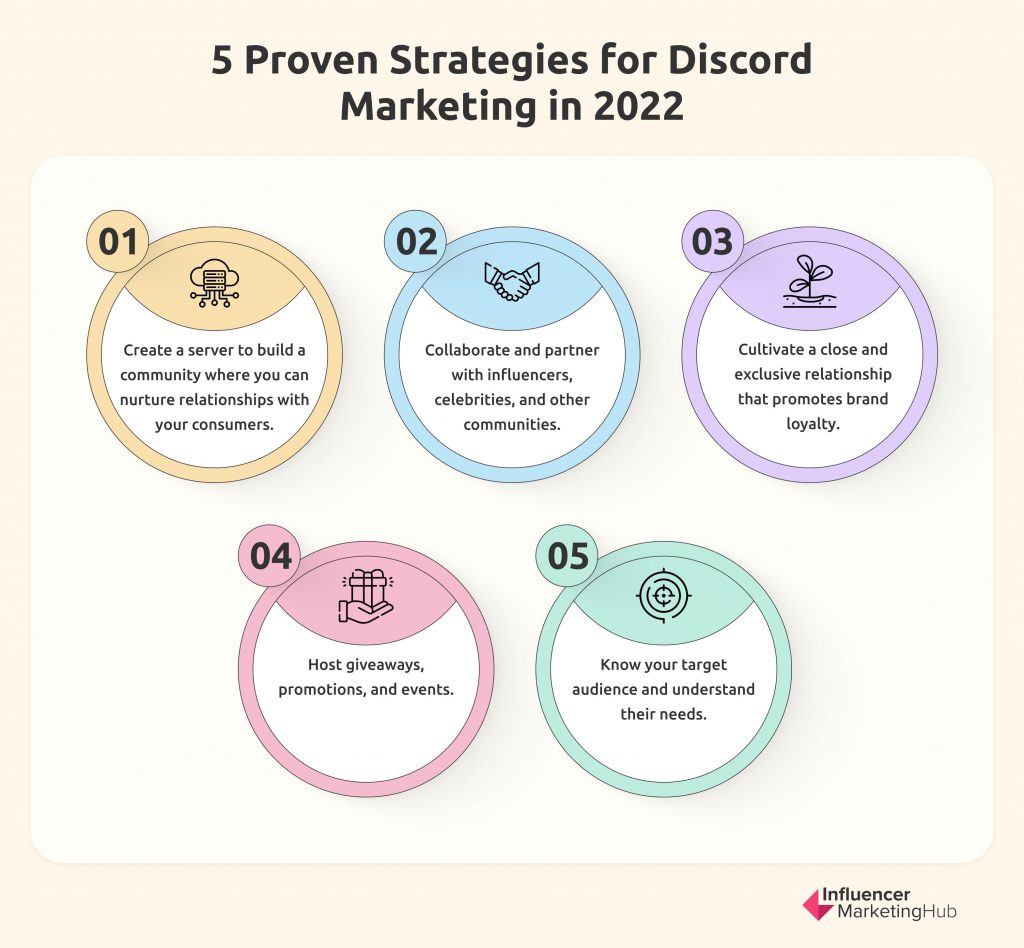 1. Create a server to build a community where you can nurture relationships with your consumers.
A community in Discord is called a server where members congregate and agree to follow set regulations. Each server has its own themes, media, and dedicated channels. Whatever industry you are in, the first step in Discord marketing is always to create your own server.
A server is more than just a group that you invite users to join. You can maximize your impact on users by making your brand voice and image apparent in the themes and channels. Keep in mind that most Discord users are community-driven. They are on the platform not just for fun and entertainment but more so for belongingness. So, you'd want to create a server where they feel a connection with your brand and with the other members.
Develop personalized channels based on categories that are relevant to your target audience. What are they interested in? What would give them value? What topics or activities would they enjoy? Align these with your marketing goals.
---
2. Collaborate and partner with influencers, celebrities, and other communities.
Many popular gamers, movie stars, athletes, tech moguls, and influencers already have established servers. You can leverage their fanbase to kickstart your own Discord community. A brand partnership can help build hype and accelerate the growth of your own community.
You can collaborate with other channels and do game drops. Flipz, a chocolate-covered pretzel brand, did exactly this. It collaborated with a limited pool of servers and used in-server games and activations to engage users. The commissioned games had users battling against a Discord bot. Winners then got a bag of Flipz as a reward.
Aside from game drops, you can join bigger Discord communities where your target audience can be. Engage in conversations and participate in events. Share links to your upcoming events and invite them to check out your server as well. Just be careful not to spam and abide by each server's regulations lest you get kicked out or even banned from the platform.
When collaborating, think beyond pushing your products or services. Instead, focus on nurturing relationships and providing value to every community you join.
---
3. Cultivate a close and exclusive relationship that promotes brand loyalty.
With members gaining access to a server only through an invitation link, Discord already gives servers an air of exclusivity. You can make being part of your Discord server feel like being in an exclusive social club where membership grants holders premium services.
Attract new members to your server by offering access to new experiences. These could be events or rewards limited to those who are part of the server. You can also make your server a place to get the latest promotions, learn trade secrets, or have first dibs on new products.
Strive to make your Discord server a platform where like-minded people can share knowledge, ask for advice, or give recommendations. Make the members feel they are part of a unique community where both brand and consumer feel valued.
---
4. Host giveaways, promotions, and events.
One way to build brand awareness and drive engagement is to host activities on the server. You can offer exclusive giveaways, once-in-a-lifetime discounts, and other promotions that compel your followers to share your server link and attract new audiences. NFT giveaways are quite popular today, so you may want to consider using them in your next campaign.
Like in other social media platforms, promotions like these help increase your online visibility and expand your reach. In Discord, they can help grow your community faster.
---
5. Know your target audience and understand their needs.
Knowing who your audience is and understanding their needs are essential to the success of any marketing strategy. These enable you to craft relevant messages that resonate well with your target audience.
You can collect valuable information from the response of the members of your server. This will give you an idea of how they feel about your content, products, or services. For more objective metrics, use insights from the Discord server data. These indicate where your members are geographically located, their engagement with media, interaction among members, and your member retention number. Evaluate user engagement levels to know which content styles or formats your audience prefers.
Monitor these insights to adapt to changes in their needs and discover new ways to improve your marketing strategy.
---
Popular Brands on Discord
The most popular servers in Discord are those dedicated to games and anime. Leading the pack are Fortnite, Genshin Impact, and Minecraft. Well-known streamers Mr. Beast and TommyInnit are also on the top of the list.
After Discord expanded its features, more non-gaming users joined the app. Many non-gaming brands have also started to leverage the platform. Here are some of the big-name brands building their communities on Discord today.
As part of its metaverse strategy, Samsung launched its US Discord server last month. Within twelve hours of the server's debut, more than one hundred thousand new members had already joined the server. The company is gearing the server as a place for fans to interact, discover the latest news, and get exclusive access to virtual events.
---
It may be surprising to see luxury brands from the fashion industry on Discord, but Gucci has placed its footprint on the platform. Created as part of the brand's NFT strategy, Gucci Vault is reimagining the way fashion brands interact with their consumers. During its launch, Gucci offered special roles and access to NFT-focused channels to the first 20,000 members.
---
The San Diego-based fast-food chain brings its popular extended opening hours online through its Jack's Late Night Discord server. The server hosts digital after-parties featuring live music and comic artists. It also hosts giveaways, interactive games, and new menu reveals. It records peak activity on weekends when thousands of users share more than 27,000 messages.
---
Last year, Chipotle became the first brand to launch a virtual career fair on Discord. Over 20,000 applications were received through the platform. Aside from this, the Mexican fast-food chain also holds other activities, including its Race to Rewards Exchange, where users can win discounts and prizes.
---
StockX, a real-time marketplace for buying and selling virtually any type of item, saw the potential of having a Discord server early on. Since it also catered to consumers interested in electronic products, collectibles, streetwear, and NFTs, Discord gave it access to its target market.
---
Challenges in Discord Marketing
Indeed there are plenty of opportunities for brands to grow their market through Discord. Still, some challenges can hinder growth. For one, the closed and decentralized ecosystem of Discord can limit the reach of campaigns. The platform is not designed to be an open social network like Instagram or TikTok, where content can be viewed and accessed more easily. There are no features for better discoverability, and content does not go viral.
Moreover, users are dispersed and difficult to reach. All servers require an invitation link to join, so not all are accessible to brands. And even if you run engaging campaigns, they won't get any traction beyond your server.
To maximize outcomes in your Discord marketing, you need to inject some creativity into your campaigns.
---
Discord Marketing is Worth Exploring
Discord is a growing platform. While it started as a venue for gamers to connect, it is now attracting people from various consumer groups. If you're looking to reach new markets to grow your brand, Discord is worth exploring.
The platform is ideal for NFT and crypto marketing, but it's not confined to these. Non-gaming brands who have integrated Discord into their marketing strategy have proven that there is vast potential for growth in the platform. If you have not done so, now is the time to create a Discord marketing plan.