You've likely come across Discord if you've needed a fast and efficient way of communicating online. Discord is a popular chat app. Although Discord initially found its niche as a way for gamers to chat while playing, it has found many more fans, particularly since the arrival of Covid lockdowns. In addition, we have seen how it can be of immense value to creators. Creators can use Discord to turn their followers into a community.
Discord first arrived on the scene in May 2015. Its creators Jason Citron and Stanislav Vishnevsky were looking for answers to communication challenges like how to enjoy video games while still interacting with friends more efficiently. Thus, the genesis of Discord, which quickly became the go-to chat software for the gaming community on Reddit despite Citron's lack of promotion of the app to that specific demographic. Through various affiliations and donors, Discord grew into the premier software for professional eSports players and expanded into the "chat for gamers."
Discord initially just supported text and voice chat. In 2017, it added video calling, streaming, and screen-sharing features. Today, users can share and swap various files and media. It has also included Twitch, Spotify, and Xbox Live integrations. Discord is available on both desktop and mobile platforms. It also works on web browsers.
Discord competed with two well-known apps: Skype and TeamSpeak. Skype targeted the corporate market, while TeamSpeak and Discord initially focused on gamers. However, both were packed with their own issues, which is one of the reasons Discord earned so much praise and attention from the onset.
Discord also changed its course when the world was hit with a global lockdown due to the pandemic. The app is no longer just for "chat for gamers," but a "chat for communities and friends." During the pandemic, many people—not just gamers—started using Discord to communicate with their loved ones, continue socializing (digitally), and escape feelings of isolation.
One of Discord's initial innovations was the use of servers. Game players can join a server devoted to a specific game. In time, admins gained the right to add sub-channels for particular topics. Also, people started making non-gaming servers.
Discord has both private and public servers. Private servers require an invitation to join, while public servers are open, and anyone can participate. Before long, creators and other non-gamers saw benefits in setting up a Discord server, creating various sub-channels to organize conversations. You can split your sub-channels into text channels and voice channels. Most recently, Discord has added threads as an additional way to separate conversations. Many servers use bots to do automatic moderation. We previously highlighted some of the best Discord servers for influencers and creators, as well as a selection for gamers.
---
The Latest Discord Statistics: Servers, Revenue, Data, and More:
---
Essential Discord Stats and Facts
Here are Discord stats to help you understand how the software has set the standard for seamless online communication and how it has progressed to the top.
1. Discord has 196.2 million monthly active users.
On average, a Discord user in the US spends around 4.67 hours or 280.6 minutes per month, which is roughly nine minutes every day.
Discord users are set to reach 514 million in 2023, a substantial 16.02% increase of 71 million from the previous year. This growth is remarkable, from 25 million users in 2016 to a massive expansion of 489 million in seven years.
Looking ahead to 2025, it's estimated that Discord will have 656 million users, marking a 27.62% increase of 142 million. It should be noted that Discord's official website still reports that it has 150 million monthly active users and 19 million active servers per week.
---
2. Discord users in the US spend 280 minutes per month on the app.
This is the same as about nine minutes a day or roughly five hours each month. Most users don't actively browse the Discord servers. When they log in, they mainly reply to messages and chat with their friends. They also participate in a voice or video server occasionally.
Worldwide, Discord users engage with the platform six times daily, spending about 24 minutes every day. While it may seem short compared to other platforms, it still totals 144 hours per year.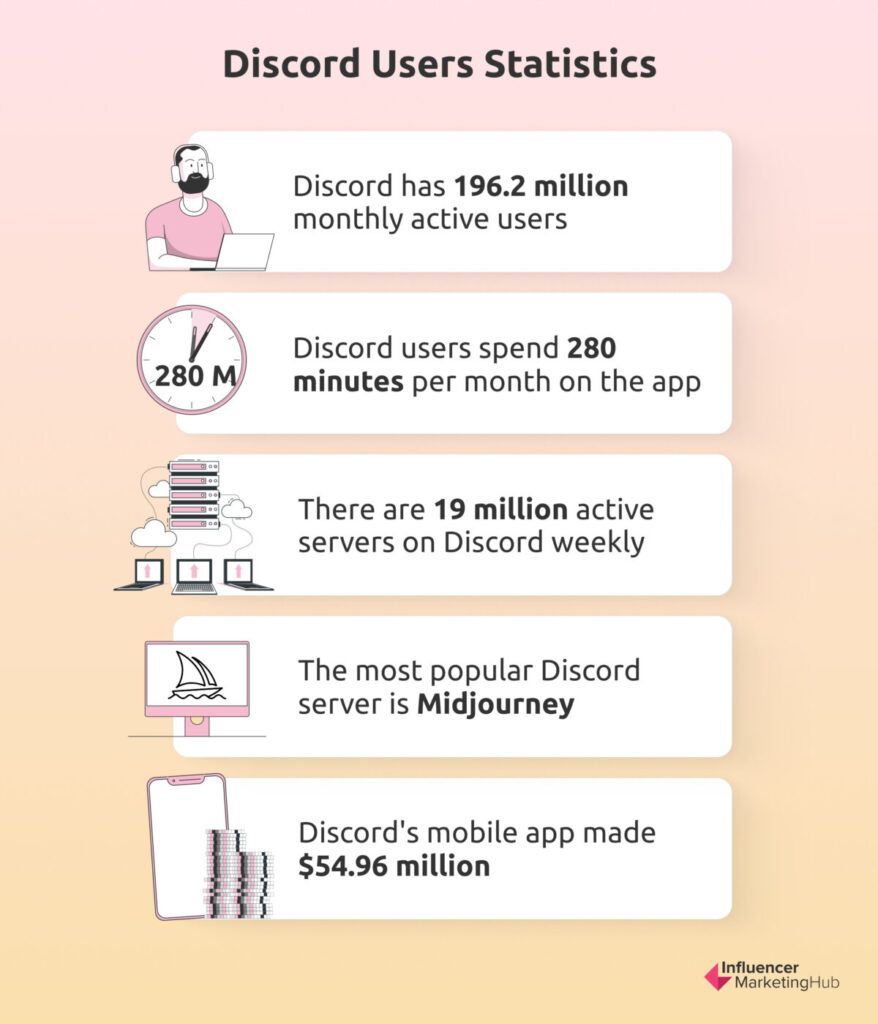 ---
3. The most installed bot on Discord is used by more than 8.6 million servers.
As of early this year, Dank Memer is the leading bot with over 8.6 million digital servers using it. The bot has a 4.8/5-star rating. Dark Memer can send memes and funny images and play games upon user commands. Next in line is ProBot, with 8.5 million servers using it, which lets hosts send welcome messages and set up self-assignable roles. Third place goes to Carl-bot, found on 3.4 million servers and primarily used for custom commands.
Bots are Discord's micro workers that perform a variety of services. They can help in moderating a user's server. They welcome newbies. They can create events and notify people of upcoming giveaways. They can likewise add music and games.
---
4. Roughly 90% of Discord servers have less than 15 people.
Although Discord has over 196 million monthly active users, around 90% of its private servers have 15 or fewer people. Members, channels, topics, and rules are all parts of any Discord server. Fewer members in a Discord server does not mean that the server is a flop. Many people have a server for each of their social groups, and most have less than 15 participants. This provides Discord users with a more private experience and lets them share whatever they want with their friends.
Even Discord's most popular gaming servers have yet to reach one million active users. In March 2023, Genshin Impact, Valorant, Minecraft, Roblox, and Fortnite are the top five gaming servers. Except for Fortnite, all of them have over one million total members, while Fortnite has 927,124 members.
As for active users, Genshin Impact has over 310,000, Valorant has around 190,000, Minecraft has approximately 217,000, Roblox has over 117,000, and Fortnite has over 102,000.
---
5. There are 19 million active servers on Discord weekly.
Discord's concept of having a separate server for each group has become so popular that there are now 19 million active servers per week on the platform. This is a 180% increase from the 6.7 million servers estimated in 2020. Discord's increase in popularity ensures it competes with other notable communications apps, such as Microsoft Teams and Google Chat (formerly Hangouts), as well as its long-term rivals Skype and TeamSpeak.
While Discord was primarily designed for gaming, registered members can now make servers for different uses. Discord servers can be private or public. Private servers need a direct invitation and are typically for a group of friends. Public servers can be linked to a Subreddit, a brand, a Twitch streamer, or a larger themed group using Discord for gathering and communication.
---
6. The most popular Discord server is Midjourney.
As of May 2023, the Midjourney server stands as the most frequented community on Discord, boasting nearly 16 million members. Midjourney, an AI-driven tool that converts text into images, can be accessed through a Discord bot on the program's official server. Following Midjourney, the Open AI server is the second most popular with a membership of 3.3 million. The AI Art Tool BlueWillow holds the third spot, with approximately 1.6 million members.
Furthermore, educational servers have grown since COVID-19 started, covering topics like language learning, hacking, and programming. For example, the "English" server has 612,000 users, and the Python server has around 368,000 users.
In May 2023, TikTok videos (670k users) and TikTok Zone (541k users) dominated Discord as the top music servers, with users sharing content from Reddit and TikTok communities.
---
7. Discord had about 801 million global monthly visits in February, 2023.
Discord had 801 million monthly visits from users worldwide in February 2023. Here's the breakdown of Discord's global visitors:
Age: The majority, 42.4%, fall between 25 and 34 years old. The next largest group is 16 to 24 (22.2% of users).
Gender: Males comprise 65.5% of Discord users, while females comprise 34.5%.
Discord's official website is primarily visited by users from the US, making up 28.96% of the audience. Brazil, India, the United Kingdom, and Germany also contribute to the platform's user base.
---
8. In Q1 2023, Discord's mobile app made $54.96 million.
During the initial quarter of 2023, Discord reported nearly 55 million U.S. dollars in revenues from its mobile app. This figure, while impressive, marked a downturn when compared to the same quarter in 2022. The United States is the top country with the largest share of Discord's in-app revenue (60%). The United Kingdom is second with 6%, significantly behind the US. Canada (5%), France (3%), and Australia (3%) complete the top five.
---
9. Discord blocked around 36 million accounts and banned nearly 60,000 accounts.
In the fourth quarter of 2022, Discord actively blocked more than 36.8 million accounts for spam. This marked a 27% decrease from the previous quarter when they removed around 50 million accounts for the same reason. They banned about 57,700 accounts for illegal activities and approximately 37,100 thousand for child safety concerns. Additionally, they permanently deleted roughly 37,200 thousand accounts due to inappropriate content reports.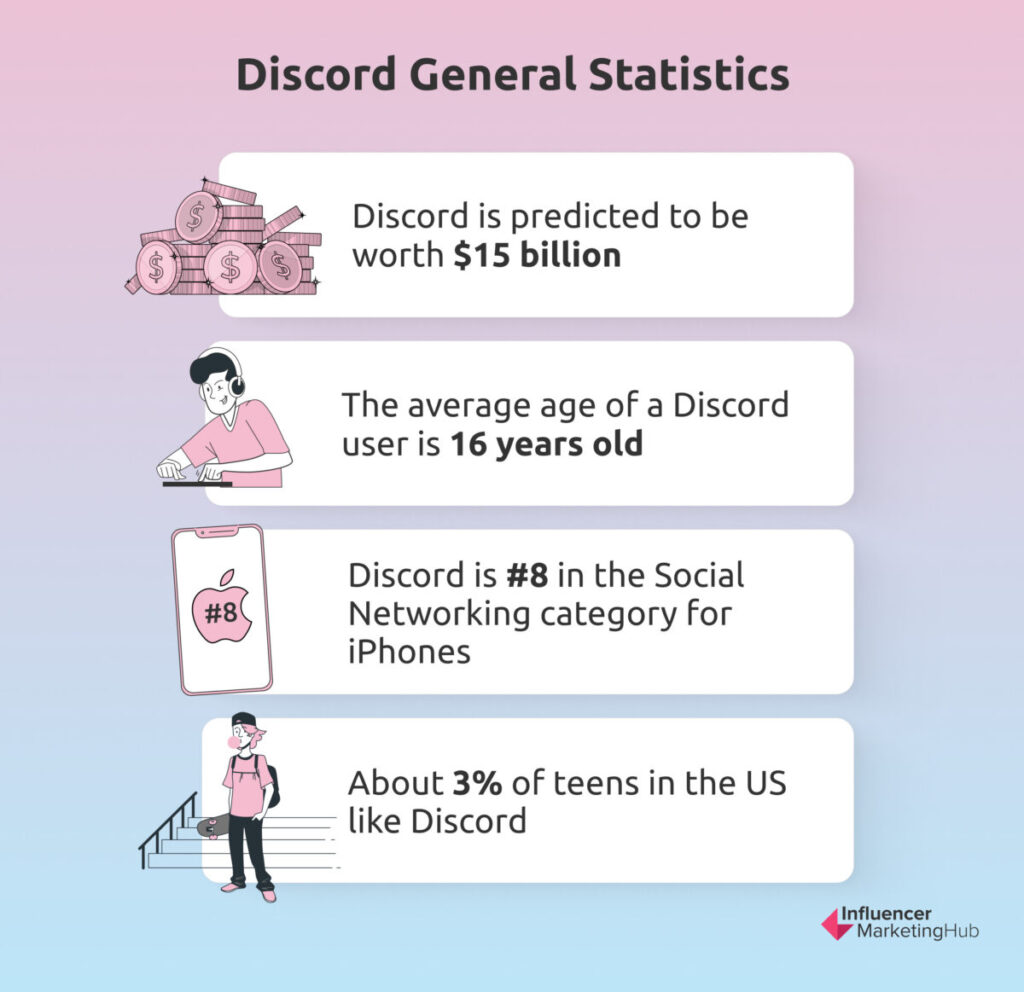 ---
10. Discord is predicted to be worth $15 billion.
In 2023, Discord's estimated worth is $2.5 billion, but reports indicate it could be valued at $15 billion during the same year. In late 2021, Discord raised $500 million from Dragoneer Investment Group, a US investment fund. This investment happened after Discord's growth beyond video gamers to a broader audience.
---
11. Discord has acquired four companies, with its latest being Gas.
In January 2023, Discord acquired Gas, a California-based social media platform for students. Gas allows students to interact, add friends, and answer polls about their classmates. Before this, in 2021, Discord acquired Sentropy Technologies, a Texas-based cybersecurity platform developer focused on identifying malicious content and online threats. In the same year, they acquired Ubiquity6, a California-based augmented reality company specializing in VR multiplayer technology. Discord's first acquisition was Blitz App in 2018, a personal gaming coach for various games powered by AI, including League of Legends, Valorant, CSGO, and Fortnite.
---
12. The average age of a Discord user is 16 years old.
The average age of a Discord user was originally 20 years old. But more recently, this has dropped to around 16 years old. In general, thirteen-year-olds can sign up on Discord and start using the app. With teens on the platform, Discord has implemented safety measures in place, such as the Family Center.
Family Center is a voluntary tool that lets teenagers share their Discord activity with parents or guardians while respecting their independence. Like how parents stay informed about their teens' school friends and clubs, the Family Center helps them learn about their teens' Discord contacts. The aim is to encourage discussions about internet safety and provide ways for parents and teens to connect online. With features like the Activity Feed and weekly email summaries, Discord hopes to facilitate collaborative conversations about fostering positive online behavior within families.
---
13. Nitro is Discord's primary source of income.
Discord Nitro is a subscription service that unlocks extra features on Discord. It comes in two types: Discord Nitro Basic, which costs $2.99 per month, and Discord Nitro, which costs $9.99 per month. These subscriptions offer various benefits, including custom stickers, animated avatars and emojis, increased upload limits, high-quality video, and server boosts.
If users don't have Nitro, they can only join up to 100 servers at once, but having Nitro raises that limit to 200 servers. Discord does not earn advertising revenue. Even the free tiers don't have advertisements. As such, the Nitro plans account for most of the platform's revenue.
---
14. Discord ranks higher in the App Store than on Google Play.
According to Sensor Tower, in the US, Discord is #8 in the Social Networking category for iPhones and second for iPads. AppBrain noted that on the Google Play Store, it's ranked #50 among all free apps.
Discord boasts 2.6 million reviews and a 4.7/5-star rating in the App Store. While the exact number of downloads on the Apple App Store is not public, it's widely used. Discord has been downloaded over 100 million times on the Google Play Store, with 5.45 million reviews and a 4.3/5-star rating.
---
15. About 3% of teens in the US like Discord.
While others may struggle to view Discord as a social media platform, it technically meets that definition. For 3% of US teens, it is their favorite social platform. While this is well behind dominant teen platforms Snapchat, TikTok, and Instagram, it makes Discord about as popular with teens as Twitter, and more so than Facebook. This percentage is likely to rise as Discord's popularity grows during and post-pandemic.
---
16. Discord supplements its income via Discord Merch.
One of the ways Discord makes money is through its merch. Users can order apparel like tees, tops, hoodies, sweatshirts, outerwear, and bottoms. There are plushies, keywords, streaming gear, headwear, drinkwear, bags, collectibles, and accessories. The store also offers various collections. Discord partnered with DOTEXE for its official merchandise. Discord's revenue from its merch sales is not publicly available.
---
17. Thousands of creators on Discord are earning via Server Subscriptions.
Server Subscriptions enable Discord creators to make money directly from their servers. Since its launch in December 2022, thousands of creators have been earning on Discord. They offer special perks and benefits to engage and expand their communities.
Discord is now introducing new tools to help creators earn money even faster through Media Channels Beta. With a Media Channel added to a Server Subscription tier, creators can provide subscribers with exclusive insider content. This includes early access to your behind-the-scenes content, extra pictures, and exclusive memes and wallpapers.
Furthermore, Discord has recently added Video, Screen Sharing, and Text in Voice to Stage Channels. This offers a variety of unique and personal video streaming experiences for Server Subscriptions, like coaching sessions, Q&A sessions, or weekly game streams.
---
18. Discord Software Engineers are well-compensated.
Glassdoor's information indicates that senior software engineers at Discord earn between $144,000 and $220,000 annually, with an average of $177,000 per year. The average annual compensation for the same position at comparable companies is around $121,572 per year, showing that Discord engineers are well-rewarded in comparison.
---
19. Discord only takes a 10% share from games created by developers.
Like other online gaming platforms, Discord lets game creators publish their games. To make it a full-fledged entity for game developers, Discord gives developers 90% of the profit generated from their games and keeps 10% for itself. Earnings are utilized to expand the number of users on its servers and, more generally, to cover operational expenses.
---
Takeaway
Discord has steadily risen to the top of the roster of online communication apps. Millions of people use it for in-game chats, trading knowledge with peers, or just conversing with their friends online. There is no reason for the company's pace to slow, and it seems that it is only getting started.