You've likely come across Discord if you've needed a fast and efficient way of communicating online. Discord is a popular chat app. Although Discord initially found its niche as a way for gamers to chat while playing, it has found many more fans, particularly since the arrival of Covid lockdowns. In addition, we have seen how it can be of immense value to creators. Creators can use Discord to turn their followers into a community.
Discord first arrived on the scene in May 2015. Its creators Jason Citron and Stanislav Vishnevsky were looking for answers to communication challenges like how to enjoy video games while still interacting with friends more efficiently. Thus, the genesis of Discord, which quickly became the go-to chat software for the gaming community on Reddit despite Citron's lack of promotion of the app to that specific demographic. Through various affiliations and donors, Discord grew into the premier software for professional eSports players and expanded into the "chat for gamers."
Discord initially just supported text and voice chat. In 2017, it added video calling, streaming, and screen sharing features. Today, users can share and swap various files and media. It has also included Twitch, Spotify, and Xbox Live integrations. Discord is available on both desktop and mobile platforms. It also works on web browsers.
Discord competed with two well-known apps: Skype and TeamSpeak. Skype targeted the corporate market, while TeamSpeak and Discord initially focused on gamers. However, both were packed with their own issues, which is one of the reasons Discord earned so much praise and attention from the onset.
When the world was hit with a global lockdown due to the pandemic, Discord also changed its course. The app is no longer just for "chat for gamers," but a "chat for communities and friends." During the pandemic, many people—not just gamers—started using Discord to communicate with their loved ones, continue socializing (digitally), and escape feelings of isolation.
One of Discord's initial innovations was the use of servers. Game players can join a server devoted to a specific game. In time, admins gained the right to add sub-channels for particular topics. Also, people started making non-gaming servers.
Discord has both private and public servers. Private servers require an invitation to join while public servers are open, and anyone can participate. Before long, creators and other non-gamers saw benefits in setting up a Discord server, creating various sub-channels to organize conversations. You can split your sub-channels into text channels and voice channels. Most recently, Discord has added threads as an additional way to separate conversations. Many servers use bots to do automatic moderation. We previously highlighted some of the best Discord servers for influencers and creators, as well as a selection for gamers.

---
The Latest Discord Statistics: Servers, Revenue, Data, and More:
---
16 Essential Discord Stats and Facts
Here are Discord stats to help you understand how the software has set the standard for seamless online communication and how it has progressed to the top.
1. Discord has 150 Million Monthly Users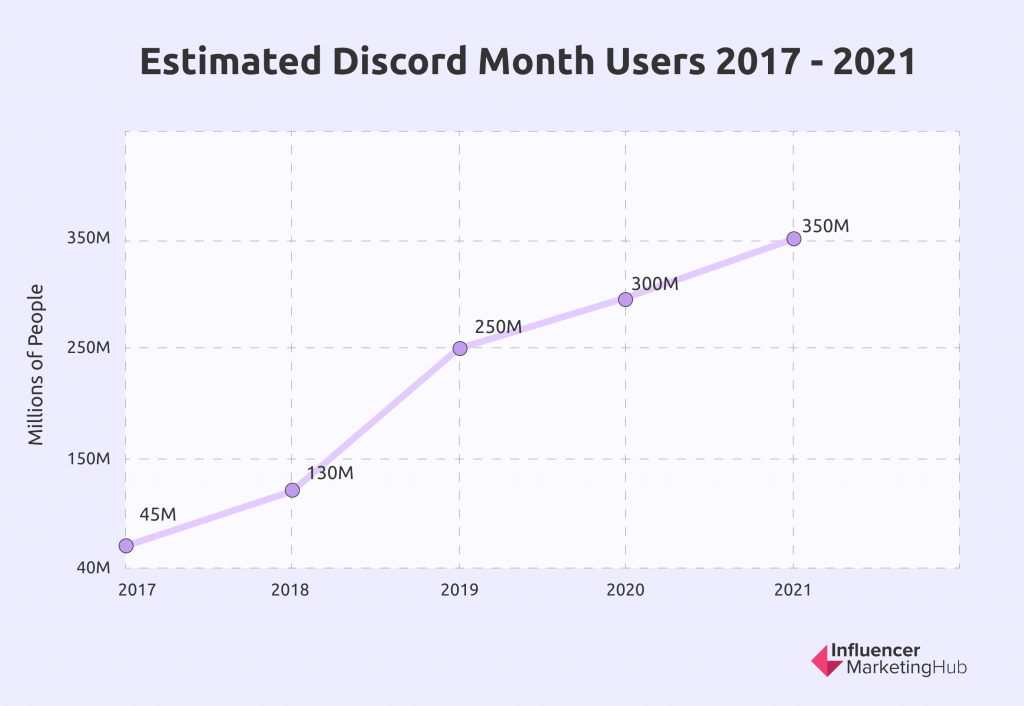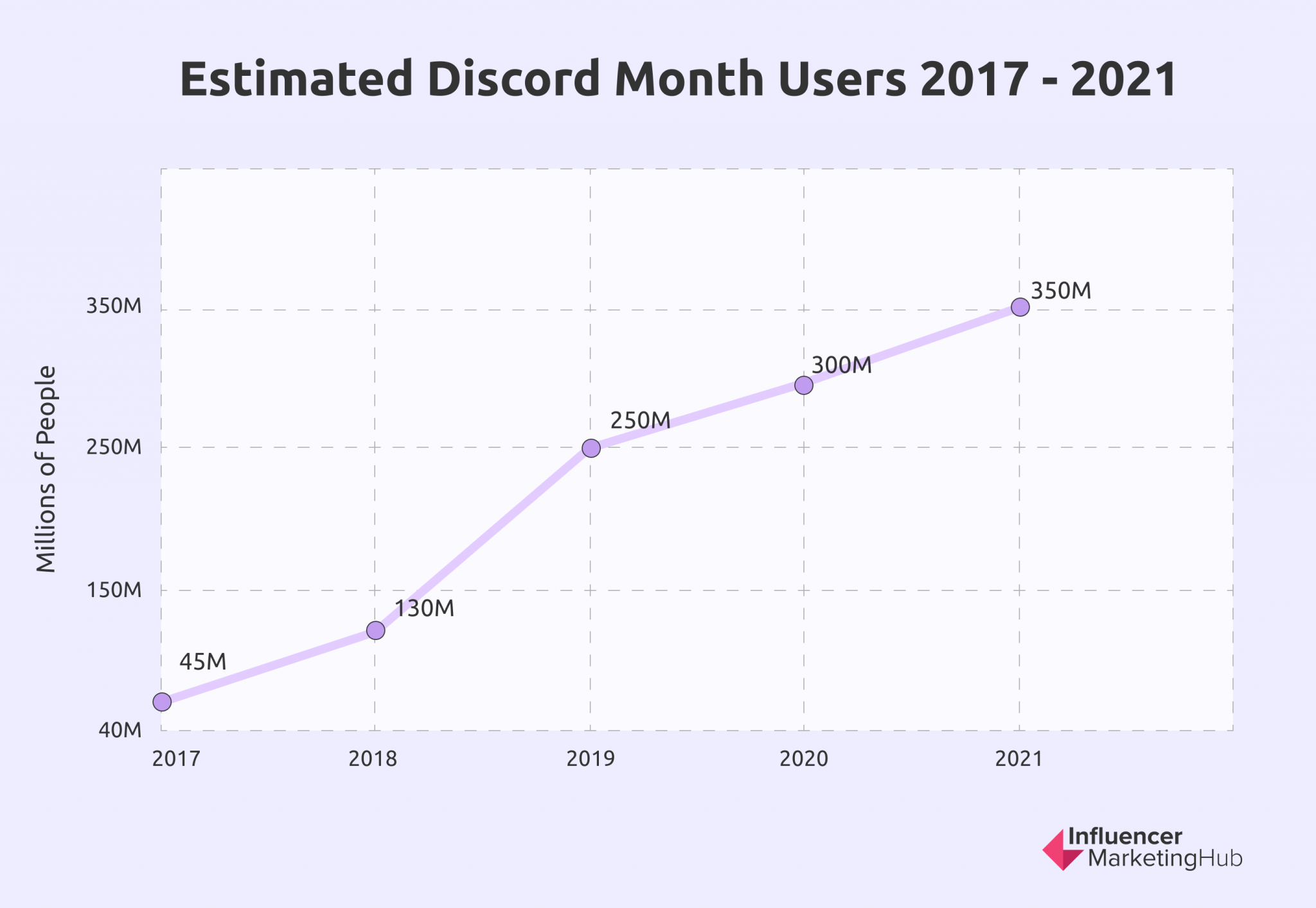 Discord currently boasts 390 million registered members, 150 million, of whom are active monthly, with 79% originating from outside the United States. While this is just a 10 million growth over 2021, it's worth noting that in 2019, Discord only had 56 million active users per month. The significant uptick could be ascribed to COVID-19 and following lockdowns. As a result, Discord had weakened the chatting monopoly of Facebook Messenger and WhatsApp.
And although Discord users initially favored the app over Skype's many issues, 78% of active users are now saying they use Discord mostly for things other than gaming or that they use it for equal parts games and other interests. It also has a key demographic, with 68% brand awareness among 18 to 24-year-olds.
Discord has seen a solid increase in registered users over the last few years. In May 2017, it had 45 million users, 130 million in May 2018, 250 million in May 2019, 300 million in June 2020, and 350 million in June 2021.
---
2. Discord users in the US spend 280 minutes per month on the app
This is the same as about nine minutes a day. Most users don't actively browse the Discord servers. When they log in, they mainly reply to messages and chat with their friends. They also participate in a voice or video server occasionally.
---
3. As of the last quarter of 2021, Discord users can choose from 12,000 bots
In March 2018, Rhythm the music bot was the first bot to reach one million servers. It was used by eight million servers before it was removed. At present, at least 30% of the active servers on the app use 430,000 bots at one time every week.
Bots are Discord's micro workers that perform a variety of services. They can help in moderating a user's server. They welcome newbies. They can create events and notifies people of upcoming giveaways. They can likewise add music and games.
---
4. Roughly 90% of Discord servers have less than 15 people
Although Discord has over 150 million monthly active users, around 90% of its private servers have 15 or fewer people. Members, channels, topics, and rules are all parts of any Discord server. Fewer members in a Discord server does not mean that the server is a flop. Many people have a server for each of their social groups, and most have less than 15 participants. This provides Discord users with a more private experience and lets them share whatever they want with their friends.
Even the most popular gaming servers on Discord haven't hit the million marks yet. The top servers are Fortnite, Roblox, Generation Impact, Minecraft, and Valorant. Fortnite is by far the largest and busiest Discord server, with more than 845,000 users. With 790,000+ users, Roblox's server ranks second. MrBeast's server, which features stunts on YouTube, ranks third with 765,000 users.
---
5. There are 19 million active servers on Discord weekly
Discord's concept of having a separate server for each group has become so popular that there are now 19 million active servers per week on the platform. Discord's increase in popularity ensures it competes with other notable communications apps, such as Microsoft Teams and Google Chat (formerly Hangouts), as well as its long-term rivals Skype and TeamSpeak.
While Discord was primarily designed for gaming, registered members can now make servers for different uses. Server themes on Discord span from hobbies or fandoms to casual chats with loved ones, friends, co-workers, and acquaintances.
---
6. Discord gained a total of $995.4 million in funding
Discord has secured $995.4 million in funding across 16 rounds. Their most recent fundraising occurred from a Secondary Market round on March 12, 2022. The platform has 31 investors in total; its most recent sponsors are Arcane Group and Flat Capital.
---
7. Discord is predicted to be worth $15 billion
As per a Bloomberg report, with the recent additional funding of $500 million, Discord is valued at approximately $15 billion. This is more than twice the $7 billion estimate given to the business during a financing round in 2020. Dragoneer Investment Group led the funding, along with existing investors like Sony Interactive, Fidelity Management and Research Company, Alexander Rugaev, Baillie Gifford & Co., and Franklin Templeton.
---
8. Discord has acquired three organizations
Discord has acquired three companies over the last few years. It purchased Blitz App in November 2018, Ubiquity6 in June 2021, and Sentropy in July 2021. Blitz App is a personal gaming coach for League of Legends, Valorant, CSGO, Fortnite, and more—powered by AI. Ubiquity6 uses computer vision to enable massively multiplayer, persistent AR experiences on top of the physical world. Finally, Sentropy is a machine learning-powered tool to protect digital communities from hate and harassment.
Sentropy, in particular, fits in well with Discord's core purpose. There have been controversies with extreme groups using Discord to organize their activities, for example, white supremacists organizing the Charlottesville, Virginia rally. Sentropy should minimize this type of activity in the future.
---
9. Discord has turned down an offer of at least $12 billion
Discord recognizes its potential. Its management team and owners aren't in a hurry to sell. The company recently spurned buyer interest from Microsoft, which reportedly would have paid at least $12 billion for it. Apparently, they have also held discussions with Epic Games Inc. and Amazon.
---
10. Nitro is Discord's primary source of income
Nitro is the premium subscription plan by Discord. It is split into two tiers: Discord Nitro Classic and Discord Nitro. The former costs $4.99 per month, while the latter costs $9.99 per month.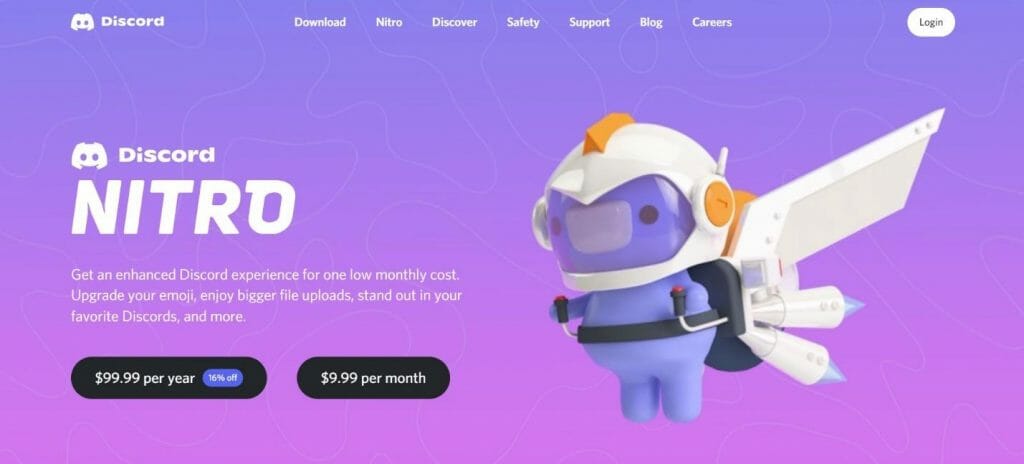 While Nitro Classic already offers a variety of features that non-members don't have access to, Discord Nitro provides a more robust package like superior video quality and larger storage. In June 2019, Discord introduced Server Boosts, which added additional features to a server for a $4.99/month fee. More recently, Discord has trialed charging for digital stickers. As a result of these changes, Discord earned $130 million in revenue in 2020, up 188% on the previous year's $45 million.
Discord does not earn advertising revenue. Even the free tiers don't have advertisements. As such, the Nitro plans account for most of the platform's revenue.
---
11. Discord ranks high in App Store and Play Store
In the US, Discord ranks fourth and second for iPhone and iPad respectively in the Top Grossing Social Networking chart. It is the most downloaded free app on the iPad as of December 2021. It ranked fifth in the UK as the Best Free Social Networking App for iPhone and iPad. In Japan, it also placed fifth in the Top Free Social Networking App for iPhone and second for iPad.
Discord is the Top Grossing app on the Play Store for the communication category. As of writing, the app has over 4.6 million reviews on Play Store and a respectable 4.1 rating. Meanwhile, on the App Store, it has over 2 million reviews with a 4.7 overall rating.
---
12. About 3% of teens in the US like Discord
While others may struggle to view Discord as a social media platform, it technically meets that definition. For 3% of US teens, it is their favorite social platform. While this is well behind dominant teen platforms Snapchat, TikTok, and Instagram, it makes Discord about as popular with teens as Twitter, and more so than Facebook. This percentage is likely to rise as Discord's popularity grows during and post-pandemic.
---
13. About 14% of US gamers watch livestreams on Discord
While you may not think of Discord as a livestreaming platform, 14% of US gamers admitted to watching livestreams of video games on the platform in February 2021. Only the "big three" of streaming, Twitch 47%, YouTube 40%, and Facebook 16%, exceed Discord's popularity for gaming livestreams.
---
14. Discord Nitro users can connect to up 200 servers
An invite is necessary to join a server. Otherwise, you must build your own. If you are not a Nitro subscriber, you can only connect to 100 servers at once. If you have a Nitro subscription, that limit is doubled to 200 servers with additional features.
---
15. Discord Software Engineers are well-compensated
According to a post from Glassdoor, Discord's senior software engineers earn an average annual salary of $145,522. The average annual compensation for the same position at comparable companies is around $121,572 per year, showing that Discord engineers are well-rewarded in comparison.
---
16. Discord only takes a 10% share from games created by developers
Like other online gaming platforms, Discord lets game creators publish their games. To make it a full-fledged entity for game developers, Discord gives developers 90% of the profit generated from their games and keeps 10% for itself. Earnings are utilized to expand the number of users on its servers and, more generally, to cover operational expenses.
---
Takeaway
Discord has steadily risen to the top of the roster of online communication apps. Millions of people use it for in-game chats, trading knowledge with peers, or just conversing with their friends online. There is no reason for the company's pace to slow, and it seems that it is only getting started.