Discord is a popular chat app. Although Discord initially found its niche as a way for gamers to chat while playing, it has found many more fans, particularly since the arrival of Covid lockdowns. In addition, we have seen how it can be of immense value to creators. Creators can use Discord to turn their followers into a community.
Discord first arrived on the scene in 2015. It has continued to grow since then, as demonstrated by the statistics we list below. Its competitors were Skype and TeamSpeak. Skype targeted the corporate market, while TeamSpeak and Discord initially focused on gamers. Indeed, TeamSpeak still promotes itself as "the voice of eSports." Discord, however, has widened its target market over the last few years.
One of Discord's initial innovations was the use of servers. Game players can join a server devoted to a specific game. In time, admins gained the right to add sub-channels for particular topics. Also, people started making non-gaming servers.
Discord has both private and public servers. Private servers require an invitation to join while public servers are open, and anyone can participate.
Before long, creators and other non-gamers saw benefits in setting up a Discord server, creating various sub-channels to organize conversations. You can split your sub-channels into text channels and voice channels. Most recently, Discord has added threads as an additional way to separate conversations. Many servers use bots to do automatic moderation. We previously highlighted some of the best Discord servers for influencers and creators, as well as a selection for gamers.
---
16 Essential Discord Stats: Revenue, Users, and More:
---
1. Discord has 150 Million Monthly Users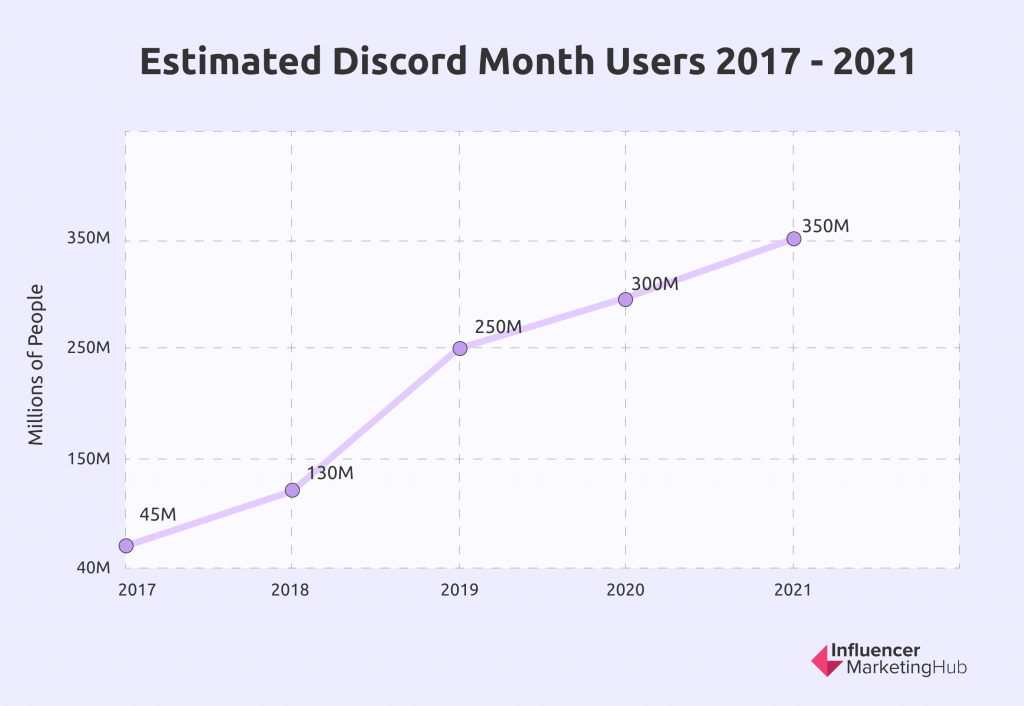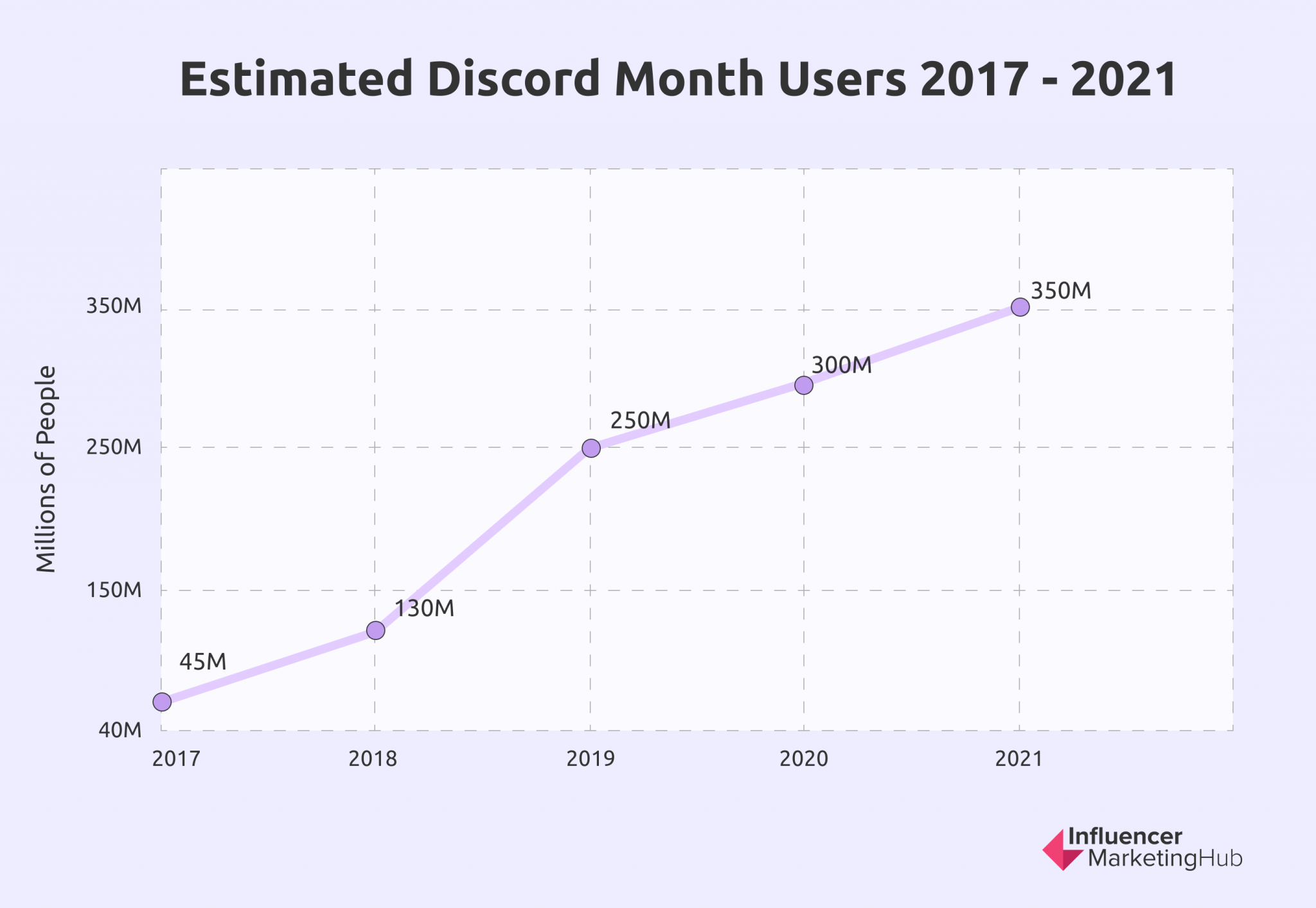 Discord has now grown to the point where it has 350 million registered users, of whom 150 million monthly are active users. You can now run it on Windows, macOS, Android, iOS, iPadOS, Linux, and web browsers.
The most significant growth came in 2020, when it grew from 56 million monthly users to 100 million, before continuing with a further 50% increase in 2021. Clearly, Covid has given people much more time at home to spend chatting on Discord servers.
Discord has seen a solid increase in registered users over the last few years. In May 2017, it had 45 million users, 130 million in May 2018, 250 million in May 2019, 300 million in June 2020, and 350 million in June 2021.
---
2. Discord Users Sent More Than 850 Million Messages a Day in 2018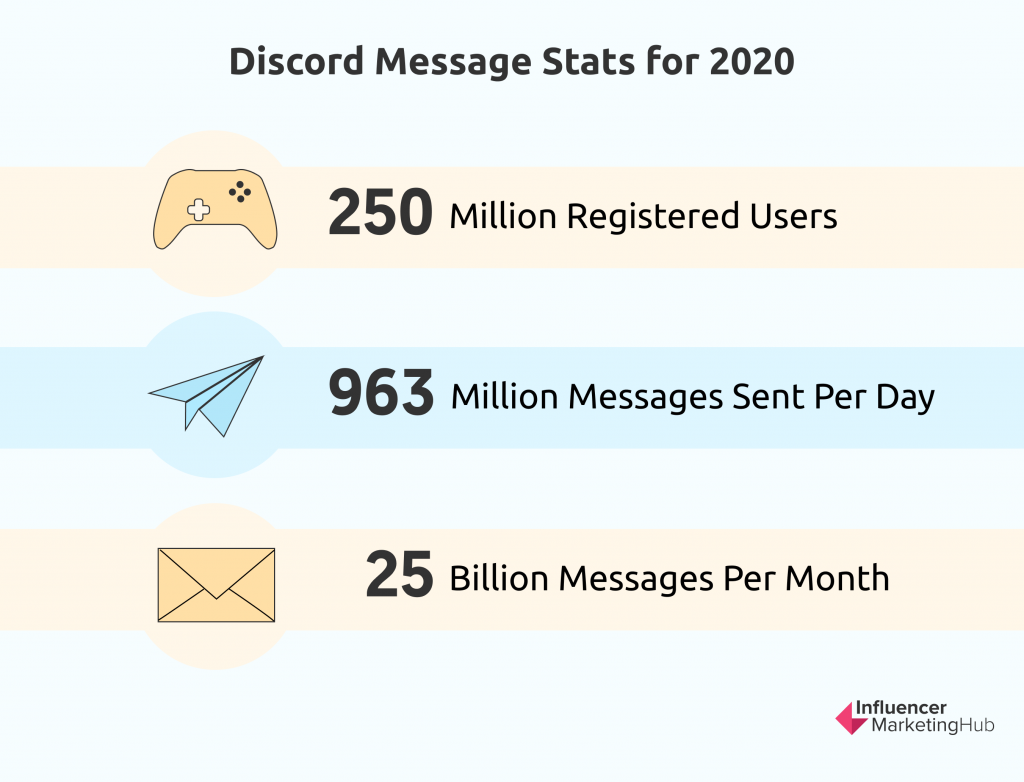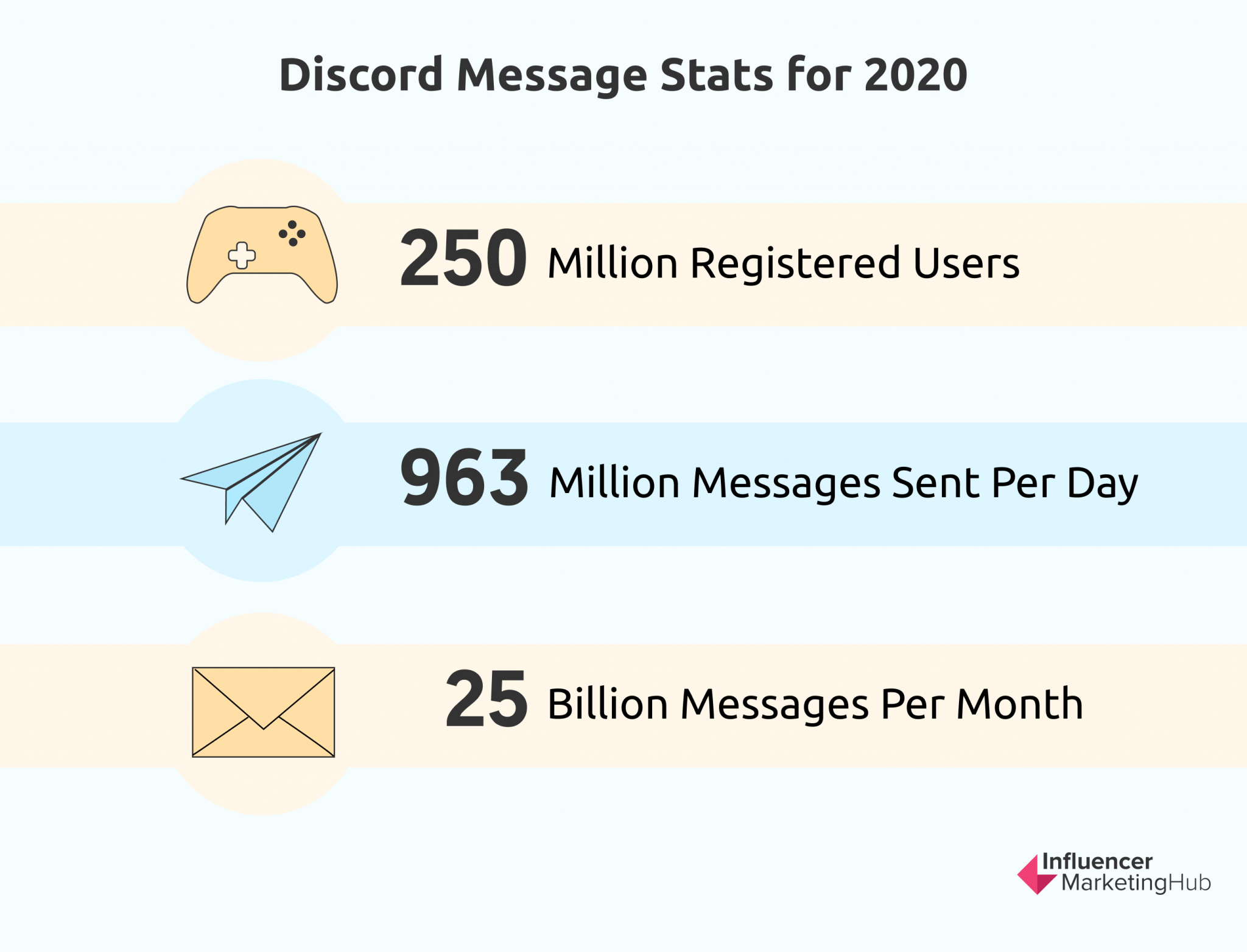 In December 2020 Discord had 250 million registered users and the platform announced that its users sent more than 963 million messages a day. This meant people sent 25 billion messages per month across Discord's web and mobile platforms. While we don't have any more recent stats than these, the number of messages sent would have risen considerably since then.
---
3. 4 Billion Server Conversation Minutes Daily
We may not have recent stats regarding the number of messages sent, but Discord has provided us with current metrics regarding the time length of conversations. Each day Discord users average 4 billion server conversation minutes.
---
4. 10.6 Million Peak Concurrent Users
Data relating to concurrent usage is not as up to date as general usage data. However, in early 2020 Discord's peak concurrent users topped out at 10.6 million. This number is undoubtedly higher by now, thanks to the effects of Covid-enforced lockdowns.
---
5. 19 Million Active Servers on Discord
Discord's concept of having a separate server for each group has become so popular that there are now 19 million active servers per week on the platform. Discord's increase in popularity ensures it competes with other notable communications apps, such as Microsoft Teams and Google Chat (formerly Hangouts), as well as its long-term rivals Skype and TeamSpeak.
---
6. Discord Has Raised $482.6 Million in Funding
Different sources disagree on the exact level of funding that Discord has received, however according to Crunchbase, Discord had received a total funding of $482.6 million as of February 2021. This money came from 12 funding rounds, with $3.3 million coming most recently from a secondary market round on Feb 1, 2021. The lead investor on that occasion was Sony Interactive Entertainment.
---
7. Discord Valued at $7 Billion in 2020 But Predicted to be Worth $15 Billion Now
During one of Discord's 2020 funding rounds, it was valued at $7 billion. However, in recognition of its increase in popularity since then, this is about to change significantly. In August 2021, Bloomberg reported that Dragoneer Investment Group was expected to lead an investment that would value Discord at around $15 billion, according to people familiar with the matter.
---
8. Discord Has Acquired 3 Organizations
Discord has acquired three companies over the last few years. It purchased Blitz App in November 2018, Ubiquity6 in June 2021, and Sentropy in July 2021. Blitz App is a personal gaming coach for League of Legends, Valorant, CSGO, Fortnite, and more— powered by AI. Ubiquity6 uses computer vision to enable massively multiplayer, persistent AR experiences on top of the physical world. Finally, Sentropy is a machine learning-powered tool to protect digital communities from hate and harassment.
Sentropy, in particular, fits in well with Discord's core purpose. There have been controversies with extreme groups using Discord to organize their activities, for example, white supremacists organizing the Charlottesville, Virginia rally. Sentropy should minimize this type of activity in the future.
---
9. Discord has Turned Down an Offer of at Least $12 Million
Discord recognizes its potential. Its management team and owners aren't in a hurry to sell. The company recently spurned buyer interest from Microsoft Corp., which reportedly would have paid at least $12 billion for it. Apparently, they have also held discussions with Epic Games Inc. and Amazon.com Inc
---
10. Discord Earned $130 Million Revenue in 2020
While Discord has at times struggled to find a clear monetization model, it has nonetheless made money. The developers introduced Discord Nitro in January 2017, where for a monthly subscription fee of $4.99, users gained various advantages over non-paying Discord members. They renamed that package "Discord Nitro Classic'' in October 2018 and brought in an enhanced "Discord Nitro" costing $9.99/month. In June 2019, Discord introduced Server Boosts, which added additional features to a server for a $4.99/month fee. More recently, Discord has trialed charging for digital stickers.
As a result of these changes, Discord reportedly earned $130 million in revenue in 2020, up 188% on the previous year's $45 million.
---
11. The Average US Discord User Spends 280.6 Minutes Per Month on the Platform
Discord users can spend a considerable amount of time chatting on the platform. The Wall Street Journal reports that the average Discord user spends 280.6 minutes per month on the platform in the US. That is nearly 5 hours per month or 9 minutes per day.
---
12. 3% of Teens Rank Discord as Their Favorite Social Media Platform
While you may struggle to view Discord as a social media platform, it technically meets that definition. For 3% of US teens in Fall 2020, it was their favorite social platform. While this is well behind dominant teen platforms Snapchat, TikTok, and Instagram, it makes Discord about as popular with teens as Twitter, and more so than Facebook.
---
13. 14% of US Gamers Watch Livestreams on Discord
While you may not think of Discord as a livestreaming platform, 14% of US gamers admitted to watching livestreams of video games on the platform in February 2021. Only the "big three" of streaming, Twitch 47%, YouTube 40%, and Facebook 16%, exceed Discord's popularity for gaming livestreams.
---
14. MrBeast Gaming Has Over 700,000 Members
As their name suggests, Top.gg's Top Discord Servers ranks Discord servers by various criteria, including by the number of members. The ten top servers are currently:
MrBeast Gaming – 700,003 members

Roblox – 644,574 members

Anime Soul Discord – 598,156 members

Las Nevadas – 536,037 members

Nookazon – 515,509 members

Jet's Dream World – 497,288 members

E-Girl Paradise – 493,500 members

Live Insaan – 489,889 members

Chill Heaven – 488,435 members

Pepe Server – 475,881 members
---
15. The Average Compensation for Discord Employees is $131,679
According to figures determined by Comparably, the average compensation for Discord employees is $131,679 or $63 per hour. This is lower than the median compensation of $152,902 or $73 per hour. The highest-paid job is a General Counsel at $305,359 annually, and the lowest is an Admin Assistant at $45,659 annually. If you split compensation up by department, average Discord salaries are Finance at $94,657, IT at $127,391, Customer Support at $77,728, and Design at $105,609.
---
16. 200,000 People Joined the 4th Annual Discord Snowsgiving Celebration
December is Snowsgiving time on Discord. It's the time of year where the Discord community from all reaches of the planet come together in a single server through the holiday spirit. You can make new friends within the Snowsgiving server, participate in a massive number of contests and giveaways, and give back by supporting a charitable organization
December 2020 saw the 4th Annual Discord Snowsgiving Celebration. This resulted in 200,000 people joining the server. They raised over $200,000 for Doctors Without Borders and included a week-long digital music festival featuring guests like Kaskade, TOKiMONSTA, Nova Miller, and DJ Snoopadelic (aka Snoop Dogg).
Sources