Digital marketing is multi-dimensional. Businesses must be attuned to which platform they can promote and strengthen their brand. Social media sites like Facebook, Instagram, Twitter, and TikTok have been the go-to platforms for years. But one app has a big potential to boost brand awareness and build a close-knit relationship with your audiences: the messaging app Discord.
Messaging apps now have more monthly active users than social media apps. Convenience, improved features, and mobile optimization are key drivers in how they've grown. With these platforms' growing popularity, marketers can then benefit from including messaging apps like Discord in their digital marketing strategies.
Discord is essential to the success of NFT marketing, and it's now a viable platform for building virtually any brand's influence. In this article, we do a deep dive into some effective Discord marketing strategies you can use to broaden your brand's audience reach.
---
What Is Discord Marketing? :
---
What Are Discord Servers?
Discord is a popular chat app characterized as a voice-over IP (VoIP) software. It is available on Windows, Mac, iOS, and Android.
Discord started out as an alternative to older VoIP software apps such as Skype and TeamSpeak. Discord has a fun, youthful interface, originally designed to attract the esports community. During its launch in 2015, it only had text and audio communication. But by 2017, calling and share screen options have been added, along with integrations with Twitch, Xbox Live, and Spotify.
Since the launch, Discord has evolved to be more than merely a chat and audio service. Discord has servers—essentially public or private networks within Discord that users can join. These servers have a dedicated topic, gaming subject, or brand that users want to maintain interaction with. For servers that have become massively popular, admins can also add sub-channels within that server for other more specific topics.
Right now, there are over 6.7 million active servers on the platform, with over 140 million active users per month. While the app struggled to maintain strong revenue in its beginning years, in 2021, Discord was valued at $7 billion, which is double the value of 2020.
Discord's unique setup has been well-received. Interestingly, servers aren't limited to gamers. More and more people and brands are using Discord to foster a close-knit community with the same interests.
---
Discord Classic or Discord Nitro?
There are two versions of Discord software. There's the free version of the app, while Discord Nitro is the software's paid service. Users can choose between Nitro Classic ($4.99 monthly) and Nitro ($9.99 monthly). While marketers can make do with the free app, there are some capabilities that are only available using Nitro.
| | |
| --- | --- |
| | |
| | |
| Access to public and private servers | Access to public and private servers |
| Voice chat and video chat option | Voice chat and video chat option |
| Discord Bots option for automated tasks | Discord Bots option for automated tasks |
| Limited sharing and uploading capacity | Two server boosts for each server |
| | File sharing capacity of up to 100MB |
---
Why Consider Discord Marketing?
Discord is an interactive chat app that has powerful marketing potential. Marketers can use Discord to connect with potential customers, build relationships, and even drive sales.
Here are key benefits to using Discord as one of your marketing platforms: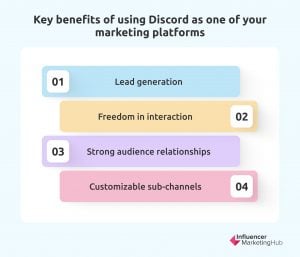 Lead generation
Because Discord allows public servers, your brand can easily reach intended audiences by joining such servers. Granted that a public server allows the promotion or advertising of products and services, you can easily connect with users and promote brand awareness through these public servers. In addition, if you can join private servers that are within your brand's niche, then you can leverage this to find potential leads and promote your product for free.
Freedom in interaction
If you've tried marketing on sites like Facebook, you may have experienced being limited by a group's specific rules and limitations. Self-promotion is largely discouraged because of marketing issues (e.g., scams, MLM promotion, etc.)
Discord is a relatively new platform that still enables marketers to create content and promote it through servers with ease. There's also unlimited categorization, where you can target different potential leads or engage them at different levels when discussing your product or service.
Strong audience relationships
Specific servers on video games, celebrity groups, and influencer groups allow marketers to touch base with their target audience more directly. Hosting video calls is convenient, as well as scheduled live chats with hundreds or thousands of members.
Discord marketing suits influencers and content creators. Their public channels enable fans to get close to the person behind the persona and interact with them in a more genuine way than, say, curated videos on Instagram or TikTok. And unlike YouTube, server members can voice chat or video chat with influencers in real-time.
Customizable sub-channels
Discord's appeal lies in its server capabilities. If you build your brand's main server, you can include different voice and text sub-channels within that server. Marketers can dedicate these sub-channels according to different parts of the sales funnel.
It's more functional than groups on Facebook, Telegram, Twitter, and other platforms, as you are not limited to one group. Moreover, you can set up tiers and member levels across your channels. For example, members who are very active in your group could enjoy perks if they join a VIP group, while one channel can be for broadening awareness about your product.
---
Discord Marketing: How to Get Started
Discord marketing involves several steps. Once you have navigated your way inside the platform (which is fairly easy), you can start reaching the right users for your niche. Here's how to get started on Discord marketing: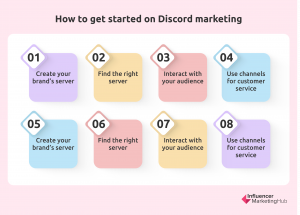 Create your brand's server
Building your server is the first step in Discord marketing. You can conveniently set up your brand's public server by choosing the Artists and Creators option and then For a Club or Community. From here, you can click Create, and you can then move on to customizing your server's channels based on the various categories you would need. This can be done in the settings portion.
You also need to understand your audience. Since the platform is open to all ages and all types of consumers, you must use the right messaging and partner with the right influencers that will resonate with your demographic.
To get users to sign up to your public server, announce the launch on other platforms, and give a great offer to kick things off. For instance, you can provide a special discount to the first 50 members who'll join or offer an exclusive chance to design a product, and so forth. Marketers can also add their server to Discord listings, complete with an attention-worthy description and design.
Not only does Discord provide you with a customizable server, but your brand can also join other public servers that can benefit from your offerings. When looking for a Discord server to join, consider the topic, size, and activity level. There are servers for just about every topic of interest, so you are sure to find one that will relate to your product or service.
The smaller servers tend to be more tight-knit and active, while large servers introduce you to more users, albeit they may be less active overall. Here are some of the best Discord servers right now for influencers and creators.
Interact with your audience
It's important to remember that Discord users will be attracted to smart, no-nonsense marketing schemes. Discord marketing means you have to build an authentic and engaging community for your tech-savvy users.
One way to do that is to promote exclusive sales only to your members. Once your product is sought out enough, you can capitalize on your leads by providing real value. Discord also lets you offer rewards, such as airdrops and token sales, to name a few.
With Discord marketing, the advantage is you get to interact directly with your users. Any inquiry, issue, or opinion that your audience may give is great because it means a more active community and there's a conversation about your brand. Note, however, that you need to respond directly and promptly in these cases to foster a good relationship with your audience and encourage new members.
Use channels for customer service
Discord can be a great platform for customer service. Since you can get involved with conversations, you can easily discuss any issues a customer may be having and troubleshoot right at that moment. The more efficient and more reachable your brand becomes, the better you can build trust and keep bringing clients back. The positive reviews from existing customers will also attract new users who are yet to try your products and services.
Collect insights about your members
Discord marketing allows you to gather helpful information about your niche audience. You can determine things like crowd geography, their engagement with other members and with your content, and retention numbers. Having these engagement metrics will be instrumental in fine-tuning your offerings, content, and promotions.
As with other marketing strategies, content brings your value to the forefront. The tenet applies to Discord marketing as well. Users will seek your channel if it delivers content that is interesting and helpful and resonates with them. Discord marketing is popular in gaming and NFT marketing because, through the platform, it's easy to deliver content that explains what your brand is all about, provides highlights, creates a story, and piques interest.
There are also plenty of AI-powered Discord bots. Whether you want to provide a constant stream of content or add games, music, and other fun and engaging content, there are tons of options that make it easy to make your marketing strategy effective.
Promote products organically
Once you've established rapport, you can start promoting your products and services. Just be sure to do it in a way that does not come across as spammy or pushy. Share helpful information, and provide free trials or discounts to attract customers.
An effective way to promote your products is to build a business-specific server with sub-channels that encourage conversation. You can showcase product development, updates, and product features in each channel. Marketers can also host events through the public server. Create an invite system where your existing users can recommend the channel to their fellow users and get something in return. Then, offer a live event—a concert or a live chat—that is open to all brand-new and existing users.
Encourage user content and fan groups
Discord marketing goes beyond product promotion. Another strategy you can leverage through the app is to promote user-generated content. UGC indicates a strong sense of social proof that lets potential customers know that your brand is trustworthy and worth choosing. Encourage server members to share their own content related to your product or service.
If your brand is already gaining a solid following, you can nurture fandoms within the server and even outside the brand's official channel. There's a certain level of authenticity with fan-made groups, so having one for your brand can spark others' interest in the product.
---
Discord Marketing: The Takeaway
Discord marketing has tremendous potential for growing your brand. Marketers can take advantage of the app's free, secure, and mobile-friendly ecosystem. Discord started as an e-gaming chat app but is now gaining popularity in being a reputable business collaboration tool and a marketing channel.
Whichever type of account you may opt for, whether you stick to the free software or invest in the paid subscription tier, the Discord app can be a convenient platform for fostering relationships with customers, strengthening your brand voice, and providing excellent customer service. Take advantage of Discord's millions of active users. Once you set up a server that contains engaging channels and worthwhile content and marketing promotions, you're on the right path to creating a compelling campaign on the platform.