Advertising Disclosure
Advertising disclosure:
Our partners compensate us. This may influence which products or services we review (also where and how those products appear on the site), this in no way affects our recommendations or the advice we offer. Our reviews are based on years of experience and countless hours of research. Our partners cannot pay us to guarantee favorable reviews of their products or services.
Discord, a versatile communication platform, used to be popular only across the gaming community. But today, it is not only favored by gamers. Students join study groups on the app, while content creators can interact and keep their followers updated. An estimated 6.7 million servers are active, and the number is only growing by the minute.
Discord's unique approach to communication and discourse is a welcome change for individuals who are on the lookout for a new way to interact. For brands, Discord proves to be a game-changer in elevating brand awareness. In this article, we will list down some of the best Discord marketing agencies that every brand owner has to know.
---
Discord Marketing Agencies Every Brand Should Know:
---
What is Discord?
Launched in 2015, Discord is a communication platform where individuals can send text messages and join in voice or video calls. Originally designed to cater to gamers, Discord has since grown into a messaging app for communities and friend groups of various interests.
---
What is a Discord Server?
Unlike typical messaging apps, communication on Discord can take place as a private conversation between two individuals, or as an open forum discussion on a server. A Discord server is a group where individuals join to share and discuss about their shared interest for a common topic. Discord servers can be as public and open for anyone to join, or as intimate between a select group of friends.
The typical chat room or online forum are the equivalent of a Discord server. There is no capacity limit for a server. As long as you receive an invite link, you are welcome to join and become a member of any Discord server.
For a more in-depth look on navigating Discord, check out our article dedicated to discussing discord servers here.
---
Discord and Marketing: How Does it Work?
Discord comes packed with a variety of nifty tools and features that make it a powerful marketing channel. Voice channels, livestreams, and handy Discord bots give brands and content creators the opportunity to nurture a community that's engaged in meaningful discussion.
A typical pain point in marketing is addressing the marketing campaign for the right audience. Discord eliminates this with its main selling point: starting a server dedicated towards a select audience.
On Discord, brands no longer need to take extra cautious steps to reach their audience. They simply have to start a server, construct separate channels to spur discussions and make announcements, and share their invite link on existing social media channels.
Discord doesn't rely on AI-powered algorithms to deliver content to its users. This allows brands and content creators to stop worrying about trends and properly timing announcements, updates, and the like. Discord servers, despite the presence of bots, are still monitored by human intelligence. Custom notifications keep members up-to-date on the latest happenings within the server.
Discord marketing is less about introducing prospect leads and more about cultivating a sense of community and engagement. Server admins moderate the content and interaction to ensure the well-being of community members. Additionally, members can be assigned roles to give them recognition for their contribution to the community and provide them access to premium benefits.
---
Discord Marketing Strategies that Deliver
There are well over 150 million active users on Discord, enticing brands from just about any industry to explore the platform and roll out a marketing strategy. Unlike most social media platforms, brands no longer have to take a shot in the dark when marketing their latest product release on Discord. Every server caters to a specific audience, and every member has real-time access to announcements, giveaways and exclusive community perks.
Below are some proven and trusted Discord marketing strategies you may want to consider for your future campaigns: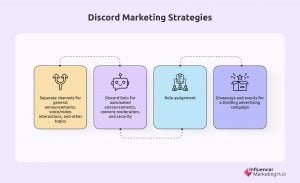 Separate channels for general announcements, voice/video interactions, and other topics
One of the most useful features of Discord is its well-structured channels. Within a Discord server, you may find yourself navigating through several channels. An optimal strategy is creating a separate channel for welcoming new members, posting general announcements, and more. Brands leverage channels to keep members anticipating for product previews, giveaways, and the like.
Discord bots for automated announcements, content moderation, and security
Discord bots are excellent assistants in moderating a growing Discord server. There are several bots that you can implement on your server to keep members entertained or provide administrators with an extended toolkit.
MEE6 is a popular Discord bot, trusted by at least 16 million servers. This multifunctional bot provides administrators full authority of the commands they wish to customize and automate. It can also offer members entertainment, as MEE6 can stream song requests on-call. Finally, it integrates the Discord server with other social media platforms like YouTube and Twitch. This enables server administrators to manage notifications in one, convenient platform.
A community such as a Discord server thrives in engagement and contribution. To give recognition for their active participation, administrators can assign roles to members. These roles can simply be for fun or for unlocking premium benefits, such as early access to product launches.
Roles also allow brands and content creators to determine their most loyal followers on the server. They can either tap these members for an official marketing partnership outside of Discord, or invite them to become one of the server's administrators. Assigning roles encourages members to participate regularly within the server.
Giveaways and events for a thrilling advertising campaign
Hosting events is among the most effective strategies to attract prospects in trying out a new product or service. On Discord, hosting giveaways or contests is second nature. Rather than splurging on media ads, Discord marketers have the option to host an exciting event. With your rewards, members can become more willing to join campaigns and anticipate the announcement of winners.
---
The Best 9 Discord Marketing Agencies this 2023
Discord marketing may be foreign to brands without direct affiliation to the gaming and tech industries. Thus, Discord marketing agencies are on the rise to provide quality advertising and promotions. At present, most marketing agencies have expertise in the cryptocurrency, NFT, and blockchain niches. Below are the best Discord marketing agencies every brand and content creator have to know this 2023:
NinjaPromo is a digital marketing agency that offers a wide range of services including social media, influencer marketing, branding, PR, community management, and blockchain development. While they were founded only a few years ago in 2017, they've already worked with various industries including gaming, blockchain, and crypto, making them a great choice if you specifically want to zoom in on Discord.
They have a group of community building experts that can help you to grow your community on Discord and keep them engaged. They'll ensure that the space is friendly and focused on your project. If you're completely new to Discord, they'll also help you to get set up. This includes creating a channel for you, writing rules, and adding bots. If there should arise an issue, their team will also be at hand to resolve it. In addition to group creation and management, they can also help with content creation and curation. From announcements to FAQs to guides to updates, they can create various types of content that add value and can even help with event planning and execution.
---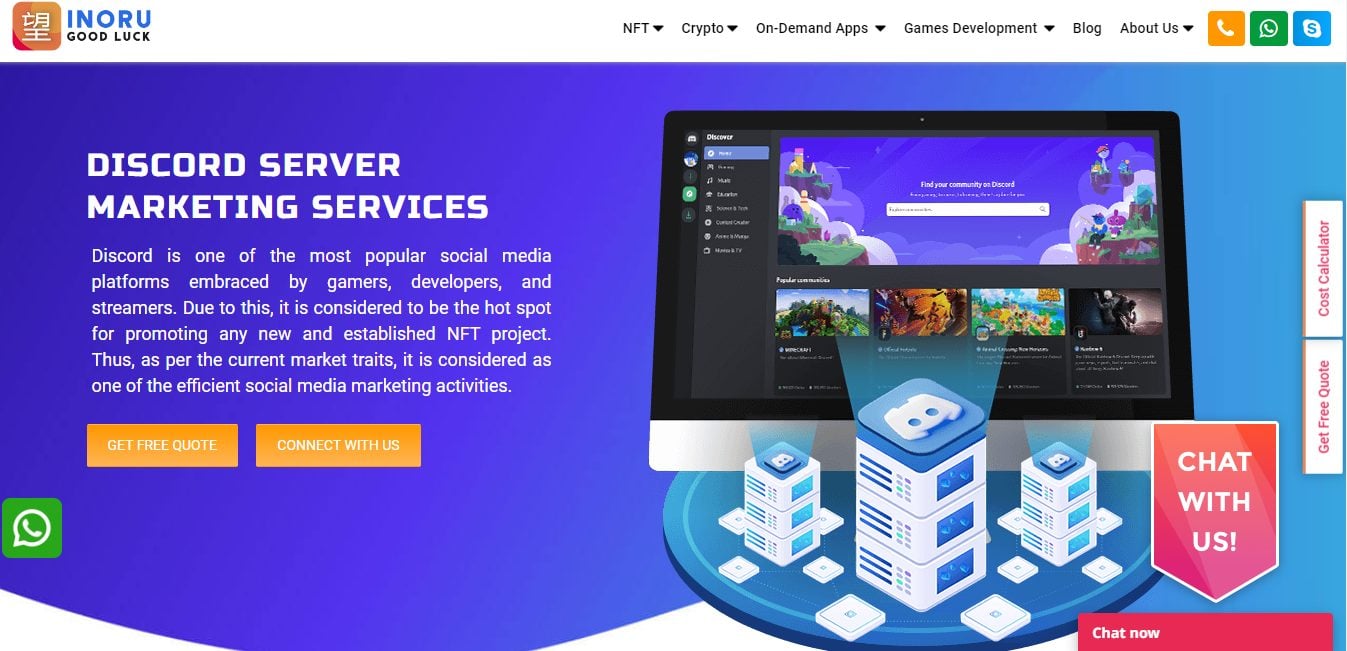 An enabler for development, INORU is a top choice for your Discord marketing needs. This game and app development company specializes in crafting solutions for various projects. INORU especially takes pride in providing successful results in the crypto and NFT space. As a marketing agency on Discord, it has mastered the psychology of a Discord server.
Interaction is the main driver of a Discord server's growth. For brands with cryptocurrency and/or NFTs as their product highlight, finding a dedicated community is the most challenging. Discord is among the few platforms that embrace discourse on crypto and the NFT marketplace. INORU takes full advantage of this by crafting separate channels for competitions, AMA (Ask Me Anything) sessions, entertainment space, and customer support.
---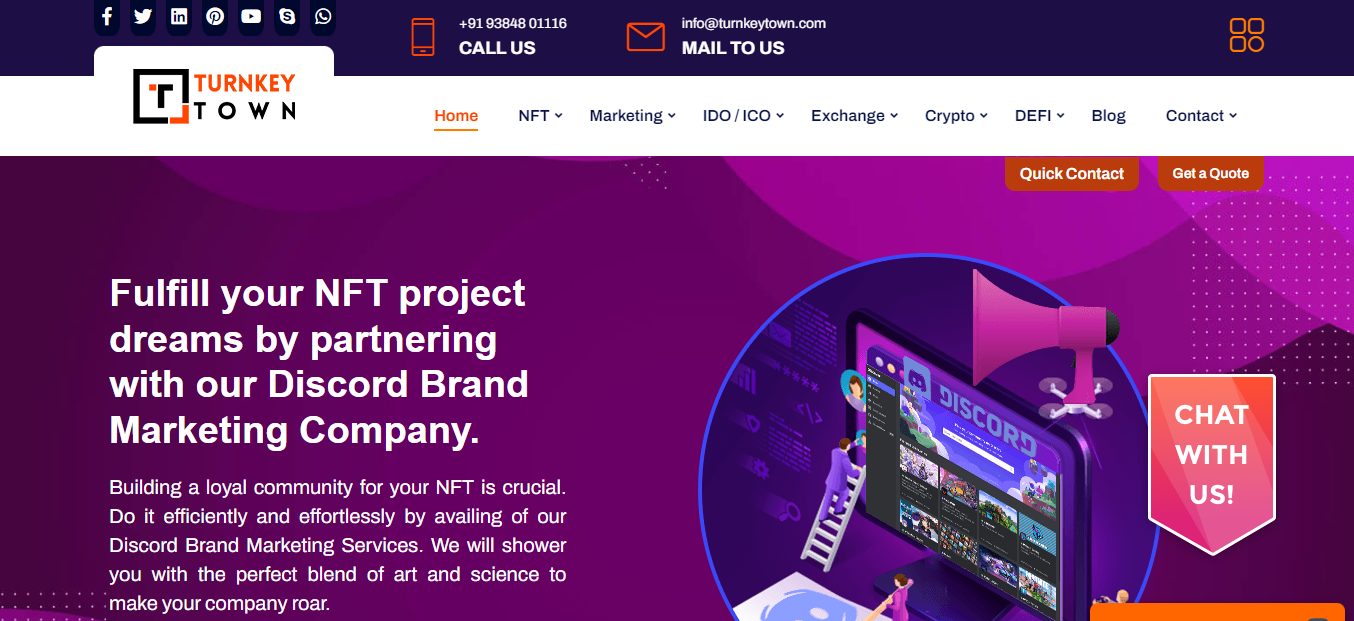 Discord marketing success doesn't happen overnight, but Turnkey Town can help ensure that your crypto and/or NFT project runs smoothly. It comprises of a team knowledgeable in NFT development, enabling them to put their knowledge into good use as a marketing agency.
With Turnkey Town, crypto and NFT project can be successfully launched and grow a community. This marketing agency utilizes Discord's unique features to fully realize the potential of a project launch. Dedicated channels, engaging content, and an overall coherent Discord server are just some of the solutions it develops for its clients.
---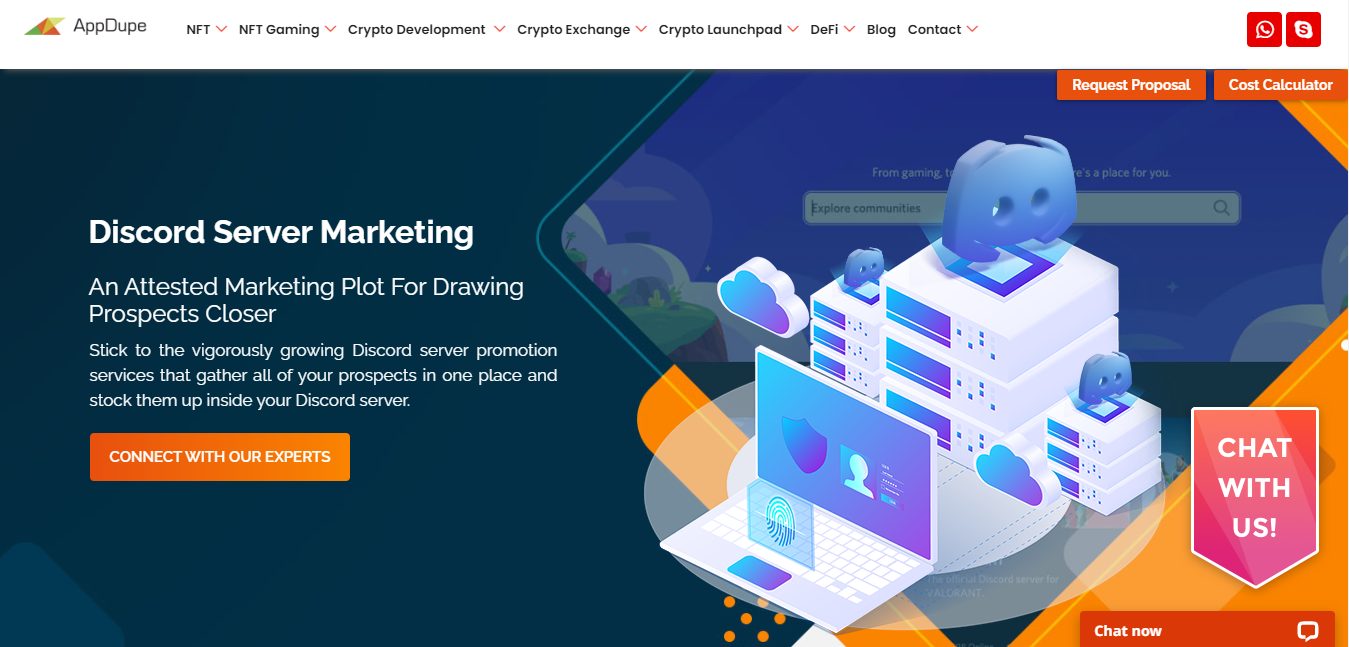 AppDupe is a crypto and NFT development company providing premier Discord marketing services for emerging projects. Gathering your audience in one place may be tricky, but Discord proves that it is possible to interact and nurture your audience reach all from a single server.
With firsthand experience in crypto exchange and the competitive NFT marketplace, AppDupe is among the best marketing agencies to assist brands in establishing a community on Discord. Its competent team of social media marketers provides expert support in building servers, organizing channels, initiating events and competitions, and integrating social media channels for promotion.
---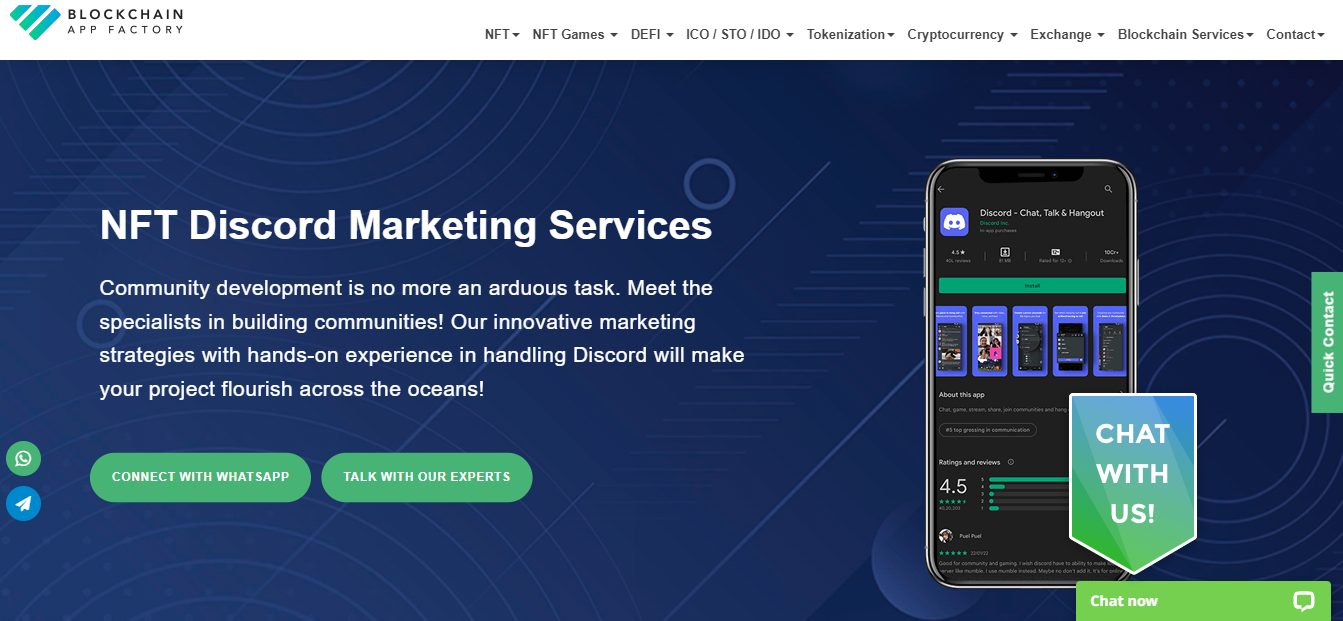 A pioneer in blockchain development, Blockchain App Factory is a compelling driver of community development on Discord. It follows a comprehensive procedure to ensure every project cultivates a Discord community that is steadily growing and deepening the connection between the project and its enthusiasts.
Blockchain App Factory utilizes Discord as a networking platform to establish brand awareness for every project, be it an NFT collection or a game. On top of organizing channels and promotions, Blockchain App Factory deploys a team of marketing experts to diagnose the project's strengths and opportunities, maximizing the platform's functions.
---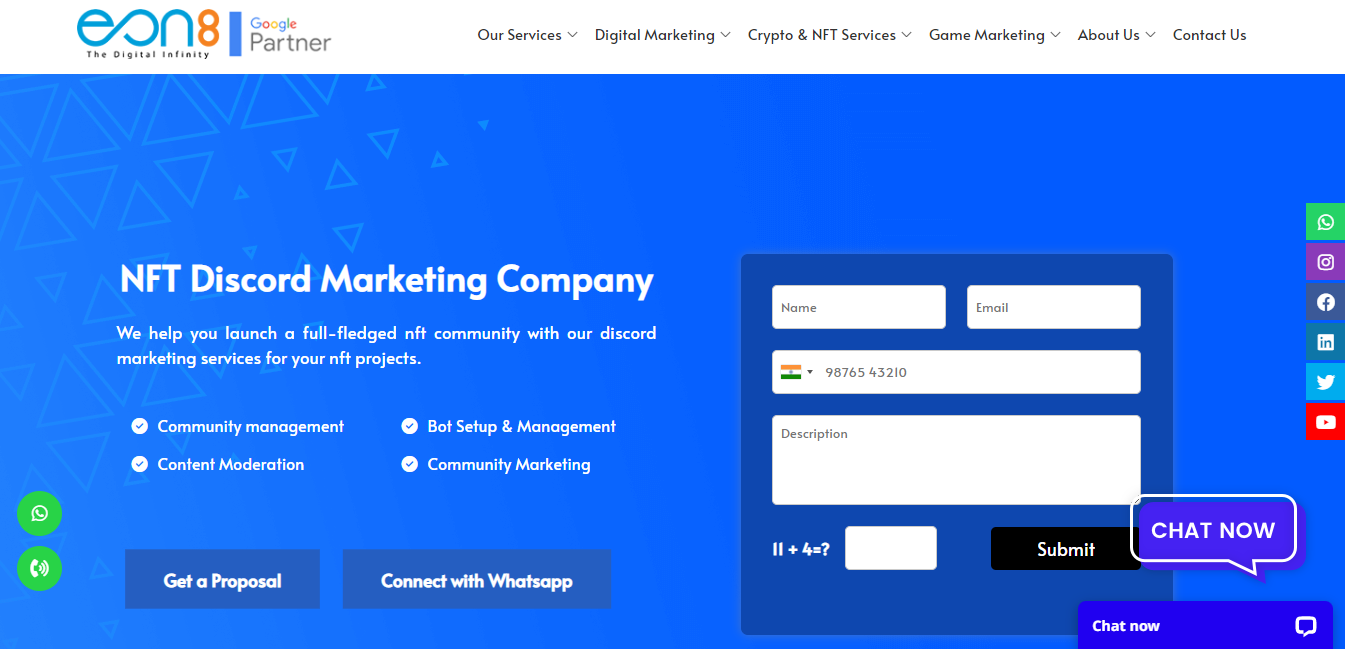 EON8 is a digital marketing agency that caters to a variety of social media platforms, among which is Discord. With the gaming and NFT spaces closely related, Discord is the top choice for projects to build and engage a community.
With data gathered from comprehensive research, EON8 crafts Discord marketing strategies unlike any other. After setup and moderation, EON8 ensures your project enjoys a lifetime of engagement and profitable results with community marketing, real-time reporting, and collaborating with influencers. Additionally, EON8 keeps you in the loop with other key players in the space as it runs communities dedicated for businesses.
---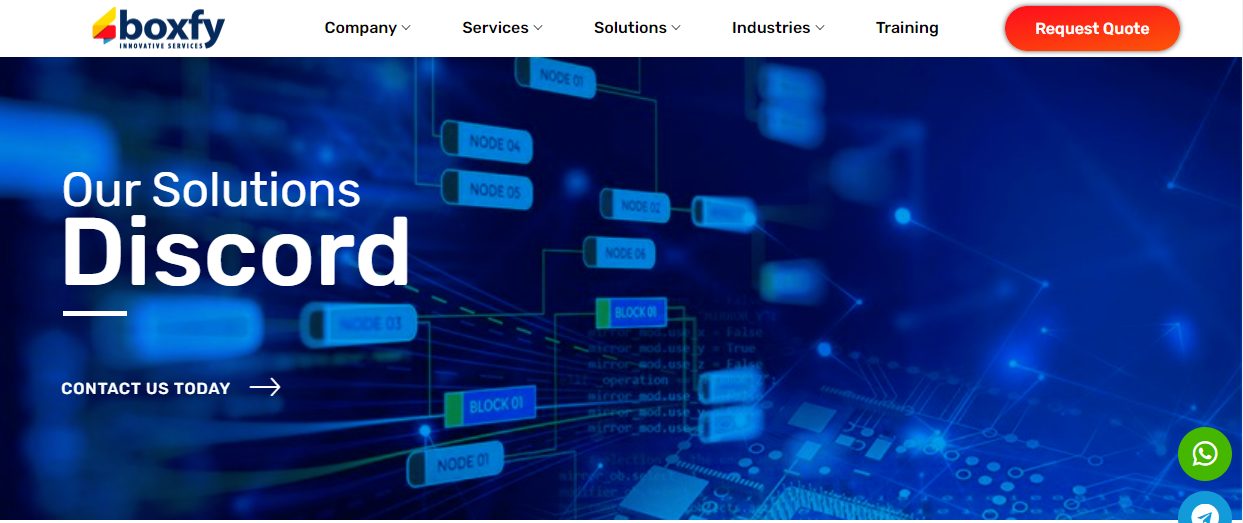 With over 15 years of experience in IT solutions, Boxfy attends to clients ranging from Fortune 500 companies, startups, to small-and-medium enterprises. This digital marketing agency extends its expertise in Discord marketing for emerging NFT projects.
Boxfy takes care of community growth with proven strategies in promoting projects and providing full control in moderating content and members. Boxfy also caters to Discord marketing for brands from the fintech and e-Commerce spaces.
---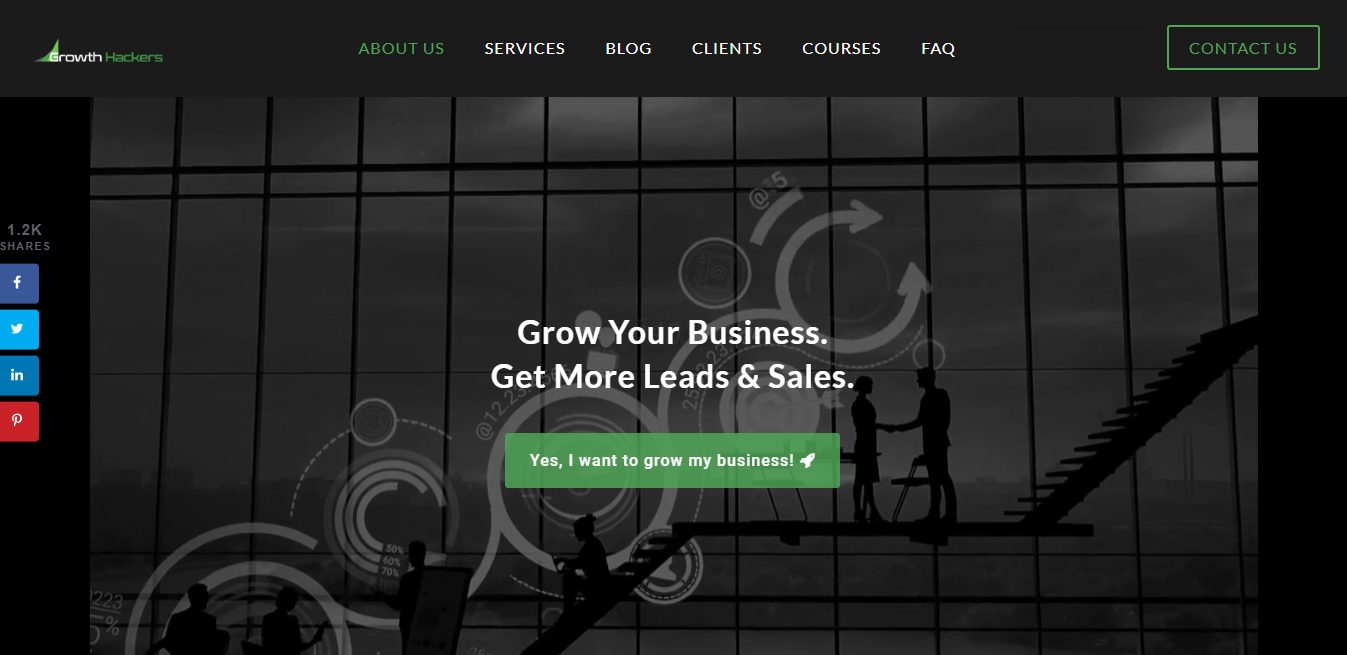 If you're looking for performance-driven results, Growth Hackers is for you. This Discord marketing agency incorporates several marketing strategies outside of Discord to maximize business growth and generate more sales.
Growth Hackers is among the few Discord marketing agencies whose main clientele aren't NFT projects. It caters to over 80 brands working in interior design, tourism, cryptocurrency, and supplier chain management. On top of establishing a compelling identity on Discord, Growth Hackers also provide quality assistance in generating attractive visuals, real-time analytics, and optimized user acquisition techniques.
---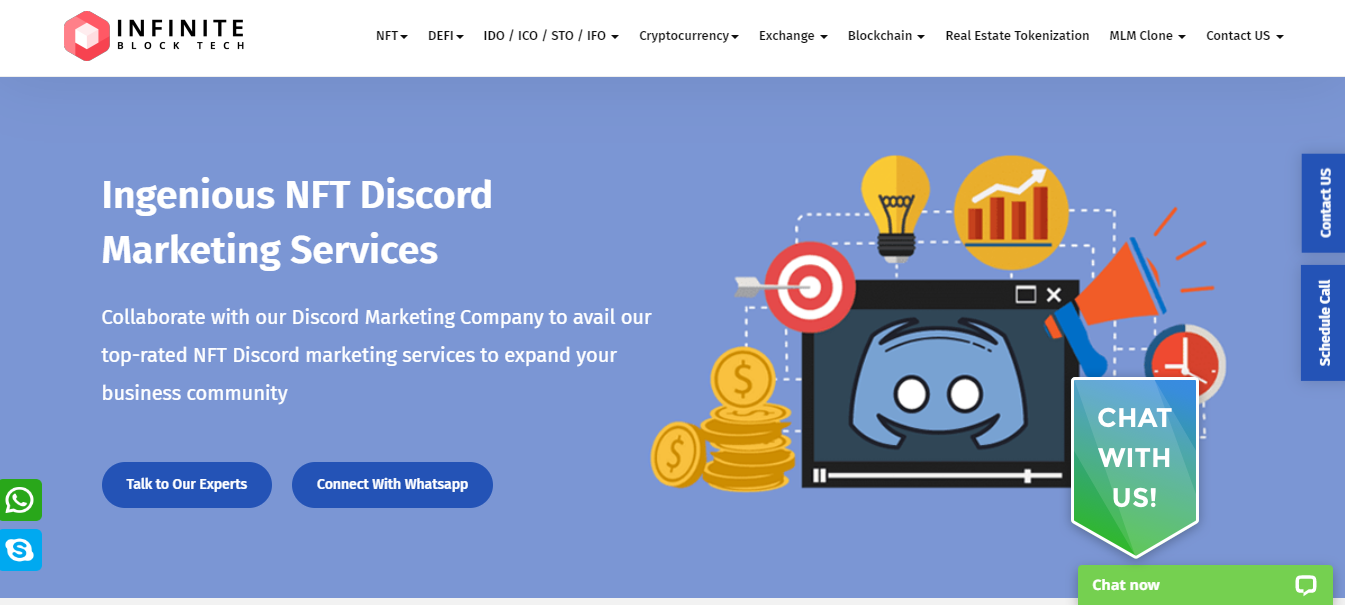 Infinite Block Tech places high priority for phenomenal customer support in community growth. Working with various blockchain platforms like Ethereum, Azure, and Hyperledger, Infinite Block Tech utilizes industry expertise to provide clients with premium Discord marketing services.
There's no better time than today to bring your brand to Discord. Infinite Block Tech initiates several techniques to optimize your Discord server, host regular events, acquire more members, and establish a reputable identity among NFT projects. On top of server creation and moderation, Infinite Block Tech performs A+ copywriting, A/B testing of marketing campaigns, and a day-to-day campaign optimization based on statistics and community engagement.
---
Discord as the Next-Gen Driver of Social Media Marketing
It is an undeniable fact that most Discord marketing agencies we discussed today cater to cryptocurrency, NFT, and blockchain projects. While enthusiasts are increasing in number, most projects find difficulty in prompting a successful launch on mainstream social media platforms.
Discord, originally designed to cater to gamers, proves to be one of the best avenues for NFT projects to generate a loyal following. With servers, there is less trouble in finding an audience. All there is to focus on is generating content that will keep the audience engaged and anticipating for more.
Discord may seem complex at first, but with the right marketing agency by your side, you can elevate your brand to greater heights with the right management of Discord channels, bots, and analytics.
Frequently Asked Questions
What is Discord marketing?
Discord marketing is a social media marketing approach that revolves around the functions and features of Discord. It relies heavily on moderating content and events across the several channels within a Discord server.
How is Discord marketing an effective approach to community development?
Discord engages its users to participate and contribute in the servers they join. As servers are communities with a shared interest for a certain topic, taking part in meaningful discussion heightens the chances for the server to attract more members and encourage administrators to host interactive events.
What are the benefits of using Discord in digital marketing?
Discord provides a plethora of benefits such as freedom from bias of complex algorithms, organic community growth, automated content moderation, and an extensive collection of shortcut commands for easy management.
How do you create a channel within a Discord server?
Go to your server's drop-down menu, and click on "Create Channel". You can now customize the channel's name, privacy status among members, and supported bots.
What devices support Discord?
Discord runs on just about any device compatible with iOS, Mac, Android, Windows OS, and Linux.