The uncertainties surrounding the COVID-19 pandemic have made cryptocurrency usage very popular. More merchants are accepting digital coins as a payment method, while Bitcoin ATMs have begun to surge. This year, cryptocurrency payments worldwide are expected to reach over $10 billion in total transaction value – a 70% increase from 2021.
No doubt, cryptocurrencies will also play a huge part in the metaverse, where every transaction will take place within the digital realm. These growing opportunities and demand for cryptocurrencies are getting the attention of many serious investors. In fact, in November 2021, the crypto market capitalization reached an all-time high of $3.3 trillion.
Just like in traditional stock trading, information is vital in trading cryptocurrency. Traders need to learn more about the market to plan their next move. Luckily, you don't need to work for a crypto platform to get insider information on non-traditional assets. Far from it, you only need a community of like-minded individuals.
The best place to find them is on the popular chat app Discord, which houses over 1,000 crypto-related servers. Listed in this article are the best crypto Discord servers, reasons why you should join one, and steps to do it.
---
9 Crypto Discord Servers That You Should Join:
---
What is a Crypto Discord Server?
Essentially, a crypto Discord server is an online community where users can discuss crypto-related news, transactions, and plans. These communities are among the 6.7 million active servers on the instant messaging app. Each server has its own culture, as well as rules that members must observe. Server administrators and staff members can ban or kick out any rulebreaker.
Some Discord servers are public, which means anyone can join. Most cryptocurrency servers, however, are private. These private servers tend to keep information among members of their community. They also have verification processes to prevent spammers from entering.
Servers are further subdivided into channels or chatrooms. A server can consist of multiple channels, with each channel focusing on a specific topic of interest. Most crypto servers, for example, have channels dedicated to non-fungible tokens (NFT), decentralized finance (DeFi), technical analysis, and trade signals.
Crypto Discord servers have some of the most engaged cryptocurrency communities. They have influenced members' crypto trade strategy, resulting in gains for some users. Even some blockchain companies are joining these servers to persuade users into trading on their platform.
---
Why Should You Join a Crypto Discord Server?
There are several benefits to joining a crypto Discord server.
Passionate community
Cryptocurrency Discord servers consist of users who are genuinely interested in crypto trading. Some of these users are already serious traders who either time the market or are considered whale traders. Interacting with these people who are as passionate as you can be a great way for you to learn about the market and keep your focus and goals in check.
Timely news and updates
The cryptocurrency industry is fast and dynamic, which makes information such a commodity. Traders need data to maneuver through the volatile market. Crypto Discord servers keep traders and enthusiasts updated on the latest happenings. Through this platform, industry thought leaders are also able to offer their opinion on current assets, market analysis, and trade signals or trading opportunities.
Organized flow of information
Unlike other social media channels, Discord has features that help members systematically navigate through the platform. In addition to channels, subchannels also exist to segregate topics into different pages. This way, members would be able to quickly check which questions have already been answered and backread threads more efficiently. Servers also have bots, which maintain a spam-free community.
---
What to Look for in a Crypto Discord Server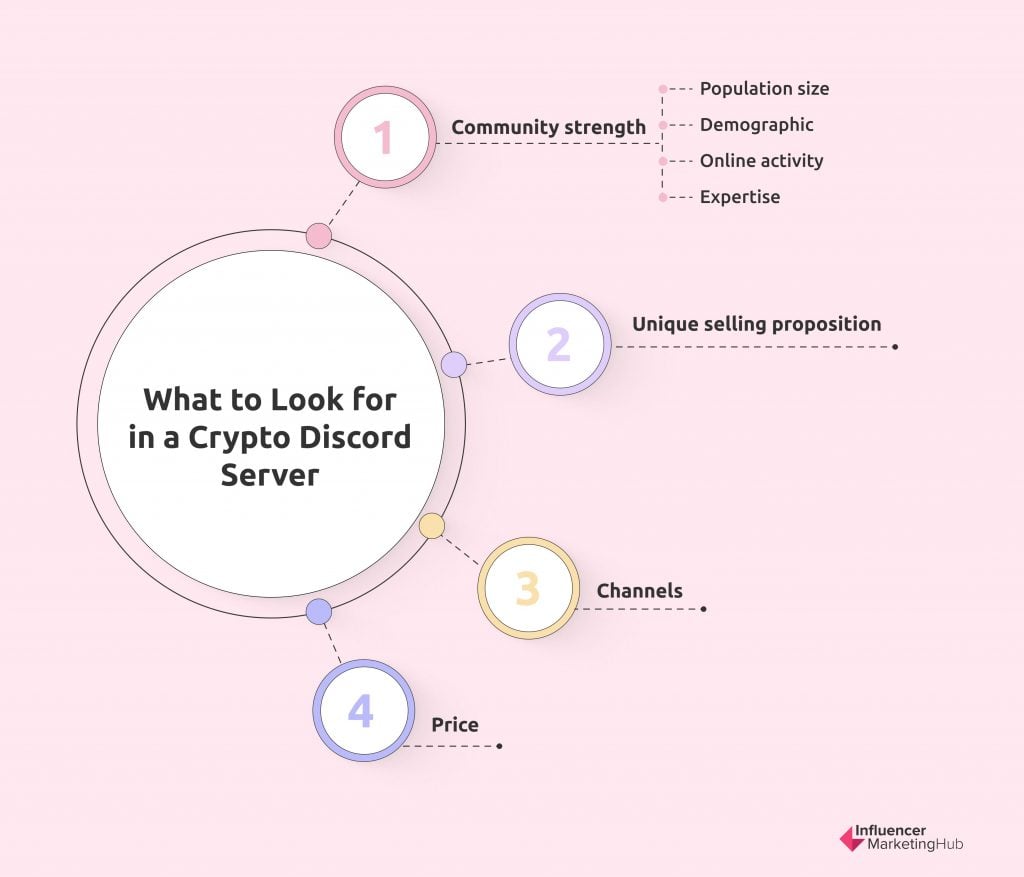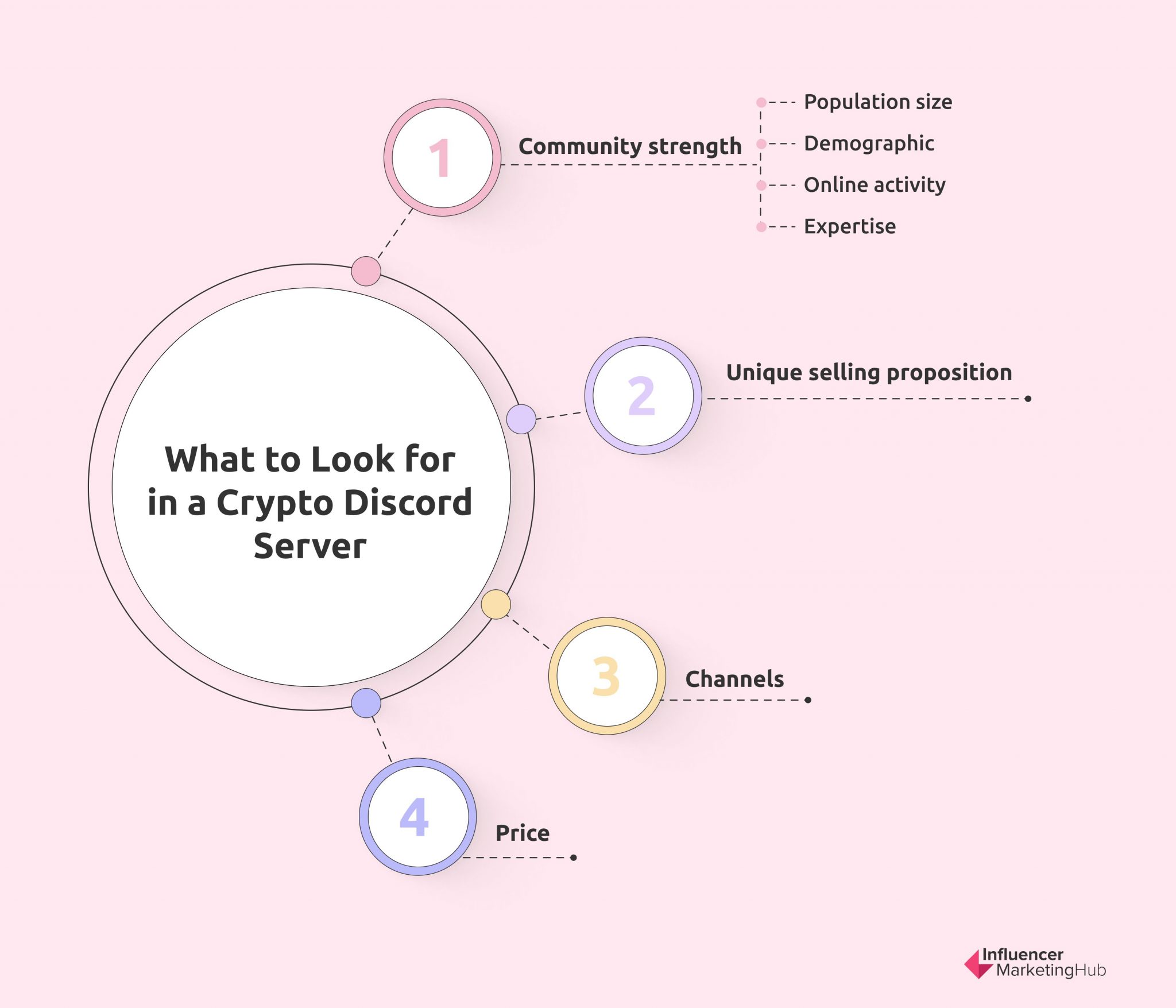 Community strength
This refers to three things:
Engaging with a large community can help you explore different topics, create better solutions, and gather more opinions from varied sources.
Interacting with both newbies and experts allows you to gain new insights and knowledge that can help you reflect on your gameplan and propel you forward.
Regular online presence and discernible activity serve as the backbone of a Discord community. Longer online engagement can also mean that the information within the server is valuable and relevant.
A crypto Discord server that can provide reliable trade signals and data-driven analysis is highly sought after. Find a server that is owned or administered by professionals or traders with a rich experience in crypto trading or a proven track record.
Unique selling proposition
Don't join a server for the sake of joining one. Instead, consider what you need from a Discord community. This could be educational offerings, premium features like more in-depth analysis or signals, or even how-to guidebooks for beginners.
Channels
The channels and subchannels within the server should be relevant to your goals. For example, some channels are dedicated solely to NFTs, cryptocurrencies like Cardano, or tax filing resources. There are also channels that members use for getting to know one another's interests.
Price
Many Discord servers are free. However, some require a subscription or premium payment to unlock additional advantages. These advantages can include one-on-one consultations with community experts or a more detailed trade signal. Premium membership rates depend on what the platform offers. Some servers use it to reward active users and affiliate marketers.
---
How to Join a Crypto Discord Server
Some servers are public, while some are private. There are different ways for you to join each category.
Public servers
Whether you're using a desktop or the Discord app on your mobile device, you'll be able to find servers by clicking Explore Public Servers. This is represented by a compass icon on the left-most navigation bar. Clicking this will open a list of featured Discord communities. A lot of these servers contain some of the largest communities on the platform and you can join any of these by simply clicking them.
If you want to search for a specific community, use the search bar at the top of the Explore Public Servers window.
You can also find Discord servers that your favorite influencers are running. Most gaming influencers, tech enthusiasts, and websites have their own Discord communities. American membership platform Patreon, for example, has an exclusive Discord server for its supporters. The server has channels for creators where they can discuss anything from gaming and merch to performance and marketing.
Disboard.org and Discord.me are two reputable Discord server finders. With Disboard.org, you can simply search for a topic on the homepage or scroll down to Categories and Popular Tags to browse servers.
For Discord.me, you can browse through the popular servers on the homepage or navigate through Categories from the menu bar. Random Server, which you can find on the left-hand menu, allows you to find Discord servers at random.
---
Private servers
Private servers require an invitation, which you can usually get from members of the community. Many of these members share an invitation link on Twitter, Facebook, and other social media sites. Once you accept an invitation, you may be required to complete verification steps to prove that you're not a bot.
Before you start joining a crypto Discord server, you should be wary about taking advice from just about anyone online. While it's good practice to interact with a community that can motivate you into achieving your goals, it's still better to do your own research.
Here are the top Discord servers for cryptocurrency-related news and discussion.
---
Top 9 Crypto Discord Servers
1. Cryptohub
For beginners, Cryptohub is the place to go. The server has over 12,000 members and is 100% free. It is one of the friendliest crypto-related platforms out there. For one, it has starter guide channels on trading 101, HODL, cryptocurrencies, crypto coin exchanges, and NFTs – enough to give novice traders a leg up.
Most of the trade signals on the server are based on futures or contracts between investors betting on a cryptocurrency's future price. There are also occasional giveaways within the community, mostly in the form of cryptocurrencies.
Premium members can get alerts for Cryptohub picks, external giveaways, NFTs, memecoins, and APY/Yield Farms. You can get a four-day premium trial by messaging the admin through the support channel. Premium membership costs $10 a month, which you can cancel anytime.
Cryptohub is a public server, but there are various verification steps that you must accomplish before you can access it. You can join the Cryptohub Discord community here.
---
2. The Crypto Nation
Another channel that newbies need to check out is The Crypto Nation. While it's fairly small with only over 1,000 members, it's a trustworthy and straightforward group of crypto enthusiasts.
Their hottest topics include NFTs, DeFi, and ADA coins. Main discussions focus on general questions for beginners, as well as technical and fundamental market analysis.
It also includes resources on whale trades, coin reviews, reading resources, how-tos for beginners, and monthly technical indicators for traders.
You can join The Crypto Nation on Discord here.
---
3. r/CryptoCurrency
One of the largest cryptocurrency communities on Discord, r/CryptoCurrency is more suitable for beginners starting their crypto journey. It currently has over 92,700 members with different backgrounds and levels of skill.
Members typically receive points and then level up when they're active on the platform. Leveling up allows them to unlock more channels for more serious discussions with fellow traders.
r/CryptoCurrency channels cover NFTs, yield farming, mining, and alternative coins. They also have channels dedicated to market insights and analysis, technical analysis, trading view tools and price requests, and educational resources. Moreover, the admin hosts voice events on the server, such as game night and movie night.
New members receive a two-minute slowdown where they can't interact with other users and are instead compelled to read the rules. Join r/CryptoCurrency on Discord here.
---
4. Elite Crypto Signals
Elite Crypto Signals was created in 2018, but some of its founding members have been in the cryptocurrency market since 2012. This public server has more than 29,000 members and a massive following of focused investors.
Knowledge and experience form Elite Crypto Signals. The server is focused on providing information on good trading entry and exit points. Its trade signals are based on technical and fundamental analysis.
Elite Crypto Signals is big on its premium feature, which you can get for $45. This feature promises to share the secrets to investing and closing a trade in a bear market. This also includes daily updates with highly valuable trade signals.
The server also has an affiliate system. Members can gain premium membership just by inviting people onto the server. 30 invites can get members a premium membership for a month, while 200 invites can get them a premium lifetime membership.
Join Elite Crypto Signals on Discord here. You need to verify your phone number before you can send messages on the server.
---
5. Larva Labs
Launched in 2017, Larva Labs are the same people behind popular on-chain NFTs CryptoPunks, Meebits, and Autoglyphs. This server was the first crypto Discovered platform that was dedicated to NFTs.
The Larva Labs server is one of the most streamlined crypto Discord communities out there. It has more than 63,600 members, yet it only has one member channel. There, users mostly discuss bids on CryptoPunks. A CryptoPunk bot also chimes in the channel to announce punk offers and sales in real-time.
Join the LarvaLabs server on Discord here. To verify your account and send messages, you must claim your account for Discord on the Larva Labs website. You can do that by clicking on the link at the top of the server itself.
---
6. Axion Crypto-Community
Axion Crypto-Community's one-big-family vibe appeals to users of varying backgrounds. It's no surprise then that it's home to more than 38,000 members, who are also some of the friendliest users out there.
Axion members actively discuss trading in the chat. Discussions heavily focus on trade and investment, entry and exit points, and trade signals. The server has technical analysts that calculate upcoming trends in cryptocurrency and then notify members of buy and sell signals.
Moreover, there's a ton of crypto-related educational content on the platform. There's even a playbook for executing trades and investments, which members can consult anytime.
Axion also has VIP subscriptions, which you can get monthly, quarterly, semi-annually, or annually. This subscription includes technical analysis on-demand, premium chat that only staff and other VIP members can access, and priority privileges. A trial subscription costs $20.69.
You must click a verification code to get accepted into the community, so watch your direct messages closely for instructions. Join Axion Crypto-Community on Discord here.
---
7. Filthy Rich Futures
Filthy Rich Futures mostly focuses on cryptocurrency futures, which can be very profitable in any market season. The staff is not only friendly but is also equipped with solid technical analysis and reliable trading signals. Its community of close to 18,000 members is dedicated to NFTs, games, and tokens. Most of them also actively trade futures contracts.
Filthy Rich Futures also has a premium subscription, which users can access by either purchasing a membership, boosting the server, or being active in the trading chat. Premium access offers educational and informational content on what the staff is trading.
The server also has a channel for livestream, news, and a futures guidebook. Moreover, members can access an Excel workbook on the server where they can log their trade and then gain advice on how they can improve their trading.
You need to verify your phone number to join the server. Join the Filthy Rich Futures server on Discord here.
---
8. Cracking_Crypto
Cracking_Crypto is a trading group that specializes in cryptocurrency. Its staff are full-time traders with professional experience in exchange platforms like Cryptocurrency and Forex. The server claims to be the most available and transparent trading group.
Cracking_Crypto offers premium membership, which gives users access to the team's trading journals, in-depth videos, and coursework. Members can learn the essential technical aspects of crypto trading, from strategizing to proper portfolio allocation.
There are almost 13,000 members in this Discord community. You can join Cracking_Crypto on Discord here.
---
9. Cryptodra
If you're looking for something more advanced, then head on to Cryptodra. Cryptodra started trading in 2016 and has been doing it profitably since 2017. Rather than relying on technical analysis, Cryptodra sets himself apart by using derivative market data and order books. Moreover, he uses a data-driven approach to offer in-depth insights into the crypto market.
Cryptodra mostly focuses on the current happenings in the market and the timing when members can buy, sell, or hedge their investments. It may only have over 1,600 members, but these are intensely serious crypto traders.
With a premium membership, members get a Zoom call that covers the A-Z of crypto trading, from the cons of technical analysis and reading order books to risk management and trading psychology. It also includes premium market analysis and group chat, as well as regular Zoom calls and consultations with Cryptodra himself.
Lifetime membership fees cost $699. While it isn't cheap, Cryptodra is transparent about his excellent track record. Without the premium feature, members get a general market analysis and chat for anything crypto-related.
You can join Cryptodra's Discord server here. You will have to go through a verification process to access the server.