The beginning of 2020 saw an exponential increase of discord servers and communities about NFTs. In the succeeding years, more groups continue to sprout. If you're an NFT creator or investor, joining a Discord group can be beneficial in many ways. As a member of an active group, you can discover new NFT projects before they're widely publicized on other platforms.
You can also get the latest updates on prices and promos. If you're interested in joining a community yourself, we compiled a list of 20 NFT Discord groups, their purpose, and links to the groups.
---
Top 20 NFT Discord Groups and Servers to Join:
---
What Exactly are NFT Discord Groups?
Discord is a social media platform that allows its users to communicate with each other by voice, video, and text. Projects in the NFT space utilize Discord to foster a sense of community and belonging. Members can use their Discord groups to post news about NFT Projects, updates, and support.
Most NFT projects devote considerable time and resources to cultivating a vibrant network of supporters and collaborators. Discord channels dedicated to discussing NFTs and other topics are a great place for like-minded people to converge and exchange useful ideas.
---
How Do You Join an NFT Discord Group?
Here are a few steps to take to join an NFT Discord Group.
Sign Up for a Discord Account
To get started, visit Discord.com or download the app through App Store or Google Play store. Create an account using your email and password. Changing your username is simple and you can do it even after creating an account. Once you've logged in, you'll be directed to the Discord homepage.
The sidebar and most important sections of this page are found on the left side of the page. This sidebar will keep track of all the servers you have joined. You'll see a "+" symbol labeled "Add a Server" below the home button. The "Create a server" page will open, and you may also "Join a Server" by clicking on the same icon.
The "Explore Public Servers" search icon is located underneath this. You can use this area to find public Discord servers available to every discord user.
Joining a Discord group
Using a Discord server link is the easiest way to join a Discord. Twitter biographies and project websites are common places to find these links. When you click on an invite link, you will be directed straight to the server's invite page, where you will be requested to accept the invitation.
Every time you log in, you'll have to pass through a verification process. To keep spam and bots out of these groups, different techniques are employed. Some include validating your agreement with the server's rules by ticking a checkbox and clicking on an emoji to indicate you understand the rules of a particular channel.
---
2022's Best NFT Discord Groups
Here are the top 10 NFT discord groups to join in 2022.
OpenSea's Discord community has approximately 162,000 members and is one of the most popular NFT marketplaces around. OpenSea also provides abundant resources to help those who are just getting started with NFTs.
Twitter updates are posted on the #News channel. OpenSea members are also allowed to use the #Community-Help channel to get answers to their NFT or OpenSea related questions. In the #Self-promotion channel, NFT creators can share and advertise their own projects.
---
Early adopters of NFTs who understand the significance of scarcity in a digital world have found success with 2021 NFTs through the CryptoPunks Discord. CryptoPunks was one of the first large NFT projects to come online in 2021. This was after assets were shared for free in 2017.
CryptoPunk's NFT traders carry out regular discussions on various projects in this group. As a member, you can't ask questions or join in the discussion, but reading the updates from the admin would be enlightening.
---
Artist Steven Rea's Brain Vomit's Garden is an NFT project he started after a skateboarding accident that inspired him to start drawing. A project-based on mental health was the result of 18 months of relentless grafts for Rea, who used that momentum to establish a fan base.
As a new artist, you can get a lot of insight from the members of this community on how artists generate their work and ways to get inspired.
---
The Bored Ape Yacht Club minted $200 in assets in April, and those assets have already increased in value to at least $200,000. Their Discord group boasts of 23,000 members. The members of the Yacht Club can use the virtual lounge and restroom, which are only accessible to those who have Bored Ape membership cards.
Many people view the Bored Ape Yacht Club as a brand. It is a popular project, so the general chat area is an excellent place to participate in conversations.
---
The VeeFriends Discord group has a large and active membership, and members offer a wealth of knowledge that extends well beyond the VeeCon project. Although the VeeFriends Discord has over 374,000 users, it is strictly monitored and even has a fraud alert channel to assist new users in protecting their NFTs.
Being a member of VeeFriends also gives you the chance to meet other creators and share ideas. VeeFriends was created by Gary Vaynerchuk, whose art was also auctioned by Christie's. Gary V, who has a demonstrated track record of building successful businesses, actively communicates with his community. He regularly posts insights that can be beneficial to people interested in NFTs.
---
Crypto Baristas is the first NFT-funded café and has 1.2K members in its discord community. If you're interested in real-world NFT projects, you should join this discord channel. During the first season, a cast of 60 caffeinated characters will be introduced, all of whom will have a role in developing the Café's idea and implementation.
Owners of these NFTs will be able to reap the proceeds of free coffee for the rest of their lives at any future cafes or websites. An additional 15 percent of the project's earnings have been set aside for future usage in Barista Bank, which the project's proprietors will control.
---
The Flower Girls NFT project hasn't garnered as much attention as others on this list. The group is more concerned about developing a community than the floor price. Discord users might benefit from joining this group by examining the work of various well-respected artists.
In addition, the prices of the NFT's are cheaper than most popular projects, making it a good starting point for newbies.
---
Rarible constantly witnesses the introduction of some of the most notable NFT projects, making it the second-most popular marketplace for these products. Famous NFT projects such as MekaVerse, Cryptoadz, Creature World, Bored Ape Yacht Club, and Crypto Baristas have all been hosted on the platform.
You can also find helpful teaching resources on the Rarible website. Their Discord chat room currently has over 132k subscribers. Occasionally, unique visitors are invited to participate in open talks hosted in the stages channel about Rarible upgrades, new features, and art debates.
---
More than 171k people have joined the Decentraland NFT Project's discord, which is open to all newcomers in virtual world gaming.
On Decentraland, users can take control of the digital universe from a central authority by joining a Decentralized Autonomous Organization (DAO), a virtualization technology developed by Decentraland. This expanding community aims to establish the world's largest blockchain-based alternate reality economy. Plots of land may be purchased in this 3D virtual environment using MANA money, which is built on the Ethereum blockchain.
---
Enter.art is a utility token-based NFT. As a result of their focus on education, Enter.art attracts newcomers in the NFT space. Their website has various useful learning materials to assist you in understanding the platform.
After years of research, they developed cutting-edge technology and an integrated smart contract that serves the needs of both the artist and the investors and collectors. Members of the Discord server may work together to establish a new, low-cost, and easy-to-use creative trading platform for the arts.
---
Nouns is one of the most unique ventures in the NFT Space. Because the price of one Noun typically exceeds 150 ETH, it may be beyond the financial means of most investors. Noun's project's Discord group now has over 24k members and is worth checking out.
---
To get started with NFTs, check out the NFT Instagram and Discord communities. The NFT Discord server has more than 102,000 members, while the group's Instagram account has more than 500 thousand followers.
Both the NFT Discord Server and Instagram are good places to stay up with the newest Non-Fungibles Token news, making them a valuable source of information in 2022.
---
Mutant Cat is the first decentralized autonomous organization (DAO) to buy Cool Cats, CryptoPunks, and other high-value NFTs and distribute them to its members. It is built on the Ethereum network, which causes 9999 cats to mutate. NFT drops and other perks are available to those who own this token.
It now has more than 11,000 members and growing in its Discord community. Any user interested in keeping up with the progress of this initiative is encouraged to join its discord channel.
---
NFT Hideout is a community for anyone who's passionate about NFT and cryptocurrency, including collectors, investors, and creators. If you are new to the NFT world, the NFT Hideout channel is an excellent place to start.
This channel is similar to other NFT channels in that participants can sell their artwork, debate common NFT topics, and dig into the technical advances behind specific NFT efforts.
---
The NFTs World Community, provides information on a wide range of cryptocurrencies and NFT-related concerns. Any part of this community can be used to explore a wide range of NFT-related subjects and upcoming NFT projects. With over 350k members, this is one of the best discord servers for both NFT tenured owners and newbies alike.
---
You should join the CrypToadz Discord if you're looking for an active NFT community. Gremplin came up with the CrypToadz meme idea, which became a huge hit in the NFT world. On the discord channel, NFT collectors share their knowledge and experience with novices.
---
The Foxxies Discord group is dedicated to both NFTs and cryptocurrencies. This active NFT discord community has over 9,700 members. Foxxie holders possess the DAO Curated Art Platform and the Elite Club with 4500 NFTs.
All NFT holders access Elite Club membership, help, updates, and information. You can join their platform if you're interested in learning more about the foxxies project.
---
This NFT Discord Community is both a cryptocurrency-supported club and a DOA community with approximately 14,000 users today. Even though it primarily focuses on NFTs, the scope of this Discord community is far more significant. It includes a new music discovery platform, a magazine, and a business incubator for start-ups and people who trade in cryptocurrency.
A prominent venture capital company, Friends with Benefits is headed by Andreessen Horowitz, who invested ten million in the community. Artists like Yves Tumor and Erykah Badu have appeared at their events.
Every aspect of crypto trading is covered in detail on the organization's vast and diverse Discord server. You should note, however, that joining this project would require about $5,000 to $10,000.
---
Taking its cues from Japan's Mecha culture, the MekaVerse comprises 8,888 procedurally generated Mekas. Each Meka is one-of-a-kind with unique color palettes and designs. More than 13,000 people are part of MekaVerse's Discord group. As a member of the Mekaverse community, you will have quick access to all the latest news and developments within the NFT space.
Regardless of whether you intend to purchase a "Meka," or not, their Discord channel is an excellent group to follow for ideas.
---
Over 28,000 people interested in NFTs are now having discussions about NFTs in the museum. Museum NFT is a generative NFT project that emphasizes the historical, aesthetic, and cultural worth of NFT art.
These NFTs are unusual in that each one assumes a persona consistent with the date on which the event is being honored, i.e., they change according to the crypto anniversaries of significant dates.
---
Why Should You Become a Member of an NFT Discord Server?
NFT communities are great platforms to learn about upcoming NFT projects and to stay up-to-date on the latest developments in the NFT industry. Joining or creating your own discord community for NFTs is a good idea for the following reasons.
💡 Learning as a Beginner
Joining an NFT Discord community is an excellent first step for newcomers who are interested in the NFT world. This allows you to learn about the NFT industry from people who have been doing it for a longer time.
💡 Networking with Other Artists
There are various NFT artist discord groups. You can network with other NFT artists on this platform and gain inspiration from their work.
💡 Finding NFT Collections
Anyone interested in major NFT projects with seemingly high potential should join a discord community. Various NFT discord communities are an excellent place to search for upcoming NFT projects.
💡 NFT Investor Research
Investors can get a sense of the project's potential by joining the NFT project's discord server. The more engaged a group of people is, the more likely an idea will take off. As a result, you'll be better positioned to make sound financial decisions.
---
Discord NFT Community Setup: Best Practices
Discord has more than 140 million active users monthly. Most popular Discord communities are run by YouTubers, podcasters, gamers, live broadcasters, and influencers.
Discord is also a popular community building platform for crypto and NFT investors. Apart from joining an already established group, you can also create your own server.
Here are a few guidelines to help you get started.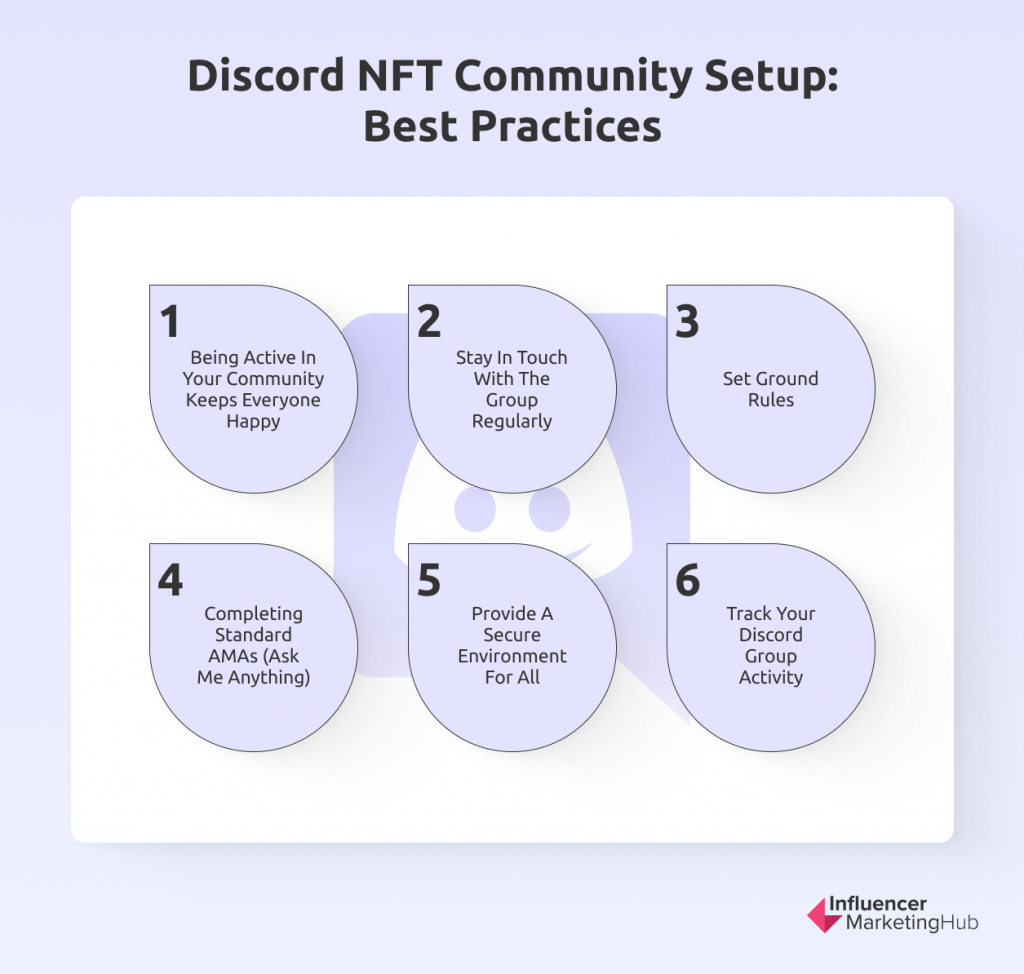 ✅ Being Active in Your Community Keeps Everyone Happy
In order to consistently grow your server, you should provide reasons for people to be active in your NFT Discord community.
What are the best ways to help people feel like they belong in a community? Think about creating different activities and events and invite participants to join. You can also start contests, bring in guests, or distribute a price at the end of the event.
✅ Stay in Touch with The Group Regularly
Regular collaboration efforts amongst server owners is essential. While this shows your dedication to the group, it also shows your willingness to share knowledge and learn with others. Although it isn't necessary to post every day, regular updates would be beneficial.
✅ Set Ground Rules
Just like other communities online, an NFT-focused community must have a set of rules in place. Discord can allow you to 'unlock' rules by default if you make your server public.
On the other hand, making your rules available to the public can help clear up any ambiguity. These rules should be visible to new members and should continuously be reinforced for old members.
✅ Completing standard AMAs (ask me anything)
Active and cooperative group members can organize AMAs and contests. Live AMAs can be broadcast on stage networks. Using stage channels, you can have a private conversation with your audience. If members of the NFT Discord community wish to participate in the discussion, they can request a stage.
Creating an online form for AMA members to submit questions in advance is also important. With the aid of a crypto community manager, you can select the best questions to be asked during the session.
✅ Provide a Secure Environment for All
Maintaining a friendly atmosphere on your server as your community grows is essential. It is important to have a team of moderators to aid in keeping the server operating smoothly in accordance with your set rules.
Your server's community can be the primary source of new moderators, as you can always ask active members for volunteers. Having members of your moderating team who are well-known to the community also makes it easier for everyone to turn to them for assistance whenever the need arises.
✅ Track Your Discord Group Activity
Your server data may be used to learn more about member retention, channel activity, and other topics. A CSV export option is available for extra analysis. Tracking the performance of your server is a great way to see the value you're delivering to your Discord members and how to improve it.
---
Why Discord Servers Need a Community Manager
Maintaining a well-regulated server may become more challenging as your NFT Discord group grows. Your group can be infiltrated with scammers posing as trusted members. This can eventually build distrust in your community as a whole, bringing down the efforts you've put into building it in the first place.
This makes hiring a Discord community manager who's well-versed in how Discord is important. They should also have a deep understanding of how NFTs work so they can provide valuable assistance to community members.
---
Learn About NFTs from NFT Discord Servers
NFT discord servers are a great place to meet other NFT collectors and artists. Many NFT collectors and traders gather in these discord groups to discuss and share the most successful NFT projects.
For those interested in networking within the NFT space, you can choose one or more servers from those listed above or even create your own server and build a community.