If you've immersed yourself in the whole cryptocurrency universe, you've surely come across non-fungible tokens (aka NFTs). The role that NFTs play in the creator economy is developing into an interesting story. It's busy reimagining how celebrities, brands, and artists across various industries share and monetize their work.
In short, NFTs are based on blockchain technology. Transactions are conducted in the blockchain, which is also the foundation of cryptocurrency. Blockchain, though, is probably where the similarity ends. Unlike cryptocurrency, NFTs function more like stocks than currency. The unique value per NFT emphasizes the exclusivity and rarity of an asset. There's no one-to-one value trade, hence the term "non-fungible".
Even traditional auction houses are taking notice too. In 2022, three major auction houses turned to NFTs and helped to sell these unique digital assets for millions. To give you an idea just how lucrative this new medium is, a number of the most expensive NFTs were sold for $7+ million. These sales are just among the many noteworthy events that keep the buzz on NFTs.
If you don't have millions to fork out on an NFT, you can always book your spot at one of the following events.
---
Top 15 NFT Events to Check Out:
---
Location: Switzerland
Date: 13 January – 15 January 2023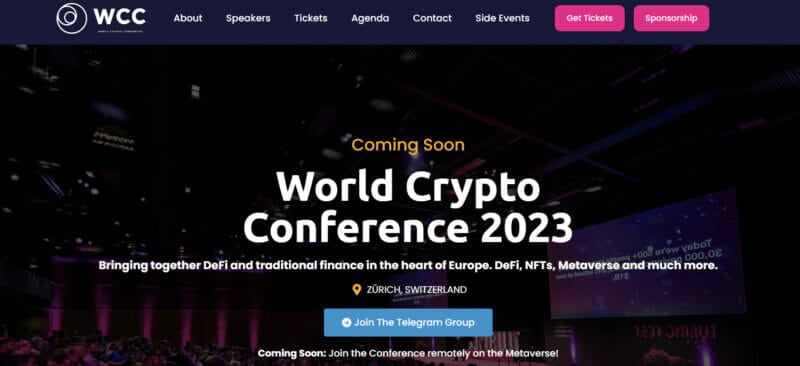 Held in Switzerland, one of the leading global financial centers, the World Crypto Conference will connect decentralized finance (DeFi) products with traditional finance and different stakeholders in the industry. Over the course of two days, topics like NFTs, blockchain, the metaverse, and digital currencies will be uncovered. More specifically, it will focus on digital assets' role within traditional finance.
Speakers include:
Vadim Bondarenka, a crypto lawyer

Megan Nilsson, an NFT consultant

Alberto Cuculachi, Founder of DeFi Daily

Arvin Khamseh, an NFT marketing expert

Luc Froehlich, Digital Assets at Fidelity
---
Location: Dubai
Date: 8 February – 10 February 2023


At last year's Tomorrow Conference, over 20,000 crypto enthusiasts from 100+ countries gathered to learn more about the NFTs and crypto markets. This year's conference will analyze the NFT industry to help figure out the potential that it offers. Critical concepts will be explained, but there will also be time to meet up with creators behind some of the leading NFT projects.
To give you an idea of the company you'll keep, the previous event attracted speakers like:
Richard Buettner of Niftables

Craig Sellars of Tether

Joel Dietz of MetaMetavers
---
Location: Barcelona, Spain
Date: 15 February – 17 February 2023

From investors to startups to corporations, thousands of attendees will get together to analyze the current state of blockchain, NFTs, crypto, DeFi, and Web 3.0. There will be a variety of formats including workshops, panel discussions, and fireside chats as well as an exciting lineup of over 200 speakers.
Speakers include:
Joshua Ashley Klayman, Head of Blockchain and Digital Assets at Linklaters

Dotun Rominiyi, Director of Emerging Tech at London Stock Exchange

Francisco Maroto, Blockchain Lead
---
Location: Paris, France
Date: 24 February – 25 February 2023

According to their website, NFT Paris is where the NFT industry's cool kids and pioneering brands will catch up to share knowledge. Included in its lineup of speakers are several artists. From eCommerce platforms to luxury goods to vehicle manufacturers, there will also be a number of leaders that will include:
John S Lee from Shopify

Nelly Mensah from LVMH

Eva Assayag from Panerai

Liz Suzman from Playboy
---
Location: Miami, Florida
Date: 2 March – 4 March 2023

At Expoverse, entrepreneurs, visionary artists, tech experts, and NFT enthusiasts get together to learn more about the impact of Web 3.0, NFTs, and blockchain. With 15,000 attendees expected, it's one of the biggest anticipated NFT events.
The event will kick off with a look at Web3 marketing and NFT trademarking on the first day. The next two days promise to be just as informative and will cover topics like corruption, essential tools, and the evolution of artificial intelligence. Equally exciting is the lineup of guest speakers. Some of the leaders in the field who will share their wisdom include Liz Bazurto Gil of Coinbase, Ben Armstrong, of BitBoy Crypto, and Avery Akkineni, president of Vayner3, a Web3 consultancy founded by Gary V.
---
Location: Los Angeles, California
Date: 20 March – 23 March 2023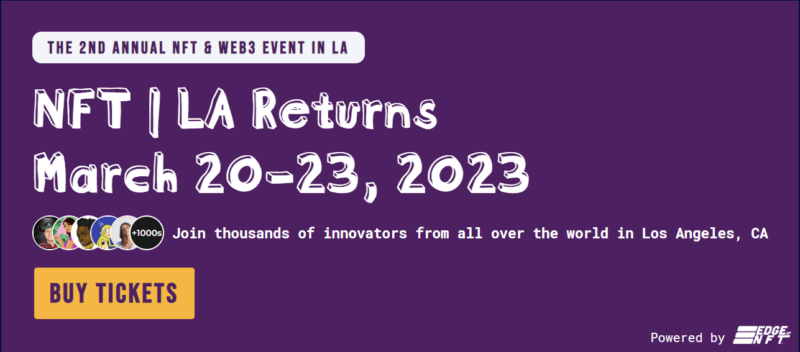 It doesn't matter if you're a beginner or advanced, NFT LA caters to a diverse crowd. From industry experts to developers to those who simply wish to learn more about NFTs, cryptocurrency, and other related topics. In 2023, it's anticipated that there will be more than 5,000 experts, investors, and thought leaders from the DeFi, tech, and entertainment industries.
It describes itself as a fully integrated, experiential event that will celebrate co-creation, curiosity, and connection. And, there's a lot of emphasis on celebration. Included in the event schedule is parties, music, and entertainment. They will combine their ILR conference with its host city's vibrant nightlife and immersive metaverse integrations.
---
Location: Paris, France
Date: 21 March 2023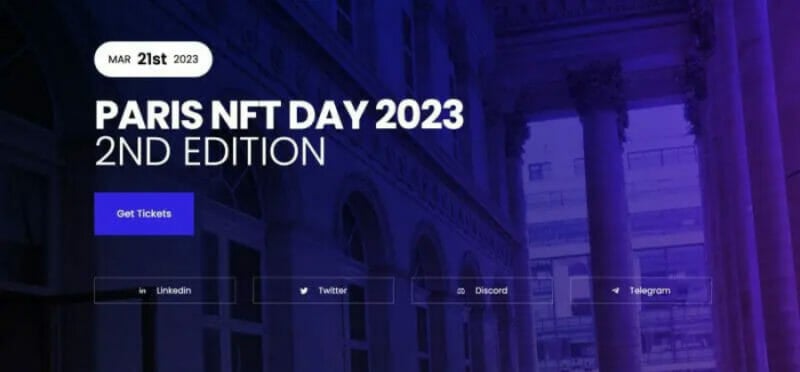 If you plan to visit the French capital for the Paris Blockchain Week Summit, consider arriving a day earlier so that you can experience the second edition of Paris NFT Day. On their website, they summarize it as "a journey into the business of NFTs and the Web3 ecosystem". There will be conferences to help you understand who the players are and a chance to meet them in person.
---
Location: Paris, France
Date: 20 March – 24 March 2023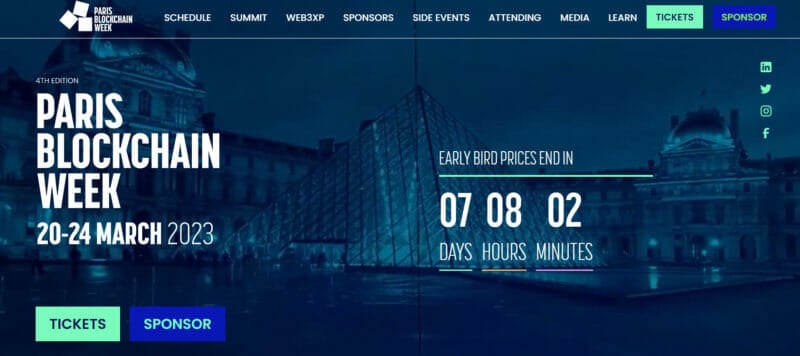 If you can't make it to NFT LA in March because you find yourself at the opposite side of the world, you can check in at the Paris Blockchain Week Summit (PBWS). According to their website, it's Europe's largest blockchain and digital assets event. Over the course of the event, leading blockchain names will hold several events all over Paris. From meetups to workshops to hackathons to conferences, there will be more than enough chances to share your insights, meet the NFT community, and unwind with 6,000+ attendees.
Sessions will include topics like:
DeFi

NFTs

Decentralization

Governance

International regulations

Traceability
---
Location: Hong Kong
Date: 29 March – 30 March 2023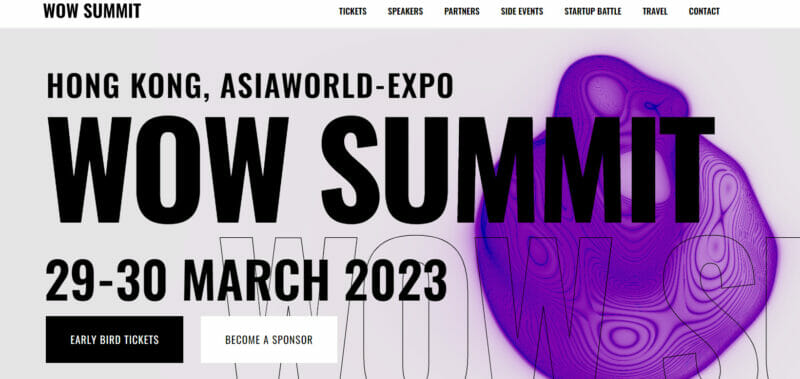 The World of Web3 (WOW) Summit is a global series of conferences that are held in over five countries across the globe.These events attract thousands of attendees from various countries. Here international leaders in the NFT and DeFi industries can connect with global businesses, tech visionaries, and investors.
As mass adoption of Web3 is already taking place in Hong Kong, it makes it a very strategic location for one of 2023's events. In addition to NFTs, other topics that will be covered in the new year include:
Web3 infrastructure

CBDC

Blockchain adoption

Cyber security

The metaverse

Digital ID

Effective mining methods
In addition to the conference, there will also be an art exhibition where NFT creators, artists and designers can showcase their world and a business expo area where some of the most innovative NFT projects will be put on display. So, it can be a great place to boost brand awareness.
---
Location: Miami, Florida
Date: 31 March – 2 April 2023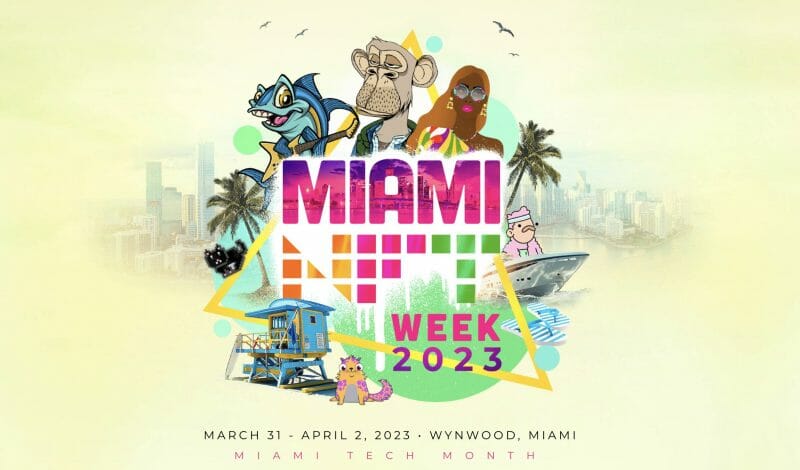 This in-person, three-day event will teach you all the important things about NFTs. From creative art installations to competitions to panels to performances, it promises to offer a little bit of everything.
Not only is the schedule impressive, but so too is the venue. It will be held at Mana Wynwood Convention Center, an important venue right in the middle of the city's arts and entertainment district that's known for its nightlife and rich art scene.
The speakers scheduled so far include:
Avery Akkineni, president of Vayner3

Mark Cuban, owner of Dallas Mavericks

Swan Sit, former Global Head of Digital Marketing at Nike and current "Queen of Clubhouse" according to Forbes
---
Location: Banff, Canada
Date: April 2023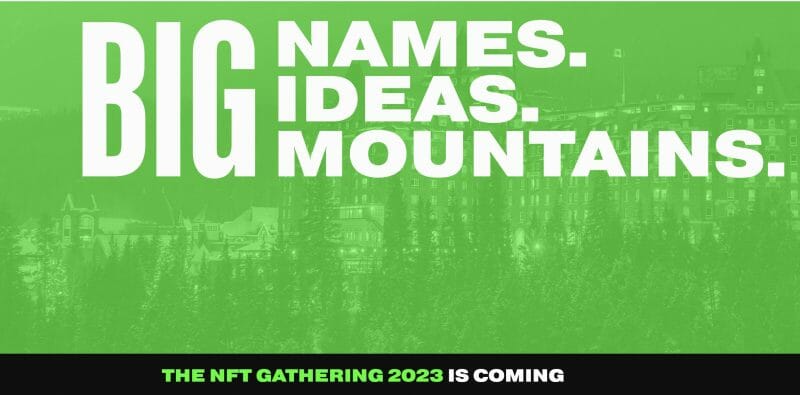 Brought to you by NFTz.Studio, The NFT Gathering (NFT) focuses on the NFT community, art, and vision and promises to leave you feeling inspired. Their lineup of speakers (which still need to be announced) will share insights about what the industry's future has in store. While not a lot has been revealed about this upcoming event yet, the location alone is reason to attend. Whether you're a community founder or a newcomer, everyone is welcome at this first annual event.
---
Location: Austin, Texas
Date: 26 April – 28 April 2023

Brought to you by CoinDesk, Consensus is a crypto festival that includes live music, unique activations, and networking opportunities. According to their website, it's the biggest and longest-running gathering where the crypto and blockchain community meet that include builders, storytellers, and creators.
At 2023's event, new strategies for mobilizing communities will be explored, while new standards for accountability and transparency will be established. All events are first come, first served. So, make sure that you're right in front to become one of the leaders in NFTs.
To give you an idea of what you can expect, past speakers included:
Dan Schulman, President and CEO of PayPal

Brian Armstrong, CEO and co-founder of Coinbase

Gary Vaynerchuk, Chairman and CEO of VaynerX and VaynerMedia

Edward Snowden, President of Freedom of Press
---
Location: Estonia
Date: 9 May -10 May 2023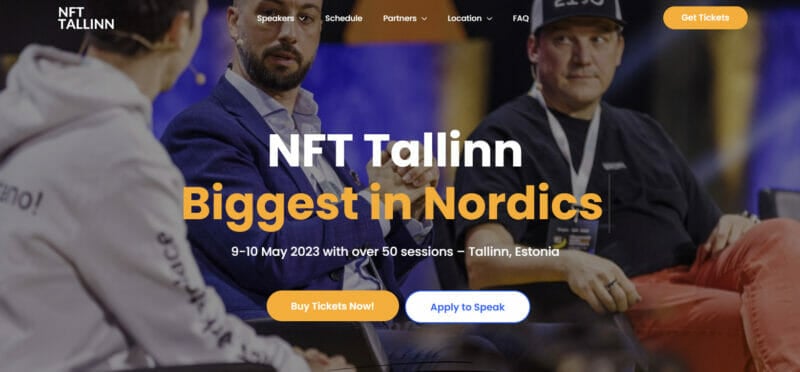 NFT Tallin is the largest conference about NFTs and Web3 in the Nordic and Baltic regions. The carefully curated list of leading speakers will explore NFTs, DeFi, DAO, and gaming to mention only some of the highlights.
While 2022's event was the first one, it already hosted a number of impressive speakers like:
Johannes Tammekänd, Co-founder of NFTPort

Jakub Chmielniak, CEO of Fanadise

Vivek Prasannan, co-founder of Polkadex

Shirly Valge, COO of Velas

David Prinçay, Binance's Head of Marketing for Europe
---
Location: Istanbul, Turkey
Date: 8 May – 11 May 2023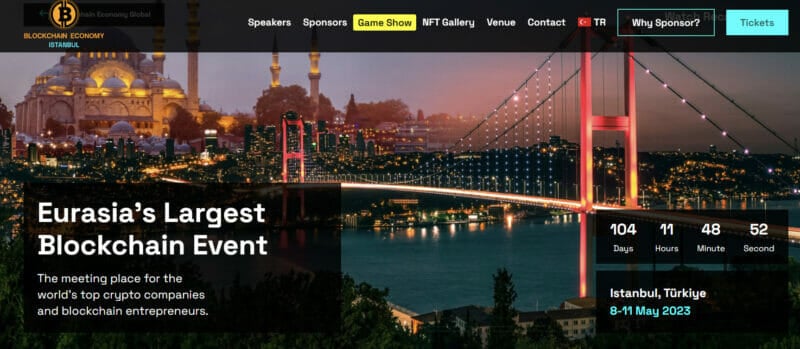 The biggest blockchain event in Eurasia is coming to Turkey for the fifth year. Here, important players and experts in the crypto sector will discuss the future of finance and explore financial technologies.
Over the years, this annual event has attracted a number of well-known names in the field that included the likes of Lou Yu (Head of KuCoin Labs), Tim Draper (Draper Associates), and Alexandre Lemarchand (Ledger).
Last year's agenda included sessions like:
An overview in trading methods

Digital resources for the future

Taking blockchain gaming mainstream

Cryptography and modern trends in digital education

Mass adoption of NFTs through the gaming ecosystem
---
Location: Lisbon, Portugal
Date: 7 June – 8 June 2023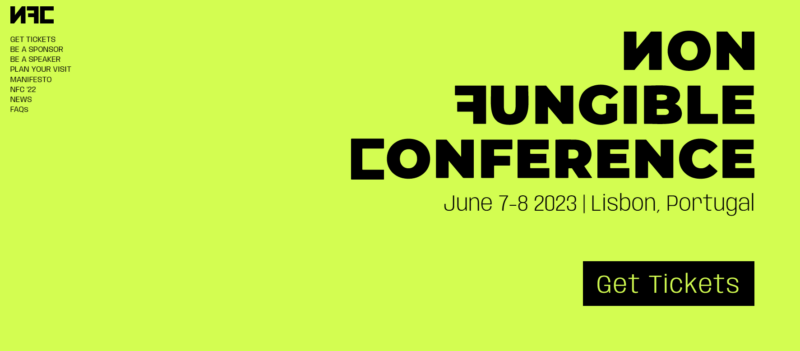 Non-fungible Conference (NFC) will return in 2023 to Portugal's capital. While not a lot of info has been made available about next year's event yet, organizers promise that it will have the same vibe, but just a bit bigger and more inclusive.
To give you a better idea of what you can look forward to, last year's sold-out event attracted 2,500 attendees and included international speakers and artists like:
Olivier Moingeon of Exclusible, a premium NFT platform for luxury digital collectibles

Mei Chan of ConsenSys, a blockchain software technology company

Justin Aversano of Quantum Art

Brian O'Hagan of Sorare
Topics that were explored included:
The future of collectibles

The future of cryptoart

eSport

The latest metaverse projects
---
Wrapping Things Up
These events cover only the first half of 2023. As schedules and conference themes get finalized, you can expect more events to be announced. The crypto space is making massive waves and the best way to catch the wave is to make sure that you add a few of these dates to your calendar. Whether you purely want to gather educational content or want to mix business with pleasure, you'll find an event that resonates with you.