As the second-biggest search engine, YouTube has a wealth of information. From product reviews to pastry lessons, you can virtually find everything on YouTube.
Want to learn how to play your favorite tune on guitar? Just watch a guitar lesson? Too lazy to learn guitar, but want to unwind to music that suits the moment? Check out YouTube Music.
You get the picture.
Though, if there were an issue with YouTube's videos, it would be that you need to have an internet connection (and a reliable one). In life, that's not always the case. Plus, sometimes the most opportune time to catch up on YouTube content is when you're commuting.
The solution – downloading video files to your devices. This way you can get all the benefits offered and upskill without necessarily having to be bound to the office.
In this article, we take a look at why it's a good idea to get YouTube Premium. For a step-by-step guide on downloading YouTube videos, continue reading.
---
How to Download YouTube Videos on Android and iOS (and What to Download):
---
Is It Legal to Download YouTube Videos?
First things first, let's get the less interesting legal mumbo jumbo out of the way. Technically, YouTube's Terms of Service forbids users from downloading videos. This is what it's Terms of Service (that page that you most likely agreed to without reading a word) says about the matter:
The following restrictions apply to your use of the Service. You are not allowed to:
Access, reproduce,
download
, distribute, transmit, broadcast, display, sell, license, alter, modify or otherwise use any part of the Service or any Content except: (a) as specifically permitted by the Service; (b) with prior written permission from YouTube and, if applicable, the respective rights holders; or (c) as permitted by applicable law;
If you want to use the platform, you'll need to adhere to this regulation. Same goes for downloading TikTok videos.
Also, you'll need to keep in mind the specific copyright laws of your country too. For example, in the US, it's illegal to download copyrighted material like movies or sporting moments. That said, it's not a criminal act to download Creative Commons content, public domain videos, and videos to which the rights to distribute and modify have been granted. However, downloading this type of content remains against YouTube's Terms of Service.
Before you think that you're wasting your time and stop reading, there's a legal "loophole" – YouTube Premium.
---
What's YouTube Premium?
YouTube Premium (formerly called YouTube Red) is YouTube's paid subscription service. One of its features is that it allows you to download and save videos to your mobile device so that you can listen to them at a later stage when you're offline. However, sadly this feature isn't available on a laptop or desktop. You'll only be able to do it via the YouTube mobile app.
For only $11.99 per month, it also offers ad-free listening and in the background play. So, you can watch videos without that "you-can-skip-the-ad-in-5-seconds" button from spoiling your listening experience and continue using other apps while the videos continue to play in the background. These two features alone are good enough reason to sign up for the paid subscription.
However, the reason why you're reading this article is to find out about how you can download YouTube videos (legally), so back to that.
---
Where is YouTube Premium Available?
Sadly, YouTube Premium and YouTube paid memberships aren't available in all countries. It's currently available in 95 countries. For example, it's not available in China and North Korea.
That said, you'll be able to access it from most countries including the United States, Canada, Mexico, Australia, New Zealand, the United Arab Emirates, India, Russia, the United Kingdom, and a number of African countries.
---
How to Download YouTube Videos With YouTube Premium
If you want to download videos (or playlists), here's what you need to do:
Step 1: Sign in to your YouTube premium account.
Step 2: Open your YouTube mobile app and start watching a video.
Step 3: Click on the Download option. It's the icon with the arrow pointing downwards. You'll find it below the video player.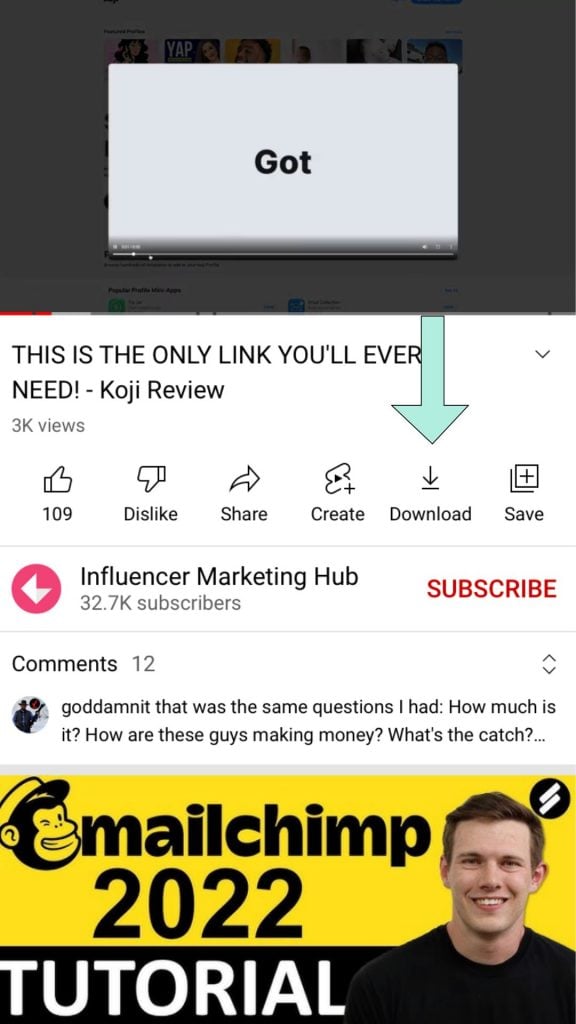 Step 4: Select the download quality. Your options are:
Full HD (1080p)

High (720p)

Medium (360p)

Low (144p)
Note: You'll only be given this option the first time that you download a video. If you want to change the download quality, you'll need to go to Settings (you can scroll down to the Changing Video Download Quality section in our article for further instructions).
Step 5: Once the video has downloaded completely, you'll see the Downloaded icon. It's a tick mark. It will show up below the video player in the same place where you found the Download button.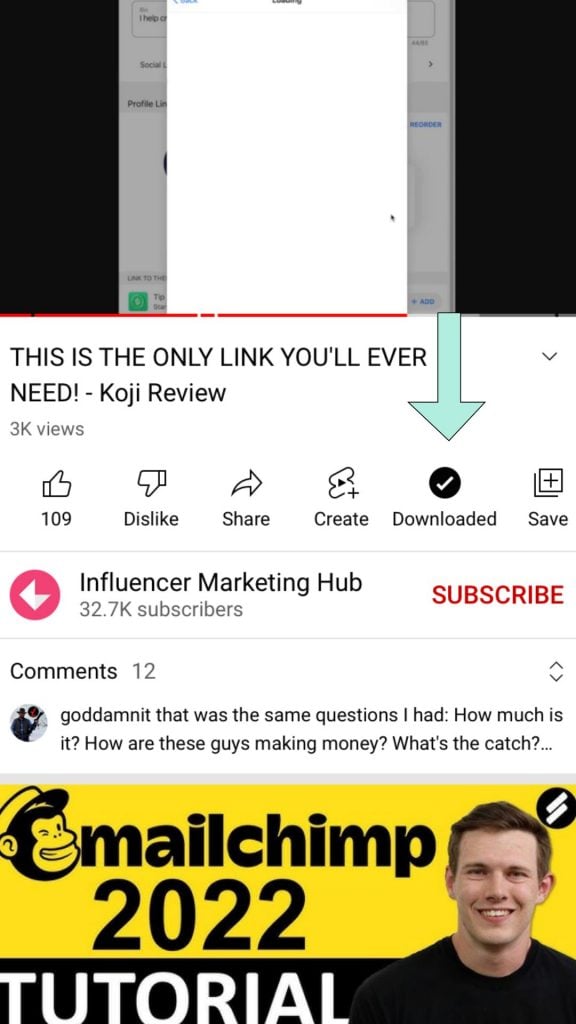 Step 6: Go to your Library (you'll see it right at the bottom of your screen in the right-hand corner) and select Downloads.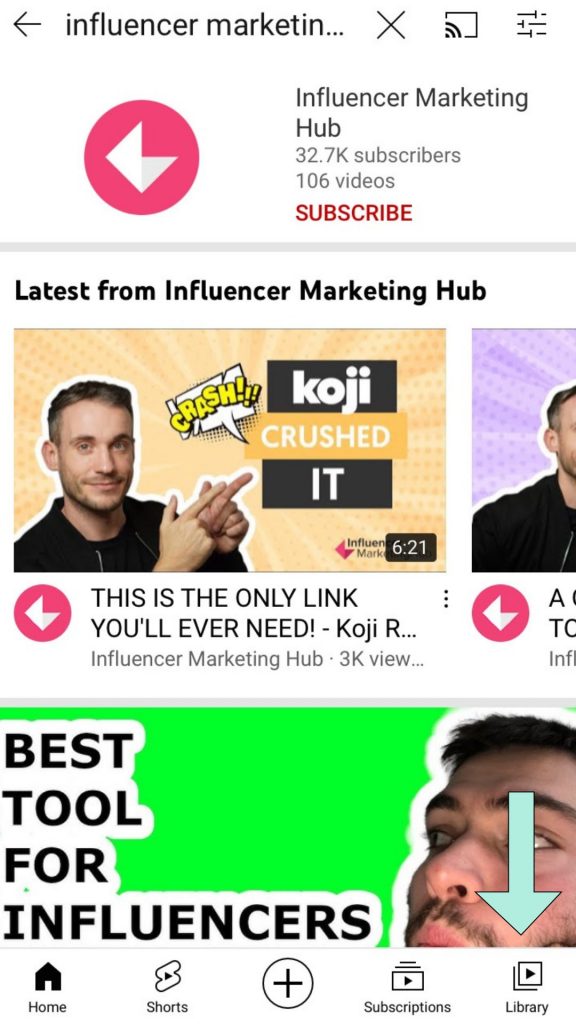 ---
Deleting Videos That You've Downloaded via YouTube Premium
If you want to delete a video that you've downloaded, you simply need to click on the Downloaded icon. Then, click on Delete.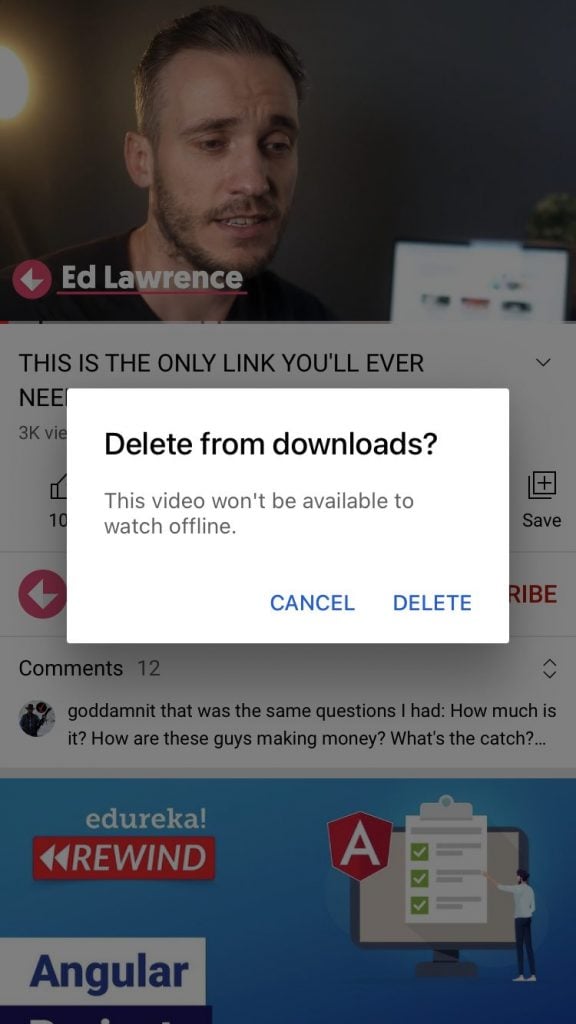 ---
Changing Video Download Quality
If you want to change the default quality, here's what you need to do:
Step 1: Open the YouTube app and click on your profile pic.
Step 2: Tap on Settings.
Step 3: Click on Background & downloads.
Step 4: Click on Download quality and select from the options which quality you want moving forward.
Alternatively, you can select the option Ask each time. This is a good idea if you don't necessarily want the same quality for all the videos. Also, not only do high-quality videos take longer to download but they also require more storage space. So, you could, for example, use the best quality only for shorter videos or those videos where quality really matters.
---
Changing the Connection Type
Some mobile devices might require that you're connected to a specific type of connection in order to be able to download videos. This is usually a Wi-Fi network by default.
If you want to enable downloads via a mobile network, you can do so by going to Settings.
Here's how:
Step 1: Open the YouTube app and click on your profile pic.
Step 2: Select Settings.
Step 3: Click on Background & downloads.
Step 4: Drag the toggle to disable Download over Wi-Fi only.
---
Possible Troubleshooting Steps
If the video that you've selected doesn't want to download, remember to check how much storage space is available on your mobile device. According to YouTube Help, you'll need more than 5% storage space available to download more videos. In this case, you'll need to delete a few videos to free up more space.
If the video failed to download completely, it could be that you've lost connectivity. So, be sure to check that you're still connected to the internet. Once connectivity has been restored, your download will automatically resume again.
Lastly, as mentioned earlier, some content like movies may not be available to be downloaded because of other copyright restrictions. So, if you have enough storage space and you double-checked that you're still connected to Wi-Fi but can't download a specific video, this might be the reason.
---
Five YouTubers to Download
Now that you know that it's in fact possible to download videos legally, the next question is what to download? Data and storage space aren't always unlimited, so you might have to be selective. And, even if you had access to uncapped internet and had a Dropbox account with 5 terabyte, you have only 24 hours in a day and you don't want to waste it on watching mediocre content.
The following are some of the most popular YouTubers to watch out for in the coming year(s):
With 74 million subscribers, the 5-Minute Crafts YouTube channel is one of the top channels by subscriber count. From DIY shirt designs to kitchen gadget hacks to upcycle ideas, you'll find life hacks that you'll want to save for when you need them. It describes itself as a channel where you can learn to "experience the joy of doing it yourself". Considering that you've read this article to find out how to download YouTube videos yourself, it's a safe bet to say that you'll enjoy this channel.
---
Unlike the 5-Minute Crafts channel, you'll probably not be able to do any of the trickshots that the Dude Perfect crew share in their videos yourself. That said, while the channel initially mainly focused on trickshot videos, it has grown a lot to include many other types of content like funny stereotypes and informal product reviews. In fact, today, they're one of the highest paid stars on YouTube and their estimated earnings for 2021 alone was $20 million.
All in all, their content makes for hours of entertainment. Plus, you'll probably find yourself "rewinding" some bits multiple times to figure out how they managed to pull off that shot, making it the ideal videos to download for offline viewing.
---
If you want to start your own YouTube channel, you'll want to study PewDiePie (more formally known as Felix Kjellberg). For many years, he was the most popular YouTuber across the world and in 2021 he also made the list of the highest paid stars on the platform with an estimated earnings of over $15 million.
That said, you don't want to follow exactly in his footsteps as his career on the video-sharing platform had its fair share of controversy. Who knows what he would have achieved if it weren't for the inappropriate content at times.
If you don't necessarily have plans to start your own channel but simply want to enjoy some live streaming of games when you're offline at a later stage, this is a good place to start. He's one of the top gamers and often collaborates with other well-known YouTubers.
---
Cooking shows is another genre that can make for great offline viewing. If you find a recipe or idea that you want to try out later, you can download the video for when you're in the kitchen again.
You can, for example, check out Rosanna Pansino's YouTube channel. She's one of the top female YouTubers and likes to bake sweet treats. To give you an idea of how popular she is, her video in which she bakes a Disney princess cake with her sister got more than 224 million views.
---
One of the great benefits of downloading videos is that it lets you create a library of resources that you can access whenever you're on the go. To keep you going, why not download a couple of fitness classes? There are several great YouTube fitness influencers that share flexible programs that can be followed by anyone.
Not only has Kayla Itsines been recognized as one of the top fitness influencers, but the Times has also identified her as one of the most influential people on the internet. So, by following her videos you can get in shape while learning more about what it takes to make it online.
---
Wrapping Things Up
Sure, there are other ways to download YouTube videos too. However, many of these free online tools are associated with malware.
Plus, considering that YouTube Premium costs only $11.99 per month and offers other benefits as well, we believe that it's the right way to go about it (and by right we don't just mean in a legal sense). There are countless useful videos on YouTube that will help you to start an online business or become a (better) content creator and if you're going to be spending hours on YouTube learning from others, you definitely don't want those valuable lessons to get interrupted by ads.