Catalyzed by the effects of the global pandemic, with consumers being compelled to stay at home, the e-commerce landscape has rapidly grown and brand distribution channels are now evolving. More direct-to-consumer (DTC) brands have sprouted, taking advantage of the ever-growing customer base making purchases and conducting transactions online. It's estimated by the end of 2022, the U.S. DTC landscape will reach a record of $151.2 billion in sales.
---
---
The Top Direct-To-Consumer Brands to Follow in 2023:
---
What is DTC or Direct to Consumer Brands?
Direct-to-consumer brands or DTC brands refer to companies that sell directly to their customers instead of going through wholesalers or retailers—middlemen that were once a necessity to get a product to consumers.
With direct-to-consumer selling, the brand gets full control of the customer experience. They can access and collect first-party customer data, which is important for conducting e-mail marketing campaigns. DTC brands also get full control of their margins. They can choose to place things on sale or increase their prices to raise ROI.
---
The Rise and Importance of DTC Brands
It was in early 2000 to 2010 when new companies started to take full advantage of what the Internet has to offer. Brands like Warby Parker, Bonobos, and Everlane set up their digital e-commerce stores, heavily promoting them on social media to acquire customers and sell directly to them.
DTC brands are often associated with millennial shoppers. These shoppers place a lot of emphasis on their experience, opting for brands they see as reliable and trustworthy. Some common practices for DTC brands today are sending personalized e-mails, using unique Instagrammable packaging, and providing excellent customer service.
If you're curious which DTC brands to keep an eye out this coming year, here's a list of direct-to-consumer brands worth keeping on your radar.
---
Top DTC Brands to Watch Out For in 2023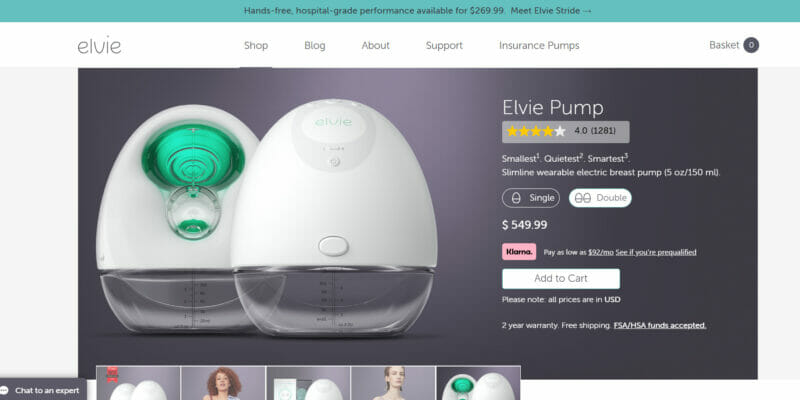 Year founded:

2013

Location:

London, England

What the company is about:
Elvie is a women's health tech brand that has slowly carved out a space in the e-commerce DTC market. Its main product is a smart, discreet breast pump designed for mothers who are tired of the old-fashioned pump. It was founded by Tania Boler, and the company used to offer pelvic floor Kegel trainers before moving on to Elvie.
Elvie's clever use of marketing, emphasizing and uplifting mothers without making light of their experiences, has dubbed the brand as the "Apple of Women's Health." It also showcases one of the best traits of a DTC online brand—it provides excellent pre and post customer service sales, sending out e-mails to buyers with proper information and tips to ensure that they are guided during their initial use of the product.
---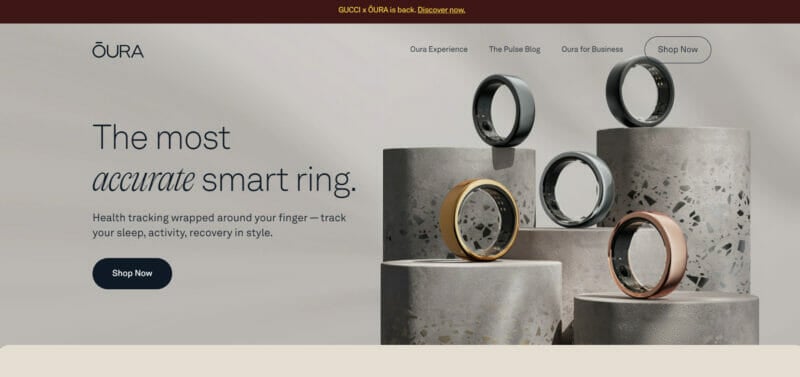 Year founded:

2013

Location:

Oulu, Finland

What the company is about:
Oura is a wearable ring that helps track a person's health metrics. Its singular focus, according to the brand, is to "improve the way we live our lives."
Oura rings are crafted from durable titanium. It's water resistant up to 300+ feet and designed with a hypoallergenic coating. This tiny ring uses Bluetooth technology, is completely wearable even on airplanes, and offers up to 4-7 days of battery life in one charge. This unique technology makes it a successful and unique DTC brand.
Oura knows its market. It caters both to the millennial techie and the health conscious. Oura can monitor sleep activity and keep track of heart rates during training or exercise and on rest mode. It even has built-in guided meditation sessions and can measure blood oxygen levels.
What sets it apart is, unlike other fitness trackers which are in the form of a watch, the Oura ring weighs under 0.1 ounces. It works with the smartphone and syncs automatically with other health apps.
---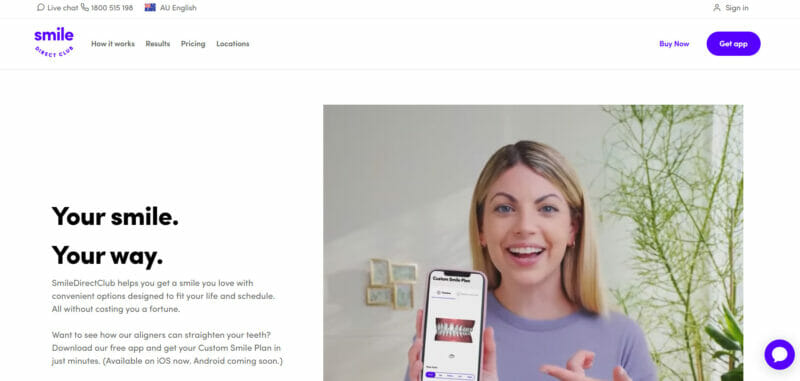 Year founded:

2014

Location:

Nashville, Tennessee

What the company is about:
Smile Direct Club is a direct-to-consumer brand that sells teeth aligners and teeth whiteners. The process involves having the customer request a kit or visit their SmileShops to get their teeth scanned. Expert orthodontists and dentists check if the client qualifies for aligners. Those eligible will get a custom treatment plan with check-ins, aligners, and assessment throughout the duration of the treatment.
Smile Direct Club was founded by Alex Fenkell and Jordan Katzman in 2014. The idea came about when the two experienced having metal braces during their youth. They wondered whether there was a better alternative and thus formed SmileDirectClub.
By eliminating the middleman, the company has bridged the gap between expensive oral care treatment and consumers who want the service. It also connected over a million customers to certified dentists and orthodontists.
The brand relies heavily on data-driven marketing, even developing creatives through an in-house agency. They've also started utilizing influencer marketing strategies that involve getting customers to share their stories. This type of marketing offers a great emotional tug and lends the company significant credibility.
---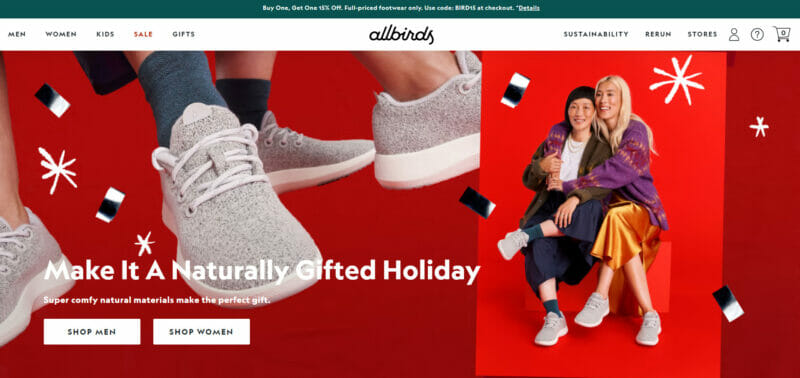 Year founded:

2014

Location:

San Francisco, California

What the company is about:
Allbirds is known for their beautiful Merino wool products. It started with revolutionary Merino wool footwear and has now expanded to various items. This emphasis on eco-friendly products has allowed the company to produce unique items and offer a sustainable solution that's aligned with its brand values.
Founded by Tim Brown and Joey Zwillinger, Allbirds focuses on sustainability. This is one of its strongest brand points, aside from creating quality products. The company is a B Corporation, which means it's certified for creating sustainable change and has solid environmental practices. This is the same badge of honor displayed by companies like Casper and Grove Collaborative.
---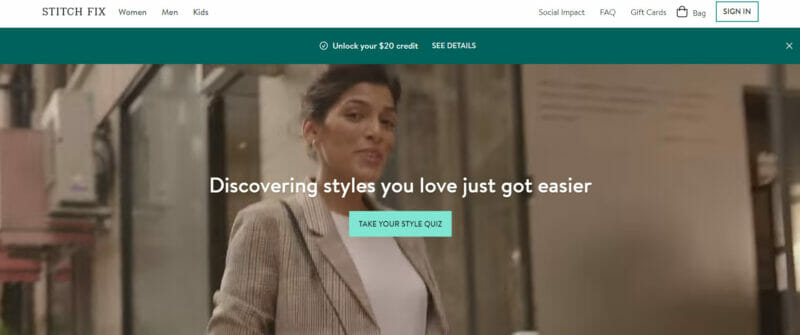 Year founded:

2011

Location:

San Francisco, California

What the company is about:
Stitch Fix revolutionized the clothing shopping industry by providing consumers with an option to grab a curated set of clothing or "fixes," so clients won't have to deal with the hassle of shopping for clothes. Customers take a style quiz and choose which clothing they like or don't. This allows the company to create a personal clothing box filled with useful garments clients will use.
Stitch Fix has taken the old model of personal styling and transformed it into an accessible service to any customer, almost worldwide. Many have described it as "Tinder for clothing", and with the amount of data it acquires, it's allowed the company to soar and become one of the most sought-after DTC brands in 2022.
---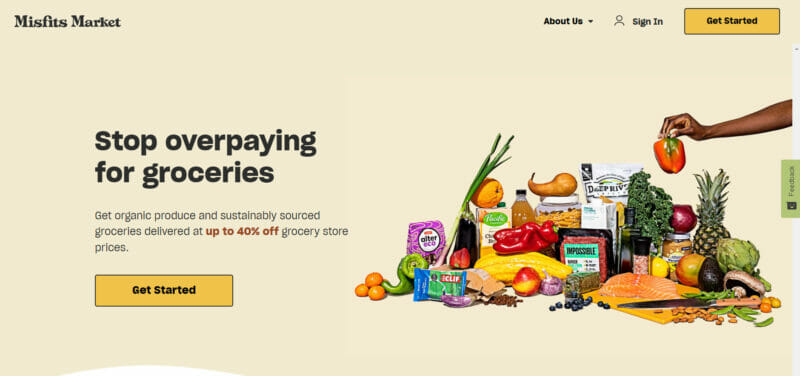 Year founded:

2018

Location:

Delanco, New Jersey

What the company is about:
Misfits Market is an e-commerce subscription box that delivers fresh organic produce. These are usually fruits and veggies that haven't passed retail standards, either because they're misshapen or smaller/bigger than they should be. As a result, the produce can be sold at a cheaper price.
First founded in 2018 by CEO Abri Ramesh, who noticed the opportunity for "ugly" produce when he went apple picking in Pennsylvania. He turned the opportunity into a multiple million-dollar business with over 1,000 employees under its wing.
---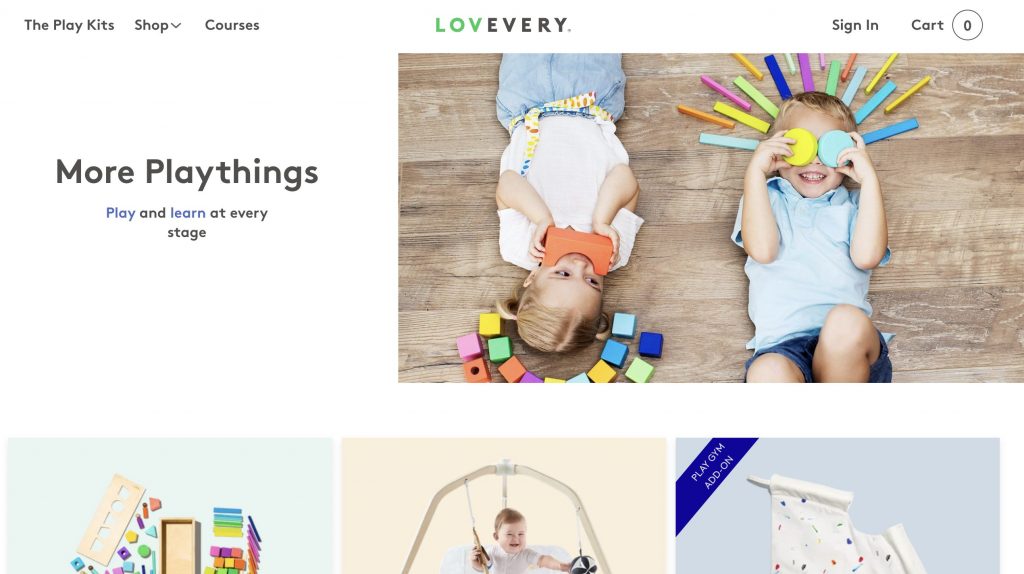 Year founded:

2015

Location:

Boise, Idaho

What the company is about:
Lovevery creates educational games, toys, and various play-kits for children, offered to customers through a subscription form. The toys are created with the help of child development experts as well as physical therapists, so they follow the Montessori educational model.
Founded by Jessica Rolph and Roderick Morris, Lovevery is a social enterprise focused on helping young kids during early development. Its products have science-backed toy designs and are made from sustainable, non-toxic materials. Rolph also founded the successful DTC brand, Happy Family, prior to founding Lovevery.
---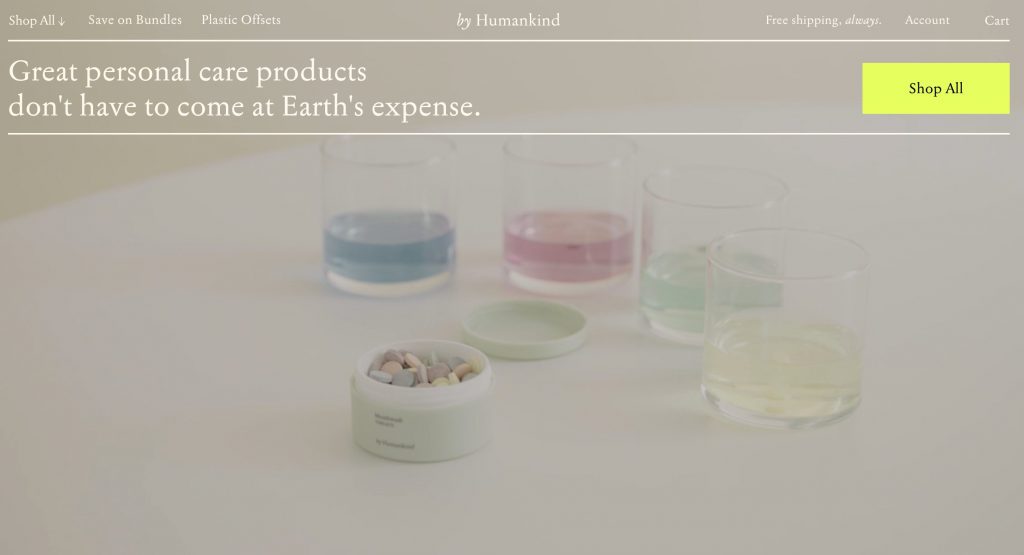 By Humankind is a startup company that produces sustainable, cruelty-free person
Year founded:

2017

Location:

New York, United States

What the company is about:
al products. From toothpaste, deodorants, floss, or toothbrushes, the company offers bundles and sends these products on a monthly basis to subscribers. The packaging and containers are also made from recycled plastics.
With a millennial-friendly DTC business model, By Humankind has seen sales increase especially during the pandemic. According to the CEO Brian Bushell, the company initially considered selling its products on physical retail shops. However, 95% of their sales are from their website.
---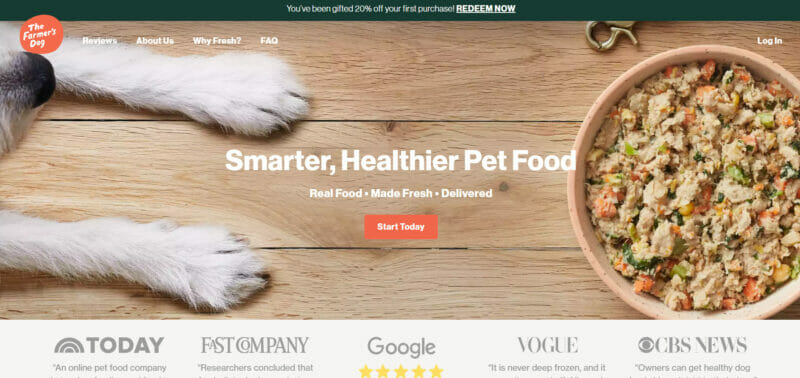 Year founded:

2014

Location:

New York, United States

What the company is about:
The Farmer's Dog is a direct-to-consumer dog meal service that sells certified human grade food for your pets. All of the meals provided are freshly prepared and sent directly to the customer, ensuring it's safe for their furry friend.
The Farmer's Dog is one of several companies that have tapped into the multimillion-dollar industry of pet meals and products. Since they started in 2014, the company has provided hundreds of jobs in two of their main locations, New York, and Nashville. The pet industry in the United States is huge. In 2020, it's estimated pet owners spent over a billion dollars on their pets.
---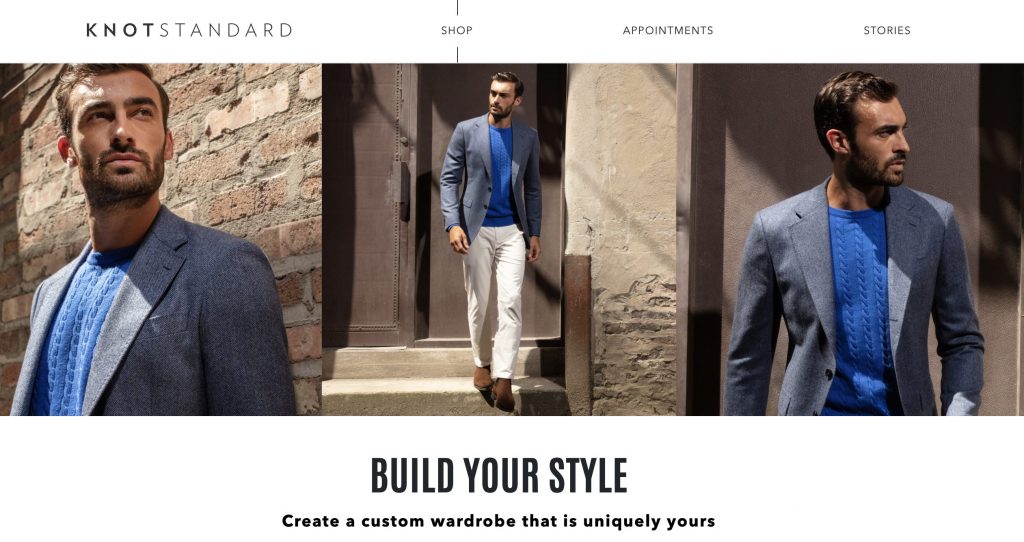 Year founded:

2011

Location:

New York, United States

What the company is about:
Knot Standard makes custom-tailored suits accessible for everyone. Since it was built, the brand has grown into a large company. It specializes in customizing men's suits, performance apparel, wedding apparel, and black-tie items.
The company is among the first to offer custom-tailored suits to consumers directly. They develop each pattern specifically for just one person so each client receives a one-off piece, heightening the value of the garment. They've recently expanded to physical retail, setting up spaces in retail shops so customers can do a walk-in fitting as well.
---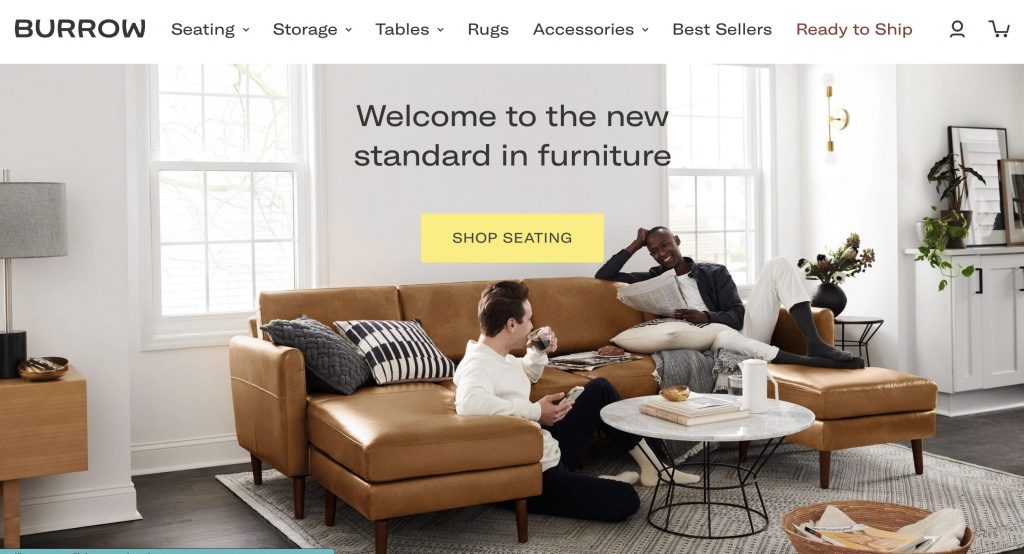 Year founded:

2016

Location:

New York, United States

What the company is about

:
Burrow is one of the first DTC furniture businesses that is giving consumers a new option when buying home furniture. Instead of cheap DIY furniture, Burrow focuses on providing high=quality, modular furniture that is long lasting, easy to transport, and beautifully designed.
Founders Kabeer Chopra and Stephen Kuhl started the company after experiencing the pain of choosing and buying furniture in their college days. Their options included bulky expensive furniture that was difficult to move into a small space. And although IKEA provides lightweight, portable alternatives, pieces from there usually require hours of assembly.
After this experience, the two friends decided to solve both issues by developing luxury modular furniture that's easy to assemble and made with fantastic quality. They focus on customer service, solutions to customer problems, while providing the convenience of having the furniture shipped directly without any long wait time.
---

Year founded:

2015

Location:

Boston, Massachusetts

What the company is about:
LOLA develops period and reproductive health products with the aim of providing transparency when it comes to what these products are made of. It offers 100% cotton pads, tampons, feminine wash, and other reproductive health items.
LOLA is transforming how women are viewing their use and their options for women's health products. Because its products are essential, LOLA offers subscription boxes. It also partnered with major retailer, Walmart, in 2020 to get its product to the hands of more consumers.
---
Wrapping Up
Direct-to-consumer brands are known for being disruptors. Many of them offer a customer-centric, hyper-focused approach when it comes to delivering their services and their products. They make use of social media and capitalize on repeat customers who function as their brand ambassador. A hallmark of DTC brands is focusing on one or a few key products to start before expanding to other SKUs.
Frequently Asked Questions
What is DTC example?
A DTC brand is a brand that controls all elements of their selling experience. That includes manufacturing the product, marketing the product, and selling the product directly online to their target audience. Examples of DTC businesses include Warby Parker, Burrow, Glossier and Hyphen Sleep.
What does DTC mean in marketing?
DTC means direct-to-consumer. Direct-to-consumer (DTC) marketing means any methods a business uses to promote and sell products directly to consumers – versus a retail business. Brands like Everlane, for example, could opt to work with Walmart or Amazon to sell their products DTC.
Is Amazon a DTC?
Amazon is a powerful DTC platform. As a DTC brand, you have more flexibility to try out different platforms and techniques to grow your business. Many companies and small businesses use Amazon to help grow their DTC presence.
Is Nike a DTC brand?
Nike is a trailblazer in the DTC space. Nike drives its revenues and market share by adopting to trends quickly. Nike's competitors, like Adidas and Under Armour, are shifting to DTC, but they are playing catch-up.