DTC (Direct-to-Consumer) retail is no longer limited to digitally native brands. Traditional retailers are also adopting the same strategies, especially as they strive to compete in a post-pandemic world.
Direct-to-Consumer (DTC) sales are projected to keep growing as more brands move to the eCommerce space and established DTC players continue to expand their existing market. It's projected that in the US alone, digitally native brands will reach $44 billion in sales by 2023, and established DTC brands will reach $138 billion in sales.
While most of the DTC trends in 2022 will continue to 2023, there are new emerging trends that brands should watch out for. Understanding these trends will guide your business as you launch and sustain your DTC strategy in 2023 and beyond.

In this article, you'll learn more about Direct-to-Consumer retail and the DTC trends to look into this year.
---
---
16 Direct-to-Consumer (DTC) Trends in 2023:
---
What is a Direct-to-Consumer Model?
DTC existed even before the pandemic, but it experienced a major boom when the pandemic caused a major shift in consumer buying behavior.
Direct-to-consumer simply refers to the retail strategy where brand manufacturers sell their goods straight to customers instead of going through middlemen like department store chains or online retailers.
It sounds simple, but it compels brands to understand their customers on a deeper level. It involves navigating the waters of order fulfillment, last-mile deliveries, product returns, and customer service. For big and established brands, it entailed added resources and more work versus simply managing retail partners.
And yet despite the challenges, more and more brands are going the DTC route and many are succeeding.
---
Top 16 Direct-to-Consumer Trends in 2023
DTC experts predict that these trends will guide brands as they conduct their businesses in 2023. Read on and apply what's practical for your brand.
1. Inflation causes customers to tighten their belts
The first trend is something not every brand wants to hear. Inflation is a global reality that's forcing consumers to cut back on spending and become more mindful of where to place their hard-earned money. CNBC has reported that in the US, even high-income consumers are reducing their purchases to stretch their dollars further.
DTC brands can work this reality to their favor by doing these tips:
Continue building your brand. Let your customers know what makes you unique and why they should choose you over the competition.

Invest in marketing campaigns with the highest returns. Leverage your existing data to determine the most efficient platforms that generate the greatest results.

Optimize the customer journey and focus on giving customers a seamless experience that turns them from casual buyers to brand advocates.
---
2. More traditional retailers will adapt DTC models
Despite customers starting to flock to physical stores, the convenience of online shopping will remain imprinted in the minds of many. With more customers becoming digitally savvy, expect that e-commerce will continue to rise.
Traditional retailers will want a piece of the action and will continue to adopt the same methods and strategies that helped digitally native brands thrive.
DTC allows brands to control their messaging and how their products are presented to consumers. L'Oreal has leveraged DTC to launch their Technology Incubator, which allows consumers to personalize products and the brand to be perceived as innovative.
---
3. Personalized stories are the key to standing out
With more brands entering the DTC space, it's becoming increasingly competitive to acquire new customers and retain existing ones. In 2022, 66% of DTC companies mentioned increasing customer acquisition costs as the main challenge in achieving their growth goals.
DTC brands need to adapt creative strategies to stand out, and one of the best ways to do that is to focus on telling stories that the customers can relate to. This isn't simply about telling your brand story – it's about blending the stories that your customers care about with the ones that your brand can relate to.
eCommerce is notoriously transactional, and brand stories, when done incorrectly, could backfire. Instead of drawing customers in, stories could send customers running. In telling a brand story, make the customers the hero and share how your products can help solve their dilemma.
---
4. Subscription pricing will remain popular
One major move to safeguard profitability is to have a solid pricing strategy. The e-commerce space is rife with deals and discounts, and competing in this arena can harm product margins.
In 2022, DTC brands started adopting subscription pricing – even for physical products. This involves a monthly recurring fee in exchange for replenishment of commonly used goods. It works well with products that renew regularly, such as bath essentials, pantry supplies, and even pet food.
DTC food brand, the Butcher Box, implements a "monthly box" subscription service. Customers can choose from pre-selected boxes or customize their own box. They further incentivize customers with free products for staying on their subscription.
For 2023, we will see more DTC brands following suit and offering the convenience of subscription pricing to their customers. It also becomes a huge incentive for customer loyalty and retention.
---
5. Wider adoption of BNPL and other flexible payment options
Shopping cart abandonment is one of the main pain points in e-commerce. With abandonment rates climbing as high as 70%, DTC brands must reduce this number to help improve profitability.
One trend from 2022 that continues to 2023 and is meant to improve this number is the availability of flexible payment options. Aside from enabling the use of Apple Pay and Google Pay, DTC sites are also offering "buy now, pay later" (BNPL) schemes which work well for expensive products.
Consumers are loving this type of payment scheme because they can receive their orders by initially paying a fraction of the cost. In some cases, no upfront fees are collected. Interests are minimal or non-existent, making this type of consumer financing better than using banks and credit cards.
Schemes like these are made possible by fintech startups like Afterpay, Affirm, and Klarna. DTC brands are turning to these financial payment solutions to draw customers to their websites. It helps that these startups also advertise brands that offer the BNPL scheme in their own apps.
---
6. Lesser dependence on paid advertising
Launching a DTC brand used to be easy. Simply set up a Shopify site, place your products, run Facebook ads, and work with a fulfillment center. The ability to easily and quickly run ads on Facebook and Instagram was a key to the growth of many DTC brands.
However, that came crashing down with the iOS 14 update. Apple users now can control how third-party apps, like Facebook, access and track their data. This makes it harder for advertisers who rely on third-party data to accurately target their consumers. It's also harder for brands to gauge the return on their ad investments.
Paid advertising is only as effective as having a strong brand to begin with. Brands that have built a strong image through differentiation and storytelling are the ones succeeding in the face of paid ads' limitations.
Moving forward, DTC brands will have to go back to the basics of building a strong brand foundation that is not reliant on pixel data for customer acquisition.
Marketing teams are forced to explore other creative marketing channels such as SMS, email, print, and even offline locations to get consumers to shop from their online stores.
---
7. Increased importance on Zero-Party or First-party data
With the iOS update, consumers have become more mindful of how much data they share with advertisers. After Apple, Google followed suit and stopped using third-party cookies in Chrome. It's predicted that by the end of 2023, third-party cookies will be completely phased out.
But customer data is important for brands to provide personalized experiences and recommendations to their customers. In fact, 56% of customers expect personalization in their shopping experiences, and if DTC brands can't rely on third-party data, they must find a way to acquire first-party data.
First-party data (or zero-party) is information customers willingly share with brands and that the latter can use for ad targeting purposes. For some, merely asking for this data is sufficient. But for other brands, putting in a little creativity wouldn't hurt.
DTC makeup brand, Ipsy, has a creative way of asking customers to share personal data. Using personalization quizzes, the brand can gather relevant customer information that they use to recommend appropriate products.
---
8. DTC Brands offering offline experiences
Digitally native brands, that launched and grew online, are now seeing the need to have a brick-and-mortar presence.
Physical stores serve as venues for customers to test products and engage with the brand. Even if customers will purchase online, having a physical store serves as an added advertisement and marketing channel. Since advertising exclusively online has become expensive, having an on-site advertising channel helps alleviate huge ads cost as well as improve profitability.
Some DTC brands like AllBirds and Knix opened their own physical outlets. AllBirds has been expanding its store footprint by opening stores in Denver, Atlanta, Los Angeles, Chicago, and other areas. Knix is opening stores in areas like California where it has a high concentration of digital customers. Both brands have the same goal of complimenting their digital sales with in-person retail centers.
Other DTC brands are partnering with major retailers like Walmart, Nordstrom, and Target. By introducing their products in these channels, DTC brands expand their retail footprint. Large retailers, on the other hand, can tap younger markets who are fans of these digitally native brands.
E-commerce is becoming highly saturated and more competitive. DTC brands need to rely on other traditional methods, like brick-and-mortar stores, to stand out.
---
9. Continued fascination with NFTs make them great for loyalty rewards
NFTs will continue to be the rage in 2023 and if your target market appreciates this new technology, rewarding them with it will work wonders for customer retention.
DTC nutrition company Athletic Greens has moved to Web3 and announced that loyal customers will be rewarded with NFTs. Other brands have followed suit, such as Under Armour offering a Genesis Curry Flow NFT and Clinique offering a Meta-Optimist NFT.
NFTs can be offered to loyal customers and be used to build a community – something that DTC brands should consider as they face increasing advertising costs.
If you go this route, consider also using NFT-based communities as venues for beta tests and feedback groups.
---
10. Increased use of SMS marketing to reach customers
SMS is a simple but effective way to instantly reach your target audience. SMS marketing continues to be a reliable method to send promotional campaigns despite the proliferation of more advanced technology.
It has a 98% open rate, and 77% of buyers develop a positive perception of a company that uses SMS notifications.
For DTC brands, this provides a gold mine to engage customers and let them know of ongoing promotions and upcoming product releases. You already have your customers' phone numbers, so why not use them for more than just shipping updates?
Just be mindful of the rules surrounding SMS and never send spam content.
---
11. Resurgence of plain-text emails
HTML emails that carry your branding elements look great but have the highest potential to end up in Promotional (or Junk) folders. And with customers receiving dozens of promotional emails per day, your messages could end up unopened for good.
DTC brands are now mixing plain-text emails alongside beautifully-designed newsletters. Plain-text email feels more personal and has a higher chance of landing straight in a user's inbox.
However, not all messages can be effectively communicated using plain text, so carefully select which campaigns are done in plain text and which are done in full color.
---
12. Balance between wholesale and DTC channels
Traditional brands like Nike, Adidas, and Under Armour are capitalizing on the growth of athletics wear via the DTC model. Nike projects its DTC arm to be responsible for 60% of its total revenue by 2025. In 2010, DTC sales only made up 10% of Nike's overall revenue. In the past several years, Nike has transitioned to DTC and closed many of its wholesale retailers like Macy's, Urban Outfitters, and Zappos.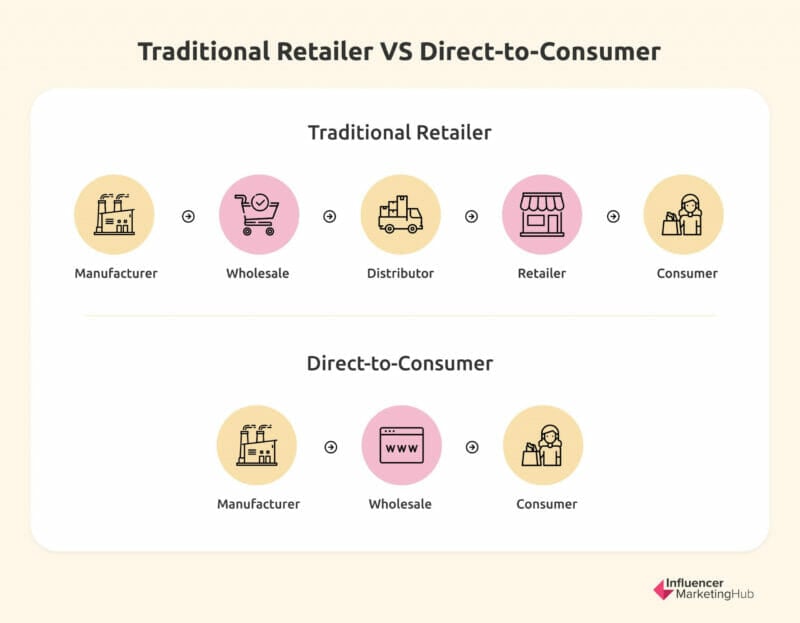 However, business analysts continue to question the profitability of relying on DTC sales over maintaining wholesale retailers. This came after seeing how wholesale sales provided higher margins despite brands getting more sales from DTC. In fact, pure-play e-retailers are two times more likely to report they are unprofitable versus brands with a brick-and-mortar presence.
To manage the changing landscape and maintain profitability, brands must explore both DTC and wholesale channels. Once DTC-exclusive brands like Casper have been increasing their retail footprint by partnering with major retailers like Costco, Target, Sam's Club, and Nordstrom. The brand now has 25 retail partners across 72 retail stores.
Coresight Research predicts that more brands will continue to adopt a hybrid DTC-wholesale model as the need to strike a balance between the two retail strategies becomes more evident.
---
13. Customer-Centric Product Returns Policies and Processes
Product returns are often seen as a "boring but necessary" part of e-commerce operations. However, fear of returns has consistently discouraged customers from purchasing online.
The survey showed that 3 out of 5 respondents (from the US, UK, and France) preferred free return shipping with 2 out of 5 preferring refunds via the original payment method.
Product returns policy and processes will be a major game-changer for DTC brands. It will be the main differentiator for customers in deciding which brand to purchase from. Brands need to rethink their returns strategy and consider improving their internal returns processes, refund insurance, and return locations. Furthermore, brands should improve their products and how they present them to avoid returns in the first place.
DTC brands that are customer-focused will strive to understand what their customers want and stand out in a sea of highly competitive offers.
---
14. Increased emphasis on building closed-community platforms
Growing an audience on social media is an essential DTC marketing strategy. A highly engaged audience is a guaranteed way to increase brand sales and build brand loyalty. However, your brand is at the mercy of these rented platforms.
A slight change in policy – or a change in leadership – can totally upheave how you interact with your community. Social media giants are known to consistently introduce algorithm changes, new ad policies, and strict moderation rules that can hamper brand growth.
DTC brands should leverage these rented platforms for what they can offer – a quick way to reach targeted audiences – and then shift that captured audience into a brand-controlled platform. It can be anywhere from your own member-exclusive website or your highly segmented email marketing list.
Controlling customer data will future-proof your business and insure it is against the whims of any rented platform.
---
15. DTC brands will continue to use chatbots to improve customer experience
Chatbots have been increasingly used in the past year by e-commerce sites and this trend will continue. Brands who've used them to streamline customer service attest to how much chatbots reduce valuable customer service time. AI chatbots have claimed to reduce as much as 92% of customer service tickets.
As AI technology evolves, and as customers become increasingly comfortable dealing with chatbots, we can expect to see more of these automated tools answering our product questions, dealing with order concerns, handling product returns, and giving out general information.
DTC organic chocolate brand, Feastables, by YouTube influencer Mr. Beast, relies on its customized on-brand AI chatbot. Dubbed FeastyBot, the chatbot handles everything from helping customers place orders, providing shipping updates, handling payments, expounding product info, and even running sweepstakes contests.
---
16. Social Media Shopping will continue to grow
In the past, brands will encourage social media followers to purchase from the link in the bio or the link in the caption. In recent years, social media sites developed ways to integrate online shops directly into their platform.
Online shopping right from within a social media post has become increasingly popular with Gen Z and millennials. With social shopping or social commerce, consumers can now directly purchase items straight from a social media post without going through the whole checkout funnel of the usual e-commerce website.
Instagram has Shoppable Posts and TikTok has TikTok Shopping. Facebook made improvements to its Facebook Shop and made it easy to set up. And other sites are also on their way to developing their own shopping-related functionalities.
This trend will continue, as social media platforms invest in creative ways to keep consumers on their platforms for longer periods. And since they get a cut of the action, it's also in their best interest to improve their social commerce tools.
For 2023, it's predicted the social commerce will account for $30 billion in sales which is 20% of the global retail e-commerce sales. And with Gen Z driving the popularity of TikTok, it's not uncommon for social commerce to reach $2.9 trillion by 2026.
---
Final Thoughts
Direct-to-Consumer (DTC or D2C) is here to stay. Even as the pandemic wanes and consumers frequent brick-and-mortar stores again, the convenience they've experienced from shopping online will remain.
Despite setbacks from supply chain issues, labor shortages, and advertising restrictions, DTC brands continue to flourish. And as the lines blur between traditional retail and direct-to-consumer retail, we can anticipate better innovation and more customer-focused initiatives that will elevate e-commerce to new heights.
Frequently Asked Questions
Are DTC brands a fad?
The proliferation of DTC brands proves that they are far from being a fad. With the Covid-19 pandemic boosting e-commerce further, even traditional retailers are seeing the advantages of the DTC retail model.
The DTC space used to be occupied solely by digitally native brands. These are brands that are sold exclusively online. But lines have since blurred as we witness traditional retailers adopt the DTC model and digitally native brands open physical stores.
DTC brands in the US, on average, have a GMV (gross margin value) between USD1M to USD5M. This proves that these brands are far from being a fad and will be here in the long run.
How can we increase DTC sales?
Here are proven ways to increase DTC sales:
Understand your target customer's pain points and position your product as a solution.

Invest in content marketing. It's a proven marketing strategy where you reap the benefits in the long run.

Offer easy, no-frills product returns.

Review your pricing strategy and consider subscription pricing.

Work with influencers whose images align with your brand.

Ensure your website is accessible and has a streamlined UX design.
What is a DTC strategy?
Direct-to-consumer (DTC or D2C) is a retail distribution strategy where manufacturers directly sell their products to consumers instead of going through a distribution network composed of wholesalers, distributors, and retailers.
DTC brands have proliferated due to the growth of e-commerce and the ease of setting up an online store. The Covid-19 pandemic further boosted the industry because consumers were restricted from visiting physical stores and had to resort to purchasing online.
Armed with digital advertising channels, DTC brands can reach their target audience and drive traffic to their online stores.
Today, we see traditional brands adopting a DTC strategy as well as previously online-exclusive brands (digitally native brands) entering traditional distribution networks.