Advertising Disclosure
Advertising disclosure:
Our partners compensate us. This may influence which products or services we review (also where and how those products appear on the site), this in no way affects our recommendations or the advice we offer. Our reviews are based on years of experience and countless hours of research. Our partners cannot pay us to guarantee favorable reviews of their products or services.
Regarding online selling, eBay ranks high in eCommerce platforms and other giants like Amazon and Shopify. Selling on eBay is pretty straightforward, although you must properly plan your business model, pricing strategy, marketing techniques, and operations. It's similar to trading on other platforms, so if you are already well-versed in eCommerce, you'll have an easy time starting on eBay.

---
Best Free and Premium eBay Marketing Tools
There are many free and premium marketing tools that eBay sellers can take advantage of to increase their sales. Check out these helpful tools to help you with your eBay listing, elevate your product photos, and even manage your inventory. There are free and paid or premium tools on the list, so whether you're looking to save money or invest in more advanced tools, we've got you covered.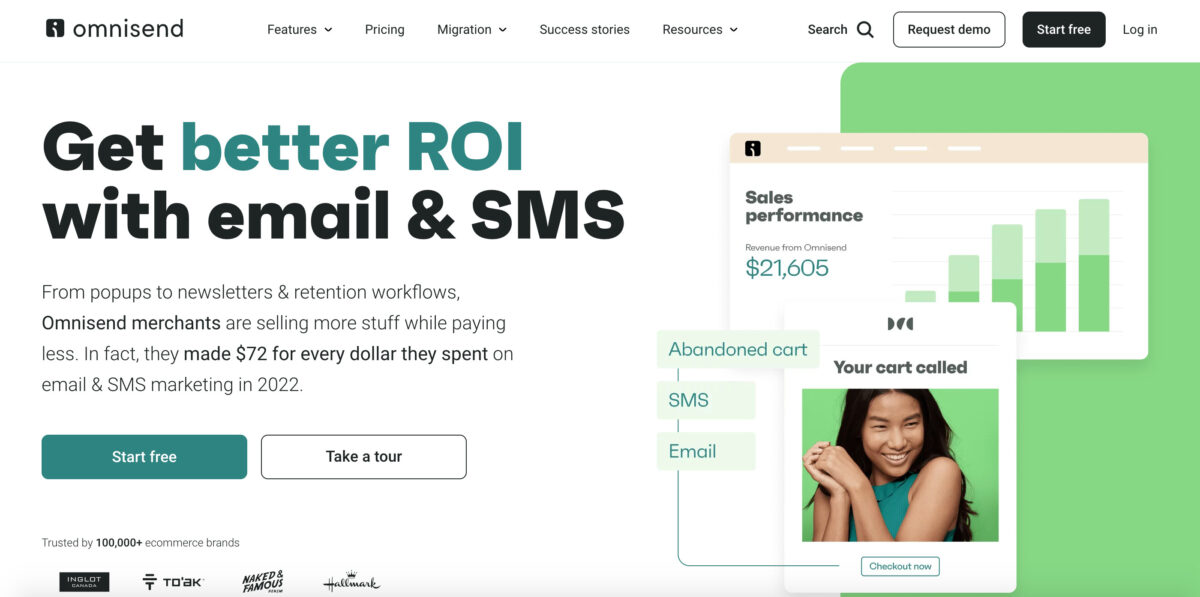 An email marketing tool can help you optimize your email marketing campaigns. Omnisend is an email marketing tool designed specifically for eCommerce businesses. Although they have premium versions, their free version packs more punch than their competitors. It's not just a free trial; you can avail of their free version for as long as you want. It includes 500 emails per month, up to 60 SMS, depending on your location (they cater to 209 regions), and up to 500 web push notifications.
You also get email templates, pre-built automation, unlimited segmentation, sales and performance reports, A/B testing, and 24/7 email and live chat support, usually exclusive to premium versions of other email marketing tools. 
---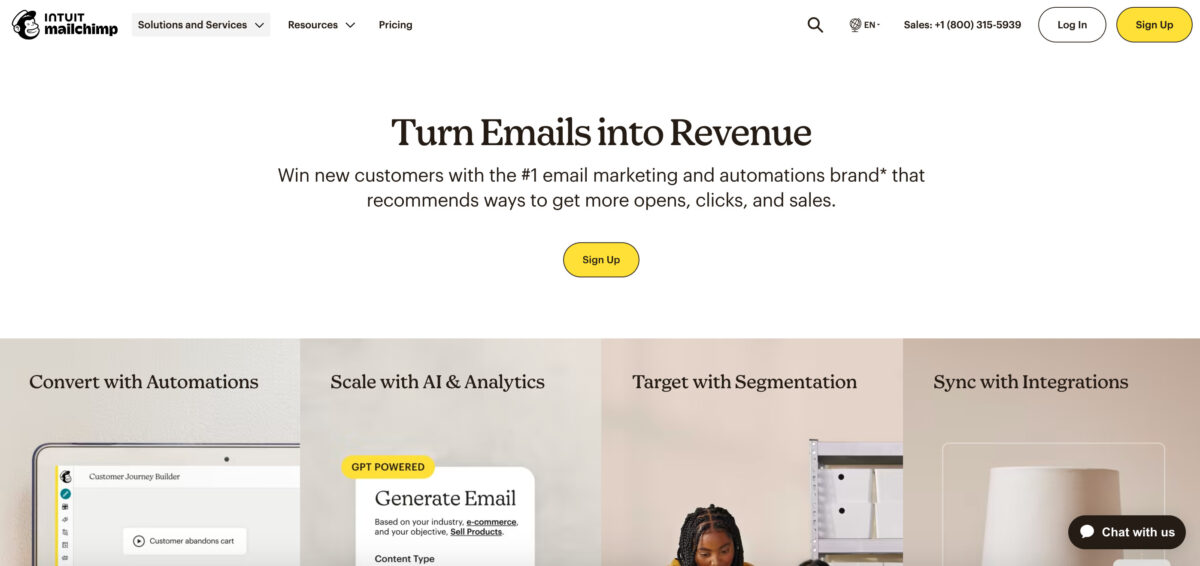 Mailchimp ranks consistently among the best email marketing tools because of its features and affordability. With over 22 years in the industry, Mailchimp has mastered the science of ensuring that emails get delivered to your target audience's inbox and are read. The platform is easy to use for beginners. Yet they also contain features that proficient marketers will appreciate, including automation and developer APIs.
Choose from various email content optimization tools, such as AI-generated email copy ideas and subject lines, beautiful email newsletter designs, automated customer journeys, and more. Advanced analytics and A/B testing help you make data-driven decisions to improve campaigns.
Price: Starts at $13 per month, free for one month
---

Zoho Inventory is one of the many products in the Zoho suite of tools that provides inventory optimization functions. It is designed for small to medium enterprises and includes a free version and five tiers of paid plans. However, the free version would suit small businesses or startups because of its limited features. 
Zoho's dashboard lets you see vital information, such as top-selling items, purchase orders, sales orders, and reports. Integrating with eBay allows you to sync activity between Zoho and your store. In this integration with eBay, you can easily manage your purchase order system from vendors; out-of-stock alerts, for instance, will help you maintain a good inventory level. Zoho will update your stock levels as it receives eBay sales orders.
Pricing: Zoho's packages range from Free to Ultimate at $329, all billed annually.

---
Jazva is an all-in-one toolbox for eCommerce management that does everything from inventory management to multi-channel listing to order processing and shipping. Their eBay Seller software takes the guesswork out of running your eBay store with powerful automation. Built for large eCommerce businesses, Jazva has powerful functionalities that are useful for those who want to scale up.
Jazva is an incredible software for eBay sellers with high volumes of orders and deliveries. Sellers with multiple eBay stores will find it easy to use Jazva's dashboard, which can integrate all your stores in one place. Uploading numerous products is a breeze with their bulk listing function. Jazva enables you to save time and effort on repetitive tasks such as listing and tagging, and its intelligent repricing tool allows you to stay competitive. You also save money with Jazva recommending the most cost-effective and efficient shipping method. Finally, real-time data analytics and advanced reporting make it easier to manage the business. 
Price: Contact Jazva directly to request a quote depending on your requirements.
---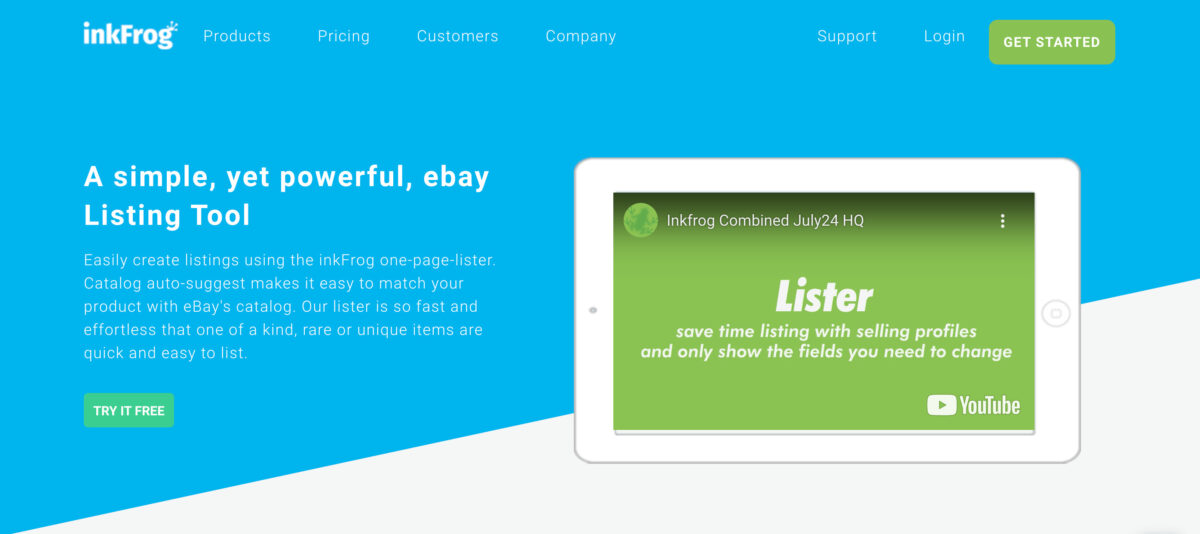 To sell your items on eBay more effectively, you'll need professional listings for your products that follow eBay's policies. This is where eBay listing tools come in handy. One of the more popular tools, inkFrog, provides basic templates for all their plans to help you create eye-catching product listings on eBay. With their free version, you get ten listings plus features such as a listing library, bulk template updating, an eBay customer inbox, a business dashboard, and unlimited image hosting. 
If more than ten listings are needed, you can upgrade to their most basic paid plan, which gives you 300 listings. You can also check out the following premium tool on our list if you want a plan with excellent bulk listing options.
Price: Starts at $11 per month, free trial available 
---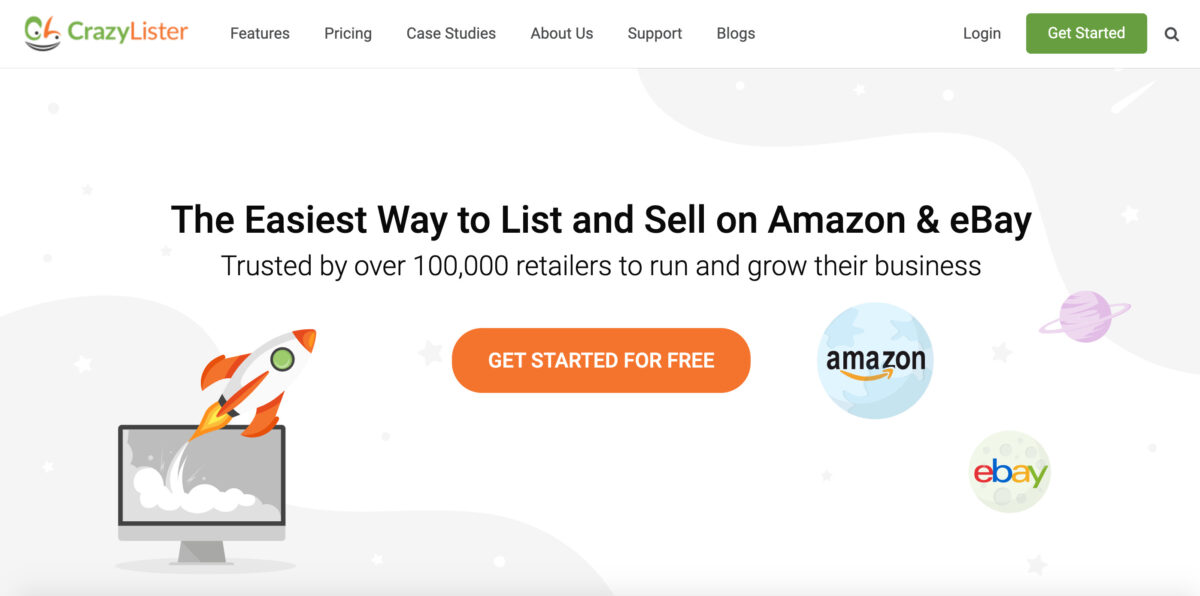 Dealing with high volumes of products may be suitable for profit, but it can give you a headache when listing. CrazyLister has an excellent bulk listing feature that makes managing all your product listings easy, whether you have hundreds or thousands. Choose a template from their gallery, and apply it to any number of your listings to save time. Add unique designs during promo and holidays to attract potential customers. 
One of the great features of CrazyLister, aside from its powerful bulk listing functionality, is that all your listings will automatically be optimized for mobile readiness. You'll even be able to preview your listing on mobile before publishing so you can make sure that it looks professional on any device. Other features include the Find & Replace tool for editing listings in bulk and the Duplicate tool for creating similar listings in one click.
Price: Starts at $20 per month, free trial available
---

A vital component of any successful eCommerce business is product research. Terapeak has many years' sales data from eBay that help you identify top-performing products for sales opportunities and marketing strategies. You get metrics such as average prices, shipping costs, terms, competition levels, sell-through rates, unsold inventory, and other vital data to help you make informed choices for your business.
Terapeak's easy-to-understand reports help you be adequately informed about hot trends in the marketplace, top competitors, and even high-performing keywords that will allow you to optimize your listings.
Terapeak is part of eBay's Seller Hub and, as such, is free to use by eBay sellers with access to the Hub.
---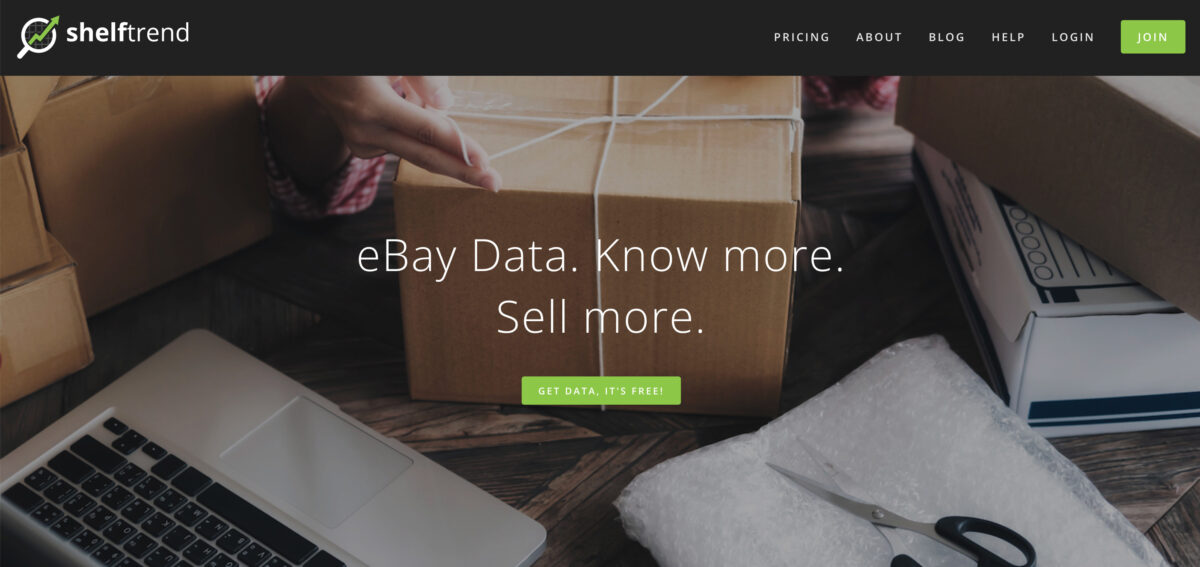 ShelfTrend is one of the leading tools for eBay product research. The company has amassed data for over one billion listings across different product categories and countries. In contrast to Terapeak, which gives valuable data on eBay listings, ShelfTrend's data goes deeper in its analysis and insights for a more thorough and overall picture of the eBay marketplace.
This tool is particularly critical for sellers who are in highly competitive industries. ShelfTrend's data will help you benchmark your prices and performance against top-performing market competitors. This will allow you to make data-driven decisions and adjust your strategies accordingly. ShelfTrend includes data on new listings that could emerge as added competition, so you can plan and assess their threat. You can also spot eBay product niches and supply gaps for sales opportunities.
ShelfTrend's Basic plan is free but is limited in the data that it provides. Subscribe to their premium plans for more detailed insights and more advanced analytics. Link ShelfTrend to your eBay account for easy and quick integration.
Price: Starts at $24.99 per month
---
Pixlr is a cloud-based, AI-powered photo editing software. They have a suite of free online photo editing tools that can easily edit your product images. Pixlr X is similar to Adobe Photoshop, where you can enhance photos, add text, animation, or other elements. 
For product photography, you might prefer the Pixlr Photomash Studio, another free online tool created for product and profile photos. Pixlr calls it a "professional one-click photo studio" where you can remove backgrounds and create unique product photos in one workspace. They even have creative templates, so you don't have to start from scratch. Whether you're editing one photo or your entire inventory, Pixlr Photomash can help you create beautiful product images in one go.
---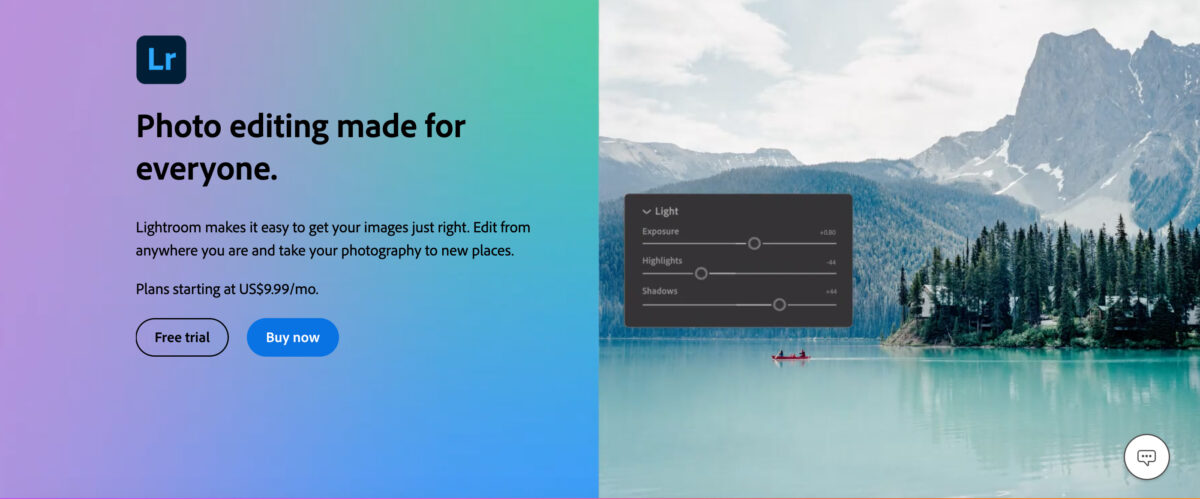 Adobe has become synonymous with graphic design and creative pursuits. Their photo editing tool, Lightroom, is suitable for beginners and professionals who need powerful editing tools. For sellers who handle many SKUs, Lightroom's organizational tools will help you keep track of all your product photos with ease, allowing you to group them by specific criteria you set.
Lightroom's editing tools include color correction, image enhancement, and other basic essential primary creative effects. It doesn't have Photoshop's more powerful photo manipulation functions, but you won't need those advanced editing tools for product photography. The important thing is to present your products realistically, in clear and crisp images without background noise. Lightroom has presets that let you save time by applying the same settings to an entire batch. 
Price: Starts at $9.99 per month, free trial available 
---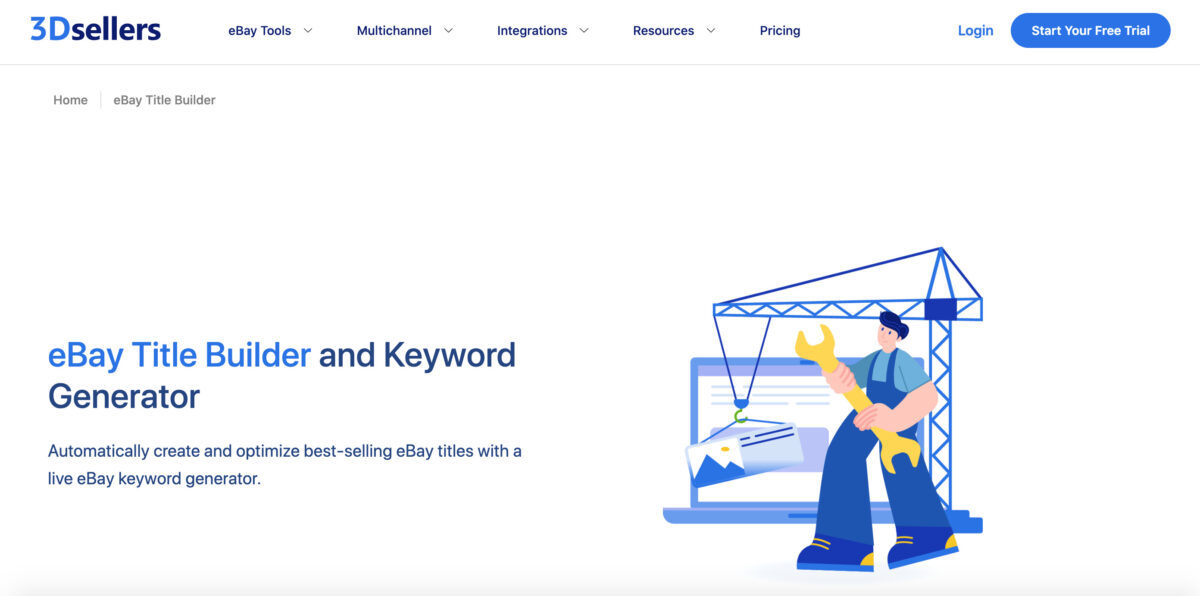 This handy tool suggests product titles for your eBay listing. Though it might sound like something you can do yourself, the 3Dsellers eBay Title Builder is an SEO-based keyword research tool and generator. With millions of products on eBay, you want your items to rank at the top of buyers' searches on the website. Using a tool like the 3Dsellers eBay Title Builder improves your product listings and gives it an edge over similar products by suggesting popular keywords for your products.
Aside from keywords, 3Dsellers also provides a list of popular items on eBay using your keywords, along with their prices. You'll also see a keyword ranking list so you know which words buyers are using more frequently to search for products. The eBay Title Optimizer lets you input a full product title, which the tool transforms into an optimized title based on eBay's top keywords. 
---
---
Selling on eBay vs Selling on Other eCommerce Platforms
eBay was known mainly as an auction-based online marketplace selling collectibles in its early days. While you don't need to use their auction tool, it's still one of the advantages of using eBay for your online business. The auction function allows you to get the highest price for your goods, which is perfect for high-demand items. This, combined with the Buy It Now function for fixed price listings, makes eBay a more versatile eCommerce platform than its competitors.
While Amazon still ranks as the top eCommerce platform in the US, eBay comes second, with approximately 132 million active buyers in the second quarter of 2023. This represents a massive opportunity for sellers who wish to expand their presence in more online marketplaces.
---
Optimizing Your Strategy with eBay Marketing Tools
Like any other enterprise, online businesses must practice effective marketing strategies to generate revenue. As of 2023, eBay has approximately 18.3 million sellers, so you must have a solid marketing strategy to gain a competitive edge.
Fortunately, the Internet abounds with numerous marketing tools and apps to help sellers on eBay and other platforms. Marketing tools can help streamline your processes, automate tasks, and provide information on market trends and other relevant data so you can make informed decisions. The eBay marketing tools on our list can help you achieve the most out of your business, driving profit and growth. By choosing the tools which will help you run your eBay store more efficiently, you'll save a lot of time and effort.
---
Choosing the Best eBay Marketing Tools
For startup businesses that only handle a few product categories, you won't immediately need to shell out money for premium tools. Free tools, such as the ones on our list, are great for small businesses that still need to establish their brand and performance on eBay. These tools are practical but won't dent your marketing budget.
For businesses that are scaling up or for more established stores, consider investing in the premium marketing tools we've suggested to boost your sales further and stay ahead of the competition.
A good thing about many of the marketing tools we've outlined here is that they offer free trials, so you can get a good sense of how they work and what they can contribute to your business before you spend money. Take advantage of these free trials and choose the best one that suits your needs. Your budget will dictate your premium plan if you decide to go premium. Combining free and premium plans for different tools might be the best for many businesses. Still, it's up to you as the seller to determine where you'll splurge and where you'll save. Every company has different goals, so consider your sales and marketing objectives to know where to allocate your marketing budget.