Finding an affordable, yet reputable, dropshipping supplier is challenging (even in the year 2023). In this industry, there are some suppliers that turn out to be fraudulent, while the legitimate ones do not always instantly pop up in Google's search results. As it is ultimately your reputation that will be on the line, you want to be extra cautious when selecting your suppliers.
To help you, we have created this list of the top dropshipping suppliers. We have also added a few dropshipping supplier directories that organize suppliers by product type, niche or market. The advantage of using a directory is that many of them have some type of vetting process. Depending on your niche, some suppliers will be a better fit than others. So, you will still have to do some homework and shortlist potential partners for 2023.
---
Top 14 Dropshipping Suppliers and Companies to Work With in 2023:
---
Choosing the Right Dropshipping Supplier
While your suppliers are invisible to your customers, they still play a very crucial role in your business. That is why it is so important when you are starting a dropshipping business to find the right suppliers for your niche. If you come across suppliers that also offer their products to the general public at a wholesale price, be careful as these companies are probably not legitimate dropshipping suppliers.
The following are some of the traits that dropshipping suppliers should have (at the least):
Knowledgeable staff

The ability to take orders by means of email

A central location

A modern website
---
Our Top 14 Pick in Alphabetical Order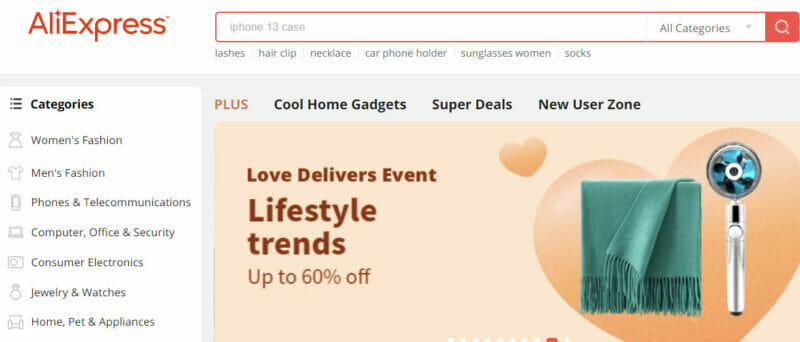 AliExpress is a wholesale and dropshipping platform that links eCommerce stores to products and suppliers. It boasts millions of products in dozens of niche categories that include apparel, toys, furniture and electronics.
While most merchants that sell via AliExpress are situated in China, they ship to more than 250 countries. Though, bear in mind that packages can take as long as 45 business days to arrive with standard shipping. So, it is best to opt for premium shipping with an estimated delivery time of 7-15 business days. On the upside, it is free to sign up no matter where you are situated.
---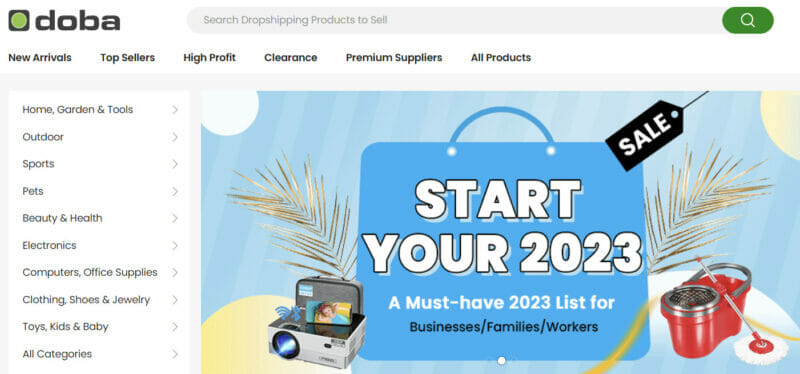 With Doba, you can access hundreds of suppliers and millions of products via one catalog. Each of the dropship suppliers must fulfill their strict standards so you can rest assured about the quality of the products. Though, one key point to consider is that the products are not that affordable which means that your profit margin will not be very high.
It offers API integration with the top marketplaces that include eBay, Amazon, BigCommerce and Shopify. In addition, it also integrates with UPS, DHL, USPS and FedEx so that you can track your shipping updates effortlessly. Headquartered in Utah, Doba also has an in-house team that offers support by means of email, chat or phone.
While they do not offer a free plan, all the subscription plans have a free 30-day trial. Their Business plan ($49.00 billed monthly/$39.99 billed annually) is the most popular. It offers five storefront integrations, 2,000 storefront product listings, curated product lists, order syncing, tracking, product status alerts and much more.
Alternatively, you can check out their Start-up plan ($24.99 billed monthly/$19.99 billed annually) that offers one storefront integration and 500 storefront product listings. They also have an Enterprise plan that is coming soon that will offer unlimited storefront integrations and product listings.
---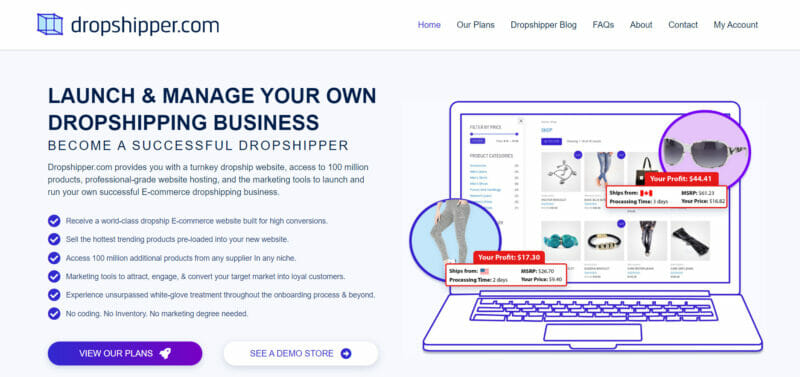 If you are planning to concentrate on selling beauty products and jewelry specifically, Dropshipper.com is a good choice. They boast more than 800 suppliers and millions of products. Unlike many similar companies, they also offer a range of tools that you will need to create and advertise your website that include SEO tools, abandoned cart recovery automation, and affiliate marketing tools to help you scale your business quickly.
With regards to their pricing, they offer 3 plans; Starter, Advanced and Enterprise. From $299 to $999, each plan offers different features and is one time payment.
---

With Inventory Source, you can automatically add products, sync inventory and dispatch orders. They integrate with virtually all the top eCommerce platforms that include Shopify, BigCommerce, Amazon, Magento, Wix, SellerActive and eBay.
In addition, they also offer a free supplier directory with thousands of suppliers. From hunting to home decor, their directory includes some of the best distributors and exclusive brands.
Established in 2003, they offer two subscription plans: Inventory Automation ($99 per month) and Full Automation ($150 per month). With their Full Automation plan, you will get access to all the features offered by the Inventory Automation plan as well as the ability to dispatch orders to your dropship suppliers and sync back shipment tracking to your online store and customers automatically.
---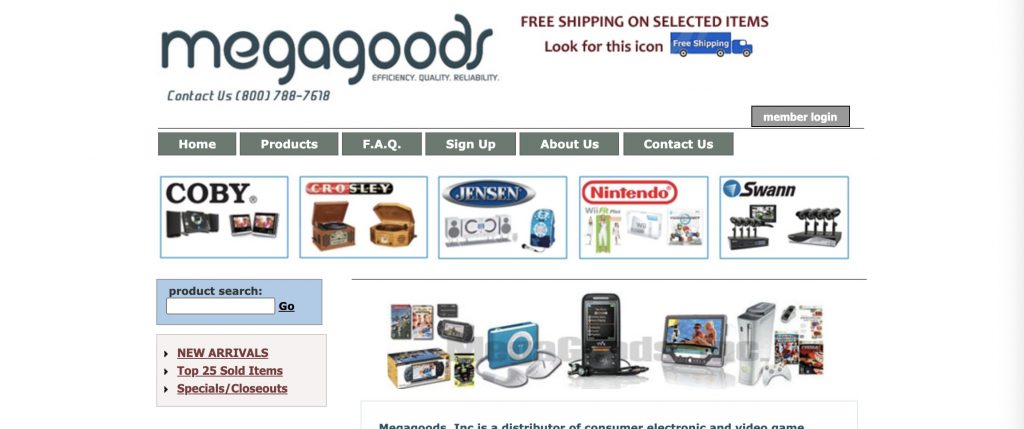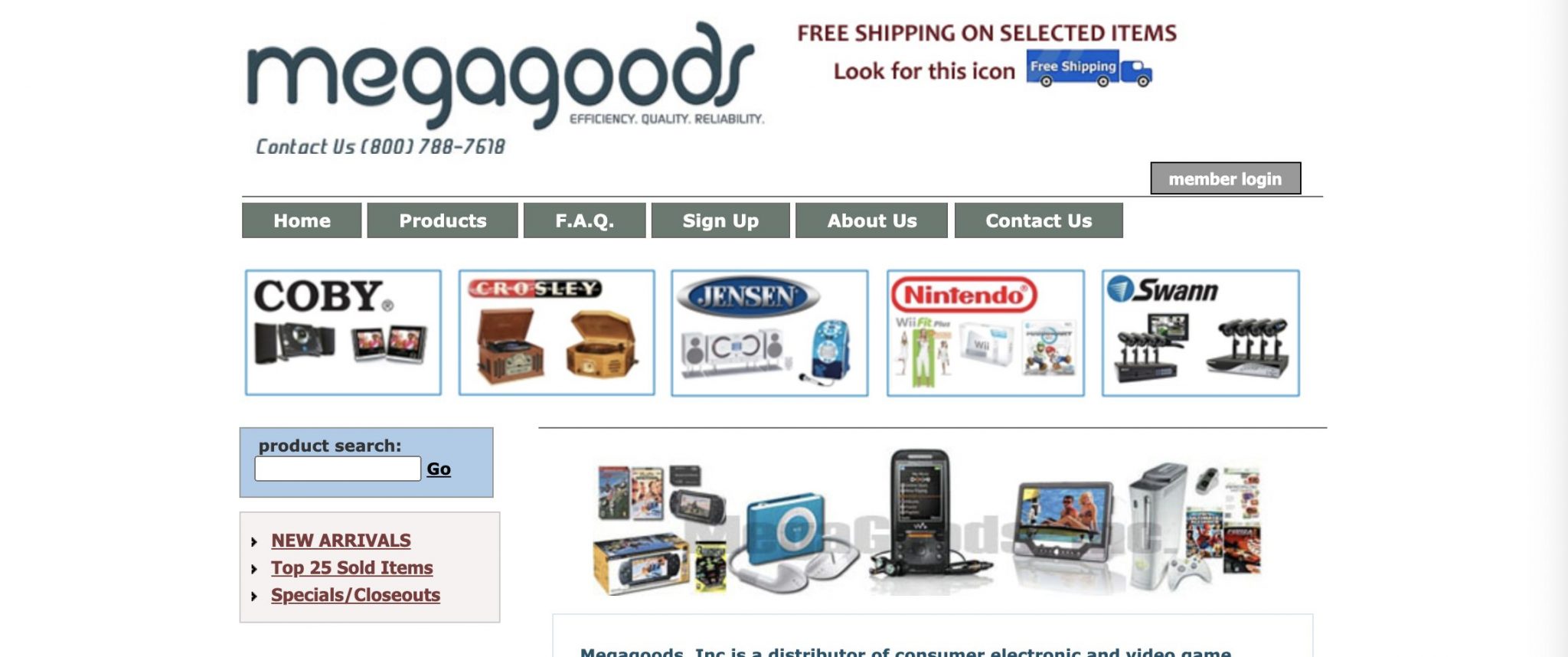 If you are planning to sell video games and consumer electronic items specifically, be sure to check out Megagoods. They offer a decent selection of brands and product categories (that also include kitchen appliances and other gadgets), fast processing and private label shipping.
Based in the United States, they offer international shipping and will also dropship your orders using your company name. If you are only starting out in this niche, they are a good choice as they do not have any minimum purchase requirements which means that you do not need as much capital. Though, when working out your profit margins, bear in mind that they charge a dropshipping fee of $1.50 per order and general service fee of $14.99 per month.
---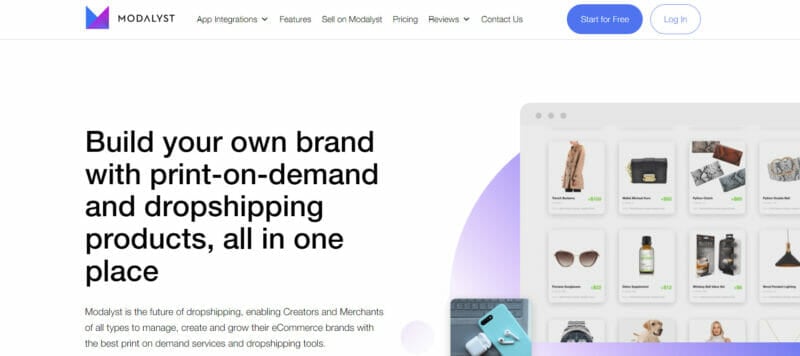 If you are using Wix, BigCommerce or Shopify, Modalyst is an excellent choice. From low-cost products to brand names such as Dolce & Gabbana and Calvin Klein, they offer a huge selection of products. They also offer an official API partnership with AliExpress Dropshipping which makes it easy to add millions of items to your eCommerce store via a Google Chrome extension.
With regards to their pricing, they offer a free plan and two paid plans: the Start-up plan ($35 per month) and Pro plan ($90 per month). While their Start-up plan is considerably cheaper than their Pro plan, it only gives you access to non-premium suppliers and limits you to 250 products.
---
Oberlo is the top free dropshipping supplier directory for Shopify stores. With the help of Oberlo, you can connect to suppliers across the globe and pick and choose from more than 30,000 products in over 60 niches. From wedding supplies to car parts, here you can find everything but the kitchen sink (maybe you could even find that, but we haven't checked).
They are also one of the most affordable options. While some of the others in our list offer a free plan, Oberlo's free plan is one of the most comprehensive and gives you access to 500 products and unlimited monthly orders. Even if you choose one of their paid subscription plans instead, their most expensive plan – the Boss - will only set you back $29.99 per month.
---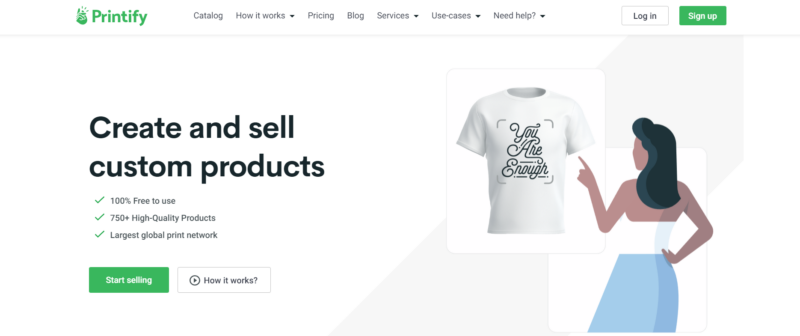 Printify is slightly different to others in our list. As the majority of dropshipping products get shipped directly from the suppliers, it does not offer you the opportunity to customize your products. Though, with Printify, you can still take advantage the benefits of dropshipping and sell a range of custom products. You can use it to create and sell hundreds of custom items that include clothing, jewelry, wall decor and mugs. They offer a free plan and Premium plan ($29 per month). If you plan on selling more than 10,000 orders per day, you can also reach out to them for custom pricing.
---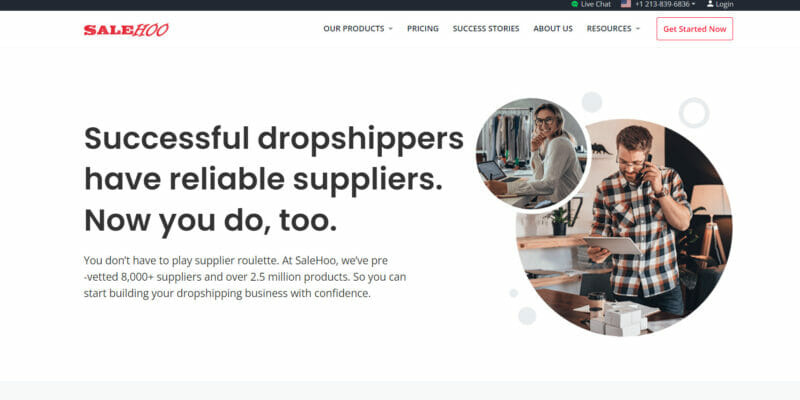 If you specifically use Amazon or eBay, you will want to check out SaleHoo. Their directory of pre-screened low-cost suppliers has thousands of dropshipping and bulk-purchase suppliers. They have been in the business for more than 15 years during which they have helped more than 137,000 people to begin and scale their online businesses. While it is not free like Wholesale Central (which we discuss later), it is still great value for money at less than $70 per year for their annual membership (which also comes with a 60-day money-back guarantee).
---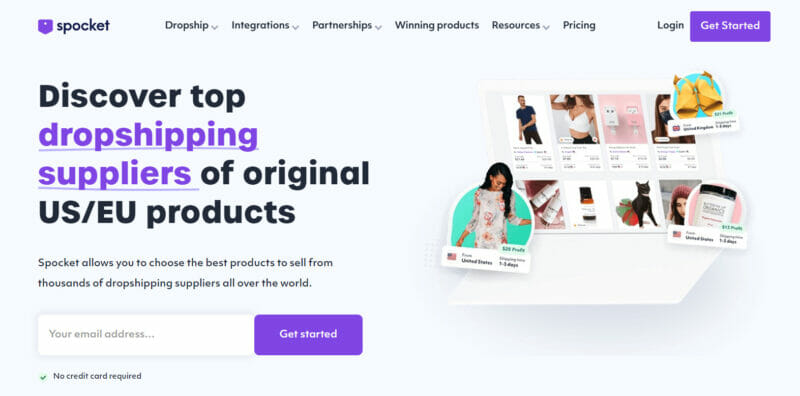 Spocket is trusted by more than 60,000 dropshippers. With Spocket, you can select the top products from dropshipping suppliers from across the globe. The majority of their suppliers are based in Europe or the United States which means that your shipping will most of the time be quick to these locations. It is integrated with WooCommerce, Shopify, BigCommerce and Wix which also makes it easy to connect your eCommerce store. You can also order samples easily via the dashboard so that you can first try out the products yourself.
They offer a free plan and three pricing plans. Their Pro plan is the most popular and costs $49 per month. It offers 250 unique products, 25 premium products, branded invoicing and chat support. If you need more products, you can check out their Empire plan. It costs $99 per month and offers 10,000 unique and premium products as well as branded invoicing and chat support. Alternatively, if you are only looking to start, their Starter plan that offers 25 unique products at $29,99 per month is ideal. They also offer generous discounts if you opt to pay yearly instead. By paying yearly, users can save as much as five months' subscription fees.
---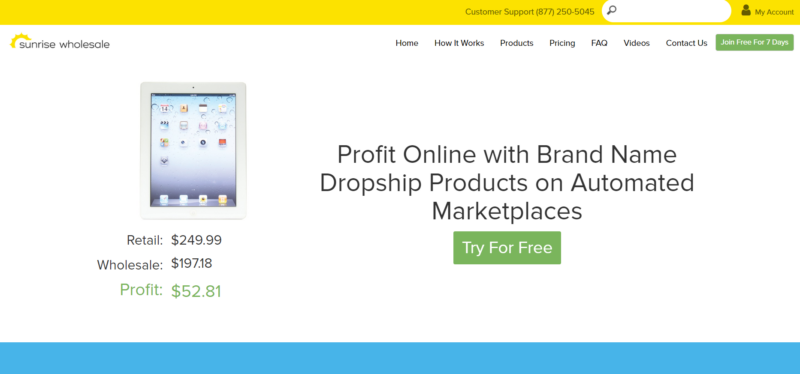 While Sunrise Wholesale's database is not as big as most of the others included in our list, their shipping is of the fastest. Generally, your customers' products will arrive in 5-7 days. They offer more than 30,000 products to sell that include the standard categories like accessories, electronics, toys and household items. Though, they also offer more unique categories that you do not see often like mythical, medieval and water fountains. Their monthly membership is $49 per month that includes store integration with BigCommerce or Shopify, gold member pricing on all their products, research tools for Amazon and eBay and stock alerts.
---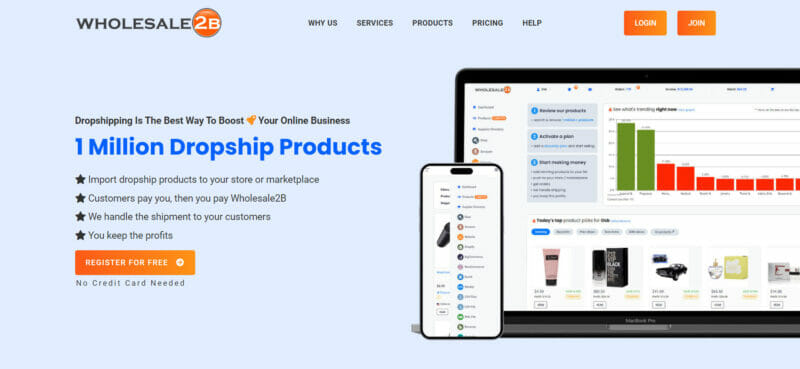 With Wholesale2b, you can integrate products from the top dropshipping suppliers into a single account. They will take care of all the orders and returns which means that you do need to sign up with suppliers. If you are already selling on Amazon or eBay via an existing store, they can import your products to your store. Alternatively, you can download images and CSV files of the products and set up your own online store.
Unlike some of the other tools in our list, their pricing is a bit more complicated. Instead of offering a few subscription plans, they offer different subscription plans based on the platform that you use. For example, if you use Amazon, they have a Dropship On Amazon plan for $37.90 per month. For more details about their payment approach, it is best to check out their website.
---
Wholesale Central is one of the top free dropshipping directories. You can search their directory for US-based suppliers free of charge. There are more than 1,400 dropshipping suppliers that offer close to a million products. From apparel to CBD, they truly offer a wide range of products that you can search per category. While all their suppliers are vetted (at least so they claim), you still need to make sure you complete your own checks.
---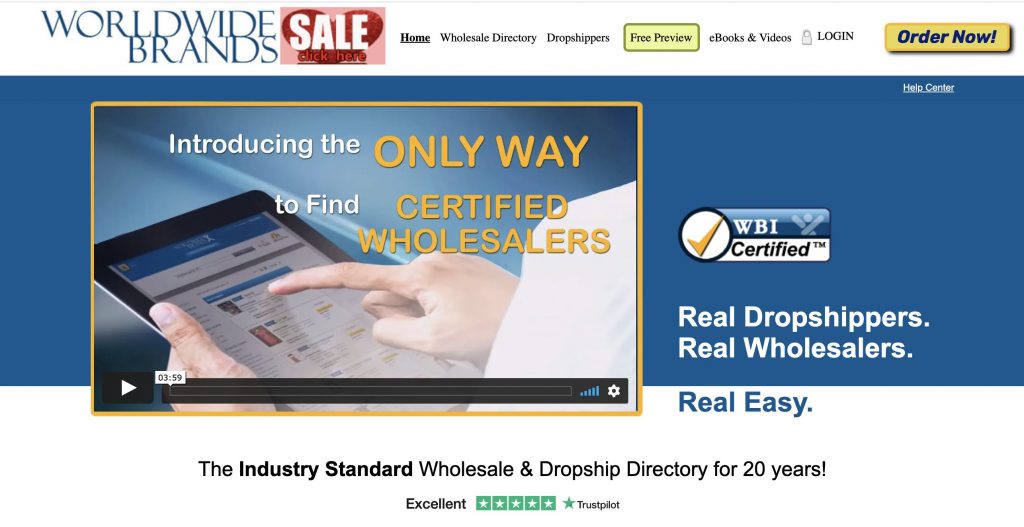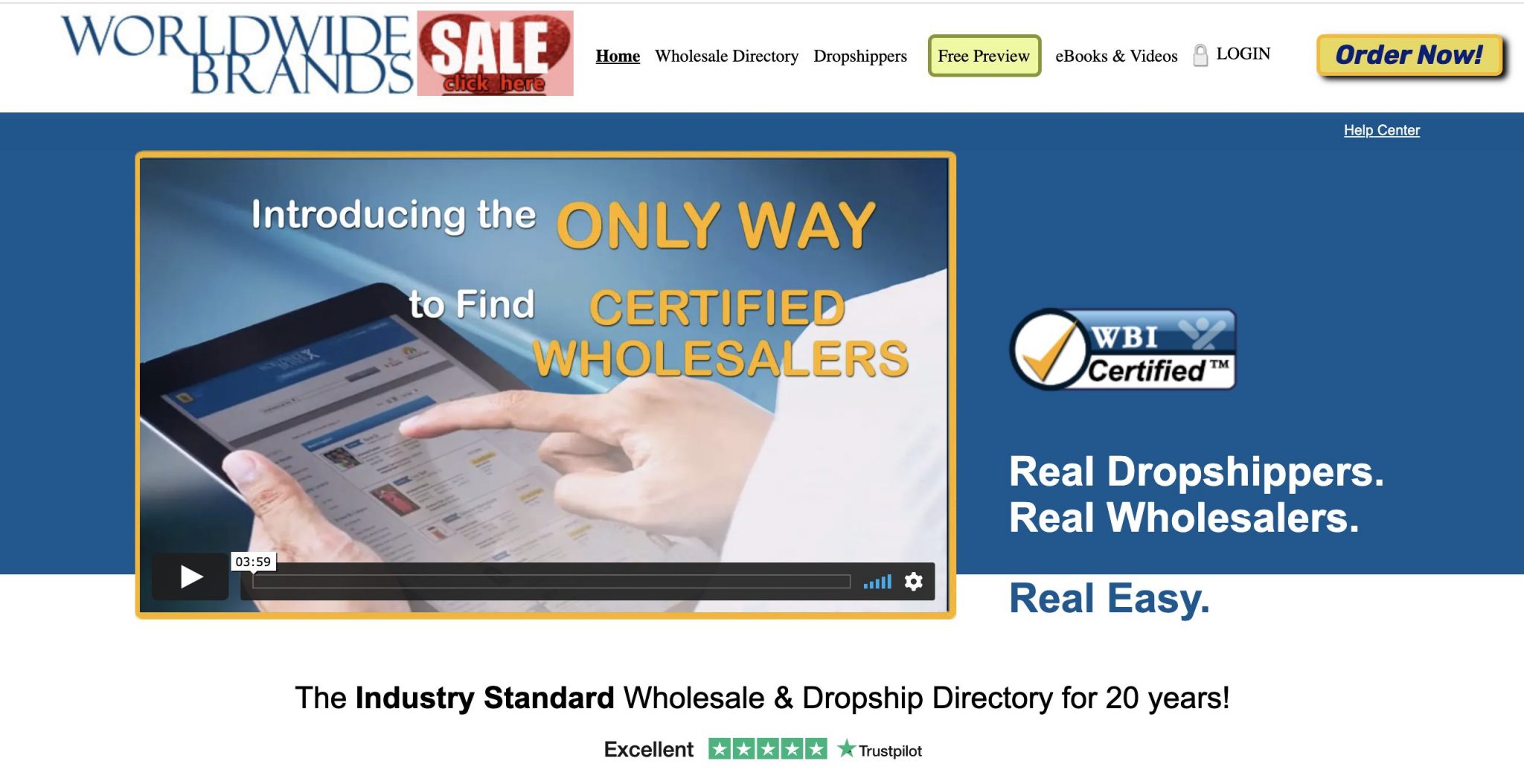 Worldwide Brands is one of the oldest supplier directories. Founded more than two decades ago in 1999, they offer a big selection of wholesalers that fulfill their set of requirements. Their pricing works a bit differently than most of the other companies in our list. Instead of having to pay a monthly or yearly subscription, you get lifetime access for a once-off fee of $299. From pet supplies to consumer electronics, Worldwide Brands offers more than 16 million products in various niches.
Frequently Asked Questions
Which dropshipping supplier is best?
The best dropshipping suppliers are:
AliExpress

Alibaba

SaleHoo

Worldwide Brands

Doba

Sunrise Wholesale

Megagoods
What is the most profitable product to dropship?
To find the most profitable product to dropship, you need to find a niche, pick related products, and market them to your target audience. Examples include:
Women's clothing

Baby products

Car accessories

Beauty products

Knitted dresses

Ring lights

Pet supplies
What are the hottest dropshipping products right now?
These are the hottest dropshipping products to sell right now:
Kitchen and dining products

Pet supplies

Home interior products

Office products

Phone accessories

Car accessories

Baby products
Is Amazon a dropshipper?
Fulfillment by Amazon (FBA) is an alternative to dropshipping suppliers for your online business. You need to procure products from your supplier of choice and then Amazon will handle the shipping, customer service, and returns for you.