One of the major perks of running an eCommerce business is that you don't necessarily have to rent a building. Virtually everything can be operated remotely, often from home, as long as you have a space to hook up your laptop. Though, what about the actual products that you'll be selling? It's much more challenging to turn a space like a basement into a warehouse than it is to transform a nook into a home office.
For an online seller, warehousing is a crucial cog in the supply chain. Yet, many small business owners neglect this piece of the puzzle. It might not be nearly as interesting as choosing your product range, but it needs just as much thought and attention to deliver a great customer experience.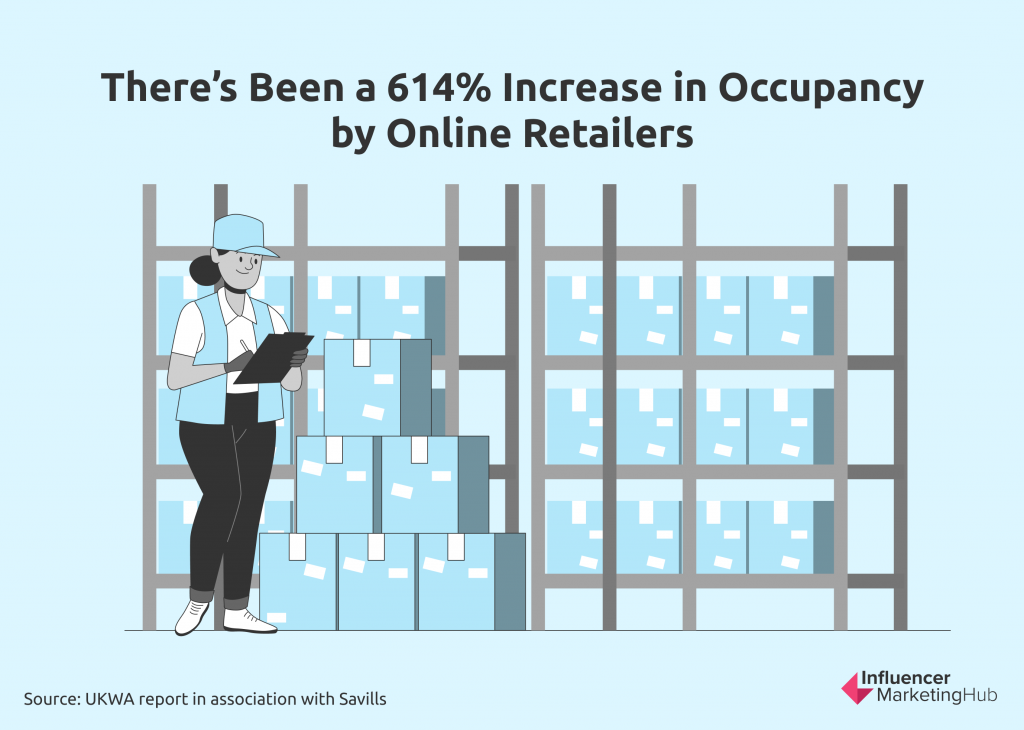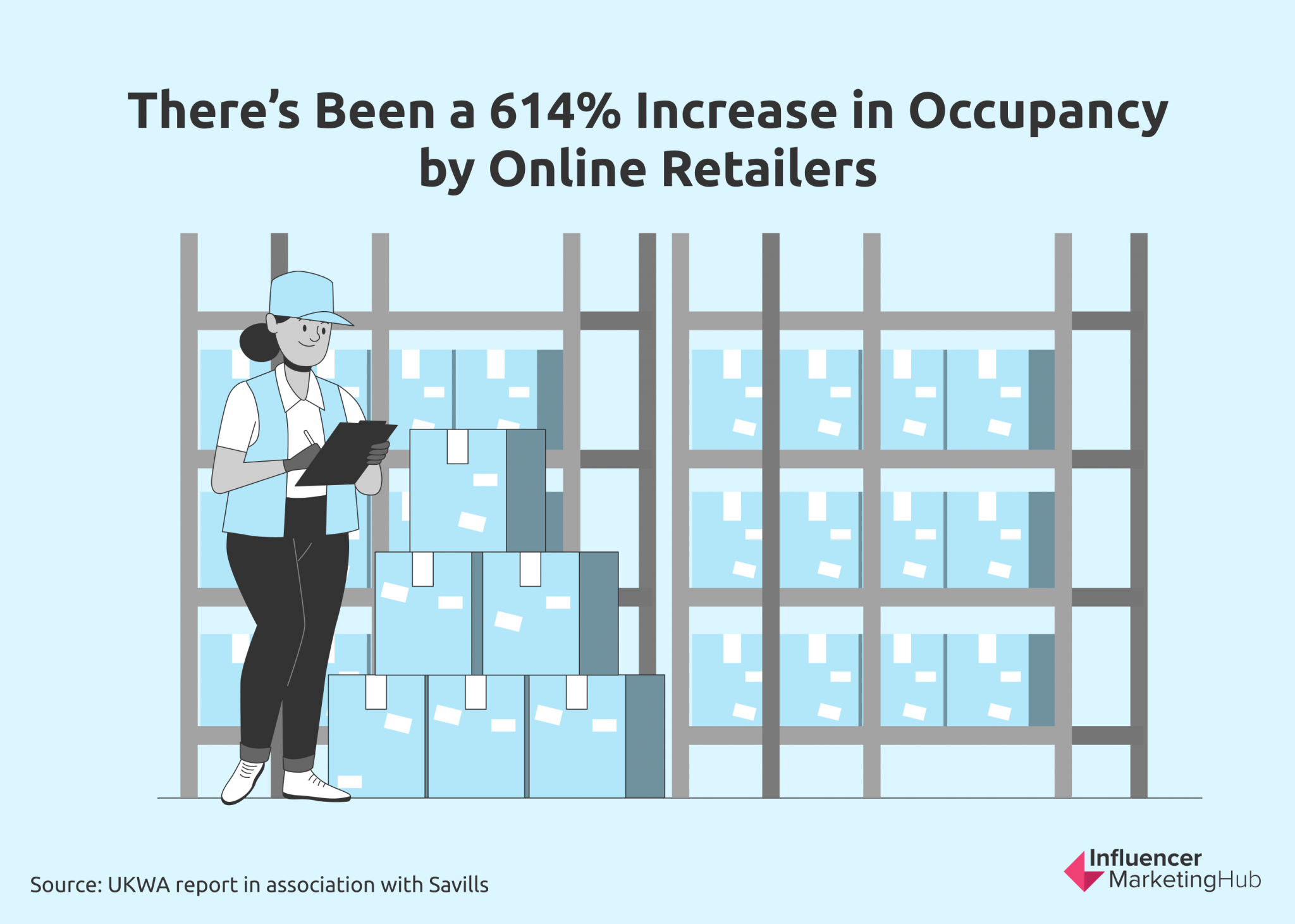 While eCommerce warehousing can be an extra expense, there are different options available to small business owners. In fact, according to a report created by Savills, a global real estate services provider, the pandemic has contributed to an increase of more than 600% in warehouse occupancy by online retailers. Now, the biggest occupants of warehouse space are 3PL providers. As small eCommerce businesses managed to grow significantly over the years, there's a much bigger need to outsource fulfillment to 3PL companies. So, eCommerce business owners are bound to have even more options in the coming years.
To help you make the smarter storage switch, we take a look at the different types of warehouses and best practices for making the most of your potential new space. Working from home can be great, but only to a point.
---
Why eCommerce Warehousing Beats Your (Parents') Basement:
---
What's eCommerce Warehousing?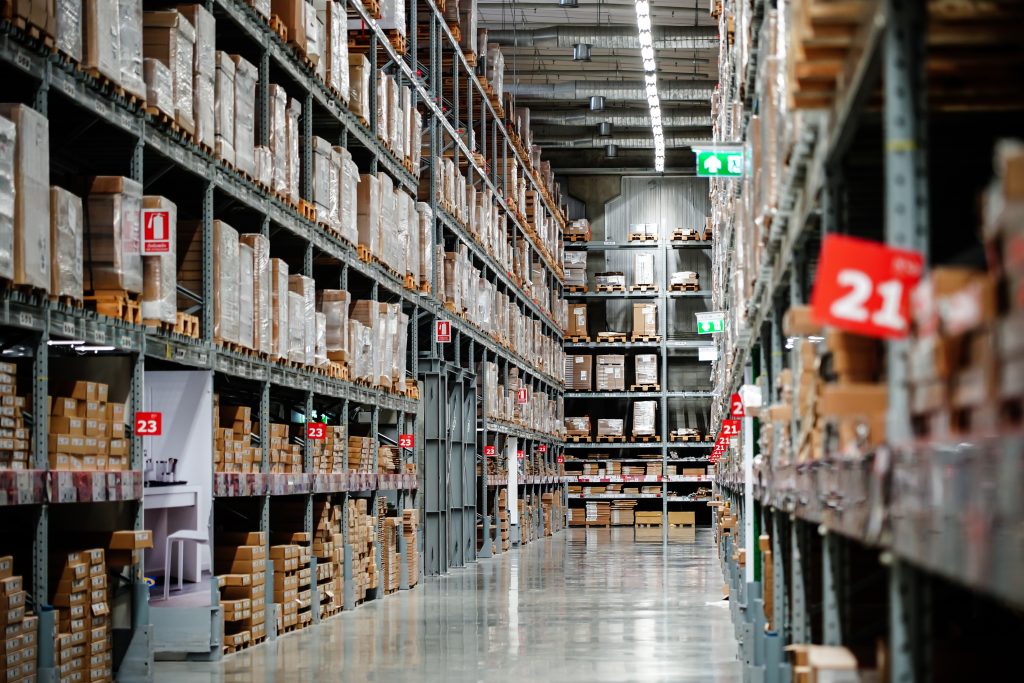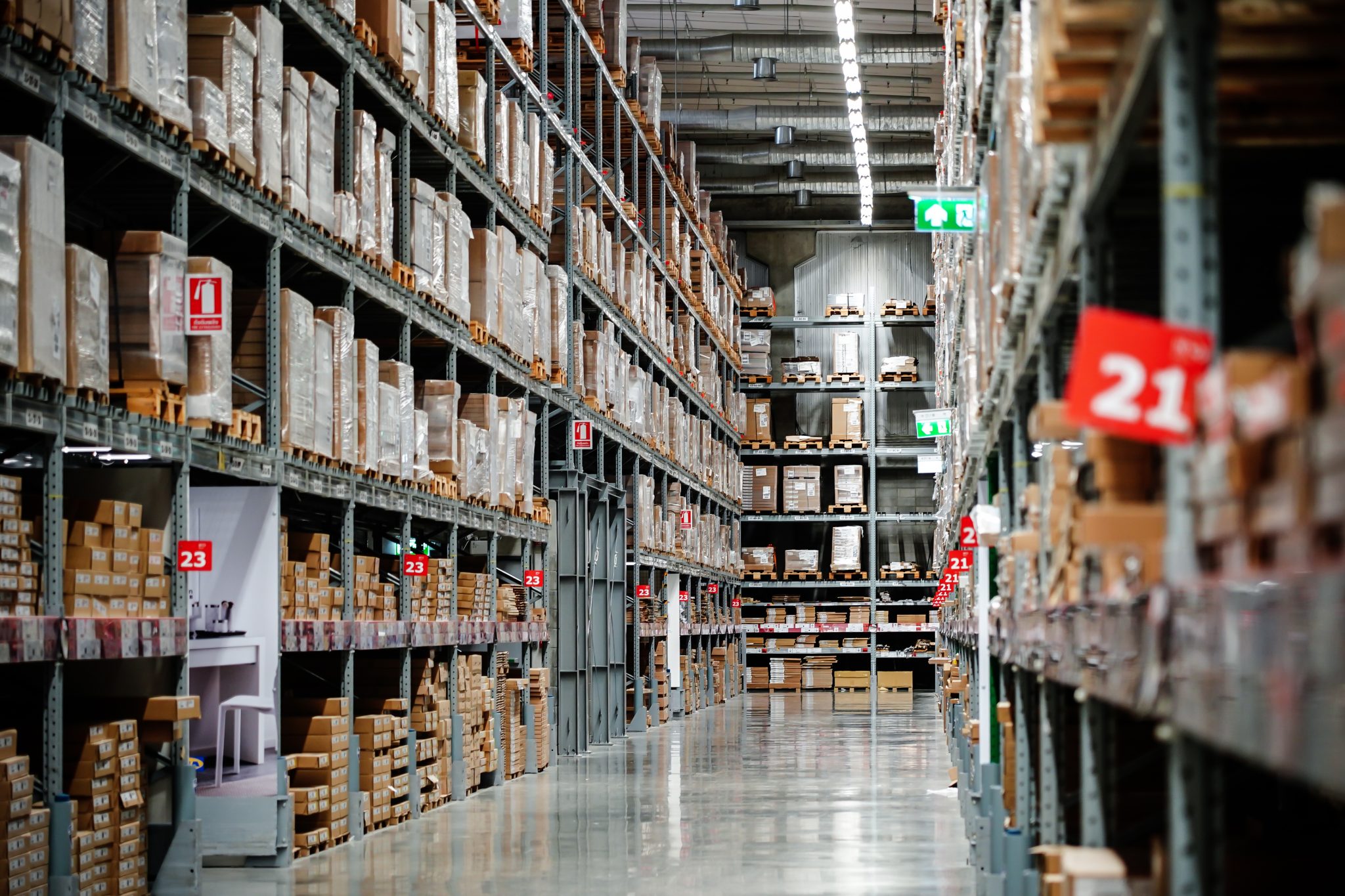 In short, eCommerce warehousing is the process of storing and managing products that are meant to be sold online. Not only does it ensure your products are kept securely, but it also deals with keeping track of which products are stored where, how many of a specific item you have in storage at any given point, and how long they've been sitting in storage.
---
eCommerce Warehouse Types
There are a number of different types of eCommerce warehouses. So, when you're selecting an eCommerce warehouse, you need to consider the unique needs of your business, size of your business, its target audience, and, obviously, your budget. Armed with this knowledge, you'll also want to consider other factors like accessibility, security, software and equipment, and customer service.
The following are a few of the more popular types of eCommerce warehouses that you can check out:
Fulfillment centers
A fulfillment center (aka a distribution center) refers to a warehouse where products are packed and dispatched to fulfill online orders. As the goods move very quickly, the storage is generally temporary. These types of warehouses typically get a huge inventory that gets distributed within a few days, but it can even be as quick as 24 hours if it's perishable goods. The advantage of using this type of warehouse is that it offers a range of professional services that will take care of order fulfillment for you.
Public warehouses
For small business owners, storing goods at a public warehouse is often the most cost-effective solution in the short run. This type of eCommerce warehouse also offers space for personal use, but usually lacks the technology that other storage solutions typically offer.
Private warehouses
Unlike a public warehouse that's owned by a governmental body, a private warehouse is usually owned by a manufacturer, distributor, or wholesaler. It's also more expensive than a public warehouse.
In most cases, big retailers like Walmart and Apple, will have their very own private warehouses. Though, depending on the niche that you serve, it could be a good option if you have a smaller online business too.
---
The Advantages of Using an eCommerce Warehouse
Faster delivery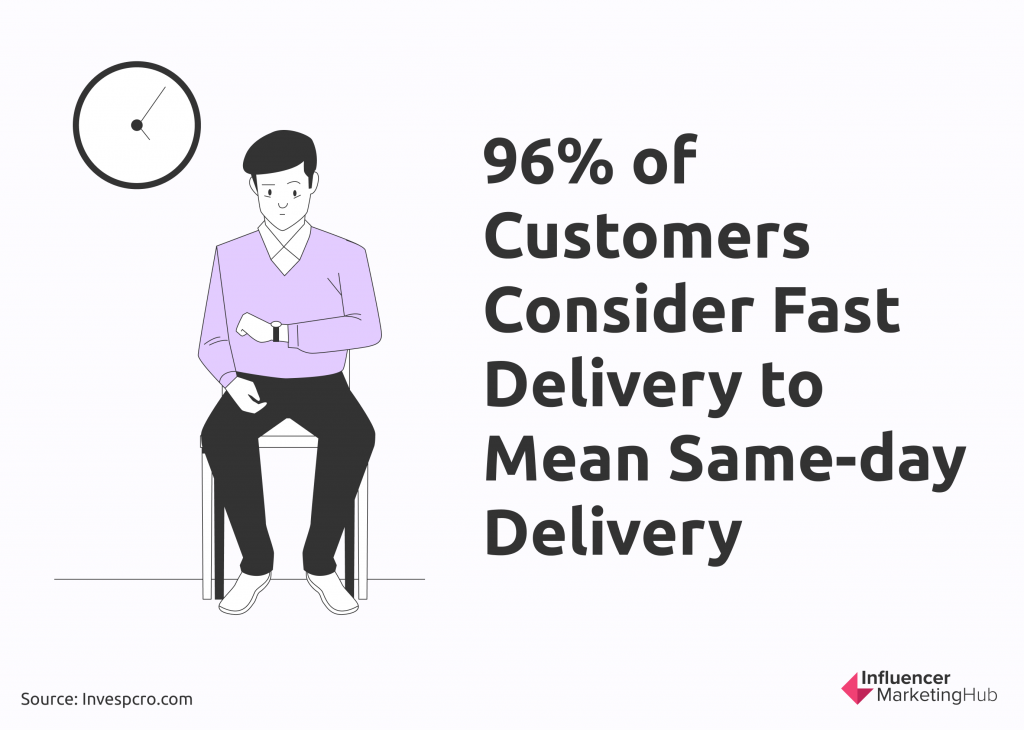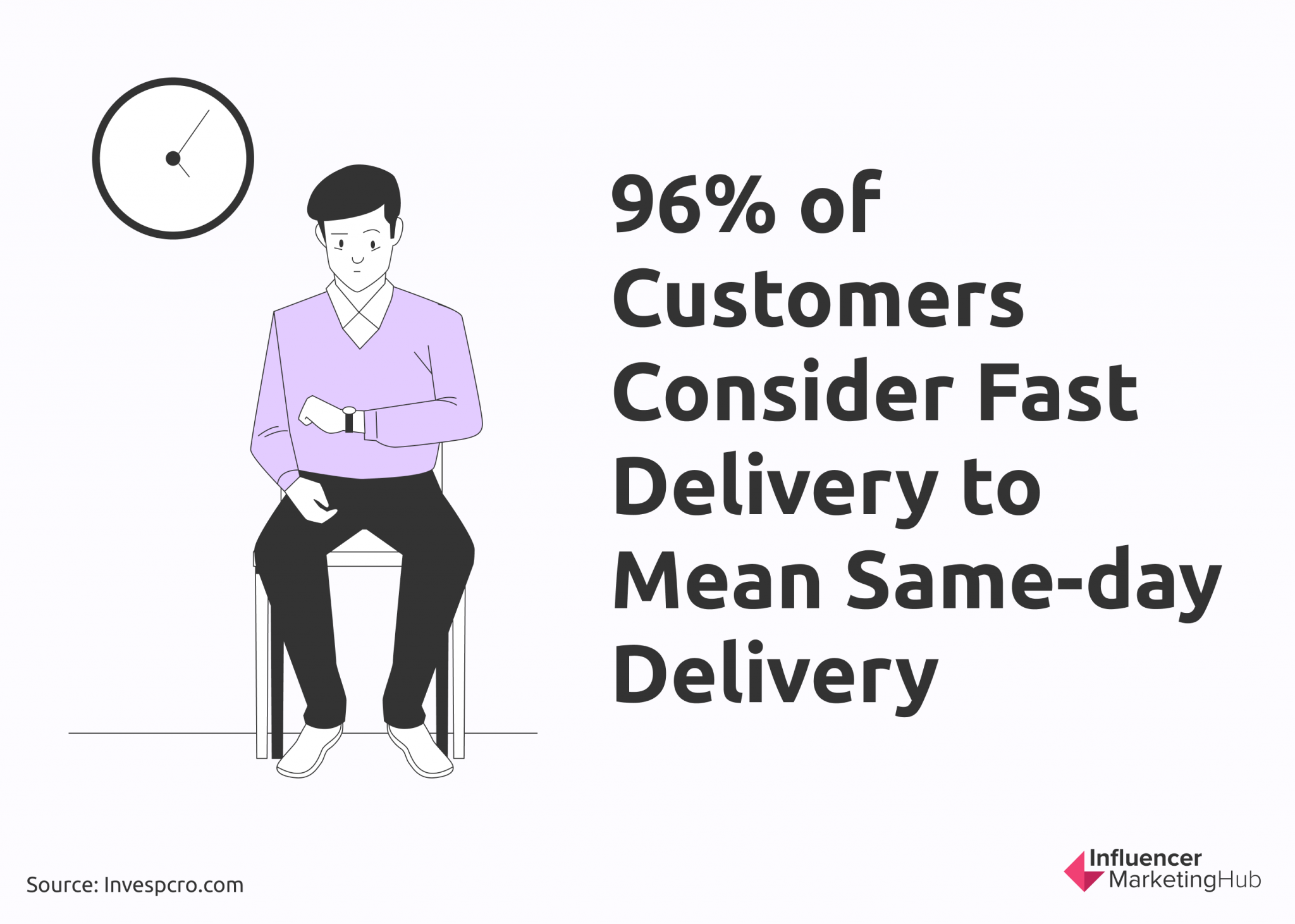 According to PwC's Global Consumer Insights Pulse Survey that was completed in June 2021, the majority of participants (41%) indicated that fast or reliable delivery is the most important when shopping online. Though, what's seen as fast delivery might come as a surprise. Data by Invesp, conversion rate optimization experts, reveals that more than half of online consumers (56%) between the age of 18 and 34 expect to be offered same-day delivery. In fact, a whopping 96% of customers considered fast delivery to mean same-day delivery.
The key takeaway - shipping times matter a lot.
While small online stores will find it difficult to offer same-day shipping, they can still improve their delivery times by using an eCommerce warehouse. As orders are shipped in batches and from the nearest distribution center, a warehouse can help you to deliver the goods to your customers much faster.
More efficient
The alternative to using an eCommerce warehouse is to keep the inventory at your business (and as many eCommerce stores operate remotely this translates to the basement, garage, or bedroom). Needless to say, this is a recipe for disaster. Not only does this approach make it a lot more difficult to keep accurate tabs on your inventory and its whereabouts, but it also makes it more challenging to scale.
Considering that the stock numbers of a product are often displayed on your store's website, it's even more critical that your inventory count is accurate. In fact, by choosing to display how few items are left, you can create a sense of urgency which can encourage potential customers to buy an item before it runs out of stock. This marketing strategy won't be possible if you don't have precise control over your stock on hand.
Better handling of returns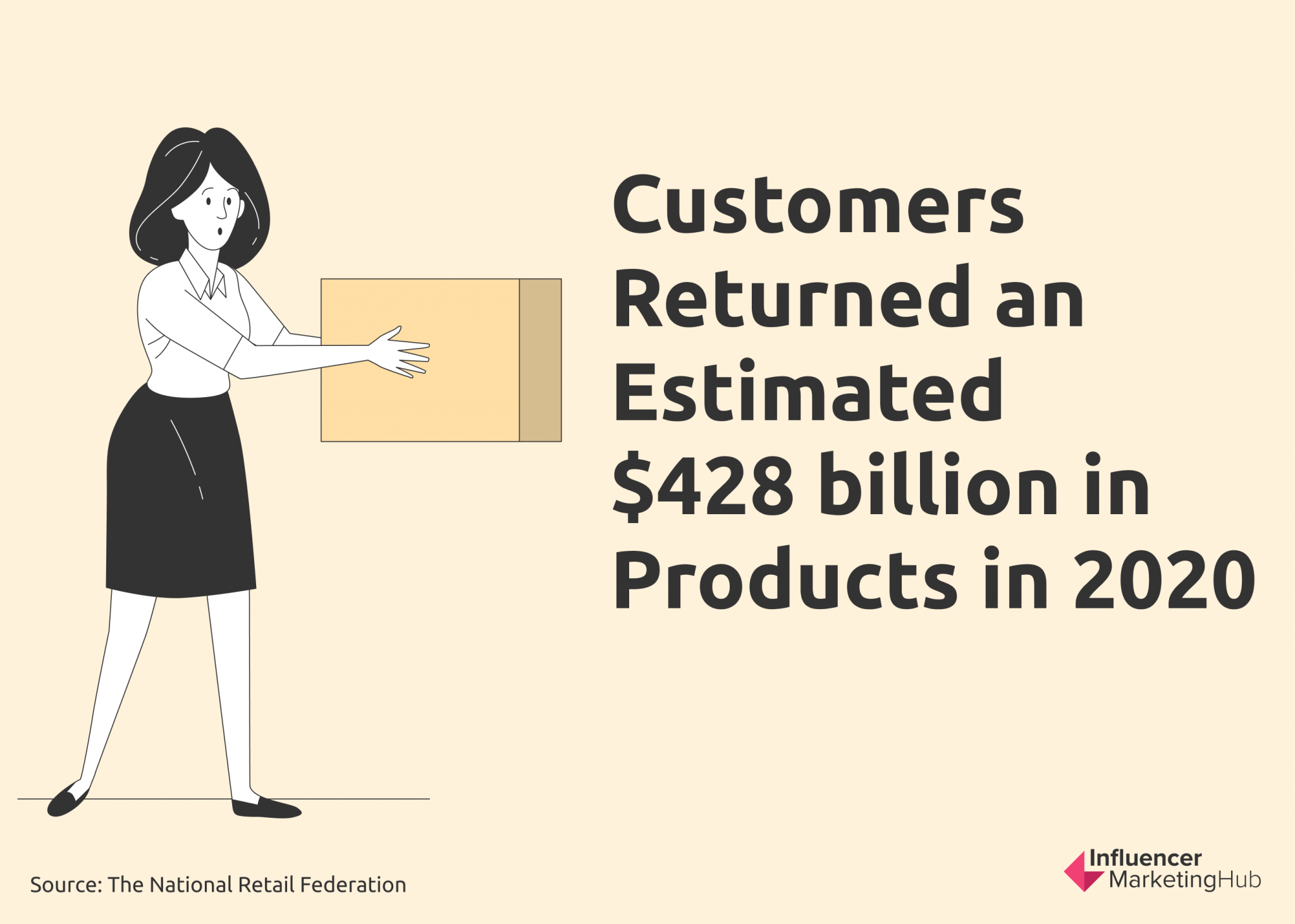 What happens when a customer wants to return a product? Will you have enough space to dedicate an area just to returns? If you confuse a defective product for a new one, you'll have one more unhappy customer and return to sort out. Unlike traditional warehouses (or your makeshift storage facility), eCommerce warehouses are equipped to deal with multiple returns quickly and efficiently at the same time.
Less time-consuming
There are many other steps that also need your attention such as managing inventory and packaging. An eCommerce warehouse won't just be a place to keep your goods, but it will also take care of these other tasks. After you've ensured that your inventory reaches the warehouse, you're basically free to concentrate on other (more exciting) operations such as sourcing trending products to sell online and marketing.
---
Best Practices When Using an eCommerce Warehouse
Use a warehouse management system
A warehouse management system (WMS) is a software that can help you to optimize the warehouse by keeping track of and controlling daily operations. It can, for example, help you to forecast inventory, streamline fulfillment, manage the supply chain, and share real-time data regarding product availability. All in all, it will help you to improve efficiency and avoid common pitfalls like running out of stock.
To make the most of your WMS, it's key that you integrate it with your eCommerce store. This way, you'll be able to automate operations like ordering more inventory on time and sending shipment notifications and/or order updates. Depending on your eCommerce platform and the software that you've picked, integration should be an easy process.
Distribute your inventory via multiple warehouses
To minimize your shipping costs, it can be a good idea to rely on more than one warehouse. This way, orders can get shipped from the distribution center that's closest to the customer. Not only will your customers be happy as the shipping costs will be less, but it could also mean that they'll get their goodies sooner.
Create minimums points
If you're not running a dropshipping business, one of the challenges that you'll face is knowing how much inventory you'll need to order. It often ends up being a choice between the lesser of "two evils" - too much stock or not enough.
So, it's a good idea to create inventory minimums points. In short, it refers to the minimum quantity of a specific product that your business should have on hand at all times.
With the right specialized software, this should also be easy to set up. Once you reach that point, the software will send you a notification so that you can order more stock.
Try out various picking systems
A picking system refers to the processes created to boost the efficiency of order picking. There are a number of different types of order picking systems that are used today such as single-order picking, multi-batch order picking, batch picking, cluster picking, and zone picking.
For example, for bigger online stores, batch picking will make more sense, while single-order picking will work better for more straightforward orders that have only a couple of items. You might have to test a few systems before you find the one that delivers the best results for your setup.
---
Wrapping Things Up
Without an eCommerce warehouse, you run the risk that your inventory can get lost, misplaced, or shipped to the wrong customer. Not only will you lose inventory this way, but also customers.
Though, it's not just about making sure everything runs smoothly right now. There'll come a point that your business will outgrow its ability to be run from only your home. Once your sales volume increases or you expand your product range, you'll need more storage space and better systems for inventory control.
Just like there'll come a time that you should no longer be staying in your parents' basement, so too shouldn't your inventory. Know when it's time to move out and move on to an eCommerce warehouse.
Frequently Asked Questions
What does 3PL stand for?
3PL is short for third-party logistics. It refers to the outsourcing of inventory and supply chain management to third parties. Essentially, it means that operations such as warehouse management, shipping, and other aspects of logistics will be handled by different third parties on your behalf. It generally requires lower upfront costs, but it can be more expensive over time to use this approach rather than building your own supply chain.
Why is inventory management so important?
Inventory management is important if you want to ensure that you have enough products on hand to meet customer demand. When you don't keep track of your inventory accurately, your online store can lose sales as you might not have enough stock. Alternatively, if you carry too much of a specific product that doesn't generate enough sales, you can lose money. Also, if you forecast the right amount of inventory, you can negotiate better deals with suppliers because you'll know how much you'll need.
How do you pick the right packaging?
The right packaging can help to strengthen your brand identity. So, if you can afford it, it's better to pay extra for branded packaging than to use the free packaging that your shipping carrier might offer. Whichever packaging you decide on, remember that packaging contributes significantly to retail waste. In fact, by using more sustainable packaging, you'll possibly gain more customers. So, try to use paper, cardboard, bioplastics, and biodegradable plastics. Also, try to keep your packages small and light to reduce shipping costs.
Which apps can help with inventory management and shipping?
You can, for example, check out ShipBob, Shipwire, Easyship, and Veeqo. These tools can help you with tasks like managing your orders, tracking your inventory levels, optimizing your shipping costs and delivery times, working out tax, synchronizing inventory levels across warehouses, etc. These tools also integrate with most eCommerce platforms.
How can your business offer free shipping?
Free shipping is very popular among consumers. To help you offer free shipping, here are different approaches that you can take:
You can make it available only for orders that exceed a certain amount.
You can offer discounts to certain customers so that only they qualify for free shipping.
You can increase the prices of your products so that your customers are unknowingly paying for the shipping.
You can use your profit margin. Your profit margin will become smaller, but you could grow your customer base.