Despite the cyclical cry of "email marketing is dead" by marketing writers pushing the next big thing, email marketing is still one of the most powerful marketing strategies around. With email, your brand can reach leads and customers on a more personal level to build those ever-important relationships you'll need to move them through your sales funnel. And, email marketing has an incredible ROI. The latest reports place the ROI from email marketing strategies anywhere from 3800% to 4400%. That's staggering. Particularly for a marketing strategy that's supposedly dead or dying.
Of course, to get that kind of results, you need to use email marketing strategies that actually work. Fortunately, there's pretty much no end to successful email marketing strategies. In this article, we're going to cover seven of our favorite email marketing strategies that will help you reach your target audience and move them to take action.
Not yet familiar with email marketing? Check out our guide to email marketing to get started!
---
7 Email Marketing Strategies You Can Use to Get Real Results:
---
7 Email Marketing Strategies for Success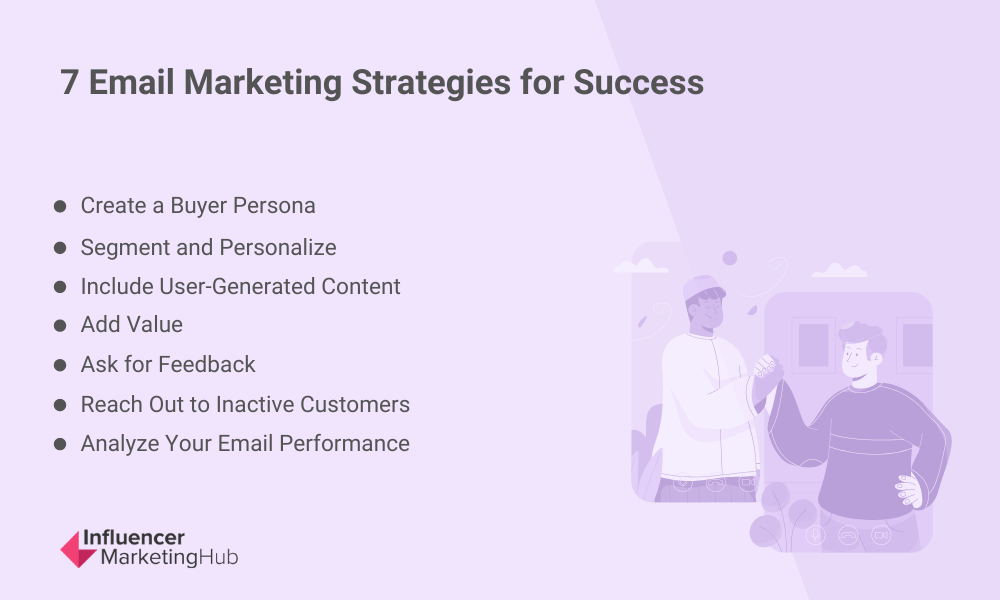 Regardless of whether you're a seasoned email marketing veteran or you've never sent a single marketing email, the process is essentially the same: get leads > launch your email campaign > monitor the success of your campaign > make adjustments. Over time, though email marketing strategies have emerged, changed, or diminished. This is due to any number of things but advances in technology and changes to customer privacy laws (like GDPR) are two driving forces behind email marketing's evolution. Email marketers also have to contend with changes in consumer perception and behavior.
So, what does this mean for your email marketing strategy? It means that you need to reevaluate and revise your email marketing strategy to ensure that your technology is up to date and that you're complying with all appropriate laws, for starters. But it also means that you need to pay attention to your target audience to ensure that you're matching your email marketing best practices and strategies to their expectations. Here are seven email marketing strategies that offer a combination of tried-and-true strategies as well as fresher strategies based on research into consumer behavior.
---
1. Create a Buyer Persona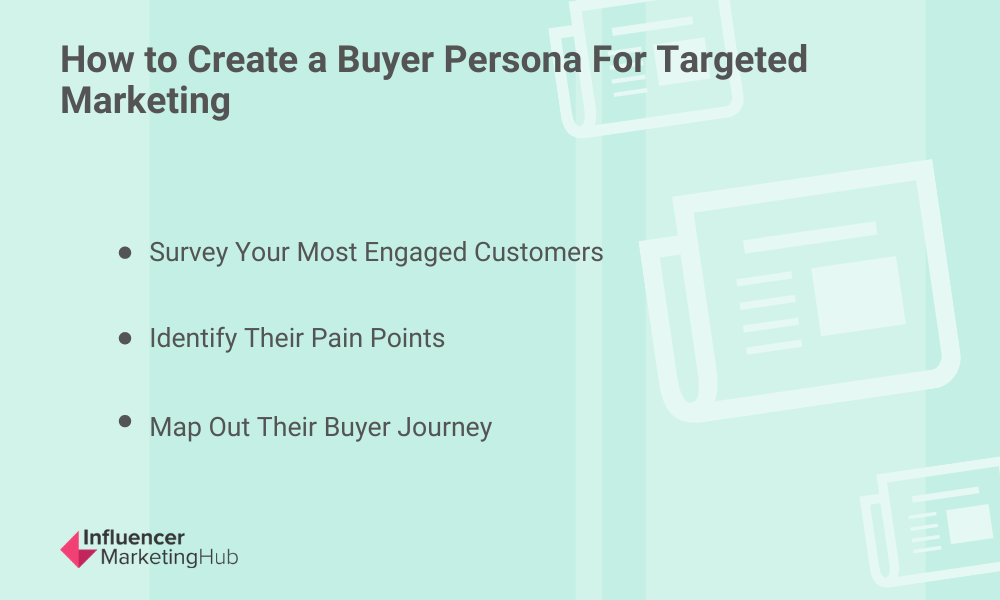 Creating a buyer persona for each of your target audiences is the most important step to creating email marketing strategies that get you the results you want. If you don't know who your ideal customer is, you won't be able to create targeted marketing messages that resonate. This means that you're not going to hit your goals. When you have a buyer persona on which to base your email marketing campaign strategy, you can build an email campaign that speaks to your target audience and motivates them to act. According to Gallup polls, companies that use their target audience to create personalized, hyper-targeted marketing campaigns outperform their peers in sales growth.
Having a solid buyer persona adds focus to your email marketing campaigns. And when you know who you're talking to and what their needs are, you're in a much better position to address those needs and get them to respond positively.
Creating buyer personas isn't hard and the benefit is huge. Here are three steps to building a buyer persona that you can use to personalize your email marketing campaigns, better segment your lists, and create emails that address the needs of those buyers.
Survey Your Most Engaged Customers
Reach out to your most engaged customers for feedback. At the very least you'll want to find out:
What they were experiencing that led them to buy from you

What they liked about the process of purchasing from you

What they didn't like about the process
Identify Their Pain Points
The information you've gleaned from your customer surveys will tell you quite a bit about your target audience's goals, the problems they're trying to solve, and what life was like both before and after they found you. This can tell you everything you need to know about their pain points and how you were able to solve those pain points.
Map Out Their Buyer Journey
With all of the information you've gathered, you can create a buyer journey that includes who actually makes the decisions for your target audience, how they make those decisions, what their sticking points are, and how they find the information they need to make decisions. You'll also be able to learn where they hang out online and offline so you can best reach them.
Armed with all of this data, you can create email marketing campaigns that are relevant to the segments you've identified.
---
2. Segment and Personalize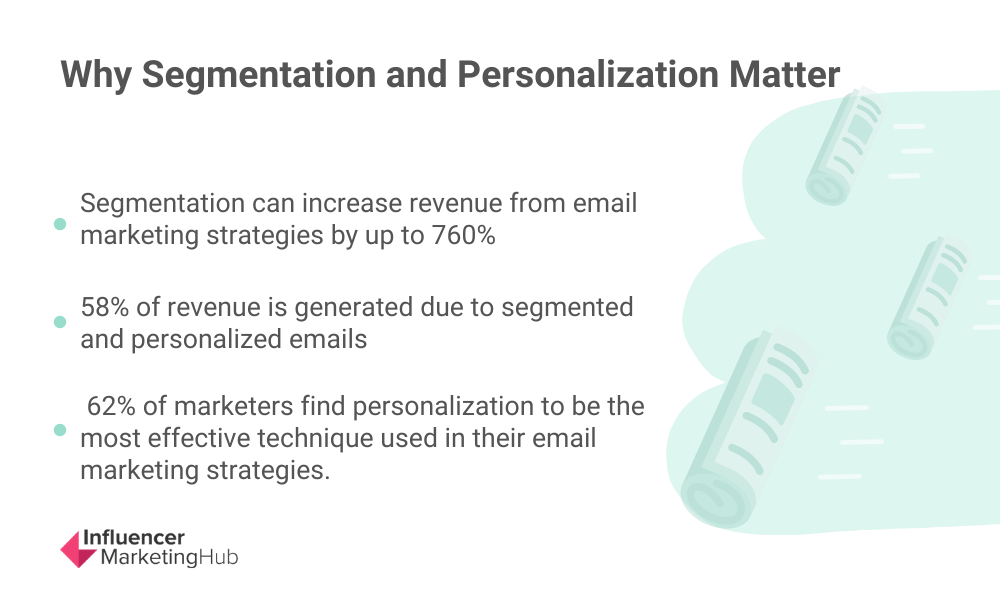 Segmentation and personalization are tied together. You start by segmenting your email marketing list into groups of similar people so you can send highly targeted emails that are relevant to the interests of those people. Then, you personalize your emails based on those segments.
There are just about endless ways to segment your email list. You can segment based on interests, behavior, demographics, location, and a ton more. When you segment your list, you can better structure your email marketing campaigns to send relevant content that readers are actually interested in. And segmentation really works. Research indicates that segmentation can increase revenue from email marketing strategies by up to 760%.
There are several ways you can get this information from your subscribers. We recommend segmenting right upfront, starting when people sign up for your email list. You can use your subscriber signup form to gather the information that will help you segment your email list so you can better personalize your communications. There is any number of ways to do this, from outright asking users to self-segment on the sign-up form to segmenting based on the lead magnets subscribers download. You can even use cookies to track behavior on your site and in the emails you send to further refine your subscriber segments.
Once you have your subscriber lists segmented, you'll want to use that information to personalize your email marketing. Personalization helps you make and keep a personal connection with your readers. This goes beyond simply including the reader's name in the subject line. You can use what you've learned about your subscribers during segmentation to offer up a completely personalized email marketing experience.
Personalized content is incredibly effective. In fact, 58% of revenue is generated due to segmented and personalized emails. That's probably why 62% of marketers find personalization to be the most effective technique used in their email marketing strategies.
In addition to personalizing your content using subscriber names in your subject line and email copy, use what you know about your subscribers to add personalized touches to your email copy and images.
---
3. Include User-Generated Content
User-generated content is amazing. Your customers and followers will be excited to see themselves in your marketing and other subscribers will be more engaged because the content they're seeing is from users just like them. Stay on the lookout for user content on your social media platforms that you can then repurpose (with permission) and plug into your email marketing strategies.
REI is great at including user-generated content in their marketing. Here's an example of one of their emails that uses user-generated content:
Here are three huge benefits to including user-generated content in your emails:
Memorability
Attention spans are short. Like, under three seconds short. Using branded content or highly-polished content in your emails could cause readers to glaze over and your marketing to miss its mark. When you include user-generated content, readers get to see other customers and subscribers just like them, making them more likely to remember your marketing message.
Trust
People trust people more than they trust brands. User-generated content can be used as social proof, showing your subscribers that real people just like them use and love your products and services.
Influence
A staggering 84% of Millennials say that user-generated content on company websites has influenced the way they do online shopping to some extent. When you include user-generated content in your emails you're offering up real experiences from your existing users that your subscribers can use as motivation to take action.
---
4. Add Value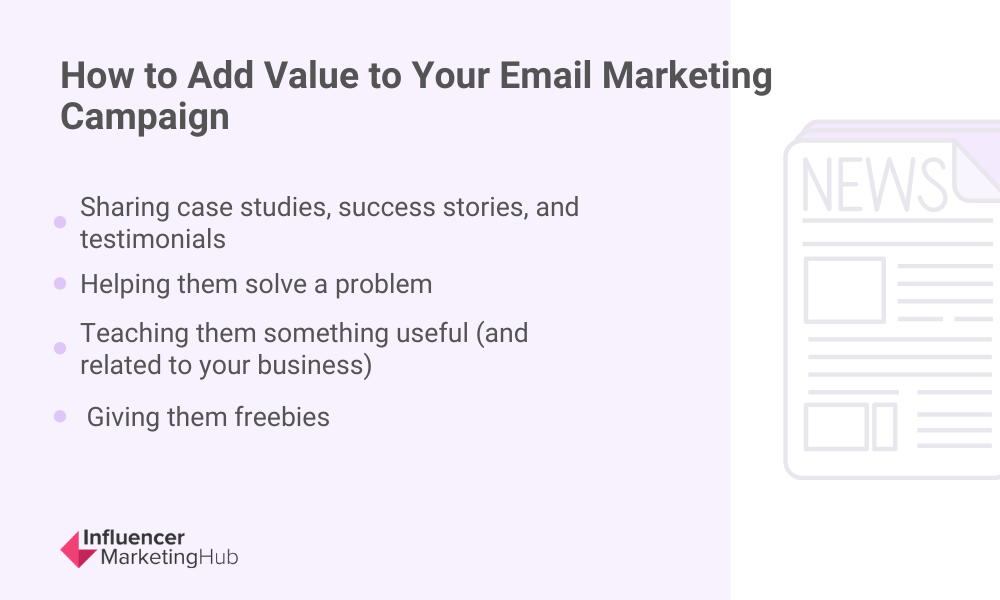 Using your emails to constantly sell to your subscribers just isn't going to work. A good guideline to follow is to send a single sales email for every three value emails you send to your list. Nobody wants to be sold to all the time but you can use value emails to subtly guide readers toward making a purchase while still providing them with valuable information that they can use regardless of whether or not they make a purchase.
If your subscribers aren't finding value in the emails you're sending, they're going to unsubscribe. And that means you're going to miss out on more opportunities to market to them.
You can provide value to your email subscribers by:
Sharing case studies, success stories, and testimonials

Helping them solve a problem

Teaching them something useful (and related to your business)

Giving them freebies
Here's an example from Ritual:
By adding value for your subscribers you'll show them that they can trust you to have their interests and success in mind and establish yourself as an authority in your niche or industry.
---
5. Ask for Feedback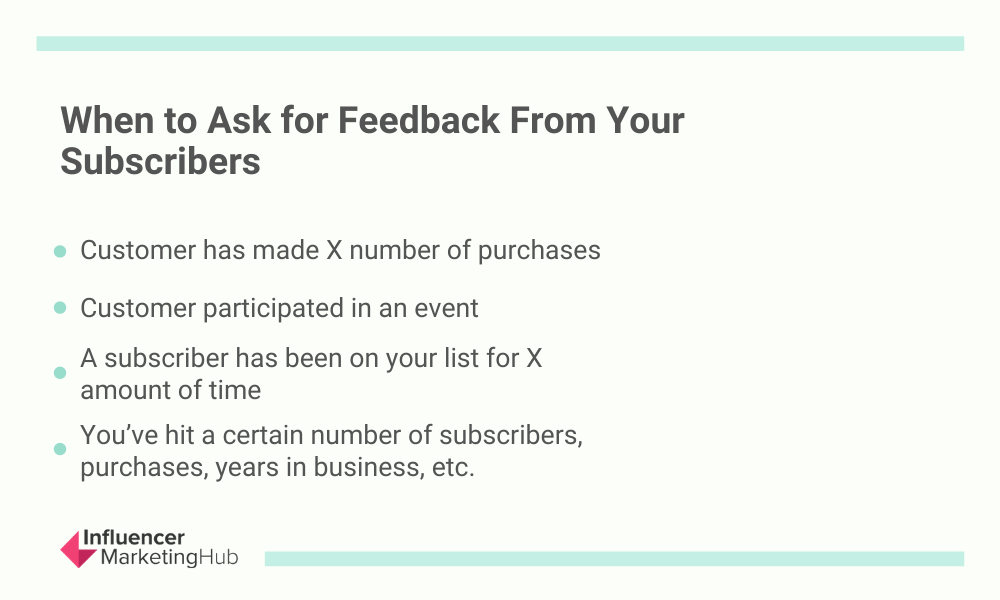 Many email marketers fail to employ this email marketing strategy and end up missing out on feedback from the very people they need to hear from. To best understand your customers' pain points, perspectives, and needs, you have to ask for their feedback. This means requesting reviews, seeking out customers for focus groups, and more. You don't want to ask for feedback from just anyone, though. Try to reach out at certain milestones:
Customer has made X number of purchases

Customer participated in an event

A subscriber has been on your list for X amount of time

You've hit a certain number of subscribers, purchases, years in business, etc.
Here's an example from Lyft:
You can offer an incentive to get more customers to respond to your request for feedback but be sure to make it clear that you're looking for genuine feedback—don't make the incentive contingent on them giving you a positive review.
---
6. Reach Out to Inactive Customers
Your inactive customers and subscribers are a potential gold mine. But only if you follow up with them. Here are four times to reach out to inactive customers and subscribers with a targeted marketing message designed to bring them back into the fold.
No Clicks
You're probably already tracking clicks as one of your email marketing metrics. Clicks are what lead to your email campaign's click-through rate (CTR). Most of the time, email marketers focus on users who do click and ignore those who don't. But when you know who isn't clicking your emails, you can follow up with them and find out what it would take to move them to act. This will help you fine-tune your marketing message.
No Opens
Opens are important for email deliverability. We recommend regularly cleaning your email list (quarterly is ideal) to remove inactive subscribers. Don't worry, it doesn't have to be a manual process. Using your email marketing service provider (ESP), you can set up an automated email campaign that goes out to users who haven't opened one of your emails in the past three months. At any point during the campaign, subscribers who engage with one of your re-engagement emails will be kept on your list; those who don't will be purged at the end of the campaign.
A lot of email marketers are afraid to delete subscribers from their lists but having a smaller list of subscribers who are actually engaged in your content is a lot better than having an enormous list that doesn't care what you have to say. Plus, since many ESPs charge based on the number of subscribers on your list, having a bloated list can cost you money!
No Purchases
Do you have a segment of email subscribers who are clearly interested in your brand but who haven't yet made a purchase? Don't ignore them, and don't wait for them to come to their senses. In order to get these subscribers to become customers, you need to push them to act and nurture them towards converting. Try sending a discount code for subscribers who are first-time customers.
No Return Customers
You may find that you have customers who, for one reason or another, have never made a second purchase. Or maybe they've gone silent for months after being a solid repeat customer. Either way, email marketing is the best way to get those customers to come back for more. Again, it could be as simple as sending a discount code as part of your win-back email marketing campaign strategy but you could also use this as an opportunity to get feedback from these lapsed customers to find out why they haven't been back.
Here's an example of a win-back email campaign from Dropbox Paper:
---
7. Analyze Your Email Performance
If you don't analyze the performance of your email marketing strategies you won't know what's working and what isn't. This means you're likely to waste resources on email marketing strategies that aren't bringing you a return and failing to adjust to new strategies that will perform better.
Not good.
Here are some of the key email marketing metrics you'll want to track:
Click-through rate:

The percentage of recipients that click links in your email.

Open rate:

The percentage of recipients that open your email.

Conversion rate:

The percentage of click-through recipients that then complete the desired action.

Unsubscribe rate:

The percentage of recipients that unsubscribe from your email list.
---
Use Strong Email Marketing Strategies to Improve ROI
Email marketing strategies are a huge piece of your overall marketing strategy. Through email, you can build relationships with your target audience, build community, increase traffic, and drive sales. As such, it's important to optimize every single part of your emails—subject line, images, copy, calls-to-action, and more.