You are probably tired of hearing that first impressions matter. Considering that it can be the factor that decides whether something will succeed or fail, it makes sense why this advice is reiterated over and over again. When it comes to email marketing, your subject lines set the tone. A clever subject line that grabs the attention will motivate your audience to open your email and, possibly, even to click on your call to action. The typical open rate can be as low as only 20%. So, you should actively search for tips to help you boost your open rates to ensure your email marketing campaign delivers results.
As a matter of fact, the stakes are even higher. If you get your email subject lines wrong, it could result in your email being labeled as spam. Not only does this mean that your email newsletter will remain unopened, but it could hurt your standing among search engines.
---
10 Tips to Crafting Email Newsletter Subject Lines [+ Examples Included]
---
Tips for Writing Effective Subject Lines for Newsletter Emails
You can approach your email subject lines in various ways. Whether it's to make it very personal and location-specific, use numbers or simply stick to something short and sweet, you should identify which approach works best for the preferences of your target audience and the personality of your brand.
It also pays to complete A/B testing. You can, for example, test factors like the tone, length and word choice to see which approach delivers the best results. Alternatively, you can use email newsletter tools that can help you with A/B testing and loads more like conversion rates, email content, analysis and click-through rates .
1. Keep it short
The most effective subject lines are only between 6 and 10 words long. Your target audience will impact what the ideal length for your email subject line should be, but it should not be more than 20 words.
As the majority of emails are accessed by means of mobile devices, it makes it even more important to keep your subject lines short. Long email subject lines can get cut off when read via a smartphone which could mean that your contact list can't see the whole context.
Here are some short, but sweet, subject lines:
Get Priority Support

It's time to rethink Christmas
---
2. Include numbers
Let's face it, most of the time when we check our emails, we are in a hurry. Now, an advantage of using numbers in your subject line is that it can be quicker to read and easier to understand. It can also help you to show the benefits that you offer clearly. Whether it is using a percentage, referring to a list or including the year, it is relatively easy to include numbers in your subject line to help your newsletter stand out.
Here are a number of ways that you can include numbers:
80% of businesses will be using AI by 2020

You can get 50% more returns from stocks

10 wardrobe essentials for 2021

3 ways you can save money this Black Friday
---
3. Create a sense of urgency
No one likes the idea that they could possibly be missing out on something. So, if you can create a sense of urgency, your recipients will be more inclined to open your newsletter to see what you have to offer. You can, for instance, include limited seats and offers that your subscribers will find difficult to resist.
Though, to ensure that it remains effective, you must actually keep your promises. In other words, you need to ensure that your subject line is a true reflection of the content. No reader should ever feel as if they were fooled after they have opened an email.
Here are a few subject line examples to try:
50 seats left! We're offering them at a special price for a limited time.

This week's deal: $50 off your subscription

You're losing out on loyalty points

Get This TODAY Before It's Too Late
---
4. Tell a story
In some instances, you will be able to adjust the content of your email newsletter so that it reads like a story. The secret is to come up with a subject line that will reveal the plot without giving away everything.
Here are some examples of how you can do it:
How one solopreneur made a million with just $100

This girl tweeted every day to stop bullying and it's working

How this guy went from zero to social media hero
---
5. Highlight the relevance
If the content of your newsletter seems irrelevant, it will probably go straight to the bin. One way to make it relevant to your subscribers is by tackling a specific issue. By researching the type of person you want to attract, you will have a good understanding of the challenges that they face. Then, craft your subject line so that it offers to help with their problems.
Here are some examples of subject lines that touch on pain points:
Get more garage space with these DIY projects

Want to treat your kids without spoiling them?

For those who are tired of diets that don't work
---
6. Treat your subscribers
A very effective way to boost your open rate is to suggest that a surprise is included in the newsletter. By treating your readers to things like guides, templates, checklists, shortcuts or infographics, your newsletter becomes more valuable and you are giving them a great reason to open your email. After all, everyone likes to feel appreciated and special!
Here are a few ways to treat your readers:
Here's a 5-point checklist for your next party

Here's a tool to analyze your ROI

Your free copy of our 2020-2021 marketing guide
---
7. Make it specific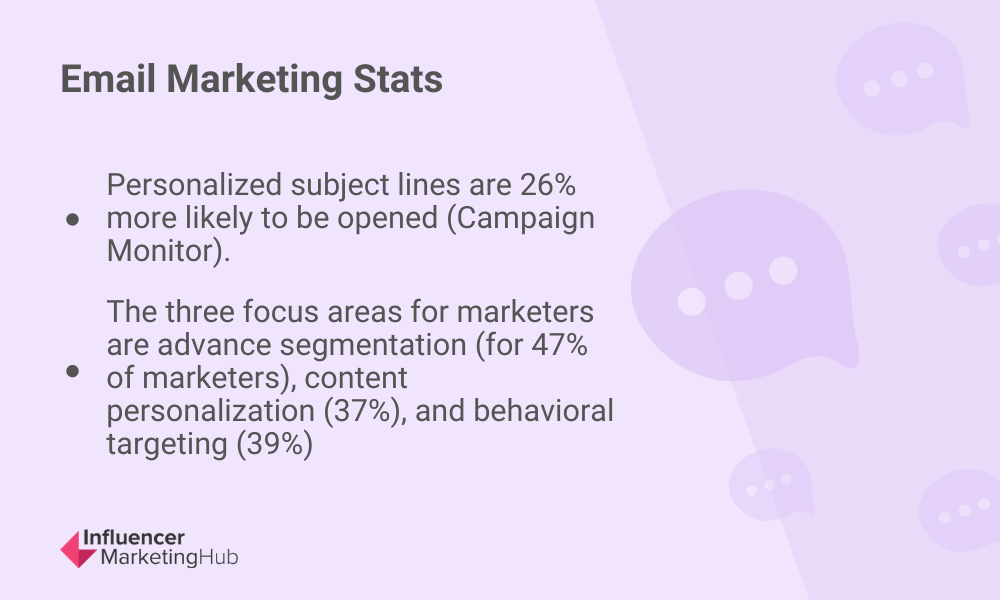 Your subscribers want to know that you are indeed paying attention to them. One easy way is to do this is to include location-specific information. You can, for example, share information about events in their neighborhood. This is always a hit!
In order to do this, you will need to use segmented email campaigns by grouping your subscribers into smaller groups using factors like gender, age, location, employment, and hobbies. You can then create targeted subject lines to create personalized emails that will pique the interest of your different segmented groups. It is even better yet, if you can include the name of your reader too. People are more inclined to open an email if they see their first name in the subject line already. In fact, hyper-personalization is one of the email marketing predictions set to play a more important role in the future.
Here are a couple of examples to test:
It is your second visit this month! Keep it up!

Our way of thanking you for dining at us last week

To the teachers who hate to cook

Are you a real estate agent who wants to make more sales?

Where to dine out this month in New York

Hot in Brisbane: This Week's Events
---
8. Make it well timed and appropriate
Timeliness is key when sending your newsletters to your email list. If you give your subscribers the information they need at the right time, you can significantly improve the open rate. Without using a subject line that is extremely clever, your email campaign can still deliver results when you ensure that your mailing list gets the information that you offer at the appropriate time.
The holiday season, in particular, is an excellent time to send a newsletter. At this time of the year, your audience is searching for gift ideas and special offers.
Here are some examples that have worked well for holiday marketing:
Your December Stats

Your New Year's Resolutions for Getting Fit

Unique Gifts for Boys
---
9. Use brackets for special content
If you want to share useful content like a case study or report that will be of value to your readers, you can highlight it in your subject line with the help of brackets. Content that is placed in brackets is often associated with a type of bonus.
To achieve the most effect, it's best to place this parenthesis either at the beginning or the end of your subject line. You can just look at this article's title to see how we have used it. The content that is placed in the middle of the subject line is more often than not read very quickly.
You have most likely also noticed that square brackets are preferred over the more conventional round brackets. As square brackets are not used often in writing, it can effectively frame your special content helping it to be more noticeable.
Here are some examples that you can try in your next email marketing campaign:
[Case Study] How to Get More Reservations: 5 Strategies

Feed Your Family For Less [Recipes Included]

How to Get More Customers via Pintrest [PDF]
---
10. Include an emoji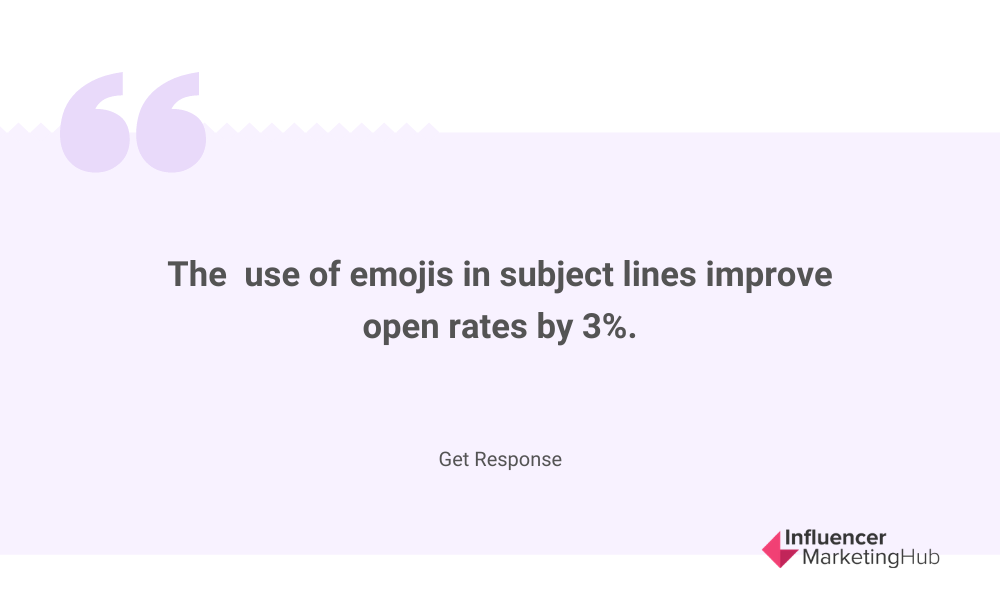 While special characters often trigger spam filters, the use of emojis can capture attention and even add more context. A report by Experian has found that you can increase your open rate by as much as 45% when you include an emoji in your subject line.
The trick is to find an emoji that is easy to recognize, relevant and professional. Thus, you will most likely have a limited list, but that might not be such a drawback considering that you should include two emojis max. If you do not have a real good reason for including one, rather just leave it out.
Here are some of the most popular emojis to include:
A star

An aeroplane

A red heart

A smiley face

A present

A sun
---
Bad Practices Best to Avoid in Your Email Marketing Strategy
Now that you know what to do, it is equally important to avoid these mistakes that can result in unopened email and cause email spam filters to work overtime.
1. Including the word "newsletter"
Newsletters are usually seen as boring. So, to help you boost the open rate, it is best not to include the word "newsletter".
2. Focusing on promoting your company
The subject line of your newsletter email should focus on only the recipient. You may still use it as a chance to reveal a special offer or new product, but ensure that the focus of the subject line is on how your audience will benefit if they read your email.
3. Using all caps
If you type your subject line in all caps, it increases the possibility that your newsletter will be flagged as spam. In general, it is also impolite as it is seen as if you are shouting.
The opposite, using only lowercase, is just too unorthodox. So, it is best that you either use title case or sentence case. According to some research, title case (when you write the first letter of most words with a capital letter) is more effective. Though, it can sound too formal when trying to create a conversational tone.
4. Using spammy words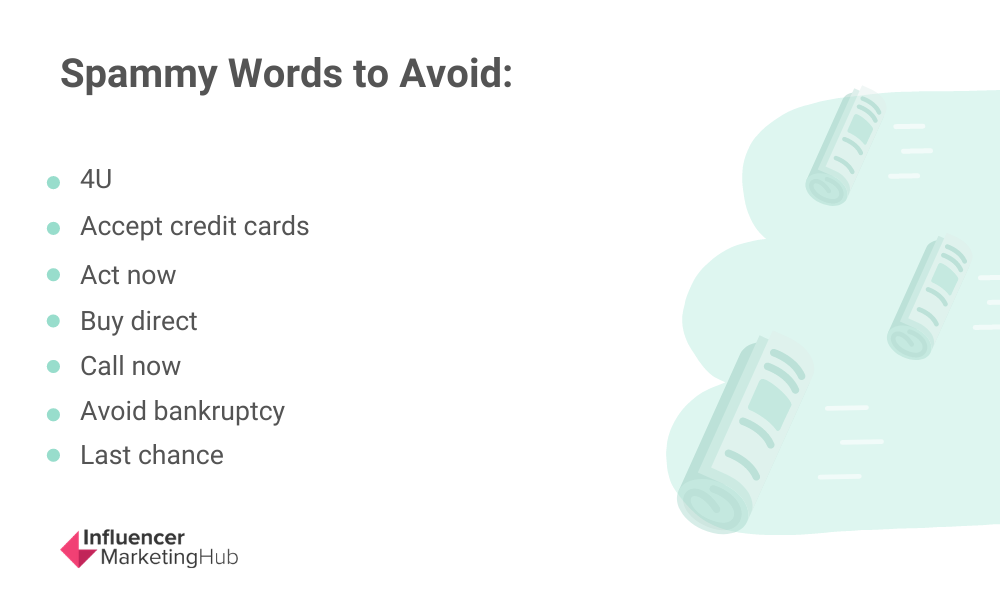 Certain words that come across as too promotional can also make it easier for your email to end up in the spam folder. These include words and phrases such as: bonus, free, earn extra cash, amazing stuff and apply now.
Any word that over-exaggerates, tries to get you to make a payment or suggests that it could be a scam, should be excluded. In short, if what you are writing sounds too good to be true, your recipients will be able to tell immediately.
That being said, some words might be regarded as spammy, while other resources might praise them as an eye-catching word to include in your subject line. This just shows you the value of conducting A/B testing. At the end of the day, there is no guaranteed formula. When crafting marketing campaigns, you need to experiment and apply some judgement too.
---
Wrapping Things Up…
An effective email newsletter can help to boost trust in your business. By sharing valuable information with your audience, more people will place their confidence in your brand. Though, for this to realize, you should find a way to ensure your email stands out among the tons of emails all fighting for attention.
To write a subject line can be pretty straightforward, but creating one that will motivate your recipients to open your emails will require more finesse. It is key that your subject line gets as much of your attention as your email body. While it might be tempting to write something quickly just before you send your newsletters, it should never be an afterthought.