Advertising Disclosure
Advertising disclosure:
Our partners compensate us. This may influence which products or services we review (also where and how those products appear on the site), this in no way affects our recommendations or the advice we offer. Our reviews are based on years of experience and countless hours of research. Our partners cannot pay us to guarantee favorable reviews of their products or services.
With the rapid growth and increasing competition in the fintech industry, a strong online presence is crucial for businesses to stand out and attract their target audience. Particularly, it is vital for fintech firms to stay ahead of the curve by partnering with top-tier SEO agencies that understand the nuances of the industry.
In this article, we have carefully examined and compared the leading fintech SEO agencies that specialize in helping fintech businesses improve their search engine visibility, drive targeted traffic, and ultimately, enhance their market position. These agencies have the expertise and industry knowledge to effectively navigate the challenges of SEO in fintech, with tactics ranging from keyword research and content optimization to technical SEO and analytics monitoring.
Moreover, the agencies also address local SEO for businesses with a local presence and perform competitor analysis to identify growth opportunities and differentiation, equipping fintech businesses to capture a larger share of the rapidly growing user base.
---
10 Best Fintech SEO Agencies to Fuel Growth in 2023:
---
Top Fintech SEO Agencies
We have evaluated these agencies based on their expertise, industry knowledge, track record, client testimonials, and the range of services they offer. By providing an in-depth overview and comparison of the top players in the fintech SEO space, we aim to assist fintech companies in making an informed decision when selecting the right agency to propel their online growth and achieve their business goals.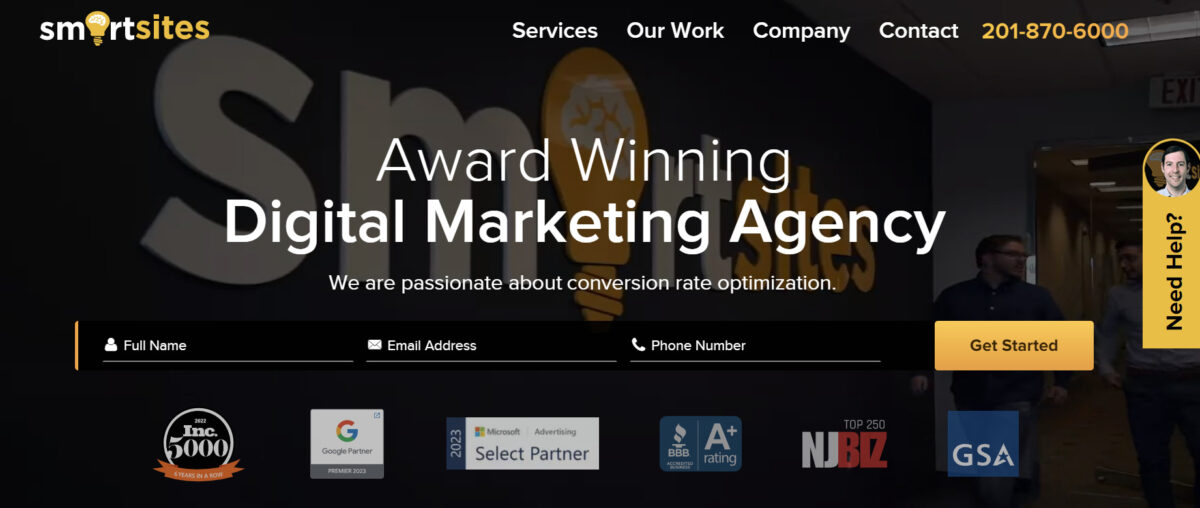 SmartSites is a premier digital marketing agency that leverages data-driven marketing to propel fintech businesses towards growth and success. They have a deep understanding of the fintech industry, combined with their specialized knowledge in web design and SEO. Their suite of services is designed to enable fintech businesses, whether providing payment solutions or innovative technologies, to thrive online.
What sets SmartSites apart is their commitment to creating an SEO-friendly website that doesn't just look good, but effectively markets your fintech business. Their in-house team of designers and developers excel in web design for internet businesses, prioritizing both aesthetics and functionality.
SmartSites' holistic approach to SEO ensures that your fintech website offers an outstanding on-site experience, resulting in increased targeted traffic and lower bounce rates. Their SEO coverage extends from local to national, making them a one-stop solution for all your fintech SEO needs.
SmartSites' success story is best exemplified by the case study of Sharemoney, a low-cost money transfer service. SmartSites redesigned Sharemoney's website, improved user experience, and launched a comprehensive global marketing campaign, which resulted in a 457% increase in total site traffic and a staggering 783% boost in organic search traffic.
Services:
Fintech Web Design and Development
SEO Optimization
Digital Marketing for Fintech
Local and National SEO for Fintech
User Experience Enhancement
Global Marketing Campaign Design and Launch
---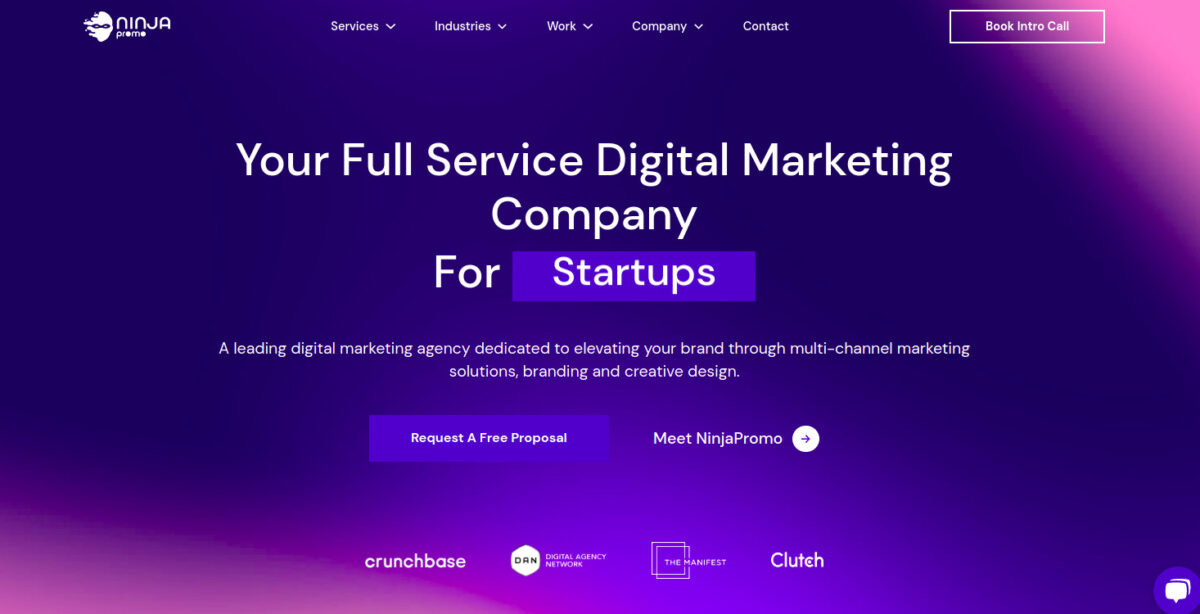 Ninja Promo is a digital marketing agency that specializes in boosting the visibility of financial technology companies and helping them stand out in an increasingly competitive market. With a team led by senior-level strategy, creative, and production professionals, they work directly with ambitious brands to develop advertising that can't be ignored.
The experts at Ninja Promo have built a solid reputation in the fintech SEO space through their unwavering commitment to their clients' success. With over 200 satisfied customers and $195 million raised by clients, their track record speaks for itself. Their two decades of marketing experience allow them to understand the unique needs of fintech businesses, tailoring strategies to maximize visibility and growth.
Their case studies showcase a wide range of successful campaigns for their clients, and their partners are backed by some of the best in venture. By leveraging their extensive network of industry leaders, including top exchanges, developers, audit companies, launchpads, VCs, and angel investors, Ninja Promo can help you connect with top influencers, KOLs, and leading media outlets to grow your business rapidly.
Services:
Digital Strategy Development
Keyword Research and Analysis
On-Page Optimization
Link Building and Outreach
Crypto Marketing Strategies
Competitor Analysis and Benchmarking
---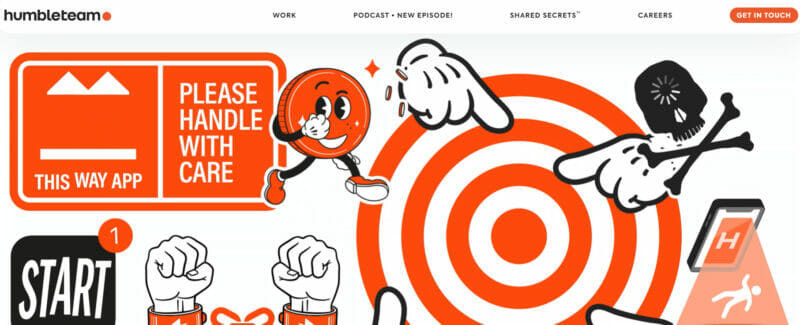 Humbleteam is an innovative fintech SEO agency known for their comprehensive approach to digital marketing, specializing in helping fintech businesses reach their full online potential. Their portfolio ranges from startups such as Pinata and Deserve, to unicorns like Dailypay, and even global giants including UBS and Raiffeisenbank, exemplifying their capability to cater to diverse needs across the fintech industry.
Humbleteam brings value to its clients through a dynamic blend of SEO strategy and exceptional app design, underpinned by a keen understanding of the fintech landscape. Moreover, Humbleteam also helps clients craft a digital-first brand narrative, meticulously tailored to tell their unique stories. This storytelling approach augments their SEO strategy, amplifying brand visibility, and solidifying online presence.
One of Humbleteam's remarkable achievements lies in their work with startup clients, who have successfully raised over $500M based on the strength of products developed with Humbleteam's assistance. Despite their affinity for startups, they maintain a versatile service offering, extending their expertise to Fortune 500 companies such as UBS, Raiffeisenbank, and NASA.
Services:
Fintech Mobile App Design and Development
SEO Strategy for Fintech
Digital Brand Storytelling
Comprehensive Product Development Assistance
Engagement-driven Design Principles
---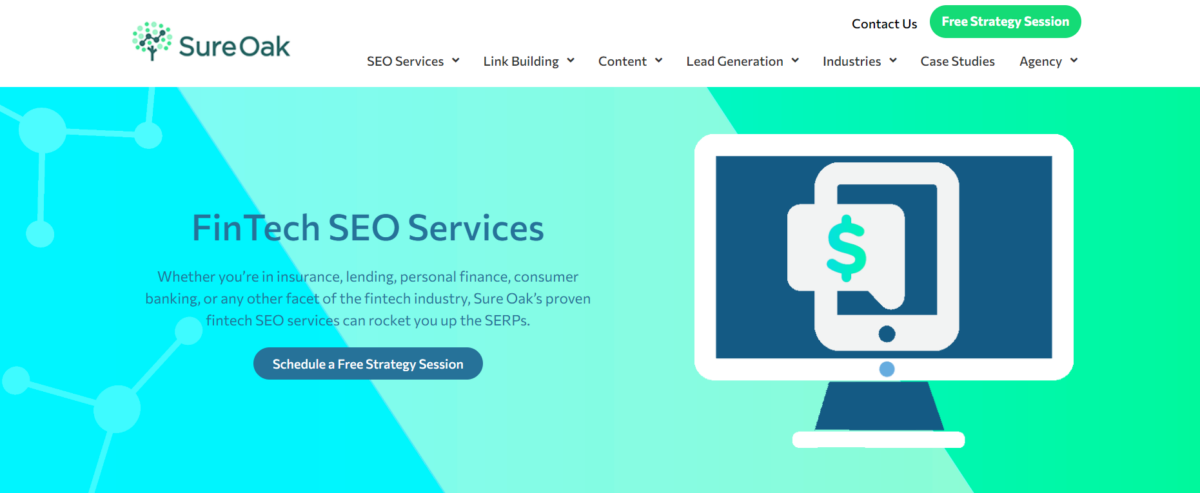 Sure Oak is a leading fintech SEO agency with a proven track record in skyrocketing clients up the SERPs. With over 20 years of experience, they understand the unique challenges fintech companies face and provide a comprehensive range of services to help them succeed in the competitive market.
At the heart of Sure Oak's approach is a thorough understanding of their clients' businesses, which allows them to create tailored strategies and game plans. They have developed proprietary methods for keyword research and analysis, ensuring that their clients target the most relevant and valuable keywords to drive organic traffic. Their expertise in content creation and optimization, combined with strategic link building, helps clients build credibility and authority within the fintech industry.
Services:
Custom fintech SEO strategy
Keyword research & analysis
Content optimization
Strategic link building
Technical SEO auditing
Conversion rate optimization
---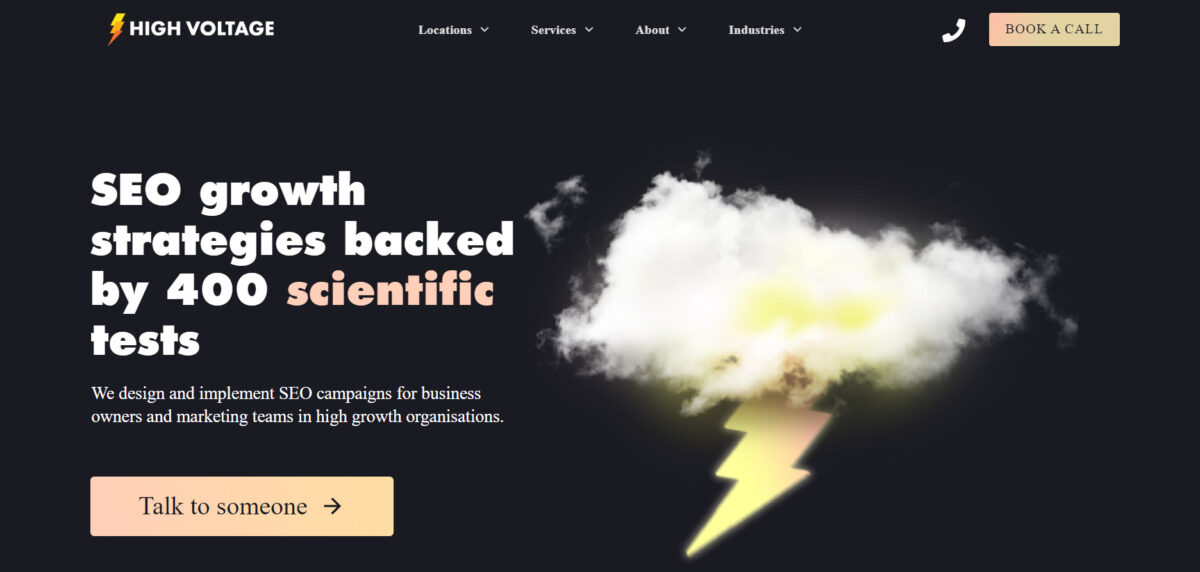 High Voltage is a fintech SEO agency known for their science-based approach and impressive results. With over 400 scientific tests under their belt, they have developed a deep understanding of Google's algorithm, which translates into powerful, safe, and long-term growth for their clients. Their specialization in fintech SEO extends to multi-language, SaaS, ecommerce, crypto, national brands, and manufacturing sectors.
One of High Voltage's key strengths is their focus on SEO as their primary service, allowing them to deliver exceptional results for their clients. Their case studies showcase their ability to achieve remarkable growth in organic traffic and keyword rankings. For example, they helped Freshbooks increase their monthly organic traffic from 225k to 2.5 million visits in just two years.
Clients trust High Voltage for their transparency, professionalism, and practical approach to SEO. They offer a full suite of in-house SEO services, including traffic silos, and scientific on-page optimization. With High Voltage, fintech companies can partner with a team that lives, eats, and breathes SEO.
Services:
Content writing
Content optimization
Backlink acquisition
Technical audits
Conversion rate optimization
Big data keyword analysis
---
Mint Studios is a fintech SEO agency that combines SEO, content marketing, and product copywriting to help financial technology companies rank on Google for buyer-intent keyphrases and turn searchers into customers. Their clientele includes an impressive list of fintech companies, showcasing their expertise in the industry.
Mint Studios operates on a client-focused framework that's all about understanding and reaching your best customers. Their approach is deeply rooted in studying your expert insights, so the content they create truly resonates with those who matter most – your customers.
What sets Mint Studios apart is their commitment to delivering leads instead of just audits, keywords, and traffic. As a full-service agency, they handle the entire SEO, content marketing, and product copywriting operation, allowing clients to focus on their core business. Their content is tailored to the knowledge level of the reader, ensuring relevancy and effectiveness.
Services:
SEO Strategy Development
Content Marketing
Product Copywriting
Expert Interviews
Tracking and Monitoring Results
---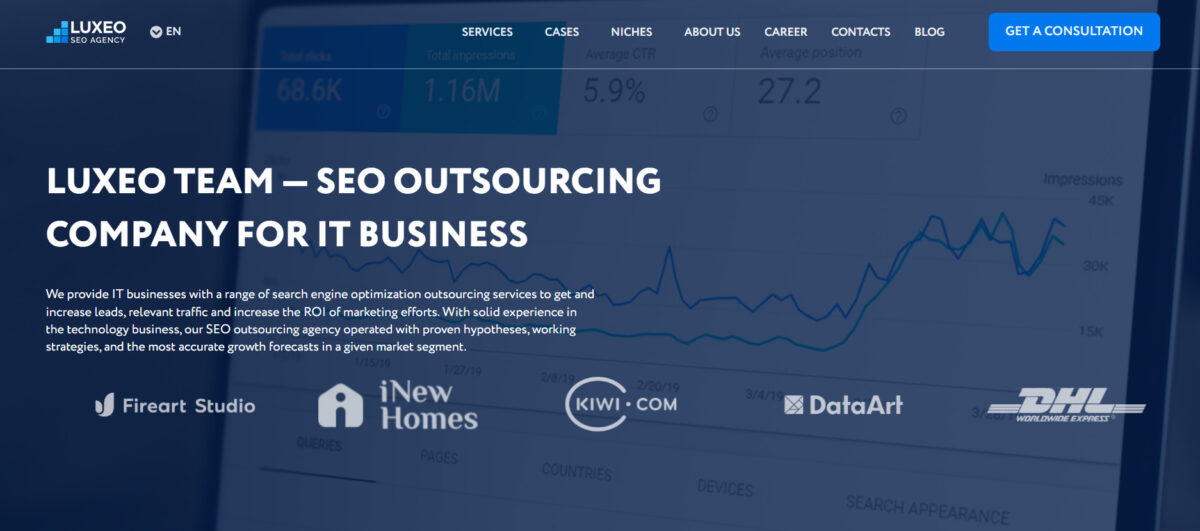 Luxeo is a top fintech SEO agency that specializes in helping financial technology businesses achieve their goals with innovative and effective digital marketing strategies. Based in Poland with representative offices in the USA and Great Britain, Luxeo's team of experts has years of experience optimizing financial services websites to attract targeted traffic, increase organic leads, and ultimately drive more sales through their online presence. The agency has an impressive track record, having increased conversions by six times in just one year for a design development services client and growing new users by 269% in six months for a real-time email verification service client.
At Luxeo, the fintech SEO services are designed to meet the unique needs of fintech businesses, from payment services to robo-advisors and beyond. Luxeo's team stays on top of the latest developments in the fintech space and implements strategies tailored specifically to the needs of each business, ensuring a personalized and results-driven experience for every client.
Luxeo's clients have praised the agency's knowledge and experience in the fintech industry. Testimonials from satisfied customers include Andrey Terenchev, Head of SEO at Kiwi.com, who experienced a 207% growth in new traffic users, and Violetta Dec from applandeo.com, who saw a 155% traffic growth and a 250% increase in leads. Luxeo's commitment to staying up-to-date with the latest trends in fintech SEO, such as voice search optimization and mobile optimization, ensures that their clients receive the best possible services and results.
Services:
SEO Audit
Technical SEO
On-page SEO
Local SEO
Penalty Recovery
Link Building
Enterprise SEO
SEO Consulting
---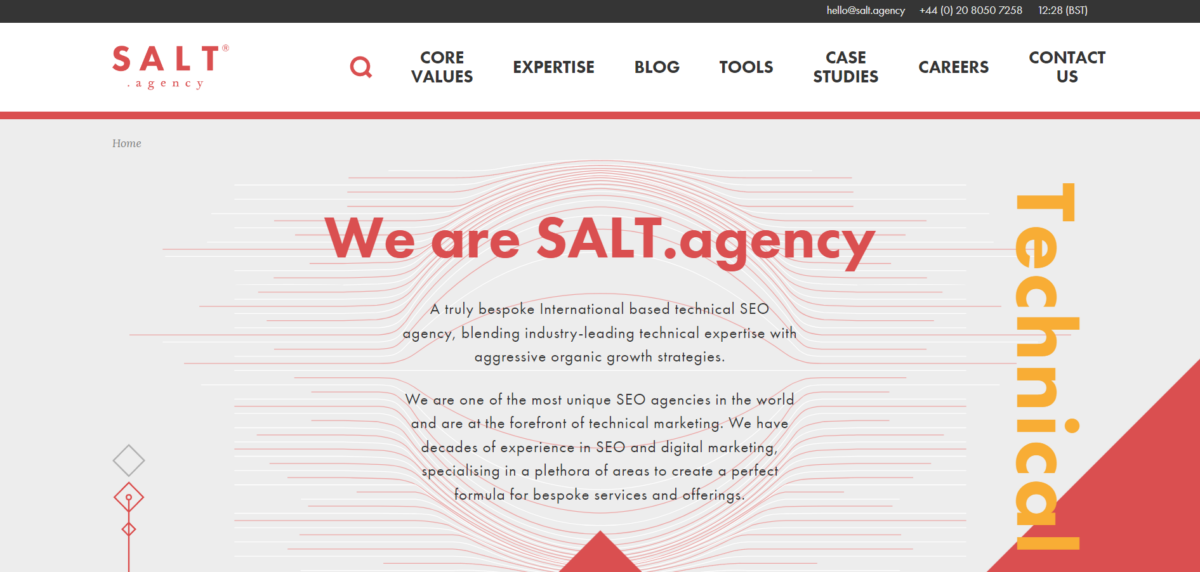 As the fintech industry rapidly expands, businesses need a strong online presence to stand out in the competitive landscape. SALT.agency, a prominent fintech SEO agency, offers a comprehensive suite of services to help your brand dominate search engine results. With their headquarters in the UK and a team of seasoned experts, they have established themselves as a go-to agency for finance and fintech brands.
SALT.agency prides itself on its technical SEO expertise. Their team conducts exhaustive technical audits to ensure all aspects of your website are optimized, from site speed to file size and navigation. In addition to technical audits, they perform competitor analysis, focusing on both off-site and on-site components, to help your brand rise above the competition. Furthermore, their SEO trend analysis keeps your website up-to-date with the latest industry innovations and user search trends.
Supporting businesses during website migration is another area where SALT.agency excels. Their skilled team ensures that your website maintains its SEO value, accessibility, rankings, and traffic during platform migration, website redesign, or server migration.
Services:
Technical auditing
Competitor analysis
Website migration
Content strategy
SEO trend analysis
---

First Page Sage, a renowned fintech SEO services company, understands the importance of not only securing a top position in Google search results but also converting that traffic into tangible revenue. Their unique Thought Leadership SEO service is tailored to achieve this, ghostwriting high-quality content that ranks highly on Google and establishes trust with visitors.
With an impressive track record in the fintech sector, First Page Sage has generated an average of $2.6 million per year in new net revenue for their clients. This success is attributed to their focus on high conversion rates and low customer acquisition costs. The agency's key stats for fintech companies include a 71% average engagement rate, 3:28 average time on site, and 1.7% landing page conversion rate.
Their approach to fintech SEO is rooted in understanding searcher psychology, which allows them to create content that responds to users' search intent. By interviewing your team, they develop a deep understanding of your technology, positioning, and value proposition. This information helps them devise a 12-month strategy for publishing blog articles and landing pages, each conversion-optimized to guide visitors through your website's funnel.
Services:
Thought Leadership
SEO
Content creation
Search psychology
Conversion optimization
---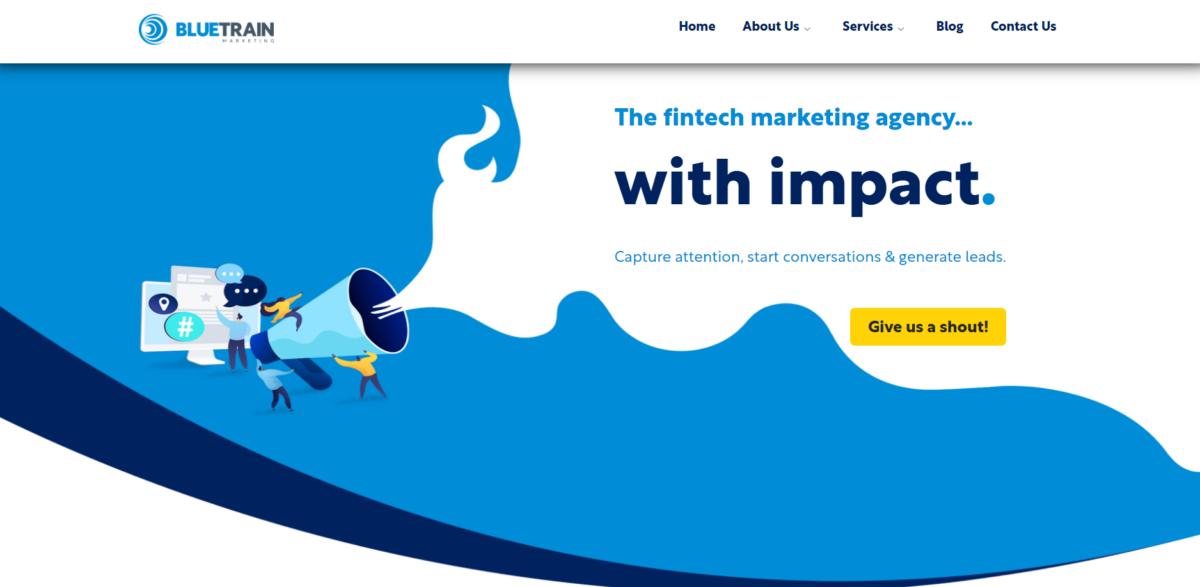 Blue Train is a premier fintech SEO agency, specializing in providing tailored solutions for fintech and payments companies. With deep expertise in the industry, their unique approach to SEO growth strategies is informed by comprehensive knowledge of the fintech landscape. Headquartered in the heart of the financial district in London, their dedicated team is always up-to-date with the latest trends in the fast-paced world of SEO.
The agency offers a broad range of services, including technical SEO, that encompass everything from site audits to adding schema, ensuring your website is not only crawlable by search engines but also enjoyable for users.
Blue Train has a proven track record of success, boasting impressive case studies and achievements in the fintech space. Their targeted approach to keyword research and implementation has helped numerous clients dominate their niche, while their expertise in backlink outreach has secured valuable backlinks for improved site authority and ranking.
Services:
SEO and PPC
Technical SEO
Keyword Research
Content Creation
Backlinks
YouTube SEO
On-page SEO
SEO Coaching and Training
---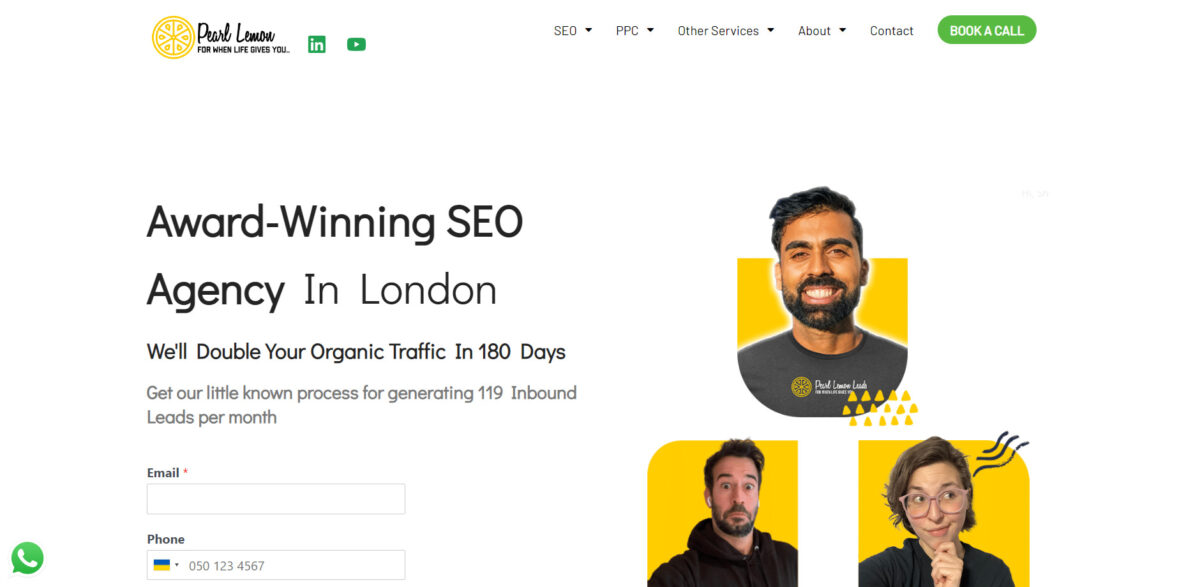 Pearl Lemon is a distinguished SEO agency focused on helping fintech companies grow by generating leads and attracting organic traffic. With 25+ years of combined experience, their team of experts has honed their skills in creating effective SEO campaigns for fintech clients. Pearl Lemon's exceptional services have been featured in various reputable publications, including Forbes, BBC, and Search Engine Journal.
One of their top-notch services includes local SEO which focuses on improving your business's visibility in local search results. In contrast, their technical SEO expertise resolves issues that may be preventing search engines from effectively crawling your site. Pearl Lemon's YouTube SEO helps clients leverage the power of video on the world's second-largest search engine.
The agency has demonstrated an impressive portfolio of successful fintech projects, proving the effectiveness of their SEO strategies. They ensure that their clients achieve visibility, credibility, growth, and customer satisfaction through their tailored SEO campaigns.
Services:
Local SEO
Technical SEO
YouTube SEO
SEO Strategy
G-Maps Optimization
SEO Audit
---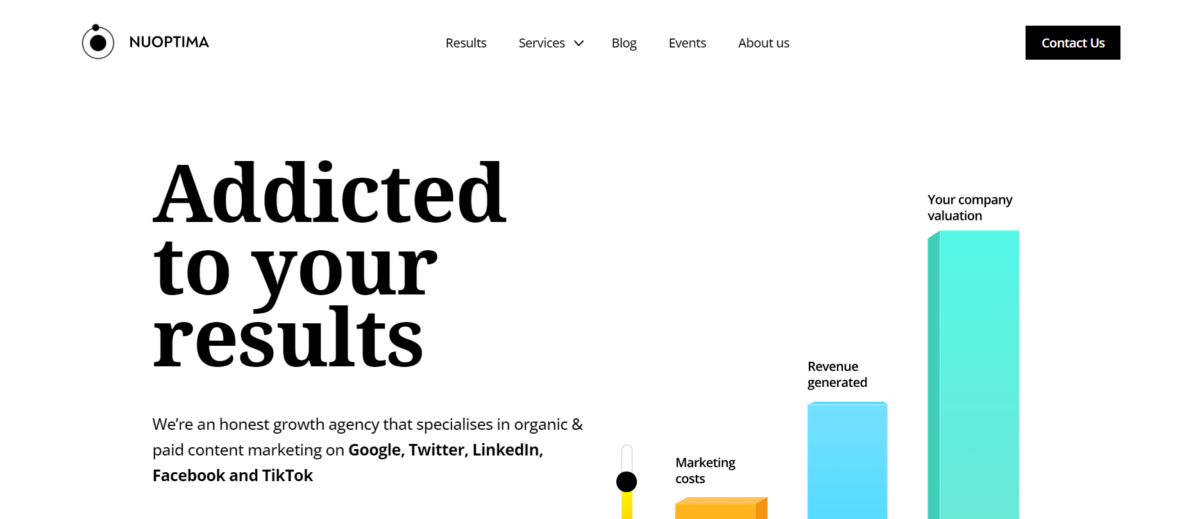 Nuoptima stands out in the competitive world of fintech SEO with its specialization and proven track record in the industry. As a fintech-focused agency, they cater to the unique needs of founders, CEOs, B2C, and B2B marketers who seek to improve their website's SEO performance, drive more leads and revenue, and increase their online visibility.
The Nuoptima difference lies in their tailored approach to each client's specific needs and goals. The team's extensive experience in the fintech industry is evident in their impressive case studies, such as the 1,364% traffic growth for GlycanAge, 300% traffic increase for HR SaaS Zelt, and Bonnet's EV App enjoying a 5x traffic increase in just seven months.
Nuoptima's structured and efficient three-step process begins with discovery and research, followed by strategy and execution, and concludes with measurement and analysis. This comprehensive approach ensures that clients receive the best possible results. Flexible pricing and customized packages ensure that Nuoptima's services are accessible to businesses with varying budgets and goals.
Services:
Fintech-specific SEO strategies
Tailored SEO solutions based on business needs and goals
Data-driven SEO solutions with transparent reporting
Ongoing optimization and support to stay ahead of competitors
---